Big Ten:

Terry Richardson
March, 13, 2013
3/13/13
9:00
AM ET
Michigan begins spring practice on Saturday with both some question marks and some major returning talent. Brady Hoke says of his team: "We're very young. But these guys have a lot of fight to them." There will also be a lot of fighting for starting jobs, beginning in a few days. I recently caught up with the third-year Wolverines coach for his thoughts on the approach of spring ball:
What are the main things you're looking for this spring?
Brady Hoke:
Well, you know, we've got a lot of open spaces. Some guys graduated, some guys aren't with the program anymore and we've got a lot of young guys. I think we only have 11 starters back on both sides of the ball, so there's going to be a lot of great competition, which is exciting. I think the leadership of our seniors, they've done a nice job of holding everybody accountable. But when you get out there with the pads on, it's a little different than just running around in shorts.
[+] Enlarge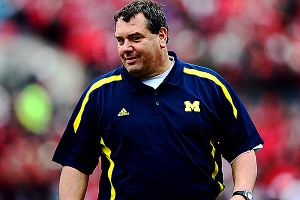 Andrew Weber/USA TODAY SportsWith only 11 returning starters, Michigan coach Brady Hoke said he's excited about the competition this spring.
Some of that competition will be on the offensive line, where you've got three open jobs on the interior. How do you see those battles right now?
BH:
Well, I think the interior of both lines, there's going to be a lot of competition. We've got to find a center, and that's between [
Jack] Miller
and [
Graham] Glasgow
, and
Joey Burzynski
will try to figure that out a little bit, too. At the guard positions,
Ben Braden
is going to move down inside and start out at the left guard, but he'll have a lot of competition because Burzynski is back and so is
Blake Bars
.
Kyle Kalis
will move into the right side, and it will be interesting again with [
Kyle] Bosch
and some of the guys who have been here a little bit. I think it will be a really good competition at all three of those inside positions.
Having
Taylor [Lewan
] back is huge. I think it's great for him and great for Michigan.
Mike Schofield
has had a really good winter. He had some real bright spots during the course of last season, and I think his development is going to be something special.
You mentioned the defensive line, where you also lost a couple of veterans. How does that shape up?
BH
: I think inside, we get
Jibreel Black
for another year and
Quinton Washington
. But once you get through that, there are a lot of young guys ...
Willie Henry
,
Ondre Pipkins
,
Ryan Glasgow
,
Richard Ash
and
Chris Wormley
are all guys who can either play the inside tackle or the strongside end. We'll find out the guys who are competitive.
Tommy Strobel
is another guy we think had a real good winter, and
Keith Heitzman
. So it's going to be fun to see them compete.
Does having so many young guys in key spots on the line make you nervous? Or do you have a lot of confidence in them because you recruited most of them?
BH:
I think it makes you nervous if you think you may have recruited the wrong guys. But we like the work ethic. We like how they've come in to learn and with a lot of enthusiasm. I think there's some competitiveness that we need to keep pushing as a program. You know, we lost five games on the road. We've played pretty well at home but we've got to do better on the road and that's a mindset, a mentality that you have to compete through everything, on every down.
Devin Gardner goes into spring practice as your starting quarterback. How has he developed as a leader?
BH:
I have been really excited about the progress he's made. I'm seeing that maturity that it takes and the leadership it takes and the competitiveness it takes to be the quarterback at Michigan. I think that's a real big part of how he's grown, and I think he's done a nice job with it. I'm liking the direction he's going, and hopefully he can just keep going and keep growing.
What about your running back position this spring, with Fitz Toussaint hurt and Derrick Green not there yet?
BH:
You know, Fitz has come along pretty well. I don't think he'll do a lot of contact or anything like that, but I think he'll be cleared for a lot more drill work. That's gone real well. We've moved [
Dennis] Norfleet
back to running back and we're going to give him an opportunity. Dennis, he's a smaller guy, but he's a very competitive, very tough young man.
Drake Johnson
is a guy we redshirted a year ago, and we really liked the way he competed in scout situations. In the bowl practices, we did some scrimmages and gave him a lot of carries, and we're very excited about what he has to offer.
Thomas Rawls
is coming back, and I think he learned a lot last year about the vision he needs to play with, and I like how he's competed through the [winter]. And
Justice Hayes
is a guy who gives you a little bit different look because of how he can get on the perimeter. He did some things in a couple of games last year, but now I think he'll have a big stage to prove himself more this spring. And he's a bigger guy now, he's 190-something pounds, so he's a little bigger.
[+] Enlarge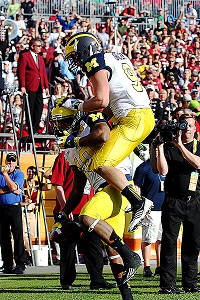 Kim Klement/USA TODAY SportsMichigan coach Brady Hoke said that he's pleased by more than just the on-field success of WRs Drew Dileo and Jeremy Gallon.
You have Jeremy Gallon back at receiver, but you lost Roy Roundtree. You sounded excited about some of the younger guys there during bowl prep. Is spring their time to step up now?
BH:
Yeah, I think so. First of all, I think the leadership with Gallon and
Drew Dileo
, they've done a really nice job being leaders at that position. They're not big guys, but they have a real spirit for the game and really do a nice job of working and leading. We have
Amara Darboh
, who played a little last year, and
Jehu Chesson
, who we redshirted a year ago. And I think
Jeremy Jackson
has had a very good winter; we're very excited about some of the progress he's made.
Joe Reynolds
is a guy who walked on here, and he's done a very nice job. And
Bo Dever
, his dad played here and he walked on. I think that during the course of the spring, we'll be in pretty good shape there. I think as we keep going, we'll keep improving at that position.
Linebacker was a strength for you last year and looks to be so again. Do you see some good competition there this spring, particularly at the weakside spot?
BH:
Yeah, I think with
Desmond Morgan
and
James Ross
, there's going to be great competition.
Joe Bolden
and
Royce Jenkins-Stone
and
Mike Jones
are all guys who are very competitive, and I think the three young guys coming in are going to be guys who will give us a lot of good competition and a lot of good depth.
Kaleb Ringer
is coming back from injury, so we'll see what he can give us. At the sam linebacker,
Jake [Ryan
] is coming back, and we really like what
Cam Gordon
has done during the winter. So I think we feel a little stronger at that position.
How do you replace what Jordan Kovacs gave you in the secondary?
BH:
I don't know if you ever replace that kind of leadership, but I really think
Thomas Gordon
, he's played a lot of football here, and it's time for him to demonstrate the leadership. And he's doing that. Because of the number of snaps and everything he's done, he's really fallen into his own a little bit.
Courtney Avery
has played a lot of football, and whether he's a corner a nickel or wherever, he's got to give us great leadership and great reps.
Blake Countess
is getting healthier; he'll do some things during the spring.
Josh Furman
, I think, has come on.
We've got to see where
Terry Richardson
is and where
Marvin Robinson
is. Both those guys have played a number of snaps. We've got
Raymon Taylor
back, who I think started every game for us last year, we're excited about his development.
Dymonte Thomas
is a guy who's going to compete, and he'll pressure some guys.
Jarrod Wilson
is another guy who played some last year for us. Ross Douglas is here early.
Jeremy Clark
is a 6-foot-4, 210-pound safety we redshirted a year ago, and it's going to be a big spring for him to make some moves.
So I think we may have more personnel back there. And even more in the fall when
Channing Stribling
gets in, and
Reon Dawson
gets in and
Jourdan Lewis
. I think it's going to add something to our secondary.
Finally, what has your message been to the team this offseason after last year's 8-5 season?
BH:
Well, our message has been, we haven't met the expectations at Michigan. That's something that as a football community… that we really feel that we have to do a much better job in all areas, from the coaching aspect of it, from learning and playing with the competitiveness we want to have, from every player at every position playing with the intensity we want to play with. It's about having a mindset and a mentality of how we want to play the game. We make no excuses, but at the same time, we know we have a lot we can do to play better football.
December, 16, 2012
12/16/12
1:30
PM ET
ANN ARBOR, Mich. -- Michigan's path to winning the Outback Bowl just got more difficult. For the Wolverines, already trying to beat a top-10 team with a strong defense and a capable offense, losing starting cornerback
J.T. Floyd
, the most experienced and consistent corner on the roster, along with Big Ten punter of the year
Will Hagerup
is a big blow.

Now Michigan has to face South Carolina with sophomore
Raymon Taylor
and junior
Courtney Avery
as the starting cornerbacks. Taylor has proved he can play well against topflight opponents this season, but Avery has rarely been in a position to be an every-down player throughout his career.
December, 16, 2012
12/16/12
12:30
PM ET
Some bad news for Michigan, which will be without its top cornerback, its award-winning punter and a reserve linebacker for the Outback Bowl on Jan. 1 against South Carolina.
The team announced Sunday that senior cornerback
J.T. Floyd
, senior linebacker
Brandin Hawthorne
and junior punter
Will Hagerup
have been
suspended for the game for an unspecified violation of team rules
. All three players won't travel with the team to Tampa.
"It is an honor to play football for the University of Michigan, and we have high standards and expectations for everyone that represents our program," Wolverines head coach Brady Hoke said in a prepared statement. "These young men used poor judgment in each circumstance, and these suspensions are teaching moments for our team."
Floyd recorded 48 tackles and five pass breakups for the Wolverines this fall, starting all 12 games. Hawthorne had 19 tackles. Hagerup earned the Big Ten's Eddleman-Fields Punter of the Year award after averaging a league-best 45 yards per attempt this fall.
This is the first known disciplinary incident for both Floyd and Hawthorne, whose college careers come to a disappointing end. Hagerup was suspended for the first four games of the 2011 season for violating team rules. It'll be interesting to see how Hoke approaches Hagerup's future as this isn't his first infraction.
Michigan lost starting cornerback
Blake Countess
to an ACL injury in the season opener and turned to
Raymon Taylor
to step in. Junior
Courtney Avery
is expected to step in for Floyd, while sophomore
Delonte Hollowell
and freshman
Terry Richardson
are also available.
Floyd's absence will be felt even though Michigan's secondary performed well most of the season. The fifth-year senior from Greenville, S.C., would have faced some familiar faces in the Outback Bowl. Very disappointing all around.
Sophomore
Matt Wile
will take over the punting duties for Hagerup.
September, 3, 2012
9/03/12
10:30
AM ET
Michigan's 41-14 loss to Alabama just got a little more costly.
The team announced Monday that sophomore cornerback
Blake Countess
, who left the game in the first half with an injury, will miss the remainder of the season with a torn ACL.
Countess worked his way into the starting lineup midway through his true freshman season last year, finishing with 44 tackles, 1.5 tackles for losses, one forced fumble and six pass breakups. Though he gave up some big plays late in the year and in the Sugar Bowl, Countess is extremely talented and had the potential to develop into one of the best corners in the Big Ten.
Junior
Courtney Avery
replaced Countess against Alabama and struggled at times. Other options include sophomore Ramon Taylor or true freshman
Terry Richardson
. This week's game against Air Force, which uses the option attack, should give the Wolverines time to break in a new starter.
The secondary was one of the team's deepest positions heading into the year, so at least Michigan has depth to use here. But finding a player of Countess' ability won't be easy.
May, 11, 2012
5/11/12
11:00
AM ET
2011 overall record:
11-2
2011 conference record:
6-2 (2nd, Legends Division)
Returning starters:
Offense: 6; defense: 8; kicker/punter: 2

Top returners
QB
Denard Robinson
; RB
Fitzgerald Toussaint
; WR
Roy Roundtree
; WR
Jeremy Gallon
; LT
Taylor Lewan
; RT
Michael Schofield
; DE
Craig Roh
; LB Jake Ryan; LB
Kenny Demens
; LB
Desmond Morgan
; CB
J.T. Floyd
; CB
Blake Countess
; S
Thomas Gordon
; S
Jordan Kovacs
.
Key losses
WR Junior Hemingway; WR
Darryl Stonum
; WR/KR
Martavious Odoms
; TE
Kevin Koger
; C David Molk; RT
Mark Huyge
; DT Mike Martin; DE/DT Ryan Van Bergen; DT
Will Heininger
.
2011 statistical leaders (*returners)
Rushing:
Denard Robinson* (1,176 yards)
Passing:
Denard Robinson* (2,173 yards)
Receiving:
Junior Hemingway (699 yards)
Tackles:
Kenny Demens* (94)
Sacks:
Ryan Van Bergen (5.5)
Interceptions:
Courtney Avery
* and J.T. Floyd* (2)
Spring answers
1. Quarterback accuracy:
Denard Robinson played one series in the public spring scrimmage, but coaches raved about his improved leadership, decision-making and accuracy throughout the spring. The latter two were major issues for Michigan last season. While it is unknown whether Robinson will truly be more accurate until Sept. 1 against Alabama -- Michigan closed all of its practices to the media this spring -- offensive coordinator Al Borges was very confident in Robinson's potential for his senior season.
2. Cornerback has depth:
Two seasons ago, cornerback was the biggest question on Michigan's team because of youth, inexperience and a lack of talent. That is no longer an issue. The Wolverines have as many as six players they could feel comfortable with come the fall, and that doesn't include incoming freshman Terry Richardson (Detroit/Cass Tech), the highest-ranked player in Michigan's incoming signing class. Sophomore Blake Countess could turn into a star, and fifth-year senior J.T. Floyd is the most consistent corner the Wolverines have. They'll be the likely starters.
3. A featured back is set:
Borges made no hesitation: Redshirt junior Fitzgerald Toussaint is going into the fall as his top tailback -- a marked change from what the Wolverines endured last spring and through the first half of last season. Toussaint rushed for 1,041 yards and nine touchdowns last season, giving Michigan a dynamic dual running game with Robinson. With major questions at wide receiver and tight end, expect a lot of running from Toussaint and Robinson, especially early in the season.
Fall questions
1. Who is catching the ball:
Michigan's coaches spoke highly of Jeremy Gallon,
Jerald Robinson
and Roy Roundtree during the spring as their top three receivers, but Robinson has never caught a pass, Gallon has had one season of consistent productivity, and Roundtree saw his numbers plummet last season to 19 catches for 355 yards. Tight end isn't much better, as the position group has two career catches. Denard Robinson's two best safety valves -- Junior Hemingway and Kevin Koger -- graduated, so even if Denard Robinson is improved, he might need to hunt to find a reliable receiving option. Incoming freshman Devin Funchess (Farmington Hills, Mich./Harrison) could be an option at tight end.
2. Who is pressuring the quarterback:
Michigan took its biggest hits on the defensive line, which saw three starters graduate -- Mike Martin was a third-round draft pick, Ryan Van Bergen signed as a free agent, and Will Heininger graduated -- and its fourth starter, Craig Roh, switch positions. Michigan insists it'll be OK there.
Will Campbell
and converted end
Jibreel Black
will likely start inside, and either sophomore
Brennen Beyer
or sophomore
Frank Clark
will start at rush end. The success of Michigan's defense last season relied on pressure the front four created. With an almost completely new group there, how they fare against opponents will be interesting to see.
3. Punting problems:
Somewhere along the way last season,
Will Hagerup
lost his mojo, much like kicker
Brendan Gibbons
the year before. A strong-legged punter, Hagerup wasn't connecting with the ball well and eventually lost his job to freshman
Matt Wile
. Now entering his junior year, Michigan hopes either Hagerup regains his form or Wile becomes more consistent. The Wolverines' offense should be fairly prolific, but with a defense searching for pressure early on, it needs to be able to control field position with the punter.
February, 6, 2012
2/06/12
11:00
AM ET
The Big Ten recruiting classes are signed and sealed, and although a few more recruits could come aboard, we have a good idea of what the rosters will look like heading into the 2012 season.
That means it's Power Rankings time. Again.
We're taking a post-signing day look at where the league stacks up. There aren't too many changes from our
previous rundown
, but some teams received a bump from strong recruiting classes.
As they say on Twitter, #legooo.

1. Michigan State:
The Spartans' recruiting class didn't crack ESPN's top 25, but it features several strong prospects and is loaded up at wide receiver and defensive back. Mark Dantonio tells us he can't remember recruiting 10 athletes like the ones Michigan State added in the class. Michigan State already is one of the Big Ten's most athletic teams, so this bodes well for the Spartans as they look for another big season.
2. Michigan:
Brady Hoke and his staff rode a fast start to 2012 recruiting and finalized a class ranked No. 7 nationally. The Wolverines started three freshmen on defense in 2011 and added several more who can contribute early in their careers, including linebacker Joe Bolden, cornerback Terry Richardson and defensive tackle Ondre "Pee Wee" Pipkins. If Michigan can maintain its momentum on defense after losing several stud linemen, it will be very tough to beat in 2012.
3. Ohio State:
Urban Meyer announced himself with a superb recruiting class featuring arguably the nation's best crop of defensive line prospects. Ohio State would have been an improved team in 2012 after its first seven-loss season since 1897, but the recruiting class boosts the Buckeyes even more. The defensive front seven should be a deeper and stronger unit, and players like Noah Spence, the Big Ten's top-rated recruit, have a chance to contribute immediately.
4. Nebraska:
The Huskers missed on their top signing day target (offensive lineman Andrus Peat) but still inked a solid class that should help at positions like linebacker, where Big Red lacked size and depth. Linebacker Michael Rose could contribute early in his career. Nebraska also addressed the departure of standout cornerback Alfonzo Dennard with talented juco addition Mohammed Seisay.
5. Wisconsin:
Quality not quantity was the theme for Wisconsin, which signed only 12 players, the Big Ten's smallest class by five recruits. The Badgers lost two offensive line commits to other schools but added a decorated quarterback in Bart Houston and some solid players to the defensive back seven, including linebacker Vince Biegel. This is the type of season that will test Wisconsin's ability to reload and provide a true gauge of the program's progress under Bret Bielema.
6. Penn State:
New coach Bill O'Brien and his staff had to scramble to keep the class together, and the 2012 recruiting haul didn't quite match what Penn State adds in most seasons. The coaches were able to keep some good prospects and fulfilled a need at wide receiver with Eugene Lewis and others. It'll be interesting to see how quarterback Steven Bench turns out after Penn State lost verbal commit Skyler Mornhinweg to Florida.
7. Purdue:
The Boilers added speed in their 2012 class, and they loaded up on quarterback prospects for the future with four signal-callers. But Purdue also beefed up along the offensive line with Jordan Roos and others. With coaching changes and personnel changes throughout the Leaders Division -- not to mention Ohio State's bowl ban -- Purdue has an excellent chance to make some noise in 2012.
8. Iowa:
The big story in Iowa City isn't so much the recent recruiting class but the seismic changes going on in one of the nation's more stable programs. After having the same coordinators for the past 13 seasons, Kirk Ferentz must replace both Norm Parker and Ken O'Keefe, who left late last week for a post on the Miami Dolphins' staff. Iowa will have new leadership on both sides of the ball, creating some uncertainty but also some excitement. The Hawkeyes added some nice pieces in the 2012 class, such as running back Greg Garmon and defensive end Faith Ekakitie.
9. Northwestern:
Although the Wildcats' class didn't crack the national rankings, it looks like the best haul in Pat Fitzgerald's tenure as head coach. Northwestern picked up a potential difference-maker on defense in defensive end/linebacker Ifeadi Odenigbo. Malin Jones could be the team's answer at running back, a spot that has suffered during Fitzgerald's tenure. The Wildcats also added the league's top transfer in former USC receiver Kyle Prater.
10. Illinois:
It might take a year for Tim Beckman and his staff to make a big splash on the recruiting scene. Illinois' 2012 haul didn't receive great reviews, but the Illini are pursuing several nationally elite 2013 prospects from within the state. Linebacker recruits Tajarvis Fuller and Tyrone Neal should help Illinois in the defensive back seven. There's enough talent on the squad to get back to a decent bowl, but Beckman and his staff have plenty of work ahead.
11. Minnesota:
The Gophers inked a class that drew good reviews from ESPN's analysts. Jerry Kill and his staff retained several top in-state prospects, including offensive lineman Isaac Hayes, wide receiver Andre McDonald and quarterback Philip Nelson. McDonald and fellow wideout Jamel Harbison could be immediate contributors for an offense that needs more options. But defense must be the top offseason focal point for Minnesota, which added several juco defenders.
12. Indiana:
Although the Hoosiers remain at the bottom, we liked their recruiting class, which should first and foremost provide immediate help on defense. Junior college defenders like Tregg Waters and Jacarri Alexander likely will step in right away for a struggling unit. Indiana also will increase the competition at quarterback with heralded prep prospect Nate Sudfeld and juco addition Cameron Coffman.
February, 3, 2012
2/03/12
4:30
PM ET
What a week. Hope everyone has a great weekend.
Donnie Darko from Madison, Wis., writes:
Adam, love the blog, but you've fictionalized the story about Bielema a little bit. In his press conference he said that he has seen practices that are flat-out illegal occurring in the SEC, but he never said anything that Meyer did was explicitly illegal. Having said this, Bielema did bring up that he had an issue with something Meyer did, but he rectified the situation. I do, however, think that there are some questionable practices going on at OSU. Looking forward to the matchup on the hardwood tomorrow!
Adam Rittenberg:
Donnie, Bielema has made it pretty clear that he feels Meyer engaged in illegal recruiting practices. What most people are missing is that the allegations don't have to do with flipping recruits but rather something else that Bielema hasn't revealed. Bielema has acknowledged that recruit-flipping happens and that every school engages in it, including Wisconsin. But there's something else here that hasn't come out. And if he rectified the situation, why did
he tell the Sporting News
that athletic director Barry Alvarez would be following up with the Big Ten about it?
---
Alan from Columbus, Ohio, writes:
It's ridiculous and frustrating that the B1G is keeping these division names! Only 57% positive is not that good. I bet the directional approval rates are much higher. They aggravate me because I never can remember which is which. I remember what teams are in each, but can't remember the division name! Legends and Leaders are both great aspirations, but they are not mutually exclusive, which would help differentiate them. Are those in the Leaders division not legends, and vice versa? The initial outcry just died down because people couldn't keep talking about the same thing long enough for Jim Delany to switch the names. I think approximate directionals are much better. Do people have a tough time remembering that Dallas is in the NFC East? Then they can remember if Wisconsin is in the East and Michigan is in the West.
Adam Rittenberg:
You make some excellent points, Alan. I think if the survey were conducted soon after the division names came out, it would have yielded a lower acceptance rate. The Big Ten's argument is that over time and with greater education, fans became more accepting of the names. This rate could increase further with more education about the division names and which teams go where. But I agree with you about the directional names. Even though the divisions weren't determined by geography, the division names, in my view, could be directional. You bring up the Dallas Cowboys in the NFC East, a great example. You also used to have the Atlanta Braves in the National League West. I know this because they broke my heart as a San Francisco Giants fan in 1993 (ugh!).
---
Ben from Milwaukee writes:
Re: Legends and LeadersWow, they talked to a total of a little over 500 fans. I went to all the Wisconsin home games and the title game and did not see any sign of this survey. I understand you can't survey everyone at every game, but this seems like a pretty small sample size.I'll admit, I'm not a huge fan of the names, but in the end, I really don't care. As a Wisconsin grad I guess I just call them "Our Division" and "The Other Division". So if they stick with Legends and Leaders, it doesn't bother me that much. But to say we survey 500 people and the names seem to be taking hold just seems strange to me. Obviously they were keepign these names no matter what. Half the commercials on the BTN mention Legends and Leaders.If the conference wants to keep the names fine. But don't feed us a line that people like the name. Thanks for listening to my rant.
Adam Rittenberg:
Ben, some good points here. One thing I learned this week was that it only takes 250 respondents to have a statistically significant survey. The Big Ten had more than 500 in this survey, which doesn't seem like a lot but does qualify. I think it's fair to question whether the Big Ten should have distributed the surveys in different ways, but it wanted to touch base with core fans, many of whom expressed their dislike of the names.
---
Tyler from Minnesota writes:
Nebraska had 17 players sign from 13 states. That says a lot about their reach as a national recruiting team. I think their biggest statement was taking Jordan Westerkamp out of the heart of B1G country in IL. He was statistically their best high school receiver of all time.
Adam Rittenberg:
Tyler, Westerkamp certainly was a nice addition for Nebraska, which is putting together a nice core of young wide receivers. It's good that Nebraska can reach into multiple states for recruits, but it's also important for the Huskers to land more elite recruits from the Big Ten footprint going forward. Nebraska only added a handful of players from the Midwest. You can't get 'em all, but the Huskers will need to have more success in states like Ohio and Pennsylvania going forward.
---
Evan from Arusha, Tanzania, writes:
Adam, you never give any effort towards Purdue. You neglected to mention Robert Gregory who going to sign with the Boilers. Reading your blog almost makes Purdue fans feel like we aren't in the B1G, yet for the first half of the decade we were one of the prime programs. I'm getting tired of this neglect; Purdue has 38,000 students, which turns into a good size fan base. Stop acting we don't exist. We may not have been one the better programs this half decade, but it insulting that programs like NW or Ill should get more attention. I like your work; don't give me a reason not too
Adam Rittenberg:
Evan, we'll try to do better with Purdue coverage, although I feel we've covered most of the major developments with Boilers football. I've been trying to get an interview with new defensive coordinator Tim Tisebar for several weeks, and it hasn't happened yet. Purdue simply isn't the program it was in the late 1990s and early 2000s, and there has been a decided lack of buzz around the program. It's reflected in the declining attendance numbers. The good news is the Boilers come off of a bowl win and have a chance to make some noise in the Leaders division this season. I look forward to making it down to West Lafayette for spring practice.
---
Johnny from East Lansing, Mich., writes:
Adam, I don't want to beat a dead horse but I have a question after reading a statement you made in the article regarding Alvarez and recruiting; you stated, "There's a difference between unethical and illegal." Why can't this same logic be used to defend Joe Paterno and his legacy? Many firmly believe he was morally responsible to follow up the accusations, but he did nothing illegal according to the letter-of-the-law. There is no "Moral Court" America, so why is Joe-Pa being tried in one?
Adam Rittenberg:
Johnny, I believe many of those who have defended JoePa have used this very argument. But you really think there isn't a moral court in America? C'mon. Paterno didn't do anything illegal, and isn't being charged by the attorney general. But when you have a case as sensitive as this one, the moral argument will be brought up and debated. It happens all the time.
---
Tye from Texas writes:
Adam, love the blog. I think the B1G made out really well in the recruiting battle. With UM still awaiting a decision from Jordan Diamond, and assuming he picks the Wolverines, how closely matched are the UM and osu classes this year?
Adam Rittenberg:
Both classes are very strong, Tye, and the addition of Diamond, who announces his choice Friday night, would give Michigan another boost. Ohio State brought in the best crop of defensive line recruits in the country. The Buckeyes also brought in some good linebackers, and Michigan really excelled with its linebacker recruits. The Wolverines also added an excellent cornerback in Terry Richardson. So the classes were a bit different but both very strong, especially on defense.
January, 31, 2012
1/31/12
1:10
PM ET
The Super Bowl is Sunday, but the super bowl of recruiting arrives on Wednesday. So on the eve of national signing day, we thought we'd check in with some of ESPN.com's top recruiting experts to get a feel for what's going on in the Big Ten.
Our esteemed panel included senior national recruiting analyst Tom Luginbill, Midwest recruiting writer Jared Shanker and Scouts Inc. recruiting coordinator Craig Haubert. This is Part I of our discussion; look for Part II later on today.
Topic 1: What impact has the arrival of Urban Meyer had on the league and in general when it comes to recruiting?
Tom Luginbill:
"It's been fairly significant. If there's one thing Urban Meyer understands and has been able to do, it's that you build a championship team from the inside out. Whether it was at Florida or now at Ohio State, if you notice who essentially all his first commitments were, they were all on the defensive line and offensive line. So he understands that, if they're going to compete for a national championship, the gap has to be closed in the defensive front seven. That's the difference between what's happened in the SEC and everywhere else. So I think that's where he's made his biggest impact."
Craig Haubert:
"What Urban Meyer has been able to come and do down the stretch has been huge. I knew when he took over, they would get better as a class, but I didn't really think when this happened, they'd have a chance to crack the Top 25. They're still in a position to possibly land some guys.
Davonte Neal
, the No. 1 athlete, could be headed there.
Stefon Diggs
and
Jordan Diamond
are also in the mix there." [Diggs and Neal are both post-signing day announcements].
"If you look at this class, it's all in the trenches, really. And our philosophy is there's always an increased value to upper-tier linemen because they're harder to find.
Noah Spence
obviously is huge, he's a five-star, but so is
Adolphus Washington
. The other thing that stands out to me about Ohio State is he's been plucking guys from other Big Ten schools.
[Se'Von] Pittman
was a Michigan State kid.
Joey O'Connor
had decommitted before he got him, but he was a Penn State kid. Same thing with
Tommy Schutt
.
Armani Reeves
. So his upper part of his class, a lot of them have come from other Big Ten schools."
Jared Shanker:
"He's exceeded my expectations. He's obviously a great recruiter. At the same time, I wouldn't call it walking into a perfect situation, but with what was going on at Penn State, I think he's taken five recruits from Penn State, so there were opportunities for him to come in and flip some guys. Noah Spence was a Penn State lean. He had O'Connor and Tommy Schutt, two other ESPNU 150 guys who were committed to Penn State.
Camren Williams
and
Armani Reeves
, two other guys at Penn State. Obviously, he's one of the best recruiters in the game. He also had some good fortune in being able to come in at a time when things were shaky at a rival school and pick up some of their commitments. Se'Von Pittman, the other ESPNU 150 guy, he was really looking for a reason to get to Ohio State."
Topic 2: How good is Michigan's class, and has the Wolverines' momentum slowed down in the last several weeks?

CH:
"They came out fast. We've always had them in that 5-to-7 type range. People might get frustrated that it's getting near signing day, when there's a lot of buzz and things going on, and they're not doing much, but to be fair to them, what they did has allowed them to maintain in the same area where they've been for most of the recruiting process. The thing that sticks out to me about this class is a lot of people kind of scoffed when Brady Hoke got hired and he said, 'I'm a Michigan man.' But he's been true to that. They've done very well in state. A lot of their key players are Michigan guys, led by
Terry Richardson
. So he's brought a little bit of that Michigan man feel, and there seems to be an excitement among recruits."

TL: "
Michigan was rolling before Meyer got the job, and they were teetering on maybe swinging
Bri'onte Dunn
, the running back, and Ohio State was able to keep him in the fold. Is Michigan in competition with Ohio State for some players? Yes. But Michigan right now is more focused on revamping the roster to the mold that Brady Hoke wants. They need more size up front, some size at the linebacking positions and some size at the skill spots. And I think they've done that in all three areas. [The lack of recent commitments] is a reflection of numbers and how much room they have. With the Big Ten's hard cap, they don't have a ton of wiggle room. If anything, the winning on the field and the sustained excellence helped solidify that the class would stay intact."
JS:
"I don't know if I'd say they've lost momentum. They really were hoping to get Josh Garnett, who ended up going to Stanford. Their class filled up so quickly, and they only had about four or five spots left midway through the season. They're hoping to get some of the guys who are closer to signing day. They're in good position to get Jordan Diamond. I think he's No. 94 overall. So it seems like they've maybe fallen off, but they were at 21 or 22 commitments by the time the season started. They really had their run of success in the spring and summer. I'm sure they would have liked to maintain that a little bit and gotten some of those final targets like Garnett, but they're also able to get the two receivers, [Amara] Darboh and [Jehu] Chesson, right after the season ended. So they've still been able to pick up some guys along the way."
Topic 3: How has Penn State fared given all the turmoil surrounding the program and the flurry of decommitments?
JS:
"My thinking for them was, if they could have just held on to their 14 commitments, that would be the main thing. They were obviously going to get some more commitments, but they weren't going to be the top-caliber guys. If they could hold onto the 14 and add those sleeper guys who have a chance to be something at the next level, that was my expectation for them. I like that they got
Akeel Lynch
, the running back. I think he could be a good player. They're probably a little disappointed that it looks like they're going to miss out on
[Skyler] Mornhinweg
and the two Massachusetts guys in Reeves and Williams."
TL:
"I think to this point, Bill O'Brien has done a good job. But a lot of credit needs to go to that previous staff. Outside of the guys they lost to Ohio State, through all of this, they're still siting here with 18 verbal commitments. If you think about it, that's astounding. And I would say that the top third of them, athletically, can compete for a conference championship. Of course, you don't know all the intangibles and all that, but based on pure player level, this is a pretty strong class. It certainly isn't anywhere near where people would have expected it to be. ... But just to have bodies in this class, in my opinion, is a positive. [O'Brien] won't be judged on this class. He will be given a long leash, and in my opinion, it was made very clear with the timetable the administration set with this hire that the 2012 class is not the priority. If it had been, they would have hired a guy in December."
January, 19, 2012
1/19/12
2:00
PM ET
With national signing day just two weeks away, ESPN.com has revealed its final rankings for the class of 2012. And the big winners in the Big Ten appear to be Ohio State and Michigan.
The Buckeyes, helped by the arrival of Urban Meyer, have secured commitments so far from five players in the
final 2012 ESPNU 150
, including three in the top 100. They are:
No. 4:
DE
Noah Spence
No. 65:
DE
Adolphus Washington
No. 98:
DE
Se'Von Pittman
No. 104:
OG
Joey O'Connor
No 108:
DT
Tommy Schutt
If these players pan out, Meyer could be building an intimidating defensive line in Columbus, and we all know that winning starts in the trenches.
Michigan is second in the league with four ESPNU commitments, and like Ohio State the Wolverines are loading up on defense with this class. Their top prospects are:
No. 68:
CB
Terry Richardson
No. 113:
OLB
Royce Jenkins-Stone
No. 132:
OG
Kyle Kalis
No. 142:
OLB
Joe Bolden
Only three other members of the ESPNU 150 are committed to Big Ten schools, and somewhat surprisingly, Minnesota and Northwestern account for two of them. They are:
No. 51:
DE
Ifeadi Odenigbo
, Northwestern
No. 112:
OG
Isaac Hayes
, Minnesota
No. 131:
ILB
Michael Rose
, Nebraska
ESPN has also updated its
class rankings for 2012
, and Michigan leads the Big Ten pack at No. 7 nationally. Ohio State is the only other league school ranked, sitting right behind the Wolverines at No. 8. The Buckeyes could overtake Michigan if Meyer is able to reel in some more top prospects late.
Speaking of which, our recruiting folks also take a look today at where some of the
top uncommitted prospects stand
, including blue-chippers who are looking at Big Ten schools. The No. 8 overall prospect, athlete
Davonte Neal
, has Ohio State on his list. Offensive tackle
Andrus Peat
, the No. 9 prospect whose older brother plays for Nebraska, is strongly considering the Huskers, as is athlete
Devin Fuller
(No. 39). Michigan is in play for offensive guard Josh Garnett (No. 44), while Ohio State is battling for tailback
Joel Caleb
(No. 83). The Buckeyes, Wolverines and Wisconsin are all hoping to hear good news from offensive tackle
Jordan Diamond
(No. 94), who isn't expected to announce his decision until after signing day.
October, 20, 2011
10/20/11
3:30
PM ET
The
latest ESPNU 150
-- ESPN.com's ranking of the top high school football players in the Class of 2012 -- is now out. And the Big Ten school with a the highest-rated recruit committed is ... Indiana?
Yep, quarterback
Gunner Kiel
, who pledged his services to
Kevin Wilson
and the Hoosiers, checks in at No. 20, highest among current Big Ten recruits. Here's a look at where the other ESPNU 150 players planning to enter league the next year are ranked:
No. 67:
Cornerback
Terry Richardson
, Michigan
No. 100:
Defensive end
Se'Von Pittman
, Michigan State
No. 105:
Offensive tackle
Joey O'Connor
, Penn State
No. 114:
Offensive guard
Isaac Hayes
, Minnesota
No. 115:
Linebacker
Royce Jenkins-Stone
, Michigan
No. 130:
Defensive tackle
Tommy Schutt
, Penn State
No. 134:
Linebacker Tommy Rose, Nebraska
No. 135:
Offensive tackle
Kyle Kalis
, Michigan
Only having nine players in the ESPNU 150 is not a heavy presence for the Big Ten, but many of the top prospects have yet to announce where they're going to school. Here's a look at
who the top prospects are considering
, including many Big Ten targets.
The ESPN recruiting folks have also updated their
class rankings by school.
Michigan's class is ranked No. 6 nationally, one spot lower than last month. Penn State is No. 18, the same spot it held in the previous rankings. No other Big Ten school cracked ESPN.com's Top 25 class rankings.
July, 25, 2011
7/25/11
11:10
AM ET
ESPN's Wide World of Sports Complex at Disney World was turned into a recruitnik's paradise over the weekend.
That's where the Gridiron Kings -- a 7-on-7 competition featuring some of the best talent in the country -- was held. As you might expect, ESPN.com's recruiting experts were all over it, and Michigan fans might like the developments.
One of the players who drew the most praise from the event was 2013 quarterback and Wolverines commitment
Shane Morris
. Here's what
Tom Luginbill had to say
about Morris:
"Morris, a 2013 QB prospect, already is pushing 6-2½ and he will be 6-3 and 215 pounds when all is said and done. He has a supreme arm and a lot of talent. Morris is a lefty with a compact delivery, and you don't see all lefties with that. He throws with pop and natural velocity. Right now, Morris doesn't have the clock operating in his head just right and that could be a result of youth or a result of playing in a foreign environment and not used to throwing to these receivers."
Jamie Newberg writes
in his story
that "Of the quarterbacks here, there's no mistaking Morris is the most polished." Another 2013 quarterback at the camp,
Riley Ferguson
, also has been offered by Michigan, among many others.
"I first met Riley at a Michigan camp last year and we battled it out and had a lot of fun," Morris said. "We both know that being here is an honor. It's a blessing to play with the best. We both want to prove we can compete with the 2012 kids. And we want to have some fun.
Another ESPN.com
story from the event
highlighted Michigan tight end target Ron "Sugar Bear" Thompson. That's right: Sugar Bear.
"It just started with a few of the guys here," the 6-foot-4, 220-pound Thompson said of the nickname. "It's all fun and games. I guess because I'm big and I can move, or something like that. It doesn't bother me. I'm just gonna go out and perform."
Thompson says Michigan is among his final three college choices, and he's playing on the same Midwest team as Morris.
"Shane is my man," he said. "I love to play with him. He throws a nice ball. Oh yeah, he's recruiting me. He keeps calling me stupid [for not committing to Michigan]. He's doing his job, though."
That Midwest team, by the way,
shocked the two-time defending champion
Southeast team in the semifinals. Who says the South always dominates? One of the players on the Midwest team was yet another Michigan recruit, defensive back
Terry Richardson
.
"Let's be real, that's the Florida team and we wanted to beat the Florida team more than anything," Richardson said. "They have been walking over everyone at Gridiron Kings from the beginning and we did not want to be the next team."
June, 3, 2011
6/03/11
9:00
AM ET
The calendar has flipped to June, and summer recruiting is in full swing around the Big Ten.

There have been quite a few verbal commitments in recent days, so let's take a quick look at where each Big Ten team stands with its 2012 class.

ILLINOIS
INDIANA
IOWA
MICHIGAN
MICHIGAN STATE
MINNESOTA
NEBRASKA
NORTHWESTERN
OHIO STATE
PENN STATE
PURDUE
WISCONSIN

May, 19, 2011
5/19/11
12:00
PM ET
"My wife won't let me go to Vegas." Trust me, that is not a phone call you want to make to a group of ex-college male cheerleaders. They will mock you with a hurtful rhythmic taunt.