October, 30, 2014
10/30/14
1:00
PM ET
Rod Oden still remembers pacing his kitchen more than a year ago, as he listened to Michigan State wideout
Tony Lippett
express his mounting frustration.
I haven't done anything wrong. Why am I not playing? I'm at the point where I don't even need to shower after games; I don't even get the chance to go off.
[+] Enlarge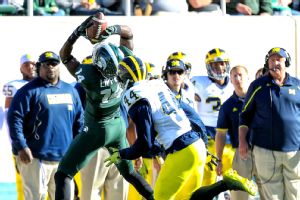 Mike Carter/USA TODAY SportsA change in Tony Lippett's confidence was sparked by a conversation he had with his high school coach.
Oden listened intently in September of 2013 as he wandered "all throughout the house." Neither Lippett nor Oden, his mentor and former high school coach, knew Lippett would be heralded
as the Big Ten's best
just one season later. Or that his turnaround would be sparked not by the weight room, the field or the film room -- but by this very telephone call.
"He was reminding me I was one of the most dynamic players he ever coached and that I could go out and play this game at a high level, if I had the heart and desire," Lippett said. "He told me to build a bridge with my coach out here, Coach [Terrence] Samuel, and do the things they wanted to see out of me day in and day out."
At the time, Lippett had caught just four passes in his first four games. He
officially
received no starts during that stretch. So, at Oden's insistence, the introverted Lippett reached out to his position coach soon thereafter. They shared breakfast, and Samuel challenged him around the bye week: Go watch film on MSU greats Plaxico Burress and Charles Rogers; then go look at film of yourself.
Lippett said he was forced to "look in the mirror and stop looking at everybody else." He sat in the film room and studied Burress' arm extension, he stared at Rogers' hips and feet, and he marveled at their vision. Then the cut-ups were replaced with a player similar in stature but who was slow in his transitions and didn't get off the press nearly as well. It was him.
Lippett again phoned Oden to let him know he took his advice to heart and to update him on the film review.
"He said, 'I got to work,' " Oden remembered. "I told him, 'Work starts today.' "
The transformation was slow -- but immediate. Lippett would linger after practice to chat with his position coach. He'd sit closer to Samuel on the flights, as opposed to several rows back. He'd hit the film room harder, gazing at defensive backs' feet and scribbling down notes.
With the help of Oden and Samuel, his confidence grew in lockstep with the offense's improvement. He started in 10 games after that phone call. And, in the final six games of 2013, he accounted for at least 62 receiving yards in every contest and saved his best for the Rose Bowl, where he caught the game-winning touchdown.
Looking back, even Mark Dantonio didn't need to pause long when asked when the transformation started.
"I do think it flipped on, it flipped right after the Notre Dame game," Dantonio said earlier this month, alluding to September of last season. "He started catching the ball very well, and he's such a confident player right now."
That change might not have come without that phone call, or without Lippett's relationship with Oden. The two still talk several times a week -- sometimes, Lippett will even phone during a Friday night halftime -- and Lippett still returns about a dozen times a year to train on mismatched barbells and an uneven track to chat in-person with his old coach.
They never seem to talk about how far he's come -- but about how far he has to go. Even now, as Lippett leads the conference with 111.1 receiving yards per game and nine touchdowns, he's not satisfied. He'll acknowledge this is a good year but, in the same breath, he'll wax poetic on how Alabama's
Amari Cooper
has dominated.
But, every week since September of 2013, he's also grown more determined that he can reach that level. He's more focused. And, above all, thanks to Oden, more confident.
"I feel like me playing confident is the biggest intangible I've improved upon because I'm still the same size, probably
a little
faster," he said. "But heart and desire and confidence has risen in me a lot. And that's what really shows."
September, 7, 2012
9/07/12
4:30
PM ET
Should be a fun Saturday of games. Hope you enjoy 'em.
Victor 614 from Columbus, Ohio, writes:
Whats up with all this hate on the Big Ten? I know Michigan got killed by alabama, but I think everyone knew they were overrated. And I know that the rest of the teams struggled, but Wisconsin is breaking in a new QB, Iowa isn't the Iowa of 4 years ago, and Northwestern has always been shaky at best. Michigan State beat Boise State, who all of a sudden is a bad team without Kellen Moore and Doug Martin, even though they've proven to be a consistent program. I know Michigan was expected to compete for a Big Ten title in the preseason, but it was just that, preseason. The Big Ten isn't on SEC level or even USC or Oregan's level, but this is really a rebuilding year for the conference as a whole. Am I wrong to think that there is alot of unfair animosity toward the Big Ten compared to other conferences?
Adam Rittenberg:
Victor, I agree that any win against Boise State means something, and while I think some go too far in using Michigan's performance to paint the entire Big Ten, you can't spin Week 1 as a positive one for the league. Other than Nebraska and, to a certain extent, Illinois, no team notched a truly impressive win. Part of that was the schedule, but the week would have been a bit better had Wisconsin pounded Northern Iowa, Northwestern held onto its big lead at Syracuse and Penn State beaten Ohio. That said, it's way too soon to say the Big Ten is down or a bad conference this year. The league clearly can't compete with the nation's elite at the very top, and its recent record against top 5 teams is downright shameful. But as I've written many times, it's all about building depth in the Big Ten. I see progress there with Ohio State on the rise again, Michigan State and Wisconsin racking up wins, Nebraska stabilizing and Michigan recruiting really well. The overall depth in the league could turn out to be decent this year, although we'll likely only find that out when the bowl season rolls around.
Decker from Hastings, Neb., writes:
Adam, Haven't heard much about
DeAnthony Arnett
so far, after quite the buzz during the offseason. What can you tell me about his status right now and also whether you expect the Spartan wideouts to pick up their game. I know Maxwell was rushed on plenty of throws on Friday but we saw a handful of miscues from the receivers. This weekend should be good for Maxwell and the rest of his offensive squad to find their rhythm. Your thoughts?
Adam Rittenberg:
Decker, I was really surprised not to see more of Arnett against Boise State, especially given the Spartans' struggles in the pass game. Michigan State receivers coach Terry Samuel said this week that
Arnett should have a bigger role Saturday against Central Michigan
. While Arnett might not have had the best offseason as far as standing out among the receiver group, he seems to be picking things up now. Plus, the guy had 24 catches last year in the SEC as a freshman. Can't hurt to make him a bigger part of the game plan this week.
JT from West Coast Hawk Town writes:
You and Brian both picked Iowa over Iowa State this weekend. That gives me some relief. The clones seem overly confident in this game. The clone fanbase is usually delusional, but I'm still not confident in my Hawks yet. What do you guys see, aside from the game being in Kinnick, that gives Iowa the edge?
Adam Rittenberg:
Playing at Kinnick obviously benefits Iowa. Only two of the Hawkeyes' seven losses to Iowa State under Kirk Ferentz have happened at home and none since 2002. Iowa usually takes care of its turf, even against the dreaded Cyclones. Also, I was pleasantly surprised with the defensive line play against Northern Illinois.
Steele Jantz
had his way with Iowa last year, and the Hawkeyes must put more pressure on him Saturday. I feel better about that happening after seeing what
Joe Gaglione
, Dom Alvis and co., did against NIU. I also don't think Iowa State can handle Iowa's rushing attack for four quarters, especially if
Damon Bullock
duplicates what he did in the opener, getting stronger as the game goes on. It'll be close, but Iowa should prevail.
Ben from Ann Arbor, Mich., writes:
Adam, today you posted an article saying that Penn State and OSU ARE eligible to be named Leaders Division champs. If this is true, and, say, Wisconsin finishes second or third in the standings behind them yet beats the Legends Division champion in the B10 championship, Wisconsin would officially be named Big Ten Champion, but not a division champion. That, like Alabama being National Champions but not Conference Champions, just doesn't sound right. Penn State and OSU are banned from the postseason and B10 championship, they shouldn't be a champion of their division.
Adam Rittenberg:
I hear ya, Ben, and it sets up some potentially embarrassing situations, like having to present a team on postseason probation an official Big Ten trophy for winning the division. The Big Ten's rationale is that because Ohio State's and Penn State's games count in the division race, they should be part of that race. It would be odd to have a division champion go against a division "representative" in Indianapolis and for that representative to win the title. But that's the path the Big Ten has chosen to go down with two of its marquee programs on postseason probation.
Brian from Portland, Ore., writes:
Adam, Longtime Northwestern football fan, which I know seems like an oxymoron (don't worry, Illini fans; it's OK that you don't know what that word means). Given the incredible disparity between the offense and the defense for the past few seasons, is it legitimate to question whether Fitz should replace Hankwitz? I know we had a good defensive season or two, but the recruiting is getting better and the results don't show on the field. I know Fitz is loyal, but there has to be a limit, right?
Adam Rittenberg:
Brian, while I'm not in favor of coaches making rash changes whenever things start to go downhill, everyone on a staff needs to be held accountable. I think this is an important season for Hankwitz and the rest of Northwestern's defensive staff. Hankwitz boasts a ton of experience, but he has been dumped before (Wisconsin) and is far from foolproof. It's more than fair to question whether Fitzgerald is too loyal to certain folks, whether they be moderately talented veteran players or assistants who aren't getting the job done well enough in the Big Ten. I think Fitzgerald has a lot of great qualities as a head coach and clearly represents Northwestern well. But part of the job is making tough decisions with personnel and assistants, and if the defense doesn't improve, Fitz will face some difficult choices after the season.
Amit from New York writes:
Adam, as a Michigan fan I'm deeply disappointed (although not unexpected) with the outcome of the Alabama game. It really seemed like Denard regressed during the game. I know you guys read MGoBlog, so I wanted to pass along the
play-by-play analysis
that Brian Cook did for the game: Interesting enough, he deduced that Denard actually played well, and the stagnancy/regression on offense was more so a combination of poor OL play, playcalling from Borges, inconsistency and lack of separation from the WRs, and simply fantastic DB play (from Milliner in particular).Thoughts? Passing it along not b/c it's making excuses for Denard, but it's actually insinuating that Denard played well (which I haven't heard anyone in the MSM contend).
Adam Rittenberg:
Amit, good stuff. Brian and the MGoBlog crew do an excellent job, especially with play breakdowns like these. I think it's a stretch to say Denard played "well," but the game definitely showed me bigger issues at offensive line and running back than it did at quarterback. If you get dominated up front like Michigan did, you can't execute the majority of your game plan and either have to scrap it entirely or go with a limited set of plays. I'm not absolving Borges, either, but it's hard to scheme your way through an ineffective line. Michigan had to be a lot better up front in order to hang with Alabama. While it doesn't excuse some of the bad decisions Denard made, he doesn't deserve the bulk of the blame for the loss. He didn't have much of a chance to attack the Tide.
Travis from St. Louis writes:
Adam- I recently located a summary B1G football schedule and noticed a trend. Four teams (Indiana, Minnesota, Nebraska, and MSU) get two weeks to prepare for Northwestern. Several teams in the B1G (most notably OSU and Nebraska) do not have to worry about teams getting two weeks to prepare for them at all. I realize it is not absolute that teams will win if they get two weeks to prepare for an opponent, but don?t you think there is a distinct schedule disadvantage Northwestern has to overcome?
Adam Rittenberg:
Interesting observation, Travis. I'll check with the Big Ten about this and see if there are rules to prevent potential disadvantages for certain teams. That said, I think the bye week is vastly overrated as something that helps teams. We've seen examples
here
and
here
of teams struggling quite a bit following open weeks. While these breaks in the schedule allow teams to rest and recharge, the evidence doesn't show that they give teams huge edges as far as preparation.
Michael from Columbus, Ohio, writes:
With Oregon State game cancelled this past weekend, how much of a disadvantage is Wisconsin at for preparing for OSU with no game tape available. I know this team needs to works on things and Wisconsin doesn't play to well on the road against Pac-12 opponents. What must the Badgers do to stymie the upset on the road?
Adam Rittenberg:
It's always nice to have tape on your opponent, Michael, but I think Wisconsin just needs to play its game and not get too wrapped up in Oregon State. The Badgers destroyed this team last year and had a terrific performance on the defensive side. If Wisconsin can establish the run and the play-action pass, and generate a good pass rush up front, I don't think Oregon State can hang with the Badgers for four quarters. The Oregon State program is trending downward, and even in good seasons, Mike Riley's teams get better as the fall goes along. While I'm sure Oregon State will have some schematic things to throw off Wisconsin, it's a four-quarter game and the better team should win if it plays its game.
May, 7, 2012
5/07/12
4:15
PM ET
Few position groups in the Big Ten lost more production after the season than Michigan State's wideouts.
Gone are the Spartans' top three targets: B.J. Cunningham, a first-team All-Big Ten selection, along with the speedy Keshawn Martin and key veteran
Keith Nichol
. The personnel losses at both receiver and tight end (Brian Linthicum, Garrett Celek) combined with a new starting quarterback (
Andrew Maxwell
) create some serious question marks for the passing game.
But help is on the way.
Super Moon
Bad Moon is coming back to East Lansing.
That's right, former Spartans great Andre "Bad Moon" Rison is
headed back to Michigan State to complete his degree
. While there, he'll serve as a student assistant coach. Rison is second on Michigan State's career chart in receiving yards (2,992). He played 17 NFL seasons, made five Pro Bowls and was a four-time All-Pro selection. Rison spent the past two seasons as a high school head coach in his hometown of Flint, Mich. He'll assist Spartans receivers coach Terry Samuel beginning this summer.
Rison's presence should really help
Keith Mumphery
,
Bennie Fowler
,
DeAnthony Arnett
,
Tony Lippett
and the rest of Michigan State's receiving corps. Arnett, who also hails from Flint, has to be excited to work with Rison.
From Mlive.com:
"This is an opportunity of a lifetime for me and I know I'll be able to help Michigan State's receivers better their game," said Rison. "I have a lot of experiences in college, the NFL and through my coaching that I can pass along. I am really looking forward to coaching with Mark Dantonio because he cares about the right things, the fundamentals of the game."
Although Michigan State can't get the 45-year-old Rison to suit up, his arrival should boost a group that really needs it heading into a season with lofty expectations.
February, 7, 2011
2/07/11
9:00
AM ET
Several Big Ten teams are still filling out their staffs for 2011, and we'll hear an official announcement or two later Monday.
Here's a roundup of what's been happening the last few days:
INDIANA

The Hoosiers on Friday announced the hiring of
Brandon Shelby as cornerbacks coach
. Shelby, who previously held the same position at Louisiana-Monroe, starred as a defensive back at Oklahoma during IU coach Kevin Wilson's time there and also served as a Sooners' defensive assistant in 2006. Shelby replaces Corey Raymond, who left Indiana to take a position at Nebraska. Although Nebraska hasn't made an official announcement about Raymond, he's expected to replace secondary coach Marvin Sanders, who resigned Thursday.
Indiana also last week hired Nebraska defensive assistant Brett Diersen as defensive tackles coach and Air Force running backs coach Jemal Singleton to the same position. Diersen replaces Jerry Montgomery, who Wilson said left for a position at Michigan.
These appointments complete Wilson's staff for 2011.
NEBRASKA

So far, Sanders' resignation is the only official announcement Bo Pelini has made about his staff. But Wilson said Raymond is on his way to Lincoln, and all signs point to offensive coordinator Shawn Watson and receivers coach Ted Gilmore being on their way out. Nebraska's offensive production dipped toward the end of the 2010 season, and the Huskers' receivers had an up-and-down year.
Multiple media reports from Nebraska state that
Pelini might be targeting
Oregon receivers coach Scott Frost, the former Huskers' star quarterback, and Notre Dame offensive line coach Ed Warinner as replacements. Warinner served as Kansas' offensive coordinator from 2007-09 and spent time in the Big Ten as Illinois' offensive line coach and run game coordinator from 2005-06.
The interesting part of this is
Pelini reportedly will hand over play-calling duties
to running backs coach Tim Beck. The Lincoln Journal Star and Omaha World-Herald both report that Frost might not leave Oregon unless it's for a job as a play-caller elsewhere.
Pelini seems to be reshaping his staff before Nebraska's jump to the Big Ten. It will be fascinating to see how things play out in Lincoln.
MICHIGAN

Coach Brady Hoke will finalize his staff Monday and announce the defensive assistants to join coordinator Greg Mattison.
Montgomery is on his way to Ann Arbor, and he'll reportedly be joined by Akron defensive coordinator Curt Mallory on the Michigan staff. Expect Mallory to coach the Wolverines' secondary, while Montgomery will work with the defensive line. Mallory played at Michigan and has spent his entire coaching career in the Midwest, serving as Illinois' secondary coach and co-defensive coordinator from 2007-09. Montgomery played at Iowa and most recently served as Wyoming's defensive line coach.
MICHIGAN STATE

After promoting Dan Roushar to offensive coordinator last week, Mark Dantonio reportedly has found the final member of his staff.
According to The (Mount Pleasant) Morning Sun, Central Michigan receivers coach
Terry Samuel has left to take the same position
on Michigan State's staff. Samuel, who played wide receiver at Purdue, worked his way up through the FCS ranks before joining former Dantonio assistant Dan Enos at Central Michigan last year.
He'll coach the position group that previous Michigan State offensive coordinator Don Treadwell oversaw. Samuel inherits a deep and talented receiving corps led by B.J. Cunningham and Keshawn Martin.

WISCONSIN
The Badgers lost a key assistant over the weekend as running backs coach John Settle departed for the same position with the Carolina Panthers. Settle did an outstanding job with Wisconsin's running backs, helping to mold standout players like P.J. Hill, John Clay, James White and Montee Ball.
Although Wisconsin always recruits talented backs, Settle leaves some big shoes to fill. It will be interesting to see who coach Bret Bielema hires as his replacement.