January, 30, 2014
Jan 30
9:00
AM ET
As the coach hiring season nears an end, we're examining the Big Ten coaching landscape and some recent trends. We wrap up the series today with a look at the importance of coaching continuity in the Big Ten going forward.
It's no coincidence that a historic downturn in Big Ten football has coincided with a historic stretch of instability among the league's coaches.
[+] Enlarge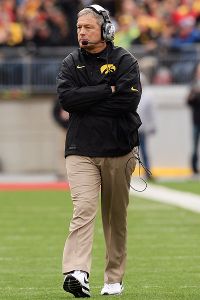 Jamie Sabau/Getty ImagesIowa's Kirk Ferentz has been at his post eight years longer than any other Big Ten coach.
Think back to 2005, a season that ended with two BCS bowl wins and teams ranked No. 3 (Penn State) and No. 4 (Ohio State) in the final polls. Seven of the league's 11 coaches had been at their schools for six or more seasons. Ohio State's Jim Tressel, three years removed from a national title, logged his fifth season in Columbus. Three coaches -- Penn State's Joe Paterno, Wisconsin's Barry Alvarez and Michigan's Lloyd Carr -- all had held their jobs for more than a decade (in Paterno's case, four decades).
The Big Ten coaches that year had combined for four national championships, five Rose Bowl titles and seven BCS bowl victories.
Since 2005, the Big Ten has gone through 17 coaching changes (not counting Nebraska's after the 2007 season). Seven teams have made multiple changes, including Penn State, which introduced new coaches earlier this month and in January 2011 after not doing so since February 1966. Last season, Indiana's Kevin Wilson was the longest-tenured coach in the Leaders division. He was hired in December 2010.
As the Big Ten
invests more in its coaches
, it also must ensure it has the right leaders in place for the long haul.
"If you believe strongly in the person you have," Iowa athletic director Gary Barta told ESPN.com, "continuity is invaluable."
Few programs value continuity more than Iowa, which has had two coaches (Kirk Ferentz and Hayden Fry) since the 1978 season. Ferentz, who just completed his 15th year at the school, has been at his post eight years longer than any other Big Ten coach. He's one of only four FBS coaches to start before the 2000 season (Virginia Tech's Frank Beamer, Oklahoma's Bob Stoops and Troy's Larry Blakeney are the others).
Iowa awarded Ferentz with contract extensions both in 2009 and 2010, the latter a
whopping 10-year deal with a salary of $3,675,000
. The Big Ten hasn't set the pace nationally in coach compensation, but Iowa's pledge to Ferentz, often the subject of NFL rumors, jumps out. Ferentz's salary is frequently debated and scrutinized, especially when Iowa struggles like it did in 2012, but Barta's loyalty to him hasn't wavered. Iowa rebounded to win eight games last season.
"Because of that commitment, we made our statement," Barta said. "We're going to fight through this with the person in whom we have great confidence and trust. There's no guarantees in life, but because of Kirk's past performance, because of his long-standing approach at Iowa and his proven success, it was a risk I was willing to take. Knock on wood, so far it has worked out terrific."
Barta sees a similar approach from Big Ten schools like Michigan State, which won Big Ten and Rose Bowl titles in Mark Dantonio's seventh season as coach.
Dantonio in 2011 received a contract
designed to keep him a "Spartan for life," and his newest deal is expected to more than double his salary from $1.9 million in 2013.
"Continuity breeds success," Michigan State athletic director Mark Hollis said, "and that's the hardest part sometimes on the institutional side, to keep that commitment, keep that contract whether it's an assistant or a head coach. … It requires a high level of confidence and a high level of trust."
"

The day of playing musical chairs with coaches, of making change just for change's sake, is over because any changes you make are going to be expensive and important. You've got to get them right.

"

Michigan athletic director Dave Brandon
There have been similar long-term commitments at other Big Ten schools. Northwestern
awarded coach Pat Fitzgerald a 10-year contract in 2011
. When Indiana hired Wilson, it gave him a seven-year contract, longer than the initial deals new coaches typically receive. Athletic director Fred Glass links Indiana's lack of continuity -- the school has had five coaches since 1996 -- with its on-field struggles (only one bowl appearance since 1993) and knows the school needs a more patient approach.
"Stability is an important thing in our league," said Ohio State athletic director Gene Smith, who applauded recent moves like MSU retaining Dantonio and Penn State hiring James Franklin. "The best example I'll use is men's basketball where we're having tremendous success, in large part, because of the stability we have in a number of our programs. I think we need to get that in football."
While Big Ten football has struggled in recent years, the league is surging on the hardwood, in large part because of veteran coaches like Michigan State's Tom Izzo (19th year), Wisconsin's Bo Ryan (13th year) and Ohio State's Thad Matta (10th year). Six of the league's 12 basketball coaches have been in their jobs for at least five seasons.
Continuity doesn't guarantee success, but it often correlates. Barta has tried to create "an environment of longevity and long-term commitment" at Iowa, while also recognizing the pressure to win and, in some cases, the need to part ways with a coach.
"The day of playing musical chairs with coaches," Michigan athletic director Dave Brandon said, "of making change just for change's sake, is over because any changes you make are going to be expensive and important. You've got to get them right."
After several years of transition, the Big Ten hopes it has the right men at the top -- and the ability to keep them there.
June, 4, 2013
6/04/13
5:35
PM ET
COLUMBUS, Ohio -- If a visit to the school president was needed to impress a recruit, Gordon Gee was there.
Endless support, boundless enthusiasm for athletics? No problem.
Fundraising skills, entertaining personality and trademark fashion? Sure, the Ohio State president had that as well.
[+] Enlarge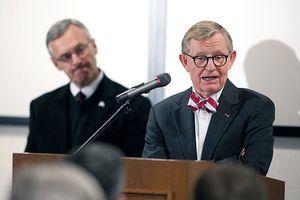 Greg Bartram/US PresswireOhio State president Gordon Gee, like former football coach Jim Tressel, is out. But Ohio State's athletic department isn't likely to feel much of an impact.
He also had a penchant for stirring up some trouble with his mouth, and ultimately that helped nudge him into the retirement he announced on Tuesday that will take effect July 1. But even for all those positives that earned him rave reviews from coaches and endeared him to some players before they were even enrolled, it's safe to assume the Buckeyes and their athletic department will be just fine without him calling the shots.
The leadership is already in place when it comes to the most visible parts of the university. And while that's not to diminish Ohio State's reputation as an academic institution, football and men's basketball will always generate more attention and keep alumni engaged better than anything else on campus. And when it comes to those two sports and the boss those coaches report to, it's hard at this point to envision a change in president shaking the foundations already firmly in place.
Gene Smith has faced his share of criticism as athletic director, but particularly with the NCAA sanctions and scandal from the end of Jim Tressel's tenure in his rearview mirror, it's difficult to imagine his job as anything less than secure.
And the résumés of Urban Meyer and Thad Matta speak for themselves.
That stability in leadership alone should keep the athletic department from having any difficulty navigating the water while the waves rock in the president's office, but that's certainly not the only reason the Buckeyes are likely to continue with business as usual on the field and the hardwood.
The money is pouring in for the Big Ten, and Ohio State isn't suddenly going to turn its back on one of the proudest, largest athletic departments in the nation. Regardless of how skilled Gee was at raising funds, donors aren't likely to slow down their giving when the high-profile teams are winning at such an elite level, particularly if a segment of that population was starting to tire of the stream of apologies that Gee had to issue after offending rival coaches or entire religious denominations.
And perhaps most important, the entire saga with Tressel, and even Gee's jokes about his job status then, helped establish a basic principle for the school that is more applicable now than ever. Nobody is bigger than Ohio State, and it is more than willing to move on and more than capable of finding somebody else to continue its traditions.
May, 16, 2013
5/16/13
11:00
AM ET
CHICAGO -- The Big Ten reported another
record revenue total for the past fiscal year
, and although its members on average sponsor many more sports than their counterparts in the SEC, athletic directors say their football programs have the financial resources to compete at the highest level.
"We all make the investments necessary in football," Ohio State athletic director Gene Smith said at the spring meetings.
Smith cited the higher salaries Big Ten programs like Ohio State and Michigan are now paying top assistant coaches, a push that accelerated at Ohio State when head coach Urban Meyer arrived. Still, the Big Ten on average
pays assistants less than SEC programs
. Many of the nation's highest-paid assistants are also in the ACC and Big 12.
But according to Smith, who oversees 36 varsity sports at Ohio State, money isn't holding back Big Ten football. He instead looks to the league's other major sport, men's basketball, as a road map for greater success on the gridiron.
While Big Ten football took a beating on the field and in public perception last fall, Big Ten basketball enjoyed the label of "nation's best conference" during the 2012-13 season.
"What we need in our football programs is really what we endured this past year in basketball," Smith said. "We had huge stability among our basketball coaches."
Michigan State basketball coach Tom Izzo just completed his 18th year at the helm in East Lansing, while Wisconsin's Bo Ryan just finished his 12th campaign. Other coaches like Ohio State's Thad Matta, Purdue's Matt Painter, Michigan's John Beilein and Indiana's Tom Crean are no longer newbies at their schools.
Big Ten football, meanwhile, has only one coach -- Iowa's Kirk Ferentz -- who has been in his post longer than six seasons.
The second part of the football equation, according to Smith, is "strategic, high-level recruiting."
It's undeniable that more Big Ten basketball programs consistently recruit at a nationally elite level than Big Ten football programs. In basketball, it's not just the usual suspects -- Michigan State, Indiana, Michigan, Ohio State -- but others (Illinois, Purdue) that can rise up.
"Part of that is recruiting in geographies where, frankly, the people are," Smith said. "We do not enjoy the environment that we had in the '70s and the '80s in Michigan and even some parts of Ohio or Pennsylvania or Illinois. Families aren't there. We've got to go to where they are."
College football and college basketball are different sports with different challenges in recruiting, but comparisons are always made, as Smith did this week. If Big Ten football can regain greater coaching stability and spread out its recruiting reach, more success should come.
June, 22, 2012
6/22/12
4:30
PM ET
What a week in college football. And the best news is we're a week closer to the 2012 season.
Have a great weekend, everybody.
Mike from Denver writes:
Read your article on the new 4 team playoff and it not being a total loss for B1G. I think you hit it correctly and some of the national media has this pegged wrong. This isn't B1G vs SEC on a playoff model (as you've said all along). The SEC is not the big winner, the big 4 conferences are. The B1G, PAC12, SEC, and Big 12 all but assured themselves a spot at the table (assuming the conference champ from the league has less than 2 losses). What Delany didn't want was his conf. champ to be left out in favor of a 1 loss team from another conference who in the court of public opinion is a ?stronger? conference. By making conference championships and strength of schedule criteria, he has a leg up on his friends down south due to the schedule partnership with the PAC12 and the SEC?s reluctance to aggressively schedule. Seems everyone is looking at this from a frame that the SEC is now, and will always be, the best conference. I'm not sure that is the case, and the system put forth allows for preferential treatment to the major 4 conferences. And THAT was the point all along.
Adam Rittenberg:
Some excellent thoughts, Mike, and not just because you agreed with me! It's good to see fans seeing through some of the lazy narrative put out there and understand that every league had to compromise a bit, but the result is a win for pretty much everybody. As I
wrote Thursday
, the areas where the Big Ten "lost" -- campus sites, plus-one, Rose Bowl access -- were unpopular and/or unrealistic. The Big Ten could have fought harder for campus sites, but there was no chance, given the opposition, for them to be approved. The selection committee is a big plus for the Big Ten, and, as you point out, the strength of schedule component is huge. An SEC team can't expect to be highly regarded simply because it's in the SEC. It needs to go out and schedule tough opponents, like more Big Ten and Pac-12 teams are doing. As Jim Delany has said, a truly elite SEC or Big Ten or Pac-12 team that doesn't win the league won't be left out of a playoff. But if there are comparable teams at the 4/5 spots, the conference champ will get preference. And it should.
---
Steve from Meridian, Miss., writes:
Adam, Help me put my bias in check. Give me your top AD/Football Coach/Basketball Coach tri-fectas in the nation. Please take into consideration national impact, winning record and championships. I think you'll find it hard to find a better winning team than Hollis, Dantonio and Izzo.
Adam Rittenberg:
Steve, I was thinking the same thing when
Michigan State awarded Hollis his new contract
. Not only does Michigan State have elite figures in all three positions, but it has stability. I remember talking with Tom Izzo a few summers ago about the lack of stability at both the athletic director and football coach positions during the early part of his time at Michigan State. He gave a lot of credit to Hollis for fostering a culture of success and stability. The Michigan State trifecta is a great one, but there are others in the Big Ten worth noting. Michigan's is very impressive (Brady Hoke, John Beilein, Dave Brandon). Same holds true for Wisconsin (Bret Bielema, Bo Ryan, Barry Alvarez). While Gene Smith received some deserved criticism last year, he's still regarded as a strong athletic director, and Ohio State's group (Smith, Urban Meyer, Thad Matta) is strong. Some schools have two-thirds of the equation but are a little unproven with the third position.
---
Tom from Menlo Park, Calif., writes:
Hey Adam,I'm surprised I haven't seen this mentioned before, but as I see it, a selection committee has a very valuable asset: the ability to choose the matchups of the playoff games. In other words, using last year as an example, pretend Alabama is in the SEC East and they played and lost to LSU in the SEC title game (rather than the regular season) and finished 4th in the rankings. Would people really want to see LSU play Bama again in their very next game? No, nor do I think it's very fair to the team that just won the first game. Given a marginal difference between the third and fourth best teams I can imagine a selection committee using their discretion to pick traditional matchups (e.g. a Big10-PAC12 champions semifinal) and avoid repeat matchups (e.g. the LSU-Bama scenario above, or the Florida-FSU title game way back when) in situations where negligible objective competitive imbalances result.That's something that couldn't be done if a strict formula/ranking system was mandated.
Adam Rittenberg:
Tom, some good points here. The selection committee would need to explain why a team is the No. 2 seed or No. 3 seed, but with these games being played at bowl sites that aren't linked to regions necessarily, it wouldn't really matter. You're right, no one would want to see a conference championship game rematch in the national semifinal. This is another reason why bowl sites are preferred over campus sites. If you had campus sites, there's a HUGE difference between the No. 2 and No. 3 seed (home-field advantage for the No. 2). With bowl sites, you can be a bit more liberal with seeds and try to create attractive matchups, but only when the teams are comparable. If there are clear gaps between a No. 2 and a No. 4, those should be reflected with the seeding.
---
Steve from Lafayette, Ind., writes:
Hi Adam, I have a question about the new playoff (Surprise!!!). I haven't seen this mentioned anywhere, and there's a good chance it hasn't been discussed yet, but how will tickets for the championship game work? I imagine the semi-final games will be pretty similar to the current system, with schools getting their allotments, plus some tickets the bowl sells itself. But that can't work for a game where the participants are known only a week in advance. Sure, the schools may get a meager number of tickets to sell to their biggest boosters, but the majority of the tickets will have to be sold well in advance - the way I see it, mostly to locals/corporations. How will I, a regular fan/season ticket holder be able to get a ticket? My guess is through the secondary market at a huge markup. (Not to mention the cost of traveling on one week's notice.) Hurray for playoffs! Can we just go back to the old days with regular bowl games?
Adam Rittenberg:
Steve, you're thinking way down the road, but you bring up a good question and one that resonates with many fans. I agree that most of the championship game tickets will be sold in advance and likely scooped up by the corporate folks paying the big bucks. There will be some ultra-confident fans -- or ones with disposable income -- who will buy tickets in advance, but it'll be tough to do a mass ticket sale to each school with so little time between the semifinal and the championship. The counter-argument is if your team makes the national title game, it's worth digging deep into your pockets to see it. You never know when your team would be back. We're not going back to the old days, but your concern is very real, especially in this economy.
---
Misplaced Gopher from Fargo, N.D., writes:
Adam, every team throws surprises at us every season. Some are good surprises and some are bad. Examples? My Gophers got thrashed 45-17 by Purdue (bad surprise) and they came back to beat Iowa 22-21 in the fourth quarter (good surprise). Unless there's a big surprise, Minnesota will win between 4 and 6 games in 2012. What shocker will Jerry Kill's squad come up with this season that will get them to 7 wins?
Adam Rittenberg:
While I expect to see improvement from the Gophers in Year 2 under Jerry Kill, keep in mind a six-win season would equal Minnesota's victories total from the past two years. Could the Gophers win six games or more? Sure. But they have to address several issues this offseason -- offensive skill, defensive line, secondary. Minnesota has been better at the end of the season the past few years, and there are some upset opportunities in November, including home games against Legends division favorites Michigan (Nov. 3) and Michigan State (Nov. 24). Don't think the Gophers can get Iowa three years in a row, especially at Kinnick Stadium, but they might surprise the Wolverines or the Spartans, and Purdue could be a good team that will need to be on its game Oct. 27 at TCF Bank Stadium. There's not an obvious surprise win that jumps out to me, MG, but some teams could rise up and then turn into upset opportunities for Jerry Kill's crew.
---
Jonathan from Westerville, Ohio, writes:
The NFL is hosting a Super Bowl outdoors in New York/New Jersey. Since the NFL is more popular in the U.S. (both financially and literally), would college football turn its nose to hosting a championship game outdoors in Chicago, New York, Boston or the like? Are Southern/Western teams afraid or are college presidents not likely to move outdoors?
Adam Rittenberg:
Jonathan, I think the college football commissioners will be keeping a close eye on the Super Bowl event in NY/NJ and how smoothly the operation runs there. For these massive events, it all comes down to the bid -- not just the financial portion, but the organizing committee earning the trust and admiration of those making the decisions. A plus for a group like Indiana Sports Corp, aside from having a terrific indoor venue in Lucas Oil Stadium, is that Indy has put on numerous major sporting events, including the most recent Super Bowl and several Final Fours. Next to the Super Bowl and the Final Four, the college football title game will be the biggest single-day event on the American sporting calendar. So you had better know what you're doing.
I got to witness this last spring when the groups from Indianapolis and Chicago bid for the Big Ten championship game. Indy made a stronger, more comprehensive bid -- bringing in big guns like Gov. Mitch Daniels (
now Purdue's president
) -- and outlined its track record of hosting major events. From what I've been told, Chicago had a nice bid, but its lack of experience in hosting these events showed. Bottom line: a lot depends on how the outdoor Super Bowl goes, but I think the commissioners will be more inclined to keep these games indoors in Midwest venues, at least early on in the process.
---
Patrick from Plano, Texas, writes:
Hi Adam, I am a lifelong Husker fan and have been an avid reader of both your's and Brian's blogs for the better part of a year. The playoff is here and IMHO it will change the CF world as we know it. In order to maximize a conferences' stake in the playoff format and payout why is it in the B1G's and other power conferences interest to keep a conference championship game? If a Leader and Legend undefeated or one loss team were to play that would risk the huge playoff spot and resulting payout. The SEC I am sure is contemplating this same thing.So I would think it makes sense that there will be a conference realignment and regression instead of expansion in leagues.
Adam Rittenberg:
Patrick, this is an interesting question and a discussion all conferences need to have. The SEC championship has been a marquee event, and the Big Ten championship certainly has the same potential. Many presume the Big 12 will reinstate a championship game if and when it expands to 12 teams (only a matter of time). Some of these games are big money-makers. But the drawback, as you point out, is that the championship game could limit the number of teams leagues have in the national playoff. A potential wild-card team could lose and drop out of contention. There also could be an upset, creating a league champion not worthy of inclusion in a four-team playoff. It's hard for these leagues to part with the money their championship games generate, but these are questions that must be discussed. I don't know if I agree about regression in conferences to avoid playing championships. I still think we'll see the bigger leagues get bigger, not the other way around.
---
Kevin from Chicago writes:
I feel Mick McCall is probably one of the most underrated coaches in the game. He's been responsible for Northwestern's dominating offense over the past few years creating mediocre quarterbacks and making them great in the college game. How close is he with Pat Fitzgerald because I feel like there are bigger teams such as some SEC schools who would want him and his playbook. Can you see him leaving NU and Pat for bigger and better things or is he loyal to NU? Once Northwestern gets a defense or defensive coordinator that is above average Northwestern can be one of the best teams in the Big Ten.
Adam Rittenberg:
Completely agree with your thoughts on Mick McCall, Kevin. He has been masterful in his development of quarterbacks at Northwestern, creating quite the pipeline in Evanston since arriving in 2008. If I were assembling my ideal Big Ten coaching staff, Mick would be my quarterbacks coach, hands down. I know McCall and his wife are very happy in Evanston, but it could be a challenge to keep him long-term. Pat Fitzgerald made sure Northwestern allocated more money for his assistants during his last contract agreement, and Pat clearly values having a guy like McCall on his staff. McCall has ties to Colorado, not SEC country. While I wouldn't expect him to leave any time soon, if a lucrative offer comes his way, he could bolt, much like previous Northwestern offensive coordinators (Garrick McGee, Mike Dunbar, Kevin Wilson).
March, 20, 2012
3/20/12
2:30
PM ET
Been a while. Great questions today. As always, thanks for the responses.
Ed from Minneapolis writes:
What do you think of Jerry Kill's first full recruiting class? Most rate it at the bottom of the B1G, but if Kill is to follow the Alvarez model of building a program, isn't his unprecedented success with in-state recruiting noteworthy? If not, perhaps this question is wishful thinking
Adam Rittenberg:
Ed, I definitely agree with you about the significance of Kill doing well within the state. It's vital Minnesota brings in the state's top recruits, even if they're not nationally elite prospects. Programs like Notre Dame and USC have raided Minnesota for national top prospects in recent years (
Michael Floyd
and
Seantrel Henderson
, to name two), and Minnesota needs to put itself in position to compete for the best players in every recruiting cycle. Although the overall class didn't receive high marks nationally, I know our recruiting guys liked some of the additions, such as wide receivers
Andre McDonald
and Jamel Harbison and quarterback Philip Nelson. McDonald and Nelson hail from the state.
---
Some guy from Ann Arbor, Mich., writes:
There have been rumors that Al Borges may be giving Deving Gardner some reps as a wide receiver. With our lack of depth at the position and DG's athleticism, would that be a good option?
Adam Rittenberg:
I'm in favor of getting your best players on the field, and Gardner is a guy who can help Michigan even if he's not taking snaps. There's some risk involved as an injury would leave the Wolverines thin at quarterback and with a starter (
Denard Robinson
) who has been banged up for much of his career. A lot depends on how the other wide receivers develop this spring and in the start of fall camp. If
Roy Roundtree
recaptures his 2010 form,
Jeremy Gallon
builds off a solid 2011 season and some young players emerge, Michigan might not need to experiment with Gardner. But at this point, the receiver position looks thin.
---
Ryan from Chicago writes:
If
Danny O'Brien
picks PSU and becomes the starter for the next 2 seasons, what is likely to happen (redshirt or transfer wise) with McGloin, Bolden, Jones, Bench and Hackenberg?
Adam Rittenberg:
Good question, Ryan. I was thinking about the same thing earlier today, and also in relation to Wisconsin's quarterbacks, especially heralded incoming freshman Bart Houston. I don't think McGloin is going anywhere. He loves Penn State and would compete like heck with O'Brien. It would be a surprise to see Bolden and/or Jones transfer if O'Brien came in and won the starting job. Bench would almost certainly redshirt this season if O'Brien came in -- quarterbacks coach
Charlie Fisher loves Bench
, by the way -- and Hackenburg doesn't arrive until next fall, so they wouldn't be overly impacted if O'Brien starts the next two seasons.
---
Matthew from Dallas writes:
Guys,Being a Husker fan I could care less about Mich St, but after reading your blog about the best week 1 game this week, don't you think Mich St is in a no win situation by playing Boise St?I mean if Mich St wins, everyone will just say its not the same Boise St team as the past few years so it doesn't matter. If they lose then they will look bad for getting beat by a Boise St team that is having to rebuild. What do you think?
Adam Rittenberg:
Interesting points, Matthew. Some folks will spin it that way if Michigan State wins, but I would hope that after seeing so many Boise State teams beat major-conference programs on the road, especially in the season opener, people would give Michigan State credit for beating the Broncos. Boise State went 50-3 during the
Kellen Moore
era, but the Broncos also won 10 games or more seven times between 1999-2007. Bottom line: Boise State doesn't lose many games. Any win against the Broncos should resonate nationally, especially for a Michigan State team that loses its own starting quarterback (
Kirk Cousins
) and several other key players.
---
Drew from Milwaukee writes:
Hey Adam - Hope you enjoyed Istanbul. Absolutely one of my favorite cities in the world. You've said repeatedly that the key for the Big 10 to return to the elite in football is depth. The Big 10 is unquestionably the deepest conference in men's basketball this year. Wondering if there is anything Big 10 football programs can learn from the success of their basketball counterparts, especially in the areas of recruiting or coaching. Thanks!
Adam Rittenberg:
Drew, it's a fabulous city, a unique mix of East and West. Also a fun sports town -- they love their hoops and futbol. As to your question, football depth and basketball depth are a little different because of the roster sizes. A recruiting class of three top-level prospects can get you over the hump in basketball, while football teams need more top-level prospects to compete at the national level.
One thing that sets Big Ten basketball apart from football is the number of programs that are either traditional powers, emerging powers and consistent winners. You have a traditional hoops power in Indiana that hasn't enjoyed much success in football. Illinois fits into this category as well, and in recent years, so does Purdue. You also have an Ohio State basketball program that has become nationally elite under Thad Matta. Tom Izzo has brought the type of consistent elite success to Michigan State basketball that we're only now seeing with the Spartans football program. You also have a consistent winner in Wisconsin under Bo Ryan. While the Badgers football program also has made strides in recent years, the hoops team has been a bit more consistent during the past decade. Big Ten football is no longer the Big Two and everyone else, but we haven't seen as many teams compete at the national level on the gridiron than on the hardcourt.
There are some factors that affect both football and basketball, such as Big Ten Network revenue and a school's investment in both programs (facilities, coaches' salaries, etc.). But I don't know if league-wide success in hoops can translate to football. Too many different variables.
---
Brandon P. from Lincoln, Neb., writes:
I have always been more of a Cam Meredith fan over Crick and i was wondering if you think he will be more of a staple for the Blackshirts defense than Crick was supposed to be? If not him, then who?
Adam Rittenberg:
They play different positions and Crick could have had a nice year in 2011 if not for the injury, but I think Meredith is a key player to watch this fall. From
talking with him a few weeks ago
, he's excited about new D-line coach Rick Kaczenski and new coordinator John Papuchis. He also realizes the need to be more of a leader for a unit that admittedly underperformed in 2011. He'll enter his third year as the starter and has some natural pass-rushing skills, as he showed in 2011 with five sacks and nine quarterback hurries. Nebraska didn't generate nearly enough pressure in 2011 -- the team ranked 84th nationally in sacks and 112th in tackles for loss -- so Meredith will need to trigger the rush this coming season.
---
Dave from Toledo, Ohio, writes:
How hard will it be to implement a new offense at Ohio State? How well does the current personnel on the team fit? RichRod's new offense did terrible at michigan his first few years until he had the right players, though I feel like he didn't try to adapt his offense to the players he had, which I'm hoping Meyer and Herman don't make the same mistake. I'm most concerned about our offensive line adapting, as well as having some wide receivers emerge as play makers.Thanks
Adam Rittenberg:
Dave, Rodriguez's offense had one bad year in 2008 and then got progressively better, setting some records in 2010. Offense wasn't the problem for Rodriguez at Michigan, and he did have some players recruited by the previous coaching staff who did well. One advantage Meyer has is he inherits a quarterback much more suited to his system (
Braxton Miller
) than the QBs Rodriguez inherited at Michigan (Steven Threet, Nick Sheridan). Miller likely will have an even higher ceiling under Meyer and Herman than he would have under the previous offensive staff, which drew a lot of criticism. How the offensive line develops will be an interesting subplot of the spring for sure, as Meyer has made some comments about the need for better conditioning, etc. Meyer also has been candid about the need for more difference-makers at wide receiver, a position that was a virtual nonfactor in 2011. I do think a more imaginative offensive game plan will help players blossom at several positions. It's not as if Ohio State lit it up on offense last year. While there could be some growing pains this fall, I think you'll like what you see from the Buckeyes offense.
---
Ahmet from Rochester, N.Y., writes:
Adam, I saw you traveled to Turkey, that is very nice. I would like you to to write soemthing about Turkish soccer since you saw Turkish soccer match
Adam Rittenberg:
It was pretty wild, Ahmet. I dragged my wife to the match, and let's just say she was one of the few females in the crowd. We had heard the fans of the home team, Kar_1yaka, were known for being pretty rowdy. There were a ton of police around the stadium, and we had to be patted down by security as we entered. There also were high fences surrounding the pitch so no one could enter from the stands. Everyone stood for the entire game, and there were some designated cheering sections surrounded by security. The chanting during the game was pretty cool even though I had no idea what they were saying. Fans were very demonstrative about bad calls, and some of them went a little too far, like the guy in our row who broke three stadium seats with his foot and almost got in a fight with a guy in the next section over. There were several near-fights among fans and the security didn't do much to step in. It was definitely an experience, and the match we went to was second division, not Süper Lig. I'd definitely go again, though.
March, 10, 2009
3/10/09
6:29
PM ET
Posted by ESPN.com's Adam Rittenberg
While watching Ohio State and Northwestern combine to score a whopping 40 points in the first half of Sunday's basketball game, one of my friends gave me the idea to do a blog post examining the relationship between each Big Ten member's football team and men's basketball team.
It's an interesting topic, especially since the leaguewide football and basketball identities seem to be growing closer.
For starters, both sports are constantly fighting for national respect. Even the Big Ten's mini renaissance in hoops this season hasn't increased the league's profile as much as it could have.
Both sports generally play styles that aren't sexy and seem dull at times, but defense and discipline are emphasized. Most casual college football fans would rather watch a Big 12 game than a Big Ten battle. The same can be said for college hoops aficionados who prefer the ACC and the Big East to the Big Ten. But many die-hard Big Ten fans don't mind 17-14 football scores or even 17-14 halftime hoops scores (or 38-33 finals, ugh).
How does each school compare on the gridiron and the hardwood? Here's a closer look.
ILLINOIS

Current flagship program: Basketball
Both programs have tasted success, but only basketball has been able to sustain it over time. Football seems to be the flashier program right now, largely because of Ron Zook's and Mike Locksley's recruiting efforts, but basketball has produced more than its share of superstars, most recently guards Dee Brown, Deron Williams and Luther Head in 2004-05. Both coaches (Zook and Bruce Weber) have backgrounds in defense, but the Illini hoops squad seems to reflect it more often, while the gridders can light up a scoreboard behind quarterback Juice Williams.
INDIANA

Current flagship program: Basketball
The Hoosiers probably have the league's largest gap between football and men's basketball. One program has been largely considered an afterthought, while the other retains the mystique of a national powerhouse despite some hard times in recent years. Bob Knight coached Indiana basketball from 1971-2000. In that same span, the football team had five head coaches (football has had four coaches since 2001). Defense was a hallmark of Knight's teams, but it has been a bugaboo on the gridiron, particularly during this decade.
IOWA

Current flagship program: Football
Coaching continuity has been a theme for both programs, as men like Hayden Fry (football), Tom Davis (basketball) and Kirk Ferentz (football) have held their posts for more than a decade. Football has been the better and more likable program during the 2000s, reaching four New Year's Day bowls. Despite those incessant NFL rumors and a recent string of player transgressions, Ferentz remains popular among Hawkeyes fans, most of whom couldn't wait to see hoops coach Steve Alford leave town after several troublesome seasons. Though the basketball team hasn't broken through yet under Todd Lickliter, its style of play -- defense-oriented, focused on fundamentals -- falls in line with that of the football team.
MICHIGAN

Current flagship program: Football
It takes more than one lousy season to take football off the marquee at Michigan, but the basketball team seems to be gaining ground behind head coach John Beilein. Both programs have recruited extremely well and won national championships, but basketball has been a major underachiever this decade. Both Beilein and football coach Rich Rodriguez brought in proven systems from West Virginia, and Beilein's has caught on in Year 2. Who knows, maybe the same will hold true for Rodriguez. Football employed a more conservative style under Lloyd Carr and will appear more chic if Rodriguez's dynamic spread system clicks. Basketball seems a bit more blue collar behind Beilein.
MICHIGAN STATE

Current flagship program: Basketball
The identities of these two programs seemed miles apart years ago, but Mark Dantonio is gradually restoring respectability to the football team. Tom Izzo's hoops squad has been a consistent winner with cream-of-the-crop recruits, while football was known as a perennial underachiever, prone to midseason collapses and off-field problems, until Dantonio arrived. Both coaches stress defense and physical play, and Dantonio has upgraded recruiting for football, though it's not quite to Izzo's level in hoops.
MINNESOTA

Current flagship program: Push
Minnesota is one of few Big Ten schools without a clear flagship program, as both football and basketball have fluctuated in recent years. Formerly a football powerhouse, Minnesota hasn't won a Big Ten title since 1967. The hoops squad reached the Final Four in 1997 but then endured a crippling academic fraud scandal. Basketball got a major boost by hiring coach Tubby Smith and hopes to reach the NCAA tournament on Sunday. Football rebounded from a 1-11 season in 2007 to win seven games last fall behind energetic coach Tim Brewster. Both progams have upgraded their in-state recruiting, which should signal better days ahead.
NORTHWESTERN

Current flagship program: Football
For decades, no Big Ten program had more parallels in football and basketball than Northwestern, which wasn't a good thing. The Wildcats took losing to new lows, dropping 34 consecutive games in football and continuing to carry the label as the only major-conference team never to reach the NCAA tournament. But football broke through in 1995 and has been competitive ever since, and basketball could be getting there as well this season. Recruiting is a challenge for both programs, and Northwestern has used innovative schemes (the spread offense in football, the Princeton offense in basketball) to combat the gaps in talent. Resiliency has been a hallmark for Northwestern in football and, this season, basketball, but the oft-overlooked Wildcats generally struggle when the national spotlight is on them.
OHIO STATE

Current flagship program: Football
Football will always drive the bus in C-Bus, though the basketball team has raised its profile significantly under Thad Matta after violations by the previous coaching staff. The Buckeyes have been the dominant football team in the Big Ten this decade, much like Michigan State in hoops, and employ a style rooted in defense, special teams, rushing the ball and limiting turnovers. Matta's teams
seem a little more dynamic on offense while placing a premium on defense as well. The biggest similarity in recent years has been the ability to land top-level recruits, whether it's Terrelle Pryor in football or Greg Oden and Mike Conley Jr. in basketball.
PENN STATE

Current flagship program: Football
Here's all you need to know: Penn State's hoops team has reached three NCAA tournaments since 1965, the year before Joe Paterno took over as head football coach. Paterno is the face of not only the athletic department, but the university, and his football teams have overshadowed their mates on the hardcourt. While Paterno is an icon, most casual hoops fans couldn't point Lions coach Ed DeChellis out of a lineup. But DeChellis has his best team this year, and perhaps Penn State can turn the corner in basketball (a reasonable expectation). Paterno has won 23 bowl games and two national titles and coached Penn State to five undefeated seasons, so hoops has a lot of catching up to do.
PURDUE

Current flagship program: Basketball
Football and basketball have traded off top billing at Purdue, as Gene Keady's hoops teams held the distinction before Joe Tiller got things rolling with basketball on grass. Matt Painter has Boilers hoops back among the Big Ten elite, and his coaching and recruiting ability signals good things ahead. Purdue sells itself as a blue-collar, unflashy program in both football and basketball, which made Tiller's high-powered spread offense all the more eye-catching. New football coach Danny Hope wants to keep a similar offensive system in place, so it's hard to say whether football will move closer to basketball or further away.
WISCONSIN

Current flagship program: Push
It's a close call between Badgers football and basketball, as football dominated the 1990s and part of this decade, while basketball made the Final Four in 2000 and has surged behind coach Bo Ryan. Arguably no Big Ten school has more similarities between its two programs than Wisconsin, which overcomes a smallish recruiting pool to produce competitive teams that emphasize defense, fundamentals and physical play. Few basketball coaches consistently get as much out of their talent as Ryan does every year, and Alvarez built Wisconsin from a loser into a powerhouse.
February, 3, 2009
2/03/09
4:51
PM ET
Posted by ESPN.com's Adam Rittenberg
Hours before national signing day, let's see what's on your mind.
John from Mansfield, Ohio, writes: Adam, I have just read in the paper today that the Athletic Department at Ohio State will be in the "Red" for the first time. They intend to raise ticket prices for football and men's basketball. Two questions: 1. What do you attribute this failure to at least break even? The excessively high salaries? 2. Do you think this could be the start of a trend in major college athletics?
Adam Rittenberg: John is referring to this article in The Columbus Dispatch. I'm not an economics expert, but it seems as though the financial crisis is hitting mega athletic departments with large numbers of varsity sports. Stanford, a regular contender for the Director's Cup, also reported major financial problems because of the economy. Ohio State and Stanford both carry a ton of sports. Escalating coaching salaries certainly play a role, and Ohio State has two very highly paid coaches in Jim Tressel and Thad Matta, but having to fund so many varsity sports really takes a toll at times like these. I definitely see this becoming a trend in major college sports, and other so-called factories will be hit hard.
---
Brian from Des Moines, Iowa, writes: I was reading the signing day preview and it says they asked the bloggers to fill out the "best" section. You picked Michigan as having the best uniform? I can see them being in the running for best helmet, but overall uniform has to go to Iowa's home attire.
Adam Rittenberg: I love the Hawkeyes' look at home, but Michigan boasts a more recognizable and traditional feel. I probably would have put Penn State second behind the Wolverines for best unis. Iowa is certainly among the Big Ten's top half, but I'm pretty sure most people outside Des Moines would pick Michigan's threads over the Hawkeyes'.
---
Derek from Glen Gardner, N.J., writes: In your last mailbag you mentioned that you thought the BigEast was deeper than the MWC. I have to agree with you, but what I believe you forgot was that BigEast teams have the ability to tell recruits that they can contend for a BCS game year-in and year-out. If the MWC was able to do that for the next 5 years, do you think the BigEast would still be deeper?
Adam Rittenberg: Having a BCS berth as a carrot for recruits certainly would help the Mountain West's bottom rung. I've never understood why San Diego State couldn't be a powerhouse, given its proximity to top recruits. Wyoming and UNLV seem like tough places to win, but both programs have shown flashes of promise. There is potential throughout the Mountain West, but the same can be said for the Big East. Syracuse won't be down for much longer, and Louisville has shown an ability to win in the past. The two leagues would be pretty close in the scenario you present, and the Mountain West might get the edge.
July, 18, 2008
7/18/08
9:46
AM ET
Posted by ESPN.com's Adam Rittenberg
Happy Friday to all. Big Ten media days are less than a week away and every team but Purdue opens preseason practice on Aug. 4, so gear up. The season's almost upon us. Here's the daily look around the league: