March, 26, 2013
3/26/13
9:00
AM ET
Minnesota coach Jerry Kill guided the team to a bowl game during his second season in Minneapolis despite some depth and injury problems in 2012. What's in store for Year 3 of the Kill era? I recently caught up with him to get his outlook for the Gophers' spring practice, which opens today.
How has the offseason gone for you guys so far?
Jerry Kill:
Well, I think the bowl game, even though we lost, the kids played very hard and well. We got healthy, for one, before we went to the bowl, and we had a great month with our kids and a great experience. And coming into the offseason, I think there was a lot of confidence gained. All our kids' strength and testing numbers went up. I guess I can use
Ra'Shede Hageman
as an example, He benched 450 pounds, squatted well over 500 and cleaned 350, with a 38-inch vertical. So kids like that got a lot better.
We feel up front and on the defensive line, we've gotten stronger. I think we've added some depth to the defensive line, and secondary-wise, we played several freshmen in that game against Texas Tech. We've got the flexibility to play
Derrick Wells
at corner and safety. I think the biggest question mark we've got going in is, we lost five scholarship linebackers. It's like a year ago when we lost seven secondary players and kind of hit the jackpot in recruiting. Damien Wilson, a junior college transfer, has had a great spring, and I'm looking forward to seeing him on the field. The guys who need the reps this spring are
James Manuel
,
Aaron Hill
,
Lamonte Edwards
, and young men we redshirted named
Jack Lynn
and
Nick Rallis
. And then we've got four other kids coming when fall camp starts. Our secondary a year ago had a lot of questions and really played well. I think, this year, linebacker is where we need to step up on defense.
And then on offense, I feel we'll be a much better football team than we were a year ago because we get everybody back except for
Brandon Green
and Q [
MarQueis Gray
], really. So I think that unit will be much improved.
[+] Enlarge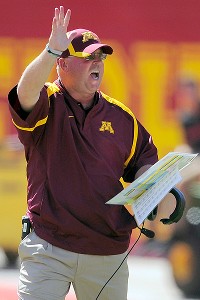 AP Photo/Mark J. TerrillJerry Kill begins his third season as head coach of the Gophers.
You showed off a good power running game in that bowl game. Is that what we should expect from your offense going forward?
JK:
Yeah, that's what we were at Northern Illinois. We could run the power at you, but then we were athletic enough to turn and run the zone read with the quarterback. Both [Chandler] Harnisch and [Jordan] Lynch, when we needed to throw it, we completed it. But we still made our living on running the football. It was the first time, in the bowl game, that we had the same offensive line that we had at the beginning of the seaon. We had so many people get experience there. But that's what we want to be -- a team that gives you a lot of different looks, shifting and motion and different personnel grouping. But you've still got to be able to run the football, and certainly in the Big Ten.
Speaking of that offensive line, after a lot of injuries there last year, how is the position looking this spring?
JK:
Well, we've got a lot of depth, no question. Eddie Olson, he won't go through the spring, but he had a good year a year ago. If we can get his foot healed up and done right, it kind of works out. He'll continue to get stronger. We redshirted
Jonah Pirsig
, who's a 6-foot-8, 6-9, 320 pound tackle,
Ben Lauer
, who's 6-7 and probably 305, and
Isaac Hayes
, who is a 6-2, 300-pound offensive guard. So those kids, I'm anxious to see them in the spring.
We've got
Zac Epping
,
Jon Christenson
and
Caleb Bak
-- in the weight room, he benched 350, squatted 550, so he's gotten stronger.
Josh Campion
is a strong kid; he benches well over 400 pounds. So the same guys who when I first got here were getting pushed around have gotten stronger. And then we've added these young kids that have come in.
Marek Lenkiewicz
is up to 290 pounds,
Tommy Olson
is healthy again and
Brian Bobek
, who transferred from Ohio State and had great credentials when he went to Ohio State, he's another one who's very physically strong. Then there's
Foster Bush
and
Joe Bjorklund
. They're all young kids, but they've gotten physically stronger.
When we got here, I think we had about seven or eight offensive linemen. So we've built it through walk-ons and kind of did it the hard way. But I feel good about that position, along with our tight ends, quarterbacks and receivers. Our defense improved tremendously from one year to the next. For us to be competitive in the Big Ten -- which I think we can be -- our offense has to take the steps our defense did a year ago. And I think we can.
Philip Nelson finished the season for you at quarterback and had a nice bowl game, but you also have some talented young guys there. Is it his job to lose this spring or a more open competition?
JK:
We took the redshirt off Philip last year, and he did some good things and had some things he struggled with, as you'd expect for a freshman. He did some great things in the bowl game. When we go into camp, somebody is going to have to go in there and beat him out. But the thing that's good about that is the competition.
Mitch Leidner
and Chris Streveler are great athletes who can play another position if needed, but they both want to play quarterback and they're very capable of giving someone a run for their money. I can tell you, our defense is very high on Leidner. Mitch is probably close to 6-5 and 230, and he is a 4.6, 4.65 guy [in the 40-yard dash]. And very strong. And then Streveler is quicker than that. He came in during the second semester, and I think he's the third-fastest guy on our team. When we had him in camp, he played receiver also.
So all three of those guys are great kids, students of the game, and the type of kids you want playing quarterback leadership-wise. We'll let it work out. Leidner and Streveler are the type of kids who would say, "Coach, if it helps the team if you move me, I'll do that." But in the spring we're going to let them compete and make sure we're solid at that position. If you look at last year, it was kind of a miracle we got to a bowl game, because we had three different quarterbacks and three different centers. Not many people can win doing that.
May, 11, 2012
5/11/12
9:00
AM ET
2011 record
: 3-9
2011 conference record
: 2-6 (sixth, Legends Division)
Returning starters
: Offense: 7; Defense: 6; kicker/punter: 2
Top returners

QB
MarQueis Gray
, CB
Troy Stoudermire
, LB
Keanon Cooper
, LB
Mike Rallis
, WR
Brandon Green
, LT
Ed Olson
Key losses
WR
Da'Jon McKnight
, S
Kim Royston
, RB Duane Bennett, DT
Anthony Jacobs
, DT
Brandon Kirksey
, TE
Collin McGarry
2011 statistical leaders (*returners)
Rushing
: MarQueis Gray* (966 yards)
Passing
: MarQueis Gray* (1,495 yards)
Receiving
: Da'Jon McKnight (760 yards)
Tackles
: Kim Royston (123)
Sacks
:
Gary Tinsley
(4)
Interceptions
: Troy Stoudermire* (2)
Spring answers
1. Better secondary play:
The Gophers looked overmatched defending the pass at times last season, but things appear to have changed dramatically. The secondary took a major step forward this spring and looks to be as deep and talented as it's been in a few years. Head coach Jerry Kill brought in three junior-college defensive backs who should all contribute, including Martez Shabazz, and Troy Stoudermire returns at starting corner after getting an extra year of eligibility from the NCAA. The Gophers were also able to move corner
Brock Vereen
to safety with the extra depth. Once a weakness, this position now figures to be a strength.
2. Gray matter:
Quarterback MarQueis Gray had some big moments last year in his first year of starting but also struggled with inconsistency. That was expected from a guy who played receiver the previous year. Well, Gray greatly improved his mechanics in the offseason, and Minnesota coaches went to Baylor and other places to study how to best utilize his dynamic skills. Gray looked like a more accurate passer this spring, and he has a chance to rush for more than 1,000 yards and throw for more than 2,000 this season as the team's main weapon.
3. Need for speed:
Minnesota hasn't had much of a pass rush for the past few years, but the team is hoping a move toward a lighter, speedier defense helps in that regard. Guys like redshirt freshman
Thieren Cockran
(a listed 235 pounds) and sophomore
Michael Amaefula
(245) fit the mold of what the Gophers are looking for in a defensive end: athletic, if undersized, quarterback chasers. Along with moving some former safeties down to outside linebacker, Kill and defensive coordinator Tracy Claeys are expecting to field faster players on the edge.
Fall questions
1. Skill set:
Gray lost his favorite target in departed senior Da'Jon McKnight, and though several options are available, Minnesota lacks a clear No. 1 receiver. Senior
Brandon Green
and sophomore
Marcus Jones
-- coming off an ACL injury -- are among the veterans hoping to contribute. But the Gophers will likely need help from incoming freshmen like
Andre McDonald
and Jamel Harbison. Junior-college transfer James Gillum could help in the running game, but the team is not deep at tailback. Skill-position players need to step up to keep Gray from being a one-man show.
2.
Strength up the middle:
While the defense is getting swifter on the perimeter, is it tough enough inside? The team lost both starting defensive tackles from a year ago, and there is very little experience or depth there. Junior college import Roland Johnson could help but is not arriving until the summer. Middle linebacker is another spot without much depth behind starter Mike Rallis. Will Minnesota be able to stand up against power teams like Wisconsin and Nebraska?
3. O-line depth:
The good news is that four players who started on the offensive line return, with only right tackle really up for grabs right now. Yet this is an extremely young group overall, and an injury or two could thrust some players into action before they're quite ready. Kill brought in six offensive linemen in his first recruiting class, knowing he needed to rebuild the group. They'll be better off waiting another year before seeing major action.
January, 10, 2012
1/10/12
5:30
PM ET
The season might be over, but the mail never stops.
Let's do this.
Mike from Phoenix writes:
As a Badger fan I was waiting to see your final power rankings of the year because I had a feeling that you might make MSU number 1. I just don't get it. It's the same way the coaches poll has MSU and Michigan ahead of Wisconsin. That's a joke.Look at the teams everyone played in the bowl season. MSU barely beat Georgia who is not the 2nd best team in the SEC even though they went to the title game. They are the 4th best team in that league. Michigan looked bad, and played one of the easiest teams in BCS history. Wisconsin would have destroyed both Georgia and Va. Tech, but you are penalizing them for going blow for blow with the most talented offensive team in the country. They were a fumble away from possibly winning.
Adam Rittenberg:
Brian and I had a spirited debate about Wisconsin vs. Michigan State for No. 1. You can make good cases for both teams, but you can't base it solely on the bowl competition. Would Wisconsin have rolled Georgia? Maybe, maybe not. Georgia has a much better defense than Oregon and would have moved the ball against a Wisconsin defense that wasn't nearly as good as its stats indicated. Wisconsin also was extremely fortunate to beat Michigan State in the Big Ten title game, which the Spartans dominated for stretches. The two teams are evenly matched, as their two games this season showed. And I believe Michigan State ended the season playing better football than Wisconsin. I also tend to value teams with good to great defenses above those that rely on their offense. Michigan State is certainly superior to Wisconsin on defense.
---
Tim from Iowa writes:
While it might get you some back lash, I'd like your opinion on this.....me and several friends have the opinion that if 2 B10 teams(esp in our champ game) played like LSU-Bama, the B10 would once again be ripped for 3 yards/cloud of dust 1950's football. I watched parts ofthe game last night, then the final 8min. what I saw was one great def, 2 bad quaterbacks, a very repeative ineffective O from LSU, and Iowa/B10 style ball control from Bama. then Saban being proclaimed the next "Bear".
Adam Rittenberg:
Tim, you're right to a degree, although there was less SEC love about the national title game than there was about the 9-6 contest. The SEC in a sense has earned the right to have ugly games because teams from other leagues simply haven't stacked up against the SEC's best. The common belief is that while Oklahoma State would have scored against Alabama, the Tide still would have rolled the Cowboys by 20-30 points. But I agree the SEC is the only league that can "get away" with games like last night's. Most people would much rather see games like the Rose Bowl and the Fiesta Bowl. Alabama is a great football team with one of the best defenses I've ever seen. But LSU's offense would be mediocre to bad in most leagues, not just the SEC.
---
Ryan from Pittsburgh writes:
Adam,What are your thoughts on the new Penn State staff? I have to admit I'm somewhat surprised. For years I thought that PSU would turn the corner if they could only get a younger fresher staff in place to energize recruiting. This new staff that O'Brien has coming in is not young at all, so I doubt they're great recruiters. Plus any Auburn fan will tell you that Roof was fired. Mack Brown fired McWhorter last year. Am I overreacting?
Adam Rittenberg:
You bring up a good point, Ryan. A lot of veteran assistants are joining Bill O'Brien in State College. Keeping Larry Johnson is huge and a somewhat obvious move. He's one of the Big Ten's top recruiters, and he'll maintain Penn State's presence in the Maryland/DC area. His age isn't a factor in that regard. Ted Roof is the hire that has some Penn State fans upset. I agree he doesn't have the best track record, but the overall defensive staff with both Johnson and Ron Vanderlinden still looks solid to me. Charles London is a younger guy (mid-30s), but he's definitely the junior member right now. It'll be interesting to see who O'Brien hires to fill out the staff. Some more youth would be nice.
---
Jeff from Omaha, writes:
Adam? Why am I so awesome?
Adam Rittenberg:
Ask myself the same thing every morning.
---
Sam from Kalamazoo, Mich., writes:
Adam, can you please explain your rationale for naming MSU as an early favorite to win the B1G in 2012 over, say, Michigan? The Wolverines return two 1,000 yard rushers in Denard and Fitz Toussaint, 3 starting receivers, and a top-5 recruiting class loaded with 4 and 5 star DLs, LBs, and OLs. Molk, Van Bergen, and Martin will be sorely missed, but I'm not sure it makes sense that MSU is so ramped for success after losing 6 All-Big Ten players and playing in the Big House. Can you even name next year's replacement for mighty
Kirk Cousins
off the top of your head?
Adam Rittenberg:
Sure, Sam.
Andrew Maxwell
. Michigan State has been grooming him the past two seasons. Will he be as good as Cousins? That's a tall order, but he's not coming out of nowhere. Michigan State is my pick because of its defense. While Jerel Worthy is a big loss, the Spartans return a ton of elite athletes in all three levels, players like Will Gholston, Denicos Allen, Johnny Adams and Darqueze Dennard. The Spartans have more difference-makers on defense than Michigan will in 2011, at least in my view. I also believe MSU will be a more effective running team than it was this season because of an experienced line and a strong lead back in
Le'Veon Bell
. I certainly could see Michigan winning the division, but the Wolverines have a much tougher schedule in 2012 and could have a better team with a worse record (much like MSU this season versus 2010).
---
Ben from Fargo, N.D., writes:
One of the big stories in 2012 will be a surprising improvement in Minnesota's defensive line play. Ask Jerry Kill about Thieren Cockran. He's coach Kill's secret weapon.
Adam Rittenberg:
Will do, Ben. Thanks for the note. Minnesota's defensive line play has struggled since Willie VanDeSteeg departed following the 2008 season. Gophers have ranked and 78th, 120th and 86th nationally in sacks in the past three seasons. It's an area of focus throughout the offseason as Minnesota loses linebacker Gary Tinsley and standout safety Kim Royston. Cockran, a redshirt freshman defensive end from Florida, is among those who needs to step up in 2012.
---
Matt from Burbank, Calif., writes:
Hi Adam,Regarding Northwestern next year, do you think
Kain Colter
gets the starting QB job? I've been of the opinion that he is more dangerous in a utility role as he was used these season, but on the other hand he's proven he can win and be effective as the top guy. Additionally, do you think there's any hope for this defense?Thanks for a great season, can't wait till next year! Bowl win or bust!
Adam Rittenberg:
Matt, I think Colter will be the starter for 2012, but he has to make some important strides as a passer during the offseason. Northwestern's offense is predicated on short passing and accuracy. The Wildcats convert a lot of third downs, and Colter has to be able to make the throws
Dan Persa
, Mike Kafka and C.J. Bacher have made in recent years. He's the best athlete Northwestern ever has had at quarterback, and he's a perfect fit for the spread -- as long as he gets better as a passer. If there's little to no progress, Northwestern will have to use another quarterback, likely
Trevor Siemian
, to spark the passing game. Offensive coordinator Mick McCall has developed quarterbacks well at Northwestern, and Colter is his next big project.
---
Kevin from New Orleans writes:
It's been a tough couple weeks to be a Badger. Lost the Rose Bowl, lost 3 straight in hoops, lost 5 coaches. First let me say, if Bielama has Barry's confidence and support, then he has mine. Have you heard anything? Are the Badgers getting some really good coaches? I doubt we'll get anybody that can match the talent we are losing, but maybe we get an upgrade on the recruiting. 4 of the 5 coaches that left were not good recruiters. I'd love to hear your thoughts.
Adam Rittenberg:
Kevin, while it's tough right now, I think Wisconsin fans should have faith in Bret Bielema to make some good hires. As you note, Joe Rudolph is the only major loss from a recruiting standpoint. Bielema has made good choices in the past, such as defensive coordinator Dave Doeren (now head coach at Northern Illinois), Dave Huxtable (did a great job with UW linebackers in only year) and Chris Ash (has upgraded secondary, now defensive coordinator). It'll be interesting to see where he turns to replace Paul Chryst and Bob Bostad, but a lot of good coaches will want to come to Madison after seeing what Wisconsin has done the past few years. So I would look at Bielema's hiring track record and feel confident.
---
Lance from Arlington writes:
"While Penn State has produced some solid college quarterbacks -- most recently Daryll Clark, the 2009 Big Ten Offensive Player of the Year"While your opinion is correct in general, saying Daryll Clark was solid does him an injustice. DC (along with Drew Brees) was the best QB the Big Ten has had since Kerry Collins and Michael Robinson is right there. Simply put, Penn State has produced three of the top five QB's to have competed in the Big Ten since their arrival. You will no doubt disagree since you hate Penn State but you are wrong.
Adam Rittenberg:
Lance, I don't hate Penn State. I hate every school according to you folks. Let's get that cleared up. I was a big Daryll Clark fan during his career, but your argument doesn't hold up. Troy Smith won a Heisman Trophy in 2006. He played between Brees and Clark. Iowa's Brad Banks won the Davey O'Brien award in 2002. He played between Brees and Clark. While Clark led the Big Ten in pass efficiency in conference games in 2009 (136.6), it's the lowest rating for a Big Ten leader since at least 1980. His season rating that year (142.6) didn't lead the league (Terrelle Pryor did) and ranks behind all of the league leaders since 1980. Again, not hating on Daryll, who has a really nice career in State College, as did Michael Robinson. But there have been better Big Ten quarterbacks since Kerry Collins, including Wisconsin's
Russell Wilson
this year.