April, 16, 2014
Apr 16
9:00
AM ET
MADISON, Wis. -- Most Wisconsin players had disappeared into the northeast tunnel of Camp Randall Stadium, leaving behind another spring workout. But
Melvin Gordon
remained, running routes and catching passes from walk-on quarterback
Thad Armstrong
.
It's the type of image college football fans covet but can't always count on: their team's best player being the last to leave the practice field. In this way, Wisconsin fans are spoiled with their recent running backs.
Montee Ball
set records on fall Saturdays, but he was even better, teammates and coaches say, during practices.
James White
forged a 4,015-yard, 48-touchdown Badgers career on production, versatility and unselfishness. Those qualities showed up every time he practiced.
[+] Enlarge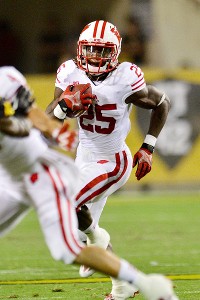 Matt Kartozian/USA TODAY SportsMelvin Gordon said he came back this season to lead Wisconsin to a national championship.
Now comes Gordon, the flashiest of the recent Badgers backs. Ball mass-produced touchdowns; Gordon mass-produces highlight-reel runs. Last season he led the FBS in runs of 60 yards or longer (4) and 70 yards or longer (3), while ranking in the top five for rushes of 30 yards or longer (9) and 40 yards or longer (6).
But on this day, as afternoon spills into evening, Gordon works on catching passes. He recorded only one reception in 2013 and has just three in his career.
"I always try to do a little something after practice," Gordon told ESPN.com. "People ask me what specific thing I'm working on, what one thing, but as a back, you have to work on everything, feel like everything is your weakness and make it a strength."
There is a next level for Gordon. He sees it. If there wasn't, he would have gone to the next level. Instead, he's back at Wisconsin, hoping to take the program to the next level.
Gordon finalized his decision in December
before receiving a grade from the NFL draft advisory board. He was projected as a
second-round pick
and could have climbed higher with a strong pre-draft showing.
"It was very clear what Melvin wanted to do," Wisconsin coach Gary Andersen said. "He wanted to come back. He never seemed one bit distracted, nor has he seemed one bit distracted since that time. If you ask Melvin right now, it's clear-cut for him: He wants to be in a position to help the team reach a high level of elite football, and be the featured tailback.
"That is his goal."
Gordon specified his objective last week on a conference call with reporters.
"I want to get our team to the playoff," he said. "I have a paper posted on my wall of the College Football Playoff. I didn't come back to win this or that, to win the Heisman, people talk about that, I don't really feel like that's important. The goal right now is a national championship.
"Wisconsin's never had one before, so that's my goal and that's our team goal."
Gordon undoubtedly will enter the Heisman picture if he builds upon a sophomore season that included 1,609 rush yards and 12 touchdowns on only 206 carries. He led the nation and set a team record in yards per rush (7.81). With a career average of 8.1 yards per rush, he needs just 12 attempts to set the Big Ten record held by former Penn State star
Ki-Jana Carter
(7.27 YPR).
[+] Enlarge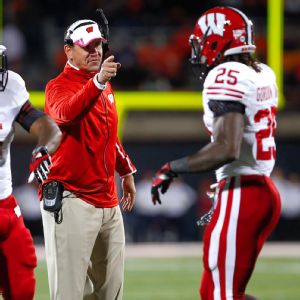 Michael Hickey/Getty ImagesWisconsin coach Gary Andersen has no doubt about Melvin Gordon's significance.
The big runs should come, but Gordon wants to be a pass-catching back, a role White held last season (39 receptions). Gordon also knows he must improve his pass-blocking. The spring helped him in these areas, as Andersen held Gordon out of contact this spring and limited his ball-carrying reps, taking no chances with Wisconsin's best weapon or his talented backup,
Corey Clement
.
"Melvin plays so well with the ball in his hands," offensive coordinator Andy Ludwig said. "This spring, he's had great opportunities playing without the ball, and has made the most of those opportunities."
The reduced role posed a challenge at times. Wide receiver
Kenzel Doe
, one of Gordon's best friends, said Gordon often told him, "Man, I know they don't want me to get the reps, but I want to be out there so bad."
Gordon maximized the reps he received during practice and stayed after to work more.
"Montee always told me, 'Practice is harder than games,'" Gordon said. "Everything you do in practice, you get to the game, you'll be in the same situation, and you'll be able to make that cut. You practice how you play. I believe in that."
Gordon has known he would be back at Wisconsin for four months. Three of those months have featured incessant NFL draft coverage, from the scouting combine to pro days to individual workouts to daily rumors. A later draft means three more weeks of chatter.
You wouldn't blame a player who easily could be part of the process for completely tuning it out. But Gordon watches "all of it." He loves the NFL Network as much as the next draftnik.
"When they're talking about this running back or that one, you can't help but think about it," Gordon said of his potential pro path. "It's human nature. But you can't dwell on it too much. When you give your commitment, that's what it is. You can't go back, even if you wanted to."
Andersen doesn't undersell what Gordon's return means. "Huge," he said, "is probably not a big enough word." Wisconsin is very thin at wide receiver after losing
Jared Abbrederis
and remains unsettled at quarterback coming out of the spring.
No matter who lines up under center, the unit will lean on Gordon and Clement, who Andersen calls Wisconsin's two best offensive players. At times, they'll play together. Other times, they'll spell one another. Gordon and White formed the most productive single-season rushing tandem in NCAA history last fall (3,053 yards), and hopes are high that Clement complements Gordon just as well, if not better.
But Gordon returned to be the lead ball carrier, to be more involved in the pass game, to be a complete player and a better leader. He'll reach the next level soon enough.
He wants to get Wisconsin there first.
"His mentality is, 'I came back for a reason,'" Doe said. "He has that eagerness to win, so he's going to do whatever he has to do."
March, 26, 2014
Mar 26
12:00
PM ET
Eyes closed, head first, can't lose.
March, 10, 2014
Mar 10
10:30
AM ET
Non-Minnesota fans might have missed Friday's official announcement that Mike Sherels has been promoted to Gophers linebackers coach after serving on the team's recruiting staff. Sherels is the first new assistant Jerry Kill has hired in his Minnesota tenure, but the move likely signified -- likely being the operative word -- something bigger for the Big Ten.
The end of the coaching carousel for 2014.
This post always includes a reminder that additional coaching changes still can happen, even though most of the Big Ten has started spring practice. It's the nature of the business.
Despite two new teams in the Big Ten, the number of overall changes in the league dropped for the second consecutive year, going from 32 in 2013 to 27 this year. There was only one complete staff overhaul, at Penn State, and four programs -- Illinois, Iowa, Michigan State and Northwestern -- kept all of their coaches from last season. After replacing more than half of his staff in the last offseason, Illinois' Tim Beckman hopes continuity pays off in what likely will be a make-or-break 2014 campaign. Iowa is back to its stable self after two years of coaching flux, while Northwestern coach Pat Fitzgerald hasn't made a staff change since after the 2010 season.
Michigan State made a major commitment
to Mark Dantonio and his assistants after the Spartans' Rose Bowl win, but it's still impressive that Dantonio retained the entire staff after such a great season.
Both Rutgers and Maryland have some new faces on staff before their inaugural season of Big Ten play. Rutgers has two new coordinators (one outside hire, one promotion), while Maryland has new assistants overseeing both lines.
[+] Enlarge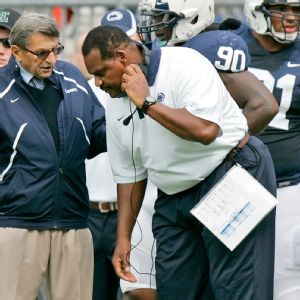 Michael R. Sisak/Icon SMILongtime Penn State defensive line coach Larry Johnson moved to Ohio State this offseason after James Franklin was hired as the Nittany Lions' head coach.
Other than Penn State, Indiana and Rutgers are the only teams featuring two new coordinators in 2014. Although IU assistant Kevin Johns previously held the co-offensive coordinator title, he'll be the main man, as he takes over for Seth Littrell.
For the most part, the coaches leaving Big Ten programs did so voluntarily and for potentially better positions. Penn State head coach Bill O'Brien took the same role with the Houston Texans, while two assistants -- Ohio State's Everett Withers and Maryland's Greg Gattuso -- left to become FCS head coaches at James Madison and Albany, respectively. The Big Ten lost several assistants to the NFL, as O'Brien brought four assistants with him from Penn State (John Butler, Stan Hixon, Charles London and Anthony Midget) and swiped another from Ohio State's staff (Mike Vrabel). Wisconsin also lost running backs coach Thomas Hammock to the Baltimore Ravens.
Arguably the most interesting move took place within the league, as longtime Penn State defensive line coach Larry Johnson replaced Vrabel at Ohio State.
OK, let's get to it already.
Here's the rundown of coaching changes (head coach and full-time assistants only; number of new coaches in parentheses):
INDIANA (3)
Who's gone?
Doug Mallory, defensive coordinator/safeties
Seth Littrell, offensive coordinator/QBs
Jon Fabris, defensive line
Who's in?
Brian Knorr, defensive coordinator/defensive ends/outside linebackers
Larry McDaniel, defensive line
Noah Joseph, safeties
Other moves
Promoted Kevin Johns to main offensive coordinator. Johns also now coaches quarterbacks in addition to wide receivers.
Moved James Patton from assistant defensive line/special teams to tight ends and fullbacks
MARYLAND (3)
Who's gone?
Tom Brattan, offensive line
Lee Hull, wide receivers
Greg Gattuso, defensive line
Who's in?
Greg Studwara, offensive line
Keenan McCardell, wide receivers
Chad Wilt, defensive line
MICHIGAN (1)
Who's gone?
Al Borges, offensive coordinator/quarterbacks
Who's in?
Doug Nussmeier, offensive coordinator/quarterbacks
Other moves
Defensive coordinator Greg Mattison is overseeing linebackers instead of defensive linemen
Mark Smith moves from linebackers to defensive line
Roy Manning moves from outside linebackers to cornerbacks

Curt Mallory will coach only safeties rather than the entire secondary
MINNESOTA (1)
Who's gone?
Bill Miller, linebackers/assistant head coach
Who's in?
Mike Sherels, linebackers (promoted from recruiting staff)
Other moves
Pat Poore moves from wide receivers to running backs
Brian Anderson moves from running backs to wide receivers
NEBRASKA (1)
Who's gone?
Terry Joseph, secondary
Who's in?
Charlton Warren, secondary
OHIO STATE (2)
Who's gone?
Everett Withers, co-defensive coordinator/safeties
Mike Vrabel, defensive line
Who's in?
Chris Ash, co-defensive coordinator/safeties
Larry Johnson, defensive line/assistant head coach
PENN STATE (10)
Who's gone?
Bill O'Brien, head coach/offensive playcaller
John Butler, defensive coordinator/cornerbacks
Charlie Fisher, quarterbacks
Stan Hixon, wide receivers/assistant head coach
Larry Johnson, defensive line
Charles London, running backs
Mac McWhorter, offensive line
Ron Vanderlinden, linebackers
John Strollo, tight ends
Anthony Midget, safeties
Who's in?
James Franklin, head coach
John Donovan, offensive coordinator/tight ends
Bob Shoop, defensive coordinator/safeties
Charles Huff, running backs/special teams
Brett Pry, co-defensive coordinator/linebackers
Josh Gattis, wide receivers/assistant special teams
Herb Hand, offensive line
Ricky Rahne, quarterbacks
Sean Spencer, defensive line
Terry Smith, cornerbacks
PURDUE (1)
Who's gone?
Jon Heacock, defensive backs
Who's in?
Taver Johnson, defensive backs
RUTGERS (4)
Who's gone?
Dave Cohen, defensive coordinator/linebackers
Ron Prince, offensive coordinator
Rob Spence, quarterbacks
Damian Wroblewski, offensive line
Who's in?
Ralph Friedgen, offensive coordinator/quarterbacks
Bob Fraser, linebackers/special teams
Mitch Browning, offensive line
Ben McDaniels, wide receivers
Other moves
Promoted special teams coordinator Joe Rossi to defensive coordinator
Anthony Campanile is coaching only tight ends after overseeing both tight ends and wide receivers
WISCONSIN (1)
Who's gone?
Thomas Hammock, running backs/assistant head coach
Who's in?
Thomas Brown, running backs
February, 21, 2014
Feb 21
5:20
PM ET
Gary Andersen would be the first to admit that much of his job description at Wisconsin is simply not to screw things up.

Thomas Brown's is similar, albeit on a smaller scale.
Brown, expected to be named Wisconsin's new running backs coach, steps into one of the more prestigious position coaching posts in the Big Ten. When you think of Wisconsin football, you think of exceptional running backs. While the men carrying the ball -- and the bigger men paving the way -- have a lot to do with the tradition, the coaches guiding the running backs play a big role, too.
The past two Wisconsin running backs coaches, Thomas Hammock and John Settle, both left for NFL jobs after having success in Madison. Brown, a 27-year-old former Georgia running back who has only one year as an FBS position coach, steps into some very big shoes.
Wisconsin has yet to announce Brown's hiring, but Brown has been responding to congratulatory messages on
his Twitter page
, which lists him as the Badgers' running backs coach.
Andersen brings in a young assistant with ties to the fertile Southeast as Brown hails from Tucker, Ga. Brown spent last season as Marshall's running backs coach after working previously at FCS Chattanooga. His recruiting success plays a significant role in the hiring, especially since he replaces an exceptional recruiter in Hammock. As Tom Mulhern notes,
Marshall signed eight players from Georgia
in its most recent recruiting class. Wisconsin clearly wants to have a bigger presence in Georgia after doing well in Florida during the Bret Bielema era.
Like his predecessors, Brown inherits a talented group of backs led by All-Big Ten selection
Melvin Gordon
, who rushed for 1,609 yards and 12 touchdowns as a sophomore and led the nation in rushing for a stretch early in the season.
Corey Clement
, who gained 547 rush yards on only 67 carries as a true freshman, also returns.
Wisconsin has produced a 1,000-yard rusher in each of the past nine seasons and in 19 of the past 21.
Despite Brown's inexperience as a coach, I like the hire. His task is simple: keep Wisconsin's running back tradition going. Or, more bluntly, don't screw things up.
June, 28, 2013
6/28/13
7:00
AM ET
The state of Nebraska's young defense is such that all hands need to be on deck this season, including freshmen.
That's why it was disappointing to hear that two promising young players -- redshirt freshman
Thomas Brown
and true freshman defensive end
Ernest Suttles
--
were dismissed from the team
on Thursday night.
According to police reports, Suttles got into a fight at an off-campus party with Huskers linebacker
David Santos
. Suttles was ticketed for allegedly hitting Santos in the head with a bottle. Brown was not cited, and his involvement in the incident was unknown.
Brown was competing for a starting linebacker spot and was named the Huskers' scout team defensive MVP in 2012. At the very least, he would have provided some depth at a position where Nebraska lost all three starters from a year ago.
Suttles might have been headed for a redshirt season but had been one of the Huskers' recruiting wins in the last year, signing with Nebraska out of Tampa, Fla. The 6-5, 240-pounder looked to give the team some much-needed athleticism on the defensive line.
Instead, both now are gone because of an alleged incident with Santos, a sophomore who is expected to be the team's starting middle linebacker this fall. Head coach Bo Pelini hasn't had a lot of discipline problems during his tenure as head coach in Lincoln, but he can also ill afford to lose two young players who could have contributed on defense. Santos has frequently been mentioned as a potential leader on the Huskers defense this season despite his relative inexperience.
Nebraska is going to have to count on several young players contributing on defense this fall. Unfortunately, Suttles and Brown will no longer be a part of the next wave of potential Blackshirts.
March, 1, 2013
3/01/13
9:00
AM ET
Spring practice has begun in the Big Ten, so let's take a look at what to expect from each Legends Division team this spring.

IOWA
Spring start:
March 27
Spring game:
April 27
What to watch:
1. Questions at quarterback:
The Hawkeyes played
James Vandenberg
for every snap last season, and now that he's gone, they have no quarterbacks on the roster with any game experience. Sophomore
Jake Rudock
has been viewed as Vandenberg's successor, but he's still a mostly unknown quantity who should get pushed in the spring by former junior college transfer
Cody Sokol
and redshirt freshman
C.J. Beathard
. Whoever wins the job will be tasked with improving an Iowa passing game that finished with a Big Ten-worst seven touchdown passes in 2012.
2. Skills competition:
While the quarterback race is vital, Iowa also needs standouts to emerge at the other skill positions to fix an offense that sputtered under first-year coordinator Greg Davis. The wideout corps, which struggled to get separation or make big plays, now is without departed senior
Keenan Davis
, who tied for the team lead with 571 receiving yards. There's a reason why Iowa signed five receivers in the 2013 class. The running back position has strength in numbers, with
Damon Bullock
,
Mark Weisman
,
Jordan Canzeri
and
Barkley Hill
all competing for carries this spring. The Hawkeyes just need to finally get some luck in the health and off-field departments at that position while hoping one player emerges as the go-to back.
3. Transition game:
Iowa long had one of the most stable staffs in the country. But coach Kirk Ferentz added three new assistants this offseason for the second straight year, giving the program some fresh voices but also causing some potential bumps in transition. The offense in particular didn't mesh well last season under Davis, who'll look for solutions this spring. Ferentz has new coaches overseeing the running backs (Chris White) and receivers (Bobby Kennedy) and a new defensive assistant who'll work with the linebackers (Jim Reid). The Hawkeyes hope they can inject some life into a program that has seen its fortunes dip the past couple of seasons, including last year's 4-8 disaster.

MICHIGAN
Spring start:
March 16
Spring game:
April 13
What to watch:
1. Devin Gardner as starter:
Denard Robinson
is gone and Gardner is the presumed Michigan starter for the first time. How he adjusts to that -- and how Michigan offensive coordinator Al Borges develops more of a pro-style offense around him -- are a major launching point for the Wolverines next season.
2. Offensive line play:
Michigan is replacing the entire interior of its offensive line and while there is a lot of young talent there, none of the potential candidates have any experience. Michigan offensive line coach Darrell Funk said he would like to have at least one of the three slots, if not two, settled by the end of spring.
3. Linebacker competition:
The deepest position on Michigan's roster also has the most competition.
Jake Ryan
at strongside linebacker is almost a given, but the middle and weak side slots are wide open. A bevy of freshmen and sophomores, along with returning starter
Desmond Morgan
, will vie for playing time in what will be a likely increased rotation in the fall.
--
Michael Rothstein, WolverineNation

MICHIGAN STATE
Spring start:
March 19
Spring game:
April 20
What to watch:
1. Still Maxwell's house?:
Senior
Andrew Maxwell
started all 13 games last season at quarterback but was pulled in favor of freshman
Connor Cook
for the deciding drive of the Buffalo Wild Wings Bowl. The Spartans will open up the competition under center, with
Tyler O'Connor
and eventually incoming freshman
Damion Terry
joining the fray. Though he has a big edge in experience, Maxwell will have to prove that he can greatly increase last season's 52.5 completion percentage to hold onto the job through the spring.
2. Replacing Bell:
Saying running back
Le'Veon Bell
was a big part of the 2012 offense is like saying Tom Hanks had substantial role in "Cast Away." Bell carried the ball 382 times last year, more than any back in the country, and gained 1,793 yards. There is no ready-made in-house replacement, as leading returning rusher
Nick Hill
had just 21 rushing attempts last year and may be too slight (5-foot-8, 190 pounds) to be an every-down back. Junior
Jeremy Langford
will move back to the backfield after seeing time at receiver. Signees
Delton Williams
,
Gerald Holmes
and
R.J. Shelton
might wind up with the job.
3. New playcaller in town:
Mark Dantonio has yet to officially announce a replacement for former offensive coordinator Dan Roushar, who recently left for an assistant's post with the NFL's New Orleans Saints. But reports are that former Ohio State offensive coordinator Jim Bollman has been tapped to lead the Spartans' offense. Can Bollman, whom Buckeyes fans criticized as being too conservative, find the solutions for what was a dreadful attack in 2012? The Spartans' defense once again enters spring ball with very few question marks. Michigan State's hopes rely heavily on how much progress it can make on the offensive side.

MINNESOTA
Spring start:
March 26
Spring game:
April 27
What to watch:
1. Defensive back end:
The Gophers lost two outstanding cornerbacks in
Michael Carter
and
Troy Stoudermire
, as well as starting linebackers
Mike Rallis
and
Keanon Cooper
. Jerry Kill has tried to address this during recruiting, adding a pair of well-regarded junior college linebackers (
De'Vondre Campbell
and
Damien Wilson
) as well as touted high school corner
Jalen Myrick
. But some holdovers from last season's roster will have to step into bigger roles this spring.
2. The full Nelson:
True freshman
Philip Nelson
took over the quarterback job midseason and now will enter practice as the starter. He showed flashes of immense potential but still has a lot of things to learn. Kill has said Nelson is no lock to start in 2013 and that he'll face legitimate competition from redshirt freshman
Mitch Leidner
and incoming freshman
Chris Streveler
. Nelson has the inside track for now but must hold onto it.
3. Receiving line:
The Gophers don't have a returning wideout who had more than 375 receiving yards last year, though
Derrick Engel
showed promise with a 100-yard day in the Meineke Car Care Bowl of Texas. You can blame some of that on the turnover and youth at quarterback. But Minnesota needs much better play at receiver to become a more balanced offense. Improvement by guys like
Devin Crawford-Tufts
and
Isaac Fruechte
this spring will help, as would some immediate contributions from recruits
Eric Carter
and
Drew Wolitarsky
.

NEBRASKA
Spring start:
March 2
Spring game:
April 6
What to watch:
1. Youth movement on defense:
The Cornhuskers lost eight starters from last season's defense and will hope that some athletic young players are ready to step in. Guys like
Charles Jackson
,
Jonathan Rose
and
Thomas Brown
will be given long looks this spring. Nebraska coaches are hopeful that what they lack in experience, they'll make up for in speed. There's no bigger key for Big Red than having its young defenders make great strides in the spring.
2. Safety issues:
The safety spot is an important one in Bo Pelini's scheme, and the Huskers lose both starters and a couple of top reserves from that position. Jackson will be given a look there, and the staff is high on
Corey Cooper
. But no starting jobs are locked down.
3. Martinez's progression:
Senior quarterback
Taylor Martinez
won't be involved in a lot of live drills, and the spring will be a time to get freshman
Tommy Armstrong
some reps. But Martinez still needs to fine-tune a few parts of his game, most notably his tendency to force throws in key spots. He made great progress last offseason through extra hours of hard work; a similar leap this spring would make Martinez one of the very best players in the country.

NORTHWESTERN
Spring start:
Feb. 27
Spring game:
April 13
What to watch:
1. The quarterback duo:
The Wildcats spent large parts of last season rotating
Kain Colter
and
Trevor Siemian
, using Siemian for more obvious passing situations. Will that continue this season? Colter needs to improve as a passer to become a better option as an every-down quarterback, and Northwestern's downfield passing game must get better. You can bet there will be a lot of eyes on Colter and Siemian this spring to see what offensive coordinator Mick McCall has planned.
2. Secondary concerns:
The news that cornerback
Nick VanHoose
won't practice this spring because of injury could be a blessing in disguise. The Wildcats' secondary struggled when he was hurt last season, so this may provide an opportunity for others to get better without him.
Jimmy Hall
and
Traveon Henry
are youngsters who should see plenty of reps this spring in the defensive backfield.
3. Offensive line makeover:
Three starters are gone from last season's offensive line, including both guards and left tackle
Patrick Ward
.
Jack Konopka
is the favorite to succeed Ward but will miss the spring with injuries, while 2012 signee
Adam DePietro
is among those who could step in at guard. Northwestern should have one of the best running games in the Big Ten in 2013 but will need its line to begin to take shape this spring.
September, 18, 2012
9/18/12
9:00
PM ET
Junior college transfer
Zaire Anderson
was one of the more anticipated arrivals at Nebraska for the 2012 season.
Huskers fans got to see Anderson log significant playing time Saturday against Arkansas State when he made his first career start at weak-side linebacker.
Unfortunately, they'll be waiting a while to see him again.
Coach Bo Pelini announced Tuesday night that Anderson has an ACL tear in right knee and will miss the remainder of the season. The crazy part is that Anderson, a 5-11, 220-pound junior from Philadelphia who spent two years at Riverside (Calif.) Community College, suffered the injury last week in practice and still played against Arkansas State before an MRI revealed the tear.
"It is unfortunate for him," Pelini said. "He is really coming along, but it is what it is, he will recover fully. It was a surprise to all of us."
Nebraska will look into the possibility of a medical redshirt for Anderson, who played in the Huskers' first three games and recorded four tackles.
Alonzo Whaley
, who started the first two games at weakside linebacker, could regain the top spot this week against Idaho State.
David Santos
, who has come on strong in recent weeks, also in the mix along with several younger players.
"We are going to evaluate some young guys who were on the redshirt plan and see in emergency who that would be, maybe a
Thomas Brown
or
Michael Rose
," defensive coordinator John Papuchis said, "but I don't know if we are ready to go down that road yet."
Linebacker depth has been a problem for Nebraska, and Anderson's loss stings as he had been projected as a big contributor this season.
February, 14, 2012
2/14/12
2:20
PM ET
As we tick off the days toward spring practice, we're taking a look at how each Big Ten team will replace key players on their depth charts. We're picking two departed players who left big shoes to fill and identifying who might be ready to do that filling.
Up today is Nebraska, which has two rather large sets of empty cleats to occupy from the defensive side.
[+] Enlarge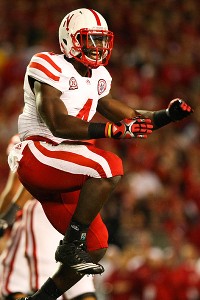 Brace Hemmelgarn/US PresswireNebraska has 133 tackles to replace now that linebacker Lavonte David has graduated.
BIG SHOES TO FILL:
Lavonte David
, LB
Why:
There was arguably no more valuable defensive player in the Big Ten last year than David, an All-American and Butkus finalist who led the Huskers with 133 tackles. When Nebraska needed a big stop, David was usually the guy to provide it. The front seven for Bo Pelini underachieved in some ways in 2011, and David was easily the team's most consistent player on that side of the ball. David made up for a lack of overwhelming size with his speed, tackling ability and instincts for the game. And his top two listed backups at weakside linebackers were also seniors.
Replacement candidates:
Sean Fisher
(6-6, 235, Sr.),
David Santos
(6-0, 205, RFr.),
Alonzo Whaley
(6-1, 235, Sr.), Zaire Anderson (6-1, 220, incoming junior college transfer), Jared Afalava (6-3, 215, incoming freshman), Michael Rose (6-0, 225, incoming freshman), Thomas Brown (6-2, 210, incoming freshman)
The skinny:
Nebraska brought in four linebackers in this year's recruiting class to fill some holes at the position. Fisher has been held back by injuries and inconsistency and is built more like a defensive end. Santos could be ready to make an impact after redshirting. Anderson is a well-regarded junior-college signee, just as David was two years ago. Rose and Brown are viewed more as inside linebackers, but nothing is set in stone. The Huskers hope someone from this wide pool of candidate announces himself this spring.
BIG SHOES TO FILL:
Alfonzo Dennard
, CB
Why:
When healthy and on point, Dennard was the best lock-down cornerback in the Big Ten last season. Though he had a few lapses, like in the Michigan and South Carolina games, he also shut out Michigan State star
B.J. Cunningham
in a big win over the Spartans. Getting great play from the cornerback spot is a key part of Nebraska's defensive scheme.
Replacement candidates:
Daniel Davie
(6-1, 185, RFr.),
Stanley Jean-Baptiste
(6-3, 220, Jr.),
Ciante Evans
(5-11, 185, Jr.), Mohammed Seisay (6-1, 200, incoming junior college transfer),
Corey Cooper
, (6-1, 210, Soph.).
The skinny:
Someone will have to make a major leap forward in order to match Dennard
'
s performance level. Evans and Jean-Baptiste saw plenty of time last year as backups, though Evans seemed more suited as a nickel back and the rangy Jean-Baptiste is still learning the position
after an in-season switch from wide receiver. Cooper started a game at corner against Wyoming but was then moved to safety. Seisay and Davie will each have an opportunity to prove they're up to the challenge. The other hope for Nebraska is that returning starter
Andrew Green
raises his game to the point where he becomes the next dominant Huskers cornerback
.