May, 16, 2013
5/16/13
11:50
AM ET
July, 27, 2012
7/27/12
3:25
PM ET
CHICAGO -- Penn State linebacker
Michael Mauti
had just come off the field from 7-on-7 work around 8 a.m. Thursday morning when he got a call from head coach Bill O'Brien.
"Hey, Mike," O'Brien said. "You've got to be on a plane at 9:30."

Mauti was a last-minute addition to Penn State's player contingent for Big Ten media days, a contingent that very nearly didn't come to Chicago at all. But Mauti ended up being arguably the best interview subject here, offering an impassioned defense of his team and railing against the NCAA transfer rules.
The senior -- who led a players' statement of loyalty on Wednesday in State College along with teammate
Michael Zordich
-- drew a lot of notice for what he said. Mauti returned to his hotel room on Thursday evening and spent three hours going over emails sent to him. The correspondence came from fans, alumni, heads of Penn State departments and professors -- some who had taught Mauti and some who had not.
Mauti said he got one email from a couple of fans who told them they'd sworn never to go another Penn State football game after the Jerry Sandusky scandal broke. But they told him that after watching him talk, they promised never to miss another game.
"That's why I know we're doing the right thing here," he told reporters Friday. "I told coach [Thursday morning], I'm going to let it fly, man. We've got to let the public and the world know we're sticking together. We wanted this platform, of course we did."
All of the Nittany Lions here in attendance -- defensive tackle
Jordan Hill
and offensive lineman
John Urschel
were the other players -- handled themselves admirably through the media crush. Hill said he also received scores of supportive emails.
"When Mauti and Zordich were there with the team behind them, there was a tremendous amount of groundswell coming off of that video," Penn State athletic director Dave Joyner said. "It's the players that are really continuing to put a stake in the ground for this program."
Mauti could become the face of the team this year -- if he can stay healthy. He missed the 2009 season with a torn right anterior cruciate ligament and played only four games before blowing out his left ACL last year. When he's on the field, he's one of the best linebackers in the Big Ten.
Mauti says he feels great now and credits the work he's done with new strength coach Craig Fitzgerald and trainer Tim Bream.
"I've never been stronger in what I've been doing as far as weightlifting, and I haven't put a [knee] brace on all summer," he said. "The last time I was doing this rehab, I never took the brace off, so mentally I'm a whole lot more confident in my legs.
"I feel as good going into the season as I ever have, and it's a testament to those two guys."
May, 3, 2012
5/03/12
10:45
AM ET
STATE COLLEGE, Pa. -- Maybe it's a blessing that Mauti follows Massaro in the alphabet.
Much like seating assignments in a class, football lockers are often distributed according to surnames. As a result, Penn State senior defenders
Pete Massaro
and
Michael Mauti
share adjoining lockers in the Lasch Building.
The arrangement has worked out well, especially in recent months as both men work their way back from the same major knee injury. The two players share a shockingly similar injury history. Massaro, a defensive end, tore his right ACL in the 2009 spring game, and then his left ACL in the spring of 2011. Mauti, an outside linebacker, tore his right ACL in preseason practice in 2009 and missed the season. After a strong start to last season, he tore his left ACL in Week 4 against Eastern Michigan.
The two men share four torn ACLs suffered in the same sequence (right, then left), and more months of combined rehab than games played for Penn State.
[+] Enlarge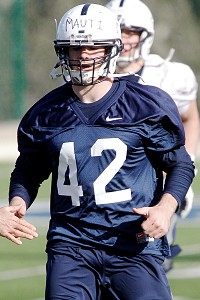 AP Photo/Gene J. PuskarMichael Mauti missed most of last season after going down in Week 4 against Eastern Michigan.
"His locker's right next to mine, so every day, we're talking," Mauti told ESPN.com. "We always share stories and we always share feelings. We've kind of [laughs] mastered the self-therapy, just how long and tedious this whole process is, and what it does to you."
Both players participated in some drills this spring, though neither engaged in all the contact drills. Massaro said in mid April that his knee is "80-85 percent" recovered, and Mauti said if Penn State kicked off preseason drills in mid May, he'd be cleared to do everything.
But the rehab process remains challenging, even for two men who are all too familiar with it.
"It's such a slow recovery," Massaro said. "That's the hardest part about it. That's what eats at you the most. Talking to Mauti, when you tear your second ACL, that's something everyone thinks about. It's my second one. It's another nine, 12 months of my life that I'm not going to be who I am on the football field. Even now, I look at my tape from last spring and where I was playing at the end of the season a few years ago, and you can tell you don't have that athleticism back, and that you're not as strong in the knee and the leg as you were."
Communication was critical for Massaro this spring, as he made sure to keep team doctors, coaches and trainers, particularly new head athletic trainer Tim Bream, in the loop about how his knee felt. If he felt uncomfortable doing certain movements during practice, he told defensive line coach Larry Johnson.
The fact Massaro had suffered both of his ACL tears during the spring made it even more important to proceed with caution.
"There's times I want to be going full speed, times where the offensive line will challenge the defensive line, and I want to get in there and show what I can do," he said. "But I really have to take it slow because if I get too ahead of myself mentally, that's when problems start to happen and other injuries start to arise."
When healthy, Mauti and Massaro are two of Penn State's better defenders. Mauti was well on his way to All-Big Ten honors last season, recording 21 tackles, including three for loss, plus an interception and three pass breakups, in the first three plus games. He worked through some injuries to record 67 tackles, including 5.5 for loss and two sacks, as a starter in 2010.
Massaro has played only one season (2010), but racked up eight tackles for loss, 3.5 sacks, a forced fumble and a fumble recovery. He was having a superb spring last year before the ACL tear.
Although the rehab process isn't over, both Massaro and Mauti are on track to return and enhance a defensive front seven that could be the Big Ten's best in 2012.
"That'll be the way it should be," Mauti said. "I'm just excited to play with him. It's about time."
February, 17, 2012
2/17/12
3:40
PM ET
New Penn State coach Bill O'Brien has finalized his staff with one of his most important hires.

O'Brien has tabbed Miami (Ohio) assistant Charlie Fisher to be Penn State's new quarterbacks coach. Although the team hasn't made an official announcement, O'Brien
confirmed Fisher's hiring Friday to reporters
.
"I've known him for a long time," O'Brien said. "[He's a] bright guy, sharp guy. He's had a lot of success and worked with some good quarterbacks. He worked with Jay Cutler at Vanderbilt and Zac Dysert last year. We're lucky to get him, and he'll start on Saturday."
Fisher spent just one season with Miami as the RedHawks' quarterbacks coach, wide receivers coach and passing game coordinator. Miami ranked 14th nationally in pass offense (299.1 ypg) and 29th in pass efficiency (143.7 rating) last fall. Dysert ranked 14th nationally in total offense and 32nd in pass efficiency under Fisher's watch.
Fisher was one of few FBS assistants to coach two position groups. He spent the previous nine season at Vanderbilt, coaching wide receivers and running backs, and serving as the team's passing game coordinator. He also has served as Temple's offensive coordinator and quarterbacks coach.
O'Brien hired most of his staff weeks ago, and there were reports he would bring New England Patriots assistant George Godsey with him to State College to coach Penn State's quarterbacks. But Godsey is staying with the Pats.
Fisher has a major task ahead of him as he'll work with a quarterback group that has underperformed the past two seasons. Both
Matthew McGloin
and
Rob Bolden
boast starting experience but need to upgrade their play significantly for the 2012 season.
Paul Jones
, a promising player who hasn't been a factor because of academics, also is in the mix.
Penn State ranked 96th nationally in pass offense and 112th in pass efficiency this past season.
O'Brien won't have an offensive coordinator on his staff, and
he'll be heavily involved with the team's offensive play calls
this season. But Fisher also figures to have an important role in the team's offensive game plan, and the fact he has coordinator experience is key.
Penn State also on Friday announced Tim Bream as its new head athletic trainer for football. Bream spent the past 19 seasons in the Chicago Bears organization.
Here's Penn State's complete coaching staff for 2012:
Bill O'Brien, head coach
Stan Hixon, assistant head coach/wide receivers
Ted Roof, defensive coordinator
John Butler, secondary
Charlie Fisher, quarterbacks
Larry Johnson, defensive line
Charles London, running backs
Mac McWhorter , offensive line
John Strollo, tight ends
Ron Vanderlinden, linebackers