November, 21, 2014
Nov 21
10:00
AM ET
It's the second-to-last week of the season, and it's the first time all year that all 14 Big Ten teams are in action against one another in conference play. (Still hate you, double bye.) And there are no night games, so you'll have to be on top of your remote control game in the early afternoon.
Here's a look at what's on tap Saturday (all times ET):
Noon
[+] Enlarge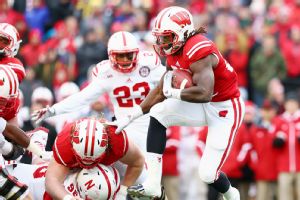 Ronald Martinez/Getty ImagesMelvin Gordon and Wisconsin are looking to punch their tickets to Indianapolis in Iowa.
No. 25 Minnesota (7-3, 4-2 Big Ten) at No. 23 Nebraska (8-2, 4-2), ESPN:
The Gophers can win the Big Ten West by winning their final two games. But first they'll have to get through a Nebraska team that should be fighting mad after last week's embarrassment in Madison. Bo Pelini said this week that
Ameer Abdullah
might not be 100 percent the rest of the year.
Rutgers (6-4, 2-4) at No. 11 Michigan State (8-2, 5-1), Big Ten Network:
League championship dreams are all but over for the Spartans, but they can still win 10 games and get to a major bowl. The Scarlet Knights are looking to score an upset over one of the upper-tier teams in the league, but they're going bowling regardless.
Indiana (3, 7, 0-6) at No. 6 Ohio State (9-1, 6-0), BTN:
The Buckeyes are around a five-touchdown favorite, and understandably so. This one might be about style points for the selection committee, and not much else.
Northwestern (4-6, 2-4) at Purdue (3-7, 1-5), ESPNU:
After a surprising upset in South Bend, the Wildcats now have a bowl game in sight if they can win this one and close out the season against Illinois. But Purdue had a week off to prepare, and Northwestern has had a habit of playing up or down to its competition.
Penn State (6-4, 2-4) at Illinois (4-6, 1-5), ESPN2:
Tim Beckman's last stand? The Illini have to win here to have any hope of getting to a bowl game and potentially saving their coach's job.
Christian Hackenberg
is scuffling for Penn State, but is Illinois' defense enough to lift his doldrums?
3:30 p.m.
No. 16 Wisconsin (8-2, 5-1) at Iowa (7-3, 4-2), ABC/ESPN2:
The Heartland Trophy game has enormous West Division implications. If Wisconsin wins, it can do no worse than tie for the division title and could clinch a spot in Indianapolis with a Minnesota loss.
Melvin Gordon
, who originally committed to Iowa, will look to add to his Heisman Trophy credentials after his 408-yard day last weekend.
Maryland (6-4, 3-3) at Michigan (5-5, 3-3), BTN:
Can Brady Hoke lead Michigan to a bowl game? He'll almost certainly have to win this one to do so, since the Wolverines' finale is in Columbus. Maryland already has wins over Penn State and Iowa, and would solidify a nice first season in the Big Ten by winning in the Big House.
Required reading
Week 13 predictions
|
Bold calls
Ohio State offensive line again rises from the ashes
J.T. Barrett speeds toward Heisman race
Minnesota, Nebraska fight to move forward
Revised image suits Michigan's Jake Ryan
Rutgers not satisfied with bowl eligibility
'Chevy Bad Boys' power Wisconsin's No. 1 D
The cold truth: Embrace the B1G weather
Big Ten's second act worth watching
West Division title scenarios
"Dilly Bar Dan" enjoys his brush with fame
Bowl projections
Awards race tracker
April, 5, 2013
4/05/13
12:00
PM ET
I dare type it, but spring might be finally here.
January, 30, 2012
1/30/12
2:30
PM ET
The Big Ten had three head-coaching changes in recent weeks, and new leading men have stepped in at Ohio State, Illinois and Penn State. We will be sharing our thoughts on the three new coaching staffs as they become complete. We already looked at
Illinois' new staff
, and Ohio State is next up on the rundown.
Here's the new Ohio State staff:
Urban Meyer -- head coach
Everett Withers -- assistant head coach/co-defensive coordinator/safeties
Luke Fickell -- defensive coordinator/linebackers
Tom Herman -- offensive coordinator/quarterbacks
Ed Warinner -- co-offensive coordinator/offensive line
Stan Drayton -- running backs
Tim Hinton -- tight ends
Zach Smith -- wide receivers
Mike Vrabel -- defensive line
Bill Sheridan -- defensive backs

So
Today's Take Two topic is:
How did Meyer fare in putting together his staff at Ohio State?
Take 1: Adam Rittenberg
Meyer set the bar high at his introductory news conference in November, saying he planned to "try to assemble the best coaching staff in college football." While I expected a little more star power in Meyer's hires, I like the cross-section of coaches joining Meyer in Columbus. He ended up retaining three assistants -- Fickell, Vrabel and Drayton -- and would have kept a fourth had Taver Johnson not left for a co-defensive coordinator spot at Arkansas. That number surprises me a bit, although keeping Fickell is huge, particularly from a recruiting standpoint. Withers is a veteran defensive coach who can take over the coordinator duties if and when Fickell leaves for a head-coaching position. Warinner seems like an excellent addition, and Meyer is close with Hinton, who also comes over from Notre Dame. The most intriguing hire by far is Herman, considered a rising star in the profession. Will he and Meyer revitalize the Ohio State offense? The unit certainly needs a shake-up, and it'll be interesting to see how Herman fares in a big-time, high-pressure job. This isn't Iowa State. The other big hire not on this list is strength and conditioning coach Mickey Marotti, who Meyer brought from Florida. Overall, this might not be a star-studded staff, but it's a very solid one.
Take 2: Brian Bennett
Several members of Meyer's staff at Florida went on to become head coaches. His first Ohio State staff included two guys who have already been head coaches, if only for one season each, in Fickell and Withers. They bring some real star power to the defensive side, and the only concern there is how two men who called all the shots themselves last year will react to working as co-coordinators. They'll have to check their egos at the door, but I think their respect for Meyer will allow them to do that. Vrabel moving to defensive line is interesting, and he'll have a wealth of talent to work with in returning guys like John Simon and Jonathan Hankins and the blue-chip recruits that are coming in, led by Noah Spence. Sheridan also brings a wealth of experience, including time as an NFL defensive coordinator. I agree with Adam that Herman is the wild card of the bunch. Meyer identified an up-and-comer rather than shooting for an established name, and Herman will be working with a higher caliber of athlete while also trying to blend his philosophy with the offensive-minded head coach. Best staff in America? Probably not, though that's a highly subjective description anyway. The important thing is that Meyer found a solid blend of veterans and young guns, program insiders and those with outside perspectives. This staff should help the Buckeyes emerge as a national powerhouse again in the very near future.
January, 12, 2012
1/12/12
6:45
PM ET
Urban Meyer officially completed his first Ohio State coaching staff on Thursday with the additions of former Notre Dame assistants Ed Warriner and Tim Hinton.

Warriner will coordinate the running game and serve as the team's co-offensive coordinator and offensive line coach. Hinton will be the tight ends and fullbacks coach. Both spent the past two years under Brian Kelly at Notre Dame.

Warriner is entering his 29th season as a college assistant and has spent nine years as a coordinator. Tom Herman is still expected to call the plays as quarterbacks coach and offensive coordinator.

Hinton is in his 31st year as a coach, 17 of them in college. He worked with Meyer on the Ohio State staff in 1986. Both coaches are Ohio natives, which played a big reason in why they left Notre Dame.

Meyer said he would serve as his own special teams coach, as he has in the past.

Meyer also talked Thursday about how good he feels to be back in coaching. Strength coach Mickey Marotti, who has known Meyer for years, said his boss looked "100 percent revitalized" and ready to roll.
December, 1, 2011
12/01/11
3:45
PM ET
Urban Meyer didn't hold back at his introductory news conference Monday at Ohio State.
"I'm going to go about and try to assemble the best coaching staff in college football," Meyer said.
Ohio State is
supporting its new coach on the endeavor
.
So how is the process going? Let's take a look at what we know and what could be happening soon with Meyer's staff at Ohio State.
Current Buckeyes head coach Luke Fickell is the only assistant Ohio State has officially confirmed to be joining Meyer's staff. Meyer didn't specify Fickell's role but said it would be "a significant title and significant position." It's a strong possibility Fickell's title includes assistant head coach. He also could be named a co-defensive coordinator, the role he shared with Jim Heacock on Jim Tressel's staff.
While Fickell could be a candidate for the sole defensive coordinator role, Meyer is assessing candidates and could lure in a big fish in Mike Stoops, the former Arizona head coach. Stoops confirmed he has met with Meyer but didn't say whether he has been offered a position. No one will be surprised if Stoops is named Ohio State's next defensive coordinator, a position he held at Oklahoma for five years under his brother, Bob. Stoops would be a big-name addition for Meyer, who likely will add several.
Multiple outlets are reporting that Meyer will retain Stan Drayton, in his first year as Ohio State's receivers coach. Drayton worked for Meyer at Florida and replaced Darrell Hazell in Columbus. This makes a lot of sense, as Drayton is a strong recruiter with ties to Ohio and to Florida. Drayton also can coach running backs.
It will be interesting to see where Meyer looks for an offensive coordinator. One name being mentioned quite a bit is LSU offensive coordinator Greg Studrawa, an Ohio native who served as Meyer's offensive line coach at Bowling Green. Studrawa in July replaced Steve Kragthorpe, who had to step down after being diagnosed with Parkinson's disease.
Other current Buckeyes assistants who could remain on staff include cornerbacks coach Taver Johnson and linebackers coach Mike Vrabel. If Vrabel stays, it will be interesting to see which position Fickell coaches as he used to oversee the linebackers. Defensive line seems a likely spot.
Former Minnesota head coach Tim Brewster reportedly has been offered a position on Meyer's staff, as well as one at Arizona with new boss Rich Rodriguez. While Brewster didn't work out as a head coach in Minneapolis, he's one of the nation's top recruiters and could help Ohio State on the trail, particularly in Texas. Brewster has coached tight ends most of his career.
Other potential candidates to join Meyer's staff include Notre Dame running backs coach Tim Hinton and Florida linebackers coach/special-teams coordinator D.J. Durkin and strength and conditioning coordinator Mickey Marotti.