June, 17, 2011
6/17/11
3:38
PM ET
The running back derby at Minnesota just got a little clearer.
Senior
DeLeon Eskridge
, who led the team with 698 rushing yards a year ago, has left the Gophers for personal reasons, head coach Jerry Kill announced Friday. Eskridge was locked in a heated competition this spring with fellow senior
Duane Bennett
and redshirt freshmen
Donnell Kirkwood
and
Lamonte Edwards
.
Bennett is the most experienced player in the backfield, with 37 career games and 24 starts. He started the majority of games at tailback last year and is a versatile performer who led the team with 996 all-purpose yards. Kill likes to use multiple backs, so this also increases the opportunity for Kirkwood, who showed promise this spring.
Those weren't the only changes for Minnesota. Kill also announced that reserve tight end
Tiree Eure
has left the team, and the implication was that he was shown the door. The Gophers also added two late signees in junior college wide receiver Malcolm Moulton and high school quarterback Dexter Foreman. They will both be eligible this season.
Moulton, who played one season at Fort Scott Community College, is listed at 5-foot-11, 185 pounds. He had 44 catches for 714 yards and five touchdowns last season. Moulton will have three seasons of eligibility left. He committed to Colorado last year, but schools backed off him when he broke his collarbone. ESPN.com rated him as a three-star prospect.
"Quarterback was also an area where we felt we could add a player," Kill said. "We'd like to create some more competition at the quarterback position and we're hoping Dexter can help us do that."
August, 5, 2010
8/05/10
2:30
PM ET
Schedule:
The Gophers hit the field Friday for their first practice.

What's new:
Another offensive coordinator, the Gophers' third in as many seasons. Jeff Horton isn't bringing dramatic changes like his predecessor Jedd Fish, and he'll try to simplify things for senior quarterback
Adam Weber
, who retained his starting job after spring ball. There are also a ton of new faces on defense as Minnesota loses nine starters, including productive linebackers Lee Campbell, Nate Triplett and Simoni Lawrence. The Gophers also have a new wide receivers coach in former NFL player Steve Watson, who must identify some playmakers after the loss of standout Eric Decker.
Sidelined:
We thought Kim Royston would be in this category, but the senior safety has
healed extremely well from a broken leg
this spring. Royston won't be 100 percent for the start of camp, but barring any setbacks, he should be ready for the start of the season. As one of only two returning starters on defense, Royston provides a strong presence in the secondary. Linebacker Sam Maresh, a possible starter, isn't with the team as he improves his grades at a junior college.
Key battle:
Name a spot on defense and there's probably some competition there, as Minnesota must find answers at linebacker, defensive end and cornerback. The linebacker group should be particularly interesting. Mike Rallis locked up a starting job this spring, but the other spots are open as Keanon Cooper, Gary Tinsley and others are in the mix. Cornerback also is a spot to watch as Michael Carter and Christyn Lewis try to lock up starting spots.
New on the scene:
Head coach Tim Brewster and his staff have recruited well, and it's time they start to see the rewards. Lewis and tight end Tiree Eure both are junior-college transfers who should contribute right away. Minnesota really likes redshirt freshmen offensive linemen Ed Olson and Brooks Michel, and incoming freshman tackle Jimmy Gjere is a name to watch. It also will be interesting to see if freshmen running backs Lamonte Edwards and Donnell Kirkwood can work their way into the mix.
Breaking out:
Brewster sings the praises of defensive end
Ra'Shede Hageman
, and Minnesota could really use a boost in the pass rush from the redshirt freshman.
MarQueis Gray
didn't win the starting quarterback spot, but he's a guy who needs the ball in his hands one way or another. Replacing Decker will be tough, but Minnesota has high hopes for
Da'Jon McKnight
, who averaged 18.3 yards on 17 receptions last year.
Time to step up:
Without a doubt, Minnesota's offensive line is the group that needs to elevate its play in camp. The line boasts both experience and some exciting young talent, and the players are used to coach Tim Davis and his demands. Minnesota simply can't rank last in the league in rushing year after year. It's time for the line to get tougher, come together and build off of a strong spring.
Quotable:
"We're bigger. We're stronger. We're faster. We're more athletic than we've been. And rightfully so. We need to be. We know that we're going to play one of the most challenging schedules in America this season. And our players are going to have to be prepared." -- head coach Tim Brewster
March, 22, 2010
3/22/10
3:45
PM ET
Competition will be in the air Tuesday as Minnesota kicks off spring practice. The Gophers lose 11 starters from a team that reached the Insight Bowl, and the depth chart is wide open entering the spring. Much of the attention will be on the quarterback spot, as three-year starter
Adam Weber
tries to hold off
MarQueis Gray
and
Moses Alipate
. On defense, the Gophers lose all three starting linebackers, both starting cornerbacks and both starting defensive tackles.
Head coach Tim Brewster took some time Monday to preview spring ball.
[+] Enlarge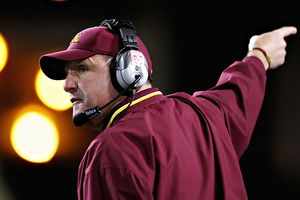 Christian Petersen/Getty ImagesTim Brewster would like to have the quarterback depth chart sorted out by the end of spring practices.
What are you looking forward to seeing when you get back on the field Tuesday?
Tim Brewster:
This is really going to be a good group for us. It's a young group, a lot of talent in the group, they've really done a great job in the winter conditioning program. Guys came back off spring break in great shape. We had a great 6 a.m. run this morning. We've just got to do a great job as a staff this spring of developing these young guys. There's nothing complicated about what we're going to try to accomplish. Really just the fundamentals of the game, we'll spend a good deal of time on situational work, and then the thing that's going to be exciting for us is the competition. For the first time since we've been here, we've got some really good competitive situations at a lot of different spots. That's really exciting for us as coaches.
What are a couple of those key competitions we'll see?
TB:
Obviously, the quarterback position, how that's going to play out, and see Adam Weber continue to grow and see him compete with MarQueis [Gray] and Moses Alipate. We're going to have great competition at the tailback position with
DeLeon Eskridge
and
Duane Bennett
here now, and three young guys coming in this fall who are talented and have a chance to jump in the mix immediately. We've got some real good situations at linebacker: Sam Maresh and Gary Tinsley, Mike Rallis, Spencer Reeves, Aaron Hill, Keanon Cooper, Brent Singleton. The linebackers are young, but they're talented. That's going to be good to see.
For Weber, he's in a unique position, being the starter for three years and now competing for the job. How do you keep his confidence level up? What's his mental approach going into the spring?
TB:
I couldn't be more excited about adding [new offensive coordinator/quarterbacks coach] Jeff Horton. Jeff is an outstanding teacher. I love his demeanor. Never gets too high, never gets too low, very down the middle. He's got a very quarterback-friendly personality. The system, there's nothing complicated about what we're going to try to accomplish, and it's really going to allow Adam to go out and play well. It's going to allow MarQueis a chance to compete for the quarterback position. And it'll be exciting to see Moses Alipate. But certainly Adam's experience gives him a leg up. Again, I've been really pleased with Jeff's control there at that position. Those guys are really going to benefit from Jeff's experience.
Do you have a timetable in mind of where you'd like to be at quarterback by the end of the spring?
TB:
You'd love to see the position sort itself out by the end of spring practice. You'd love to have your starter in place. We're not going to go into training camp with a quarterback competition. We want to go in with a guy who is our starter, and I certainly think it'll play itself out that way. They're all going to get plenty of opportunity this spring to show what they can do. We're going to have some situations with the quarterbacks where the quarterback will be live [able to take on contact]. We haven't done that in the past. It will give us a chance to really evaluate the position well.
You've talked a lot about the offensive line and needing to upgrade there. What do you expect from that group this spring?
TB:
There's really good competition there, and Tim Davis is going to continue to do a good job in developing that group. We've got to get better up front, and I certainly believe we will be better with another year under Tim and in the system. Ed Olson is really a talented young redshirt freshman offensive tackle. He's going to really push Jeff Wills. We've got competition at center, we've got competition at guard. We're in a situation now where we've got a little depth, and it'll also be interesting, we're bringing in some really talented offensive linemen in this recruiting class. I understand that it's not easy for a freshman to come in and contribute, but it's done. You look across the country and there's a number of young guys that step in and help. We're really excited about Jimmy Gjere. He's a very talented young kid. He'll be here in June, he'll be with us all summer. He's weighing 310 pounds now, he's almost 6-foot-8, very athletic. I'll tell you a guy who's going to get your attention, a tight end we brought in named Tiree Eure, from Lackawanna Junior College. He's been very, very impressive to this point in the conditioning program. He's 6-6, he's 250 pounds and he runs. He's very athletic. We think he's going to help us a bunch as well.
Tuesday in Part II: Outlook at wide receiver, linebacker, defensive line and the secondary.
January, 28, 2010
1/28/10
10:15
AM ET
As we inch closer to national signing day -- less than a week away -- here are some more Big Ten-related recruiting nuggets. I'll be focused on recruiting during the next week or so, but you should definitely be looking
here
for the most up-to-date news.
Florida drops five-star defensive back Demar Dorsey off pledge list
ESPNU 150 safety Demar Dorsey of Boyd Anderson (Ft. Lauderdale, Fla.) is no longer being sought by the Gators and no longer considered a commitment.
The 6-foot-1, 180-pound Dorsey, considered the No. 2 safety prospect in the Class of 2010, has long been pledged to the Gators, but still looking at other programs.
He has recently expressed interest in Florida State, Southern California,
Michigan
and Tennessee.
Dorsey visited the Seminoles, Wolverines and Vols, and has scheduled an official visit with the Trojans. He was interested in USC under Pete Carroll and recruited by the current staff when it was at Tennessee.
Nittany Lions add athlete Shyquawn Pullium to commitment list
Recruited as a cornerback, Shyquawn Pullium of Cathedral Prep (Erie, Pa.) has accepted a scholarship offer from Penn State for the Class of 2010.
Pittsburgh, Toledo, Maryland, Cincinnati and Miami-Ohio also extended scholarship offers.
"It's a great school academically," he texted to ESPN affiliate Web site NittanyNetwork.com. "And the people there are great. I think it's just the best place for me."
Touted defensive lineman Bruce Gaston commits to the Boilers
Purdue has landed a huge commitment for its recruiting Class of 2010 in three-star prospect defensive tackle Bruce Gaston of St. Rita (Chicago).
The 6-foot-3, 305-pound standout chose the Boilermakers over Michigan State, Notre Dame, Boston College, Wisconsin and Iowa.
"It was just a comfort level that I always seemed to have when I visited Purdue," Gaston told the Chicago Tribune. "I can see myself 40 years from now looking back and being glad I chose to go to Purdue."
Speedy running back Tony Drake now headed to Colorado State
Three-star talent Tony Drake (Dallas/Skyline) has committed to Colorado State after a weekend official visit, ESPN's Gerry Hamilton reports.
Drake and Michigan parted ways recently after being committed for over 10 months.
Highly-recruited Zack Bolton switches from Illinois to Utes
Three-star offensive lineman Zack Bolton of Klein Forest (Houston, Texas), has changed his Class of 2010 pledge from the Illini to Utah.
A 6-foot-2, 260-pound prospect, who originally committed to Kansas in August, is recovering from a season-ending torn ACL in December. He was also offered by Nebraska, Arizona, Missouri, Wake Forest, Minnesota, SMU, Rice, Baylor, Houston, Iowa State, North Texas and New Mexico State.
Gophers pluck another from Lackawanna College
Minnesota has picked up a Class of 2010 pledge from cornerback Dwight Tillman of Lackawanna CC, Pa.
The 5-foot-11, 185-pound prospect is originally from Western Tech (Baltimore, Md.).
He joins Lackawanna teammate tight end Tiree Eure in joining the Gophers.
Michael Thornton possibly down to three
Four-star defensive tackle Michael Thornton (Stone Mountain, Ga./Stephenson) has already visited Georgia, Kentucky and Penn State. According to ESPN affiliate Web site NittanyNetwork.com, he is finished traveling.
"He told me he's not doing any more visits," Stephenson assistant coach Corey Johnson said. "He's been to Penn State, Kentucky and Georgia. Those are the three he visited."
When asked if his star defensive lineman has narrowed his choices down to the three, Johnson said, "More than likely those are the three, unless something changes."
December, 18, 2009
12/18/09
4:42
PM ET
A few items for you on a dreary Friday in Chicago.
Minnesota has announced the signings of two junior college players, tight end Tiree Eure and defensive back Christyn Lewis. Eure previously played for Lackawanna College in Scranton, Pa., while Lewis was an all-conference selection for Citrus College in Glendora, Calif. Gophers head coach Tim Brewster has signed a decent number of juco players during his three-year tenure, and both Eure and Lewis will be in the mix immediately. "I expect that each will step in right away and compete strongly for playing time," Brewster said in a statement.
New Illinois defensive coordinator Vic Koenning received a two-year contract worth $325,000 a year, which is quite a bit below what new Illini offensive coordinator Paul Petrino will make ($475,000). Athletic director Ron Guenther also broke his silence today about the football program and explained his decision-making.
Indiana's All-Big Ten defensive end Jammie Kirlew has been named a semifinalist for the Coach Wooden Citizenship Cup, given to a college and professional athlete who made the greatest positive influence in the lives of others. Kirlew, a two-time team MVP and a four-time Academic All-Big Ten selection, is active in the Big Brothers/Big Sisters Program and has volunteered at the Bloomington Boys & Girls Club. The award will be presented Jan. 19.