August, 3, 2012
8/03/12
5:00
PM ET
Enjoy the weekend ...
BC from Minneapolis writes:
Why is it that Iowa cannot hold on to a RB's? It may be since 2004 (Fred Russell and Jermelle Lewis) that they have had a serviceable RB go the entire 4-5 years (Shonn Greene came and left for 1 year). Is there a larger issue at hand? Is Ferentz and UI more demanding of the athletes when compared to other schools? With the amount of OL they put into the NFL I would think that RB's would be yearning for a chance play AND STAY.
Adam Rittenberg:
BC, it's really hard to pinpoint the reason. As I tweeted earlier this week, I can't recall a single position group in the Big Ten that has been through so much turmoil as Iowa's running backs. And the crazy part about it is Iowa has had a lot of success at the running back spot despite all the issues. Marcus Coker rushed for nearly 1,400 yards last year. Iowa has had serviceable to good backs every year. But the number of player departures/off-field issues certainly is a concern. There's not much you can do about injuries, which happen everywhere, but Iowa needs to keep evaluating the types of running backs it recruits and whether these players aren't getting the right messages about conduct while in the program. Kirk Ferentz clearly is concerned about the trend, but I don't think it's a question of him being more demanding or less demanding. Most of the departures have occurred because of off-field conduct issues. Clearly, the message isn't sinking in well enough to this particular group of players.
---
Adam from Annapolis, Md., writes:
Adam, great story about
Rex Burkhead
. I know it had to cross your mind when writing it though, just like it crossed a lot of peoples' minds when reading it. Do you think one of the reasons Rex might not get the national publicity is because he's a (gasp) Caucasian running back?
Adam Rittenberg:
Adam, while I hope it's not a factor, it has crossed my mind in relation to Burkhead. Now it's important to remember that Stanford running back Toby Gerhart finished second in Heisman Trophy balloting in 2009, so race didn't seem to be a factor with him. I think the bigger issue with Rex is the lack of a signature moment or two. He's had some great individual games, but Heisman hype seems to grow after that an electrifying run or two, particularly in a big game at a critical point in that game. If Rex breaks off some big runs in the UCLA game, I think he'll help his cause. If he outshines
Montee Ball
in Lincoln on Sept. 29, he'll really boost his stock. I'd hope Heisman voters would take race completely out of the equation when voting -- whether it's a white running back or a black quarterback -- but you never truly know how people are evaluating the candidates.
---
Evan from Bradenton, Fla., writes:
Hey Adam, I just want to say that I am highly disappointed in the NCAA for lowering their standards by allowing 5-7 teams to be eligible for bowls. As a fan of Purdue I know what it is like when your team just misses a bowl birth, but last year was extremely rewarding for me as a fan knowing that the Boilers fought and earned their way to a bowl game. Some can argue that allowing teams with just 6 wins rewards mediocrity, and now allowing teams with 5 wins rewards failing. I think by reducing the threshold to 5 wins cheapens the process.
Adam Rittenberg:
Evan, I agree completely. While I like the principle that teams with strong APR scores can benefit in certain ways, having 5-7 bowl teams certainly isn't the answer. The bowl system is already too saturated with games and bad matchups -- "too much ice cream," as Big Ten commissioner Jim Delany likes to say. Ironically, it was the Big Ten -- which often takes a Little League approach toward these things (co-champions, awards for everything, etc.) -- that spurred the push toward increasing bowl eligibility to seven wins. Some of the other major conferences (SEC, Big 12) opposed this, and it stayed at six, which isn't great but still a lot better than five. I think there's a happy medium: if you beat six FBS opponents, you should be bowl-eligible. If it's less, you don't get to go. And certainly not at 5-7. Do people really want to see more games like the 2011 Kraft Fight Hunger Bowl (AKA the Bizarro Bowl)?
---
Marcus from Hudsonville, Mich., writes:
Since
Silas Redd
announced his transfer after you begun your top 25 players list, did you not have him in the top 25, did you insert your 26th player in the 23rd spot and move everyone else up to Redd's vacated position (as I believe that you already did 24 and 25 when the transfer was announced), or will you insert the 26th player in Redd's vacated spot?
Adam Rittenberg:
The transfer rumors started last week, so Brian and I prepared to have a top 25 player rankings without Redd. Had he stayed, we would have adjusted the list to include him somewhere in the top 10. But we began the rankings Monday with the idea Redd would transfer to USC and therefore not be in them.
---
Akshay from Seattle writes:
Adam - is it too late for the B1G to change rules for who goes to Indy this year? I understand why they don't want a selection committee after some farcical BCS bowls last year -- but how about a rules-based selection instead?I'm thinking: First -- the Legends winner to Indy. Second -- the Leaders winner goes to Indy *provided* they finish tied or higher with the 2nd team in Legends, else the 2nd team in the Legends division goes.The advantage is obvious -- this way, the teams know the rules and have the opportunity to settle it on the field.
Adam Rittenberg:
Akshay, while anything is possible, I really don't see the Big Ten going down that road only weeks before the season. I like your suggestion, and it would increase the possibility of a better matchup in Indy. No one wants to see the Legends Division champion against the third-best team from the Leaders. No one in Big Ten country wants to see a title game like the Pac-12's in 2011 (Oregon-UCLA). But I don't think the momentum is centralized enough or strong enough to generate a change so late in the process. Pat Fitzgerald's selection committee proposal didn't generate serious consideration, according to Jim Delany. I think the Big Ten is going to get through this year -- hoping the Leaders doesn't turn into a total mess -- and then move forward.
---
Brian from Bloomington, Ind., writes:
Adam, Is Kevin Wilson the right guy to bring Indiana football back to respectability? To me it seems like we are going to have to hire a big name coach, like Butch Davis, in order to be able to compete in the Big Ten.
Adam Rittenberg:
Brian, keep in mind that Wilson came to Indiana as one of the nation's most highly regarded assistant coaches. His name was on the short list for a lot of potential FBS jobs. Plus, it would be very difficult for a program like Indiana to lure an established "big-name" head coach. I think Wilson will have some success in Bloomington, although the big key is what he can do to upgrade a historically porous defense. There's little doubt Indiana will score points during his tenure, and I expect the offense to be more dangerous this season. But it's always about the defense at IU -- can they get enough Big Ten-level athletes on that side of the ball and execute at a decent level to win some league games?
---
Brandon from Cleveland writes:
Adam,While there have been numerous blogs and articles written about the 8 transers from Penn State, I have seen none about the 84 players who have re-affirmed their committment to Penn State. Yes we lost 2 starters, and I would be naive to think that Redd and Fera will not hurt us. However the loss of our back up in Fortt will not hurt...this is LBU. Losing our 3rd string QB, OL and S will not hurt. Losing a freshman DT wont hurt. However the 84 commitments completely outweigh the 8 transfers. Not to mention 9 of our 12, 2013 commitments have re-committed. I understand they can change their commitments at any time as verbal commitements change their minds all the time. However these young men did not have to recommit at all and they have. This shows the character of these young men, and I have never been more proud of our boys...Cant wait for this year to kick off...We Are!
Adam Rittenberg:
Brandon, while I echo your sentiments about the players committing to stay at Penn State, you're falling victim to selective reading. We have covered the players/recruits reaffirming their pledges
here
and
here
and
here
. Of course, we're also going to post about every transfer because it's relevant after what has taken place at Penn State. The situation has unfolded more or less how I expected. I figured most of Penn State's seniors would remain in State College. They're heavily invested in the program and wouldn't really benefit from leaving at this point. Players with more than one year of eligibility remaining seemed more likely to depart, and that's what we've seen. The reaffirmed commitment from so many recruits is notable. As for
Khairi Fortt
, he had a pretty good chance to start at linebacker this year, so I wouldn't totally write off his departure. Penn State should still be OK at the linebacker spot, but Fortt would have been a nice piece to retain.
December, 5, 2011
12/05/11
9:10
PM ET
My Heisman Trophy ballot has changed every week for the last couple of months.
I'm not surprised there are more than three players going to the trophy presentation.
Five players were invited to New York for Saturday night's Heisman Trophy presentation -- quarterbacks
Andrew Luck
of Stanford and
Robert Griffin III
of Baylor, tailbacks
Montee Ball
of Wisconsin and
Trent Richardson
of Alabama and cornerback Tyrann Mathieu of LSU.
It's a shame the Heisman Trust didn't have room for three more quarterbacks because Houston's
Case Keenum
, USC's
Matt Barkley
and Boise State's
Kellen Moore
were just as deserving.
With five finalists going to New York, it figures to be one of the closer votes in recent Heisman Trophy history.
The closest vote in Heisman Trophy history came just two years ago, when Alabama tailback Mark Ingram edged Stanford's Toby Gerhart by only 28 points. Ingram received 227 first-place votes, Gerhart got 222 and Texas quarterback Colt McCoy, the second runner-up, received 203.
Given the number of finalists and their geographical regions, we could have another really close finish on Saturday night.
Luck, the runner-up to Auburn's Cam Newton last season, entered the 2011 season as the Heisman Trophy favorite. His performance didn't slip much this season, as he completed 70 percent of his passes for 3,170 yards with 35 touchdowns and nine interceptions.
I still feel Luck might be the most valuable player on any team in the country. Without him, there's no way the Cardinal is ranked No. 4 in the country and playing No. 3 Oklahoma State in the Tostitos Fiesta Bowl. Luck has done more with less, as Stanford lacks the game-changing playmakers that other teams have.
But Luck might still be the second-best quarterback in New York. Griffin, who is widely known as RG3, completed 72.4 percent of his passes for 3,998 yards with 36 touchdowns and six interceptions. He also ran for 644 yards with nine touchdowns.
Without him, the Bears wouldn't have beaten TCU, Oklahoma and Texas. Griffin's one drawback: He had a late interception that sealed the Bears' fate in a 36-35 loss at Kansas State on Oct. 1 and threw two picks in a 59-24 loss at Oklahoma State on Oct. 29. But with everything else RG3 has done this season, it's easy to give him a mulligan for the miscues.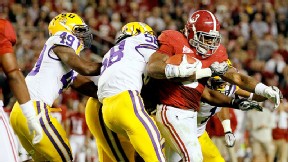 Kevin C. Cox/Getty ImagesRunning back Trent Richardson has been at his best in Alabama's biggest games.
I still believe Richardson is the best player in the country. He looked like the best player on the field in No. 2 Alabama's 9-6 loss in overtime to No. 1 LSU on Nov. 5. He had 89 rushing yards and 80 receiving yards in a game where every yard mattered. He finished the season with 1,583 yards with 20 touchdown runs and three touchdown catches. He's also Mr. Dependable, not losing a fumble in his past 520 touches and only once in 614 career touches.
Ball has been a scoring machine for the No. 10 Badgers this season, running for 1,759 yards with 32 touchdown runs and six touchdown receptions. His 38 total touchdowns are one shy of matching former Oklahoma State running back Barry Sanders' NCAA single-season record of 39 set in 11 games in 1988. Ball's production helped lead the Badgers to a Jan. 2 date against Oregon in the Rose Bowl Game presented by VIZIO.
Mathieu fell off my ballot after he was suspended from playing in the Tigers' 45-10 victory over Auburn on Oct. 22 for smoking synthetic marijuana. But his big plays helped the Tigers overcome deficits in each of their last two victories, over Arkansas and Georgia in the SEC championship game.
Mathieu -- aka the "Honey Badger" -- is the best player on the top-ranked team. He leads the Tigers with 70 tackles and has forced six fumbles and recovered five. He also is the most dynamic punt returner I've seen since Florida State's Deion Sanders. Mathieu has scored four touchdowns -- two on fumble returns and two on punt returns.
To penalize Mathieu for one foolish mistake wouldn't have been right. After all, Newton was briefly ruled ineligible at Auburn last season and 2010 Heisman Trophy finalist
LaMichael James
of Oregon was suspended from playing in last season's opener.
September, 16, 2010
9/16/10
1:00
PM ET
A new Rose Bowl access rule could prevent the traditional Big Ten-Pac-10 matchup Jan. 1 in Pasadena, but at least the two leagues will get to know one another very well on Saturday. Three Big Ten-Pac-10 games are on the slate, as
No. 18 USC visits Minnesota
(ESPN, 3:30 p.m. ET),
Arizona State visits Wisconsin
(ABC, 3:30 p.m. ET) and
No. 9 Iowa visits No. 24 Arizona
(ESPN, 10:30 p.m. ET).
Bloggers Ted Miller (Pac-10) and Adam Rittenberg (Big Ten) break down the three matchups.
[+] Enlarge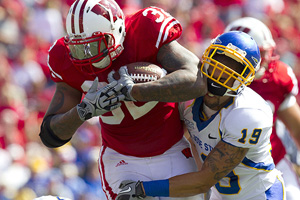 Jeff Hanisch/US PresswireCan Arizona State's defense stand up to Wisconsin running back John Clay?
Adam Rittenberg:
Ted, it's been too long, my friend. The Rose Bowl seems like decades ago, although they're still celebrating in Columbus. Given the likelihood of Boise State or TCU crashing the party in Pasadena this year, it's nice to have some Pac-10-Big Ten flavor this Saturday. Let's start off with
Arizona State-Wisconsin
. The name
Steven Threet
still makes people shudder in Madison after he led Michigan to a historic comeback against Wisconsin in 2008, triggering the beginning of the end for the Badgers that year. It also turned out to be the beginning of the end for Threet in a winged helmet. He seems to be settling in very nicely so far in Tempe. What should Wisconsin expect from Threet and the Sun Devils on Saturday?
Ted Miller:
An offense with extraordinary firepower! See an average of more than 500 yards and 47.5 ppg. Oh, wait. The Sun Devils played not one but two FCS foes. Hmm. And according to this box score, they rushed for just 56 yards on 29 carries against the hearty Lumberjacks of Northern Arizona. Double-hmm. Still, the early returns are fairly positive on Threet and new offensive coordinator Noel Mazzone's spread attack. The Sun Devils' offense was so bad last year that merely being mediocre would be a huge improvement. A bigger issue than Threet: the offensive line. It wasn't consistent against FCS foes, so you'd think the Badgers front-seven might pose a problem. But, to me, the more interesting matchup is a fast Sun Devils defense versus an experienced, physical Badgers offense. What's your take?
Rittenberg:
Totally agree that the game likely will come down to Arizona State's dynamic defense and Wisconsin's power run game, led by
John Clay
. He's the Big Ten's version of Toby Gerhart, except bigger. Clay has looked great this year, but Wisconsin needs to clean up some sloppy play on offense against the Sun Devils. The Badgers already failed on three red-zone scoring chances, matching their total from all of the previous season (53-for-56), and they've committed three turnovers inside the red zone. They have little trouble moving the ball and boast what I believe to be one of the nation's most balanced offenses, but they're not good enough to survive these mistakes much longer. Arizona State will have its hands full with Clay and a mammoth offensive line, but if the Sun Devils can use their speed and force turnovers, they'll have a shot in this one.
Let's move on to the other afternoon affair, USC at Minnesota. The Trojans haven't exactly been dominant this year, but at least they haven't lost to South Dakota. At home. Giving up 41 points and 444 yards. Yeesh. Your thoughts?
[+] Enlarge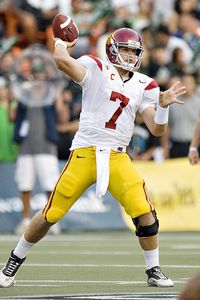 AP Photo/Eugene TannerMatt Barkley will try to exploit a Minnesota defense that gave up 258 yards to South Dakota
Miller:
Here are two teams that are muddling along, though the Trojans surely feel better about 2-0 -- no matter the way they got there -- than the Gophers do with 1-1, including the loss to a team from the Dakotas. Adam, I have no idea about the Trojans. They still look great getting off the bus. They still have NFL prospects at every position. In Week 1 at Hawaii, the offense looked great, the defense terrible. In Week 2 at home versus Virginia, it was mostly the opposite. Is it a question of fire and focus in the face of NCAA sanctions? I think we won't really be able to answer that question until the Pac-10 schedule starts. As for this one, I think the Trojans are going to roll. But I wrote that the previous two weeks and ended up being wrong. So what do I know?
What's your take?
Rittenberg:
This is an odd matchup. In some ways, USC is just asking to get beat. But how can Minnesota take down Troy if it can't keep South Dakota to fewer than 40 points? The Gophers defense obviously is a major question mark, and I fully expect
Matt Barkley
to attack downfield a lot on Saturday. Minnesota gets a boost as safety Kyle Theret returns from suspension, giving the defense one returning starter from 2009. The other thing here is if things go back for Minnesota at the start, any sort of home-field edge will disappear. They're not too pleased with coach Tim Brewster right now in the Twin Cities. Minnesota's only chance is to control the clock with
Duane Bennett
and its power run game, and keep Barkley and
Dillon Baxter
off the field. A huge challenge.
OK, we've saved the best for last: Iowa at Arizona. Both teams look great so far. Iowa won last year's game, but trips out West haven't been kind to the Hawkeyes lately. What happens in Tucson?
Miller:
First off, it's a great offense-defense matchup, with
Nick Foles
and an experienced UA offense taking on one of the best defenses in the nation. The cautionary tale for Wildcats fans is that also seemed like the case heading into the Holiday Bowl versus Nebraska, which became a complete disaster. Foles has a good offensive line, but the Hawkeyes have an NFL defensive front. If the Wildcats can get any sort of running game -- and
Nic Grigsby
is an explosive guy who can make a big play out of a small crack -- then things will be far easier for Foles and a quick-hit passing game. Foles is extremely accurate and he has a deep receiving corps. Yet to me the game turns on the Wildcats' rebuilt front seven. The unit replaced both tackles and all three linebackers and has played better than expected, but Iowa is a different sort of beast. If the Hawkeyes can run power effectively, then the Wildcats will be in trouble. If Iowa has to throw, I like the Wildcats secondary's chances versus
Ricky Stanzi
, who as you well know, Adam, hasn't always been the manzi.
What do you see from this one?
[+] Enlarge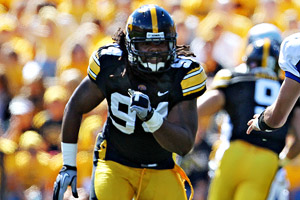 Icon SMICan Arizona's offensive line contain Adrian Clayborn?
Rittenberg:
Should be a great one in the desert. Iowa knows Arizona has come a long way since last year's meeting in Iowa City, when Foles hadn't yet emerged as the starter. The game could come down to whether Arizona can get Grigsby going and protect Foles against the Hawkeyes, who boast arguably the nation's best defensive line. Star defensive end Adrian Clayborn has been a bit quiet so far this season, but he usually plays his best in big games. Arizona typically has some outstanding defensive backs, but don't underestimate The Manzi, who has yet to throw an interception this year. So love it or leave it, pal! Iowa can stretch the field with receivers
Marvin McNutt
and
Derrell Johnson-Koulianos
, and the run game has looked good so far with
Adam Robinson
and
Jewel Hampton
. The Hawkeyes won in State College, Madison and East Lansing last year, but they haven't fared well historically in these trips out West. Arizona definitely has some built-in advantages.
OK, prediction time. Who wins in the three Pac-10-Big Ten matchups?
Miller:
Somehow I knew you were going to ask that.
I think USC will handle Minnesota fairly easily: Trojans 41, Gophers 20.
I think Arizona State will be competitive at Wisconsin but the Sun Devils will struggle to score -- and possess the ball -- and the defense will wear down: Wisconsin 27, Arizona State 17.
As for Arizona-Iowa: I go back and forth, but I'm going to risk the ire of the Wildcats faithful and pick Iowa 28, Arizona 24. I just don't think the Arizona defense will be able to hold up all night, and that will allow the Hawkeyes to take a lead at some point in the second half and then play keep-away with the run game.
So, for what REALLY is going to happen... Ladies and gentlemen, Adam Rittenberg.
Rittenberg:
Why thank you, good sir.
The Gophers save face a bit against USC and hang around for a while before Barkley and his receivers prove too much for a young defense. Trojans win 35-23.
Wisconsin controls the clock as always and cleans up some of its mistakes in the red zone. Threet leads two first-half scoring drives before the Badgers take control and win 30-20.
Iowa-Arizona should be a great one. The elements will be tough for the Hawkeyes, and they'll fall behind early. But I've got to go with the better defense and the more battle-tested team. Iowa wins 26-21.
So we agree. We'll have to fight over the Rose Bowl pick this year. I've got Boise State!
December, 28, 2009
12/28/09
2:30
PM ET
LOS ANGELES -- Oregon defenders would love go all
Office Space
on the Stanford game tapes, erasing any evidence from a poor performance Nov. 7 in the Bay Area.
You can't blame the Ducks for wanting to forget a day where they allowed 51 points to Stanford and 223 rushing yards to Heisman Trophy finalist
Toby Gerhart
in a 51-42 loss.
Unfortunately for Oregon players, Ohio State has brought back the bad memories.
"That's probably the most comparable team that [Ohio State] can game-plan from," Ducks linebacker Spencer Paysinger said of Stanford. "They know that Toby was getting five or six yards every single gain. If I were them, they would have to go into that film and try to take out some of the pieces."
Ohio State obviously can't reproduce the biggest piece, as Oregon defensive tackle Brandon Bair points out.
"Ohio State doesn't have a Toby Gerhart," Bain said. "When Toby Gerhart wasn't in the game, it was easy to stop their power game."
What the Buckeyes do have is the nation's No. 19 rushing offense (198.9 ypg), a unit that gained steam late in the season. Ohio State's rushing attack fueled the team's surge to another Big Ten title, as the Buckeyes averaged 257.6 rush yards during their final five games. Running backs
Brandon Saine
and Dan Herron played their best football in November, and quarterback
Terrelle Pryor
is always a threat to run.
Ohio State lacks a dominant individual rusher like Gerhart, but it's power run-oriented style is something Oregon doesn't see much in the Pac-10, except from Stanford and USC.
"It was an eye-opener," Paysinger said of facing Stanford this season. "A lot of Pac-10 schools, they think of us more finesse than just straight power. But the fact that we do have a team like [Stanford] in our conference gives us an advantage because we can play both types of football."
And Oregon will be better prepared this time around. The Ducks had their game plan installed early last week, and the defenders seemed very confident at Monday's media session.
"We didn't think we were as ready as we should have been for [the Stanford game]," linebacker Casey Matthews said. "We could definitely tell in the practices. After that game happened, we knew what we had to clean up."
December, 8, 2009
12/08/09
10:15
AM ET
The Big Ten had no legitimate horse in the Heisman Trophy race this year, so I was forced to look elsewhere for my selections.
And like fellow bloggers
Chris Low
and
Tim Griffin
, I struggled with the selections. In the end, my ballot included three guys who play the same position (Hint: It isn't quarterback).
Here's how I voted late Saturday night:
1.
Toby Gerhart
, RB, Stanford
2.
Mark Ingram
, RB, Alabama
3.
C.J. Spiller
, RB, Clemson
Ingram and Spiller sparkled in the spotlight Saturday, and both men have had huge performances all season long. Nebraska defensive tackle Ndamukong Suh also stepped up in the biggest game of his season, and it was great to see him get an
invite to New York City
. But in the end, my decision came down to the player who consistently produced week in and week out against top competition.
Gerhart's numbers blew me away, and those who question Stanford's competition should
check out the facts
. As a guy who grew up in Berkeley, it wasn't easy to vote for a Stanford guy, but Gerhart deserves it.
One thought I had while filling out my ballot: Shonn Greene was a year too early. The Iowa star running back was overshadowed by a quarterback-dominated season in 2008. If he had turned in the same performance this year, he'd be undoubtedly heading to Manhattan with a real chance to win the trophy.
Another thought I had: What if Ingram had stayed closer to home and played for a Big Ten school? The league could use an offensive star like him.
It's time the Heisman goes to a non-quarterback. I hope this is the year.