May, 13, 2014
May 13
4:30
PM ET
The scheduling partnership between the Pac-12 and Big Ten might have
ended before it started
, but teams in both leagues continue to end up on each other's schedules.
The latest matchup features Michigan State and Arizona State, which Tuesday
announced a home-and-home series in 2018 and 2019
. Arizona State will host the first matchup on Sept. 8, 2018, and the Sun Devils will visit Spartan Stadium on Sept. 14, 2019.


Pay attention,
SEC
and
ACC
. This is called a solid nonleague matchup. If the playoff selection committee has a backbone, you'll need these to make the top four after recently voting to remain at eight conference games. Both leagues are requiring their members to play at least one nonleague game against a major-conference foe, but the quality of those contests, aside from annual rivalries like Clemson-South Carolina and Florida State-Florida, remains to be seen.
Fans of both Arizona State and Michigan State, meanwhile, get nine league games plus this appetizing intersectional gathering. The Pac-12 already plays nine league games, and the Big Ten will go to nine in 2016.
MSU adds ASU to a slate of nonconference games that features Oregon this season and next, Notre Dame in 2016 and 2017, Miami in 2020 and 2021 and Boise State in 2022 and 2023. The Spartans also had a home-and-home series scheduled with Alabama, but
the Tide opted to cancel it
.
Arizona State has upcoming games against Texas A&M (2015), Texas Tech (2016, 2017) and LSU (2022 and 2023).
Bottom line: Both teams are in good shape, schedule-wise, for the playoff.
These games are a long way off, but if coaches Todd Graham (ASU) and Mark Dantonio (MSU) remain in their positions, it creates an intriguing offense vs. defense matchup. The teams have met just twice before, as Michigan State won on its home field in 1985 and Arizona State defended its turf the following year.
Some Big Ten fans will wonder why Michigan State scheduled Arizona State after
what happened to Wisconsin last season at Sun Devil Stadium
. It will be interesting to see if Michigan State asked for Big Ten officials -- customary for the road team at most venues -- for the 2018 game. Arizona State is 9-0 at home against Big Ten foes.
After the scheduling alliance dissolved, there was some concern the historic ties between the Big Ten and Pac-12 would fray. It has been just the opposite, as the leagues this year will begin playing two more bowl games (Holiday and Fight Hunger) and have several upcoming series like Michigan State-Oregon, Nebraska-Oregon and Wisconsin-Washington. Northwestern is set to play Stanford six times between 2015-22, and Michigan plays two Pac-12 teams in 2015 (Utah and Oregon State) and another (Colorado) in 2016.
Another good matchup has been added. Will it help or hurt the Spartans and Sun Devils in their quest to make the playoff? Time will tell, but fans of both teams should be excited about the series.
August, 23, 2013
8/23/13
2:00
PM ET
His phone showed a text message informing him of a team meeting.
Brock DeCicco
called his father. He understood what this meant. It was happening again.
Two team meetings so close together meant one thing at Wisconsin last season. His coach, Bret Bielema, was leaving for somewhere -- in this case, Arkansas.
[+] Enlarge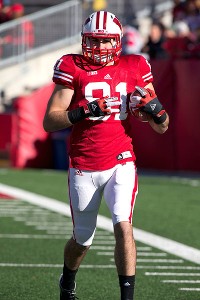 AP Photo/David StlukaWisconsin tight end Brock DeCicco, who transferred from Pitt, knows all too well how it feels to have a head coach leave for another school.
Including interim head coaches, DeCicco has had seven head coaches in four-and-a-half years during his time at Pittsburgh and Wisconsin. Add in coordinators and position coaches and he has lost count of the adults who have attempted to mentor him before either being fired or leaving on their own volition.
This is why his high school coach, Bill Cherpak, has jokingly called him "coach killer."
"I never would have guessed that," DeCicco said. "It's just kind of how college football is. Coaches move back and forth all the time so you kind of just get used to it. There's probably not many guys at schools that start off with the same coach and end with the same coach."
Hardly any player has rolled through coaches like DeCicco, now a fifth-year senior who might see his first significant time this fall since his redshirt freshman season at Pitt. Back then, his coach was Dave Wannstedt, who recruited DeCicco and also coached his older brother, Dom.
Since Wannstedt's firing after his redshirt freshman season, his head coaches have been Phil Bennett (one game), Michael Haywood (zero games), Todd Graham (zero games), Bret Bielema (transfer season and 2012 season), Barry Alvarez (one game) and now Gary Andersen (zero games and counting).
The toughest breakup was the first. He was naive then. He didn't expect Wannstedt, who his family had known for a while, to be fired. He thought he would play his entire career for Wannstedt. In retrospect, he says he learned so much from Wannstedt, Bennett and the rest of that first staff he played for.
As each successive separation happened, DeCicco became desensitized to it. After he said Graham and his coaching staff told him he'd play H-Back in an offense which didn't utilize a tight end much, he became concerned in spring practice. He departed soon after the start of fall camp in 2011.
"He was like, 'I gotta go. I have to get out of here,' " said Dominic DeCicco, Brock's father. "He knew if he was going to have any success in football, I need to leave."
Depending who you ask, DeCicco's feelings about this varied. He liked his teammates at Pitt, but the coaching staff and scheme didn't fit him. Cherpak said the Pitt staff under Graham had lost DeCicco in part due to the position switch and what was told to him after. For a player whom all involved said might not have succeeded had he started somewhere far from home instead of Pittsburgh a half hour away, belief in a staff at that point was huge.
"Once they lost Brock's trust, he was gone," Cherpak said. "At that point, he didn't have anywhere to go. He was home for a week-and-a-half."
Enter Wisconsin. The Badgers recruited him in high school. He went on a visit and loved it, and got along well with the offensive coordinator, Paul Chryst, and the tight ends coach, Joe Rudolph.
He went as a walk-on after the Badgers could not offer him a scholarship right away. In 2012, he earned a one-year scholarship. This past season, he re-earned it for his fifth year. He believed in the Wisconsin staff.
DeCicco didn't expect to go through all the switching. Again. This time with some irony involved. After his transfer year in 2011, Graham bolted. Pitt needed a coach and hired Chryst. He took Rudolph with him to be his offensive coordinator.
By then, all DeCicco could do was laugh.
"After (Chryst) took the job and then he started taking the assistants, it was like it was never going to end," Cherpak said. "It didn't upset him. More like, 'What's next?' "
What's next was playing in every game last season and now finally having the chance to impact a team again as a redshirt senior. The last time he caught a pass was 2010, a 13-yard touchdown catch against Kentucky in the BBVA Compass Bowl.
It's been a journey he never could have expected since then, but one which he doesn't regret. One which has made him grow more than he ever thought he would.
"I always tried to look at it as a positive," DeCicco said. "I've had a bunch of different offenses I've run through. Learned a bunch of different offenses and styles of how coaches teach."
It's just the coaches don't stick around, which heads back to Bielema, the text message and a laugh with his father. Four years ago, DeCicco would have been traumatized by a coach departing. Let alone two.
Now he can call his father, predict what is happening next and console confused teammates. It isn't about a coach anymore for DeCicco. It's about himself. His teammates. And whatever happens next is all good with him.
Really, there was no way DeCicco's college career would conclude without one more somewhat unplanned twist.
On Sept. 14, he and the Badgers head to Arizona State. Its coach -- Todd Graham.
"If you told me back when he signed his letter of intent that this was the journey he would have taken," Dominic DeCicco said. "I would have had a better chance of winning the lottery than that happening.
"It's so bizarre, so many twists and turns to it. It was incredible."
December, 11, 2012
12/11/12
5:00
PM ET
Your questions, my answers ...
A.J. from Madison, Wis., writes:
If everybody's eligible, how many bowl games does the B1G win?
Adam Rittenberg:
Good question, A.J., and a potential Take Two topic before the bowls kick off. Assuming Ohio State doesn't make the national title game but wins the Big Ten championship, it would play Stanford in the Rose Bowl. I'd like the Buckeyes' chances. Penn State also likely would be in one of the Florida bowls against an SEC team, and everyone else would slide down a notch. I think the Big Ten would get 1-2 more bowl wins if both Ohio State and Penn State are in the mix. As it stands right now, the Big Ten will have a tough time getting two or more bowl wins, and an 0-7 record is certainly possible. If Ohio State and Penn State were in there, the matchups still would be challenging, but a winning record wouldn't be out of the question.
---
Andy from Dayton, Ohio, writes:
I noticed your column on Urban Meyer not lobbying to get the Bearcats into the ACC, you mentioned the Big 12 as a home. My question is how will this effect the Big 10 recruiting in Ohio, does the pot get split up more if Oklahoma is going against Michigan and Ohio St?
Adam Rittenberg:
Andy, I wouldn't expect it to impact Big Ten recruiting too much. The Big 12 already is in West Virginia, so there's a presence there. And some Big 12 schools -- especially one like Oklahoma, whose head coach, Bob Stoops, is an Ohio native -- already recruit the state anyway. Although the Big 12 could showcase its product more often in the state with games at Cincinnati, I don't see a huge impact with respect to the Big Ten's recruiting efforts.
---
Chris from Omaha writes:
Thanks for the article on the Big Ten attendance. Michigan State has to pad their attendance numbers - I'm a Husker fan that was at that game and that place was NOT full at all! The box score attendance is showing 73,522 in a 75,000 stadium. That is simply not accurate - there is no way. The only reason I bring this up is because you mentioned Michigan State's increase in attendance this year in the article, but I just don't think that's true. Go Big Red.
Adam Rittenberg:
Chris, it's all based on paid attendance, not actual attendance at the game. The Michigan State-Nebraska game is hardly the only game to post a higher paid attendance than actual attendance. It happens everywhere. Michigan State's attractive home schedule certainly played a role in the attendance increase despite the team's struggles on the field.
---
Shareef from Ann Arbor, Mich., writes:
I'll keep this question short and sweet: How did WIll Hagerup, who was voted the B1G's punter of the year, not make your first or second team All-Big Ten teams?
Adam Rittenberg:
Same reason Wisconsin's
Jacob Pedersen
, the Big Ten's tight end of the year, didn't make our teams. Because we disagreed with the Big Ten's selections for several of the position awards. That's not a knock on Hagerup or Pedersen -- or Iowa cornerback
Micah Hyde
, whose selection as defensive back of the year was most surprising. But when we evaluated the punters, tight ends and defensive backs, we felt other players were more deserving. Although Hagerup had the best punting average in the Big Ten (45 ypp), he had only 33 attempts. Both
Mike Sadler
and
Cody Webster
had twice as many attempts as Hagerup, and their averages were nearly as good. Sadler placed 28 punts inside the 20-yard line, while Webster had 29 of those (along with 17 punts of 50 yards or longer). Hagerups numbers in those categories simply don't measure up, and that's why we gave the nod to Sadler and Webster.
---
Brian from Atlanta writes:
You keep mentioning all the B10 alumni in Chicago, and that's very true. I'd just point out two things. First, most neutral B10 fans have zero interest in attending the CCG so most of those alumni don't matter. Second, PSU and OSU have more alumni in both NYC and DC than in Chicago. Playing in Chicago isn't going to be a big draw for them.I think the problem is WI, not Indy. Let's see what happens when OSU or MI plays in the CCG.
Adam Rittenberg:
I agree that title game attendance will be less of an issue when Ohio State or Michigan plays in it, but when did you start speaking for most neutral Big Ten fans? You don't know that they wouldn't want to attend an easily accessible Big Ten game in their home city, if priced correctly. I've heard from many general Big Ten fans who would have gone to the game in Chicago because they live here. Also, Penn State and Ohio State are two of 12 Big Ten schools. Every other Big Ten school has a massive alumni base in Chicago. And Ohio State has a sizable presence as well. Penn State does not, but that's the exception until Rutgers and Maryland join the league.
---
Spartan4Life from Los Angeles writes:
I loved the article on the attendance of games but I think it should be done according to % of max capacity. Of course Michigan and Ohio State would be on the top considering they have stadiums that can hold over 110,000 vs other stadiums that can only hold up to 80,000. measuring the % it gives each team an equal footing to see how many people showed up compared to how many the stadium can actually hold.
Adam Rittenberg:
Spartan, I see your point, but the post wasn't really aimed to show who had the largest attendance figures, but how the attendance figures changed from 2011 to 2012. So it's more important to pay attention to Michigan State's increase, Penn State's decrease, etc., than whether Michigan and Ohio State are Nos. 1 and 2. Everyone knows those schools have massive stadiums and always draw the most fans. That's not really news. It's more telling how the average attendance totals change from year to year, or during a longer span of time (4-5 years).
---
Tom from Minneapolis writes:
Adam - You chided Barry Alvarez a little for saying he was talking to a prospective coach five minutes after Bielema's exit, but how about some props for NOT pursuing Paul Chryst, because BA recommended him for the Pitt job last year. If Alvarez had had any inkling at this time last year that Bielema was looking to leave, Chryst would be UW's head coach right now. I thought the comments re Chryst demonstrated that Wisconsin is committed to doing things the right way, even if that sometimes results in a competitive disadvantage.
Adam Rittenberg:
Tom, I think it says a lot about Chryst, too. He knows what those kids at Pitt have been through, and leaving them after just one year, even for a potential dream job, isn't the right thing to do. While no one will confuse Paul Chryst with Todd Graham, some would have put them in the same category if Chryst had bolted. It was nice to see Alvarez be up front about Chryst and why he wouldn't pursue him for the job.
---
Steven from Estero, Fla., writes:
Adam, I'm a big ten guy (TOSU '70) and I'm curious as to why our seemingly expansion obsessed commish has not considered Pitt and WVA. Those two make sense if post Md/Rutgers expansion is in the works, as has been intimated. Heard anything about it?
Adam Rittenberg: S
teven, a couple of things to keep in mind when throwing out expansion possibilities. If a school isn't an
AAU member
and a strong academic fit, the Big Ten will not be interested. Nebraska was an AAU member at the time of its admission to the Big Ten. West Virginia is not an AAU member and not a strong academic school. While the ACC seems more willing to compromise its academics (i.e. Louisville), the Big Ten will not. The other thing is demographics and extending the brand into new markets. Pittsburgh is not a new market. The Big Ten brand already resonates there because of Penn State. It's more important to extend the brand into newer, more populated areas than add a school in an area where you're already known.
September, 19, 2012
9/19/12
5:30
PM ET
Illinois' defense entered the season pegged as one of the Big Ten's best, a distinction linebacker
Jonathan Brown
thinks the Illini still merit.
"We've got the best front seven in the country,"
Brown told reporters
last week. "I firmly believe that."
His comments came four days after Illinois surrendered 45 points and 510 yards in a blowout loss to Arizona State. The Illini had communication problems early and missed tackles throughout the game. Perhaps the only positive is that the contest kicked off so late (10:30 p.m. ET) that most of the country missed it.
The debacle in the desert would seem to counter Brown's claim. Then again, it could be just an aberration -- a bad night after a long trip. Illinois has allowed just seven points in its two victories.
[+] Enlarge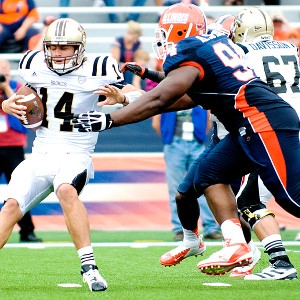 Bradley Leeb/US PRESSWIREAkeem Spence and the Illinois defense have allowed seven total points in two victories, but allowed 45 in a loss to Arizona State.
What is the real Illini defense?
The beauty is we'll soon find out, thanks to the schedule.
After a game that revealed virtually nothing -- last week's 44-0 smashing of woeful Charleston Southern -- Saturday night's test against Louisiana Tech figures to show much more about the Illinois defense. Louisiana Tech's offensive numbers, despite a small sample size (two games), are quite staggering:
Fifth nationally in total offense (603.5 ypg)

Third in scoring (56 ppg)

Ninth in rushing (289 ypg)

17th in passing (314.5 ypg)

Tied for 15th in offensive plays per game (83)
"They're not complicated with what they do," Illinois coach Tim Beckman said. "They just do what they do very well."
The final number might get Illinois' attention more than any other. Louisiana Tech coach Sonny Dykes wants his offense, led by senior quarterback
Colby Cameron
and freshman running backs
Tevin King
and
Kenneth Dixon
, operating at an accelerated tempo, and the Bulldogs ran 94 players in their opening win against Houston.
Arizona State coach Todd Graham also preaches a quick pace on offense, and although his Sun Devils ran only 67 plays against the Illini, they capitalized on a defense that looked out of sorts, especially early in the game.
"It was just a lack of communication," defensive tackle
Akeem Spence
told ESPN.com. "Guys were looking at the wrong person, getting the wrong call."
Illinois simplified the signaling issue and worked to prepare for Tech's pace this week. Coaches put players through "fastball" periods in practice, where Spence estimates six plays were run in a span of a minute or so.
They also went over rotations and substitution patterns for an opponent that makes it difficult to shuffle players on and off of the field.
"It's just guys talking," Spence said, "making sure one another is on the same page, and just getting on the small things not to get us beat. Make sure the guys have the right call. If we're all wrong, and we all have the wrong call, then we're all right. ... When they're going so fast, you can't really take guys out, and you don't want to get any stupid penalties, 12 men on the field, substitution penalties.
"I think we took the proper measures to get ready for these guys."
According to Spence, Illinois will look to take away King, Dixon and the run game and make Louisiana Tech one-dimensional. Like Brown, Spence hasn't lost any confidence in the front seven, which he thinks still can be elite.
Saturday night, they have the chance to prove it.
"We've got to execute a lot better than we did when we played Arizona State," Spence said. "If we do that, we'll have a better outcome. A lot better outcome."
September, 14, 2012
9/14/12
4:30
PM ET
Some questions and answers before another weekend of college football. Enjoy.
Evan from Bradenton, Fla., writes:
Hey Adam, I understand that B1G had a rough weekend against the Pac-12 last week, but I don't understand why the coverage is so negative for the B1G. Point in case, last year the conference dominated the Pac-12, going 5-2 against our west cost opponents, but we didn't get any recognition for it. And one of those loses was USC barely getting by a very bad Minnesota. However, all the sudden since the Pac-12 won four home games (including Arizona) the Pac-12 is getting so much media love. So why is it when the B1G does something good, like consistently get two teams into the BCS or win the Sugar Bowl for back to back years, it never materializes into good press?
Adam Rittenberg:
Evan, you bring up some fair points here. The Big Ten didn't get much credit for taking care of business against Pac-12 foes. The difference this year is that two Pac-12 teams (Oregon State, UCLA) pulled off upsets, and, in Oregon State's case, a significant upset against the defending Big Ten champ. You also had some new Pac-12 coaches -- Rich Rodriguez, Jim Mora, Todd Graham -- notching their first signature wins at their respective schools, which generates more national attention. As for the Big Ten getting "credit" for multiple BCS entries every year, that's a tough case to make when you don't win more of those games. Several Big Ten teams have received BCS invites based on name recognition and fan base more than what they've done on the field. Lastly, the standards are high for the Big Ten. It's the wealthiest conference and the most tradition-rich. The league will get credit when it starts winning Rose Bowls and national titles again.
---
Ryan from Fairfax, Iowa, writes:
Adam, As a Hawkeye fan I'm obviously upset with the first two weeks of the season. I do find it hilarious that Ken O' Keefe haters are asking for him back. I've learned as a Hawkeye fan that we have to take the good years with the bad years. I come to the realization that we are a developmental program and we're going to have some tough to stomach years, but we will also mix in some exciting years where we will compete for BCS bowls. With that being said I do find some reasons to still be optimistic about this season. Number 1 being our defense. No one expected our defense to be this good, this early in the year. I think they could actually be a quite scary defense come B10 play. Number 2.. the offense can't get any worse haha.. You can't blame Davis and Ferentz for our WR's dropping balls that hit them between the numbers, but I do think they need to put Vandenberg in a better position to be successful. There has been a ton of negativity surrounding this team after 2 weeks. There is plenty of time left for this offensive unit to put it together. But everyone calling for Vandenberg to be benched and crying for O'Keefe to return.. all I gotta say is C'mon MAN! Just wanted to share a little optimism and get your thoughts on where our DEFENSE might be able to take us this year.
Adam Rittenberg:
Ryan, a very level-headed email here. It's comical to me how some fans are asking for O'Keefe back and likening
James Vandenberg
to Jake Christensen. Please. Yes, the offense looks terrible so far and Davis hasn't found the right play-calling mix, but it's too soon to make sweeping judgment. Especially, as you say, when no one can consistently catch the ball (which was a problem last season). I agree the defense provides reason for optimism, and it's encouraging to see what Iowa has done in the red zone defensively so far. But you need to score touchdowns and you need to execute better on offense. I can't imagine what the negativity will be like if Iowa loses to Northern Iowa on Saturday. Maybe fans will start a movement to get O'Keefe to replace Ferentz.
---
Mark from Lakewood Ranch, Fla., writes:
Disclaimer(MSU Alum) Curious your take on
Frank Clark
being allowed to play for Mich. Since you were so vocal on
Dion Sims
who sat out a year to get his affairs in order,will there be similar outrage on this ? Brady Hoke had to know he was going to plead guilty yet still allowed him to play vs AF. Not sure the message this sends,but a felony charge seems much worse than the MSU tweets that generated National attention.
Adam Rittenberg:
This was one of about 100 emails I received from MSU fans this week, which is pretty disappointing given that the Spartans have a huge game coming up. I'll address this once as I don't like folks demanding for equal outrage or whatever without actually examining whether the situations are remotely similar (not singling you out, Mark, but it's really the worst side of college fans). Frank Clark should have been suspended longer than a game. To equate his situation to
Fitzgerald Toussaint
's and give them both the same length suspension doesn't send a good message. Clark's situation was more serious (i.e. felony), and he should have been sitting against Air Force and at least another game. Brady Hoke has to live with this. I was
"outraged" about the Sims situation
more because it had to do with a crime ring stealing computers from Detroit Public Schools. I didn't feel Michigan State acted inappropriately regarding Sims (had bigger issues with Glenn Winston mess). My "vomit" comment was about the nature of the crime ring, not how Michigan State handled the Sims case. As for the Michigan State tweets, I can't help that it attracted more attention than it probably should. We posted something here but didn't hammer on it like others.
---
Kyle from Denton, Texas, writes:
Adam,With Notre Dame basically selling it's soul to the ACC I think the Big Ten has to make a move here. It doesn't have to be in the form of actually expanding, but it does need to be in the form of preparing for the future. I think the Big Ten should come out and say that in the case that it would expand, it would not be opposed to adding a non-AAU member to the league. Looking at the members list of the AAU you really limit yourself TV market wise by saying you really want that in your members. Otherwise the only thing that would make a splash in the College Football world would be for the Big Ten to invite Toronto University and expand into Canada...
Adam Rittenberg:
Kyle, you're not the first person to bring up University of Toronto as an expansion option for the Big Ten. It certainly would be an out-of-the-box move by Jim Delany. There would have to be assurances about how successful college football would be North of the border, and I'm not sure the Big Ten could get those. I can guarantee you the Big Ten isn't turning its eyes away from what's happening around college football, but the league's presidents are also very happy at 12. As for the AAU issue, it's interesting. While I understand what you're saying about limiting yourself by AAU status, it really does resonate with the Big Ten presidents and chancellors. I've heard that had Nebraska lost its AAU status before being admitted to the Big Ten, there would have been hesitation about adding the school. I think there are some decent non-AAU options out there that might help the Big Ten. However, I maintain that the Big Ten shouldn't expand just to expand, and there aren't many home-run candidates. Again, as the richest league, do you want to feed another mouth just to "keep up" with other leagues?
---
From @SpencerLeone (via Twitter):
Would you agree the two best teams in the #B1G this year are in the Legends Division?
Adam Rittenberg:
It's a close call right now between Michigan and Ohio State, which has looked better but hasn't played anyone near the caliber of Alabama. I've felt the Big Ten champ always would come out of the Legends division, and I feel even stronger about that after Wisconsin's struggles early this season. Michigan State and Michigan could be the class of the conference, especially with Ohio State ineligible for postseason play. But the Buckeyes might end up being the No. 2 or No. 1 team in the league by the end of the season.
---
Eric from New York writes:
Hi Adam! I love reading your work on the blog. It makes my job tolerable. My question is: How do you feel about Penn State's future? I'm trying not to be biased (since I'm a PSU alum), but it looks like Coach O'Brien is running an excellent offensive system. There are obviously some big gaps to fill like red-zone scoring, but the staff has improved the passing game tremendously. McGloin looks more confident than ever. With a potential star QB like Hackenburg leading the way (fingers crossed) and our typical strong defense, I don't think Penn State will completely fall off the map like everyone predicts. What do you think?
Adam Rittenberg:
Thanks, Eric. I agree with you about Penn State's offense under O'Brien and McGloin's improvement as a passer. O'Brien should be able to use the offense as a selling point to recruits, even in the next few years as the NCAA sanctions continue. As I've written before, O'Brien and his assistants have to become really selective with scholarship offers and who they bring in. With only 15 scholies per year beginning with the 2013 class, they simply can't afford to miss on the same number of guys as most programs. They'll also need walk-ons -- or run-ons, as BO'B says -- to contribute in major roles. I think there will be some more tough days ahead, but I also don't expect Penn State to start going 3-9 every year. It really comes down to this staff and its ability to scout and develop players because of the limited roster size.
---
Eric M. from Iowa City, Iowa, writes:
Given the conference's performance last weekend, what are the chances that a Big Ten team digs deep and somehow finds a way to lose on the road this weekend?
Adam Rittenberg:
That would require some serious digging, Eric. All 12 Big Ten teams play at home Saturday.
---
Chris from Buffalo, N.Y., writes:
I have noticed MSU is very talented, deep, and athletic, despite youth/inexperience. Maxwell also showcases good mechanics and a strong arm. If this group comes full circle saturday night, do you see them beating ND? Would they become a more legit NC darkhorse?
Adam Rittenberg:
Chris, I have Michigan State winning 17-10. I also think it's too soon to label the Spartans a national title contender. They at least need beat Ohio State in the Big Ten opener, and they most likely need a signature road win against Michigan on Oct. 20. The stretch that gives everyone pause about the Spartans is the Michigan (road), Wisconsin (road), Nebraska (gauntlet) midway through Big Ten play. The Wisconsin trip doesn't look as tough as it did a few weeks ago, but it's not easy to survive that stretch, plus Ohio State, without a loss. I do think that Maxwell and the passing game are the missing pieces to a Big Ten championship formula for the Spartans, and, who knows, maybe more.
September, 10, 2012
9/10/12
2:30
PM ET
It was a brutal week for the Big Ten, and a brutal week for the Big Ten bloggers.
Both Brian Bennett and I took a beating in the
Week 2 predictions
, as we both expected a much better result from the league. It would have been even worse had we bet against the spread. Like Big Ten players and coaches, we can only hope this is rock bottom.
WEEK 2/SEASON RECORDS
Adam Rittenberg: 8-4, 18-6 (.750)
Brian Bennett: 7-5, 17-7 (.708)
Rewind time ...
New Hampshire at Minnesota
UCF at Ohio State
Penn State at Virginia
Purdue at Notre Dame
Indiana at Massachusetts
Air Force at Michigan
Michigan State at Central Michigan
Iowa State at Iowa
Wisconsin at Oregon State
Nebraska at UCLA
Vanderbilt at Northwestern
Illinois at Arizona State
September, 6, 2012
9/06/12
9:00
AM ET
It's prediction time again as we attempt to forecast Week 2 in the Big Ten.
Although opening weekend had more big-ticket games, Week 2 features more potential toss-ups around the league. Seven Big Ten teams hit the road Saturday, including three squads -- No. 13 Wisconsin, No. 16 Nebraska and Illinois -- visiting Pac-12 opponents.
Both of us went 10-2 in Week 1, and we'd probably take that record again Saturday.
Let's get to it ...
NEW HAMPSHIRE at MINNESOTA
Brian Bennett: No repeat of last year's North Dakota State debacle for the Gophers, who improve to 2-0 behind a strong running game, led by
Donnell Kirkwood
. ...
Minnesota 31, New Hampshire 20
Adam Rittenberg: The Gophers can't afford to take any team lightly and have dropped their past two games against FCS teams (North Dakota State and South Dakota). Still, I liked what I saw from Minnesota's defensive front in the opener. The Gophers get enough from
Ra'Shede Hageman
& Co., and
MarQueis Gray
rebounds with three touchdowns (2 pass, 1 rush) as the team survives against New Hampshire. ...
Minnesota 26, New Hampshire 20
UCF at No. 18 OHIO STATE
Adam Rittenberg: The Knights provide a much tougher test for Ohio State than Miami (Ohio) did, and the Buckeyes' defense has some early struggles before rebounding. I expect another big performance from
Braxton Miller
, who gets
Jake Stoneburner
more involved in the passing attack as Ohio State pulls away in the third quarter.
... Ohio State 34, UCF 17
Brian Bennett: The Buckeyes' offense gets off to a stronger start than last week, and
Carlos Hyde
goes for 100 yards. That and another big special-teams play help Ohio State break this one open.
... Ohio State 38, UCF 21
PENN STATE at VIRGINIA
Brian Bennett: Call me crazy, but I think the Lions will rebound after their Week 1 loss. I see a much better performance by the Penn State defense, and
Matt McGloin
hits
Allen Robinson
for two touchdowns as PSU finally gets some good news. ...
Penn State 17, Virginia 14
Adam Rittenberg: It wouldn't surprise me if Penn State's offensive line controlled Virginia and the Lions' defense stepped up, but I don't think the Lions have enough firepower to win on the road against an improving Cavaliers program. McGloin has some early success, but Penn State once again fades down the stretch. ...
Virginia 21, Penn State 14
PURDUE at No. 22 NOTRE DAME
Adam Rittenberg: I'd pick Purdue if the game were in West Lafayette, and I expect Notre Dame to start slowly after the long trip to Ireland. But the Irish have a more dynamic offense than the Boilers, and Purdue's defense will start to show some cracks in the third quarter against
Everett Golson
. Both
Caleb TerBush
and
Robert Marve
see plenty of snaps in this one for the Boilers.
... Notre Dame 27, Purdue 21
Brian Bennett: Every time Notre Dame does something good, it usually backslides. So I see the Irish faltering after their strong performance in Dublin. Purdue is due, and
Kawann Short
dominates defensively and blocks a field goal for the win.
... Purdue 28, Notre Dame 24
INDIANA at MASSACHUSETTS
Brian Bennett: Picking Indiana to beat anybody on the road is dicey at this stage. But the Minutemen might not be as good as Indiana State. The Hoosiers fall behind early but rally behind
Tre Roberson
and knock down a fourth-down pass at the goal line on the final play. ...
Indiana 21, UMass 20
Adam Rittenberg: I think Kevin Wilson is starting to trust his team more and should open up the offensive playbook more against the Minutemen. Although Indiana needs a cleaner performance on the road, it gets enough from Roberson, who tosses two touchdown passes, including one to
Kofi Hughes
in his return from suspension.
... Indiana 27, UMass 21
AIR FORCE at No. 19 MICHIGAN
Adam Rittenberg: Air Force is a team that gets your attention, and that's a good thing for Michigan after the disaster near Dallas. The Wolverines start slowly but block and tackle a lot better in the final three quarters.
Denard Robinson
plays a clean game with two touchdown passes and no picks, and
Fitz Toussaint
breaks off a long touchdown run in his return from suspension.
... Michigan 35, Air Force 20
Brian Bennett: Everybody is looking for the upset here, but I don't see it. Brady Hoke has experience coaching against the Falcons, and Michigan simply has too much talent. Robinson bounces back with 350 total yards.
... Michigan 38, Air Force 17
No. 11 MICHIGAN STATE at CENTRAL MICHIGAN
Brian Bennett: It's a good weekend for the Spartans to work on diversifying their offense. But it's the defense that once again carries the day.
William Gholston
has two sacks and
Darqueze Dennard
contributes a pick-six. ...
Michigan State 28, Central Michigan 7
Adam Rittenberg: In the long run, quarterback
Andrew Maxwell
's shaky first start will turn out to be beneficial because he made mistakes without costing his team a crucial win. Expect a much more polished Maxwell in Mount Pleasant, and the Spartans junior tosses a pair of touchdown passes and no interceptions.
Le'Veon Bell
eclipses 100 yards, but his workload is more manageable in an easy win.
... Michigan State 38, Central Michigan 10
IOWA STATE at IOWA
Adam Rittenberg: Similar to last week, I'm tempted to pick against the Hawkeyes, but the game isn't in Ames and although
Steele Jantz
's presence strikes fear in all who love the Black and Gold, Iowa will contain him enough in this game.
Micah Hyde
records a pick-six against Jantz and
James Vandenberg
rebounds with two touchdown passes. Iowa fills one of
those empty trophy cases
.
... Iowa 24, Iowa State 20
Brian Bennett: Another wild shootout, but this one goes the Hawkeyes' way. Vandenberg throws for 300 yards and
Damon Bullock
puts together another 100-yard game as Iowa hangs on for the Cy-Hawk Trophy.
... Iowa 35, Iowa State 31
No. 13 WISCONSIN at OREGON STATE
Brian Bennett:
Montee Ball
shook off some rust in the opener and is ready for a big game. He goes for 175 and three scores, and despite some defensive lapses late, the Badgers prevail in Beavers country.
... Wisconsin 35, Oregon State 23
Adam Rittenberg: Corvallis is a tough place to play, and Big Ten teams really struggle on the road against the Pac-12. But Oregon State isn't a very good team, and Wisconsin should learn some lessons from the opener and keep the pedal down.
Danny O'Brien
makes a few miscues, but the Badgers' ground game takes over in the second half as Wisconsin prevails.
... Wisconsin 30, Oregon State 20
No. 16 NEBRASKA at UCLA
Adam Rittenberg: UCLA looked good in its opener, but so did Nebraska, and the Huskers appear to be a more complete team in 2012. Despite
Rex Burkhead
's injury, Nebraska has more than enough firepower as
Taylor Martinez
returns to his home state and racks up four touchdowns (2 pass, 2 rush). The Bruins give the Blackshirts a few issues, but Nebraska prevails after a big fourth quarter.
... Nebraska 33, UCLA 28
Brian Bennett: The Bruins showed some better offensive weaponry in their opener against Rice and will make this game a high-scoring, Pac-12-like affair. But Nebraska has more options on both sides of the ball, even without Burkhead. It's a big day for
Ameer Abdullah
, who runs for 100 yards and scores on a kickoff return.
... Nebraska 42, UCLA 31
VANDERBILT at NORTHWESTERN
Brian Bennett: The Cardiac Cats are impossible to predict. Why not the same score as last week? The Wildcats' varied offense gives Vandy much more trouble than South Carolina did in Week 1. Looking forward to the postgame Quiz Bowl.
... Northwestern 42, Vanderbilt 41
Adam Rittenberg: Northwestern looks like the same team we've seen the past two seasons, and although a young defense should eventually get better, this is a tough matchup against an explosive Vanderbilt team. It'll be another shootout, but this time, the Wildcats fall short as
Jordan Rodgers
takes aim on a woeful secondary.
... Vanderbilt 35, Northwestern 31
ILLINOIS at ARIZONA STATE
Adam Rittenberg: As well as Illinois' defense played in Week 1, I just don't think the Illini have enough to win on the road, especially with top quarterback
Nathan Scheelhaase
hobbled. No one likes Todd Graham, but the man knows offense and his Sun Devils have enough to survive on their home field.
... Arizona State 21, Illinois 20
Brian Bennett: Assuming Graham hasn't left for another job before kickoff, the Sun Devils have a lot of advantages here, including home field in the desert and Scheelhaase's injury. Illinois' defense is game but wears down as the game stretches past midnight Central time, and the Illini offense can't keep up.
... Arizona State 23, Illinois 17
SEASON RECORDS
Bennett: 10-2 (.833)
Rittenberg: 10-2 (.833)
August, 1, 2012
8/01/12
5:00
PM ET
What does the schedule have in store for first-year Illinois coach Tim Beckman? Let's take a look at the Fighting Illini's 2012 slate, which kicks off exactly one month from today.
Nonconference opponents (with 2011 records)
Sept. 1: Western Michigan (7-6)
Sept. 8: at Arizona State (6-7)
Sept. 15: Charleston Southern (0-11)
Sept. 22: Louisiana Tech (8-5)

Leaders division games
Sept. 29: Penn State
Oct. 6: at Wisconsin
Oct. 27: Indiana
Nov. 3: at Ohio State
Nov. 17: Purdue
Crossover games
Oct. 13: at Michigan
Nov. 10: Minnesota
Nov. 24: at Northwestern (protected)
No plays
Iowa
Michigan State
Nebraska
Gut-check game:
Penn State. While this matchup got a lot spicier after
Beckman's aggressive recruiting approach with Penn State's roster
, it always meant a lot to Illinois. The Illini open Big Ten play on their home field before extremely difficult trips to Madison and Ann Arbor in back-to-back weeks. They could be staring at an 0-3 start to Big Ten play if they can't knock off the Lions in Champaign. Penn State scored a late touchdown to edge Illinois 10-7 last year at Beaver Stadium.
Trap game:
Indiana. The game falls between trips to Ann Arbor and Columbus. Although Indiana went 1-11 last year, the Hoosiers should be improved, and Illinois can't afford to look past Kevin Wilson's squad. The road tests could take their toll on the Illini, and the team's health for the Indiana game will be worth monitoring. This is a Leaders division home game, and if Illinois wants to make any noise in the race, it has to prevail.
Snoozer:
Charleston Southern. I ranked this as the
least compelling of the Big Ten's 48 nonconference games
this season. Charleston Southern went 0-11 in the FCS last season. Illinois will roll. Wake me when it's over.
Non-con challenge:
Aside from Charleston Southern, Illinois must be on its toes during the nonconference portion. Western Michigan quarterback
Alex Carder
will test the Illini secondary, while Louisiana Tech won the WAC championship in 2011. But the pick here is Arizona State. Big Ten teams rarely fare well when they head west in September, and Illinois must contend with an up-tempo Sun Devils offense under new coach Todd Graham and most likely extreme heat in the Valley of the Sun.
Telltale stretch:
After the trip to Ann Arbor, Illinois plays three of its next four at home (Indiana, Minnesota, Purdue) and three of four within the Leaders division (Indiana, Ohio State, Purdue). This is a chance for Illinois to make a move in what could be a wide-open division with both Ohio State and Penn State banned from postseason play. Indiana is pretty much a must-win. Illinois has given Ohio State some trouble over the years, but a victory in Columbus will be tough. The Purdue game likely will determine which team challenges Wisconsin in the division. Minnesota has been a big headache for Illinois as of late, winning the teams' past two contests and six of the past eight.
Analysis:
This isn't Michigan's schedule, but Illinois has few easy games on its 2012 slate. The Illini should be tested at least once during nonconference play, and their Big Ten road schedule -- Wisconsin, Michigan, Ohio State and Northwestern -- is among the toughest in the league. Penn State is a major swing game, especially with the forthcoming trips to both Madison and Ann Arbor. If Illinois can defend its home turf, particularly within the division, it should be in good shape for another bowl berth. But a few home losses could leave Beckman's squad reeling by November. If Illinois can pull off a road upset or two, it could be right in the mix for the division crown.
More B1G schedule analysis:
Legends:
Minnesota
|
Iowa
|
Michigan State
|
Michigan
Leaders:
Indiana
|
Purdue
|
Wisconsin
September, 15, 2011
9/15/11
10:15
AM ET
Ten items to track throughout the Big Ten on Saturday.
1. The Ineligi-Bowl:
Even if you hate Ohio State and Miami, you'll have a tough time turning away from Saturday night's game at Sun Life Stadium. Two programs dealing with personnel losses, first-year coaches, NCAA investigations and uncertain futures meet in a game that, if nothing else, should be very compelling. Ohio State hits the road for the first time after a narrow escape against Toledo, and the Buckeyes are still trying to survive without several of their best players. Miami regains the services of quarterback
Jacory Harris
from suspension and tries to generate some good news after a very rough month.
[+] Enlarge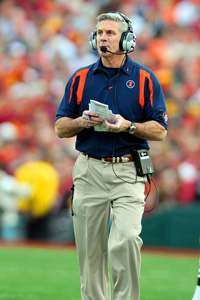 Kirby Lee/US PresswireRon Zook's Illini are looking for their first win against a ranked opponent since 2007.
2. A Champaign test:
Illinois looks like a good team, but there's a hesitancy to buy into the Illini. Whether it's a lack of faith in coach Ron Zook or a program that has teased us many times before, national respect has been hard to come by. The Illini have an excellent opportunity to prove themselves against No. 23 Arizona State. Zook's crew looks for its first win against a ranked opponent since stunning then-No. 1 Ohio State in Columbus in 2007. The Ohio State win spurred Illinois to a Rose Bowl appearance. A victory Saturday night could be the start of something special.
3. Spartans' rough road begins:
Michigan State's
taxing road schedule will provide a perfect gauge
of the program's position under coach Mark Dantonio. "The championship's going to run through how we play on the road," Dantonio has told his team this year. The road stretch begins Saturday at Notre Dame Stadium, where Michigan State has won six of its last seven games. Notre Dame likely won't be Michigan State's toughest road opponent, but the Spartans might not face a more desperate team than the Fighting Irish, who have played better than their 0-2 record indicates.
4. Huskers-Huskies, Round 3:
Nebraska and Washington played two very different games with two very different results last season. In Week 3,
Taylor Martinez
and the Huskers obliterated Washington 56-21 in Seattle, a statement win that built hype around T-Magic and Big Red. But Martinez wasn't the same player in the Holiday Bowl, and Washington humbled the Huskers 19-7. After the bowl loss and an inconsistent performance last week against Fresno State, Bo Pelini's squad has no shortage of motivation as Washington visits Memorial Stadium on Saturday.
5. Reunion in the Windy City:
Wisconsin players will
see a familiar face across the field Saturday
at Chicago's Soldier Field. Former Badgers defensive coordinator Dave Doeren leads Northern Illinois against the nation's No. 7 team. Doeren knows Wisconsin's personnel well and will have his team prepared, but NIU's young defense needs to grow up quickly to contain
Russell Wilson
& Co. Although Doeren is a defensive coach, the Northern Illinois offense is the unit to watch. Wisconsin's secondary depth could be tested without starting cornerback Devin Smith.
6. High-Octane Hawkeyes:
Iowa's struggles to keep the lead late in games have spilled over from the 2010 season into the current campaign. Do the
Hawkeyes have a conditioning problem
or just a finishing problem? We should learn more Saturday against a Pitt team that lives by the motto "High-Octane Football." Panthers coach Todd Graham wants his spread offense to operate at warp speed and wear down opposing defenses with its tempo. Iowa's defense has struggled against spread teams as of late, and the Hawkeyes face the nation's leading rusher in
Ray Graham
.
7. Penn State's QB saga heads to Philly:
I'm not sure what Joe Paterno needs to see to settle on one quarterback, but he gets another chance to evaluate both
Rob Bolden
and Matt McGloin on Saturday at Temple. Penn State's top two quarterbacks reportedly are pacing one another in practice, but game day proves the opportunity to separate yourself. Although Temple isn't Alabama, Paterno thinks this Owls team is the best he's seen. Temple has allowed just 10 points in victories against Villanova and Akron.
8. Purdue's quarterback quandary:
Robert Marve
is medically cleared to play after dealing with knee soreness, which could be very good news for Purdue. On the other hand, coach Danny Hope wants to create some continuity at quarterback with
Caleb TerBush
, who has started the first two games and performed decently. Hope has talked extensively about getting two quarterbacks ready and using them in games. Hope gets his wish, and it'll be interesting to see how he works in Marve on Saturday against Southeast Missouri State.
9. Northwestern's unique challenge:
Army's triple-option offense and double-eagle flex defense created quite a preparation headache for Northwestern this week. Pat Fitzgerald had his team practice on two separate fields to get ready for the Black Knights, who are 0-2 but have shown promise and will be playing at home Saturday. Army's defense will crowd the line and dare Northwestern to pass, which it avoided for much of last week's game against Eastern Illinois. Quarterback
Kain Colter
has been a brilliant ball-carrier so far, but he likely needs to show a greater willingness to pass on Saturday, as Northwestern's talented receivers should be utilized.
10. Gophers, Hoosiers look for Ws:
The Big Ten's two winless teams try to get off the mat Saturday. Minnesota likely will have coach Jerry Kill back for Saturday's game against Miami (Ohio), as Kill's recovery from a sideline seizure has gone well. Indiana must rebound from a heart-breaking loss to Virginia against FCS South Carolina State. After admitting to
taking New Mexico State too lightly
, Minnesota must be more polished on both sides of the ball against the defending MAC champions. Hoosiers coach Kevin Wilson looks for quarterback Ed Wright-Baker to be more of a difference-maker this week.
September, 14, 2011
9/14/11
2:00
PM ET
Does Iowa have a conditioning problem?
The mere suggestion would be swiftly dismissed during most of Kirk Ferentz's tenure as Hawkeyes coach.
Iowa's success during the Ferentz era can be directly tied to its strength and conditioning program, which consistently takes unheralded prospects and develops them into All-Big Ten candidates who outwork the competition. There's a reason why Iowa strength and conditioning coach Chris Doyle makes more money than many major-conference coordinators, and why Ferentz stuck by Doyle during the rhabdomyolosis outbreak in January.
[+] Enlarge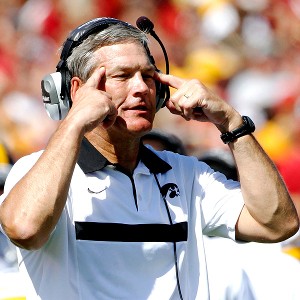 AP Photo/Charlie NeibergallKirk Ferentz and his Iowa Hawkeyes have had a tough time finishing games lately.
But Iowa's recent losses have led some to question one of the program's fundamental values. The Hawkeyes blew fourth-quarter leads in each of their final three regular-season games in 2010, losing all three contests. If not for Micah Hyde's interception return for a touchdown against Missouri in the Insight Bowl, it might have been four consecutive blown leads.
Then came Saturday's game at Iowa State, where Iowa took a 24-17 lead with 5:50 to play. Needing a defensive stop to seal the win, Iowa allowed Iowa State to march 59 yards in 13 plays. The Cyclones converted on third-and-15, third-and-20 and fourth-and-1 before scoring the tying touchdown. Iowa ended up
losing 44-41
in three overtimes.
Iowa may or may not have a conditioning problem, but the Hawkeyes appear to have a finishing problem.
"Not finishing the game is always frustrating," linebacker Christian Kirksey told ESPN.com. "Especially in a rivalry game, when you lose, there's nothing good about that."
Iowa's conditioning level, particularly on defense, will be tested Saturday against Pittsburgh.
I spent some time on Pitt's campus last week and spotted many students wearing T-shirts that read: "High Octane Football." It's the motto new Pitt coach Todd Graham has brought to the program, and it stems mainly from the tempo Graham demands from his spread offense.
"This isn't nanotechnology or nuclear science," Graham
told a crowd of Pitt fans
this spring. "We are going to mentally and physically wear you out."
Graham's Tulsa team was one of only eight FBS programs to run more than 1,000 offensive plays in 2010. The quick pace worked as Tulsa ranked fifth nationally in total offense (505.6 ypg) and sixth in scoring (41.4 ppg).
Graham wants to snap the ball within five seconds of when it is marked for play and keeps his offense in hurry-up mode throughout the game.
Although Pitt hasn't been nearly as explosive as Graham's old squad in its first two games -- the Panthers average 35 points and 395.5 yards -- only seven FBS teams have run more plays than Pitt's 156.
"You're going to see the quarterback option attack, throwing the football, a lot of plays, fast-paced," Ferentz said.
The pace shouldn't be new to Iowa after facing Iowa State last week, Missouri in the bowl game and teams like Northwestern and Michigan last season. Graham has three former Michigan assistants, including co-offensive coordinator Calvin Magee, on his staff at Pitt.
"We've played a lot of teams that are high-paced," Kirksey said, "so throughout practice you've got to make sure you fly around to the ball, keep that high tempo and be aggressive."
Iowa endured a stretch of close losses in 2007 and in the first part of 2008 before reversing the trend and turning into arguably the nation's most clutch team in 2009. Saturday's game marks a chance for the Hawkeyes to regain a bit of momentum and for the defense to prove it can outlast a fast-paced foe.
"We're a pretty conditioned team," said Kirksey, who led Iowa with 13 tackles, two tackles for loss, a sack, a forced fumble and a fumble recovery against Iowa State. "It just makes us want to work harder. Now we know it can go over 60 minutes because we've seen it in overtime. It just makes us push more and become better as a team.
"We will finish a game."
June, 17, 2011
6/17/11
3:00
PM ET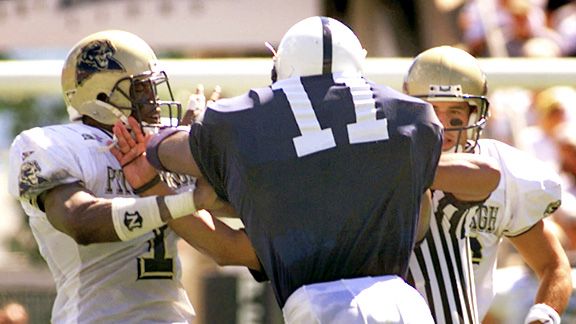 AP Photo/ George WidmanPenn State and Pittsburgh are scheduled to meet in 2016 after last facing each other in 2000.
Penn State and Pittsburgh announced this week that they would resume their once long-running rivalry for at least two years, beginning in 2016. The game is sure to be a hot topic for Pennsylvanians between now and then, and it's a perfect setup for a debate between Big Ten blogger Brian Bennett and Big East blogger Andrea Adelson.
Brian Bennett:
Andrea, how is my old conference beat treating you? Good thing they didn't set us up as a blogger-in-waiting thing, because I may have started some rumors about your behavior at casinos.
Anyway, I think we both agree that the Pitt-Penn State game is a good thing for college football. Frankly, I was surprised to see it happen. The Nittany Lions had been holding out since the last game in 2000, wanting at least two out of every three meetings to be played in Beaver Stadium. Since the series was announced, I've heard from several Penn State fans who wonder what their school has to gain by this game. And while it's great for football in the state, I tend to agree that the Nittany Lions don't necessarily need this series.
What has been the reaction from Pitt fans, and who stands to benefit more from this rivalry resumption?
Andrea Adelson:
Brian, you were not supposed to mention anything about the casinos! Thanks a lot for ruining my rep three weeks into the job.
As for the Penn State-Pitt game, I think the overwhelming majority of Panthers fans are excited because they never wanted this game to end. They also believe this means there is no way JoePa is coaching the team in 2016 because they are convinced he is the reason the series ended. But even with the excitement, there are those who say it is no big deal because it is just two games.
What do two games against a former rival really mean? In the time since the Penn State series ended, West Virginia has become a much more bitter rival. The "Backyard Brawl" is one of the nastiest rivalries in all of college football. I don't think that changes even though this series resumes. That being said, playing Penn State is extremely important for Pitt. Anytime a Big East team gets an opportunity to play a marquee team from a conference like the Big Ten, the stakes are much higher. Beating Penn State would definitely be a big win for Pitt and the Big East itself. The league can use all the big nonconference wins it can get.
BB:
Andrea, we all know JoePa will be coaching for at least 20 more years, even if he's calling plays via Skype by then. Anyway, I agree that a win over Penn State would be big for Pitt and the Big East, potentially. But unless Todd Graham gets the Panthers playing at an elite level, beating Pittsburgh probably won't be considered a marquee victory for the Nittany Lions, while a loss could damage Penn State's reputation and recruiting efforts in Western Pennsylvania.
But you mentioned the West Virginia-Pitt rivalry, and I think that's an important point. Penn State doesn't really have a true annual rivalry game right now. The school still feels like somewhat of an outsider in the Big Ten as that league's far Eastern school. Sure, Syracuse and Temple appear at times on the schedule, but those games simply wouldn't move the needle as much as a duel against the state's other AQ team. College football is at its best when there are good old-fashioned neighborly feuds to follow.
I know Pitt would like this to be an annual home-and-home series (if for no other reason than to guarantee a rare sellout at Heinz Field). Right now, only two games are scheduled. Do you think the two schools should extend this to a yearly date like it used to be?
AA:
Absolutely. I think both schools would have something to gain. As you mentioned, Penn State has no true rival and getting Pitt back on the schedule would certainly help. Fans would enjoy watching a game against Pitt, as opposed to the Cupcake U. flavor of the year. What does Penn State really have to lose here? I understand about the extra home dates, but how much money are we really talking about Penn State losing if they go on the road every other year to play Pitt? Florida State and Florida still play each other in a home-and-home series, and they have been able to maintain their strong rivalry and fill in the rest of their home dates without a problem. What does Penn State have to lose with this game, other than an old grudge from JoePa?
BB:
Well, Penn State has to consider the very real possibility that the Big Ten will go to nine conference games by 2016. That means there are only three nonconference games available, and the Nittany Lions would want to schedule at least one guarantee game. If the school wants to have another big-name opponent like the current Alabama series, then all of a sudden the schedule becomes both very difficult and perhaps not financially feasible.
Then again, Penn State likes to believe its program is vastly superior to Pitt's. So why not prove it on the field?
May, 16, 2011
5/16/11
12:00
PM ET
These links go out to Taj Gibson.
May, 6, 2011
5/06/11
10:30
AM ET
Let's continue the breakdown of each Big Ten team's 2011 schedule with the
Iowa Hawkeyes
.

Nonconference opponents (with 2010 records)
Sept. 3: Tennessee Tech (5-6)
Sept. 10: at Iowa State (5-7)
Sept. 17: Pittsburgh (8-5)
Sept. 24: Louisiana-Monroe (5-7)
Legends division games
Oct. 15: Northwestern
Oct. 29: at Minnesota
Nov. 5: Michigan
Nov. 12: Michigan State
Nov. 25: at Nebraska
Crossover games
Oct. 8: at Penn State
Oct. 22: Indiana
Nov. 19: at Purdue (protected)
No plays
Illinois
Ohio State
Wisconsin
Gut-check game:
At Penn State. Two years ago, Iowa went into State College and stunned then-No. 5 Penn State, kicking off a historic run to open the season. The Hawkeyes have to be confident, given their recent success against the Nittany Lions, but this is a new Iowa team that must prove itself in a tough road environment. Penn State will have a better squad than the one that came to Iowa City this past season. If Iowa wins, it faces another gut-check game the next week against Northwestern, which has won three straight at Kinnick Stadium.
Trap game:
At Purdue. This cross-division game falls after two huge divisional home games against the Michigan schools and before the much-anticipated reunion with Nebraska in Lincoln. Neither fan base sounds too excited about this as a protected rivalry, but Iowa shouldn't look past the Boilers, especially on the road. Purdue has some weapons that will test Iowa's defense.
Snoozer:
Louisiana-Monroe. Iowa's
last clash against a Sun Belt school
brought more tension than expected, but I'd be surprised if the Hawkeyes struggle with Louisiana-Monroe. Iowa will have to guard against looking ahead to the bye week.
Non-con challenge:
At Iowa State. Tough call between Iowa State and Pitt, but this marks the first road game for a team that will feature more new starters than any Big Ten squad. Plus, Iowa has had its struggles in Ames, where it dropped back-to-back games before pounding the Cyclones in 2009. Pitt, meanwhile, will be facing its first major test and its first road game under new coach Todd Graham.
Key stretch:
Iowa should have the kinks worked out by late October, and it needs to as it finishes with division games in four of the final five weeks. The Hawkeyes head to Minnesota looking to avenge last year's shocking defeat. They then return home for challenging contests against both Michigan and Michigan State. After the aforementioned trap game at Purdue, Iowa wraps up with quite possibly its toughest game of the season against Nebraska in Lincoln.
Analysis:
If you're looking for a reason to buy into Iowa in 2011, the schedule has to be at the top of the list. Things set up very well for the Hawkeyes, who skips both Ohio State and Wisconsin and get three of their tougher Legends division opponents (Michigan State, Northwestern and Michigan) at home. The road schedule provides some challenges, as Iowa has struggled in Ames and will enter an inferno in Lincoln. But the Hawkeyes should visit State College at 4-0 and will have a chance for a very strong start before November hits.
More B1G schedule analysis