May, 16, 2013
5/16/13
11:00
AM ET
CHICAGO -- The Big Ten reported another
record revenue total for the past fiscal year
, and although its members on average sponsor many more sports than their counterparts in the SEC, athletic directors say their football programs have the financial resources to compete at the highest level.
"We all make the investments necessary in football," Ohio State athletic director Gene Smith said at the spring meetings.
Smith cited the higher salaries Big Ten programs like Ohio State and Michigan are now paying top assistant coaches, a push that accelerated at Ohio State when head coach Urban Meyer arrived. Still, the Big Ten on average
pays assistants less than SEC programs
. Many of the nation's highest-paid assistants are also in the ACC and Big 12.
But according to Smith, who oversees 36 varsity sports at Ohio State, money isn't holding back Big Ten football. He instead looks to the league's other major sport, men's basketball, as a road map for greater success on the gridiron.
While Big Ten football took a beating on the field and in public perception last fall, Big Ten basketball enjoyed the label of "nation's best conference" during the 2012-13 season.
"What we need in our football programs is really what we endured this past year in basketball," Smith said. "We had huge stability among our basketball coaches."
Michigan State basketball coach Tom Izzo just completed his 18th year at the helm in East Lansing, while Wisconsin's Bo Ryan just finished his 12th campaign. Other coaches like Ohio State's Thad Matta, Purdue's Matt Painter, Michigan's John Beilein and Indiana's Tom Crean are no longer newbies at their schools.
Big Ten football, meanwhile, has only one coach -- Iowa's Kirk Ferentz -- who has been in his post longer than six seasons.
The second part of the football equation, according to Smith, is "strategic, high-level recruiting."
It's undeniable that more Big Ten basketball programs consistently recruit at a nationally elite level than Big Ten football programs. In basketball, it's not just the usual suspects -- Michigan State, Indiana, Michigan, Ohio State -- but others (Illinois, Purdue) that can rise up.
"Part of that is recruiting in geographies where, frankly, the people are," Smith said. "We do not enjoy the environment that we had in the '70s and the '80s in Michigan and even some parts of Ohio or Pennsylvania or Illinois. Families aren't there. We've got to go to where they are."
College football and college basketball are different sports with different challenges in recruiting, but comparisons are always made, as Smith did this week. If Big Ten football can regain greater coaching stability and spread out its recruiting reach, more success should come.
June, 19, 2012
6/19/12
12:00
PM ET
Division I conference commissioners meet today and Wednesday in Chicago. Colleague Mark Schlabach and I will be on hand, so be sure and check the blog and the
college football home page
for coverage.
April, 6, 2012
4/06/12
9:00
AM ET
BLOOMINGTON, Ind. -- After going 1-11 last season, Indiana probably needed a little kick in the pants.
The Hoosiers got it during winter conditioning when they went through an exercise program led by former Navy SEALs. Cornerback
Lawrence Barnett
recalls one demanding day when the players were summoned to the pool at 4:30 a.m. to swim laps and then do movements in sync with their teammates. If anyone messed up, the team had to jump back in the pool and do more laps.
Head coach Kevin Wilson got the idea from watching IU's basketball team go through the same program in the fall. Wilson admires basketball coach Tom Crean and how he led the Hoosiers back from a few difficult seasons to a Sweet 16 berth in this year's NCAA tournament. The inspiration doesn't stop there.
"He comes out to practice every day and tells us that just like the basketball team, we can turn our program around," defensive back
Kenny Mullen
said. "But we have to want to do it ourselves."
In truth, it's going to take a little more than that for a team that has only been to one bowl game since 1993. The Hoosiers have a long way to go, but they're hopeful they got over the toughest part of the journey last year.
Indiana didn't beat a single FBS team in Wilson's first season as coach and finished 114th nationally in scoring defense, allowing more than 37 points per game. If the players seemed like novices at times, that's because they were; no other team in the country played more rookies than the Hoosiers, who threw 32 true and redshirt freshmen into the fire.
[+] Enlarge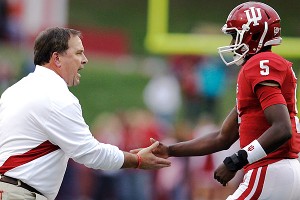 AP Photo/Darron Cummings)Coach Kevin Wilson and quarterback Tre Roberson, right, are trying to improve on the 1-11 record of their first seasons at Indiana.
"It was tough for us, but it was a good way to get our feet wet and get ready for this year," Barnett said.
That's the theme of the spring in Bloomington, where the roster is still young but at least is not lacking in game experience. That's translating into fewer missed assignments and mistakes during spring practice.
"We're so much further along than we were anywhere in the fall," co-defensive coordinator Doug Mallory said. "We don't have to go back to step one as much with our teaching."
Wilson is not sure he took the right steps last spring. He admits that some of the veteran players might not have bought into his program, and team chemistry wasn't great as the youngsters started taking over all the playing time. Some of that could have been smoothed over in the preseason.
"Last year, we were trying to learn an offense and a defense, and this year we're talking more about how to build a team," Wilson said. "Maybe we did that in reverse order. In this day and age of multiplicity and justifying all the video we've got to watch, it's always scheme, scheme, scheme. Now we're trying to do a better job building team unity."
To that end, "Team" is the simple slogan Wilson is using this spring to promote cohesion. That's also where the Navy SEALs training came in. Having suffered through losing last year, the players say they forged a bond, and it helps that many of them were going through similar experiences in seeing the field for the first time.
But the Hoosiers remain young and need leaders to emerge. Wilson has to remind himself that though many of his starters played last year, this is still their first collegiate spring ball. He has the team practice every other day so it can get much-needed strength training done on the off-days.
There are some good building blocks on hand, like promising quarterback
Tre Roberson
, who took the reins of the offense as a true freshman; running back
Stephen Houston
, who ran for more than 800 yards last year despite showing up late from junior college; safety
Mark Murphy
, who showed great instincts for the game while playing three positions as a true freshmen a year ago; and junior-college imports David Cooper and Jacarri Alexander, who are shoring up the linebacker spot and adding energy to the defense this spring.
Yet Indiana is still light years away from having the kind of overall depth and talent of Big Ten Leaders Division rivals Ohio State, Penn State and Wisconsin. At least the basketball-mad school has finally made a commitment to football, with the new north end-zone complex at Memorial Stadium and a massive weight-room facility.
IU football has long seemed like a challenge that even Navy SEALs wouldn't touch. But Wilson remains optimistic that the 1-11 record was just a bumpy start.
"I don't think I'm fighting a battle I can't win," he said. "That's why we're not moping around and why we're not feeling sorry for ourselves. We're going to see if we can take some nice steps this year and keep building."
December, 9, 2010
12/09/10
3:00
PM ET
Here's the second half of my interview with new Indiana coach Kevin Wilson. Check out
Part I
as well.
[+] Enlarge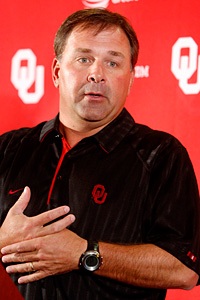 AP Photo/Sue OgrockiNew Indiana coach Kevin Wilson is confident he can build a quality defense.
What do you think it's going to take to turn around the defense at IU?
Kevin Wilson:
Well, we'll start with our coordinator and structure, and I'm going to take some time to research and get the right person there, myself being much more offensive-oriented. So we'll take a little time and get the right one there and start with the structure standpoint. From there, I don't know because I've not really had the opportunity with our defense to know if there's physical limitations or concerns with certain position groups that aren't as talented, as strong, as big, as fast as we need.
So we'll start here with our defensive leadership, we'll start with our defensive structure. I've got a couple thoughts, but I'm going to wait until we get our defensive guy on staff and not square-peg or pigeonhole him and give him a chance to get it going. We're going to buy some time from the coaching and scheme standpoint, and I don't know a great deal about our actual personnel as we speak.
Is it a concern for you that the defense has been a problem for more than a decade? Indiana has had the offensive players -- Antwaan Randle El, Ben Chappell and those guys -- but the defense hasn't really caught up.
KW:
I don't have a clue what their defensive stats have been. I just know for nine years, 15 spring practices, all preseason, every Tuesday and Wednesday going against coach [Bob] Stoops, with the attitude and the mind-set, I might be known as an offensive guy, but having come from the environment that I just came from, I have a great feel for what it looks like and how to structure, practice, recruit, coordinate, prepare, put a defense in great position.
Because I'm coming from one of the greatest defensive places there is with the coaching and the way that thing has been run with Bob, with Mike [Stoops], with Bo Pelini, with Brent Venables, that's been a pretty strong defensive place. Trust me, the hardest thing at Oklahoma isn't game day. The hardest thing at Oklahoma is Tuesday and Wednesday in practice.
There's a perception that Indiana is a basketball school. How do you deal with that? Was it a concern for you when you started talking about the job?

KW:
It really wasn't. Coach [Tom] Crean is a great coach and we do have phenomenal tradition in basketball. He's going to be an extremely positive and avid supporter because this school is such a strong school, I don't think it should take a backseat or not be strong in any department. I don't think our school, the way president [Michael] McRobbie has it set up, he doesn't want to be average in anything.
From an athletic perspective, with our new administration with [athletic director] Fred Glass, with resources and dollars and Big Ten revenue and things we're generating and raising, I don't think we want to be just a member of a conference in any sport. We're pushing ourselves to get ourselves in position to play at an extremely high level, to play at a consistent winning level and start putting our teams in position to play for championships in all sports. It's great we're a basketball school, but what we really are at Indiana is we're a great school. We should be great at all things. We're looking forward to the challenge, and we're looking forward to the opportunity to build this thing and make it into a strong program.
I know you haven't been there too long, but from talking to the players or seeing any tape from last year, how close is Indiana to getting over that hump?
KW:
I haven't really studied it. I know we're not playing horseshoes, so I don't want to be close. From what I've gathered, there is a strong nucleus of some talent coming back, sounds like a great recruiting class. I know we've done a very nice job in our scheduling and what we've got nonconference. I know the Big Ten league, I know it's going to be competitive. But I also feel we're going to put a plan in place, a process in place, to win.
We're not trying to win three, five years down the road. In fairness to our seniors, our alumni and our fans, we need to win right now. That's not trying to be arrogant or boastful or making statements that can't come true, but we're going to try and build something. It's a process, it's going to take time, but in fairness to our seniors, we're going to do everything we can to be as good as we can as fast as we can.
When you look at scores and you look at the talent, yeah, they're not far off. But being close is not winning. Being close doesn't excite me. But it does make me feel like there are the resources here where we feel like we have a chance. We tried to start [Tuesday] with a change of mind-set, a change of body language, a change of how we act and carry ourselves to see if we can get this thing going in a positive direction and build something that's going to be special here for our school and these players and for the fans and for the state of Indiana.
October, 30, 2009
10/30/09
4:30
PM ET
Posted by ESPN.com's Adam Rittenberg
Step into my office ...
Adam from Atlanta writes:
Adam, wouldn't it be prudent for folks to wait on declaring this Iowa team special until they win in Columbus, a place they haven't won at since 1991 and vs. a team they have only beaten once since then?
Adam Rittenberg:
It's pretty special what Iowa is doing, considering no Hawkeyes team has ever started a season 8-0. But in many ways, I agree with you. The Big Ten title always seems to go through Columbus. Penn State got over the hump last year, and Iowa might need to do the same thing this season, depending on its own performance and the Ohio State-Penn State outcome. Iowa had a favorable track record in State College, but these players have no real reference point for winning games in Columbus. It has gotten very ugly for the Hawkeyes at The Shoe. But I'll tell you this: If Iowa beats Ohio State to complete a brutal Big Ten road schedule at 4-0, it's pretty darn special.
---
James from Bloomington, Ind., writes:
So, Bill Lynch gets his vote of confidence from the AD Glass - not as surprising as Zook's, but still not what many fans were hoping for. What needs to happen for IU to become a decent team? Cincinnati has gone from worse-than-Indiana to outside-shot-for-the-title-game in a short period, so it's not an impossible dream (and the similarities are striking - basketball school that couldn't care less about football). Personally, I think Lynch needs to give the fans something to be excited about, and show some accountability. Every loss is to a 'very good team' (like UVA?), and he doesn't seem to questions his own decisions (blowing a 25 point lead at Northwestern?). Tom Crean went 6-25 last year, and everyone loves him, and looks forward to basketball. Lynch has won the Old Oaken Bucket, but there's a lot of noise to dump him.
Adam Rittenberg: The fans' frustration is understandable, but I can understand why AD Fred Glass did what he did. As Glass said Wednesday, contracts need to mean something at Indiana again after a decade of coaching buyouts. You build success with consistency and continuity, and if anything, Lynch provides those qualities for IU. He's passionate about that program, and not a lot of coaches would be. I agree that Lynch needs to show a bit more accountability after losses like the one at Northwestern, but the team's recruiting seems to have picked up this year, despite the decommitment of Jibreel Black. Lynch deserves at least one more year to see if he can get the program to take another step.
---
Jeff from Herndon, Va., writes:
Adam,What's the status of 'Boom' Herron and Brandon Saine for the NMSU game this weekend?
Adam Rittenberg: Saine returned to practice this week and will start Saturday despite getting his bell rung against Minnesota. Herron should play a bit, but I don't expect Ohio State to take too many risks with his ankle injury. The most significant loss is left guard Justin Boren, who will sit out with a foot injury. Ohio State's offensive line is a bit banged up right now, and it's important that the group gets healthy before the Penn State game.
---
Patrick from Des Moines, Iowa, writes:
What are the odds the Iowa/OSU game will be at night? Thinking about driving to Indianapolis Friday night then to Columbus Saturday morning. Thanks!
Adam Rittenberg: There's no chance, Patrick, because of a policy prohibiting outdoor night games in the Big Ten after Nov. 1. The game will almost certainly kick off at 3:30 p.m. ET, so you should have plenty of time to make the drive over from Indy.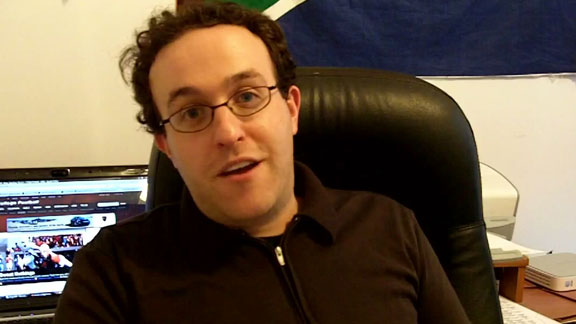 January, 19, 2009
1/19/09
11:34
AM ET
Posted by ESPN.com's Adam Rittenberg
It's fitting that the man in charge of a transitioning athletic department spends much of his time in transition.
| | |
| --- | --- |
| | |
| | AJ Mast/Icon SMI |
| | New Indiana athletic director Fred Glass has big plans for IU –- and not just the basketball program. |
Fred Glass officially took over as Indiana's athletic director on Jan. 2, and he's still settling in to his new life. Two of his sons are finishing school in Indianapolis, and Glass shuttles back and forth between home and a condo in Bloomington. He was en route to Indy on Friday afternoon when I caught up with him to discuss the state of Indiana football, which backslid last fall after a breakthrough bowl run in 2007. Unlike most Big Ten schools, Indiana doesn't call football its flagship sport and Glass, a 1981 IU graduate who previously served as a lawyer, will be judged largely on whether he and Tom Crean can repair the Hoosiers' once-distinguished and recently disgraced men's basketball program.
But make no mistake, Glass also has big plans for the football program, as you'll see in our conversation.
Generally, what's your vision for the football program coming into this job, your short-term and long-term vision for that sport?
Fred Glass: My vision is Rose Bowl. I want to be a Big Ten champion in all of our sports, especially our premier sports. And I want to go to the Rose Bowl and win it in football. I'll leave that to you on whether it's a short-range or long-range vision. I acknowledge it's probably not going to happen in the immediate future, but that's what I want to build toward. It's not good enough for me to sort of be competitive or middle of the pack. Obviously, it'd be great to be bowl eligible and regularly go to bowl games. I obviously want to do that. But where I want us to be heading is Pasadena.
As far as getting there, I know you guys have made a stronger commitment to facilities with the stadium renovation. Are there other things that you think need to happen to get yourself in a position where you can make a run to Pasadena?
FG: I think so. I really believe we can do that because every other team has figured it out. Really every team has had its golden time, its time in the sun, and some of them are still in it, teams that used to be looked upon a lot like Indiana. They've figured it out. Everybody has their challenges, and I've heard all the challenges that Bloomington and Indiana have, but I really think we can do it. We need to have some continuity, we need to have good coaching. It's always going to be about good coaching and our student athletes, but I believe it's a real copout to suggest there's nothing we can do as a department to help support the program when we aren't winning games. Winning games is the most important thing, I get that. Marketing only goes so far, and I'm not naïve about that. But I'm also not going to take the easy way out and say, 'Well, geez, I can't do anything until they start racking up some victories.' So we're going to try and do some new things, build some new traditions. We've horseshoed in our stadium. We're going to try to treat that as a new stadium, new traditions and things to get people excited about coming to the games and staying for the games and create the kind of atmosphere where kids want to come to Indiana and be successful.
You mentioned marketing. Do you focus on current Indiana fans and fans of other Hoosiers sports or do you need to build new fans as well?
FG: I think we need to build new fans because we just candidly don't have enough of them right now. And a lot of our most strident people have been fans for a long, long time. We need to keep those folks coming but also build our pipeline and try to appeal to all of the above. We need students to come out and stay in greater numbers. We need our alumni to come out. We are the state university of Indiana, so we need the people that maybe didn't go to IU but they consider IU to be their school, for them to come out. So we've got a lot opportunity there across the board, and there's some things we can do to make people say, 'Hey, a Saturday in Bloomington, Indiana, organized around a football game, is a pretty good way to spend your weekend,' and get more and more people to do that.
As someone who has been around the program for a while as an alum, how have you viewed this program? Have you wondered why it's been so hard to have success and sustain success in football, given that it's a Big Ten program and you've had success in other sports?
FG: One of our real challenges has been continuity and stability. I'm the fifth athletic director in eight years, so how do you build stability and continuity and a strong base when you've got that kind of turnover? During that same eight years, we've had three different presidents. I'd have to go back and count up how many football coaches, including a larger-than-life figure [Terry Hoeppner] who tragically died of brain cancer. The football program specifically and the athletic department at Indiana has taken a few torpedoes that might have sunk a lot of ships. It's a real testament to our tradition and our strengths that our ship hasn't sunk. We've continued to be very successful in a lot of our programs. So my hope is that because this is the last stop I will ever have -- I'm an IU guy, I'm not looking to build a résumé to go somewhere else -- that I can be the start of some continuity, coach [Bill] Lynch gets some continuity and we can build from there. I do kind of think we're a sleeping giant because we have a lot of resources, we're in the Big Ten, we're the quintessential college town, we're at a world-class university that naturally attracts some of the best student-athletes. So we've got a lot of strengths to build upon, and I'm real bullish on the future of Indiana football.
November, 29, 2008
11/29/08
5:15
PM ET
Posted by ESPN.com's Adam Rittenberg
Despite a growing clamor among fans to sack Indiana head football coach Bill Lynch, the chance for a coaching change seemed slim after a 3-9 season. Not only had Indiana rewarded Lynch with a contract extension a year ago, but the school's new athletic director, Fred Glass, wasn't taking over until Jan. 2. Plus, Indiana was paying hefty salaries to two basketball coaches (Tom Crean and Kelvin Sampson).
The chances for a chance went from slim to none Friday as Glass backed Lynch in an interview with The Indianapolis Star.
"Bill Lynch is and will be the football coach at Indiana University moving forward,'' Glass said. "My view is last year Indiana University entered into a contract with Bill Lynch to coach our football team with an expressed promise really to give him an opportunity to get our football program to where we want it to be. And it seems to me that to fire him after one year (of a four-year extension) would not be giving him that promised opportunity. I really think contracts need to mean something again at Indiana University.''
Glass met with Lynch on Wednesday and affirmed his faith in the coach, who is under contract through 2011. The AD-in-waiting spoke publicly in response to concerns about negative recruiting.
Indiana has a strong group of verbal commitments lined up for 2009.
"We've been hearing that our competitors had been trying to exploit the athletic director transition as well as the supposed uncertainty around the football program,'' Glass said. "With that, I concluded that instead of waiting until after I was actually the AD, though it's a little awkward, that I was the only person who could really speak to that with authority."
November, 19, 2008
11/19/08
10:34
AM ET
Posted by ESPN.com's Adam Rittenberg
Coaching changes are cropping up around the country, but the Big Ten figures to be a nonfactor in what we around here like to call the silly season.
No Big Ten coach is in imminent danger of being fired. There's definitely some heat on Indiana's Bill Lynch, but with a lame-duck athletic director (Rick Greenspan), new AD Fred Glass not taking over until Jan. 2 (after hiring season) and beaucoup bucks owed to two basketball coaches (Kelvin Sampson and Tom Crean), a change isn't likely. Obviously, Purdue will have a change with Danny Hope taking over for Joe Tiller, but we've known that for months.
The big news in the Big Ten likely will involve contracts for existing coaches, some of whom have been mentioned as candidates for vacancies in other conferences. Here are some of the men who figure to get rewarded after strong seasons.
Michigan State's Mark Dantonio
Dantonio has been mentioned as a fringe candidate at places like Tennessee, but there's no panic in East Lansing that he'll jump ship like Nick Saban or George Perles did. Still, the school would be crazy not to sweeten Dantonio's deal. And athletic director Mark Hollis seems like a smart guy.
Expect a raise and a contract extension for Dantonio, whose salary ($1.1 million) ranks near the bottom of the league. This guy has Michigan State bound for its first New Year's Day bowl since 2000. The program's once-troubled culture has changed, and in-state recruiting is booming.
October, 21, 2008
10/21/08
4:46
PM ET
Posted by ESPN.com's Adam Rittenberg
The BCS standings have created quite a stir through Big Ten Nation, and many of you want to talk Ohio State-Penn State and Shonn Greene. Let's get started. Remember to identify your hometowns, people!
John from Parts Unknown writes: Adam, I love the blog and I love the reporting. Your article on Ohio State complaining about not getting any respect is a bad joke though. Ohio State has single-handedly ruined the reputation of one of the best conferences in history and they have the gall to whine about not getting any respect? I do appreciate that you mention PSU doesn't have the same big-game stigma associated with it, but if the Lions don't go perfect they get shut out of the NC game, and why? Because of Ohio State's performance in the last two years. It's their fault that ten other schools are looked down on, and frankly, they need to be shut up. I hope Penn State dominates them, if only so that we can finally turn the page on this embarrasing chapter in Big11Ten history.
Adam Rittenberg: You hit on the point I was trying to get across in that post. Ohio State has been an excellent team by most accounts in recent years, but its performance in big games has really damaged the Big Ten's reputation. Other factors certainly have contributed, namely Michigan's struggles and Penn State's inability to build off the Orange Bowl win. The exciting thing for Chris Wells, Malcolm Jenkins and the Buckeyes is they still have a chance to change their own reputation and boost the league's image. But the best-case scenario for the Big Ten calls for Penn State to win out and reach the BCS title game and Ohio State to go to the Rose Bowl.
---
Kim from Louisville, Ky., writes: It seems that, despite their current records, stats, BCS rank, and point spread, everyone in the media is picking Ohio State over Penn State this weekend. I know that PSU has never won in Columbus, but it is bound to happen eventually, and this Penn State team is special. My theory is that the media secretly liked the story lines of the 2007 season with all the 1- and 2-loss teams, and want a 1-loss SEC team in the title game over an undefeated Big 10 team. What do you think?
Adam Rittenberg: That's an interesting theory, Kim, but I'd counter with the argument that the media dislikes Ohio State more than it wants a 1-loss SEC team in the title game. I'm sure a portion of the pollsters would love to see Penn State win on Saturday, effectively eliminating Ohio State from the top 10. Any faint possibilities of the Buckeyes reaching a third straight title game also would be gone at that point. I'd say most of those picking Ohio State are going off the Buckeyes' strong performance against Michigan State and their home record against Penn State.
---
Scott from Iowa City, Iowa, writes: I know you're a Big Ten blogger, so you may be biased, but is Shonn Greene one of the top 5, if not the best running back in the nation right now?
Adam Rittenberg: I'm biased only in the sense that I've watched Greene all season, while many national media members are only getting wind of him now. Greene is certainly one of the nation's top running backs, and he can strengthen his case with a big performance against Penn State on Nov. 8. I've talked with several Big Ten defenders who hated trying to tackle this guy, and his yards-per-carry average (6.52) is stunning given how Iowa has so few weapons on offense.
October, 14, 2008
10/14/08
10:40
AM ET
Posted by ESPN.com's Adam Rittenberg
INDIANA (2-4, 0-3 Big Ten)
After a breakthrough bowl appearance, Indiana appeared to find the formula to keep momentum on its side. The Hoosiers scheduled eight home games, including four nonleague contests against non-BCS foes. Dynamic quarterback Kellen Lewis returned from suspension and reclaimed his starting job. National sacks leader Greg Middleton would lead an experienced defense. But the approach has backfired, and Indiana sits in a familiar spot at the bottom of the Big Ten standings. Two cupcake opponents didn't adequately prepare Indiana for a surging Ball State team and the Big Ten schedule, and the Hoosiers have dropped four straight. Penalties and turnovers have plagued the offense, and the heat is rising on head coach Bill Lynch.

Offensive MVP -- Slim pickings here, but senior running back Marcus Thigpen has contributed in several areas. He has showcased his big-play ability with four touchdowns of longer than 60 yards (two rushing, two receiving), and he remains a threat on kickoff returns (20.6 yards per return). Thigpen also has two 100-yard rushing performances, doubling his total from the previous three seasons. He joins Michigan State's Javon Ringer and Purdue's Kory Sheets as the only players to rank in the league's top 10 in all-purpose yards, scoring and kickoff returns.
Defensive MVP -- Middleton's production has dropped this fall, likely because of increased attention, but junior Jammie Kirlew is filling the pass-rushing void at the other defensive end spot. Kirlew is tied for ninth nationally in sacks (1 per game) and tied for fourth in tackles for loss (1.83 per game). He has two multisack performances and 8.5 tackles for loss in three league games. Safety Nick Polk also deserves a mention after factoring in four of the team's eight takeaways this season.
What's next -- Indiana failed to capitalize on having five of its first six games at home and now needs to steal a road win, most likely against Illinois or Purdue, to have a chance at getting bowl eligible. Ball security and better overall discipline will be focal points going forward, and Indiana needs to find its identity on offense after using quarterbacks Kellen Lewis and Ben Chappell on the field together. Though Lewis has struggled at times, he's still the team's most dangerous weapon. Lynch's job security will be questioned if the losing continues, but with no athletic director and big money being paid to both Tom Crean and Kelvin Sampson, a change seems unlikely.
July, 29, 2008
7/29/08
7:40
AM ET
Posted by ESPN.com's Adam Rittenberg
It's less than a week from the start of preseason practice and coaches are hoping for players in good health, in uniform and out of the blotter. Ohio State's Jim Tressel didn't get his wish last weekend.
Let's see what's going on around the league: