May, 15, 2013
5/15/13
5:59
PM ET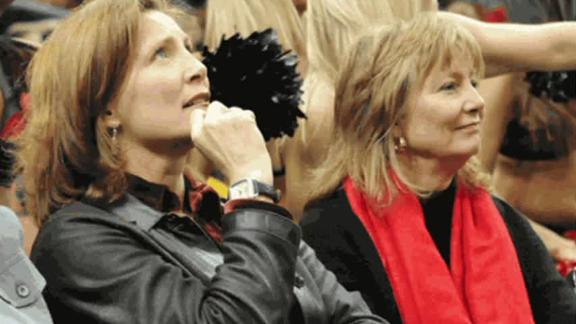 NC State athletic director Debbie Yow does not know Julie Hermann, but she is thrilled nonetheless.
You can understand why. Hermann is now part of a club with only a handful of members. A club that has not seemed to grow in membership over the past 20 years, despite more women playing sports, more women coaching and more female sports teams than ever in collegiate athletics.
Hermann became the third female athletic director at a BCS-level school
when she was hired
Wednesday to take over the Rutgers athletic department, joining Yow and Sandy Barbour at Cal. The hire signals a bold move for Rutgers, in the middle of an athletic department mess with a move to the Big Ten looming.
But will it end up being a move that opens more doors for females with designs on becoming athletic directors? That question gets murkier. Dating back to when Yow got her first AD job at a BCS school -- at Maryland in 1994 -- there have never been more than three female ADs at any one time at BCS conferences.
Hard to believe that no progress has been made over such a long period of time, especially when strides have been made in virtually every other area.
"I understand it completely," Yow said during a break at the ACC spring meetings at Amelia Island, Fla. "These jobs are very challenging to secure and there are an ample number of qualified women. But they usually involve key boosters and those key boosters are often times men. I don't have any statistical data to support this, but they have a challenging time seeing themselves on the football team plane with that female athletic director.
[+] Enlarge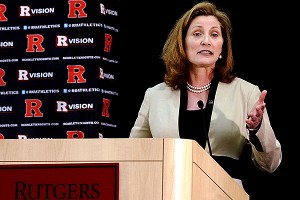 U of L Card Game.comLess than two weeks after she was introduced as Rutgers' new AD, Julie Hermann is facing abuse allegations from her former players on the University of Tennessee women's volleyball team.
"In my case, I was blessed at Maryland the men on the committee who were key boosters really could see that. That's how it happened. It's very challenging for women to get these jobs."
Yow pointed to a study conducted by R. Vivian Acosta and Linda Jean Carpenter titled "Women in Intercollegiate Sport" that pointed out women had a better chance of becoming presidents at BCS schools than athletic directors.
According to that study
, 10.6 percent of Division I athletic directors were females in 2012. In 1998, that number was 9.9 percent. If you look at the FBS level, only 4.9 percent of athletic directors were female in 2012.
For her part, Hermann has worked at the side of one of the top athletic directors in the entire country at Louisville in Tom Jurich, one of four nominees for AD of the Year. Louisville has made tremendous strides under Jurich and seen incredible success in the last year, joining the ACC while winning a BCS game, men's hoops title and playing in the women's title game.
Hermann said during her introductory press conference in New Jersey, "(Athletics) is male-dominated, but in my building it's not male-dominated, it's probably-female dominated. We have Tom surrounded. And on the other hand I've been a woman in collegiate athletics my whole life. I don't know anything different other than the men that helped us make it happen."
When asked at the ACC spring meetings whether he thought this might open more doors for women to become athletic directors, Jurich said, "I sure hope so. I don't know how many women have gone for those jobs, but I know she's definitely ready. She's going to do a great job at Rutgers. They've got an incredible asset who was my right-hand for 15 years. She was more than an employee, she was a very close friend and I'm going to miss her dearly. But I couldn't be happier for her."
Yow is thrilled, too. Though it feels as if progress in this one area has been nonexistent, seeing Hermann get a job at a school headed for the Big Ten is progress in itself. She would be only the second female AD in Big Ten history when Rutgers joins the league in 2014
(Michigan State's Merrily Dean Baker from 1992-95 was the first).
Whether this sets a trend or not, Hermann is the one who went out and got this job for herself.
"It's terrific, terrific for the league, terrific for her, terrific for the thousands of women who aspire to becoming a director of athletics at this level," Yow said.
The glass ceiling has another little crack. Joyous news indeed.
March, 18, 2013
3/18/13
1:00
PM ET
One current and one future Big Ten athletic director are among
the nominees for the athletic diretor of the year award
presented by Street & Smith's SportsBusiness Journal and SportsBusiness Daily.
Northwestern AD Jim Phillips and Rutgers AD Tim Pernetti are among the five nominees for athletic director of the year. The others are Louisville's Tom Jurich, Alabama's Mal Moore and Oklahoma State's Mike Holder. Michigan State athletic director Mark Hollis was last year's recipient.
The Sports Business Awards take place May 22 in New York, and recognize achievements in sports business from March 1, 2012-Feb. 28, 2013.
Phillips came to Northwestern from Northern Illinois in April 2008. He spearheaded the school's
first wide-ranging marketing campaign
-- complete with the "Chicago's Big Ten team" slogan -- in June 2010, and last fall announced a plan to build a $220 million state-of-the-art on-campus facility that will house the football program. Phillips worked out a 10-year contract for football coach Pat Fitzgerald in 2011 and announced a partnership with the Chicago Cubs that will bring several future football games to Wrigley Field, where Northwestern hosted Illinois in 2010.
Pernetti, a former Rutgers tight end, became the school's AD in February 2009 after working for CBS Sports Network. He has secured the first two naming rights partnerships in Rutgers history and landed a $5.2 million shoe and apparel deal for all 24 varsity sports with Nike. Pernetti's longtime friendship with Big Ten commissioner Jim Delany played a role in Rutgers' move to the Big Ten. Arguably no school will take a bigger step up in league realignment than Rutgers, which moves from an extremely shaky Big East to the nation's richest conference.
It's no surprise to see both Phillips and Pernetti on this list. Both have improved their respective programs in recent years, both embrace marketing/branding and both have been very visible. They have some tough competition, though, particularly in Louisville's Jurich.
July, 21, 2008
7/21/08
7:45
AM ET
Posted by ESPN.com's Adam Rittenberg
A big week in college football kicks off around the country as media days begin or, in some cases, continue. The Big Ten anchors the gab fest Thursday and Friday at the Hyatt Regency Chicago, and I'll be there to give you the goods. Every Big Ten school but Purdue begins preseason practice two weeks from today, so you can officially begin the countdown.
OK, onto the links.
Hope you had a better weekend than Iowa. Things started Saturday with a story in the Iowa City Press-Citizen, which last week obtained a copy of a letter sent by the mother of the alleged victim in a sexual assault case involving two former Hawkeyes players (Cedric Everson and Abe Satterfield). The letter stated that university officials, including athletic director Gary Barta and football coach Kirk Ferentz, encouraged the victim to keep the matter in-house. The alleged victim's mother sent the letter to university officials last November and said she received no response.
In a phone interview with the newspaper, the alleged victim's mother said: "University of Iowa's character was non-existent. It is disappointing to say the very least."
Iowa responded with a statement saying the victim and her family were "repeatedly informed" of their options and that the university "fully supported" their decision to file a criminal report. Either way, Gov. Chet Culver wants an explanation and so do members of the state board of regents, the Press-Citizen reports.
Things only got worse early Saturday, as incoming freshman defensive end Riley Reiff became the latest Hawkeyes player arrested. Reiff pleaded guilty to public intoxication and interference with official acts, both misdemeanors, after allegedly leading at least eight Iowa City police officers on a 20-minute foot chase. In a statement, Barta called Reiff's actions "disturbing."
Expect more on both stories, but to restate this obvious, this isn't what Iowa, Barta and especially Ferentz needed heading into a pivotal season.
Here's what's going on around the rest of the league: