March, 31, 2010
3/31/10
6:30
PM ET
Joe Paterno opened his news conference Wednesday afternoon by apologizing for delaying his pre-spring meeting with reporters.
Then, in classic Paterno fashion, he muttered, "I'm here. Unfortunately, so are you."
Yes, we missed you, JoePa.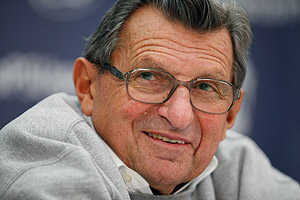 AP Photo/Carolyn KasterPenn State coach Joe Paterno sports his new glasses while meeting with the media on Wednesday.
We haven't heard much from the Penn State head coach since the Capital One Bowl, though his vision surgery and the auctioning of his famous glasses kept Paterno in the spotlight. Paterno addressed a number of topics in Wednesday's media session, and here are a few takeaways:
There's no timetable on a decision to name a starting quarterback. Paterno is open to modifying the offense so it fits the players' strengths. "We want to get them comfortable, see what they can do, and not do more than what they can handle," he said.

Paterno reiterated that former walk-on Matt McGloin is very much in the mix at quarterback, while wide receiver Brett Brackett hasn't been working with the signal callers this spring. Paterno is making the rounds in spring ball and hasn't seen much of early enrollee Paul Jones. JoePa is happy with the way Kevin Newsome handles himself in the huddle, saying Newsome "has made a lot of progress."

Wide receiver Chaz Powell is getting a look at cornerback this spring. Powell ranked fourth on the team in receptions with 28 last fall. He also served as the team's primary kickoff return man and finished second in all-purpose yards (67.8 ypg). Powell played both defensive back and wide receiver in high school and was a standout on special teams. "I'm not sure Powell's going to be a corner," Paterno said. "Obviously, Powell's a good athlete. He could play offense or defense."

Asked about the situation at offensive tackle, Paterno jokingly asked reporters if they had a big sheet of paper with them. Penn State is auditioning several players at the tackle spot, including DeOn'tae Pannell and redshirt freshman Eric Shrive. "We argue every morning, can so-and-so handle the pass protection?" Paterno said. "For me to make any kind of statement on where guys will play is ridiculous right now."

Starting safety Drew Astorino (shoulder) and linebacker Michael Mauti (knee), who many project as a starter in 2010, are out for the spring with injuries. Reserve running back Brandon Beachum (knee) will only do some light running this spring. Paterno didn't sound too concerned about the linebacker position and likes what he has with Bani Gbadyu, Nate Stupar and Chris Colasanti.

Paterno doesn't expect starting running back Evan Royster to do too much this spring, as he has little to prove to the coaches. Backup Stephfon Green and Shaine Thompson, a former walk-on who recently received a scholarship, will be in the spotlight there.

The jury is still very much out on defensive tackle Brandon Ware, who has struggled with academic issues and weight problems. "I think he's still a little too heavy," Paterno said. "But he's got a long road to go academically before I'm going to think about him playing."

Doug Klopacz is back for a fifth year and will back up Stefen Wisniewksi at center. Running back Brent Carter and defensive tackle Tom McEowen are no longer with the team.
September, 17, 2008
9/17/08
10:15
AM ET
Posted by ESPN.com's Adam Rittenberg
It's time to take a look inside five Big Ten teams:

Indiana -- After two cakewalk victories, the Hoosiers face their first test of the season Saturday against Ball State and need a solid effort from their secondary, which might be without a big piece. Strong safety Austin Thomas is questionable for the game with a lower leg injury sustained last week at practice. Coach Bill Lynch said Thomas, the team's leading tackler last fall, won't practice much this week leading up to the game. If Thomas can't go, heralded Florida transfer Jerimy Finch would get the nod. The matchup with Nate Davis and the Cardinals would give the Hoosiers a great chance to evaluate Finch, considered arguably the nation's best safety coming out of high school.

Iowa -- The Hawkeyes still don't have a definitive starting quarterback, but coach Kirk Ferentz reiterates that the situation under center looks much more stable than it did a year ago because the team boasts two players (Jake Christensen and Ricky Stanzi) capable of running the offense. Stanzi started the last two games, but Ferentz is leaning toward Christensen for Saturday's game at Pitt (ESPN2, noon ET). Throughout the competition Ferentz has given Christensen every chance to cement himself as the starter. If the junior steps up against the Panthers, Iowa could finally decide to stick with him.

Minnesota -- There could be some shuffling on the offensive line after tackle Dom Alford sprained his ankle last week. Coach Tim Brewster is holding out hope Alford can return Saturday against Florida Atlantic, but junior Ryan Ruckdashel or backup right tackle Jason Meinke likely will get the nod. Redshirt freshman Trey Davis will start at center, but Brewster thinks there's a chance Jeff Tow-Arnett can return from a knee injury. Ned Tavale should return after an ankle injury and is expected to share time with Chris Bunders at right guard.

Ohio State -- Freshman quarterback Terrelle Pryor will continue to see increased playing time Saturday against Troy and could split snaps 50-50 with senior Todd Boeckman for the second straight game. Pryor impressed coach Jim Tressel with the way he handled the spotlight last week against USC and made no major mistakes, while Boeckman threw two interceptions, one of which was returned for a touchdown. Tressel won't name a starter until later in the week. Though the coach is usually partial to seniors, he doesn't tolerate turnovers and admits he's surprised at how quickly Pryor has grasped the system after getting far fewer reps than Boeckman during the preseason.

Penn State -- A rapidly evaporating group of defensive linemen forced Joe Paterno to move Mike Lucian from offensive guard to defensive tackle last week against Syracuse. The switch might have backfired as Lucian sustained an ankle injury, but Paterno expects the senior to be ready for Saturday's game against Temple. Paterno remains "very concerned" about the depth on the defensive line, and more moves could be on the way if Maurice Evans and Abe Koroma remain suspended. Jack Crawford, a 248-pound true freshman, is in the mix at tackle. The Lions can't afford injuries to reserve tackles Tom McEowen and Chima Okoli.
September, 10, 2008
9/10/08
10:00
AM ET
Posted by ESPN.com's Adam Rittenberg
Injuries are cropping up around the league, and coaches are shuffling pieces to try to find the right fit. Here's a look at five key issues in the Big Ten.

Minnesota -- Just when the Golden Gophers found a viable running threat, they received news that Duane Bennett tore his ACL against Bowling Green and will miss the rest of the season. Coach Tim Brewster will audition three players -- junior Jay Thomas and freshmen Shady Salamon and DeLeon Eskridge -- at the running back spot in hopes of identifying a featured back. The Gophers need more than one capable runner, but Brewster doesn't want a rotation there. Though Thomas has by far the most experience, Eskridge and Salamon are listed behind Bennett on this week's depth chart.

Michigan State -- The Spartans apparently no longer have cornerbacks or safeties, just general defensive backs. Before the season, coach Mark Dantonio moved starting corner Kendell Davis-Clark to safety after projected starter Roderick Jenrette took a leave of absence. Dantonio now is considering switching another starting cornerback, Ross Weaver, to safety after Davis-Clark sustained a shoulder injury against Cal and missed last week's matchup against Eastern Michigan. Davis-Clark is listed as day-to-day but didn't appear on this week's depth chart for Florida Atlantic.

Ohio State -- Cornerback Donald Washington returns from a two-game suspension Saturday against USC (ABC, 8 p.m. ET), but the two-year starter might not retain his job. Ohio State likely will platoon Washington and sophomore Chimdi Chekwa, who has started the first two games. Coach Jim Tressel also seems intent on keeping Jermale Hines in the mix, possibly at nickel back. Hines should get decent playing time Saturday because the Buckeyes don't know whether linebacker/safety Tyler Moeller will be able to play after suffering an injury.

Michigan -- Redshirt sophomore Perry Dorrestein likely will make his season debut as the Wolverines' starting left tackle Saturday at Notre Dame after Mark Ortmann dislocated his elbow last week. Dorrestein previously had backed up Stephen Schilling at left tackle. Michigan already is without two guards who went down with injuries before the season. Coach Rich Rodriguez expects Bryant Nowicki and true freshman Patrick Omameh to fill in behind Dorrestein on the left flank.

Penn State -- The still-unresolved suspensions of starting defensive linemen Maurice Evans and Abe Koroma and the season-ending injury to Jerome Hayes leave the Nittany Lions in a bit of a bind. Both the end and tackle positions have depth issues, and end might be a greater concern as Penn State doesn't have much behind Josh Gaines and Aaron Maybin. One possibility would be moving true freshman Jack Crawford from tackle to end, though Paterno is leery about Crawford's inexperience. If Crawford switches, it puts more pressure on keeping Jared Odrick, Ollie Ogbu and Tom McEowen healthy.
August, 18, 2008
8/18/08
4:52
PM ET
Posted by ESPN.com's Adam Rittenberg
As first reported during the weekend, Penn State defensive tackle Devon Still suffered a broken leg and will miss 8-10 weeks following surgery. Defensive tackle is one of the spots where Penn State can't afford much more attrition after coach Joe Paterno dismissed veterans Phil Taylor and Chris Baker.
The Nittany Lions have more defensive line depth than most Big Ten teams, but Still, a standout recruit who redshirted last fall after tearing the ACL and MCL in his left knee, certainly would have contributed.
Junior Jared Odrick and sophomore Ollie Ogbu are projected to start at tackle. Odrick started seven of the first eight games last fall, collecting two sacks and four tackles for loss, before an ankle injury against Indiana ended his season. Ogbu could emerge as a star this fall after racking up 10 tackles for loss as a redshirt freshman.
The problems could come if either player gets hurt. Abe Koroma logged plenty of playing time last fall, but Tom McEowen has battled injuries and Chima Okoli has yet to play a snap in a college game.
Bottom line: This isn't a crushing blow for Penn State, but it reduces the tackle rotation by one man and puts an even greater premium on staying healthy the rest of camp.
BIG TEN SCOREBOARD
Saturday, 12/20
Monday, 12/22
Tuesday, 12/23
Wednesday, 12/24
Friday, 12/26
Saturday, 12/27
Monday, 12/29
Tuesday, 12/30
Wednesday, 12/31
Thursday, 1/1
Friday, 1/2
Saturday, 1/3
Sunday, 1/4
Monday, 1/12
Tweets from https://twitter.com/ESPNCFB/lists/b1g