March, 28, 2013
3/28/13
9:00
AM ET
Big Ten spring football is finally in full swing as Iowa on Wednesday became the 12th and final league team to hit the practice field. The return to the gridiron can't come a moment too soon for the Hawkeyes, who went 4-8 in 2012, their worst record since coach Kirk Ferentz's second season at the helm (2000). It has been another offseason of transition for Iowa as Ferentz welcomes three new full-time assistants (Chris White, Bobby Kennedy and Jim Reid) for a second consecutive year. Finding a quarterback tops Iowa's spring agenda, and the team also needs to identify a center and more playmakers on both sides of the ball.
ESPN.com caught up with Ferentz on Wednesday to discuss the spring.
What are the main objectives for you guys this spring?
Kirk Ferentz:
Like any spring, you've got a lot of players on a lot of different levels. You've got experienced players, and we're certainly counting on them improving and developing into leaders. You've got younger guys who have played, and you're hoping they're ready to play more proficiently. And then you've got other guys who, in some cases, are special-teams guys who have a chance to become offensive and defensive role players, or guys who haven't been on the field yet. So you have a lot of layers of players at different levels. The biggest thing is trying to gauge where they're at, and at the same time, you're trying to find out what they can do and pull a team together. It's always a fun period and a really interesting period.
How has the transition on the staff this year gone so far, especially in relation to last year? You had quite a long period without any changes on your staff.
KF:
Last year was probably a little more dramatic with two new coordinators. Norm [Parker] and Ken [O'Keefe] were here 13 years, so they were big departures. We've got Phil [Parker] and Greg [Davis] both in their second years, and they're both tremendous coaches. What's unusual is how long we were all together at one time. Usually staffs don't stay in one place for 13, 14 years. Normally they move to the next channel and you have a new group of folks coming in. So it's a natural series of transitions. The way I look at it, we've had six new members join the staff in the last two years, and it's a matter of pulling everything together. But I'm really excited about all the guys who have joined. They're outstanding coaches, and it looks like they're all going to be great fits here at Iowa. At the same time, I'm very appreciative of the guys who had been here and helped us move things.
Is the transition harder for the players or the new coaches?
KF:
There's learning on both sides. The players to have learn their coaches, certainly, and the coaches have a lot to learn about the players. That can be a healthy thing, too. It's a clean slate and a fresh beginning for everybody. For players, it's a whole new opportunity.
Offensively, it wasn't what you were hoping for last year. Is it a total reset this year with some new faces, or are there some things you can continue from last year?
[+] Enlarge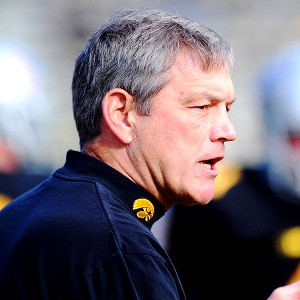 Byron Hetzler/USA TODAY SportsThough Kirk Ferentz lost his starting quarterback and center, he said he's more optimistic about Iowa's offense than he was a year ago.
KF:
It may be ironic. We feel more comfortable and more optimistic right now than we did a year ago about the offense. The part that's ironic is we lost a two-year starter at quarterback [
James Vandenberg
]. We had James play a lot at quarterback and
James Ferentz
played like 38 games at center, so you have two guys right in the middle of things who aren't going to be there. But I look around at other positions and we've got a lot of guys coming back who have played in the system and who I think are more capable now of playing at a higher level than they were a year ago. That's got us excited. That being said, we've got to find replacements for both Jameses. We've got to find a replacement for
Keenan Davis
and
Matt Tobin
, to start with. But I look at the group coming back and as recent as late last August, we didn't know if
Damon Bullock
could play in this conference successfully, and we had no idea
Mark Weisman
could run the ball. So I think we're a lot further down the road than we were even eight months ago, 10 months ago.
When you and Greg looked at things, did you identify areas to target for the spring?
KF:
Greg came in, this was all new to him, the players were all new to him. His knowledge of our personnel is a lot more extensive than it was a year ago at this time. And that was one of the reasons I was so attracted to Greg in the hiring process, his ability historically to work with a lot of different types of players and different types of offenses. He wasn't married to one system. There's nothing like experience, and he's got a real good grip on who our players are, what they can do and what we can do to help them be more productive.