June, 27, 2014
6/27/14
9:00
AM ET
Show up at the University of Minnesota's Gibson-Nagurski football complex on a Thursday morning, and you'll see something possibly unprecedented in nature: a 300-pound Gopher in a downward facing dog.
Minnesota has incorporated a weekly teamwide yoga session into its summer conditioning program. It would give new meaning to the term mat drills if the players actually used yoga mats. Instead, they strike their poses right there on the turf of their indoor facility, sometimes using their T-shirts as a cushion.
Strength coach Eric Klein introduced the one-hour yoga class to the team on June 12. When they first heard about it, several players -- like senior safety
Cedric Thompson
-- were like, "Om, what?" They thought yoga was just a lot of stretching and weird chants.
"I didn't really buy into it at first," Thompson told ESPN.com. "[Friends] had tried to get me to do it before, and I'd always said no."
Others, such as senior offensive lineman
Tommy Olson
, saw it as a break from grueling morning workouts, which begin at 6:45 a.m. in the summer.
"We were all kind of excited because we thought we'd be getting out of conditioning and running," Olson said. "But it turns out that in yoga, you've actually got to do some tough poses, and you've got to have some strength, too."
The idea was hatched this spring, when head coach Jerry Kill asked Klein -- who has served as Kill's strength coach since 1994 -- what he thought about yoga as a technique for football training. Kill and his staff had noticed an ESPN The Magazine article last year about how the
NFL's Seattle Seahawks had embraced the practice
, and nothing inspires imitation quite like a Super Bowl title. They also knew that All-Pro wide receiver Larry Fitzgerald, a Minnesota native who often works out in the Gophers' training facility in the offseason, uses yoga to stay in shape.
[+] Enlarge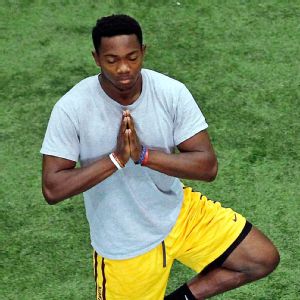 Eric Miller/University of Minnesota Minnesota cornerback Eric Murray practices a yoga pose. The program is using yoga sessions to improve flexibility as well as strength.
Other college football teams, like Illinois and Memphis, had worked it into their programs in the past.
Klein had little doubt about yoga's effectiveness. His younger brother, Scott, is a devoted yogi who spent time in India unlocking its secrets. Klein had folded a couple of basic yoga poses into stretching regimens over the years, but he said this is the first time he's gone all-in with it for a team.
"I believe in it," he said. "I tell our guys that you have to stress the body to make it better. But even more importantly, you have to focus on your recovery to allow us to stress it again the next day."
Klein approached Christine Ojala, owner of Thrive Mind Body in Minneapolis, about designing a yoga regimen for the team. The two had met shortly after Kill's staff first came on board in December 2010 and learned that a few players were taking a yoga class taught by Ojala.
A Minnesota graduate who grew up near the old football stadium, Ojala lunged at the chance to work with the Gophers. She told ESPN.com that one of her main goals is teaching the players how "to access the breath in a more informed and intelligent way."
"It is very easy to teach a power yoga-style class," she said. "But what these guys need, after working hard, physically and mentally, is a restorative or yin style class. They need to recuperate from being worked to the max. Yoga is one of the best methods for restoring the mind, body and spirit to their essential, balanced and strong states of being."
Kill and Klein believe in emphasizing flexibility, not just strength, in their conditioning program. It's one of their mantras, you might say. Yoga should help with that, and Olson said he was already feeling more flexible after just two sessions. Ojala believes that regular yoga classes can help reduce injuries.
Yoga also teaches mental discipline and a calm state of mind. For an hour each week, the players block out thoughts about the upcoming season, school, girlfriends, video games and all other concerns while concentrating instead on their breathing and technique. Klein hopes that players gain the ability to "clear the mind of clutter" and that it transfers to the football field. In other words, the goal is to remain calm and focused when the play clock is ticking down, the crowd is roaring, and the game is on the line.
Of the millions of Americans who practice yoga, we can surmise that there aren't many gurus who look like defensive tackles. In the Gophers' first yoga session, Olson said he and several other linemen repeatedly fell over while trying to get into some of the more challenging stretches. One of the toughest, he said, was one called the awkward pose, which involves bending the knees and putting your arms out in front of your body.
"It's actually pretty funny, because [the linemen are] all working hard to get the poses," Thompson said. "Our instructor tells us if you need to take a break, put your hand down. And they're always the first ones to put their hands down. But I know they all really like it."
In fact, the yoga sessions have unexpectedly one of the players' favorite hours. At a recent Wednesday practice, team captains talked about how much they were looking forward to it the next day, Olson said.
"We're all just trying to get more flexible as a team because we work out so much, and we're trying to relax our minds, too," he said. "It's a really good way to recuperate from a long week."
Klein will continue the weekly sessions throughout the summer and then will ask the players if it's something they'd like to keep doing during the season. Thompson is a full convert now and says he's considering taking a yoga class on his own this fall.
"My body feels longer and I've stretched farther than I have with other stretches," he said. "I'm pretty sure everybody who was skeptical is all on board now. We all really like it and look forward to Thursdays."
Namaste
. And
Ski-U-Mah
.
February, 28, 2014
2/28/14
2:30
PM ET
We're taking snapshots of each position group with each Big Ten team entering the spring. Up next: the big uglies.

Illinois:
This is another group that appears to be in significantly better shape now than at the start of coach Tim Beckman's tenure. The Illini lose only one full-time starter in tackle
Corey Lewis
, as four other linemen who started at least eight games in 2013 return. Senior tandem
Michael Heitz
and
Simon Cvijanovic
are two of the Big Ten's most experienced linemen, and guards
Ted Karras
also has logged plenty of starts. Right tackle appears to be the only vacancy entering the spring, as
Austin Schmidt
and others will compete.

Indiana:
The Hoosiers have somewhat quietly put together one of the Big Ten's best offensive lines, and the same should hold true in 2014. Everybody is back, and because of injuries before and during the 2013 season, Indiana boasts a large group with significant starting experience.
Jason Spriggs
should contend for first-team All-Big Ten honors as he enters his third season at left tackle. Senior
Collin Rahrig
solidifies the middle, and Indiana regains the services of guard
Dan Feeney
, who was sidelined all of 2013 by a foot injury.

Iowa:
The return of left tackle
Brandon Scherff
anchors an Iowa line that could be a team strength this fall. Scherff will enter the fall as a leading candidate for Big Ten offensive lineman of the year. Iowa must replace two starters in right tackle
Brett Van Sloten
and left guard
Conor Boffeli
.
Andrew Donnal
could be the answer in Van Sloten's spot despite playing guard in 2013, while several players will compete at guard, including
Tommy Gaul
and
Eric Simmons
. Junior
Austin Blythe
returns at center.

Maryland:
Line play will go a long way toward determining how Maryland fares in the Big Ten, and the Terrapins will
make the transition with an experienced group
. Four starters are back, led by center
Sal Conaboy
, who has started games in each of his first three seasons. Tackles
Ryan Doyle
and
Michael Dunn
bring versatility to the group, and Maryland should have plenty of options once heralded recruit
Damian Prince
and junior-college transfer
Larry Mazyck
arrive this summer. Prince is the top Big Ten offensive line recruit in the 2014 class, according to ESPN RecruitingNation. New line coach Greg Studwara brings a lot of experience to the group.

Michigan:
The Wolverines' line is under the microscope this spring after a disappointing 2013 season. Michigan loses both starting tackles, including
Taylor Lewan
, the Big Ten's offensive lineman of the year and a projected first-round draft choice. The interior line was in flux for much of 2013, and Michigan needs development from a large group of rising sophomores and juniors, including
Kyle Kalis
,
Kyle Bosch
,
Jack Miller
,
Graham Glasgow
, and
Patrick Kugler
. Both starting tackle spots are open, although
Ben Braden
seems likely to slide in on the left side.
Erik Magnuson
is out for spring practice following shoulder surgery, freeing up opportunities for redshirt freshman
David Dawson
and others.

Michigan State:
The line took a significant step forward in 2013 but loses three starters, including left guard
Blake Treadwell
, a co-captain. Michigan State used an eight-man rotation in 2013 and will look for development from top reserves such as
Travis Jackson
(
Yes! Yes!
) and
Connor Kruse
.
Kodi Kieler
backed up Treadwell last season and could contend for a starting job as well. Coach Mark Dantonio said this week that converted defensive linemen
James Bodanis
,
Devyn Salmon
and
Noah Jones
will get a chance to prove themselves this spring. It's important for MSU to show it can reload up front, and the large rotation used in 2013 should help.

Minnesota:
For the first time since the Glen Mason era, Minnesota truly established the line of scrimmage and showcased the power run game in 2013. The Gophers return starters at four positions and regain
Jon Christenson
, the team's top center before suffering a season-ending leg injury in November. Right tackle
Josh Campion
and left guard
Zac Epping
are mainstays in the starting lineup, and players such as
Tommy Olson
and
Ben Lauer
gained some valuable experience last fall. There should be good leadership with Epping, Olson,
Marek Lenkiewicz
and
Caleb Bak
.

Nebraska:
Graduation hit the line hard as five seniors depart, including 2012 All-American
Spencer Long
at guard and
Jeremiah Sirles
at tackle. Nebraska will lean on guard
Jake Cotton
, its only returning starter, and experienced players such as
Mark Pelini
, who steps into the center spot. Senior
Mike Moudy
is the top candidate at the other guard spot, but there should be plenty of competition at the tackle spots, where
Zach Sterup
,
Matt Finnin
and others are in the mix. Definitely a group to watch this spring.

Northwestern:
Offensive line struggles undoubtedly contributed to Northwestern's disappointing 2013 season. All five starters are back along with several key reserves, and coach Pat Fitzgerald already has seen a dramatic difference in the position competitions this spring as opposed to last, when many linemen were sidelined following surgeries. Center
Brandon Vitabile
is the only returning starter who shouldn't have to worry about his job.
Paul Jorgensen
and
Eric Olson
opened the spring as the top tackles, and
Jack Konopka
, who has started at both tackle spots, will have to regain his position.

Ohio State:
Like Nebraska, Ohio State enters the spring with a lot to replace up front as four starters depart from the Big Ten's best line.
Taylor Decker
is the only holdover and will move from right tackle to left tackle. Fifth-year senior
Darryl Baldwin
could step in at the other tackle spot, while
Pat Elflein
, who filled in for the suspended
Marcus Hall
late last season, is a good bet to start at guard.
Jacoby Boren
and
Billy Price
will compete at center and
Joel Hale
, a defensive lineman, will work at guard this spring. Ohio State has recruited well up front, and it will be interesting to see how young players such as
Evan Lisle
and
Kyle Dodson
develop.

Penn State:
New coach James Franklin admits he's concerned about the depth up front despite the return of veterans
Miles Dieffenbach
and
Donovan Smith
on the left side. Guard
Angelo Mangiro
is the other lineman who logged significant experience in 2013, and guard/center
Wendy Laurent
and guard
Anthony Alosi
played a bit. But filling out the second string could be a challenge for Penn State, which could start a redshirt freshman (
Andrew Nelson
) at right tackle. The Lions have to develop some depth on the edges behind Nelson and Smith.

Purdue:
The Boilers reset up front after a miserable season in which they finished 122nd out of 123 FBS teams in rushing offense (67.1 ypg). Three starters return on the interior, led by junior center
Robert Kugler
, and there's some continuity at guard with
Jordan Roos
and
Justin King
, both of whom started as redshirt freshmen. It's a different story on the edges as Purdue loses both starting tackles. Thursday's addition of junior-college tackle
David Hedelin
could be big, if Hedelin avoids a potential NCAA suspension for playing for a club team.
Cameron Cermin
and
J.J. Prince
also are among those in the mix at tackle.

Rutgers:
Continuity should be a strength for Rutgers, which returns its entire starting line from 2013. But production has to be better after the Scarlet Knights finished 100th nationally in rushing and tied for 102nd in sacks allowed. Guard
Kaleb Johnson
considered entering the NFL draft but instead will return for his fourth season as a starter. Rutgers also brings back
Betim Bujari
, who can play either center or guard, as well as
Keith Lumpkin
, the likely starter at left tackle. It will be interesting to see if new line coach Mitch Browning stirs up the competition this spring, as younger players
Dorian Miller
and
J.J. Denman
could get a longer look.

Wisconsin:
There are a lot of familiar names up front for the Badgers, who lose only one starter in guard
Ryan Groy
. The tackle spots look very solid with
Tyler Marz
(left) and
Rob Havenstein
(right), and
Kyle Costigan
started the final 11 games at right guard. There should be some competition at center, as both
Dan Voltz
and
Dallas Lewallen
have battled injuries. Coach Gary Andersen mentioned on national signing day that early enrollee
Michael Deiter
will enter the mix immediately at center. Another early enrollee, decorated recruit
Jaden Gault
, should be part of the rotation at tackle. If certain young players develop quickly this spring, Wisconsin should have no depth issues when the season rolls around.
November, 6, 2013
11/06/13
12:00
PM ET
This will blow over in time. This will all blow over in time.
March, 26, 2013
3/26/13
9:00
AM ET
Minnesota coach Jerry Kill guided the team to a bowl game during his second season in Minneapolis despite some depth and injury problems in 2012. What's in store for Year 3 of the Kill era? I recently caught up with him to get his outlook for the Gophers' spring practice, which opens today.
How has the offseason gone for you guys so far?
Jerry Kill:
Well, I think the bowl game, even though we lost, the kids played very hard and well. We got healthy, for one, before we went to the bowl, and we had a great month with our kids and a great experience. And coming into the offseason, I think there was a lot of confidence gained. All our kids' strength and testing numbers went up. I guess I can use
Ra'Shede Hageman
as an example, He benched 450 pounds, squatted well over 500 and cleaned 350, with a 38-inch vertical. So kids like that got a lot better.
We feel up front and on the defensive line, we've gotten stronger. I think we've added some depth to the defensive line, and secondary-wise, we played several freshmen in that game against Texas Tech. We've got the flexibility to play
Derrick Wells
at corner and safety. I think the biggest question mark we've got going in is, we lost five scholarship linebackers. It's like a year ago when we lost seven secondary players and kind of hit the jackpot in recruiting. Damien Wilson, a junior college transfer, has had a great spring, and I'm looking forward to seeing him on the field. The guys who need the reps this spring are
James Manuel
,
Aaron Hill
,
Lamonte Edwards
, and young men we redshirted named
Jack Lynn
and
Nick Rallis
. And then we've got four other kids coming when fall camp starts. Our secondary a year ago had a lot of questions and really played well. I think, this year, linebacker is where we need to step up on defense.
And then on offense, I feel we'll be a much better football team than we were a year ago because we get everybody back except for
Brandon Green
and Q [
MarQueis Gray
], really. So I think that unit will be much improved.
[+] Enlarge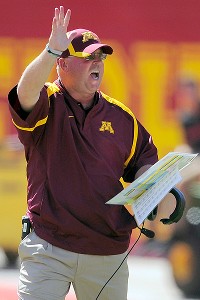 AP Photo/Mark J. TerrillJerry Kill begins his third season as head coach of the Gophers.
You showed off a good power running game in that bowl game. Is that what we should expect from your offense going forward?
JK:
Yeah, that's what we were at Northern Illinois. We could run the power at you, but then we were athletic enough to turn and run the zone read with the quarterback. Both [Chandler] Harnisch and [Jordan] Lynch, when we needed to throw it, we completed it. But we still made our living on running the football. It was the first time, in the bowl game, that we had the same offensive line that we had at the beginning of the seaon. We had so many people get experience there. But that's what we want to be -- a team that gives you a lot of different looks, shifting and motion and different personnel grouping. But you've still got to be able to run the football, and certainly in the Big Ten.
Speaking of that offensive line, after a lot of injuries there last year, how is the position looking this spring?
JK:
Well, we've got a lot of depth, no question. Eddie Olson, he won't go through the spring, but he had a good year a year ago. If we can get his foot healed up and done right, it kind of works out. He'll continue to get stronger. We redshirted
Jonah Pirsig
, who's a 6-foot-8, 6-9, 320 pound tackle,
Ben Lauer
, who's 6-7 and probably 305, and
Isaac Hayes
, who is a 6-2, 300-pound offensive guard. So those kids, I'm anxious to see them in the spring.
We've got
Zac Epping
,
Jon Christenson
and
Caleb Bak
-- in the weight room, he benched 350, squatted 550, so he's gotten stronger.
Josh Campion
is a strong kid; he benches well over 400 pounds. So the same guys who when I first got here were getting pushed around have gotten stronger. And then we've added these young kids that have come in.
Marek Lenkiewicz
is up to 290 pounds,
Tommy Olson
is healthy again and
Brian Bobek
, who transferred from Ohio State and had great credentials when he went to Ohio State, he's another one who's very physically strong. Then there's
Foster Bush
and
Joe Bjorklund
. They're all young kids, but they've gotten physically stronger.
When we got here, I think we had about seven or eight offensive linemen. So we've built it through walk-ons and kind of did it the hard way. But I feel good about that position, along with our tight ends, quarterbacks and receivers. Our defense improved tremendously from one year to the next. For us to be competitive in the Big Ten -- which I think we can be -- our offense has to take the steps our defense did a year ago. And I think we can.
Philip Nelson finished the season for you at quarterback and had a nice bowl game, but you also have some talented young guys there. Is it his job to lose this spring or a more open competition?
JK:
We took the redshirt off Philip last year, and he did some good things and had some things he struggled with, as you'd expect for a freshman. He did some great things in the bowl game. When we go into camp, somebody is going to have to go in there and beat him out. But the thing that's good about that is the competition.
Mitch Leidner
and Chris Streveler are great athletes who can play another position if needed, but they both want to play quarterback and they're very capable of giving someone a run for their money. I can tell you, our defense is very high on Leidner. Mitch is probably close to 6-5 and 230, and he is a 4.6, 4.65 guy [in the 40-yard dash]. And very strong. And then Streveler is quicker than that. He came in during the second semester, and I think he's the third-fastest guy on our team. When we had him in camp, he played receiver also.
So all three of those guys are great kids, students of the game, and the type of kids you want playing quarterback leadership-wise. We'll let it work out. Leidner and Streveler are the type of kids who would say, "Coach, if it helps the team if you move me, I'll do that." But in the spring we're going to let them compete and make sure we're solid at that position. If you look at last year, it was kind of a miracle we got to a bowl game, because we had three different quarterbacks and three different centers. Not many people can win doing that.
September, 25, 2012
9/25/12
3:15
PM ET
Some news and notes about player comings and goings in the Big Ten:
Indiana
Quarterback
Cameron Coffman
, who suffered a hip pointer and left the Ball State game two weeks ago, will be ready to go this week against Northwestern, head coach
Kevin Wilson
said. True freshman
Nate Sudfeld
, who finished the game against Ball State and led a fourth-quarter rally, will be at the ready if needed.
Iowa
Running back
Damon Bullock
(concussion) is making progress and hopefully could be back this week versus Minnesota, head coach Kirk Ferentz said. Bullock started the first three games before the injury.
Mark Weisman
ran for more than 200 yards in his first career start last week vs. Central Michigan. Ferentz also expects freshman tailback
Greg Garmon
(elbow) to return this week.
Michigan State
Could cornerback
Johnny Adams
help the struggling receiving corps? Adams played receiver during the Spartans' spring game and had a big play. Head coach Mark Dantonio said Tuesday "there has been a little thought of" moving Adams to offense for some snaps, though he didn't commit to it. Dantonio also said that defensive end
William Gholston
, who sat out last week's first half against Eastern Michigan, will be ready to start against Ohio State.
Minnesota
Receiver
Andre McDonald
, who was hospitalized last week for a reportedly minor heart problem, should be cleared to resume practicing either tomorrow or Thursday, head coach Jerry Kill said. Kill also said offensive lineman
Tommy Olson
(ankle) is "a big question mark" for Saturday's game at Iowa.
Ohio State
Head coach Urban Meyer said that all signs point to running back
Carlos Hyde
(knee sprain) playing at Michigan State. If so, this would be the first time all season that Hyde and
Jordan Hall
have been available in the backfield at the same time.
Penn State
Running back
Bill Belton
, who's been out since the opener against Ohio with an injured ankle, is listed as probable on the Nittany Lions' depth chart. Head coach Bill O'Brien said Belton practiced Monday and looked pretty good and should be able to play at Illinois. Belton was the starting running back to open the season, and fellow tailbacks
Derek Day
(shoulder) and
Michael Zordich
(leg) have battled injuries as well. Both are listed as probable for this weekend.
Purdue
Quarterback
Robert Marve
has looked good in practice and "doesn't look handcuffed at all" by his ACL injury, head coach Danny Hope said. While Marve still hasn't done much in the way of team drills, Hope is as optimistic as ever that Marve will play again this season, though he likely will sit out this week's game against Marshall. Defensive end
Ryan Russell
, who was lifted from the Eastern Michigan game with an injured knee, rested during the team's bye week and should be fully ready Saturday, Hope said. Hope also said running back
Ralph Bolden
, who tore his ACL in last year's regular-season finale, is getting closer to returning but probably won't be ready this week.
Wisconsin
Running back
Montee Ball
(concussion) had his status upgraded and will run and condition with the team on Tuesday, head coach Bret Bielema said. Ball will not return to contact drills until he passes more concussion tests. Bielema is hopeful that Ball will be cleared for full participation by Thursday and that he will play at Nebraska.
July, 31, 2012
7/31/12
9:00
AM ET
Offensive linemen are usually a pretty anonymous bunch by nature, but Minnesota has taken that to another level in recent years.
You won't find any names from the Gophers' O-line on the Outland or Rimington trophy watch lists this preseason, or on any preseason All-Big Ten teams, for that matter. That's just continuing a recent trend. No Minnesota offensive lineman has been named a first-team All-Big Ten performer since Outland winner Greg Eslinger and Matt Setterstrom both did so way back in 2005.
That's an awful long time for a program that used to produce outstanding linemen on a regular basis, and the current players know all about the drought.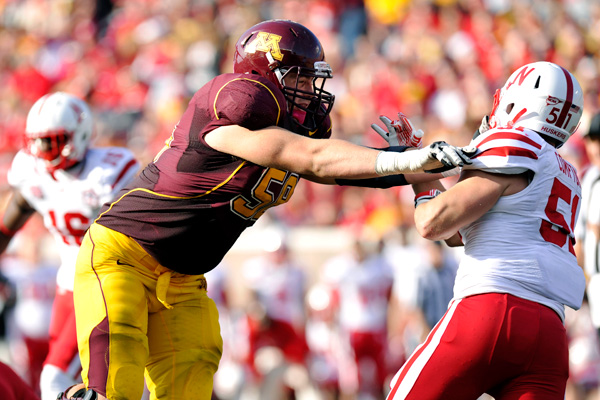 Cal Sport Media via AP ImagesMinnesota linemen, such as left tackle Ed Olson, have focused on bulking up this offseason.
"All offseason, we've been saying we've got to get a name for ourselves," tackle
Ed Olson
said. "We haven't had the best name for Minnesota football in the past few years, not since Matt and Greg."
One could understand why the Gophers have struggled to produce, say, All-American defensive tackles or first-round quarterbacks. But their roster should seemingly be chock full of burly linemen, given their location and the demographics of their state. After all, the flagship programs in neighboring states Wisconsin, Iowa and Nebraska all consistently field strong lines anchored by pro prospects.
"There's no question that you've got to do a good job in your state, and with where we're at, we've got to be able to get the big, strong physical kids," second-year Minnesota coach Jerry Kill said. "That's who you are. That's the state of Minnesota -- hard-working, lunch-pail type people -- and we need to recruit and develop a football team with the mentality of our state."
Kill has always had physical teams known for running the ball at his previous four head-coaching stops, and that's what he's hoping to build with the Gophers. It all starts with recruiting, and that's why Kill is excited about two in-state, incoming freshmen the Gophers signed in February:
Jonah Pirsig
, a 6-foot-8, 300-pounder who was offered by Wisconsin and Iowa; and
Ben Lauer
, a 6-6, 260-pound tackle.
"Wisconsin made a pretty good living on our side [of the border] there for a while, but we've been able to keep some of those players in-state," Kill said. "And you once get length and size, you've got to build it in the weight room."
Minnesota has been trying to do that with the current players, and Kill said last week that the offensive linemen have put on an average of 15 to 20 pounds per man this offseason. Olson is a great example; the fourth-year junior weighed 290 pounds last season but said Friday that he's up to 320 now.
The starting left tackle might be the Gophers' best chance for a breakout star on the line this season. He was recruited by Iowa and Michigan but chose to follow in the footsteps of his father, also named Ed, who played for Minnesota in the early 1980s. His younger brother, Tommy, is one of three freshmen who started games on the line a year ago.
"We were young last year, but I think all that experience is making us all push each other more in the offseason," Ed Olson said. "[Offensive coordinator] Matt Limegrover always tells us that everything starts up front, and we take pride in that."
This much is for sure: Minnesota will need to start churning out standout offensive linemen again if it wants to finish higher in the Big Ten standings.
August, 23, 2011
8/23/11
5:00
PM ET
Jerry Kill is in the middle of another reclamation project. After bolstering programs at Northern Illinois, Southern Illinois and other stops along the way, Kill has brought his turnaround tactics to the Twin Cities. He takes over a Minnesota program that went 3-9 last year and has suffered some roster attrition. Most project the Gophers to finish at the bottom of the Legends division this season.
Unlike his predecessor, Tim Brewster, Kill isn't one to make bold preseason predictions. He's trying to build a program "on concrete, not sand," and the process could take some time.
I checked in with the first-year Gophers coach Tuesday to get his thoughts on preseason prep.
What has been your top priority in camp?
Jerry Kill:
The biggest thing is when you take over a new team, you go through spring ball, but they haven't been through two-a-day camp with you. They're not familiar with what you do and how you do things. So getting everybody into a routine and familiar with the way we approach things, it's been a challenge but the kids have handled it pretty well.
Do you feel like you're still starting over?
[+] Enlarge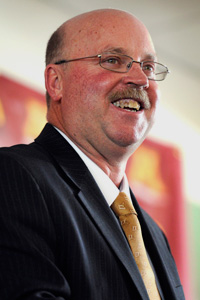 AP Photo/Craig LassigJerry Kill opened up practice for a few weeks because he believes players work harder in public.
JK:
It's a new coaching staff, and we haven't been through it. Until we go through a full year, people aren't going to understand what you expect or what you want. You can't get to know somebody in three or four months. It takes time, and trials and errors, so we are starting over. It is what it is. We've never been through two-a-day camp together, we've never been through the first game together, we've never been through a season together. Once you go through it for a year, you can get all the things figured out. That's just the way it is. And you hope you win some games along the way.
You've had quite a few open practices and scrimmages this month. What has the atmosphere been like?
JK:
I remember asking Bobby Ross, back when I was coaching Saginaw Valley State and the Detroit Lions were having training camp and Coach Ross was in charge. They had the open practices. I asked him why he did that and he said because players will practice harder. I don't think there's any question about that. So we opened up our first two weeks, it's closed now, but we had 200 people at probably every practice at least. So it's a good atmosphere for the kids to practice. They don't want to be embarrassed when there's people around, so I thought it was a good deal.
You were pleased with MarQueis Gray coming out of the spring. How has he looked to you so far this camp?
JK:
He's still going through the learning process, and he will for a while. He's never been in a game at quarterback. He has played some Wildcat or whatever, but he has never been a true quarterback in a game. There's learning going on every game, and it's certainly different from spring ball to two-a-day camp because we're getting closer to game day, and there's a lot more to do at that position. But he's working his tail end off to do something that's pretty darn near impossible, to go from a wide receiver to a quarterback.
He's worked hard at it, we're making progress. Will we be real complicated early in the year? We can't be. We've basically got four freshmen quarterbacks. So we'll have to simplify things. He's athletic enough to do some special things once we get him in the right position. He's what you look for in a quarterback and he's got the skill set to do it, but the other people around him have got to do a good job also.
How many young players do you anticipate playing, true freshmen and redshirt freshmen?
JK:
Too many. It is what it is. We've got a situation where we've got one recruiting class that only has five players left. There's a reason things are open. We've got one senior running back [
Duane Bennett
] and four freshmen, whether they're redshirt or true freshmen. We've got one senior wide receiver [
Da'Jon McKnight
] and the rest are freshmen and a junior college player. Offensive line, we've got three seniors and the rest of them are freshmen and redshirt freshmen, a couple sophomores sprinkled in there. So it's a young football team.
August, 12, 2011
8/12/11
12:00
PM ET
August, 2, 2011
8/02/11
5:00
PM ET
Your post-media days emails. Let's get to 'em.
Patrick Bohn from Ithaca, N.Y., writes:
Adam,Great job on the blog. I was wondering, what can we expect from MSU's skill guys this season? I feel like everything written about Michigan State previewing this year has been a variation of "They need to improve on the lines." I get it, it's important, but seriously, it's getting a little old. Are the Spartans planning on doing anything to get Martin regular touches, or is it just a 6-8 per game thing? How will they deal with the loss of
Mark Dell
? Is
Keith Nichol
going to take on a bigger role?
Edwin Baker
clearly distinguished himself as the best RB the Spartans have, but Le'Von Bell is also talented/ Can the Spartans achieve balance?I know the line gets overlooked a lot, but i think we're going in the opposite direction with Michigan State. There's a lot of intriguing skill questions too.
Adam Rittenberg:
Patrick, I understand you're getting tired of hearing about the line issues, but it's because Michigan State has much less to worry about at the skill spots on both sides of the ball. The Spartans have built some nice skill-position depth through recruiting. As to your questions,
B.J. Cunningham
likely will move into the No. 1 receiver role, but he'll need help from both Martin, Nichol and
Bennie Fowler
, who emerged late last season. Michigan State would be foolish not to feature Martin as much as possible because of his breakaway speed. Nichol, meanwhile, still needs to prove he's a top-end Big Ten receiver. Regarding the running backs, I absolutely think
Le'Veon Bell
takes on a larger role if he can recapture the form he showed early in 2010. Bell provides a different element in the run game, and while Baker will be the lead guy, both Bell and
Larry Caper
give defenses new looks.
---
Justin from Ft. Mill, S.C., writes:
Hey, Adam. I was just wondering what's the situation with Michigan's special teams? Last season they were abysmal, and expected Brady Hoke to really correct that. I haven't really seen any updates on this problem. Have you any information?
Adam Rittenberg:
The kicking game clearly is an area Michigan must improve in 2011. The Wolverines should be fine at punter with Will Hagerup, who averaged 43.6 yards per attempt as a freshman. Speaking of freshmen, Matt Wile could be the answer at kicker, which was horrendous last season. Michigan would get a major boost if Wile can provide consistency right away. I'm interested to see if
Martavious Odoms
can be a bigger factor on returns this season. Odoms could be key, especially if Darryl Stonum doesn't return from his suspension.
---
Ryan from St. Paul, Minn., writes:
Hello Adam! Great blog. I love reading it everyday. Did you see MN got another in state committment this past weekend? Jonah Pirsig to the Gophers is huge! Jerry Kill is getting the state of MN to rally behind him and understand there is no reason you can't win in the Twin Cities. Excellent school, great cities with many things to explore and do. Also reversing the belief that the weather is somehow different in MN when compared to WI, or IA. I think the Gophers are going to have a bulldozing OL in the next few years with Ed Olson, Tommy Olson, Jimmy Gjere, Josh Campion, and Jonah Pirsig pushing guys around. Thoughts? GO GOLDY!!!
Adam Rittenberg:
Ryan, you have every reason to be encouraged. Kill is targeting homegrown talent and positions such as offensive line where the state typically produces FBS talent. There's no reason Minnesota shouldn't once again have offensive lines like the ones Wisconsin and Iowa typically produce, and Kill's local recruiting efforts should help things. I'm pretty excited to see how the Olson brothers, Gjere and other younger linemen perform this season. While Minnesota can't confine its recruiting to the state -- not enough talent -- the staff shouldn't look far for top offensive linemen.
---
Tyler from Eden Prairie, Minn., writes:
Bo Pelini recently said he hopes for all 3 of Nebraska's incoming freshman RBs to play this year. He could put all 3 on the field with the diamond formation that Oklahoma runs. Everyone knows the Stoops and Pelinis are friends as well.
Adam Rittenberg:
Wow, that would be pretty exciting, wouldn't it? While you should expect to see Aaron Green and other backs on the field for the Huskers, Bo is extremely confident in
Rex Burkhead
as his lead guy. Burkhead seemed to grasp the offense well this spring, and he's helping other guys along. Pelini has full confidence in him, and while teams need two to three backs to maximize their production, Burkhead should have at least 200 rushing attempts.
---
Kevin from Boston (by way of Chicago) writes:
Looking back at 2010 the
Northwestern Wildcats
let several leads slip away, including a 21- 0 to Penn Sate L and a 17-0 MSU L, as a result the coaching staff taking their foot off the gas while having the lead. Since 2000 the recipe for NU's success has been a dynamic high scoring offense and an average defense. Do you think Mick McCall and Coach Fitz have learned from past season's letups and what do you anticipate for the Wildcats this season?
Adam Rittenberg:
Kevin, playing with the lead seems to be a challenge for Fitzgerald, who tends to get overly conservative. Northwestern always has lacked a killer instinct and seems to be most dangerous when playing from behind, but the blown leads under Fitzgerald (even the historic one in 2006) are a concern. You would think the games against Michigan State and Penn State would help a veteran Wildcats team handle playing with a lead this year. One thing that definitely will help is running the ball more consistently. As for the overall outlook, Northwestern needs a healthy
Dan Persa
and more speed and athleticism in the defensive front seven. If the Wildcats get those things, they'll be tough to beat.
---
Dan from SconnieNation, N.Y., writes:
Hi Adam,When looking at your 2011 schedule analysis post from May, I noticed that you listed Wisconsin's trap game as Purdue. While I think that's a solid choice, could there also be an arguement for the road game at Illinois to be the trap game? They bring back a strong QB and it is a week before the season finale against fellow Leader Division member, Penn State.
Adam Rittenberg:
Dan, you can make a good case for either game, really. I went with Purdue because it's the only home game in a five-game stretch and falls after the back-to-back road night games against Michigan State and Ohio State, and before the rivalry game against Minnesota. But the Illinois trip could be tough for the Badgers, especially since the Illini likely will have something to play for on Nov. 19. It could be a high-scoring affair featuring two dynamic quarterbacks (
Nathan Scheelhaase
and
Russell Wilson
if Wilson wins the No. 1 job).
---
Bob from Archbald, Pa., writes:
Adam,Will be travelling to Chicago for the Penn State/NW game this year with my family (wife and 3 girls - 12, 9 and 3). 10/20 to 10/24. Any suggestions on where to stay - hotel. Just thought I'd ask someone who knows the Chicago area.
Adam Rittenberg:
Bob, I definitely would stay downtown near Michigan Avenue. Your wife and kids will love it -- especially the shopping -- and you can get to the game on the "L." You'll have everything you need right there and can hop on the Red Line/Purple Line on game day with a bunch of other fans.
---
Sky from Norfolk, Neb., writes:
Adam, I have to say I like Bielema's idea of an early season conference game, and I think to make it even more nationally relevant, you could make it with your cross over rival. Now granted it wouldn't work with some teams (OSU and Michigan) but with Nebraska it works out fairly well I think. Penn St. in the early part of the season, Iowa to finish up the year. You could even establish a new 'trophy' game between NU and PSU too make up for the abominable "Heroes Game" between NU and Iowa. Heck you could even call it the "Legends and Leaders Game" in homage to Dr. Tom and JoePa, both mythical figures at their respective schools. You've got connections Adam, make this happen ok?
Adam Rittenberg:
Haha, my connections aren't that strong, Sky. I also think Nebraska-Penn State works better toward the end of the season. Big Ten commissioner Jim Delany often talks about "build" with scheduling, as in building momentum toward the end of the season. The Nebraska-Penn State game is a showcase opportunity for the Big Ten, and typically it will mean more in early or mid-November. That said, I love the idea of playing Big Ten games earlier to avoid slates like Week 4 of 2010.
February, 3, 2011
2/03/11
12:00
PM ET
MINNESOTA GOLDEN GOPHERS
The class
Recruits:
22 (17 high school seniors, two junior college transfers, one FBS transfer, one prep school player; five players enrolled early)

Top prospects:
The Gophers' offensive line gets a boost with four-star guard
Tommy Olson
and the McAvoy twins, Kyle and Luke, both of whom project at tackle. ESPN Recruiting ranks Olson as the nation's No. 14 guard. Wide receiver
Quentin Gardener
brings a good skill set to the Gophers' passing game, and
Jephette Matilus
adds depth at the linebacker position.
Needs met:
The offensive line is the biggest key for Minnesota to become a consistent bowl team again, and new coach Jerry Kill addressed things by signing six O-linemen on Wednesday. Olson, like his older brother Ed, should be an early contributor for Minnesota. The Gophers also need pass rushers and brought in three defensive ends. The class lacks a running back, which could be an issue going forward.
Analysis:
Kill and his staff faced a tough challenge with this class after arriving only in early December. The good news is they prevented many defections among the recruits who committed to Tim Brewster. The class lacks the wow factor, but Kill and his crew boast a long track record of player development. If some of these offensive linemen pan out, Minnesota should be in good shape in the future.
ESPN Recruiting grade:
C
February, 2, 2011
2/02/11
6:55
PM ET
Jerry Kill's first recruiting class as Minnesota coach is now official. The Gophers on Wednesday announced the signings of 22 players.
Minnesota signed 17 current high school seniors, two junior college players, one FBS transfer and one player who comes from a prep school.
The players hail from nine states, including six from Minnesota. The class includes 12 offensive players, eight defensive players, one specialist and one athlete.
Here's the position breakdown:
DL:
2
LB:
3
DB:
3

OL:
6
QB:
1
TE:
2
K:
1
Athlete:
1
WR:
3
"I always say you should judge a recruiting class two years down the road," Kill said in a statement. "But I feel good about where we're at with the time we had. With this class, we're laying the foundation for what we're building here. Recruiting is a yearly process and sometimes is a two-year process. For us, it was a three-week process this year. But the previous staff did a great job of keeping kids committed. Our staff really did a great job of hustling around and getting out there."
A few notes:
Five Gophers' players are already enrolled: OL Josh Campion, WR Ge'Shun Harris, athlete Marcus Jones, TE John Rabe and K Chris Hawthorne. Harris and Rabe are junior college transfers, while Hawthorne transferred from NC State.
The Gophers had one four-star recruit (Tommy Olson) and seven three-star recruits, including three offensive linemen and two linebackers.
February, 2, 2011
2/02/11
1:58
PM ET
Most recruiting analysts say it's not fair to judge Minnesota's recruiting class until coach Jerry Kill and his staff have time to go through a full recruiting session.
Although
the Gophers' 2011 class
likely will rank near the bottom of the Big Ten, Kill and his staff continue to address an area Minnesota must bolster: the offensive line. The Gophers' O-line struggled with inconsistency during Tim Brewster's tenure, although Brewster brought in some talented prospects like Ed Olson and Jimmy Gjere.
Kill has followed things up by bringing in six offensive linemen in the 2011 class plus a walk-on O-lineman (Jon Christenson). Ed Olson's brother Tommy, a four-star guard and Minnesota's top-rated prospect according to ESPN Recruiting, headlines the Gophers' crop of O-linemen. Tackle Kyle McAvoy is the Gophers' No. 2 rated recruit.
Although Kill and his staff have a long list of areas to address, offensive line is a perfect place to start.