August, 22, 2014
Aug 22
9:00
AM ET
Urban Meyer couldn't believe it.
Meyer hasn't spent his entire career in the Big Ten, but the Ohio State coach has a pretty good handle on the quarterback landscape in college football. Informed last month that a Big Ten quarterback hadn't been selected in the first round of the NFL draft since Penn State's Kerry Collins in 1995, Meyer's jaw dropped.
"You're kidding me? Wow," he said. "That shouldn't be. Man, there hasn't been a first-rounder?
[Terrelle] Pryor
probably would have been. Well,
Tom Brady
should have been. I never ...
"You've got me shocked."
Even a few questions later, Meyer couldn't get past the flabbergasting factoid.
"Wow," he said. "Twenty years?"
[+] Enlarge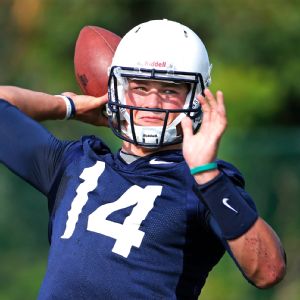 AP Photo/Gene J. PuskarPerhaps in a couple of years, Penn State's Christian Hackenberg will be the quarterback who breaks a 20-year drought for Big Ten passers in the first round of the NFL draft.
Unfortunately, Meyer's standout quarterback,
Braxton Miller
, won't end the streak this year because of injury. Miller would have led a Big Ten quarterback corps that looks strong but still lacks the star power found in the Pac-12 and elsewhere.
Several factors have contributed to the Big Ten's downturn, but quarterback play belongs high on the list. The league hasn't had an All-American quarterback since 2006, when Ohio State's Troy Smith won the Heisman Trophy. Only one Big Ten quarterback has been selected in the first three rounds of the NFL draft since 2008. That player, Wisconsin's
Russell Wilson
, started his career in the ACC.
"It's been awhile since the Big Ten had a top-drawer guy," former Purdue coach Joe Tiller said. "An elite-type quarterback certainly would help the conference."
To be clear, a first-round designation isn't the best way or the only way to measure a conference at one position.
"So
Drew Brees
sucks just because he was 5-11 and three quarters and he goes Pick 32?" Indiana coach Kevin Wilson said. "You would never want Tom Brady, ever. He's horrible! You've got to take Akili Smith or somebody."
Point taken.
Brees slipped to the first pick of the second round in 2001 because of his height. Brady is among the best to ever play the position, and Wilson just helped the Seahawks win the Super Bowl. At least five NFL teams will start Big Ten quarterbacks this season.
But the volume isn't there.
"Drew should have been a first-round guy, but let's say he was," Tiller said. "Hell, him and Kerry Collins, for cryin' out loud? That's a long time [without more]."
The Big Ten doesn't have as much trouble churning out elite linemen and running backs. Does the league's ground-and-pound image turn off top quarterbacks? Does the weather? Coaches say no.
"The weather is a positive," Penn State coach James Franklin said. "When the NFL scouts are going to grade these people, they want to know how they're going to play in all these different conditions."
Although many Big Ten programs use offenses that fit the league's stereotypes, those who emphasize quarterback-friendly systems can find the pieces. When Mike White came to Illinois in 1980, he brought with him two junior-college quarterbacks from California, Dave Wilson and Tony Eason. That fall, Wilson set an NCAA record with 621 yards against Ohio State. He was a first-round pick in the NFL supplemental draft in 1981. Two years later, Eason was the No. 15 overall pick, 12 spots ahead of a guy named Marino.
"I had the confidence when I hit the Big Ten that it wasn't a passing conference and I probably had an edge," said White, who coached at Illinois from 1980-87. "We proved that you could throw the ball in the Big Ten. Our kids loved it."
So did the fans. On Illinois' first play of the season, Wilson launched the ball downfield ... nowhere near his intended receiver.
"I think we got a standing ovation," White said.
Quarterback-friendly programs such as Illinois, Iowa and Purdue produced stars during that time. The Big Ten had six first-round quarterbacks between 1982-90. In 1997, Tiller arrived at Purdue and introduced a pass-driven spread offense. Brees began shattering league records.
But those were the exceptions, not the rule. Big Ten teams have often used run-driven offenses with game-managers under center.
"More and more guys just went back to the system that they had confidence in," White said. "I don't think they came in with a passion for the forward pass and how you can make it work, so consequently, it just became Big Ten football again."
Kevin Wilson notes some Big Ten teams haven't built around the quarterback spot and that, more than weather or league reputation, might hurt the strength of the position. But things appear to be improving.
Wilson runs a fast-paced, pass-heavy spread offense at Indiana. Michigan, which has great tradition at quarterback, is back to using a pro-style offense. Michigan State has a nice run of quarterbacks with
Brian Hoyer
,
Kirk Cousins
and now
Connor Cook
. Penn State returns
Christian Hackenberg
, the Big Ten's freshman of the year in 2013.
"I don't think people can be fairly critical of the quarterbacks in the Big Ten," said Big Ten Network analyst Gerry DiNardo. "It's a pretty good group this year. Hackenberg could be the first guy taken, whenever he decides to go.
"He's a rare talent."
A few more rare talents at quarterback -- along with the right coaches and systems -- could give the Big Ten the boost it needs.
February, 23, 2009
2/23/09
5:08
PM ET
Posted by ESPN.com's Adam Rittenberg

Illinois rounds out the list of team-by-team Rushmores. I'll take a look at the Big Ten's Rushmore on Tuesday.
Despite struggling for the better part of the last 15 years, Illinois boasts several of college football's all-time greats.
I doubt I'll get much argument with these selections, though there were some tough choices. Illinois enjoyed periods of success during the 1920s, 1960s and 1980s.
I realize my list challenges the historian inside each of you, but Illinois' not so recent past was simply too impressive to ignore.
Red Grange -- Quite possibly the most dominant player in college football history, Grange earned All-America honors in each of his three seasons with Illinois and was the first recipient of the Big Ten MVP award in 1924. Grange accounted for 2,646 yards of offense and 34 touchdowns at Illinois. He's a charter member of both the pro and college football Halls of Fame and was ESPN's pick as the greatest college football player ever.
Dick Butkus -- The namesake of the Butkus Award remains one of college football's greatest defensive players. Butkus twice earned first-team All-America honors, won the Big Ten MVP in 1963 and led Illinois to a Rose Bowl win on Jan. 1, 1964. He averaged 14.4 tackles a game in his Illini career and finished third in Heisman Trophy voting in 1964. Butkus and Grange are the only Illinois players to have their numbers retired.

Jim Grabowski -- A two-time All-American, Grabowski finished his career as the Big Ten's all-time leading rusher. Like his teammate Butkus, he placed third in the Heisman Trophy voting and claimed Big Ten MVP honors, both in 1965. He won Rose Bowl MVP honors after rushing for 125 yards in Illinois' win against Washington. Grabowski also excelled as a student and was a longtime radio analyst for Illinois football.

Robert Zuppke -- Zuppke laid the foundation for Illinois' early success on the gridiron, serving as head coach for 29 years. He was an offensive innovator and coached Illinois to four national titles and seven conference championships. The field at Memorial Stadium is named after Zuppke, who coached Grange and was inducted into the College Football Hall of Fame in 1951.
Others considered for Illinois' Rushmore included: Tony Eason, Jeff George, Dana Howard, Alex Agase, Moe Gardner, J Leman, Kevin Hardy and Kurt Kittner.