Big Ten:

Top players 2014
August, 1, 2014
Aug 1
9:00
AM ET
All week, we've been revealing our rankings of the Top 25 players in the Big Ten for 2014.
Now comes the moment you've been waiting for: the best of the best. Here are the top five players as we see them, based on past performance and potential for this season and as voted on by our crew of Big Ten reporters:
5. Randy Gregory, DE, Nebraska Cornhuskers
Beast. That's the first word that comes to mind when you watch Gregory. He can match anyone in the country athletically, and he's got a motor that runs all day. Gregory led the Big Ten in sacks with 10.5 last season, and what's most impressive about that is that it was his first season of major college football. The potential for even greater things is there in 2014.
No. 4: Melvin Gordon, RB, Wisconsin Badgers
Few players cause you to hold your breath when they touch the ball more than the Badgers' junior tailback. He gobbles up turf with his long strides, and when he turns the corner on a defense, he's gone in a flash. Gordon averaged a ridiculous 7.8 yards per carry last season, and he could easily lead the nation in rushing in 2014.
No. 3: Brandon Scherff, OT, Iowa Hawkeyes
Is there a stronger player in the Big Ten, or college football? After watching
this
, that seems doubtful. But Scherff, who played quarterback in high school, is more than just a hulk of muscles. He's nimble and physical, making him one of the best offensive tackles anywhere and the anchor of Iowa's plan of attack.
No. 2: Ameer Abdullah, RB, Nebraska Cornhuskers
Abdullah led the Big Ten in total rushing yards last season and has the most career 100-yard games among FBS players with 17. His 5-foot-9, 195-pound frame belies the toughness with which he runs, and he's also got the speed to blow by people. He's the heart and soul of Nebraska and one of the fiercest competitors around.
No. 1: Braxton Miller, QB, Ohio State Buckeyes
Who else? Miller is the back-to-back Big Ten offensive player of the year who will try to make it three straight as a senior. There are holes to pick in his game -- he's not a pinpoint passer, he gets banged up a bit too much -- but he almost always finds a way to get the job done, especially in the clutch. The belt belongs to him until someone else snatches it.
July, 31, 2014
Jul 31
9:00
AM ET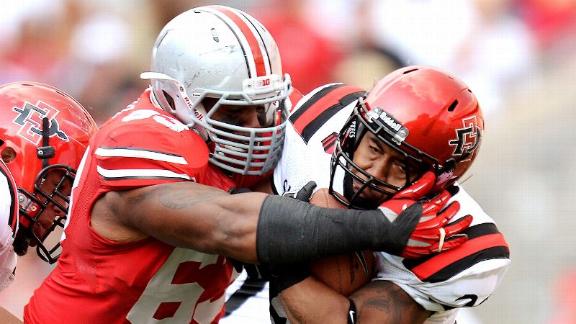 This week, we're counting down the Top 25 players in the Big Ten. Our reporting crew voted to select the list based on past performance and future potential.
The countdown started on
Monday
with the first five players, then climbed up to No. 16 on
Tuesday
before we reached No. 11
Wednesday
. Next up is Nos. 6 through 10.
10. Connor Cook, QB, Michigan State Spartans:
It took the Spartans a few weeks last season to settle on a starter, but there are certainly no doubts anymore. All Cook did was toss 23 touchdowns to seven interceptions while leading MSU to a conference title and a Rose Bowl victory. The question mark on the Spartans was always the offense, but Cook helped replace that with an exclamation mark and has gained a reputation as one of the Big Ten's best as a result.
9. Michael Bennett, DT, Ohio State Buckeyes:
Say hello to a big reason the Buckeyes boasted one of the top 10 run defenses in the country last season. The 288-pound lineman is the anchor and leader of this line, and he should be in for another solid season. He had 11.5 stops in the backfield last season and had his hand in five fumbles (three forced, two recovered). His burst should give opposing interior linemen a lot of problems in 2014.
8. Joey Bosa, DE, Ohio State:
He's only a sophomore, but he's
already in the preseason conversation
as the B1G's defensive player of the year. He started 10 games last season, played like at a veteran at points and improved as the season wore on. Bosa ended 2013 by recording a tackle for loss in his last six games. It's scary to think where he might be in another two years.
7. Christian Hackenberg, QB, Penn State Nittany Lions:
NFL Draft: Will Hackenberg go No. 1 in 2016? That was a
headline from The Sporting News
back in February and for good reason -- Hackenberg appears to be the Nittany Lions' best pocket passer since Kerry Collins, who was taken in the first round of the 1995 NFL draft. He can make all the throws, upset 25-point favorite
Wisconsin
last season and should be even better this season. The only question is whether his patchwork offensive line and inexperienced receivers will be able to keep up.
6. Shilique Calhoun, DE, Michigan State:
He's the best defensive player on the best defense in the Big Ten, and maybe one of the top defenses in the country. He makes plays at key moments -- his three defensive TDs last season tied a school record that was set 67 years ago -- and his efforts were rewarded by being named Big Ten defensive lineman of the year. He's an All-American talent and one of the best the B1G has to offer.
July, 30, 2014
Jul 30
9:00
AM ET
This week, we're counting down the Top 25 players in the Big Ten. Our reporting crew voted to select the list based on past performance and future potential.
The countdown started on
Monday
with the first five players and we climbed up to No. 16 on
Tuesday
, setting the table for our next group of impact performers today.
No. 15: Venric Mark, RB, Northwestern Wildcats:
Mark is healthy and ready to go again for the Wildcats, and if there was a guarantee that he could return to the elite level he was at in 2012, the veteran rusher would surely be higher on the list. Instead he'll have to prove himself all over again this fall, though Mark will do so behind what should be an improved offensive line that could allow him to flash the explosiveness the Wildcats missed dearly last season.
No. 14: Tevin Coleman, RB, Indiana Hoosiers:
In a league loaded with talented tailbacks, Indiana's dangerous, elusive rusher often goes overlooked. But Coleman is one of the most lethal weapons in the league when he's on the field, and despite playing in just nine games last season, he nearly topped 1,000 yards thanks to his eye-popping 7.3 yards per touch. If he can duplicate that again, the Hoosiers will keep racking up points and more attention will surely come his way.
No. 13: Carl Davis, DT, Iowa Hawkeyes:
There may be some uncertainty behind him with Iowa breaking in three new starters at linebacker, but those fresh faces should benefit greatly thanks to the consistent work Davis can provide up front. The 6-foot-5, 315-pound, space-eating lineman doesn't accrue many individual statistics and was credited with just 41 tackles last year, but the job he does occupying blockers is invaluable for the rest of the Hawkeyes around him.
No. 12: Noah Spence, DE, Ohio State Buckeyes:
Even without getting a chance to play the first two games as he wraps up a suspension, Spence still figures to challenge for the league lead in sacks by the time the season ends. The junior's incredible first step off the edge and a stacked group of Buckeyes on the defensive line will allow him to avoid double-teams, and that figures to be bad news for opposing quarterbacks as Spence tries to build on an eight-sack campaign last year.
No. 11: Stefon Diggs, WR, Maryland Terrapins:
The Terps were stung repeatedly by critical injuries last season, but nothing might have hurt as much as seeing Diggs on the ground after breaking his leg against Wake Forest. Without his top-notch speed and ability to break free for big gains at any moment, Maryland's offense wasn't the same minus Diggs on the perimeter. He, too, will have to prove he's back to 100 percent. But Diggs has already suggested he's coming back even faster, which could make life miserable for a few defensive backs in the Big Ten.
Stay tuned as we move into the top 10 on Thursday ...
July, 29, 2014
Jul 29
9:00
AM ET
This week, we're counting down the Top 25 players in the Big Ten. Our reporting crew voted to select the list based on past performance and future potential.
The
first five selections
were unveiled on Monday. Here's the next group of five:
20. Jake Ryan, LB, Michigan Wolverines:
The play-making fifth year senior returned from a knee-ligament tear to play in eight games and start five last season. Named a team captain despite the abbreviated campaign, Ryan enters his final year at Michigan with the experience of 29 starts. He has made a tackle behind the line of scrimmage in 25 of his past 30 games and should anchor the Wolverines defensively.
19. Trae Waynes, CB, Michigan State Spartans:
What can the Spartans do to account for the loss of star corner
Darqueze Dennard
? It helps to have the junior Waynes, who's set to move from the field corner to the boundary spot manned last year by the All-American Dennard. Waynes, a solid athlete, is up to the challenge.
18. Devin Funchess, WR/TE Michigan:
Classify him any way you'd like, Funchess will catch plenty of passes this fall. The 6-foot-5 junior runs like a wideout with the size of a tight end. He has started 15 consecutive games and looks ready to improve his already solid production amid a plentiful mix of young talent for the Wolverines.
17. Kurtis Drummond, S, Michigan State:
The fifth-year senior has started a team-high 21 consecutive games, earning preseason inclusion on watch lists for the Bednarik and Thorpe awards, plus the Nagurski Trophy. Drummond has a nose for the football, evidenced by his four interceptions last year, and he supports the run well.
16. Jeremy Langford, RB, Michigan State:
In a league of strong backs, Langford often gets overlooked. Not a good idea after he rushed for 1,422 yards a season ago. Now as a fifth-year senior, the former cornerback and wideout has found a home in the backfield. His presence as a leader helps ease pressure on quarterback
Connor Cook
.
Look for Nos. 15-11 on Wednesday …
July, 28, 2014
Jul 28
9:00
AM ET
As the 2014 season creeps closer, we're breaking down the Top 25 players in the Big Ten. All five Big Ten reporters voted, ranking players based on both past performance and future potential at the college level.
Unlike in past years, we'll be releasing these in groups of five, not individually. So, without further ado, the first five names in the countdown ...

25. Blake Countess, CB, Michigan:
Countess kicks off our top 25 but easily could move up the list if he builds on a good sophomore season. He led the Big Ten with six interceptions, including one returned for a touchdown, and earned first-team all-conference honors from the media. If he continues his playmaking ways, he should contend for the Big Ten's Tatum–Woodson Defensive Back of the Year award.

24. Andre Monroe, DE, Maryland:
The Terrapins need a solid defensive front to compete in their new league, and Monroe plays a big role following a breakout 2013 season. He led Maryland in both sacks (9.5) and tackles for loss (17), as he rebounded extremely well from a knee injury that cost him the 2012 season. A shorter, stouter defensive end at 5-foot-11 and 282 pounds, Monroe is a great fit in Maryland's 3-4 defense.

23. Nate Sudfeld, QB, Indiana:
Tre Roberson
's transfer earlier this summer clears the way for Sudfeld to take total control on offense. Sudfeld has 28 touchdown passes in his first two seasons despite sharing time and could put up huge numbers in Kevin Wilson's quarterback-friendly offense. He has a mostly new-look receiving corps but plays behind one of the league's best offensive lines.

22. Devin Gardner, QB, Michigan:
We had some debate about Gardner, who, like his team, had both brilliant and bad moments throughout the 2013 season. He's still the Big Ten's leading returning passer (2,960 yards) and accounted for 32 touchdowns (21 pass, 11 rush) last season. If he clicks with new offensive coordinator Doug Nussmeier and gets help from a besieged line, he could finish a truly unique career on a high note.

21. Theiren Cockran, DE, Minnesota:
Overshadowed by linemate Ra'Shede Hageman in 2013, Cockran's big season (7.5 sacks, a league-high four forced fumbles) went largely unnoticed outside Minneapolis. He figures to get much more attention this season and has worked hard to put himself among the Big Ten's top pass-rushers. At 6-foot-6, 255 pounds and athletic, Cockran could be a nightmare for offensive tackles.
Coming Tuesday:
Nos. 20-16 ...