May, 9, 2012
5/09/12
3:45
PM ET
Miss today's Big Ten chat? No worries, I've got you covered.
Here's the
complete transcript
from the hour-long rundown.
Some highlights:
John from Saginaw: Adam: How do you rate the quality of Big Ten football coaches coming into 2013 versus best historic conference comparisons? Are we at a high period, low period? Seems like the SEC fortunes shifted upward when they started to seriously invest in their coaching staffs relative to other conferences.
Adam Rittenberg: John, you bring up a good point about SEC schools investing more in their coaches (head coaches and assistants), and you're starting to see more of that in the Big Ten, which lagged behind a bit in paying top assistants. Joe Paterno and Jim Tressel obviously are big losses from a success standpoint. Urban Meyer, however, brings in a very impressive track record. The jury is out more on Bill O'Brien and Tim Beckman, but I think Brady Hoke is regarded as a much better coach now after turning around Michigan than he was at this time last year. I think the overall quality remains strong, but the Big Ten must continue to commit resources to coaches to keep pace with the SEC.
Hank from Washington D.C.: How do you see the Wolverines faring in their non-conference schedule (Bama, Air Force, UMass, @ND)?
Adam Rittenberg: I think Michigan will go 3-1 or 2-2, and there's a huge difference between those two marks. A 3-1 record with Alabama, Notre Dame and Air Force on the slate is pretty darn good in my book. Alabama and Notre Dame both pose challenges, and Air Force is a really tricky game. My sense is Michigan emerges 3-1. A 4-0 mark would be outstanding and put Michigan on the radar for the national title.
Greg from Indy: Everyone knows your stance on IU, sometimes good offense, bad defense. But can you breakdown the defense? Are there some areas where they're not as bad, some areas where they're terrible? Or is it all just bad?
Adam Rittenberg: Greg, I see a general lack of Big Ten-quality talent with Indiana's defense. That tends to be more exposed in the secondary, but when the front-seven pressure isn't adequate, often the DBs are left exposed. So the answer is the overall depth hasn't been where it needs to be. There have been some very good individual defenders at IU like Tracy Porter and Jammie Kirlew, but as a unit, the talent in all three areas hasn't been good enough. I remember seeing this in a game at Iowa in 2009. Indiana dominated the first three quarters but lost a few players to injury. Iowa then went nuts in the fourth quarter and ended up winning fairly comfortably. It's simply too easy to move the ball and score points on the Hoosiers. That needs to change.

Drew from Cleveland: Just looked at Kipers big board for 2013 and saw that he has Hankins listed but not John Simon. Do you think it's accurate to have him listed as a better pro talent rather than Simon? Is Gholstons bust in the pros going to ultimately hurt simon considering they are similar players?

Adam Rittenberg: Drew, haven't had a chance to look at Mel's list just yet, but I'm not that surprised to see Big Hank listed ahead of Simon. Defensive tackles with tremendous size and quickness are top commodities in the NFL draft, particularly in the first round. Simon, meanwhile, is more a tweener, lacking ideal size for an end but being a bit too small to play inside. That's taking nothing away from Simon's ability, his work ethic, etc. But the NFL draft is largely about measurables, and Hankins is more desirable in that manner.
John from WV: Hey Adam. Considering how badly their backfield has been plagued by problems, how competive will the Hawkeyes be this year?
Adam Rittenberg: John, the good news, as I often tell Iowa fans, is that the team hasn't had trouble developing quality running backs. Keeping them healthy and on the field is another story. But if the trend continues, Iowa will develop a back or two who can handle the rushing load. The offensive line will need to be better in run blocking than it was a year ago, and the offense likely will be more pass-heavy at the start of the season. But it wouldn't shock me if Iowa ends up surviving just fine at RB. The bigger issue, in my mind, is a defense that took a step back in 2011.
Thanks again for all of the questions, and my apologies to those whose questions weren't posted. Let's do it again soon.
February, 10, 2010
2/10/10
12:00
PM ET
These links are a bit frosty today.
February, 8, 2010
2/08/10
11:15
AM ET
About a month after Iowa cemented a strong Big Ten bowl performance at Miami's Sun Life Stadium, the Big Ten once again stood out on the same field in a huge game.
[+] Enlarge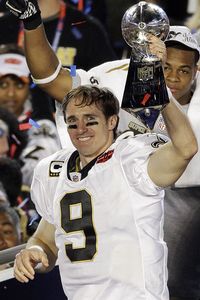 AP Photo/Charlie RiedelFormer Purdue signal-caller Drew Brees took home Super Bowl XLIV MVP honors.
Former Big Ten players had major roles for the
New Orleans Saints
in a
31-17 win
against Indianapolis on Sunday in Super Bowl XLIV.
Saints quarterback
Drew Brees
took home MVP honors after completing 32 of 39 passes for 288 yards with two touchdowns and no interceptions. Brees, a standout at Purdue, became the fourth former Big Ten player in the last nine seasons to earn Super Bowl MVP honors, joining former Michigan quarterback
Tom Brady
(2002, 2004) and former Ohio State wide receiver
Santonio Holmes
(2009).
Brees was brilliant Sunday, but the game's biggest play came from former Indiana cornerback
Tracy Porter
, who intercepted a
Peyton Manning
pass and raced 74 yards to the end zone with 3:12 left. Porter finished the game with four tackles.
Former Illinois running back
Pierre Thomas
recorded six receptions for 55 yards, including a 16-yard touchdown that gave the Saints their first lead early in the third quarter. Thomas also had 30 rush yards on nine carries.
Former Iowa tight end
Dallas Clark
recorded a game-high 86 receiving yards on seven receptions for the Colts.
And who can forget former Wisconsin linebacker Jonathan Casillas, who recovered the onside kick for New Orleans at the start of the second half.
Other Big Ten notables:
In case you missed it, here's the
full list
of former Big Ten players and coaches who participated in the game.
February, 2, 2010
2/02/10
10:30
AM ET
It's Super Bowl week, and here in Chicago, we're celebrating the
hiring of Mike Martz
as Bears offensive coordinator after a month-long search. Hope
Jay Cutler
has a life insurance policy.
OK, moving on to less depressing topics, like the Big Ten and Super Bowl XLIV.
Once again, the Big Ten has plenty of connections to the game, including 20 former players on the two teams, more than any other conference.
All 11 member schools will be represented by a player and/or coach participating in the game. Michigan has the highest number of former players (four), followed by Ohio State (three) and then six teams -- Illinois, Indiana, Iowa, Northwestern, Purdue and Wisconsin -- each with two former players. Penn State and Minnesota will have former coaches on the sideline Sunday.
Both head coaches have Big Ten roots, as the Colts' Jim Caldwell played at Iowa and served as an assistant at Iowa, Northwestern and Penn State. The Saints' Sean Payton had a one-year stint as an Illinois assistant in 1996.
Here's the full lineup of Big Ten links to Super Bowl XLIV, courtesy of the league office:
INDIANAPOLIS COLTS
Players
Kelvin Hayden
, DB, Illinois
Dallas Clark
, TE, Iowa
Bob Sanders
*, DB, Iowa
Mike Hart
, RB, Michigan
Marlin Jackson
*, DB, Michigan
Ervin Baldwin
, DE, Michigan State
John Gill
, DL, Northwestern
Anthony Gonzalez
*, WR, Ohio State
Curtis Painter
, QB, Purdue
Jim Sorgi
*, QB, Wisconsin
Coaches
Jim Caldwell, Head Coach (Played at Iowa from 1973-76; Assistant at Iowa in 1977, Northwestern in 1981 and Penn State from 1986-92)
Larry Coyer, Defensive Coordinator (Assistant at Iowa from 1974-77 and Ohio State from 1991-92)
Gene Huey, Running Backs (Assistant at Ohio State from 1988-91)
Tom Moore, Offensive Coordinator (Played at Iowa from 1957-60; Assistant at Iowa from 1961-62 and Minnesota from 1972-73 and 1975-76)
Ray Rychleski, Special Teams (Assistant at Penn State in 1991)
Bill Teerlinck, Defensive Assistant (Assistant at Indiana from 2003-04)
John Teerlinck, Defensive Line (Assistant at Illinois from 1980-82)
NEW ORLEANS SAINTS
Players
Pierre Thomas
, RB, Illinois
Tracy Porter
, CB, Indiana
Courtney Roby
, WR, Indiana
Adrian Arrington
, WR, Michigan
Jonathan Goodwin
, C, Michigan
Zach Strief
, OT, Northwestern
Malcolm Jenkins
, CB, Ohio State
Will Smith
, DE, Ohio State
Drew Brees
, QB, Purdue
Jonathan Casillas
, LB, Wisconsin
Coaches
Sean Payton, Head Coach (Assistant at Illinois in 1996)
Greg McMahon, Special Teams (Assistant at Minnesota from 1983-84 and Illinois from 1992-2004)
Bret Ingalls, Running Backs (Assistant at Northwestern from 2006-08)
Aaron Kromer, Offensive Line/Running Game (Assistant at Northwestern from 1999-2000)
Mike Mallory, Assistant Special Teams (Played at Michigan from 1982-85; Assistant at Indiana from 1986-87 and Illinois from 2001-05)
Terry Malone, Tight Ends (Assistant at Michigan from 1997-2005)
*-Injured reserve
September, 3, 2009
9/03/09
11:00
AM ET

Posted by ESPN.com's Adam Rittenberg
Like many sports cliches, team player is used too liberally in college football.
That is, unless you're talking about Indiana's Ray Fisher.
| | |
| --- | --- |
| | |
| | Scott Boehm/Getty Images |
| | Ray Fisher, who led the Hoosiers in receptions and TD catches last season, has made the move from offense to defense. |
The idea of a player moving from offense to defense before his senior year sounds like cruel and unusual punishment. The idea of the player actually offering to play a new position so late in his career is even more unusual. Throw in the fact that Fisher finished as Indiana's top wide receiver in 2008, and his transition to cornerback seems either incredibly heroic or extremely unwise.
"I was just looking for the team's best interest," Fisher explained. "I know we can get better by me playing the position. I'm a team guy and I know I can help a lot at that position."
Fisher isn't a stranger to the cornerback spot, having played both corner and wide receiver at Cleveland's Glenville High School. He recorded four interceptions as a junior before missing all of his senior season with an injury, but he came to Indiana to catch passes.
After appearing in 11 games as a true freshman, Fisher became Indiana's No. 2 option behind record-setter James Hardy in 2007. Fisher recorded 482 yards and five touchdowns that fall as the Hoosiers reached the Insight Bowl. Last year, he led the team in both receptions (42) and touchdown catches (5).
"That's the position I really love," Fisher said of wide receiver. "But since we're lacking at corner at Indiana, I'll play just because there's a need for it."
Fisher first started joking with the coaches about playing cornerback during his sophomore season. Back then, Indiana was set at corner with Tracy Porter and Leslie Majors. But Fisher's tone turned more serious last fall when injuries depleted the secondary -- and pretty much the whole team -- and the Hoosiers tumbled to last in the Big Ten and 105th nationally in pass defense (260.5 yards per game).
Ideally, Fisher wanted to play both ways, but the need at corner was obvious and Indiana felt good about its wide receivers, even after the April dismissal of Kellen Lewis.
"Wide receiver was a position where we felt like we had a whole lot of depth and was able to afford to send him over to the other side," Hoosiers wide receivers coach Billy Lynch said. "Ray's just a football player. He's a high-energy guy, he's a confident guy and he obviously can run, so he brings an enthusiasm and a confidence and a presence to the defensive side of the ball.
"I think that move is going to pay off big for our team."
The 5-foot-9, 185-pound Fisher makes his first start at cornerback tonight when Indiana opens the season against Eastern Kentucky.
Despite the long layoff, Fisher has gradually picked up the nuances of his new-old position. He received a taste of how cornerbacks operate by working closely with Porter as a young wide receiver.
Though he misses the wideout position and hopes to play both ways in the NFL, Fisher sees at least one bonus to his new spot.
"I talk a little bit more trash because on the defensive side of the ball, you don't have to run back to the huddle," he said. "You can just chill and relax. All day long, it's nonstop with me."
August, 20, 2008
8/20/08
10:30
AM ET
Posted by ESPN.com's Adam Rittenberg
I'm headed to Bloomington to spend the day with the Indiana Hoosiers. I'll be talking with the quarterbacks, coach Bill Lynch and this guy Matt Mayberry I've heard so much about from you guys, so check back throughout the afternoon/evening.
Here are three questions the Hoosiers will face in their quest for consecutive bowl appearances:
| | |
| --- | --- |
| | |
| | Scott Boehm/Getty Images |
| | Can Kellen Lewis return to form after missing spring practice? |
1. Who starts at quarterback?
Lynch did the right thing in making Kellen Lewis compete to earn his job back after the junior was suspended for spring practice. Lewis, who admitted Monday that his "party lifestyle" had taken his focus away from the field, must regain the respect of the coaches and his teammates. Fortunately for him, he's got the talent to make up for lost time. Ben Chappell got the lion's share of reps this spring and has taken advantage, making the quarterback competition closer than expected. But it's hard to envision Lewis sitting on the bench, especially since Indiana implemented a no-huddle offense that fits him perfectly.
2. Will the defense take the next step?
The Hoosiers received great individual performances last season from national sacks leader Greg Middleton, cornerback Tracy Porter and others. But as a unit, the results were too predictable. Indiana ranked ninth in the Big Ten in points allowed (28.5 ppg), rush defense (159.7 ypg) and pass defense (243.7 ypg). The word is out on Middleton, and the Hoosiers need players like Jammie Kirlew and Ryan Marando to capitalize on the favorable matchups they'll see this fall. Cornerback is a concern after the loss of both starters, but a linebacking corps featuring Mayberry, Will Patterson and Geno Johnson could be the strength of the defense. If Florida transfer Jerimy Finch is allowed to play, he'll provide a big boost at safety.
3. Are there enough playmakers?
Wide receiver James Hardy was one of the Big Ten's toughest matchups, particularly in the red zone. His scoring production is tough to replace, but Indiana should be fine at wide receiver with veteran Ray Fisher and Andrew Means, who gave up playing baseball in the Cincinnati Reds' organization for one final year on the gridiron. A bigger concern is getting more from the running backs. Marcus Thigpen bulked up during the offseason and wants to prove he's more than a speed back and can handle 25-30 carries a game. If Thigpen falls short, the Hoosiers will need Bryan Payton, Demetrius McCray or brawny freshman Darius Willis to step up.
August, 12, 2008
8/12/08
1:41
PM ET
Posted by ESPN.com's Adam Rittenberg
Another overdue mailbag. I'll run some gassers later today.
As Charlie Weis would say, fire away.
Dan from Minneapolis writes: Adam, you pointed out the unique nature of first time coaches in the UM - MSU rivalry. I also wanted to point out uniqueness about first time coaches in the UM - OSU rivalry. Aside from Cooper, going back to WW Hayes, first time coaches have WON their first meeting in the series. Correct me if I am wrong but that is quite impressive
Adam Rittenberg writes: You're correct, first-time coaches have fared well in the Michigan-Ohio State series, perhaps because the games typically are played later in the season when coaches have a better feel for their teams. Woody Hayes lost his first meeting with Michigan, 7-0, in 1951, but Earle Bruce beat the Wolverines in 1979 and Jim Tressel did the same in 2001. The Buckeyes went through four coaches during the 1940s who went 1-2-1 against Michigan. Michigan hasn't had a coach lose his first game against Ohio State since Harry Kipke in 1929. Kipke's first game, interestingly enough, was played midway through the season on Oct. 19. Rich Rodriguez will have a tough task to keep Michigan's run alive, but it helps that the game is at the end of the season.
---
Zach from Sumpter, S.C. writes: Adam, I'm a Purdue Boilermaker grad and Air Force officer stationed down in the heart of SEC and ACC country. Its rough being a Big Ten fan down here and not getting the usual dose of Big Ten and Purdue football news that was readily available back when I was living in West Lafayette, so I appreciate your blog. My question to you is this: who would you pick to be the top three darkhorse teams to crack the top three spots in the conference aside from the preseason list of favorites like Ohio State, Wisconsin, and Penn State; and provided darkhorses do emerge how would you forecast the conference standings to look at the end of conference play? Finally, I have one sort of "biased" question for you. Do you see Purdue cracking the top three in the conference as a darkhorse candidate? We are returning a ton of seniors to both offense and defense this year and while not all are returning starters, this large corps of seniors will be leading our talented juniors and sophomores. If injuries are kept to a minimum and things go well on and off the field, I feel Purdue could have a strong showing this year. Your thoughts?
Adam Rittenberg writes: Zach, thanks very much for the note. I would put Illinois, Michigan State and Michigan in the "dark horse" category, though I wouldn't call Illinois a dark horse after last season's Rose Bowl run. Michigan State has some momentum after last season but a lot of preseason hype to back up in its opener at Cal. Michigan will be a big mystery until Aug. 30. Purdue could make a run, especially if the offensive line stays healthy, but I don't see the Boilers finishing in the top three. The schedule is brutal with Oregon, Central Michigan and Notre Dame to go along with trips to Ohio State and Michigan State. A lot depends on how quarterback Curtis Painter performs in those big games.
---
Ross from Minneapolis writes: Do you have any interviews with Iowa players or coaches coming up in the B10 blog? I love the blog, but I haven't seen many interviews with any Hawkeye players or coaches, aside from a very good interview with Ferentz right before B10 Media Day. Have they not available for comment? Thanks.
Adam Rittenberg writes: I've received several e-mails about this and wanted to address it. Iowa has very limited access to players and assistant coaches during the preseason. I was sent to Michigan's practice the day of the Hawkeyes' media day [Aug. 4], and because of a conflict, I can't attend the scrimmage this Saturday at Kinnick Stadium. I've been informed that coach Kirk Ferentz doesn't permit players to do phone interviews before the first game. The blog will definitely feature the Hawkeyes more after the season gets underway, but for now, I'll do what I can.
---
Steve from Hoboken [I'll assume it's N.J.] writes: What is your take on the Justin Boren situation? I'm a UM alum and tend to believe the scuttlebut that Boren never seemed fully committed to the program, but I also can't tell the extent to which it's sour grapes. I do find it interesting that all the cheap shots have been fired by the Boren camp. (I suppose that comment could be construed as sour grapes also)
Adam Rittenberg writes: Every coaching change prompts transfers and unhappy players. Obviously the difference here is the guy transferred to Michigan's archrival. I doubt RichRod and his staff keep things G-rated during practice, but on the other hand, this is football. As the late Randy Walker used to say, "it's not koom-ba-ya out there." My guess is Boren won't sound off too much more until the Michigan game, though you've got to wonder how much his comments rankled his former teammates. This will be a hot story the next three years until Boren graduates.
---
Brendan from Maryland writes: What kind of QB system do you think penn state will employ, and how would each QB affect the team when they are on the field?
Adam Rittenberg writes: Penn State will use more of a spread offense this season, and the idea is not to have too much variation between the two quarterbacks, if the Lions choose to play both. It means Daryll Clark, the likely starter, needs to prove himself as a passer and exploit the senior-laden receiving corps. It also means Pat Devlin needs to display his ability as a running threat. If a quarterback, especially a first-year starter, can be categorized, defenses will find a way to stop him. That's why Penn State will look for versatility from both candidates.
---
Greg from Princeton, N.J., writes: Are the Badgers' running back corps still the best in the Big Ten even after Lance Smith was dismissed from the team. How will this affect Wisconsin this season?
Adam Rittenberg writes: A Wisconsin source told me the group dynamic among the running backs has improved without Smith. Though he certainly would have helped this fall, Wisconsin is still pretty stacked back there. It puts a little bit more pressure on backup Zach Brown, who has a different body type and style from starter P.J. Hill and John Clay. Smith and Brown are comparable. Ultimately, the key for Wisconsin could be Clay, who has all the tools to be a star but is still grasping the system. A couple times during Saturday's scrimmage he didn't know where to line up. One time he found his place at the last minute, took the handoff and still gained about seven yards.
---
Bill from Terre Haute, Ind., writes: Why no love for the hoosier in any of your rankings? You need to look harder into what they got coming back. Dont be surprised if they end up with 9 wins this year, especially if Finch is cleared to play.
Adam Rittenberg writes: Jerimy Finch would certainly provide a boost if the NCAA allows him to play [not sure how much luck Indiana will have], and safety Austin Thomas is a nice player. But cornerback will be a mystery until the opener. You can't discount what Indiana lost at that position -- Tracy Porter was very underrated around the country. As for the team as a whole, the schedule is beneficial, with eight home games and no Michigan or Ohio State. I'm still not sold on the defense, but 7-8 wins is definitely possible.
August, 8, 2008
8/08/08
3:50
PM ET
Posted by ESPN.com's Adam Rittenberg
This will be the first of three parts as I break down the Big Ten defensive backs. Check back for rankings of safeties and cornerbacks. Despite losing several standout cornerbacks (Justin King, Jack Ikegwuonu, Terrell Vinson), the league returns a bunch of top-end players and teams have filled in the gaps nicely.
Here's the rundown:
1. Ohio State -- All four starters are back, led by Thorpe Award frontrunner Malcolm Jenkins, who likely would have been a first- or second-round draft pick had he left school after last season. Fellow cornerback Donald Washington is suspended for the first two games but should make a significant impact when he returns. Ohio State would like more interceptions from safeties Anderson Russell and Kurt Coleman, who had none last year but still combined to break up nine passes.
2. Penn State -- King's ability to shut down an opponent's top receiver will be missed, but Penn State still has good depth at cornerback with emerging junior A.J. Wallace, returning starter Lydell Sargeant and Tony Davis, who started every game at corner in 2006 before moving to safety during an injury-plagued junior season. Anthony Scirrotto is arguably the top playmaking safety in the conference with 10 career interceptions.
3. Michigan -- The Wolverines might feature the league's best cornerback tandem in senior Morgan Trent and sophomore Donovan Warren, who combined for 93 tackles and 13 pass breakups last season. They need some help at safety after the loss of all-conference selection Jamar Adams, but Stevie Brown played well as a reserve last year and Brandon Harrison has experience and versatility.
4. Michigan State -- Safety Otis Wiley backslid a bit last year but should recapture the form of 2006, when he ranked seventh in the Big Ten in tackles and had 10 pass breakups. The Spartans ranked fourth in the league in pass defense last year and have good depth at cornerback behind veteran Kendell Davis-Clark.
5. Illinois -- Vontae Davis will push Jenkins for the title of Big Ten's best cornerback. He ranked sixth in the league in both interceptions and pass breakups last year. Dere Hicks and Miami Thomas provide depth at the other corner spot, but Illinois must replace safeties Kevin Mitchell and Justin Harrison, who combined for 155 tackles, six interceptions and 24 pass breakups last season. If guys like Travon Bellamy, Nate Bussey and Bo Flowers perform, this group will move up the list.
6. Iowa -- There's hope here despite the losses of starting cornerbacks Charles Godfrey and Adam Shada, both honorable mention All-Big Ten selections last season. Senior Bradley Fletcher received ample experience the last two years, but the Hawkeyes would like another solid corner or two to emerge. Both starting safeties return to brace the unit.
7. Wisconsin -- Shane Carter is a budding star at safety after leading the league with seven interceptions last season, but much like other areas on the Badgers' depth chart, health has been a bugaboo. If cornerbacks Allen Langford and Aaron Henry bounce back from ACL injuries, the unit should be strong. If not, there will be plenty of pressure on young defensive backs like Mario Goins and Jay Valai.
8. Purdue -- The Boilermakers lost their best cover man (Vinson) from a unit that ranked seventh in the league against the pass last season. To avoid a drop off, they need better play from Royce Adams and continued production from David Pender. If safety Torri Williams can finally stay healthy after a rash of ailments, Purdue's secondary should be stable.
9. Northwestern -- This unit no longer has any excuse to be a liability. Safety Brendan Smith returns from a shoulder injury to provide the playmaking punch the Wildcats sorely lacked last season. Smith and Brad Phillips form an experienced tandem at safety, while junior cornerback Sherrick McManis should benefit from an inconsistent first season as the starter. If Justan Vaughn or a redshirt freshman (Jordan Mabin, Michael Bolden) solidify the other corner spot, Northwestern should be respectable.
10. Indiana -- Leading tackler Austin Thomas returns at strong safety, but cornerback is the biggest question on the team. The Hoosiers lost both starting corners, including all-conference performer Tracy Porter, who ranked second in the league with six interceptions. Six players are in the mix for the two jobs, including senior Chris Phillips. If the cornerback spot is stabilized, Indiana should leapfrog several teams.
11. Minnesota -- The personnel is there for a turnaround, but it's tough to rank the Gophers much higher without seeing junior-college transfers Tramaine Brock, Trae Simmons and Simoni Lawrence. If those players perform like coach Tim Brewster thinks they will, Minnesota will be much improved. Brock brings a much-needed edge to the back four. But the Gophers can't rely much on returning players after last season's disaster.
July, 17, 2008
7/17/08
10:52
AM ET
Posted by ESPN.com's Adam Rittenberg
Austin Thomas might be a little torn about the seemingly never-ending Big Ten-SEC debate. The junior strong safety plays for a Big Ten team, Indiana, but he grew up in the thick of SEC country (Woodstock, Ga.). Thomas seems to be settling in as a Yankee, though, after leading Indiana and ranking seventh in the league with 112 tackles last season. His 22-tackle performance against Michigan State last season marked the first time a Hoosiers player collected 20 tackles in a game since 1993.
Thomas anchors a Hoosiers secondary in search of two new cornerbacks. Though much of the offseason attention focused on quarterback Kellen Lewis, who was suspended for spring ball and reinstated earlier this month, Indiana's ultimate fate usually hinges on its defense. Here's what Thomas had to say about his southern roots, Lewis and a crucial season for the Hoosiers, who come off their first bowl appearance since 1993.
Coming from Georgia, did you grow up an SEC fan?
Austin Thomas: I was kind of neutral growing up, just as far as the Georgia-Georgia Tech rivalry. I had several friends go out and play in the SEC and the ACC, but I didn't really sway one way or the other.
So where do you stand in the whole Big Ten vs. SEC debate? Are you a Big Ten guy now, or do you stand up for the SEC?
AT: Growing up in the South, man, it's hard to knock southern football. But playing in the Big Ten, I wouldn't ask for it any other way. It's great competition. So I'm a Big Ten guy now.
I'm sure not a ton of guys from Georgia come to Indiana. How did you end up there?
AT: The final factor was my official visit here. I had a great time and just fell in love with the place in two days: the staff, academics, everything. Coach Hep [Terry Hoeppner] recruited me when he was at Miami of Ohio, and when he made the switch over here and brought the whole staff over, he immediately offered me and told me to come up. Talked me into it. I wasn't even planning on coming up. I came up and just fell in love with the place.
So much of what the team did last season was dedicated to him. Have you seen the atmosphere around the program change at all, having finally reached a bowl game?
AT: Absolutely. I can't even believe it's my fourth year here. I've seen so much change as far as the program, our fan base increasing, winning ballgames. He did so much for this program.
The coaches put in the no-huddle offense in spring practice. What was it like going against that system?
AT: It's tough, especially with our offense. We have so many weapons, with Kellen, all our receivers, Marcus [Thigpen] back there. It's tough to keep up with it. I'm really looking forward to staying on the side and watching Kellen and them go to work. It's going to do big things this year.
In the secondary, you guys lost a couple of pretty good players [Tracy Porter and Leslie Majors] at cornerback. How much does it hurt losing those guys and what are you looking for from that group in camp?
AT: Any time you lose two NFL-bound corners, you're going to take a hit. We've got some young guys, but we've got freshmen and sophomores willing to step up. They're working hard. We've got a veteran back there -- Chris Phillips -- he's working hard, too. We'll just see how it goes.
Who is a guy among that group that people haven't heard of but they will this fall?
AT: We've got some real potential in Donnell Jones, a kid from Florida. He passes the eye test already. He's fast, real strong kid. Richard Council looks like he can step up, Chris Adkins, I could name a lot of the young guys. A lot of young, good, physical-looking corners that can step up and play.
Greg [Middleton] had such a big year for you guys down on the line. What stands out to you about how he plays?
AT: Greg's an animal, man. I don't know if there's anybody out there that can contain him. With someone like that on the line, especially as a DB, it makes it that much better when you know you're going to get pressure on the quarterback. That's just something you need as a defense. It's huge.
| | |
| --- | --- |
| | |
| | AJ Mast/Icon SMI |
| | Thomas predicts quarterback Kellen Lewis (above) will have no problem picking up the Hoosiers' new offense. |
I'm sure a lot of fans were anxious to hear about Kellen, whether he'd be back or not. As players, were you ever concerned?
AT: Everybody was concerned. They kind of kept us in the dark. We didn't know what was really going on, but we were just very happy to see him reinstated. Everybody's really excited to have him back.
Were any of you guys in touch with him while he was away?
AT: I stay close to Kellen and I really didn't get to talk to him that much throughout the summer. He went home for a little while to take some time off. He's back now, working out with the team, ever since he's been reinstated.
Is he excited? Disappointed about what happened? What do you gather from him, being back with the team?
AT: Just seeing him the last couple weeks, he just seems like he's got that enthusiasm again. He's excited to be back, ready to work hard, ready to get out there.
After missing spring ball, how do you think he'll pick up the no-huddle offense in camp?
AT: He'll pick it up, no problem. Our coaches built it in for guys just like him. He's been gone for a little bit, but he'll fall back into it.
How critical is this season for your program to keep things going? You mentioned the cornerbacks you lose, you obviously lost [wideout] James [Hardy], but you bring back a lot of guys as well.
AT: Everybody knows exactly how important this season is. It's the most important one we've all had here. Everybody's extremely excited about it. We know we have to win these games, we have to go back [to a bowl game], because we wouldn't have it any other way.