November, 26, 2011
11/26/11
9:45
PM ET
MADISON, Wis. -- The game ended one debate and added intrigue to another.
Wisconsin's
45-7
dissection of Penn State left no doubt as to which is the best team in the Leaders division. After falling behind early, the Badgers outclassed the Nittany Lions, as they're prone to do in a building where they've now won 16 consecutive games. They earned the right to face Michigan State next week in the inaugural Big Ten championship game.
But the decisive victory only brought more uncertainty to a question Badgers players and coaches love to get asked even though few have an answer.
Who is the Big Ten's Offensive Player of the Year: quarterback
Russell Wilson
or running back
Montee Ball
?
[+] Enlarge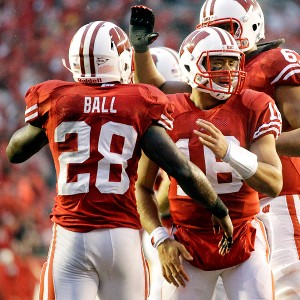 AP Photo/Morry GashWill Russell Wilson and Montee Ball end up sharing the Big Ten's top offensive player of the year honors?
"I'd split it," Wisconsin coach Bret Bielema said. "I don't know if there's ever been co-offensive MVPs off the same team. I don't know if that's ever been done, but I don't know how you can give it to one without the other."
It has happened once: Big Ten coaches voted Iowa quarterback Matt Rodgers and running back Nick Bell as co-Offensive Players of the Year in 1990. Will it happen again next week?
Wisconsin wouldn't be where it is without the contributions of Wilson and Ball, who are putting together the best combined quarterback-running back performance in a season in Big Ten history (more on that later). The senior quarterback and junior running back both sparkled again Saturday, having a hand in all six Wisconsin touchdowns against the nation's No. 8 defense. Wilson finished the game 19-of-29 passing for 186 yards and two touchdowns, while Ball recorded 156 yards and a touchdown on 25 carries.
It's rare when one NCAA record is set in a game, much less two. How about two records by two players in the same half? Wilson and Ball delivered Saturday.
Ball's second rushing score late in the second quarter gave him 12 consecutive games with multiple touchdowns, breaking Barry Sanders' NCAA record of 11 straight games. Wilson's 21-yard touchdown strike to
Jared Abbrederis
in the first quarter gave him 36 consecutive games with at least one touchdown pass, tying the NCAA record held by former Texas Tech star Graham Harrell.
Wilson's team single-season touchdown passes record stands at 28. Ball, meanwhile, has his sights set on a loftier mark, one thought to be unreachable. His four touchdowns Saturday give him 34 for the season, the second-most in NCAA history behind only Sanders' 39 scores in 1988.
"It's extremely rare," Wilson said of his and Ball's performances this season. "It's a once-in-a-lifetime type thing. You don't see it very often, but I think with Montee's ability to do a lot of different things, and then with my ability to throw the ball extremely well and to improvise when I have to, it's pretty dangerous."
You think?
Big Ten awards voting wraps up Sunday, and all-conference teams will be announced Monday night. The league's Offensive and Defensive Player of the Year awards are announced Wednesday afternoon, so the debate about Wilson vs. Ball will continue until then.
Don't expect much help from the Badgers.
"I'm very happy I don't have to make that decision," offensive lineman Travis Fredrick said.
"I couldn't say," added fellow offensive lineman Ryan Groy. "I'd be split between both of them."
Ball appeared to provide a definitive answer the first time I asked him.
"I'd pick myself," he said. "Of course, I'd pick myself."
But when asked during a
video interview
, Ball flip-flopped, saying he'd vote for "the pretty boy, Russell. Because what he brought to this team was a lot." When called out, Ball tried to backtrack, the first time all afternoon he had to.
Wilson was a bit more decisive.
"I'd definitely vote for Montee," he said.
While the debate carries on about which individual performance is superior, the combined effort from Ball and Wilson is more notable.
There's never been anything quite like it in Big Ten history. Wilson's passer rating of 192.9 this season keeps him on pace to break Colt Brennan's single-season NCAA record of 186. He should have no trouble breaking the Big Ten season record of 175.3 set by Michigan's Bob Chappuis in 1947.
Ball already has shattered the Big Ten season touchdowns mark of 26 and should finish among the league's top 10 in single-season rushing (he currently has 1,622).
While the Big Ten has witnessed better individual rushing and passing performances, the combined effort from Ball and Wilson stands alone in league annals. It's the best since Penn State's Kerry Collins and Ki-Jana Carter 1994: Collins passed for 2,679 yards and had a quarterback rating of 172.8, which ranks second in Big Ten history; Carter rushed for 1,539 yards and 23 touchdowns.
Former Wisconsin coach and current athletic director Barry Alvarez brought up Iowa's Chuck Long and Ronnie Harmon in 1985. They had impressive numbers -- Long racked up 3,297 pass yards, 27 touchdowns and a rating of 153.1; Harmon had 1,166 rush yards and nine touchdowns -- but not as impressive as the Wilson-Ball tandem.
"They're both really special," Alvarez told ESPN.com. "You only have one ball, so it's hard to have two guys with numbers like that."
It wasn't hard for Ball and Wilson to mesh. They play different positions and have different responsibilities, but they're driven in the same way.
"It goes back to how hard I worked in the offseason and how hard he worked when he got here," Ball said.
When Wilson arrived July 1, he told Ball he would compete to become one of the best quarterbacks in the country.
"He gravitated to that," Wilson said. "Every day in practice, we work together and communicate extremely well. Our desire to be great and to never be afraid to excel is something we definitely have in common."
For those arguing that Wisconsin and its stars feast on inferior competition, consider this: Ball racked up 495 rush yards and seven touchdowns and added two receiving scores against three top-10 defenses (Michigan State, Penn State and Illinois). While Wilson wasn't at his best in the Michigan State game, he still rallied his team brilliantly in the fourth quarter and stepped up against an excellent Penn State defense on Saturday, completing 15 of 21 passes for 149 yards in the first half.
"Two of the most complete players at their respective positions that I've ever seen play the game," Bielema said.
Wilson and Ball could share Big Ten Offensive Player of the Year. One or both could earn an invitation to New York for the Heisman Trophy presentation.
But the two are more focused on sharing a podium in two other places -- Indianapolis and Pasadena.
November, 26, 2011
11/26/11
3:02
PM ET


MADISON, Wis. -- A few pregame notes from soggy Camp Randall Stadium, where it's still raining.
As expected, Travis Fredrick worked as Wisconsin's top center in warmups with quarterback Russell Wilson. Fredrick will get the start in place of the injured Peter Konz (ankle).
Silas Redd (collarbone) worked as Penn State's first-team running back, while Stephfon Green worked as the primary backup. It will be interesting to see how Redd looks after another week to rest.
Penn State's quarterbacks took the field very early for their warmups. Matthew McGloin, Rob Bolden and several others looked to be testing out the less-than favorable conditions.
As usual, a late-arriving crowd here at Camp Randall. The student section doesn't even look one-fourth full. It will be interesting to see if this is a normal home atmosphere for the Badgers.
November, 23, 2011
11/23/11
1:30
PM ET
The 2011 Big Ten Offensive and Defensive Player of the Year won't be announced until Nov. 30, but it's a pretty good bet both award winners will be on the field Saturday in Madison.
Wisconsin boasts the two front-runners for the offensive award in senior quarterback
Russell Wilson
and junior running back
Montee Ball
. Wilson leads the nation in pass efficiency (199.3) and is on pace to break Colt Brennan's NCAA record. Ball leads the nation in touchdowns (30) and is within range of Barry Sanders' record mark of 39.
For Penn State to take down Wisconsin on a field where the Badgers average 52.3 points per game, the Lions need their brightest defensive star to shine. They likely need defensive tackle Devon Still to have the game of his life.
[+] Enlarge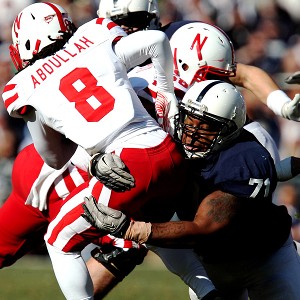 Rob Christy/US PRESSWIREPenn State's Devon Still is tied for the Big Ten lead in solo tackles for loss (15) and is tied for third in overall TFLs (16.5).
"Devon's very important," Penn State interim coach Tom Bradley said. "If we're going to be able to stop these guys, our front four has got to do an excellent job. They're a hard team to stunt, they're a hard team to do certain things against because they're thorough, they're efficient. Devon's going to be a guy, his work's cut out for him."
If any Big Ten defender can meet the challenge, it's Still. He's tied for the league lead in solo tackles for loss (15) and is tied for third in overall TFLs (16.5). He has recorded four sacks and boasts 53 total tackles with a forced fumble and a fumble recovery.
On Monday he was named one of three finalists for both the Bednarik Award and the Outland Trophy. He's the likely choice for Big Ten Defensive Player of the Year.
"Ever since I got here," Still said, "I wanted to win those types of awards."
He could lock up some hardware with a huge game against Wisconsin. The Badgers lead the Big Ten and rank fifth nationally in scoring (48.2), and they boast an offensive line Still calls the best in the Big Ten.
But Wisconsin likely will be without starting center Peter Konz (ankle) for the second consecutive game. The Badgers struggled to move the ball for stretches last week against Illinois and had to use two centers, eventually settling on Travis Frederick. The middle of the line could be an area Still and fellow tackle Jordan Hill exploit Saturday.
"I don't think it changes our game plan that much," Still said. "Wisconsin's always been a school that always produces great offensive linemen. I'm pretty sure the backup has as close to the amount of talent as the first-string center has. We're going to attack him the same way."
Still's name wasn't called once last week at Ohio Stadium as he failed to record a tackle for the first time this season. The 6-foot-5, 310-pound senior had the flu and "decided to play through that" because he knew his presence would be needed.
He has since recovered and should be back at full strength Saturday.
"They use him in a variety of different fashions," Wisconsin coach Bret Bielema said. "He's a big guy that can move extremely well. He's got a very quick first step. ... Wherever he's at, and whatever the blocking scheme is, I think you've got to be cognizant of how you're blocking him, and what you're doing."
As one of Penn State's captains, Still has played an important role in keeping the team focused during the past few weeks as the sex-abuse scandal rocked the school and the football program. Bradley said as well as Still has played this year, he'll remember the senior more for his off-field leadership and communication skills.
Still is confident his teammates will be ready for Wisconsin.
"This is not just an ordinary game," he said. "We're practicing harder than we ever practiced. We're focusing more than we ever focused. ... We know what's on the line."
Still must make sure Wisconsin also knows who's on the line Saturday afternoon.
November, 23, 2011
11/23/11
10:15
AM ET
Coming at you a little early during this holiday week, here are 10 items to track in the Big Ten this weekend.
[+] Enlarge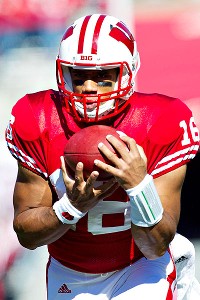 Jeff Hanisch/US PresswireRussell Wilson and the No. 16 Badgers face No. 19 Penn State on Saturday at 3:30 p.m. ET.
1. Leaders of the pack:
Before getting to the main course next week in Indianapolis, we're treated to a delicious championship appetizer Saturday afternoon in Madison. The Leaders Division title and a trip to Naptown are on the line as No. 19 Penn State visits No. 15 Wisconsin. The winner improves to 10-2 and moves one step closer to Pasadena. Wisconsin has been unshakable on its home field the past two and a half seasons, and the Badgers are averaging 52.3 points at Camp Randall Stadium this year. Penn State is 4-0 on the road this season and has allowed more than 14 points away from State College just once.
2. Michigan's mission:
Michigan has exceeded outside expectations in its first season under coach Brady Hoke. But it won't matter much unless the Wolverines get over the hump against their archrival Ohio State -- or "Ohio," as Hoke and his players now call the Buckeyes. After dropping seven consecutive games in the series, Michigan has a golden opportunity to beat Ohio State. In fact, if the favored Wolverines can't beat Ohio State this year, when the 6-5 Buckeyes are sputtering, will they ever? It'll be interesting to see how a Michigan senior class that has been through a lot performs in its final home game. By the way, a Wolverines win puts the team in a great spot for a BCS at-large berth.
3.The Bucket Bowl:
After a mistake-filled loss to Iowa, Purdue has backed itself into a corner for postseason play. The Boilers must beat rival Indiana on Saturday in the Bucket game to reach six wins and become bowl-eligible. A loss would ensure Purdue stays home for the holidays for the fourth consecutive season -- a troubling stretch for a program that reached bowls in 10 of Joe Tiller's first 11 seasons as coach. Another bowl-less winter and a second consecutive loss to IU, especially a 1-10 Hoosiers team, would turn up the heat on Purdue's third-year coach Danny Hope.
4. Different incentives for Wildcats, Spartans:
Northwestern likely has locked up a bowl spot, but Pat Fitzgerald and his players are taking nothing for granted entering their final regular-season game. A victory gives Northwestern seven wins, a five-game win streak and most likely a decent bowl destination in the Big Ten's lineup. The Wildcats should have no problem gearing up for Senior Day. Michigan State, meanwhile, already has clinched the Legends Division and will head to Indianapolis next week. Spartans coach
Mark Dantonio plans to keep the pedal down
and play his starters, but it will be interesting how his players respond in a game they really don't need to win. With one exception, Michigan State has brought the right emotion to every game this season.
5. Zook's last stand:
Illinois hasn't won a game since Oct. 8, and the clock is ticking for embattled seventh-year coach Ron Zook. The Illini have dropped five straight games heading into their regular-season finale at Minnesota. Some believe that, win or lose, Illinois will dump Zook -- but the Illini will be playing for their coach as they head to Minneapolis. A win moves Illinois to 7-5 and ensures the Illini of a second consecutive bowl appearance for the first time since 1991-92. It also could make the decision on Zook a bit more difficult for first-year athletic director Mike Thomas. Minnesota is the worst team Illinois has faced since its last Big Ten win against Indiana.
6. Devon Still vs. Wisconsin's offensive line:
Penn State's defense must play its best game of the season to slow down Wisconsin at Camp Randall, and for the Lions, it all begins with Devon Still. The senior DT is a finalist for both the Bednarik Award and the Outland Trophy, and he's the frontrunner for Big Ten Defensive Player of the Year. Still dealt with the flu last week and his play suffered at Ohio State, but he's healthy now and faces a Wisconsin offensive line playing without star center Peter Konz
.
The Badgers struggled to rush the ball between the tackles for chunks of the Illinois game before
Montee Ball
broke through. It will be interesting to see how Travis Fredrick or Ryan Groy handles Still and an improved Penn State front four.
7. A rivalry reborn:
Nebraska and Iowa last played in 2000, but all the ingredients are in place for a terrific new Big Ten rivalry. The teams kick off rivalry weekend in the Big Ten on Black Friday, as the Hawkeyes visit Lincoln for the inaugural Heroes Game. While the game has no bearing on the Legends Division title race, both teams are fighting for bragging rights and a better bowl destination. It's a big game for Iowa CB Shaun Prater, an Omaha native, while the game's top individual matchup features Iowa WR
Marvin McNutt
going up against Nebraska CB Alfonzo Dennard. McNutt needs 12 receptions to become Iowa's all-time leader.
8. Swan song for Ohio State's seniors, possibly coaches:
Ohio State's senior class has a complicated legacy, but one thing that can't be disputed is their ability to dominate Michigan. The Buckeyes have thumped Michigan by a combined score of 100-24 in the past three years. Although this has been no ordinary year for Ohio State, which sits at 6-5, the seniors still can produce the standard result against Michigan and salvage a bit of their final season. Maintaining The Streak in The Game also resonates for the coaches, whose futures at Ohio State are very much in doubt as the Urban Meyer talk heats up. Head coach Luke Fickell can earn a lot of points with Buckeye Nation by beating a favored Michigan squad in Ann Arbor.
9. WildLion and MoneyBall:
Penn State added an effective new wrinkle to its offense for the Ohio State game, as the coaches emphasized the Wildcat, or WildLion formation, with former high school quarterbacks
Curtis Drake
and
Bill Belton
calling signals. It will be interesting to see how much Penn State uses the WildLion against the high-powered Badgers, or whether a suddenly intrepid coaching staff has a few more tricks up its sleeve. Wisconsin will have no such mystery in how it attacks Penn State. The Badgers will rely on Montee "MoneyBall" Ball, arguably the nation's most productive running back in the past year and a half. Ball has scored 30 touchdowns this season -- at least two in every game -- and needs nine more to tie Barry Sanders' record.
10. Looking for positives:
Minnesota and Indiana are the only Big Ten teams guaranteed to end their seasons Saturday afternoon. There haven't been many positives for either squad, but the Gophers and Hoosiers can end on a good note, spoil some bowl plans for others and enter a critical offseason on a good note. First-year Minnesota coach Jerry Kill has seen "a different group of kids" since halftime of the Nebraska game on Oct. 22. "We're taking baby steps," he said. Beating Illinois for the second straight year would represent another step. Indiana, meanwhile, can ensure Purdue doesn't go to a bowl with a win Saturday; it would be Indiana's first victory this season against an FBS opponent. "With the way our season has went," Hoosiers first-year coach Kevin Wilson said, "we're using this week to try and find some positive motivation for our seniors to try and end it on a high note."
November, 22, 2011
11/22/11
2:30
PM ET
A few Big Ten personnel notes for you following the league's final coaches' teleconference of the season:
Dwayne Beckford's punishment for being ejected from last week's Purdue-Iowa game will be handled by Purdue rather than the Big Ten. Beckford, a junior linebacker who leads the team in tackles with 90, allegedly threw a punch in a skirmish late in Purdue's 31-21 loss to Iowa and was ejected. Boilers coach Danny Hope said Tuesday that the team would announce Beckford's punishment before Saturday's regular-season finale against Indiana. Beckford will miss some playing time, Hope said, but it could be a partial game rather than the whole contest. "We're going to be able to handle that in house," Hope said. Now I'll admit I didn't see the alleged punch, but what makes Beckford's situation different from William Gholston's against Michigan? The Big Ten suspended Gholston, a Michigan State sophomore defensive end, for punching Michigan offensive lineman Taylor Lewan. The league cited a specific bylaw that prohibits "striking or attempting to strike or otherwise physically abusing an official, opposing coach, spectator or athlete." Illinois linebacker Jonathan Brown also was suspended one game by the team for throwing a punch. Last I checked, a punch is a punch. Perhaps the Big Ten has been assured Purdue will suspend Beckford for the entire game, but a partial-game suspension handed down by the team could make the league look hypocritical.
Marcus Coker has been Iowa's ball-carrying bell cow this season, leading the Big Ten with 262 carries. Iowa will once again lean on Coker against Nebraska on Friday as the team's running back depth has taken some hits. Mika'il McCall has been suspended for the Nebraska game for an unspecified violation of team rules, coach Kirk Ferentz said Tuesday. McCall saw his first action since the season opener Saturday against Purdue. The promising freshman had been sidelined with an ankle injury and had been viewed as a medical hardship candidate. But his participation in the Purdue game prevents him from earning a medical hardship. Another reserve running back, Jordan Canzeri, will once again be out with a hamstring injury. So Friday will be The Coker Show once again for Iowa.
Wisconsin coach Bret Bielema said there's an "outside chance" starting center Peter Konz could return for Saturday's showdown against Penn State. Konz suffered a dislocated left ankle Nov. 12 against Minnesota and was ruled out for 2-4 weeks. But the standout junior, who Bielema calls "a genetic freak," is recovering quickly from the injury, as he has with other ailments in the past. If Konz can't go against the Nittany Lions, Travis Frederick or Ryan Groy will handle the duties at center. Groy started last week against Illinois, but struggled and was replaced by Fredrick.