June, 23, 2014
Jun 23
3:00
PM ET
The Big Ten's top freshmen will soon run on to their teams' practice fields for the first time with the hope of making names for themselves. Nearly all of them have reported, so what is their mindset? And what do they think about their respective teams?
Before they reported, ESPN.com caught up with a handful of the conference's elite freshmen – all were ranked within the ESPN 300 or earned an invite to the Under Armour Game – and asked them several questions to get a better idea of where they stand.
The participants were Northwestern QB
Clayton Thorson
, the No. 7 quarterback in the 2014 class; Penn State WR
Chris Godwin
, the top player in his state; Michigan LB
Jared Wangler
, one of 90 players selected to the UA Game; Iowa WR
Jay Scheel
, the headliner of the Hawkeyes' class; and Maryland LB
Jesse Aniebonam
, the No. 98 player in the ESPN 300.
Part 2 with those same players will run on Tuesday. Here's what they had to say in this first installment:
What game are you most looking forward to this season?
[+] Enlarge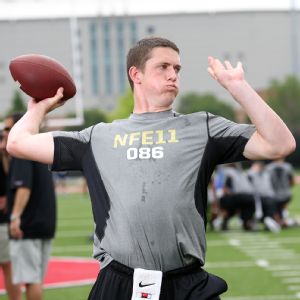 Tom Hauck for Student SportsNorthwestern signee Clayton Thorson is looking forward to the Wildcats' game at Notre Dame.
Thorson:
Obviously, every game is important, so you can't overlook any team. But I'd say the game I'm looking forward to is Notre Dame. That'll just be a cool environment to play in. You see everything about how great their program and history are, so it'll be fun to be inside the stadium and play on the field. It'll be a cool experience.
Godwin:
Honestly, right now, I'm looking forward to the UCF game because it'll be my first game, and I don't really want to look too far into the future. I just want to take everything one day at a time.
Wangler:
To me, Michigan State kind of stands out the most. It's an in-state rivalry, and last year we didn't do well against them – and I feel like, this year, we have a lot to prove against them. I feel like Ohio State is the token answer, and I feel like that's a big game. But, Michigan State, that's an in-state game and they've been beating us the last few years. That's not acceptable.
Scheel:
I'm really just looking forward to the first game and heading out of Kinnick. I'm really looking forward to just experiencing it for the first time, because a lot of players have told me how special it was for them. So that's something I'm really looking forward to, with the fan base and everything.
Aniebonam:
That would be between Penn State and Ohio State, our conference home opener. Back in the day, I dreamed about playing against Penn State -- maybe even, back in the day, playing for them. But I'm looking forward to playing against them. I followed them, as well as Maryland, and it just seems like it would be a really exciting event, a game full of energy. We're playing them up there, and I think it's going to be a really close game. And Ohio State, that's our first home game in the Big Ten. And that'll really set the tone. So, those two are going to be really exciting.
Who's one under-the-radar freshman -- outside of the ESPN 300 -- in your team's class that we should be watching?
Thorson:
I'd definitely say
Justin Jackson
, no question. He was the Gatorade Player of the Year in Illinois two years in a row, rushed for like 6,000 or 7,000 yards in his career, and he's a great guy. Obviously, the recruiting sites put up their view on what a guy is, and a lot said he wasn't top-tier -- but he is. He's the real deal. I think that's one guy that will surprise people.
Godwin:
If I had to pick one, it would be
Troy Apke
. I feel like he's a guy that people aren't really talking about but could really help us out a lot as a group of wide receivers.
Wangler:
Freddy Canteen
. I think he'll be an immediate impact guy. I know he enrolled early, and he's already turning heads. So Freddy Canteen. Everyone should keep an eye on him.
Scheel:
The one guy I played against was
Parker Hesse
. He played both ways, at quarterback and linebacker, and they were a really good team. His legs are big, and he's so fast and big that it was hard to bring him down. I think he's going to be good for Iowa.
Aniebonam:
I would say
Will Ulmer
. He was (Washington, D.C.) Saint John's quarterback this year, and I believe he's one of those underrated players that once people give him a chance – once he steps in – that he'll show he's an amazing athlete and an amazing player. I had the privilege of playing against him -- we butted heads for all four years -- and it was great to find out we were going to Maryland with each other. He's going to surprise people.
If you could change one rule with the recruiting process, what would it be?
Thorson:
The recruiting process comes so fast now, and guys don't have a chance to grow into themselves. So I think one thing I would change is that the recruiting process would start a little later -- I would say coaches wouldn't be allowed to contact guys until you're going into your junior year of high school. I think that's when you could make calls and stuff and talk to these coaches because guys are getting scholarships and letters when they're in eighth grade. That's crazy.
Godwin:
Probably making official visits sooner, so that players don't have to squeeze all of their visits in during the season.
Wangler:
I think there should be an earlier signing day -- like maybe they should have two signing days. Just because it gets everything set in stone quicker because I know, when it gets closer to signing day, a lot of schools are pressuring kids and putting a lot of stress on them, and it's kind of unfair to the kid. I feel if they really want to go somewhere, they should be able to.
Scheel:
My recruiting process went pretty smoothly, so I don't know if I would change anything about it. I guess, maybe being able to sign earlier -- just because you're committed doesn't mean that you're really locked in to there. You need to sign. So if you want to sign right away, I think you should be able to do that.
Aniebonam
: If I could change a rule -- I'm pretty sure you're only allowed to take five officials -- I would change that. I know it's probably a money thing because those cost money for the schools, but I don't know where that rule came from. If you could take more visits than that, you'd get a better feel for more schools. I honestly don't think anyone would need to take more than 10. But a lot of guys, those four- and five-stars, have a lot of options and they may be interested in a lot of schools. So, if they can get a few more solid official visits, that could make the difference.
February, 5, 2014
Feb 5
4:40
PM ET
Penn State coach James Franklin has been in the Big Ten for less than a month, but he's already making big news on the recruiting trail. At his introductory news conference Jan. 11, Franklin proclaimed: "We are going to dominate the state. We are going to dominate the region." He then went out and landed eight recruits in the three-plus weeks before signing day, flipping five who had pledged to Vanderbilt, his former team. Franklin upgraded Penn State's perimeter with players like wide receiver
Saeed Blacknall
. It's safe to say the Big Ten recruiting landscape is a little more interesting with Franklin in the mix.
ESPN.com caught up with the Penn State coach earlier Wednesday to discuss his first recruiting class with the Lions.
Where does today rank among your favorite days of the year?
James Franklin:
Professionally, it's a really good day. You're talking about your future, you're talking about the possibilities of what these young men are going to bring to your program. So from that perspective, I enjoy it, there's no doubt about it. And I'm a guy who likes recruiting because I like being successful, and good players help.
[+] Enlarge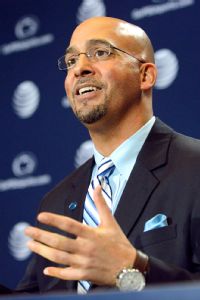 AP Photo/ John BealeFrom the moment he took over as Penn State's coach James Franklin set out to make a big impact on the recruiting trail.
What were your main goals with this class, given the limited time you had to finish it off?
JF:
Well, we had major holes in the roster from a scholarship reduction standpoint. We had to try to fill some needs, although we're not going to fill all of our needs in one class. The ones that were obvious, we only had two scholarship offensive tackles in the program, so that was important for us. When you've got a quarterback like
[Christian] Hackenberg
, you better have some weapons to throw the ball to, so wideouts were important. And then continue to work on depth in the D-line as well as the secondary. We still have a long way to go, but considering we had three weeks to finish this out, we did pretty well.
What stands out about the wide receivers you brought in?
JF:
The combination of
[Mike] Gesicki
at tight end, who's really a big wideout, H-back type guy, and then at wideout, the size and speed combination that we have, I feel really good about that, with
Saeed Blacknall
and
Chris Godwin
and all the guys we have.
[Troy] Apke
as well, I think it's a nice class. When you have a quarterback like Hackenberg, it helps you recruit, but it's also a responsibility for us to surround that guy with as much talent as possible.
How much was speed an objective with this class?
JF:
Speed always is an objective for us. We will have the fastest team in the Big Ten. When you say that, a lot of people think you're talking about DBs and wide receivers, but for us, it's kickers, it's offensive line, it's every position. We want speed throughout our team.
You've talked about players committing to coaches perhaps more than schools. Is too much made out of the school versus the coach? You obviously had relationships with several of these guys from your time at Vanderbilt.
JF:
I don't know if that's exactly what I said. I said the school's a major factor and always will be, but with the recruiting process and teams and organizations, it's about the people. You're going to look at the schools and the rankings first, but once you narrow it down to a group of schools you're comfortable with, it comes down to how you feel about the people. It's not about the buildings; it's about the people inside the buildings. That comes down to relationships and trust and all those things. We've had guys we've been recruiting across the country for two years, and we were going to stick with those guys. The same thing with the recruits and families. They were comfortable with us and who we are as men and how we conduct ourselves. It also helped that we went from one school to another that has similar philosophies when it comes to academics.
Did you notice any differences being in the Big Ten or this region?
JF:
It's too early to tell. We were just scrambling the last three weeks. I'll have a better idea next year or after spring. The biggest difference is that Nittany Lion logo on your shirt carries a lot of weight in this part of the country and nationally. This is a national brand. And I'm a Pennsylvania guy. I have a lot of connections in this part of the country. So does my staff. It's a big deal for the Penn State coaches to come by the school, to be in that community. This is a very, very proud, storied, historic program, and people are yearning to get back to that. That's what makes this place so special. There's just so many positive things to sell.
You mentioned the defensive line. What do you like about the guys you brought in there?
JF:
They're all going to have to contribute. With our situation, all these guys were recruited to come in and play. Once they get here, if they're not ready to play, whether it's emotionally or physically, then we'll redshirt them. But with our scholarship numbers, our mentality is all these guys are going to have to come to play. Maybe they're playing special teams initially, but by the midpoint of the season, you hope these guys are getting significant reps. We're going to have to do that for the next couple of years. Both
[Tarow] Barney
and
[Antoine] White
are going to have to play. The fact that they're already here on campus gives them a much better chance, just learning how to practice and the mentality and how we do things. Culturally, our players are good because they've been winning for a long time.
You want to focus in Pennsylvania and the region, but how important is it for you to extend the reach, especially to the South?
JF:
We've got to dominate the state and we've got to have a huge presence in this region. On top of that, we're going to recruit nationally by position. You better know where the top players are by position, and you never know. Maybe a kid grew up being a Penn State fan or has a relative that went to Penn State or played here. Now you've got an in and a chance to go pluck a guy from another part of the country that is a big-time player.
Did you send any message to the Big Ten with how you finished off this class?
JF:
I don't know about all that. I'm proud of the staff, I'm proud of the players that helped us recruit these guys and be tremendous hosts. I'm just focused on Penn State and doing the best job we possibly can. The more days that we have like this, attack the day with everything we've got, academically, athletically, socially and spiritually, the Saturdays will start taking care of themselves.
January, 11, 2014
Jan 11
8:10
PM ET
STATE COLLEGE, Pa. -- James Franklin hasn't even spent one night in Happy Valley, but Penn State's new head coach has already thrown down the recruiting gauntlet against Pittsburgh and other teams in the northeast.
"Our recruiting philosophy," Franklin said Saturday afternoon during his introductory press conference, "we are going to dominate the state. We are going to dominate the region.
"I'm going to call all the high school coaches. I'm calling all the people in the state that we need to come together like never before."
[+] Enlarge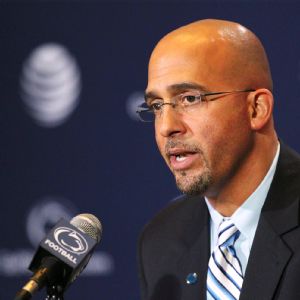 Matthew O'Haren/USA TODAY SportsJames Franklin didn't mince words when talking about recruiting, say that it's his mission for the Nittany Lions to dominate within the state of Pennsylvania.
Franklin emphasized every line about recruiting and spoke passionately during his first-ever news conference as the Penn State head coach. He's been widely regarded as an incredible recruiter -- he reeled in 22 four-star commits during his time at Vanderbilt -- and he didn't hesitate when asked about his high recruiting hopes.
The new coach's bold statement comes after years of PSU routinely losing out in western Pennsylvania. Sure, Penn State has earned commitments of some prospects such as wideout
Troy Apke
, but it's missed more than it's hit. PSU fell out of favor with ESPN 300 targets such as WR
Tyler Boyd
(2013 commit; Pitt), ATH
Dravon Henry
(2014 commit; West Virginia) and DB
Montae Nicholson
(2014 commit; Michigan State).
Beating Pitt out for recruits in its own backyard is a daring statement. So, a few minutes after answering his first recruiting question, Franklin was given a chance to soften his words. This time, he was asked where his recruiting focus lay -- but he again wasted no time in reinforcing his original point.
"I don't know if I mentioned this before, but we're going to dominate the state," he said matter-of-factly. "That's the first thing we're going to do."
And after that? Well, Franklin said next comes the region, in such states and areas as New Jersey, New York, New England, Virginia and Delaware. And, then, comes the nation.
"I think you sell yourself short when you don't do that," said the coach who got three commitments from California in Vanderbilt's last class.
Of course, Franklin never specifically mentioned Pitt at that point in the press conference. Maybe he'd back down if that was spelled out to him, maybe he'd try to soften up all this talk of dominating and controlling. It was an interesting thing to say, after all, for his first day on the job.
But Franklin just doubled-down on those statements when Pitt was specifically mentioned in one reporter's question.
"When I say Pennsylvania, when I say Penn State, that's the whole state," he said. "That is the whole state. We will recruit every corner of this state, every school of this state, every neighborhood of this state.
"And when I say recruit, not only just the student-athletes. I mean the people of the great state of Pennsylvania. We will recruit everybody, and that is with tremendous respect for the University of Pittsburgh. But we are ... Penn State."
September, 10, 2013
9/10/13
8:00
AM ET
Each class within the Big Ten has its strengths and weaknesses, but there is a lot of talent joining the conference. Here is a look at the top classes in the Big Ten by position.

Quarterback
Strongest class: Penn State