Big Ten:

Troy Vincent Jr.
January, 22, 2014
Jan 22
2:00
PM ET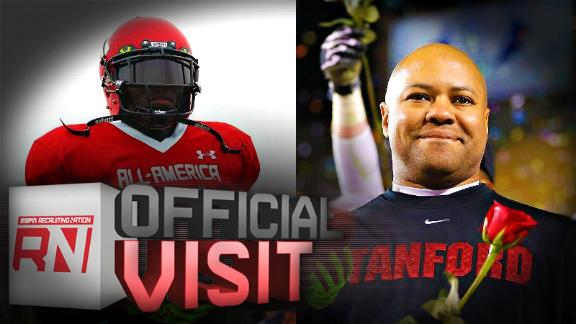 There have been commitments and decommitments across the board in the Big Ten, which means there has been movement among the
class rankings
.

As signing day approaches, teams will be looking to fill the final spots in their class. Here is a look at trends and a few items to watch within the conference:
Trending up:
No Big Ten teams moved up in the class rankings for this week, but that doesn't mean schools aren't improving.
Penn State has been on a tear recently with
James Franklin
and his staff on board. Despite losing ESPN 300 defensive tackle
Thomas Holley
(Brooklyn, N.Y./Lincoln) to Florida and defensive back
Troy Vincent Jr
. (Baltimore/Gilman) to NC State, the Nittany Lions have added some big pieces as well.
The most recent was three-star athlete
Trace McSorley
(Ashburn, Va./Briar Woods), who flipped his commitment from Vanderbilt to Penn State. McSorley was originally recruited as a defensive back by Franklin at Vanderbilt, but then the offer was switched to quarterback while he was committed to the Commodores.
McSorley will add some depth and competition at the quarterback spot for Penn State, as
Christian Hackenberg
and early enrollee
Michael O'Connor
are the only other quarterbacks on the roster.
Indiana has also been on a nice run, picking up five commitments in the past week, from linebacker
Tegray Scales
(Cincinnati/Colerain), running back
Tommy Mister
(Chicago/St. Rita), athlete
Waynedriko Smith
(Orlando, Fla./Orangewood Christian) and defensive backs
Zeke Walker
(Cayce, S.C./Brookland-Cayce) and
Tony Fields
(Tallahassee, Fla./Godby).
Trending down:
Michigan hasn't lost any commitments in the 2014 class, but the Wolverines lost ESPN Junior 300 running back
Damien Harris
(Berea, Ky./Madison Southern) over the weekend.
Harris is the No. 1-ranked running back and No. 17 overall in the 2015 class. Losing Harris and fellow ESPN Junior 300 member
George Campbell
(Tarpon Springs, Fla./East Lake) is a big blow to the 2015 class.
Add in the fact that Michigan's main remaining target for the 2014 class,
Malik McDowell
(Southfield, Mich./Southfield) could end up not picking Michigan and could end up at rival Michigan State or Ohio State, that's more bad news for Michigan.
The Wolverines haven't landed a commitment since August and steadily have been moving down the class rankings. If the coaches miss on McDowell, that would mean they missed on three major targets: McDowell, five-star defensive end
Da'Shawn Hand
(Woodbridge, Va./Woodbridge) to Alabama and in-state defensive end
Jhonathon Williams
(Berrien Springs, Mich./Berrien Springs) to Notre Dame.
To continue reading this article you must be an Insider
October, 15, 2013
10/15/13
8:00
PM ET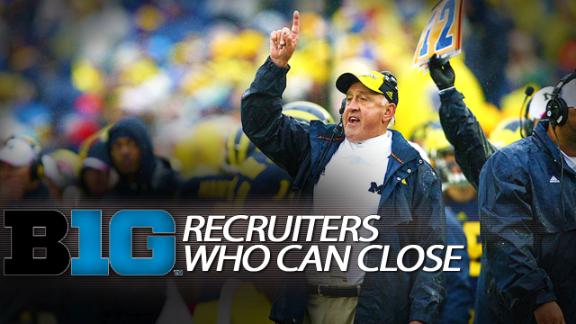 Editor's note: For a look at the national recruiter power rankings based only on Class of 2014 success,
click here
.
Michigan and Ohio State both sit in the top 10 recruiting rankings this year after each landed top 10 classes in 2013 -- the Buckeyes were third, while the Wolverines were sixth.
That's why it should come as no surprise that the two schools have the top four recruiters in the Big Ten Conference for the Class of 2014 so far.
Here's a look at the top 10 recruiters in the Big Ten and why they deserve such high praise:
To continue reading this article you must be an Insider
September, 5, 2013
9/05/13
10:00
AM ET
Each week Big Ten recruiting reporters Tom VanHaaren and Brad Bournival outline a few big high school games involving Big Ten recruits and commits. Here is this week's list:
To continue reading this article you must be an Insider
July, 1, 2013
7/01/13
5:00
PM ET
First mailbag of July. Bring the heat:
Rob from New York, N.Y., writes:
I disagree with
the response you had
to Michael from Evanston regarding cold weather bowls and also the success of the Pinstripe Bowl in New York. First, the Pinstripe Bowl traded the Big 12 and the old Big East for the Big Ten and the ACC. That's a "win" no matter how you slice it, especially with the huge alumni bases for both conferences on the East Coast. But also, I think Michael's general suggestion of a Chicago Bowl is a fantastic idea. Don't get me wrong, Detroit is a decent place and there are quality people there, but I have literally zero interest in seeing my team play there, ever. Chicago, on the other hand, even if it is in December/January... that's a draw. And the whole point of the new bowl lineup is to go towards major population centers where there are alumni, so why neglect the Big Ten's de facto capitol? I'd go to a Chicago Bowl against a lower tier SEC team, no question. The only question is whether an SEC team (or any other conference) would.
Brian Bennett:
Don't get me wrong on the Pinstripe Bowl. I think that's a nice addition to the Big Ten lineup as a mid- to lower-tier game, especially with the Eastern expansion of the league. But the question was whether that bowl has been a big success so far, and if you ask anyone from the Big 12, they'd definitely say no. As far as Chicago, I like the idea in theory. But let's remember the Big Ten has to this point rejected the idea of playing the conference championship game in its marquee city, primarily because of weather concerns. If the league doesn't want to play there the first week of December, what makes you think other conferences would want to sign on to play at Soldier Field around Christmas-time?
---
Rob NitLion from Morristown, N.J., writes:
I can NOT understand why some of my fellow B1G fans continue to think it's a good idea for Midwest cities to host bowl games in late December. I think its' a refusal or inability to understand what makes bowl games successful and that is the draw of warmer weather for us northern football fans to escape from ... Chicago is my favorite US city (I like it even more than NYC which is only 45 minutes away from me)... I love visiting Chicago...in the SUMMER! Are fans of the southern schools really going to want to travel north for a game in the cold that really means nothing (assuming its not a "Playoff" game)? Also, I'm a grateful PSU football season ticket holder, but if I have to pay for one more Youngstown State game at full price, plus the cost of gas for my four-hour drive, I might lose my mind. The conference, in my opinion, and I hope the opinions of the almost 1,000,000 B1G football ticket holders (approx. capacity of 14 future Big Ten football stadiums), is doing a great service to those that foot the bill for these football programs by providing us quality, meaningful entertainment, and let's be honest, how often will a B1G team that has an FCS school on its schedule be seriously considered for the "playoff?" If the FCS schools need the "funding" maybe the FBS should start a joint fund to share revenues with all those schools instead of wasting a home game...and the fans' hard earned money.
Brian Bennett:
Great minds think alike, Rob. Rittenberg might like dealing with the winter weather in Chicago, but most people want to go somewhere warm if they spend money to travel for a bowl game. And with a few exceptions, most Big Ten teams' fans could drive to Chicago the day of or before the game and wouldn't spend much money or time in the city, which is the only reason Chicago would want to stage such a game. On the FCS topic, I couldn't agree more. The elimination of those games will be a huge net win for fans, even if there are a couple of casualties like Northern Iowa vs. Iowa. The idea that FBS teams somehow are responsible for helping fund FCS programs is ludicrous to me.
---
Brian from New York City writes:
Like usual, you guys are in love with OSU. Why do you provide them a headline for their recruitment of Jamarco Jones and not for PSU getting Troy Vincent Jr? Like everyone else at ESPN you are bias! Are you guys in the business of reporting all Big 10 sports news or only the stuff that gets you viewership/ratings/readers?
Brian Bennett:
Yep, we're so -- ahem -- bias against Penn State recruiting here at ESPN.com that we have a
whole team site called Nittany Nation
that focuses heavily on Penn State recruiting news. In this blog, we don't spend a whole lot of time on recruiting unless there is a really significant development or something is unusual or signifies a trend. It's why we might write about Iowa
doing well with in-state stars
, or Purdue and Indiana
beating out big programs for a recruit
on the same day but most other commitments might get a lunchtime link. The difference between Jones and Vincent was that Jones is an ESPN 150 prospect, which carries more weight, and Vincent is not, plus the fact that Michigan and Michigan State were also heavily involved in his recruitment. Vincent is still a four-star prospect, and his commitment was terrific news for Penn State.
---
Jon Arens via Twitter writes:
Given the schedule, is 9 wins the barometer for Gary Andersen's success?
Brian Bennett:
At first, that sounds unreasonable, considering Wisconsin only won eight games a year ago. But then you look at that schedule and ... maybe so. The toughest road games are at Arizona State and at Ohio State, with trips to Illinois, Iowa and Minnesota also on the docket. Wisconsin could very well be favored in 10 games, including home contests against Northwestern, Purdue, BYU, Indiana and Penn State. Lots of things can happen, of course, and we're judging teams now based on what we see on paper. But this is a schedule that sure looks set up for nine or 10 wins, and that will add to the first-year expectations for Andersen.
---
Jeff from Olathe, Kan., writes:
Brian,I am a little surprised to not see a short article about Tom Osborne retiring today from the Universty of Nebraska. One of the greatest coaches in the history of college football should get a mention on the Big Ten Blog and on the ESPN College Football homepage.
Brian Bennett:
Jeff, Osborne retired as athletic director on Jan. 2, which to us was the more significant move that we wrote quite a bit about. He stayed on for another six months in the athletic department to help the transition to new AD Shawn Eichorst, and Thursday was his last official day in the office. Osborne is such an unassuming guy that he left without much fanfare. But you can't say enough about what he has meant to that program, that university and that state. We'd love to see him have a role in the College Football Playoff selection committee.
---
Joseph M. from Chicago writes:
The BCS standings usually do not come out until almost midseason. What would your thoughts be on doing the same with the top 25? It would give every team an equal shot at the beginning of each season to reach the National Championship or highly attractive bowl games. This way say by week 6 you determine the top 25 by the records of all the teams and then order them by that as well strength of schedule and maybe a few other elements. I think it would replace a system where teams for instance like Arkansas last year were not a top 10 team and lost right away to some sub par quality teams. It would tighten the core of the top 25 rather than just being placed in their by recruiting and last year's record.
Brian Bennett:
Great in theory, Joseph, but it wouldn't work in practice. The reason is that fans, whether they admit it or not, love polls. So organizations like the AP and USA Today keep putting them out there in the preseason, along with dozens of other really early rankings. Plus, we already have a system like you suggest in place with the Harris Poll, which does not come out until the first BCS standings are released and makes up one-third of the BCS formula. Yet the Harris voters, who have had about a half a season to make up their own minds, usually vote almost exactly along the same lines as the AP and USA Today pollsters. Groupthink and strict adherence to records and preseason expectations are largely to blame. The good news: starting next year, the polls shouldn't be nearly as relevant because a committee will pick the four playoff teams. It would be naive to think that committee members won't be influenced, at least subconsciously, by the polls. But hopefully the committee will have strong enough people who can think independently and pick the teams they really believe are the most qualified.
---
Darren F. from Rock Island, Ill., writes:
Thanks for your
article related to the Directors' Cup
showing how the Big Ten fares against all D-1 schools. Also, check out the Capital One Cup standings that wrapped up Thursday as the Big Ten did well there as well ... (full disclosure: IU alum).
Brian Bennett:
Good idea. The Capital One Cup separates men's and women's programs while awarding points to schools' athletic departments. Indiana finished No. 2 in men's sports, while Michigan was No. 7. Penn State was No. 5 in women's sports. You can see the full standings
here
.
---
Corey C. from Lincoln, Neb., writes:
Hey Brian! Love the blog. Who do you take in this year's fantasy draft -- Tay Tay or Brax? I think Taylor will score more TD's and deliver the most points. Thanks!
Brian Bennett:
I've got the No. 1 pick in this year's Big Ten fantasy league, thanks to Adam's shocking upset win in 2012. It's going to be an interesting call for the No. 1 pick.
Braxton Miller
might not run as much this year, but he could be improved as a passer.
Taylor Martinez
can rack up the points, but given Nebraska's early schedule, he might not be finishing many games.
Devin Gardner
could be a darkhorse No. 1 pick a la Anthony Bennett. I'm not sure yet whom I'll take, but even if I did know, I wouldn't tip my hand to Rittenberg.
June, 27, 2013
6/27/13
6:15
PM ET
By
Bob McClellan
| ESPN.com
BuckeyeNation
Austin Ward writes

: Ohio State looks like a good fit with
the criteria the past seven national champions have in common
.
Jared Shanker writes
: The Buckeyes landed a huge commitment on Thursday when
Jamarco Jones
, the No. 8 offensive tackle in the nation, announced his intentions.
Brad Bournival writes

: Here are five storylines to watch with OSU commits at The Opening.
NittanyNation
Josh Moyer writes

: Four-star CB
Troy Vincent Jr.
just felt like he fit at Penn State, though he left campus before turning the car around and going back to give his pledge.
Moyer writes

: A 2015 OT says his visit to Penn State for the recent cookout was unlike any of his other recent trips.
Moyer writes

: Here are five storylines to watch at The Opening that concern the Nittany Lions.
WolverineNation
Michael Rothstein writes

: The Wolverines are making strides in fitting the
criteria the past seven national champions have in common
.
Chantel Jennings writes

: Here are five storylines to watch at The Opening that concern the Wolverines.
June, 27, 2013
6/27/13
12:00
PM ET
June, 6, 2013
6/06/13
6:30
PM ET
By
Bob McClellan
| ESPN.com
BuckeyeNation
Austin Ward writes

: 2014 quarterback
Brandon Harris
got his first offer from McNeese State. Last week, in a three-day span, he met with Nick Saban, Les Miles and Urban Meyer.
Brad Bournival writes

: 2014 quarterback
Zack Darlington
has yet to take any visits, but the Florida native says OSU's offer has his attention.
NittanyNation
Josh Moyer writes

: Four-star athlete
Troy Vincent Jr.
says he's still open to any school with sincere interest, but he also admits Penn State is high on his list.
Moyer writes

: PSU D-line coach Larry Johnson is one of the chief reasons ESPN 150 defensive tackle
Thomas Holley
has his eye on the Lions.
WolverineNation
Michael Rothstein writes
: Drew Henson was a two-sport schoolboy legend when he chose to play quarterback at Michigan.
WolverineNation roundtable

: The staff tackles questions about the 2015 schedule and the colorful left tackle.