January, 31, 2013
1/31/13
12:00
PM ET
May, 24, 2012
5/24/12
1:00
PM ET
Norwood Teague's fundraising success at VCU was one of the biggest reasons he
landed the job as Minnesota's athletic director
. Last year, Teague launched a campaign to build a $10 million practice facility for men's and women's basketball. According to
Teague's VCU bio
, the school's athletic annual fund has increased by more than 119 percent during his watch.

That's good news for Minnesota football coach Jerry Kill, who is
making it clear to his new boss that the program needs a facilities bump
in the near future. While the opening of TCF Bank Stadium marked a huge step for Minnesota after the drab years in the Metrodome, the football program's everyday facility, the
Gibson-Nagurski Football Complex
, lags behind the competition in the Big Ten.
From the (St. Paul) Pioneer Press:
The U's indoor football practice facility cost $5.5 million to build in 1985 under coach Lou Holtz, who left to coach Notre Dame after two seasons. The building has received only patchwork and paint since then, although new turf was installed before the 2010 football season. Among the issues are several leaks in the 55-foot-high roof.
"It's not in good shape," Kill said. "That's not a football-selfish issue. We have nine teams using that, plus everybody on campus. For about $3 million, you can fix that. That needs to be an immediate fix. Now [Teague is] the boss, but it's an eyesore in recruiting. It's not good."
The interesting subplot here is that Minnesota men's basketball coach Tubby Smith also wants a separate practice facility. During Teague's introductory news conference last month, Smith told reporters, "We shouldn't be the last school in the Big Ten without a practice facility."
So who gets a new facility first, football or men's basketball? Teague's big accomplishments as an AD have come on the hoops side, but he left VCU for Minnesota in part because he wanted to oversee a department with FBS football. While Smith is the bigger name with the national championship on his résumé, Teague is in a league (Big Ten) where football undeniably drives the bus. If Minnesota can get better on the gridiron, all the others programs will benefit.
"I have a big vision of where we need to go; Tubby does, too," Kill said. "But you've got to take care of what you have because you just don't get things like [a new facility] right away. What are we going to do immediately to help the programs?"
Teague soon will have to answer that question. It's his first big decision in a big new job.
February, 2, 2012
2/02/12
1:30
PM ET
There will be new leadership in Minnesota's athletic department at the start of the 2012-13 sports season as
Joel Maturi announced Thursday he will retire June 30
.

Maturi's retirement isn't a major surprise, as many projected the 67-year-old to step down in the next year or so. Minnesota president Eric Kaler said Thursday that Maturi will work with him on fundraising and special projects following his retirement. Kaler said he and Maturi reached a mutual decision that Maturi would step down at the end of June.
Kaler said Minnesota will look both nationally an internally for Maturi's replacement, which Kaler expects to have in place by July 1.
How should Maturi's tenure as Minnesota's AD be viewed? The athletic program had no major scandals under his watch, which hadn't been the case in previous decades. He also helped bring football back to campus with the construction of TCF Bank Stadium, one of the best new facilities in college football. Maturi also made a splash with the hiring of men's basketball coach Tubby Smith in 2007.
But if ADs are ultimately judged by the success of their high-profile programs, Maturi fell short. His hiring of football coach Tim Brewster turned out very badly, and the prolonged search for Brewster's successor last year didn't look good, either. Maturi made some candid, eyebrow-raising comments after firing Brewster and during the process of hiring Jerry Kill.
From
the (St. Paul) Pioneer Press
:
Last season, his football team, his men's and women's basketball teams, and his men's hockey team all failed to make a national postseason appearance. The last time all four teams did not make a bowl or NCAA tournament was the 1997-98 season. The last time there was no bowl, NCAA tournament or NIT or WNIT appearance was the 1983-84 season.
Maturi also was criticized for buyouts paid to fired coaches like Brewster, former football coach Glen Mason and former basketball coach Dan Monson.
He seemed to have respect throughout Big Ten circles, and he was always forthright in our interactions.
"I know the job," Maturi said Thursday. "Many base my success on wins and losses. I'm not worried about Joel Maturi's legacy. I leave ... feeling good."
Maturi's departure doesn't significantly impact Kill, because it always seemed likely Maturi would step down before any decision on Kill's future would be made. Kill took the job knowing he'd likely have a new boss in the near future.
Then again, new athletic directors usually like to have their guys in place, and Kill will have to prove himself to Maturi's successor. It'll be interesting to see where Minnesota goes with the hire.
October, 18, 2010
10/18/10
4:00
PM ET
It's painful enough to fire your coach only six games into a season, as
Minnesota did with Tim Brewster
.
But here's what might be more painful: As athletic director Joel Maturi stepped to the podium Sunday in Minneapolis, the party in Madison still raged as Wisconsin celebrated its win against the nation's No. 1 team. And down in Iowa City, the Hawkeyes were welcomed back after scoring the highest points total in team history against Michigan (38) in a win over the Wolverines.
[+] Enlarge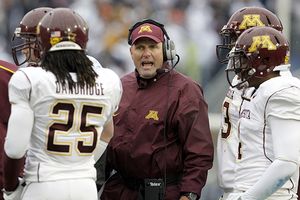 AP Photo/Carolyn KasterUnder coach Tim Brewster the Golden Gophers were 15-30 and 6-21 in the Big Ten.
As Minnesota admitted failure Sunday -- and to Maturi's credit, he did so in candid fashion -- its two biggest rivals celebrated their latest successes.
Minnesota received another reminder of where it is, and where it needs to go.
"It only emphasized what I think we can do," Maturi said of Wisconsin's big win Saturday. "I'm proud to say I was at the University of Wisconsin when they were in a similar condition to what we are in. Proud to say I was there when they won their first Rose Bowl, so I know it can be done. I think I have a clue as to how it was done and why it was done, and I'm here to do what I can to have it happen at the University of Minnesota."
Whether or not you believe Maturi can help restore and enhance Minnesota's football program -- many ADs don't get a chance to hire a second football coach -- his reference point is a good one.
After winning the Big Ten in 1962, Wisconsin went 31 years before claiming another title. Minnesota is in a 43-year drought without a championship, tied with Indiana for the longest in the league.
So it can be done, but it's far from a guarantee.
A large portion of Minnesota fans are rejoicing because Brewster is gone. That's their right as fans. But coaching change is never easy, and the really hard part comes next.
The Big Ten gets better in 2011 when Nebraska joins the league. Minnesota will be in a division with Michigan State and Iowa -- currently ranked No. 7 and No. 15 in the BCS standings, respectively -- as well as the aforementioned Huskers, a Northwestern team consistently making bowl games and a Michigan program that will restore itself to powerhouse status at some point.
Oh, and the Gophers still get to face Wisconsin every year in a protected crossover game.
"We're also at a significant time in the history of the Big Ten Conference," Maturi said in his opening remarks Sunday. "There are many exciting changes taking place -- expansion, divisional play, a conference championship football game -- and I believe it's critical that the University of Minnesota be in position to take advantage of those opportunities of those changes."
How prepared is Minnesota to take advantage?
Becoming the first FBS school to dump its coach this season give Minnesota a head start on looking for a successor.
Minnesota now can dream a little and make a run at a big name. Maturi certainly landed one for the Gophers men's basketball program in Tubby Smith.
"We were prepared to pay more for the coach when we [hired Brewster] four years ago," Maturi said. "Now can I pay the dollars that Urban Meyer are making? No. Nick Saban? No. We cannot go down that path. That's not a path that we can go down. But can we pay more than what we're paying, yes, we can. We can pay competitively."
The Minnesota job always will have its challenges, namely the location and the distance from many of the nation's recruiting hotbeds. But Wisconsin and Iowa face the same obstacles. And let's face it: recruiting didn't lead to Brewster's downfall; it was one of his strengths.
Minnesota also has a beautiful on-campus facility in TCF Bank Stadium, a major selling point for Maturi in this process.
There's no reason why Minnesota can't be a consistent bowl team and occasionally compete for Big Ten championships.
"Everything is here," Minnesota quarterback
Adam Weber
said Sunday. "The university gives everything a student-athlete needs to be successful, not only academically but athletically. It's just a matter of time. We will win football games here at the University of Minnesota. It's too bad that we haven't had the success, but ultimately, we will.
"That's a promise. It will happen here."
It needs to happen soon.
May, 17, 2010
5/17/10
4:46
PM ET
CHICAGO -- Penn State head coach Joe Paterno and his Ohio State counterpart, Jim Tressel, won't be attending Big Ten spring meetings this week.
Paterno, Tressel and Minnesota men's basketball coach Tubby Smith are all absent. Paterno has been battling the flu and
canceled a recent appearance
. The 83-year-old has been one of the Big Ten's most vocal advocates of expansion, the hot-button topic this week.
All three coaches will send assistants in their place. Penn State offensive coordinator Galen Hall and Ohio State assistant head coach/wide receivers coach Darrell Hazell are expected to attend.
It's not unusual for a head coach to miss the spring meetings. Iowa's Kirk Ferentz was absent last year and sent defensive coordinator Norm Parker in his place.
March, 10, 2009
3/10/09
6:29
PM ET
Posted by ESPN.com's Adam Rittenberg
While watching Ohio State and Northwestern combine to score a whopping 40 points in the first half of Sunday's basketball game, one of my friends gave me the idea to do a blog post examining the relationship between each Big Ten member's football team and men's basketball team.
It's an interesting topic, especially since the leaguewide football and basketball identities seem to be growing closer.
For starters, both sports are constantly fighting for national respect. Even the Big Ten's mini renaissance in hoops this season hasn't increased the league's profile as much as it could have.
Both sports generally play styles that aren't sexy and seem dull at times, but defense and discipline are emphasized. Most casual college football fans would rather watch a Big 12 game than a Big Ten battle. The same can be said for college hoops aficionados who prefer the ACC and the Big East to the Big Ten. But many die-hard Big Ten fans don't mind 17-14 football scores or even 17-14 halftime hoops scores (or 38-33 finals, ugh).
How does each school compare on the gridiron and the hardwood? Here's a closer look.
ILLINOIS

Current flagship program: Basketball
Both programs have tasted success, but only basketball has been able to sustain it over time. Football seems to be the flashier program right now, largely because of Ron Zook's and Mike Locksley's recruiting efforts, but basketball has produced more than its share of superstars, most recently guards Dee Brown, Deron Williams and Luther Head in 2004-05. Both coaches (Zook and Bruce Weber) have backgrounds in defense, but the Illini hoops squad seems to reflect it more often, while the gridders can light up a scoreboard behind quarterback Juice Williams.
INDIANA

Current flagship program: Basketball
The Hoosiers probably have the league's largest gap between football and men's basketball. One program has been largely considered an afterthought, while the other retains the mystique of a national powerhouse despite some hard times in recent years. Bob Knight coached Indiana basketball from 1971-2000. In that same span, the football team had five head coaches (football has had four coaches since 2001). Defense was a hallmark of Knight's teams, but it has been a bugaboo on the gridiron, particularly during this decade.
IOWA

Current flagship program: Football
Coaching continuity has been a theme for both programs, as men like Hayden Fry (football), Tom Davis (basketball) and Kirk Ferentz (football) have held their posts for more than a decade. Football has been the better and more likable program during the 2000s, reaching four New Year's Day bowls. Despite those incessant NFL rumors and a recent string of player transgressions, Ferentz remains popular among Hawkeyes fans, most of whom couldn't wait to see hoops coach Steve Alford leave town after several troublesome seasons. Though the basketball team hasn't broken through yet under Todd Lickliter, its style of play -- defense-oriented, focused on fundamentals -- falls in line with that of the football team.
MICHIGAN

Current flagship program: Football
It takes more than one lousy season to take football off the marquee at Michigan, but the basketball team seems to be gaining ground behind head coach John Beilein. Both programs have recruited extremely well and won national championships, but basketball has been a major underachiever this decade. Both Beilein and football coach Rich Rodriguez brought in proven systems from West Virginia, and Beilein's has caught on in Year 2. Who knows, maybe the same will hold true for Rodriguez. Football employed a more conservative style under Lloyd Carr and will appear more chic if Rodriguez's dynamic spread system clicks. Basketball seems a bit more blue collar behind Beilein.
MICHIGAN STATE

Current flagship program: Basketball
The identities of these two programs seemed miles apart years ago, but Mark Dantonio is gradually restoring respectability to the football team. Tom Izzo's hoops squad has been a consistent winner with cream-of-the-crop recruits, while football was known as a perennial underachiever, prone to midseason collapses and off-field problems, until Dantonio arrived. Both coaches stress defense and physical play, and Dantonio has upgraded recruiting for football, though it's not quite to Izzo's level in hoops.
MINNESOTA

Current flagship program: Push
Minnesota is one of few Big Ten schools without a clear flagship program, as both football and basketball have fluctuated in recent years. Formerly a football powerhouse, Minnesota hasn't won a Big Ten title since 1967. The hoops squad reached the Final Four in 1997 but then endured a crippling academic fraud scandal. Basketball got a major boost by hiring coach Tubby Smith and hopes to reach the NCAA tournament on Sunday. Football rebounded from a 1-11 season in 2007 to win seven games last fall behind energetic coach Tim Brewster. Both progams have upgraded their in-state recruiting, which should signal better days ahead.
NORTHWESTERN

Current flagship program: Football
For decades, no Big Ten program had more parallels in football and basketball than Northwestern, which wasn't a good thing. The Wildcats took losing to new lows, dropping 34 consecutive games in football and continuing to carry the label as the only major-conference team never to reach the NCAA tournament. But football broke through in 1995 and has been competitive ever since, and basketball could be getting there as well this season. Recruiting is a challenge for both programs, and Northwestern has used innovative schemes (the spread offense in football, the Princeton offense in basketball) to combat the gaps in talent. Resiliency has been a hallmark for Northwestern in football and, this season, basketball, but the oft-overlooked Wildcats generally struggle when the national spotlight is on them.
OHIO STATE

Current flagship program: Football
Football will always drive the bus in C-Bus, though the basketball team has raised its profile significantly under Thad Matta after violations by the previous coaching staff. The Buckeyes have been the dominant football team in the Big Ten this decade, much like Michigan State in hoops, and employ a style rooted in defense, special teams, rushing the ball and limiting turnovers. Matta's teams
seem a little more dynamic on offense while placing a premium on defense as well. The biggest similarity in recent years has been the ability to land top-level recruits, whether it's Terrelle Pryor in football or Greg Oden and Mike Conley Jr. in basketball.
PENN STATE

Current flagship program: Football
Here's all you need to know: Penn State's hoops team has reached three NCAA tournaments since 1965, the year before Joe Paterno took over as head football coach. Paterno is the face of not only the athletic department, but the university, and his football teams have overshadowed their mates on the hardcourt. While Paterno is an icon, most casual hoops fans couldn't point Lions coach Ed DeChellis out of a lineup. But DeChellis has his best team this year, and perhaps Penn State can turn the corner in basketball (a reasonable expectation). Paterno has won 23 bowl games and two national titles and coached Penn State to five undefeated seasons, so hoops has a lot of catching up to do.
PURDUE

Current flagship program: Basketball
Football and basketball have traded off top billing at Purdue, as Gene Keady's hoops teams held the distinction before Joe Tiller got things rolling with basketball on grass. Matt Painter has Boilers hoops back among the Big Ten elite, and his coaching and recruiting ability signals good things ahead. Purdue sells itself as a blue-collar, unflashy program in both football and basketball, which made Tiller's high-powered spread offense all the more eye-catching. New football coach Danny Hope wants to keep a similar offensive system in place, so it's hard to say whether football will move closer to basketball or further away.
WISCONSIN

Current flagship program: Push
It's a close call between Badgers football and basketball, as football dominated the 1990s and part of this decade, while basketball made the Final Four in 2000 and has surged behind coach Bo Ryan. Arguably no Big Ten school has more similarities between its two programs than Wisconsin, which overcomes a smallish recruiting pool to produce competitive teams that emphasize defense, fundamentals and physical play. Few basketball coaches consistently get as much out of their talent as Ryan does every year, and Alvarez built Wisconsin from a loser into a powerhouse.
November, 19, 2008
11/19/08
10:34
AM ET
Posted by ESPN.com's Adam Rittenberg
Coaching changes are cropping up around the country, but the Big Ten figures to be a nonfactor in what we around here like to call the silly season.
No Big Ten coach is in imminent danger of being fired. There's definitely some heat on Indiana's Bill Lynch, but with a lame-duck athletic director (Rick Greenspan), new AD Fred Glass not taking over until Jan. 2 (after hiring season) and beaucoup bucks owed to two basketball coaches (Kelvin Sampson and Tom Crean), a change isn't likely. Obviously, Purdue will have a change with Danny Hope taking over for Joe Tiller, but we've known that for months.
The big news in the Big Ten likely will involve contracts for existing coaches, some of whom have been mentioned as candidates for vacancies in other conferences. Here are some of the men who figure to get rewarded after strong seasons.
Michigan State's Mark Dantonio
Dantonio has been mentioned as a fringe candidate at places like Tennessee, but there's no panic in East Lansing that he'll jump ship like Nick Saban or George Perles did. Still, the school would be crazy not to sweeten Dantonio's deal. And athletic director Mark Hollis seems like a smart guy.
Expect a raise and a contract extension for Dantonio, whose salary ($1.1 million) ranks near the bottom of the league. This guy has Michigan State bound for its first New Year's Day bowl since 2000. The program's once-troubled culture has changed, and in-state recruiting is booming.