January, 2, 2014
Jan 2
3:00
PM ET
Here's a compilation of Twitter reaction from current players, former players and recruits regarding Bill O'Brien's decision to coach the Houston Texans:
I love my 2014 class of PSU ....we have that brothers connection and we didn't even enroll to PSU yet

— Marcus Allen (@Chico_Ehhh) January 2, 2014
If it wasn't for Coach OB I probably wouldn't be playing football anymore, I wish him the best in the NFL.

— Devin Pryor #16 (@D_Pryor16) January 1, 2014
I just can't wait to figure out who my head coach is going to be next year #WeAre #WeAreAndAlwaysWillBe

— Charlie Shuman (@BigCShu71) January 1, 2014
We all we got! No reason to panic or jump ship! Doesn't matter the system nor the coach...players win games period

— Bill Belton (@W3BII) January 1, 2014
No matter what happens football games will be played and won by the Nittany Lions love all my brothers we will stick together #WeAre

— Hunter Crafford (@Craf_FordTough) January 1, 2014
Never worry about the things you can't control

— Malik Golden (@_goldenboy6) January 1, 2014
A man's gotta do what a man has GOT TO DO. It's life baby !

— Stephen Obeng-Agy... (@BigBENGTheory7) January 1, 2014
New Year, New Head Coach I suppose

— DaeSean Hamilton (@SkeeterMills__) January 1, 2014
Recruiting Class of 2014 #pennstate #weare I'm going stick by penn state side ! Regardless the new head coach I will be attending penn state

— MARK ALLEN (@theALLENshow) January 1, 2014
Bout to be the best year for me yet and bout to be the best year for Penn State #WeAre

— carter Henderson (@hendydo_42) January 1, 2014
I hope I have another chance to play under Coach O'B. I love the guy, I appreciate everything he's done for me. I couldn't be more thankful.

— Jesse James (@JJames18_) January 1, 2014
Good luck to Coach O'Brien and his family. Made a tremendous impact on my life and many others during his time at Penn State.

— Ty Howle (@THowle60) January 1, 2014
Best of luck to the O'Brien family and to the lucky man that gets to coach this prestige organization... I can't wait to meet you

— Troy Stivason (@teejaystives) January 1, 2014
To all of the Penn State family: Penn State is and will always be about more than any one man. WE ARE everything we have always been

— Derek Dowrey (@doubleDowrey) January 1, 2014
Coach O'Brien was a great mentor, coach and father figure but every coach has the aspirations to coach in the NFL. glad coach can chase his.

— Brian Gaia (@that_gaia) January 1, 2014
Gotta keep on movin forward people that's all we can do #yafeelme

— Austin Johnson (@AJohn15) January 1, 2014
One thing OB taught me is that this is a business, and u should do what's best for you.Texans are getting a good coach, I wish him the best

— Deion Barnes (@DBarnes_18) January 1, 2014
Its weird that I am one of the few penn state football players that will have 4 head coaches #mindblown #ohwell it's the business #NFL

— Matt Zanellato (@mzanellato) January 1, 2014
Coach O'brien is a great coach and great person! Proud to have called him my coach. It was his dream to coach in the NFL, best of luck. #PSU

— Mike Hull (@m_hull4943) January 1, 2014
I'll love Coach Obrien forever. He will always be apart of Penn State. One of the greatest men I've ever known. #PennStateForever

— Miles Dieffenbach (@Curiousjorge65) January 1, 2014
Fight on. We still are and forever will be.

— Garrett Sickels (@Sickels_90) January 1, 2014
Time to move on Penn State! We will find the right man for the job. BOB did plenty for us. Time for a true Blue and White bleeder! #WeAre

— OJ McDuffie (@ojmcduffie81) January 1, 2014
October, 25, 2013
10/25/13
2:00
PM ET
John Urschel
is a senior offensive guard who might have more accomplishments off the field than on. He was an All-Big Ten lineman last season and also co-authored a paper in the journal, "Celestial Mechanics and Dynamical Astronomy" that sought to prove how asteroids move in an unstable manner.
He carries a 4.0 GPA, is working on his second master's degree, taught a Penn State math class -- and he's also one of the leaders on Penn State's offense. I recently caught up with Urschel to talk about life on and off the football field for this week's Friday Q&A:
[+] Enlarge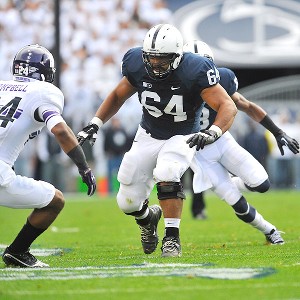 Randy Litzinger/ Icon SMIPenn State senior lineman John Urschel is accomplished on and off the field.
Right after Bill O'Brien's news conference this week, you joked that your head coach didn't ask you -- the math genius -- whether you should've gone for two at the end of the Michigan game. Well, tell me, what does math say you should've done?
John Urschel:
I don't know what math says, but the offensive lineman in me says you go for two and you run the ball. [Laughs]
By now, everyone knows you're pretty good at math. (It's been documented here, here and here.) What's one thing you're good at that people don't know about?
JU:
I'm a pretty good chess player. I do not have a ranking; I haven't played in any official matches or tournaments. But I figure once I get done with football, I might get into that and play competitively. I've only been into it for the past two years, but I've been pretty serious about it.
How are you serious about it?
JU:
Whether it's practicing certain end games, different openings, just training my tactical vision. I do that in my free time -- not so much in the fall because I just don't have time, though.
You don't really come across as a person who does things halfway. It seems like once you do something ...
JU:
Yeah, I try to do it well. I don't do things halfway. Another interesting thing -- Connect Four, have you ever played?
Oh, yeah. I can still tell you that '90s commercial jingle.
JU:
When I move first, I am unbeaten. Unbeaten. And I dare someone to beat me. Bring this Connect Four game. I challenge someone to beat me, me moving first.
Is it because, mathematically, the person who goes first can always win? I'm onto you John ...
JU:
[Laughs] Mathematically, you're always going to win if you play perfectly -- which not everyone can do. But playing perfectly, you will always win. Last time I played? Three or four days ago. I think I played someone on the team. I won.
Can I test your math ability a bit? If I just give you a series of double-digits, can you multiply them all together like a human calculator?
JU:
Here's the thing. I get this question a lot. I have to warm myself up. This is something people don't get. So you're playing football -- you warm up before you play. Suppose you're doing some heavy computations -- you're doing a lot of math and a lot of heavy thinking. You don't do your best work when you just start, sit down and start doing it. You have to warm yourself up; it takes time. So if I'm completely not doing something math-related and somebody bothers me with that, I have to warm myself up. It's different.
OK, fine -- we'll skip the math pop quiz for now. Let's talk about football a little bit. How do you feel about your performance so far this season?
JU:
I'd say, honestly, I had a slow start this year. But I'm really becoming more happy with my play as the season goes on. I'm really hoping to continue that strong performance throughout the Big Ten season.
What about two of your teammates on the line, Ty Howle and Donovan Smith? You had a lot of praise for Smith over the offseason.
JU:
Ty's played really well. You know Ty's my boy; we're real tight. I love that guy to death. We've been playing together for -- this is our fifth season. He's played really well. He's taken that starting center spot and run with it. He's a big-time player. Donovan is a physical talent; he has as much talent as anyone on this offensive line. End of story. Footwork, good size, good job running through blocks. The list goes on.
You mentioned before you can go to Stanford or MIT after football's over. So you want to test the -- I mean, play in the NFL and then kind of move on?
JU:
No, no. No testing the waters.
[Laughs] I tried to take that back.
JU:
No testing. All in. I have every hope and aspiration to play in the NFL and I'm going to try to do everything I can to make it until they don't want me anymore. And when they say, 'John, stop trying,' that's when I'll go and get my PhD in math.
Do you think you're better at football or math?
JU:
I think I've been given more gifts in one than another. More gifts in math. I've grown up to be 6-3 -- good size, good frame. But I'm no Donovan Smith. I'm not 6-7 or 6-6, or you know. It took work to get big and strong and become a good football player. Math has always been there; I've known that since I can remember.
Known since you were beating all the school kids at Connect Four?
JU:
[Laughs] Yeah. That must have been it.
September, 18, 2013
9/18/13
4:30
PM ET
STATE COLLEGE, Pa. -- Bill O'Brien isn't one to shower praise upon his players. The Penn State head coach is more likely to punt on fourth-and-inches than to lob compliments at a standout performer.
He tends to diffuse praise throughout the team, reiterating that wins don't come from individuals. But that exercise has become a bit trickier lately with his true freshman quarterback, whom he's been asked about at every opportunity.
[+] Enlarge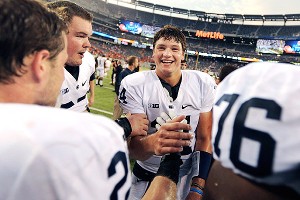 Nabil K. Mark/Centre Daily Times/Getty ImagesFreshman quarterback Christian Hackenberg has already started to become a leader for the Nittany Lions.
Is he surprised
Christian Hackenberg
is completing 71 percent of his passes? "I expect him to complete every pass," O'Brien said flippantly. What about a performance that's seen him win two Big Ten freshman of the week awards and rank third in the conference with 851 passing yards? "I'd give 'em a 'B,'" O'Brien said.
One wonders what it might take for an "A" on the O'Brien grading scale. But the coach is just trying to keep the aw-shucks kid from Virginia humble. Fans had anointed Hackenberg the quarterback of the future, the savior of the offense, before he could attend a senior prom. He was a household name in the Keystone State a year before he ever slid on his No. 14 jersey.
And he has still met lofty expectations and become a staple of the O'Brien press conference by coming a long way in just three short weeks. Against Syracuse in the season opener, O'Brien called run plays on third-and-long and steered his quarterback into short, high-percentage passes. In Week 2, against Eastern Michigan, Hackenberg aired out the ball more following his first quarter fumble that was returned for a touchdown. O'Brien chose to pass on eight straight third downs.
And, in Week 3, against Central Florida? Hackenberg ran the NASCAR no-huddle offense, checked down on some plays, didn't commit a turnover and nearly led a comeback in PSU's 34-31 loss. He finished with a QBR of 82.9; a perfect score is 100.
"There's definitely not as much anxiety," Hackenberg said Wednesday afternoon. "I've experienced pretty much everything that I could on the field at this level so, really, it just comes down to preparation and continuing to get better each week."
Ask Hackenberg's teammates about his evolution, and a theme will clearly emerge. His offensive linemen,
Ty Howle
and
Adam Gress
, used the term "confident" repeatedly, more often than they used the term "freshman." Hackenberg's leadership is even apparent on the other side of the ball.
"He's starting to help other guys come along and become a leader," linebacker
Glenn Carson
said. "He was getting fired up on the sideline and getting guys going. That was comforting to see from a quarterback, especially a young quarterback."
Hackenberg shared Wednesday that his teammates' respect wasn't handed to him just because he's the kid under center. When he enrolled in June, he knew he had something to prove in the weight room. When he stepped outside, alongside his receivers, he knew had something to prove during drills.
But he tried to build off every experience. As the respect started to come, he became more vocal. As he became more vocal, more teammates started to look upon him as a leader. After
Zach Zwinak
's fourth-quarter fumble Saturday, for example, Hackenberg turned to him and told the redshirt junior to keep his head up and that they'll keep fighting.
And when talking about
Allen Robinson
, the Big Ten receiver of the year and a man two years his senior, the 18-year-old quarterback referred to him as "kid." As in, "Kid's got a 38-inch vert, so I just gave him a shot."
Hackenberg is a calm and poised quarterback -- "which is great for me," O'Brien added, "because I'm not a calm guy" -- and has used each week as another step toward success.
O'Brien seems to dangle perfection in front of Hackenberg like a carrot on a stick. He's played well but, O'Brien's sure to add, he's making about six or seven key mistakes every game. The true freshman insists he knows what he's doing wrong and, behind the respect of his team, he's hoping there's nowhere to go but up.
Who knows? At this pace, maybe -- by the end of the year -- O'Brien might even give him an A.
September, 4, 2013
9/04/13
1:00
PM ET
Christian Hackenberg
walked into the media room Saturday with sunburned cheeks and wet, tasseled hair so it looked as if he had just finished a pickup game of football on the beach. He smiled, his voice remained steady, and he kept constant eye contact.
[+] Enlarge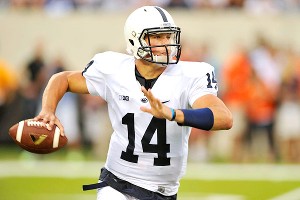 Nabil K. Mark/Centre Daily Times/Getty ImagesChristian Hackenberg made plays in his college debut, but more importantly, understood his mistakes.
This wasn't the look of relief. It wasn't the look of a quarterback who, after that final whistle, felt the heavy pressure of a fan base's hope slide off his shoulders. This was the look of someone who didn't feel that burden to begin with.
"It's funny. He just has this calming demeanor about him," said his father, Erick. "I don't think it's parenting. I just think it's who he is."
Fifth-year center
Ty Howle
could just tell by the way the 18-year-old quarterback talked and moved. He punctuated his sentences and didn't glance down during the huddle. And when he did make a mistake, he thought back to the advice he had long ago received from Super Bowl-winning quarterback Trent Dilfer: You have to have a short memory; you can't let that build into who you are.
Hackenberg's shoulders didn't slump after his second interception. He simply walked to the sideline and simply exchanged knowing glances with Bill O'Brien.
"He didn't really say much," Hackenberg said of the exchange with the Penn State head coach. "He understands that I understood what I did wrong.
"I sort of came off ... and he was just like, 'Yep,' and we kept going."
For more than a year now, Hackenberg has been called the future of the Nittany Lions. He's the most heralded PSU signal-caller to ever fax in a letter of intent, and he boasted more Twitter followers as a high school senior than nearly all of his future college teammates.
This -- the cameras, the crowds, the white No. 14 jersey -- is all new to the baby-faced quarterback. But, in a way, he's been here before. In a way, circumstances have molded him into becoming this calm-and-collected QB, one who forced his head coach to caution with a smile Tuesday, "We're not ready to waltz him in the College Football Hall of Fame." Not after his first game, anyway.
The spotlight found Hackenberg before his high school junior season and intensified with every 50-yard completion and camp he attended. During the Elite 11, which fell on the week leading up to the announcement of Penn State's sanctions, Hackenberg remained stone-faced while the university to which he was committed found itself mired in unprecedented controversy.
He withstood the incessant questions about his pledge and never wavered. His father still remembers when the PA announcer would echo Hackenberg's committed school as "Penn State." His son felt proud. And, by extension, so did his father. And his high school coach.
If he could stay calm through that, what's a few extra people watching on Saturday going to change?
"What a lot of people have forgotten is that, as a 17-year-old kid, he stood up in front of the world and said, 'I'm going to Penn State' and never wavered," Fork Union (Va.) Military Academy coach Micky Sullivan said. "Think about the character it took for a 17-year-old to do that. And everyone's worried about an 18-year-old starting a football game?"
Added Erick Hackenberg: "It was kind of right there when I knew he was all right. He showed maturity there and, as a father, you were like, 'Hes going to be OK. He's going to get through this.' I think him having to learn to manage all that, I think it was helpful for him."
And then there's the age difference. It looks as if the only mustache Hackenberg can grow comes after drinking a tall glass of milk. Some of his Penn State teammates are grown men, players who sport full beards and are able to enjoy a few beers during the offseason.
You couldn't blame Hackenberg if he was a bit intimidated about ordering around players four years his senior -- especially considering he's been on campus less than four months. Hackenberg was still in middle school when his starting center was practicing with the Nittany Lions.
But, again, he's prepared. Call it luck, or call it fate. But he's been there before -- as a high school sophomore.
"I just remember we were in a dogfight, and Christian was in the huddle with a bunch of guys who wanted to win and were older than he was," Sullivan recalled. "And somebody -- I think it was Larry Mazyck who started in New Mexico. He was 6-7, 300-pounds, and he said something.
"I'm not sure about the entire conversation. It was very quick, and Christian was in his face by the end. Larry knew he needed to shut up and listen to the play. From then on, everyone listened."
Hackenberg's father reminded his son of that in the days leading up to the Syracuse game. Sure, the environment has changed now. Only a few hundred fans would sit in the Fork Union bleachers for Friday afternoon games; now, Hackenberg sees those same numbers from just the media. A MetLife Stadium official said more than 200 reporters and photographers were credentialed.
Sure, the football is faster now -- but it's still the same game. It's the same theme. He'll embrace and challenge teammates. He'll sway to the alma mater and remain calm facing increasing challenges. The same person, but a better quarterback.
"At the end of the day," Christian Hackenberg said, "it's just football."
July, 9, 2013
7/09/13
1:00
PM ET
Two more preseason watch lists are out, and they recognize two positions of traditional strength in the Big Ten: center and tight end.
The
Mackey Award
, which goes to the nation's best tight end, and the
Rimington Trophy
, which honors the top center, both came out with their preseason lists on Tuesday. The Big Ten is well represented on both. Here's a look:
Rimington
Mackey
Tight end should be one of the strongest positions in the league this season, and seven starting Big Ten tight ends make the list of 37 nominees. It's a bit surprising to see only four centers from the league on the list of 44 Rimington honorees. Any snubs here? I think you could have added Northwestern's
Dan Vitale
to the Mackey group, though that list is pretty well stuffed with Big Ten players as is. The Rimington folks seem to have gotten all the potential award winners right, though someone like Wisconsin's
Dan Voltz
or Penn State's
Ty Howle
could always surprise.
April, 24, 2013
4/24/13
11:00
AM ET
We're taking a page from our friends at the ACC blog and examining whether certain Big Ten teams will be contenders or pretenders in the 2013 season. The series does not include Ohio State, Michigan or Nebraska -- three teams that, in our view, have earned the "contender" label entering the fall. For each team, we'll make a case for why they're contenders and pretenders and provide our final verdict. We invite you to vote on whether a team is a contender or a pretender or send us your thoughts for mailbags
here
and
here
.
Next up are the
Penn State Nittany Lions
, a team that can't contend for a Big Ten championship because of NCAA sanctions but, like Ohio State in 2012, can win the Leaders division.

Why they're contenders:
After winning eight of their final 10 games in Bill O'Brien's first season, the Lions no longer have to adjust to new coaches and new systems. Although quarterback is a significant question mark, Penn State will surround its new signal-caller with plenty of weapons. Junior
Allen Robinson
, the Big Ten wide receiver of the year in 2012, returns along with the league's deepest group of tight ends. O'Brien likes what he has at running back with
Zach Zwinak
(1,000 yards last fall),
Bill Belton
and
Akeel Lynch
, who stood out in the spring game. The offensive line was a pleasant surprise last season and should be solid again as
Ty Howle
fills the center spot vacated by All-Big Ten selection
Matt Stankiewitch
. Penn State has good depth in the secondary, which could be the strength of the defense this season. Big Ten freshman of the year
Deion Barnes
returns at defensive end, and
DaQuan Jones
is stepping up to lead the line.
Mike Hull
finally moves into a starting spot at linebacker and will help fill the production void left by
Michael Mauti
and
Gerald Hodges
. The biggest reason to Bill-ieve is O'Brien, who has developed players extremely well during his short time in State College. If he can develop a quarterback, Penn State should win eight or more games again.
Why they're pretenders:
There's a school of thought that at some point, the severe NCAA sanctions imposed on Penn State will catch up with the program. It could be this season. Although Penn State looks good at most starting positions, depth is a concern on both sides of the ball. Linebacker U isn't very deep at linebacker, and if Hull or
Glenn Carson
goes down, the defense might be in big trouble. Barnes looks like a superstar at end, but he'll face increased attention this year and won't have
Jordan Hill
for protection on the interior. The biggest question mark is quarterback, as
Steven Bench
barely played last season, while junior-college transfer Tyler Ferguson and incoming freshman Christian Hackenberg have yet to take a snap in an FBS game. O'Brien is a quarterback guru and transformed Matt McGloin, but at least McGloin had a lot of experience at this level. Although kicker
Sam Ficken
made an impressive turnaround down the stretch last season, Penn State struggled mightily on special teams and was fortunate the kicking game only proved costly in one loss (Virginia). The Lions' division road schedule isn't easy with trips to both Ohio State and Wisconsin.
Final verdict:
Contender. O'Brien has given us no reason to doubt him, and while quarterback is a significant question mark, it's also the position O'Brien knows best. The supporting cast will ease the transition for whoever lines up under center this fall. Penn State is thin on defense at positions where it traditionally produces All-Big Ten players, and while the unit can't afford to lose certain pieces, a major drop-off seems unlikely. Penn State should build some confidence during a favorable early season stretch before facing Michigan and Ohio State in a three-week span. Don't be surprised if the Lions' Oct. 26 game in Columbus once again determines the Leaders division champion.
April, 11, 2013
4/11/13
5:00
PM ET
On Wednesday, the head coach and one player from each Big Ten Legends Division team participated in a
spring football teleconference
with the media. On Thursday, it was the Leaders Division's turn. Here are some notes and updates from the call:

Illinois
Head coach Tim Beckman said the junior college players he brought in helped with depth and age issues on his young team. "We have 40 football players that have never been in our spring football until this year," he said. Of the juco imports, Beckman said wide receiver Martize Barr has quick hands and good playmaking skills, both in the passing game and on kick returns; Eric Finney has earned a starting job at the Star linebacker position; Abe Cajuste is adding depth by playing both defensive tackle and defensive end; and Dallas Hinkhouse is making an impact at offensive tackle.
Beckman sung the praises of offensive lineman Corey Lewis, a sixth-year senior who has battled back from five knee surgeries and has become a team leader. "Corey Lewis comes to my office probably four or five times a week, just to talk," he said. "To me, he is what college football is all about." Beckman said that Lewis has "had a special spring" and hinted that he has earned a starting job.
Quarterbacks Nathan Scheelhaase and Reilly O'Toole will take most of the snaps in Friday's spring game so they can get more experience in the new offense. Beckman said Scheelhaase has "got a step in front" because of his experience, but the competition continues.
Scheelhaase on reasons for optimism in 2013: "Establishing an identity. That's something I don't know that we necessarily had last year, on offense or defense or as a team in general.

Indiana
Like many of you, head coach Kevin Wilson would like to know the new Big Ten division alignment. The reason? It's harder to recruit without being able to tell a prospect where he'll be playing his freshman season. Wilson added that if the league does indeed go to an East/West split, he'd like to see the Hoosiers placed in the East since they're located in the Eastern Time Zone.
Wilson said run defense and takeaways are two huge priorities for the Hoosiers' defense during the offseason. He noted that the Big Ten doesn't boast a large group of elite pass offenses, so IU must prepare better for run-driven attacks. Indiana finished last in the Big Ten in both run defense (231.3 ypg) and takeaways (13). Cornerback Greg Heban said the defense is working on takeaways every day in practice. "Every time the ball touches the ground, the defense is scooping it and scoring it," Heban said, "trying to give us a feel of what it's like."
Both Wilson and Heban praised the play of junior cornerback Tim Bennett this spring. Other spring standouts include linebacker T.J. Simmons, a freshman early enrollee, and Steven Funderburk, a junior-college transfer.
Heban called this "easily the best spring I've been around." He has seen more physical play and better effort on both sides of the ball, and the team also is having more fun than in past springs.

Ohio State
Head coach Urban Meyer said running back Rod Smith won't play in Saturday's spring game because he recently suffered a concussion. Before that, Meyer said Smith was one of the five most improved players on offense this spring. Meyer listed Carlos Hyde and Smith as the team's top two running backs, while Bri'onte Dunn and Warren Ball are even for the No. 3 spot.
Although the receivers have been better this spring -- especially Corey Brown and Chris Fields -- the depth is still nowhere near where it needs to be for Meyer's spread offense. "We're way behind on quality of depth at that position," Meyer said. "That's a major, major concern." Moving Jordan Hall to H-back should help, and Meyer noted that the Buckeyes boast two good tight ends in Jeff Heuerman and Nick Vannett.
Buckeyes offensive tackle Jack Mewhort paid close attention to the way John Simon and others led in 2012. He's ready to take on a greater load this season. "I welcome that," he said. "I see that as an honor, being compared to a guy like John Simon. I also see it as a challenge. I feel the pressure to step up and get guys going in the right direction." Mewhort also has seen quarterback Braxton Miller recognize his leadership responsibilities more this spring and get after teammates when he needs to.
Meyer said he puts more emphasis on spring practice and the spring game than most coaches. He has told his players that there will be a depth chart after spring ends, and while changes are possible in the summer, they're not likely. "In spring ball, you're trying to win a spot," he said. "During the fall, we're trying to win games."

Penn State

Purdue
Head coach Darrell Hazell said the Boilermakers have made major improvements in the last three and a half weeks. "Anytime you put in three different schemes, there's a little bit of a learning curve for the first couple weeks," he said. "You could see guys start to really get comfortable the last five or six practices."
Hazell said he has "three capable guys" right now at quarterback with Rob Henry, Danny Etling and Austin Appleby. He reiterated that he would keep the competition open until two weeks before the opener at Cincinnati. Of Etling, a freshman early enrollee, Hazell said: "For a young guy, a guy that should be at his prom, I think he's got tremendous poise. He's smart and really studies the game."
Hazell said backup tight end Justin Sinz and center Robert Kugler are two guys that have really caught his eye this spring. He called Kugler a "very much a leader on the offensive line."
Cornerback Ricardo Allen said Hazell has instilled an "all is one" mentality. "If one person does something, we all have to do it. We all wear black socks. We all wear the same uniform. We all tuck our shirts in. I feel like we're becoming closer as a team, and it's helping us build."

Wisconsin
Head coach Gary Andersen confirmed Curt Phillips and Joel Stave have separated themselves in the quarterback competition. It's a "mixed bag" of who takes snaps with the first-team offense, but both will continue to rotate through the rest of the spring and into fall camp. "The way they've separated themselves is simply production," Andersen said. "They know exactly where they sit and so does the rest of the team. … If they put all their friendships aside, their depth chart would look exactly like our depth chart."
Andersen praised the offensive line for tackling another transition, as the group works with its fourth position coach (T.J. Woods) since the 2012 Rose Bowl. The line has seen varying looks from the defense in practice and had players move around to different positions, in part because of injuries. Wisconsin had only seven healthy linemen a week ago, but Andersen is hopeful the number will rise to nine or 10 by next week's spring game. "Those kids have grinded through it every single day," Andersen said. "They're a tough-minded group."
Badgers senior linebacker Chris Borland said losing defensive end David Gilbert to recurring foot problems is a blow but the team has others to step in like Tyler Dippel, Brendan Kelly and Jesse Hayes, a redshirt sophomore who has stood out this spring.
Much like his old boss Urban Meyer, Andersen believes in constant competition and declares winners and losers in each practice. Andersen also mixes in some fun with a dance-off and throwing footballs into trash cans. "Some of them are a little bit quirky, but through the years establish some things we like," he said.
Borland said the strength program has brought the biggest changes in the transition to Andersen's staff. Cardiovascular work is stressed more, as is preventative care. Head strength and conditioning coach Evan Simon operates at a faster pace and uses more of an instructional approach than Ben Herbert, who stressed motivation.
BIG TEN SCOREBOARD
Friday, 12/26
Saturday, 12/20
Monday, 12/22
Tuesday, 12/23
Wednesday, 12/24
Saturday, 12/27
Monday, 12/29
Tuesday, 12/30
Wednesday, 12/31
Thursday, 1/1
Friday, 1/2
Saturday, 1/3
Sunday, 1/4
Monday, 1/12
Tweets from https://twitter.com/ESPNCFB/lists/b1g