December, 3, 2014
Dec 3
1:00
PM ET
Michigan
will search for a new coach this month for the third time in seven years. New faces in positions of power give the Wolverines a chance to start over with a clean slate if they want to do so with their next hire.
The resources, support and tradition in Ann Arbor make it easier for Michigan than most programs to reroute itself in a positive direction. Expectations will always be high, but the current roster may not be built for an instant turnaround.
Here is where the rest of Michigan stands while its leaders search for a new head coach:
[+] Enlarge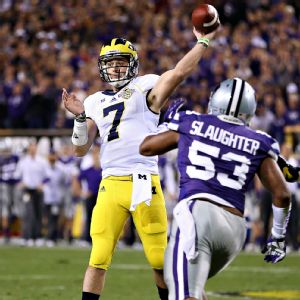 Christian Petersen/Getty ImagesShane Morris struggled in his only start this season, leaving an uncertain future at quarterback for Michigan.
Offense:
A young offensive line returns intact next season (barring transfers) after showing marked improvement in November. The Wolverines have several capable running backs, including USC transfer
Ty Isaac
, who did not play in 2014. The wide receiver corps was disappointing in its production this season but has the raw talent to improve under the right direction.
The big question mark is at quarterback. The only starter on offense who ran out of eligibility this season is
Devin Gardner
. His backup,
Shane Morris
, struggled in his one career start earlier this year. Brady Hoke never succeeded in recruiting or developing a program-changing quarterback. It doesn't appear there is a white knight on the way next year. Michigan's offense might be trending in the right direction, but without a talented quarterback in today's college football world it will take time for a new coaching staff to make the Wolverines competitive with the best in the Big Ten.
Defense:
Michigan loses its top tackler, its two best pass-rushers and a veteran in the secondary this year. Hoke and coordinator Greg Mattison left a well-stocked defensive line with young players who had a chance to gain experience in 2014. Some of those young guys will need to take a step forward in producing more pressure to replace
Brennen Beyer
and Frank Clark.
The Wolverines' biggest loss on defense is
Jake Ryan
, their leader and middle linebacker. Junior
Joe Bolden
is equipped to step into Ryan's place after finishing this year with 102 tackles. The secondary returns a strong mix of experience and young talent, especially when five-star recruit
Jabrill Peppers
gets healthy. Hoke definitely leaves the Michigan defense better than he found it. This side of the ball is a conference championship-caliber unit.
Special teams:
Punter
Will Hagerup
and kicker
Matt Wile
are both out of eligibility. Both Michigan return teams finished 11th in the conference in production but could get a boost from a healthy Peppers. Special-teams play didn't win any games for Michigan. It didn't lose any either. A new coach could make improvements here if he wants to focus his efforts on the third estate. He might be better served focusing on other issues to start.
Fan base:
This season was the first time Michigan didn't lead the nation in home attendance in more than a decade. The student section was notably thinned throughout the regular season. Much of the fan angst was directed at former athletic director Dave Brandon, who alienated alumni, students and former players during his five years in office. The Michigan faithful are a confident bunch, but an impatient one as well. Hiring a big name would go a long way in reigniting hope among the fans.
Leadership:
Dysfunction among the higher-ups in Michigan's athletic department is, as much as any other single cause, the reason why the last two coaches failed. Brandon's resignation helped clear out a large chunk of those problems.
The university has a new president and an interim athletic director, neither of whom has significant experience in leading a major athletics operation. Jim Hackett, the athletic director, is the former CEO of Steelcase and has inspired confidence during his first month on the job. It's not clear how long he'll be around, and it's still too early to make a judgment on how well equipped he is for the position. The administrative leadership for Michigan is a mystery right now, which is better than anything you could say about it a year ago.
Recruiting:
Hoke's tumultuous final year took a major toll on Michigan's recruiting. When four-star tight end
Chris Clark
reneged on his commitment Tuesday, the class shrunk to six prospects planning to play for the Wolverines next season. That's the smallest group of committed players among any Power 5 conference team at this point.
Michigan has top-notch facilities and is a well-respected university. Hoke's staff could go head-to-head with anyone in the Big Ten when it came to recruiting. The next staff should be able to have the same success but probably won't have time to salvage the 2015 class.
August, 28, 2014
Aug 28
8:00
AM ET
Making it through an entire offseason is tough, and the Big Ten must know the toll it takes on fans when it throws them a bone and lets them open up their presents a couple days early.
That generosity is greatly appreciated, and tearing into a pair of games tonight with Minnesota and Rutgers both opening the season two days before the weekend is a gift worth treasuring.
But what about during the season? Once football is finally back and the season is in full swing, suddenly making it through just one week without any action starts to feel like an interminable wait. Would it be so bad to mix in a few Thursday nights once league play starts?
"Our program, a lot of the notoriety we've achieved over the last decade has been on Thursday night," Scarlet Knights coach Kyle Flood said. "We've had some really special evenings on Thursday nights here in Piscataway, and we've played some great games on the road.
"You know, I try not to get involved in decisions that really are going to be the same for everybody. I think for our program here at Rutgers, Thursday night has been a really good night. But going into the future here in the Big Ten, we're looking forward to it and playing games on Saturday afternoons. I think there's a lot of plusses to that as well."
The broadcast exposure on an evening with less competition can be an invaluable plus, though, and Rutgers might know that better than anybody else given their experiences before moving into the Big Ten this season. Now even in a league with a much higher profile, the program might find that kind of spotlight much harder to come by on Saturday afternoons.
The Scarlet Knights aren't alone in that regard. Indiana might not be a huge national draw on Saturdays, but its high-scoring offense could draw a few more viewers for a Thursday night matchup with say, Maryland, which may enjoy the chance to showcase its program in front of a broader audience dying to watch a game.
There are hurdles to be sure, starting with the Big Ten's fondness for tradition and the resistance it would surely meet from powerhouse programs like Ohio State, Michigan or Penn State who have established brands and large stadiums that don't need unique kickoff times to help draw a crowd. But aside from exceptions early in the year like tonight for the Big Ten, in some ways it seems like the league has simply conceded a potentially marquee marketing opportunity among the power conferences to the Pac-12 (Arizona at Oregon, UCLA at Arizona State), Big 12 (Texas Tech at Oklahoma State) and ACC (Florida State at Louisville).
Maybe the Big Ten simply doesn't need it. Truthfully, as a league it probably doesn't since it obviously isn't hurting financially, there haven't been any complaints about the television ratings and it's already adjusted for a busier Saturday schedule that now includes two extra teams by allowing for more flexibility with night kickoffs.
But for individual programs, there's almost certainly a benefit to scheduling on an off night every once in a while. Sometimes waiting a whole week is just too much time without football, and by Thursday night, fans are ready to watch just about anybody put on the pads.
Odds are, there are a few teams in the league that would be willing to sign up for that spot.
Pre-game prep
The battle for field position will be critical for Rutgers when it opens tonight against Washington State. Quarterback Gary Nova will have more responsibilities at the line of scrimmage under offensive coordinator Ralph Friedgen.
Mitch Leidner wants to "win for the state of Minnesota," and the quarterback's first shot at it this season comes tonight against Eastern Illinois. The Gophers are trying to find ways to fill up the student section again.
East Division
West Division
Extra point
Can't wait to get to Byrd Stadium and try this bad boy. Who's hungry?
June, 18, 2014
Jun 18
12:00
PM ET
Friday is Take Your Dog to Work Day. Which won't be anything different for my pooch.
June, 16, 2014
Jun 16
5:00
PM ET
Welcome to another edition of the Monday mailbag. Adam is on vacation this week, so I'm going to attempt to fill his Friday slot as well as my usual Wednesday 'bag this week. But I need questions to pull that off, so make sure to send them
here
or hit us up on
Twitter
.
To your queries ...
Aaron from Washington, Iowa, writes:
I feel like
Ty Issac
signing at Michigan hasn't gotten as much attention as it should have. I feel like Michigan's RBs could have a huge year if the pieces fall into place. Your thoughts?
Brian Bennett:
Isaac, who transferred from USC, is potentially a big boost for the Wolverines. But it remains to be seen whether Isaac will receive a waiver from the NCAA to become immediately eligible. He's from Shorewood, Illinois, which isn't exactly next door to Ann Arbor. The NCAA, though, has been pretty lenient on waiver cases of late, so we'll see. We should also have learned by now to exercise caution with hyped transfers. Remember all the hoopla about
Kyle Prater
transferring from USC to Northwestern, or
DeAnthony Arnett
going to Michigan State from Tennessee? Neither has had much of an impact yet in the Big Ten, though there's still time.
There is absolutely no doubt that Michigan has to improve its rushing attack after averaging just 3.3 yards per carry last season.
Derrick Green
should be better as a sophomore, especially with a more streamlined body.
De'Veon Smith
is pushing him. New offensive coordinator Doug Nussmeier is emphasizing the north-south running game, and the Wolverines simply can't win at a high level without it. The question, of course, is whether the offensive line can coalesce and create enough holes for the back to plow through. If not, it won't matter who is carrying the ball.
---
Dale from Los Angeles writes:
I'm a firm believer that certain units of Big Ten teams may look impressive during the season, but it is only because they are playing against Big Ten opponents. For instance, according to the numbers, Michigan State, Wisconsin, Ohio State and Iowa all had top-20 rush defenses in 2013. But look at the bowl performances. MSU held their opponents to 2.85 yards per carry, but Stanford ran for 4.5 ypc against MSU. South Carolina ran for 3.44 ypc against Wisconsin's 3.22 average. LSU ran for 4.31 ypc against Iowa's 3.51 average. Ohio State's rushing D performed the worst relative to their average ypc allowed, as Clemson ran for more than 5 yards per carry and more than 2.2 yards/carry above the average OSU opponent. As soon as they played real teams, the shine rubbed off these so called "elite" rush defenses.
My question is: I know you guys (and most college football analysts) think Ohio State's D-line is the best unit in the Big Ten. But how do you think they measure up nationally? I think Clemson's line is head and shoulders better, considering that this Tigers front blew up Ohio State's allegedly great offensive line for five sacks and 10 (10!!) tackles for loss in the Orange Bowl. Is Ohio State's D-line even in the nation's top 20?
Brian Bennett:
It's always going to be tough to compare college football teams directly against one another statistically across conferences because they all play such different schedules. Also remember that no team plays elite competition every week; statistical measures like yards per carry allowed are always going to be boosted by games against weak nonconference opponents, league bottom-feeders, heavy passing teams, etc. It would be surprising if a team like Michigan State didn't give up more rushing yards than its season average against a team like Stanford, which had one of the nation's better ground games last year and features a powerful attack that is unlike most FBS teams.
It also works in reverse. You mentioned, for example, Wisconsin's game against South Carolina in the Capital One Bowl. The Badgers rushed for 293 yards and for 6.8 yards per carry in that game, numbers that were way above the Gamecocks' season defensive averages. Does that mean that South Carolina's defense was overrated? What about the impact on Big Ten defenses that had to face Wisconsin?
There's very little question about the talent on Ohio State's defensive line. You've got two of the top returning defensive ends in the league in
Joey Bosa
and
Noah Spence
(when he returns from suspension). Defensive tackle
Michael Bennett
is being projected as a first-round NFL draft pick.
Adolphus Washington
is also extremely skilled, and there is promising depth behind the starters. The Buckeyes could have three or four first-round picks on that unit this fall. That's why everyone is so high on that defensive line, though, of course, the group still needs to prove it on the field against the best of the best.
---

Jerry D. from Dublin, Va., writes:
I am amazed at the lack of coverage you are giving Maryland, unless it's some kind of negative press. Maryland finished 7-5 last year with a severely crippled team. Maryland will shock the Big Ten when Ohio State crosses the Mason-Dixon and loses to the Terps. Then the other heavyweight, Michigan State will be "blacked out" by the nighttime atmosphere at Byrd Stadium. Not the biggest stadium in the country, but can be one of the loudest! Go Terps!
Brian Bennett:
Love your optimism, Jerry. A couple of things -- for one, it's the summer time, and things are pretty slow everywhere. There hasn't been a lot of news out of College Park in a while. Maryland doesn't officially even join the Big Ten (along with Rutgers) until July 1, at which time we hope to have some more coverage of the Terps. Maryland fans have also been very quiet -- we haven't heard much from you guys on Twitter on in the mailbags. I think Randy Edsall has an interesting team on his hands and one that can make some noise if it can stay healthy. It's a pretty simple equation around here: The more you win and have an impact on the league, the more we're going to talk about you.
---

Xavier from Paoli, Ind., writes:
I would love to know why Indiana offensive players don't get any respect. I get IU won five games last year, but you can't blame the offense that was ninth in the nation.
Nate Sudfeld
and
Tevin Coleman
are two of the top players at their respective positions. Nate Sudfeld threw for 21 TDs and 9 INTs in 322 attempts last year. Only
Connor Cook
and
Joel Stave
threw for more TDs, but Stave threw four more INT's and attempted 336 passes and Cook attempted 380 passes. Coleman rushed for 958 yards in nine games and averaged 7.8 yards a carry, which was tied for eighth in the nation with
Carlos Hyde
. I truly think both should be getting more respect than they do, because they get just about zero. Maybe they need to put on a Michigan or Ohio State jersey to get it?
Brian Bennett:
We're well aware of Indiana's offensive prowess, Xavier, and we mention those guys a lot around here. We're doing some statistical projections in the next few days, and the Hoosiers will be well represented. If you're talking about national respect, it's all about winning games. When a team has been out of the postseason since 2007, like IU, it becomes pretty irrelevant nationally. Its games don't receive spotlight broadcast times, and individual accomplishments get overlooked. Indiana needs to pull off a couple of Big Ten upsets for its players to get noticed nationally. Sudfeld and Coleman need to deliver in games against Ohio State, Michigan State and other top contenders.
---

Cameron from San Diego writes:
Brian, the Big Ten's ban on FCS schools makes sense for the most part. No self-respecting Ohio State team should be playing Florida A&M. I know there is a bit more of a gray area with matchups like Minnnesota-NDSU and the like. But one that I think absolutely needs to be played that I don't think I've ever heard anyone mention is Rutgers-Princeton in 2019. That's right -- the 150th anniversary of college football. From what I hear there are no talks about it. I don't even know if anybody knows or cares, but I think it would be perfect! It needs to happen! It would be a great thing for the Big Ten to capitalize on as well.
Brian Bennett:
Fun idea, Cameron. The Ivy League has steered clear of playing FBS teams in recent years. But this is one FBS-FCS matchup I could support, if only for the historical celebrations and ceremonies that could come with it.
June, 6, 2014
Jun 6
4:00
PM ET
Wishing you a great weekend. Be sure to follow us
on Twitter
.
Inbox time ...

Kyle from Dayton, Ohio, writes:
If you could arrange the B1G divisions and crossover games, what would your B1G look like?
Adam Rittenberg:
Kyle, my opinion has changed since
this post
, and I actually liked the original division setup, based on competitive balance, despite the geographical challenges. I wouldn't put Ohio State, Michigan, MSU and PSU in the same division. I'd likely move MSU to the West and Purdue to the East to create more balance. I would have just one permanent crossover game -- Michigan-Michigan State -- as I don't like these games in general because they reduce overall schedule rotation and defeat the purpose of a league. I would like to see the historically better teams in each division play one another more often than not, but I would not create any more permanent crossovers as Purdue and Indiana would be in the same division.
---
[+] Enlarge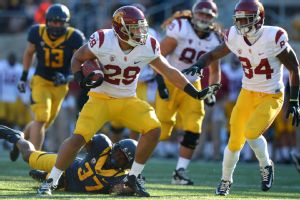 Kirby Lee/USA TODAY SportsMichigan fans might not see Ty Isaac in maize and blue this season.
Mike from Cincinnati writes:
Hey Brian,
Ty Isaac
committing to UM
seems to be a big get for the Wolverines, but it doesn't sound like he will get to play this year. Any chance the NCAA rules him eligible for 2014? Also with UM only having limited scholarship spots in these classes, what are the implications of him snatching one up?
Adam Rittenberg:
The NCAA seemingly has been more lenient in granting hardship waivers. Transfers such as Michigan State's
DeAnthony Arnett
and Northwestern's
Kyle Prater
received them and avoided sitting out a year. One difference is that both Arnett and Prater selected schools very close to their homes, while Michigan is
about 250 miles from Isaac's home
in Shorewood, Ill. So we'll see how it goes. Coach Brady Hoke told me
Michigan likely will sign 15 or 16 players
in the 2015 class, but I don't think Isaac changes the scholarship breakdown, especially after
Damien Harris
decommitted in January
.
---
Russ from New Orleans writes:
Adam, I'm looking over Athlon's predictions for the B1G next year, and I really have to question their decisions to put Penn State at 10-2. I have zero doubt that Hackenberg is the real deal, and they've got a decent stable of running backs, but who does Hackenberg have to throw to now that [Allen] Robinson is gone? Moreover, their O-Line is decimated and an injury or two away from utter disaster. Not to mention that it seems like the defense doesn't have anyone that truly wows you. But what are your thoughts? I'm sure James Franklin is a good coach, but 10-2? I think somewhere between 7-8 wins is far more reasonable.
Adam Rittenberg:
I agree completely, Russ. While it's possible Penn State reaches 10-2 with a mostly favorable schedule, almost everything would need to go right, especially on the health front. Penn State can't afford many or any injuries on the offensive line or at linebacker, and if
Christian Hackenberg
misses any extended time, the Lions are in major trouble. Penn State enters the season as an underdog in at least two games: Ohio State and Michigan State, which are both at home but will be tough. The Lions also face Michigan on the road at night -- hardly an obvious win -- plus a good UCF team in Ireland. Penn State can't look past opponents like Northwestern (home) and Rutgers (road). I don't see 10-2 with the potential problems. An 8-win season seems more reasonable.
---
[+] Enlarge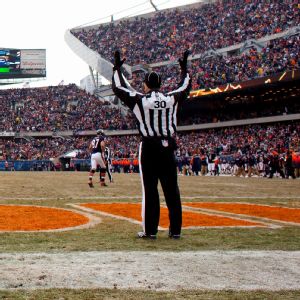 Dilip Vishwanat/Getty ImagesField conditions and weather should not concern fans when the Big Ten considers Soldier Field as a championship site.
Brian from Atlanta writes:
Adam, you keep campaigning for the CCG to move to Chicago and I really don't understand why. It's a December night game and Soldier Field has no roof and a playing surface most high schools would be embarrassed to have. Indy is a short drive from Chicago and is very walkable for those who stay by the stadium. This is an on-night event, not a weeklong vacation. What's the big upside of moving the game to Chicago that cancels out the negatives for the actual game?
Adam Rittenberg:
Some good points here, Brian. The Soldier Field playing surface is a major drawback and must be addressed before the Big Ten considers moving its title game there. I don't think the outdoor factor is as big as some make it seem. Sure, an early December game could be cold, but it also could be a lot like the final few Saturdays of the regular season. Big Ten teams have played in those conditions forever.
Indy is a great site and makes it easy on the fans that go, but it's not a major event there like it would be in Chicago. The Big Ten basketball tournament draws way better there and it truly is the nerve center for Big Ten fans. I live here and meet Big Ten fans pretty much everywhere I go. I'm not saying the event should be in Chicago every year, but once every four years would be fun. Attendance wouldn't be a concern and it would be more of a major event than it has been in Indy.
---
Wallace from Cincinnati writes:
I completely agree that
official visits should be moved up
to help the teams in the North. What my question is do you think it could get passed if only B1G teams are the ones pushing for it? What if the B1G schools get with other Northern school from other conferences -- say, Boston College, Oregon, Oregon State, Washington, Kansas State -- and try and get the backing from multiple schools? Would that be enough to get rules changed?
Adam Rittenberg:
It's not a bad idea, Wallace. Several Big Ten coaches we talked to expressed concern about the challenge of pushing for such a big change to the recruiting calendar. Indiana coach Kevin Wilson said, "If that thing ever goes to a vote, everybody is going to say is that the Big Ten is just complaining. They'll keep rallying their troops." Well, if the Big Ten has more troops to rally -- teams from other conferences experiencing similar recruiting disadvantages because of their locations -- it has a better chance of fostering change. But the first step in my view is for the Big Ten coaches to take a united position on earlier official visits. Other leagues have done so and the Big Ten should follow.
May, 30, 2014
May 30
12:00
PM ET
Glorious sunset of my heart was fading. Soon the
super karate monkey death car
would park in my space. But Jimmy has fancy plans. And pants to match.
May, 19, 2014
May 19
12:00
PM ET
Seven more to go and
Stanley
sticks around for another year.
May, 15, 2014
May 15
12:00
PM ET
The spring meeting of Big Ten athletic directors is over. Back to the offseason lists and polls.
May, 15, 2014
May 15
9:00
AM ET
In 2013, running back
Ty Isaac
was among a group of ESPN 300 prospects from Big Ten country who ended up signing with schools far, far away. While Isaac went to USC, fellow Illinois native
Laquon Treadwell
signed with Ole Miss and Indiana native
Elijah Daniel
went to Auburn.
[+] Enlarge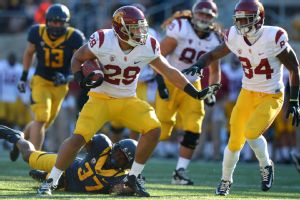 Kirby Lee/USA TODAY SportsChicago-area native Ty Isaac is transferring from USC and could end up at Illinois, Northwestern, Notre Dame or Michigan.
A year later, Isaac is returning to the Midwest and could end up playing in the Big Ten after all. The running back from Joliet, Ill., announced Wednesday that
he has been released from his scholarship
at USC. He is expected to transfer to a school closer to home to be near his ailing mother.
"It was based on a family decision," Isaac told
Rivals.com
.
Isaac picked USC over Michigan and had received scholarship offers from around the Big Ten. Possible landing spots include Northwestern, Notre Dame, Illinois and possibly Michigan. He has three years of eligibility remaining and could use a redshirt season this fall if forced to sit out because of NCAA transfer rules.
He rushed for 236 yards and two touchdowns on 40 carries last season as a true freshman for the Trojans. At 6-foot-3 and 225 pounds, Isaac is a hulking back who could fit in well with just about any offense.
Northwestern landed a USC transfer in wide receiver
Kyle Prater
in 2012 who, like Isaac, was a decorated recruit from Illinois who elected to come closer to home because of family reasons. Illinois certainly could use a boost at running back for the future, as top playmaker
Josh Ferguson
will be a junior this fall.
Isaac was highly regarded at USC and could be an instant impact player for his new team.
May, 16, 2012
5/16/12
12:00
PM ET
The league meetings in Chicago and playoffs (cue Jim Mora clip) dominate your hump day links:
February, 21, 2012
2/21/12
9:00
AM ET
The roots for Michigan's acclaimed 2012 recruiting class took shape in the months immediately following coach Brady Hoke's hiring.
Michigan's quick start to recruiting — the team had 11 verbal commitments by the end of May and 21 before the season started — resulted in the nation's No. 7 class, according to ESPN Recruiting.
Well, it's happening again.
Michigan's men's basketball team scored a signature victory against archrival Ohio State on the hardwood Saturday night, but the biggest winners during the weekend might have been Hoke and his staff.
Michigan landed eight —
eight —
verbal commitments from high school juniors, giving the team 11 commits for the 2013 class. Six players are on the
ESPNU 150 watch List
.
Here's the full list of commits:
Kyle Bosch, offensive lineman
Wyatt Shallman, running back
Jourdan Lewis, defensive back
David Dawson, offensive lineman
Chris Fox, offensive lineman
Taco Charlton, defensive end
Jake Butt, tight end
Logan Tuley-Tillman, offensive lineman
Tuley-Tillman, Shallman, Fox, Charlton, Butt and Bosch are all on the ESPNU 150 Watch list. Michigan beefed up on both lines and added players like Shallman and Butt who fit the team's offensive vision for the future, based around the power game.
Tom VanHaaren, who does a superb job covering Michigan recruiting for
Wolverine Nation
, tells me that while the number of commitments Michigan received this past weekend jumps out, the Wolverines' fast start doesn't come as a surprise.
"The coaching staff got a jump start in evaluating 2013 prospects, but maybe more importantly offered them scholarships and got them on campus early as well," VanHaaren wrote me in an email. "The night game against Notre Dame is a prime example where around five of Michigan's 11 current 2013 commitments were on hand for that game back in September. That's over six months that these prospects have already had to familiarize themselves with the program, and they haven't even finished their junior year of high school yet. ...
"What it means going forward is that Michigan will be able to target more specific recruits rather than cast a wide net. They need to address the receiver position, defensive line, linebacker, and a few more offensive linemen for the most part."
While Urban Meyer's recruiting success has had the Big Ten buzzing, Michigan made a major statement during the weekend. The Wolverines now move on to future targets, among them running back Ty Isaac.
Be sure to check out
Wolverine Nation
and
VanHaaren
for full coverage of Michigan recruiting.
BIG TEN SCOREBOARD
Monday, 12/29
Saturday, 12/20
Monday, 12/22
Tuesday, 12/23
Wednesday, 12/24
Friday, 12/26
Saturday, 12/27
Tuesday, 12/30
Wednesday, 12/31
Thursday, 1/1
Friday, 1/2
Saturday, 1/3
Sunday, 1/4
Monday, 1/12
Tweets from https://twitter.com/ESPNCFB/lists/b1g