November, 1, 2013
11/01/13
2:00
PM ET
Jet-sweeping
running back
Melvin Gordon
and the Wisconsin offense have garnered most of the attention so far this season, but some good things are happening on the defensive side as well. New head coach Gary Andersen and defensive coordinator Dave Aranda employ a multifaceted, 3-4 scheme that has helped Wisconsin rank sixth nationally in both points allowed (15.9 ppg) and yards allowed (285 ypg). Among the players adjusting to new roles and responsibilities is senior nose tackle
Beau Allen
, who will try to slow down Iowa's power run game Saturday as Wisconsin and Iowa renew their rivalry for the first time since 2010.
ESPN.com caught up with Allen this week to discuss the season, the matchup and, of course, Halloween.
What does Beau Allen do on a bye week?
Beau Allen:
Absolutely nothing. I went home (to Minnetonka, Minn.) actually for the weekend because it was my mom's birthday. My dad's birthday is actually on Halloween. I watched a lot of football and ate a lot of football. It was glorious.
Do you have a Halloween costume picked out?
[+] Enlarge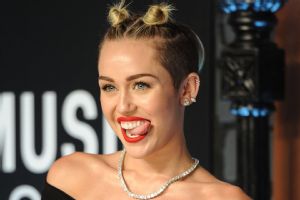 AP Photo/Evan Agostini/InvisionCan't imagine a 300-pound male version of Miley Cyrus? Well, if Beau Allen had his way, that's what he'd be for Halloween.
Allen:
This year? No. I was thinking about doing some crazy things, maybe being a bearded lady, or I was going to be Miley Cyrus, but I'm actually not going to go trick-or-treating this year, which is kind of too bad. But if I was, I'd probably be one of those two.
Is it just too close to a game?
Allen:
Yeah, just too close to a game. I've got a lot of schoolwork to do, and I'm actually going to see a movie, "Ender's Game" comes out, and I'm pretty fired up about that, because that was my favorite book.
So if you guys get a win on Saturday against Iowa, will you do a late Halloween celebration?
Allen:
Yeah, probably. To be honest, I'll probably head over to the store and buy all the discounted candy. I'm trying to be frugal.
You haven't faced Iowa since your freshman year. What are you looking forward to going against the Hawkeyes again?
Allen:
Obviously, it's a trophy game, and we've
held the trophy
the past couple years, so that's a big thing. But me personally, I'm excited because it's Big Ten football. They're a smashmouth team, they run the ball a lot, they've got powerful running backs and a good offensive line, so it's definitely a good challenge for our D-line. It's something we've been excited about.
Does Iowa remind you of your team a bit, going against your offense in practice?
Allen:
Yeah, definitely. The way they run the zone is a little different, but just the philosophy of wanting to pound the ball, and then hitting the tight ends on boot and play-action and stuff like that, is definitely very similar.
Did they recruit you at all?
Allen:
Yeah, I was recruited by [former Iowa defensive line coach Rick Kaczenski], who's at Nebraska now. They've had some talented D-linemen in the past. They were probably in my last four or five schools.
What put Wisconsin over the top?
Allen:
I've had a lot of family connections here over the years, and I really liked the business school and the academics that I'm in right now. And just the atmosphere on game day. I felt really at home with the players.
[+] Enlarge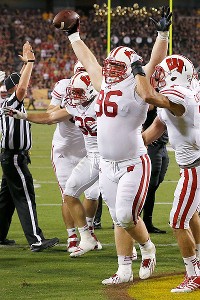 AP Photo/Ross D. FranklinBeau Allen and the Wisconsin defense has been celebrating a lot this season, as they are in the top 20 of scoring and overall defense.
You've had two months to play in this defense. What have you learned about the scheme, and how comfortable are you in what they're asking you to do?
Allen:
I feel great with that. I love it our scheme. One thing I really like that is a little different from what we've done in the past is we have a lot of different personnel groupings. Coach Aranda does a great job of getting our personnel to match up with what the opposing offense likes to do. On game day, we'll have anywhere from five to eight different personnel groups. That puts the best players on our defense in the best positions to win. So I like that a lot.
Are there certain guys you're playing alongside now who you never did before?
Allen:
So in one of our peso groups, where I'm an end, I'm playing next to a stand-up linebacker, like
Joe Schobert
or
Vince Biegel
, where I haven't played with them before. But then I'm still playing with a lot of guys I've played with in the past, like
Brendan Kelly
,
Ethan Hemer
,
Tyler Dippel
,
Pat Muldoon
, so it's a good combination of some new faces and some familiar ones.
Does what they're asking you to do change depending on the personnel grouping?
Allen:
For most of the time when I'm lined up in base at nose guard, I've got my job role cut out for me, which is occupy blockers and try to keep our linebackers free. But then when we get into passing downs and stuff like that, sometimes they'll put me out into a pass rush role, which is kind of nice and refreshing for me.
Do you have any pass-rush moves you've been saving for this game?
Allen:
Well, I don't want to tell you because the word might get out. But I've been saving up a spin move. I used it against Northwestern. Some people are surprised when big men hit spin moves, so been saving that bad boy.
Have you named it?
Allen:
No, I haven't. Maybe I should. Got anything good? I'll work on that. Maybe the
hair tornado
or something like that.
You mentioned the Iowa running backs and Mark Weisman is a big guy. What will be the key to slowing him down?
Allen:
I love playing bigger running backs like that. It's just getting back to tackling fundamentals. You can't really arm-tackle guys like that, especially me, if I'm on a blocker, I can't just try to reach out or he'll probably rip my arm off. You can't just expect to bring him down just by hitting him. You've got to wrap him up and get your defenders to rally and pursue the ball.
What are the keys to finishing the season strong, and what are the goals for your team? You need some help to get to the Big Ten championship.
Allen:
Some of us are a little upset because we feel like we're not getting the recognition we deserve, but we can't think of it that way. We've got to practice every day the right way and play every game the right way and not try to look ahead to the end of the year. Just focus on the small daily things, and if we do that, we'll get to where we want to be at the end of the year.
Were you surprised when Wisconsin wasn't in the initial BCS standings? Has it been hard to get recognition?
Allen:
Yeah, but if we just take care of our business and practice and play the way we know that we can, that will all sort itself out.
May, 3, 2013
5/03/13
6:00
AM ET
2012 record:
8-6
2012 conference record:
4-4 (third in Leaders Division, Big Ten champions)

Returning starters
Offense: 8; defense: 7; kicker/punter: 2
Top returners
LB
Chris Borland
, S
Dezmen Southward
, LB
Ethan Armstrong
, RB
James White
, RB
Melvin Gordon
, G/T
Ryan Groy
, WR
Jared Abbrederis
, QB
Joel Stave
, QB
Curt Phillips
Key losses
LB
Mike Taylor
, CB
Devin Smith
, CB
Marcus Cromartie
, RB
Montee Ball
, C
Travis Frederick
, T
Ricky Wagner
2012 statistical leaders (*returners)
Rushing:
Montee Ball (1,830 yards)
Passing:
Joel Stave* (1,104)
Receiving:
Jared Abbrederis* (837 yards)
Tackles:
Mike Taylor (123)
Sacks:
Brendan Kelly
* and
Tyler Dippel
* (5)
Interceptions:
Devin Smith (4)
Spring answers
1. Separation at quarterback:
Wisconsin entered the spring with a four-man quarterback competition and reduced the pool by 50 percent, as senior Curt Phillips and sophomore Joel Stave separated themselves midway through the session. Phillips, who ended last season as the starter, showed veteran leadership in grasping the offense, while Stave stood out in the spring game and might have more upside as a passer. Although redshirt freshman
Bart Houston
boasts tremendous natural ability, he's not ready to start in the Big Ten just yet.
Danny O'Brien
, who started the opener in 2012, has fallen back in the pack.
2. Front seven depth:
The defense will go through more dramatic scheme changes under new coach Gary Andersen and his staff, but the front seven should be solid by Aug. 31. Inside linebacker Chris Borland is a tremendous leader at the nucleus of the defense. Several players who will be in the rotation --
Beau Allen
, Tyler Dippel, Ethan Armstrong, Brendan Kelly -- missed part or all of the spring, which gave increased opportunities to players like tackle
Warren Herring
and linebackers
Vince Biegel
and
Joe Schobert
. The result should be good depth at both the line and linebacker spots.
3. Center of attention:
Wisconsin's last two centers -- Peter Konz and Travis Frederick -- jumped to the NFL a year early, but the team once again appears ready to fill big shoes. Redshirt freshman
Dan Voltz
, who backed up Frederick last season, impressed the new coaches this spring and solidified the top center spot. Although overall line depth remains a concern entering the summer, Wisconsin feels good about the man snapping the ball.
Fall questions
1. Clarity at quarterback:
The race is down to two, and actually three, as junior college transfer Tanner McEvoy arrives this summer and, according to Andersen, will get a fair chance to compete for the starting job. But Wisconsin needs a starter to emerge and take control of the team. Both Phillips and Stave have started games and should be able to win over a locker room. Phillips will be closer to full strength after suffering a knee injury in the Rose Bowl that limited his mobility this spring. If Stave continues to answer Andersen's challenge about improving the passing game, he could once again occupy the top job.
2. Secondary a primary concern:
The Badgers return only one secondary starter in safety Dezmen Southward, and they lack overall depth in the back four.
Peniel Jean
and
Darius Hillary
took most of the reps as the first-team cornerbacks this spring, but they'll need to make more progress as young players like Sojourn Shelton and
Reggie Mitchell
have impressed the coaching staff. The bottom line is Wisconsin needs more bodies and more options to surround Southward.
3. Depth at receiver, offensive line:
One area has lacked depth for a while, while the other has been a hallmark of the Wisconsin program. The Badgers need more reliable options to emerge around All-Big Ten candidate Jared Abbrederis at receiver.
Kenzel Doe
delivered a strong performance in the spring game and could complement Abbrederis, but there are opportunities for others to step up. The offensive line needs guards
Dallas Lewallen
and
Kyle Costigan
to stay healthy and for reserves to emerge to fill out the two-deep.
April, 9, 2013
4/09/13
5:00
PM ET
Your questions, my answers ...
Mike from Denver writes:
Because it's never too early to compare....You were in East Lansing and two days later in Ann Arbor. I understand it's just Spring and only a day on site so I'm not looking for a prediction. But how would you compare where each team is and how high their ceilings are? If you want to go ahead and predict a score, don't let me stop you ...
Adam Rittenberg:
No score predictions just yet, Mike, although there's plenty of time for foolish/fearless predictions before the season kicks off. Both teams have a good chance to be better than they were in 2012. Michigan State's physical play on defense really stood out to me in practice. The Spartans boast tremendous speed and depth in the secondary, and they lay the wood on ball-carriers every chance they get. Michigan's speed also caught my eye -- it's an area the Wolverines have upgraded on both sides of the ball. I still get the sense Michigan is a year away, numbers-wise, from being back among the nation's elite. The Wolverines will have more elite players in position to contribute in 2014. Both teams have similar question marks -- running back, pass rush, wide receiver. I have little doubt Michigan State's defense will once again be among the nation's elite, but the Spartans need to threaten opponents more on offense. Michigan needs some star power to emerge on defense and a running back to complement quarterback
Devin Gardner
's passing skills.
---
Bob from Crown Point, Ind., writes:
Adam...What differences do you see in how the new Purdue coaching staff is handling practice as opposed to the last four years?
Adam Rittenberg:
For starters, most practices are now open to the media and public, so we can see a lot more of what's going on with the Boilers. Darrell Hazell doesn't waste time, and his practices are crisp and efficient. The team isn't out there long, but they seem to get a lot done. Overall, the atmosphere around the program is much more relaxed. Danny Hope is more high-strung/intense than Hazell, who brings a calming presence to the Mollenkopf Athletic Center. The practice itself featured a lot of special teams and ball security drills, two hallmarks of Hazell, a Jim Tressel disciple.
---
Brett from Madison, Wis., writes:
Hey Adam, what do you think about the Badgers losing
David Gilbert
? Obviously, losing a veteran player with his athleticism is going to hurt, but how big of a loss do you think it is? Also, after watching the Badgers practice and talking to the coaching staff, who do you see as the guy who's going to replace him?
Adam Rittenberg:
The impact of Gilbert's loss will be determined by the pass-rushers who remain, players like
Brendan Kelly
,
Pat Muldoon
and
Tyler Dippel
. Kelly is the one to watch as he racked up eight sacks and 11 tackles for loss the past two seasons after battling several injuries early in his career. He could be a very good fit for Gary Andersen's defense. Dippel had five sacks last season, while Muldoon added 2.5. The bummer is that Gilbert likely would have thrived in the new scheme, which features players of his size in an outside linebacker/rush end role. Wisconsin lacks proven depth in the secondary, which could be a problem area if the pass rush isn't strong. The Badgers haven't had a difference-maker up front since J.J. Watt, so the defensive end spot will be very interesting to watch from now until Aug. 31.
---
Russ from Roanoke, Va., writes:
How does Maryland's history and bowl records /wins compare with the other Big 10 schools? I know they were once coached by Bear Bryant, but where are they in terms of bowl game wins & national championships pecking order?
Adam Rittenberg:
Maryland football will enter its 121st season this fall. The Terrapins boast nine ACC championships (seven outright, two shared, last title in 2001) and an 11-11-2 record in bowl games (last appearance: 2010 Military Bowl). Bryant coached the Terrapins for just one season, in 1945, going 6-2-1 before taking the Kentucky job. He clashed with Harry Byrd, the school's president and former football coach (Maryland's stadium is named after Byrd).
---
Mike from Allentown, Pa., writes:
Hey Adam,I know a lot of us PSU fans are asking about what penalties (if any) Auburn or Rutgers might have dropped on them. How about the reverse? What if Penn State never issued an internal investigation? Would the NCAA have even done something? Miami seems to be questioning, with good reason, everything the NCAA has brought against them. Is that just the difference between a school president that has years of experience, as opposed to someone just thrown into the fire? It's tough to feel as had we not launched our internal investigation, we would be sanction free (at least for now).
Adam Rittenberg:
Mike, there's no doubt the NCAA would have conducted its own investigation into Penn State if the school didn't do its own probe. It's fair to wonder if the NCAA investigation would have run into the same problems as the Miami probe, but I have a hard time thinking no action would have been taken, judging by NCAA president Mark Emmert's response to the Freeh Report. I really think the only way Penn State would be sanction-free is if the NCAA investigation was sidetracked. A better question is whether Penn State would have received reduced sanctions if it went through the normal NCAA infractions process. Former NCAA investigator Ameen Najjar
criticized Penn State president Rodney Erickson
for not pushing back more against the NCAA sanctions, writing in an email that the NCAA had no right to impose sanctions. Maybe he's right, but the impact of the Penn State scandal prompted the NCAA to act in some way. The impact also prompted the university to conduct its own investigation. After the P.R. hit Penn State took, the university was under a lot of pressure to do some type of internal probe.
---
FFXLion from Washington D.C. writes:
I don't have a football question for you, but just a comment. I saw that you finished very well in our blog hoops pool. In fact, you finished tied with my 8th grade son for 14th place. Given his prowess at picking winners, I have to congratulate you on quite an accomplishment. PS: I didn't do as well.
Adam Rittenberg:
I'm usually in your boat, FFX, when it comes to my bracket. Louisville winning it all definitely helped me, and I had a good first two days. But that Georgetown pick -- man, oh man. Maybe your son can pick the games for me in the fall. I'm looking forward to another dinner at St. Elmo's on Bennett's dime.
April, 5, 2013
4/05/13
4:30
PM ET
Wisconsin will be without one of its best pass-rushers this season, as the school announced Friday that senior defensive end
David Gilbert
was giving up football because of recurring foot injuries.
Gilbert missed most of the 2011 season because of problems with his right foot and was sitting out spring practice this year as he recovered from surgery to repair ligaments in the same foot.
[+] Enlarge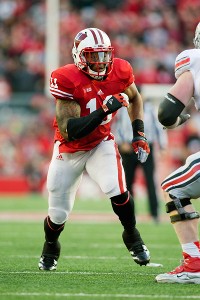 AP Photo/David StlukaWhen healthy, David Gilbert was one of the Badgers' most dangerous pass-rushers.
"This was a difficult decision for me. but I have had multiple injuries and surgeries on my foot and feel that no longer playing at UW is the best decision for me," Gilbert said in a statement released by the school. "I have been dealing with pain in my foot since the injury first occurred, and I just need to give it time to fully heal.
Gilbert led all Badgers defensive linemen with 42 tackles last year and finished second on the team with 9.5 tackles for loss. He was fourth on the team in sacks with four and also caused three fumbles, including one in the Big Ten championship game.
The plan was to have the 6-foot-4, 247-pound Gilbert line up at outside linebacker when Wisconsin went to its 3-4 scheme this fall. He was viewed as maybe the best pure pass-rusher on the team when healthy.
"David's decision was part of an on-going discussion we have had for a number of weeks," head coach
Gary Andersen
said in a statement. "I would have loved the opportunity to coach David, but we always want to do what's in the best interests of the young man. He needs a year to recover from his injuries and focus on graduating. It is always tough when a young man's college career comes to an end due to an injury but David knows we are here to support him in any way necessary."
Gilbert is probably best remembered by casual fans for
making critical comments
about Nebraska quarterback
Taylor Martinez
before last year's regular-season meeting in Lincoln. Those comments earned him a spot on the bench at the start of the game. But he also had a sack and a forced fumble in that loss to the Huskers and played well in the rematch for the Big Ten title.
Wisconsin's defensive line still has depth and experience, as it returns starting tackles
Beau Allen
and
Ethan Hemer
, as well as
Pat Muldoon
,
Tyler Dippel
,
Warren Herring
and
Bryce Gilbert
. Redshirt freshman
Vince Biegel
has been playing outside linebacker with the first string this spring.
December, 28, 2012
12/28/12
12:00
PM ET
The Big Ten's bowl season finally gets going tonight. Makes me want to do
this
.
October, 15, 2012
10/15/12
3:15
PM ET
A few personnel nuggets from around the league as we inch toward Week 8. Iowa running back
Mark Weisman
(ankle)
isn't on the two-deep
for Penn State, although coach
Kirk Ferentz hasn't totally ruled him out
.
Wisconsin LT Ricky Wagner (knee) is listed as the starter on the depth chart for Minnesota, but his status for the game is still to be determined. Offensive line coach Bart Miller told reporters Sunday that Wagner would only miss a game if he doesn't suit up Saturday. LB Ethan Armstrong (knee) also is listed as a starter on the two-deep, and it seems like there's a decent chance both he and DE Tyler Dippel will play against the Gophers.
As expected, Nebraska RB Rex Burkhead will play this week against Northwestern after re-aggravating his left knee injury Oct. 6 at Ohio State and leaving the game. Coach Bo Pelini said Burkhead will be eased into practice this week.
After leading Ohio State in tackles at Indiana as a linebacker, top fullback Zach Boren will be seeing more time on defense in the coming weeks. The Buckeyes have little depth and almost no veteran depth at linebacker, and Boren certainly held his own in his first real action of the season as a defender. Coach Urban Meyer describes Boren's move as "temporarily permanent."
In other Buckeyes news, DE Nathan Williams (concussion) is expected to return this week against Purdue. RB Jordan Hall (knee) is doubtful and is "not healing well," according to Meyer.
Michigan RB Vincent Smith (hamstring) and FB Stephen Hopkins (hamstring) are expected to play this week against Michigan State. And if there was any doubt, QB Denard Robinson (hand) is fine and said he has had no limitations.
Northwestern moved CB Daniel Jones ahead of Quinn Evans on the depth chart for Saturday's game against Nebraska. Evans struggled against Minnesota but still will be part of the Wildcats' nickel package. Northwestern also will go with the all-black jerseys against the Huskers, who are looking for their own blackshirts.
October, 11, 2012
10/11/12
12:00
PM ET
Is this kindergarten or The Hunger Games?
September, 27, 2012
9/27/12
8:00
PM ET
Wisconsin running back
Montee Ball
has been cleared to play Saturday night at No. 22 Nebraska after sustaining a concussion last week against UTEP.

Badgers coach Bret Bielema told local reporters Thursday that Ball is "cleared 100 percent full-go." As long as nothing changes in the next 48 hours, he'll play against the Huskers. The concussion is Ball's second in as many months after he was attacked by a group of men Aug. 1 in downtown Madison. Bielema said the second concussion wasn't as severe as the first, and Ball vowed to play earlier this week.
Wisconsin certainly will benefit from having a full complement of offensive weapons against Nebraska, which boasts the Big Ten's top offense. Although
James White
and
Melvin Gordon
also are good options, Ball lit up the Huskers in last year's win. Ball has 360 rush yards and three touchdowns on 93 carries this season.
Bielema also said
defensive end
David Gilbert
won't start
after
Gilbert made critical comments Wednesday
about Nebraska quarterback
Taylor Martinez
.
"He'll be skipping rocks on the sideline with me for the first play," Bielema said Thursday, referring to Gilbert's comment about how Martinez throws passes.
Tyler Dippel
and
Konrad Zagzebski
will start at the defensive end spots for the Badgers, who will be without ends
Brendan Kelly
and
Pat Muldoon
because of injuries.
October, 12, 2011
10/12/11
12:00
PM ET
Let's party like it's 1982.
May, 13, 2009
5/13/09
11:43
AM ET
Posted by ESPN.com's Adam Rittenberg
Incoming recruits Tyler Dippel of Wisconsin and Aaron Price of Indiana have been selected to play for the USA Football Junior National Team. The final nine players have been added to the 45-man roster, which will compete in the Junior World Championship this summer in Canton, Ohio.
Dippel, a heralded high school fullback and linebacker, will play defensive end at Wisconsin. Price is a 6-4, 285-pound offensive lineman from Bloomington, Ind., who will play for the hometown Hoosiers.
The USA roster features nine players from the Big Ten. It will compete against teams from Canada, France, Germany, Japan, Mexico, New Zealand and Sweden from June 27-July 5.