September, 13, 2011
9/13/11
4:00
PM ET
A potential reunion with the
Wisconsin Badgers
crossed Dave Doeren's mind even before he became Northern Illinois' coach.
As he mulled NIU's offer in December, Doeren, then the Badgers' defensive coordinator, called his boss and friend, Wisconsin head coach Bret Bielema.
[+] Enlarge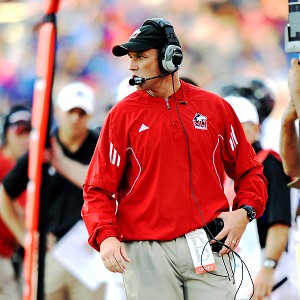 Peter G. Aiken/US PRESSWIRENorthern Illinois coach Dave Doeren will play his former team as the Huskies take on the Badgers.
"Bret and I were talking about whether I should or shouldn't take it, the pros and cons, this and that," Doeren recalled. "And I started laughing. I said, 'One of the deals is I've got to play two schools where I've worked, Kansas and Wisconsin. That sucks.' That's the negative to it when you look at being friends."
Bielema knew it would "put an interesting spin on everything."
"I still called the AD, did everything I could to help him get that job," he said. "It was something Dave had earned."
The positives of the NIU job won out, and Doeren accepted. After facing Kansas last week, he'll lead his Huskies team against Bielema and the seventh-ranked Badgers on Saturday afternoon at Chicago's Soldier Field.
Doeren's familiarity with Wisconsin's players and coaches could help Northern Illinois as it prepares for the game. Then again, the Badgers aren't known for tricky schemes. They do what they've always done, and they do it well.
"They're playing so well right now, I don't know if being there [previously] really helps," Doeren said. "They're a really talented football team. Obviously, I have some insight into their players, so that does help, but schematically, whether you were there or not, when you play Wisconsin, you're going to know what they're going to be in.
"You've just got to be able to stop it, and they take pride in that."
While Doeren saw Wisconsin's offense every day in practice the past few years, he's not as familiar with the man calling signals for the Badgers. Quarterback
Russell Wilson
, who transferred from NC State this summer, has been brilliant in his first two games for Wisconsin, ranking second nationally in passer rating (237.6) and completing 27 of 34 attempts (79.4 percent).
Doeren says Wilson is "like having Tolzien who can run," referring to former Wisconsin quarterback Scott Tolzien, who completed 72.9 percent of his passes in 2010 but wasn't known for his foot speed.
"You've got that extremely confident, intelligent leader that knows how to manage the game," Doeren said, "but now when things break down, he can run for touchdowns. ... The athletic dimension he brings when things break down is something they haven't had since Tyler Donovan."
Wisconsin's ground game remains its M.O., and Northern Illinois' young defense ranks near the bottom of the FBS against the run, allowing 556 rush yards and six touchdowns in its first two games against Army and Kansas. If the Huskies can't stop Wisconsin's run attack Saturday, they'll have "no chance," Doeren said.
What gives NIU hope is an explosive offense led by senior quarterback
Chandler Harnish
. The Huskies have scored 91 points in their first two games and Harnish ranks among the top 10 nationally in both passer rating (197.96) and total offense (339.5 ypg).
Although Wisconsin comes off of a shutout against Oregon State, it lost starting cornerback Devin Smith to a
season-ending foot injury
. The Badgers lack depth at corner and could be vulnerable against the pass.
"Our skill is very good, our quarterback is playing well, tailbacks are all running hard when they're in there and we have a veteran O-line," Doeren said. "To me, that is where we match up well."
Doeren recruited Badgers defenders like safety Aaron Henry and linebacker Kevin Claxton. He considers Bielema and co-defensive coordinators Chris Ash and Charlie Partridge among his best friends.
"It's part of the deal," Doeren said. "You're going to run into guys that you're friends with and coach against them. You recruit against your friends all the time.
"It's not the most fun thing to do, but it's something you do quite a bit."
April, 21, 2011
4/21/11
5:00
PM ET
MADISON, Wis. --
Jon Budmayr
could go down the path to complacency. It's pretty much right there in front of him.
[+] Enlarge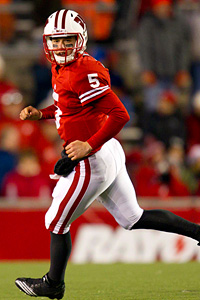 Jeff Hanisch/US PresswireWisconsin quarterback Jon Budmayr is taking advantage of all his reps this spring.
While Wisconsin would like to have a true race to replace All-Big Ten quarterback
Scott Tolzien
, things haven't worked out that way.
Budmayr, who backed up Tolzien in 2010, is taking the lion's share of the reps this spring. The others go to a redshirt freshman (
Joe Brennan
) and a true freshman (Joel Stave). Besides Budmayr, the team's only other healthy quarterback who played last season is
Nate Tice
, best known for his famous father (former Minnesota Vikings coach Mike Tice) and for scoring a touchdown on a 17-yard bootleg against Indiana in an 83-20 Wisconsin win that some pundits considered to be a poor show of sportsmanship.
Curt Phillips
, who competed with Tolzien for the starting job in 2009, was
ruled out for the season
Saturday after undergoing his third knee surgery.
"You don't have a true competition with veteran guys," offensive coordinator Paul Chryst said.
And Wisconsin might not have one, especially with the latest news about Phillips. While both Stave and Brennan show some flashes, Bielema isn't sure if they can accelerate their play enough to start this fall.
Barring a surprise, Budmayr will lead the offense when the season kicks off Sept. 1 against UNLV.
A player in Budmayr's position could slack off this spring. But the redshirt sophomore, who is participating in his third spring practice, sees the path to complacency and goes the other way.
"The one thing Jon does is he really competes every practice and tries to take advantage of every rep," Wisconsin coach Bret Bielema said.
Budmayr benefited from playing behind Tolzien, a perfectionist known for his relentless preparation. Although Budmayr notes he's a different type of quarterback than his predecessor, he wants to mimic Tolzien's approach to practice.
"Each time you cross those lines, you've got to maximize your reps and get better each day," said Budmayr, who completed 8 of 10 passes for 134 yards and a touchdown last season. "You'll have some good days, some bad, and it's never really as good or as bad as you think. There's always good learning, especially in the spring, and if I can learn from some of the mistakes I'm having or certain situations, it will help me in the fall."
Budmayr has had his ups and downs. In last Saturday's scrimmage, he fired a touchdown pass to
Montee Ball
and connected with his tight ends on several completions before tossing an interception in the 2-minute drill.
At Tuesday's practice he showed off a plus arm on several throws but at times looked shaky in the pocket and didn't get rid of the ball fast enough. To be fair, Budmayr hasn't had No. 1 wideout
Nick Toon
available this spring, and the team is very thin at the receiver position.
"He does a good job of practicing like he's playing the game," Chryst said. "Therefore, things continually come up. What's a good play in this situation? Is he making the proper reads? Is he doing it in the proper timing or is he taking too long? All of those things, he's working on and trying to grow from."
Although many point to Budmayr's size as a concern -- he's listed at 6-feet, 195 pounds-- he boasts a strong arm and some skills that could set him apart from Tolzien.
"Jon's probably more along the lines of a Tyler Donovan." Bielema said. "A guy who can use his feet, who can get on the edges. We can use him in the play-action game. Very live arm. He's also a guy who is very conscientious. It's not just, 'Oh, I'm out here playing football.'
"He knows the consequences of every action he has can affect winning and losing."
It's an approach Budmayr will take until Sept. 1 and most likely beyond.
September, 2, 2009
9/02/09
3:45
PM ET

Posted by ESPN.com's Adam Rittenberg
The term game manager makes most quarterbacks cringe, especially in this era of silly stats and gimmicky offenses.
Wisconsin's
Scott Tolzien
has a different opinion.
"I take that as a compliment," he said. "If you're managing games, usually that's a good thing for your team. If someone wants to call me a game manager, I'm completely fine with that."
| | |
| --- | --- |
| | |
| | AP Photo/Morry Gash |
| | QB Scott Tolzien (16) isn't afraid of the game manager tag. |
Badgers head coach Bret Bielema decided to call Tolzien his starting quarterback, and the 6-foot-3, 205-pound junior from Rolling Meadows, Ill., will lead the offense onto the field for Saturday's opener against Northern Illinois. Redshirt freshman
Curt Phillips
also is expected to see time for Wisconsin, but Tolzien has earned the first opportunity.
Tolzien seemed like an afterthought in the quarterback competition entering preseason camp. Senior
Dustin Sherer
started the final seven games last season, and Phillips came on strong toward the end of spring practice and inched ahead in the race midway through fall camp.
But Tolzien picked up his play during the second full week of practice and gradually won over the coaches with his steadiness and consistency.
"My game is just playing steady, sound football," Tolzien said. "I felt like doing that would give me the best chance to win [the competition]. And also, just trying not to take the game too seriously, going out there and having fun with it."
Maintaining a relaxed approach isn't easy during a scrutinized quarterback competition, especially one for a team that needs improved play under center this fall. Then again, Tolzien has been through this before.
He competed with Sherer and eventual starter Allan Evridge last year and was a redshirt freshman when Evridge and Sherer lost out to Tyler Donovan in 2007.
"I've been around that and learned from the past on how to deal with it," Tolzien said. "Each year, you're supposed to get wiser, and I felt like I learned a lot from that, learned not to take it too serious and don't make it more than just a game."
After two seasons on the sideline, Tolzien saw his first game action last fall, completing 5 of 8 passes for 107 yards and an interception in three appearances. He also rushed for 13 yards and a touchdown.
Despite his limited experience, Tolzien isn't concerned about cracking in the spotlight. Often described as a heady player, his mental approach and consistency could be his biggest strengths.
"He just handled the whole camp a little bit better than anybody else, just the composure of day-to-day business," Bielema said. "But on the same account, he showed me an improved accuracy in throwing the football, did a better job than he did in the spring of handling everything that came at him, from pressures to getting things right at the line of scrimmage.
"I'm excited to see him go out there and play Saturday."
Asked if Tolzien fits the game manager mold, Bielema laughed.
"That's why we made the move," the coach said. "We hope he is."
And Tolzien seems just fine with the title.
August, 24, 2009
8/24/09
3:30
PM ET
Posted by ESPN.com's Adam Rittenberg

Dig in.

The man alleged to have attacked Ohio State linebacker Tyler Moeller has been charged with felony battery, The Columbus Dispatch's Ken Gordon writes in his blog. A great piece by The Cleveland Plain Dealer's Doug Lesmerises about Ohio State's first opponent, Navy.
Defensive tackle Abe Koroma, who we knew wouldn't be back at Penn State, will transfer to FCS Western Illinois, Bob Flounders writes in The (Harrisburg) Patriot-News. Penn State's wideouts are eager to prove themselves, Ron Musselman writes in the Pittsburgh Post-Gazette.
Tate Forcier generated most of the preseason buzz at Michigan, but keep your eyes on another freshman quarterback, Denard Robinson, Michael Rosenberg writes in the Detroit Free Press. More on the young quarterbacks from The Sporting News' Dave Curtis. Also, a nice wrap-up of Michigan's media day.
Hand signals are pretty common in football, but Minnesota offensive coordinator Jedd Fisch takes things to a new level, Kent Youngblood writes in the Star Tribune.
If you want to play quarterback in the NFL, go to Purdue, Cory Giger writes in The Altoona Mirror.
Wisconsin running back Zach Brown came into camp with a chip on his shoulder, and it's showing as he's the projected starter, Tom Mulhern writes in the Wisconsin State Journal. Badgers quarterback Curt Phillips has drawn comparisons to Tyler Donovan, which is both good and bad, Mike Lucas writes in The Capital Times.
Illinois star wideout Arrelious Benn earned Bob Asmussen's award for training camp MVP.
Iowa tackle Bryan Bulaga wants a Big Ten title before he's through in a Hawkeyes uniform, Ryan Suchomel writes in the Iowa City Press-Citizen.
Injuries are once again cropping up for Indiana's offensive line, Hugh Kellenberger writes in The (Bloomington) Herald-Times.
The defensive line remains the one area of concern on Michigan State's defense, Shannon Shelton writes in the Detroit Free Press.
August, 18, 2009
8/18/09
4:05
PM ET
Posted by ESPN.com's Adam Rittenberg
MADISON, Wis. -- To understand Jay Valai's passion for bone-crushing hits, you must learn his list of YouTube favorites.
Before every Wisconsin game, Valai, a junior safety for the Badgers, watches "Weapon X," better known as Denver Broncos safety Brian Dawkins. His video selections also include big hits from the late Redskins safety Sean Taylor and "some Oklahoma State game from the 1990s" where a player loses his helmet in a collision.
Valai's playlist even includes a clip that makes Wisconsin fans cringe -- Tennessee's Eric Berry crushing Badgers quarterback Tyler Donovan in the Outback Bowl two years ago.
| | |
| --- | --- |
| | |
| | Cliff Welch/Icon SMI |
| | Making the big hit has helped Wisconsin's Jay Valai make a name for himself. |
"Even Eric Berry knocking out TD," Valai said, "it kind of excites me, I don't know why."
Valai is developing his own library of YouTube-worthy hits.
He knocked the 'M' decal off the helmet of Minnesota running back Shady Salamon last November and delivered huge blows against Ohio State, Indiana and others. He led the team in forced fumbles (3) in 2008 and knocked out four players from games.
Valai also led Badgers defensive backs with 56 tackles (35 solo).
"He thinks he's Brian Dawkins," cornerback Aaron Henry said. "With Jay being so small and compact, he can hit somebody and it'll seem like a bullet hit 'em."
As Valai steps into a bigger role this fall for the Badgers, his goal is simple.
"Controlled violence," he said. "That's the key."
While Valai is known as one of the Big Ten's biggest hitters, he also must rein things in after delivering several questionable blows. New Big Ten coordinator of football officials Bill Carollo wants to crack down on helmet-to-helmet hits, and Valai likely will be on officials' radar.
"When he's in on something, he really wants to go whack it," Badgers head coach Bret Bielema said. "Sometimes, it's better to be a little bit more on the side of caution to make sure you've got everything down."
Valai has several explanations for why he craves the big hits, and he's happy to share them.
"Little-man syndrome." Valai stands only 5-foot-9.

"Me and [DeAndre] Levy last year, we just found something to be disrespected about."
"Texas football. It's just run, see, hit." Valai hails from Euless, Texas.

Though Valai agrees he was born to be a safety, his all-time favorite hit takes him all the way back to the eighth grade, when he also played offense.
His team was facing fourth-and-goal from the 11-yard line.
"My quarterback was running into the end zone," he recalled, "and some guy was directly behind him. So I ran straight at him for about 10 yards, took a sidestep to the left and crack-back blocked him. He flipped kind of sideways. We didn't even [score a touchdown], but the crowd was on their feet.
"Ever since then, man, it's been like a drug to me."
Valai wants to keep building his reputation in the Big Ten, but he knows he needs to become a more complete defender.
He was a strong coverage safety in high school, operating mostly in a man-to-man defense. It's taken a few years to master the more complex zone coverages college teams use, but Valai has caught up.
"He always is going for the big hit," Bielema said. "There's a time and place for those things, and those have to be a part of who he is, but I need him to make every play. I want him to make a play in a tough situation, in the open field, be able to get a guy down and have accountability to your teammates."
The über-confident Valai expects to elevate his overall game, but he still salivates when opposing receivers dare to cross over the middle.
"That's just like dessert after dinner, man," he said. "You're licking your chops every play."
July, 20, 2009
7/20/09
10:15
AM ET
Posted by ESPN.com's Adam Rittenberg
It's nearly August, and Wisconsin tight end Garrett Graham still doesn't know who will be throwing him passes this season.
What else is new?
| | |
| --- | --- |
| | |
| | Tim Larson/Icon SMI |
| | Garrett Graham led Wisconsin in receptions (40), receiving yards (540) and receiving touchdowns last season. |
"You get used to it, I guess," Graham said. "It seems like the same thing happens every year in our program. But I don't think a lot of guys worry about it. The best guy is going to play and you can't argue with that."
Graham has grown accustomed to Wisconsin's revolving door at quarterback. He worked with John Stocco in 2006, Tyler Donovan in 2007 and both Allan Evridge and Dustin Sherer last year.
The uncertainty under center will create some concern among Badgers fans heading into the fall, but they have no such worries about the personnel turnover among the tight ends/H-backs.
Former All-American Travis Beckum has moved on, but Graham leads a formidable group that should once again be a strong point for the team.
Beckum's injury woes in 2008 created increased opportunities for Graham, who led Wisconsin in receptions (40), receiving yards (540) and receiving touchdowns (5). Graham enters the fall as a candidate for the Mackey Award and will be backed up by veterans Lance Kendricks and Mickey Turner.
"We have to put the offense on our shoulders this year," Graham said.
Beckum put up big numbers in 2006 and 2007 at the H-back position, a place where Graham could see increased time this season. Graham and Turner both can move seamlessly between the tight end and H-back spots, and Kendricks, listed primarily as an H-back, is starting to gain the same versatility.
"I'm comfortable being on the line and motioning into the backfield, dropping back into a fullback position every once in a while," Graham said. "Then again, I'm fine with being split out on a single side."
Graham will be an asset to Wisconsin's quarterback no matter where he lines up. After earning first-team All-Big Ten honors last season, the 6-foot-4, 248-pound Graham filed paperwork with the NFL to check his draft status before opting to return.
Graham declined to say where he was projected in April's draft but "never really seriously considered" leaving Wisconsin. He spent the offseason developing his speed and quickness to complement his sturdy frame.
"We incorporated a lot more speed and agility this year, and I feel as fast as I ever had and as agile," he said. "It definitely paid off."
August, 11, 2008
8/11/08
7:03
PM ET
Posted by ESPN.com's Adam Rittenberg
| | |
| --- | --- |
| | |
| | David Stluka/Getty Images |
| | Wisconsin QB Allan Evridge is fighting for the starting job. |
MADISON, Wis. -- Allan Evridge has heard the common opinion that he'll be Wisconsin's starting quarterback when the team opens the season Aug. 30, but he knows better than to buy into it.
If Evridge has learned anything in his 23 years on Earth, it's that there are no guarantees.
"You never know," Evridge said Sunday. "That's kind of been my whole story. It's kind of been when things are going, things will switch. It's all about perseverance and pulling through it."
Evridge grew accustomed to transition at an early age.
His father, James, was in the military, and the family moved at least seven times. Allan attended six different elementary schools between first and fifth grades.
The left-hander seemed to be settling in at Kansas State in 2005, starting six games as a redshirt freshman and setting a school freshman record for passing [1,365 yards].
But longtime Wildcats coach Bill Snyder announced his retirement before the final game, and new coach Ron Prince installed a new offense and opened up the competition at quarterback. Evridge transferred to Wisconsin just days into fall camp in 2006. He had met Badgers coach Bret Bielema briefly when Bielema served as Kansas State's recruiting coordinator but said the connection wasn't a major factor in his decision.
After sitting out the 2006 season, Evridge competed for the top job last summer and lost out to Tyler Donovan. It looks like he'll finally take the reins this fall, but as Evridge knows, the script can always change.
"Life is crazy," said Evridge, who is competing with Dustin Sherer and Scott Tolzien for the top job. "Once you think you have it figured out, it will definitely give you a big twist. You can't change those things."
Though Evridge was used to being the new guy, fitting in with his Wisconsin teammates presented some different challenges.
"He can't sit back and laugh about when they came as freshmen, the haircuts certain guys had or the look that they carried or the guys that have put on weight or whatever," Bielema said. "He doesn't have that foundation of the first couple years being in our program with this group of seniors, but he did go through college football. He was a guy who was starting as a freshman in the Big 12 Conference. So he can share those experiences."
He also shares the experience of being Wisconsin's only married player. When Evridge left Kansas State, he left behind his girlfriend, Stacey Spiegelberg, a volleyball player for the Wildcats.
The two dated long distance for more than a year and a half before getting married Jan. 12.
"At Kansas State there were a lot of guys that were married, and now I'm the only one," Evridge said. "A couple might be engaged, but I'm the lone wolf. Some guys that don't really know me, like some the new guys, they think there's some stigma, like, 'Oh, you've got to go home to your wife.'"
Badgers players are getting to know Evridge better this summer, when he took a lead role in organizing workouts. After failing to claim the starting job this spring, he slimmed down a bit and is listed at 212 pounds.
The fifth-year senior impressed Bielema's in Saturday's scrimmage, leading the first-team offense on an 80-yard touchdown drive.
"Everything depends on how you look at it," Evridge said. "If you go into a situation thinking things are going to be bad, more than likely, they are going to be bad. If you into a situation -- say a move, when I was young -- thinking it's going to be good and being positive, then things usually do work out and you enjoy it. You've just got to learn that you might have a bad day, but you have the next day to wake up, if you're lucky."
July, 23, 2008
7/23/08
1:14
PM ET
Posted by ESPN.com's Adam Rittenberg

David Gilreath produced more than his share of highlights as a freshman at Wisconsin, setting several team records as a dynamic return specialist.
| | |
| --- | --- |
| | |
| | David Stluka/Getty Images |
| | Wisconsin's David Gilreath is looking to expand on his skills as a wide receiver. |
But Gilreath didn't spend the offseason replaying his 56-yard punt return against Minnesota or his 60-yard kickoff runback against Tennessee in the Outback Bowl. The big games and accolades rarely entered his thoughts during the winter and spring.
"Have you seen the Penn State game?" he asked.
Wisconsin's trip to Happy Valley was the biggest stain on a season that culminated in a New Year's Day bowl berth but left many players, including Gilreath, unsatisfied. Badgers coach Bret Bielema called the 38-7 loss the "only time that I didn't recognize the crowd on Saturday that we'd coached during the week."
But early in the second quarter, Wisconsin trailed by only three points and had the ball. Quarterback Tyler Donovan found Gilreath wide open over the middle, but the freshman bobbled the pass and Penn State's Lydell Sargeant swooped in for an interception.
"I never knew about momentum that much," Gilreath said. "Once I dropped that pass, it went downhill. You'll always remember that play you messed up on, whether it be in third grade or whatever. It's been going through my mind ever since."
Gilreath is hard on himself, but when a player sets the goals he does, he has to be. Last fall, he set team records for kickoff return yards in a season (967) and in a game (189) to go along with other milestones, but he has yet to start a game and his capacity at wide receiver remains largely unknown.
A reasonable expectation for the fall would be securing and maintaining a starting job, but Gilreath aims higher.
"I want to be an All-American," he said. "With Luke Swan and Paul Hubbard gone, it's an opportunity for me to step in there and be the guy. I come in thinking, 'Yeah, this is my chance.'"
He capitalized in spring practice and likely will enter the season as the starter opposite classmate Kyle Jefferson. Who throws them passes this fall remains to be seen, though Gilreath gives a slight edge to fifth-year senior quarterback Allan Evridge.
Gilreath had only one reception last season, while Jefferson ranked third on the team in both receptions (26) and receiving yards (412). But the two sophomores, who share the title of team's fastest man, want to show Wisconsin's offense goes beyond the ground game and All-American tight end Travis Beckum.
"People say, 'Oh, they've got the four running backs and they've got Travis and a couple other guys,'" Gilreath said. "But I don't think we're ranked as high as we are just because we have a run game. Especially when Travis is doubled, and they've got to put a lot of guys in the box for our run game, we've got to go out and make plays. We'll show the country then."
Opponents are already aware of Gilreath's prowess as a return man. He racked up 226 return yards at Minnesota, playing just miles from his hometown of New Hope, Minn., and tallied 199 return yards in a close victory over Michigan State.
Gilreath became the first Wisconsin freshman since Ron Dayne to win Big Ten Player of the Week honors when he took home the special teams award for his performance against The Citadel in Week 3. Naturally, when Gilreath reflects on the game, a missed opportunity comes to mind.
"There was a punt return, I think my first one of the game, there was a huge opening to the right and I just ran to the left, wasn't even thinking about it, just thought I would use my speed," said Gilreath, who still gained 34 yards on the play. "It would have been a touchdown."
There will be other chances this fall for Gilreath, who, at 5-11 and 165 pounds, tries to model his game after other smaller receivers. Baltimore Ravens wideout Mark Clayton and former Cal star DeSean Jackson are two of his favorites, and he also watched his cousin, Harry Douglas, a big-play threat for Louisville during the team's Orange Bowl run in 2006.
Despite leading the Big Ten in punt returns (14 ypr) and ranking seventh in kickoff returns (23 ypr) as a freshman, Gilreath didn't surprise himself.
"I set my standards pretty high," he said. "I did some things out there, but I didn't do much. I didn't score. I guess that will come."
July, 10, 2008
7/10/08
11:43
AM ET
Posted by ESPN.com's Adam Rittenberg
As the start of training camp nears, several Big 10 teams are dealing with uncertainty at the most important position on the field. Here's the first installment of Quarterback Conundrums, a look at an upcoming competition under center. First up is Wisconsin, which finished spring practice much like it started, with few answers at quarterback.
The candidates
Allan Evridge (6-2, 212, Sr.): The transfer from Kansas State appeared in seven games last fall for the Badgers, completing 5 of 12 passes for 66 yards. He started six games as a redshirt freshman at Kansas State in 2005, passing for 1,365 yards with six touchdowns and seven interceptions. He competed for the starting job last fall and lost out to Tyler Donovan. Has good mobility. And, he's a lefty.
Dustin Sherer (6-4, 213, Jr.): He has three collegiate pass attempts, one of which was intercepted in 2006. His playing time last fall was confined to taking the final snap of a win against Indiana. He has good size but lacks polish at times. Had a strong finish to spring ball.
Scott Tolzien (6-3, 200, So.): Tolzien has even less game experience than Sherer, sitting out all of last season after redshirting in 2006. But he performed well toward the end of spring practice and should challenge the other two in camp. The cerebral quarterback could steady an offense that needs more of a game manager than a playmaker.
Who they're replacing
Tyler Donovan: In his only season as the starter, Donovan had 2,607 passing yards, 17 touchdowns and 11 interceptions. Ranked third in the Big Ten in pass efficiency (134 rating). Led Badgers to a 9-3 regular season record and an Outback Bowl berth.
Spring skinny
All three contenders had their moments in spring ball, but none created the separation offensive coordinator Paul Chryst wanted to see. Evridge moved the offense well in the spring game, but the drives he led resulted in only three points. Sherer led the unit to three scores and had two passes dropped in the end zone. Tolzien gained steam toward the end of spring ball but tossed two interceptions in the spring game.
Summer storylines
Wisconsin's sick bay was full after spring ball, but it didn't appear to include Sherer. Then the junior was spotted on State Street in Madison on crutches. Coach Bret Bielema didn't say much about the sighting, but any lingering injury could shake up the competition.

The longer Evridge goes without securing the job, the more likely it could slip through his fingers. Evridge is the most experienced candidate by far, and as a fifth-year senior, this is his final shot. He must eliminate the occasional brain cramp and provide the steady leadership Wisconsin needs.

Chryst will pick the best candidate, but he might be looking to the future as well. Evridge would be another one-year starter at QB, while Sherer or Tolzien could build continuity at the position for 2009.

The Badgers boast the deepest rushing attack in the Big Ten with four capable backs (P.J. Hill, Lance Smith, Zach Brown and exciting redshirt freshman John Clay), so they will be a run-first, run-second team in 2008. Wisconsin is never over-reliant on its quarterback and needs someone who can limit mistakes and make plays from time to time.

Prediction
This is still Evridge's job to lose. He has the right mix of arm strength and versatility, and he's been in the fire before, albeit in 2005. If Sherer is limited in camp, his chances of starting the opener against Akron look slim. Tolzien is a smart player who seems to fit the mold of previous Wisconsin quarterbacks, but he doesn't seem quite ready yet.