December, 9, 2011
12/09/11
10:00
AM ET
I'm going to give you a list of teams, and you tell me what they have in common:
Florida International, Pittsburgh, Florida, Ball State, Ohio State, Utah State, San Jose State, Auburn, UConn, Syracuse, Iowa State, Rice, Virginia, Maryland, Western Kentucky, Illinois, Central Michigan, Duke, Troy, Kansas, Middle Tennessee State, Buffalo, Marshall, Oregon State, Louisville, Colorado State, Indiana, Miami of Ohio, Eastern Michigan, Tulane, Tennessee, Idaho, UAB, Colorado, Penn State, Minnesota, Boston College, UNLV, Kent State, Memphis, Ole Miss, Kentucky, Akron, Florida Atlantic and New Mexico.
[+] Enlarge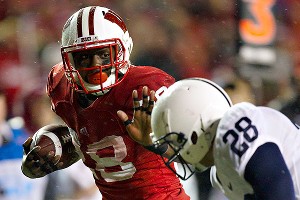 Jeff Hanisch/US PresswireWisconsin RB Montee Ball is averaging 6.4 yards per carry and three TDs per game this season.
Give up? Those 45 teams -- or about 37 percent of the entire FBS -- all have fewer touchdowns this season than one man: Wisconsin running back
Montee Ball
.
The Badgers junior is one of five Heisman Trophy finalists primarily because of his preposterous penchant for finding the end zone. He has 38 touchdowns in 13 games this season, just one shy of Barry Sanders' record of 39 set in 1998. Throw in Ball's passing touchdown to
Russell Wilson
against Indiana, and he has averaged three touchdowns per game this season.
OK, you say, but Sanders didn't get to count his bowl stats and played in only 11 regular-season games, while Ball has had 13 games and the Rose Bowl still to come. Agreed. Still, Sanders -- who added four touchdowns in his bowl game -- averaged a score every 8.67 touches. Ball is scoring a touchdown in every 7.24 touches this year. The goal for every offensive skill player is to reach the end zone, and nobody does that better than Ball, who has scored at least three times in eight games this season.
It's not like he is just some battering ram who plunges in after others have done the hard work, either. Ball has rushed for 1,759 yards -- more than any other FBS player this season -- and is averaging 6.4 yards per carry. In fact, his numbers compare very favorably with Wisconsin's 1999 Heisman winner, Ron Dayne:
Dayne, 1999: 303 carries, 1,834 yards, 19 touchdowns, 6.1 yards per carry; one catch for 19 yards.
Ball, 2011: 275 carries, 1,759 yards, 32 touchdowns, 6.4 yards per carry; 20 catches for 255 yards and six touchdowns.
Like Dayne, Ball plays for a two-loss Badgers team that is going to the Rose Bowl. If the argument against Ball is that his team is not in the title hunt, then why does
Robert Griffin III
have so much support for leading a 9-3 Baylor team? Ball's numbers across the board are better than Alabama's
Trent Richardson
, and he has played just as many tough defenses as Richardson has faced. The only thing that gives an edge to Richardson is SEC bias.
Andrew Luck
is great, but his stats are down from last year, while LSU's Tyrann Mathieu could have hurt his team by incurring a one-game suspension earlier this season.
Sanders' record has stood for nearly a quarter-century, and Ball will fly past 40 touchdowns if he has an average game against Oregon in Pasadena. That record could last a long, long time. And if Ball doesn't win Saturday night, future college football fans may look back and wonder how a guy with the most touchdowns ever, one who outscored more than a third of the teams in his sport that year, could have possibly been snubbed for the Heisman Trophy.
December, 5, 2011
12/05/11
7:53
PM ET
By
ESPN Stats & Information
| ESPN.com
On Monday the five finalists invited to New York for the Heisman Trophy ceremony were revealed. This year has featured one of the most interesting races for the Heisman as no one player has stood from the rest.
Here's a look at what a Heisman Trophy win -- or loss -- would mean to these players and their respective schools.

Trent Richardson, Alabama
Two seasons ago Trent Richardson was a part of a National Championship team with a Heisman Trophy winner, when running back Mark Ingram became Alabama's first winner. Richardson has nearly identical numbers to Ingram this season, and has already totaled 23 touchdowns compared to Ingram's 20 TD's.
If Richardson were to win the award it would put him and Ingram in some rare company. In the history of the Heisman Trophy only three times have two different players playing the same position at the same school won the award in a span of three seasons. It last happened when USC QB Matt Leinart won it in 2004 after Carson Palmer had taken home the award in 2002.

Andrew Luck, Stanford
Luck is listed second here as he finished second for the Heisman last season and Stanford has actually had the Heisman runner-up in each of the past two seasons (Toby Gerhart, 2009).
If Luck wins he would be the second player in Stanford history to win the award (Jim Plunkett, 1970) and join 1981 Herschel Walker as the only Heisman runner-ups to win the award the next season.
If Luck finishes second, Stanford would set a record. No school has ever had a Heisman runner-up in three consecutive seasons.

Montee Ball, Wisconsin
Montee Ball earned his invite thanks to his impressive numbers. Ball needs one touchdown in the Rose Bowl to tie Barry Sanders' FBS record for touchdowns in a season (39). Sanders won the Heimsan trophy during that 1988 season.
Ball's 38 touchdowns are the most by a Big Ten player since Eddie George had 25 in his Heisman Trophy winning 1995 season.

Robert Griffin III, Baylor
RGIII finished off a great regular season in which he threw 36 touchdowns compared to only six interceptions, while also leading Baylor to nine wins, its most since the 1986 season.
Griffin's invite is an accomplishment in its own considering he plays for Baylor. The Bears have only had one player finish in the top five of the Heisman vote in school history. In 1963 Don Trull finished fourth.
If Baylor's Robert Griffin III wins the Heisman Trophy this year, he will be just the third player since the BCS was established in 1998 to win the Heisman without his team playing in a BCS bowl game.

Tyrann Mathieu, LSU
The Honey Badger will take the trip to New York looking to join Charles Woodson as the only defensive backs to win the Heisman trophy.
Despite being a defensive player, recent history is on Mathieu's side to take home the award. Since 2003, seven of the past eight Heisman Trophy winners have come from the team at number one in the BCS standings entering the National Championship Game.