January, 21, 2015
Jan 21
9:00
AM ET
Tuesday brought an end to questions about the final spots on the coaching staffs at Michigan and Nebraska.
Both are now full, though at Michigan, the addition of Mike Zordich as
secondary coach
and Jay Harbaugh as
tight ends coach
came as no surprise. Nebraska, more than two weeks after Mike Riley unveiled additions to bring his staff to eight,
tabbed a receivers coach
, Keith Williams, from Tulane.
An official announcement is forthcoming after Williams, 42, spent time Tuesday in Lincoln.
Great to meet Coach Williams! Welcome to the family. Can't wait to get to work! GBR.

— Jordan Westerkamp (@JordanWesty1) January 21, 2015
The highlight of the Jay Harbaugh hire came as the head coach's 25-year-old son revealed that his dad once
poured Gatorade on his cereal
.
Excuse me, what? Way to set the bar high on your first official day, Jay; we'll definitely expect more where that came from that in future interviews.
Fact is, Jim Harbaugh could have hired daughters Grace, Addie or Katie, ages 14, 6, and 4, respectively, to fill a spot on this staff, and Michigan fans would have leapt with joy. Such is their level of excitement with Harbaugh, as it should be.
And that's no knock against Jay, 25, who worked for his uncle, John, the past three seasons as an offensive quality control coach for the
Baltimore Ravens
. The young Harbaugh looks like a fine pick, especially paired with Jedd Fisch and Tyrone Wheatley on the offensive side and veteran special teams coordinator John Baxter.
If Jay brings a fraction of his father's enthusiasm, he'll be a big hit on the recruiting trail.
Back to Jay Harbaugh. It's interesting that he worked on Riley's staff at Oregon State as an undergraduate assistant for four years. Not surprising, though, that Jim's son got his foot in the door with Riley.
The Riley-Harbaugh connections run deep. New Nebraska running backs coach Reggie Davis came to Riley from Harbaugh's
San Francisco 49ers
.
And oh, yes, Harbaugh played on Riley's
San Diego Chargers
in 1999 and 2000.
When Nebraska and Michigan meet again in 2018 -- if both coaches last that long and they don't meet first in a Big Ten title game -- it's going to feel a little like a family reunion.
Around the rest of the Big Ten:
East Division
West Division
January, 8, 2015
Jan 8
11:00
AM ET
The special-teams roll call is what former Stanford players say they remember most vividly about D.J. Durkin.
Durkin, who reunites with Jim Harbaugh as
Michigan's new defensive coordinator
this month, was not yet 30 years old when Harbaugh hired him to run special teams and coach the defensive ends at Stanford in 2007. Those two units would eventually become pillars of strength in the Cardinal's overhaul from a 1-11 team to 12-1 Orange Bowl champs. The results, players say, were a testament to Durkin's incredible attention to detail and a passion for football that was matched only by their head coach.
[+] Enlarge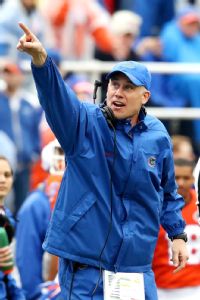 Marvin Gentry/USA TODAY SportsD.J. Durkin, who turns 37 later this month, has been an assistant coach under both Michigan coach Jim Harbaugh and Ohio State coach Urban Meyer.
Roll call brought those two elements together. The last meeting before Stanford loaded the bus for each game during that time was the special-teams review. The entire team was present. After shouting his way through motivational speeches that often referenced ancient war generals and current day military special forces units, Durkin ended the meetings by calling out each position on the special-teams units. The player slotted for that spot was expected to quickly yell back with his name. It was an exercise in focus and detail, but also a ritual crescendo that left most of the team frothing at the mouth when it was time to leave.
"When that meeting is over and we're all walking out there, that's the point before the game that I was most amped up," said Bo McNally, a two-time captain who contributed regularly on special teams while starting at safety for the Cardinal.
McNally, who coached briefly after his career ended in 2009, has worked closely with several of the coaches Harbaugh has asked to join him at Michigan. He said the common thread among them is their passion for winning.
Michigan, as of Thursday morning, has yet to formally announce any member of Harbaugh's coaching staff. The university goes through a thorough vetting process for all new hires before making them official. A few coaches, including Durkin and expected offensive coordinator Tim Drevno, are already working to fill out this year's crop of recruits.
Harbaugh hasn't veered far from the familiar during the first week of assembling a staff at Michigan. Durkin and Drevno both worked for Harbaugh at Stanford. Drevno followed him to the 49ers before returning to the college game as a USC line coach in 2014. He played a big role in helping to instill the tough, physical identity that still persists at Stanford.
Drevno, McNally says, was perhaps the most impersonated coach in Stanford's locker room. Just as loud as Harbaugh and Durkin, he kept his message to players as simple as possible. He would yell, "physical, physical, physical" hundreds of times during the course of most two-hour practices.
"Drevno was an easy target because he has two or three phrases that he said all the time," McNally said. "I'm sure it was very deliberate. 'Physical' was the word he repeated probably 7,000 times a day."
Durkin left Stanford in 2010 to join Urban Meyer at Florida. Meyer was his first boss when he started as a graduate assistant at Bowling Green in 2001. Durkin stayed with the Gators through this year's bowl game, when he served as interim head coach.
Both of Michigan's expected coordinators are relatively young (Drevno is 45; Durkin is 36) and both are on a path to be head coaches in the future.
"If you were to say, 'Hey Bo, 10 years from now you need to pick out a young coach who's going to be the next national championship caliber head coach," McNally said. "D.J. Durkin is the one name that I would tell you."
Those close to Harbaugh say he seeks out assistants who aspire to eventually run their own team. Tyrone Wheatley, who reportedly interviewed for a job at Michigan this week, fits into that category as well. The former Big Ten rushing leader and NFL veteran began his coaching career as the head coach of the high school program where he once set Michigan state records. He has since coached for Ohio Northern, Eastern Michigan, Syracuse and most recently for the Buffalo Bills in the NFL.
McNally met Wheatley at Syracuse when he was a graduate assistant and Wheatley coached running backs. Wheatley is noticeably calmer than the men he could join on Michigan's staff, but McNally said he has a knack for relating well to players.
On Jan. 15, the new Michigan staff will get its first chance to hit the road in search of prospects. By then, Harbaugh will likely have selected most of his assistant coaches and support staff.
March, 7, 2013
3/07/13
12:00
PM ET
First half in the books, 21-0-3. Light the lamp.
April, 19, 2012
4/19/12
10:30
AM ET
ANN ARBOR, Mich. --
Fitz Toussaint
ran for 1,041 yards last season, becoming the first Michigan running back since Mike Hart in 2007 to surpass the 1,000-yard barrier.
It was an especially impressive feat since Toussaint didn't really take over as the lead, undisputed rusher for the Wolverines until the eighth game of the year. So it's no wonder that people are expecting even bigger things this season. Including Toussaint's head coach.
Brady Hoke told ESPN.com that he pulled Toussaint aside during the Allstate Sugar Bowl and pointed out that Virginia Tech had a 1,600-yard tailback in
David Wilson
.
"We'd sure like to have one of those," he said.
Say no more. A new Toussaint touchstone has been established for 2012.
"The goal is to try to go beyond that," Toussaint said. "I want 1,600 yards to be the minimum."
[+] Enlarge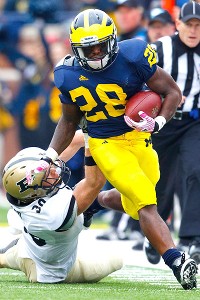 Rick Osentoski/US PresswireFitz Toussaint of Michigan has set a goal of at least 1,600 rushing yards this season.
Only one Big Ten player, Wisconsin's
Montee Ball
, put up more than 1,400 yards rushing last season. That Toussaint's goal doesn't sound all that outlandish is a testament to how far he's come in a short time.
Wolverines coaches liked his talent but weren't sure how tough he was early last year. Toussaint sat out the Notre Dame game in Week 2 with a sprained AC joint in his shoulder. He had also missed some games as a freshman and was gaining a reputation for being injury-prone.
After the Notre Dame game, running backs coach Fred Jackson pulled Toussaint into his office and talked about past great Michigan backs like Hart, Tyrone Wheatley and Chris Perry. Those guys, he said, played through nagging ankle pains, hamstring injuries and other aches.
"He was saying you've got to be tough to play this game at a different level," Toussaint said. "That talk really motivated me."
Toussaint played pretty well with limited carries the next four games but had just 7 yards on two attempts in the loss at Michigan State. The Wolverines then went into a bye week and decided to change their philosophy in the running attack, which until then had involved using
Denard Robinson
and spreading the carries out among the tailbacks.
"We just decided we were going to let him carry the ball," offensive coordinator Al Borges said. "We weren't going to take him out."
He responded with a 170-yard, two-touchdown game against Purdue the next game. Toussaint averaged 135 rushing yards over the final five regular-season games, including a 192-yard effort at Illinois. Nobody was happier about this development than Robinson, who finally had a star running back to take some heat off him.
"It was a relief," Robinson said of Toussaint's emergence. "Running the ball that much, it's a hassle. I knew he was a big-time back, and once he got going he would do well."
Michigan limited Toussaint's reps this spring, knowing what they had in the junior and wanting to get a look at youngsters like
Thomas Rawls
and
Justice Hayes
. When the season starts, though, they will likely give Toussaint all the work he can handle. And if he could replicate his 135-yard average from last year's stretch drive, that equates to just over 1,600 yards for a full 12-game season.
Those kinds of numbers could potentially get Toussaint into the Heisman Trophy discussion along with Robinson. Might we have a
Russell Wilson
-Montee Ball situation developing?
"That hasn't really crossed my mind," Toussaint said. "It's going to take a lot for me to get there. I'm still lacking a couple of things."
Becoming better in pass protection is something he's striving toward this offseason. That goal is a lot less visible than 1,600 yards, but it may be just as important to Michigan's success.
July, 19, 2011
7/19/11
12:00
PM ET
The dog without the bag, it's incomplete. It's a marriage.
February, 10, 2010
2/10/10
12:00
PM ET
These links are a bit frosty today.