July, 15, 2014
Jul 15
1:30
PM ET
STATE COLLEGE, Pa. --
Jesse James
is a freak of nature.
Really, there's no other way to describe the 6-foot-7, 272-pound tight end. Coaches and teammates tried their best Saturday to brainstorm other fitting adjectives or ways to encapsulate the junior's ability. But, without fail, they kept returning to that same phrase.
"Jesse is just a freak of nature," fellow Penn State tight end
Adam Breneman
said. "I don't know how else to describe him."
Added strength coach Dwight Galt: "He's a freak. ... Athletically, talent-wise, there's not another tight end in the country better than him, for sure. He's got speed, he's got strength, he's got agility, he's got size. He's got everything."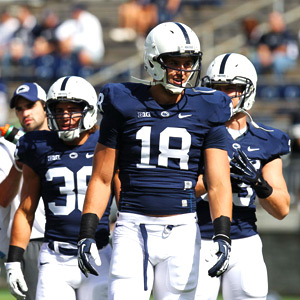 Matthew O'Haren/USA TODAY SportsThe 6-foot-7 Jesse James can bench-press 225 pounds 27 times and he runs the 40-yard dash in about 4.6 seconds.
James lived up to that billing during Saturday afternoon's annual Lift for Life event, which pit the offense and defense against one another in seven strength competitions while
helping raise money to fight kidney cancer
. During the 225-pound bench press, the weights exploded off James' chest so quickly it was as if they came from a balloon stand. The tight end's spotter called out "Seven!" before his defensive end opponent reached three.
The reps came so quickly, it was easy to lose count. Once finished, a Penn State trainer turned to James' spotter and asked about the final tally. Upon hearing the answer, he just shook his head and looked confused: "What? ... Twenty-seven?" James' teammates alternated between head-shaking and patting him on the shoulder.
Had James reached that number in any of the last 10 NFL combines, he would've placed within the top five at his position -- and he would've been at the very top in
2008
and
2011
. Compared to the most recent combine, his 27 reps were two fewer than first-round offensive tackle Taylor Lewan and one more than first-round defensive tackle Dominique Easley.
"He'll surprise you every day. You never know what's coming with Jesse,"
Christian Hackenberg
said. "It's actually interesting when you get out there with what he does, just how good he is and how fast he is and how strong he is."
It's not easy to overthrow James, who reportedly runs in the 4.6 range and stands as the second-tallest player on the 121-man roster. That might have something to do with his recent addition to the Mackey Award watch list. Of course, the fact he's Penn State's leading returnee with 25 catches and 333 yards doesn't hurt either.
Put simply, yes, the guy's a freak.
"To get a guy that big that does what he does, I haven't seen that," Galt said. "I've been really lucky. I had five tight ends in the NFL at one time, including
Vernon Davis
and Dan Gronkowski, Rob's brother, and I'll tell you what -- I'll put Jesse James up there with any of them. The kid is really that athletic and that good of a player."
Players spoke in such revered and hyperbolic fashion about James that, at times, it seemed as if they were discussing Bigfoot or the Loch Ness Monster. Tailback
Akeel Lynch
just laughed when asked about what impressed him most about James and cautioned that it might not sound believable.
While most players dead lift with five or six plates and let out painful groans between each lift, Lynch said, Penn State's tight end takes it a step further. Lynch smiled, bent his knees and pantomimed lifting up and down with ease. "And he puts the max weight you can on a bar," Lynch said. "He's a freak. He's a good guy, but he's a freak."
On Saturday, James
performed 12 reps on the dead lift
at 495 pounds. And he promised before the event that he planned to take it easy since this was for charity. ("I won't put too much on today, but it'll be fun.") So what exactly is the max weight the junior can dead lift?
"I have no idea," he said matter-of-factly, with a slight shrug. "We haven't found it."
James is one of the last players who would exaggerate his talent. The aw-shucks kid from the small, blue-collar borough of Glassport, Pennsylvania, didn't mind dissecting Hackenberg's improvement or waxing poetic on how the freshman receivers were coming along. But it was as if his white T-shirt grew itchy whenever he was asked about himself.
"I'm not really the person to talk to about that," James said. "That's just how I was raised."
Added offensive guard
Miles Dieffenbach
: "That's the way he is. Modest guy, really good guy."
Humility might serve him well, but the Nittany Lions need someone to step up in a big to make up for more than 125 receptions of lost production from last season. (Allen Robinson, who caught 97 balls in 2013, is now in the NFL.) James is certainly a candidate to be that player, at least in the end zone, and expectations are soaring for the junior.
It's still to be determined how James' speed and strength will transfer over to the gridiron this season. But at least one thing is for certain.
"He's a freak," Dieffenbach said. "A freak of nature."
April, 4, 2009
4/04/09
5:12
PM ET
Posted by ESPN.com's Adam Rittenberg
The agent for former Illinois cornerback Vontae Davis today denied a report that Davis and two other players tested positive for marijuana at the NFL combine.
NFLdraftbible.com cited sources in a report Friday that Davis, Florida wide receiver Percy Harvin and Boston College defensive tackle B.J. Raji all tested positive for marijuana.
"Neither Vontae nor our office has received any notification of any positive test whether for marijuana or any other banned substance," agent Todd France said in a statement. "In addition, we have been informed by several of our NFL contacts that they have not been notified of any drug testing results from the combine."
Davis, a first-team All-Big Ten selection last fall, is projected to be one of the first cornerbacks selected in the draft. He ran the 40-yard dash in 4.4 seconds at the NFL combine and registered a 37.5-inch vertical leap at Illinois' pro day workout.
The younger brother of San Francisco 49ers tight end Vernon Davis recorded 78 tackles, three forced fumbles, two interceptions and 10 pass deflections last season for the Illini.
December, 22, 2008
12/22/08
5:00
PM ET
Posted by ESPN.com's Adam Rittenberg
Judging by most NFL draft projections, Vontae Davis' decision to leave Illinois a year early looked like a slam dunk.
But Davis was helped along in the process by his older brother, Vernon, who found himself in the same position in January 2006 after three seasons as Maryland. Things worked out pretty well for Vernon, who elected to forgo his senior season and was selected sixth overall in the 2006 NFL draft. Vontae hopes for similar results April 25.
"He influenced me a lot," Vontae Davis said this afternoon on a conference call with reporters. "If I didn't have him, it'd be a lot tougher than what it is. My brother, he's always looking after me. He told me go with what my heart told me."
Davis downplayed the significance of the draft projections -- most of which place him in the first round -- in his decision to leave Illinois. But he did file paperwork with the NFL draft advisory board and was deemed a potential first-round pick.
After earning first-team All-Big Ten honors and recording more than 70 tackles in each of the last two seasons, Davis felt prepared for the next level. He discussed his options with his grandmother, his high school coaches, former Illinois offensive coordinator Mike Locksley and Illini head coach Ron Zook, among others.
But having a brother who went through the exact same experience gave Davis an idea of what to expect. He plans on attending the 49ers' season finale Sunday against Washington and might start training with Vernon in preparation for the draft evaluations.
"I looked at it being a goal, an accomplishment to even make it this far," Vontae Davis said. "It's just a blessing to have this opportunity. But a lot of people supported me to help me get to this position."
November, 7, 2008
11/07/08
12:30
PM ET
Posted by ESPN.com's Adam Rittenberg
It's Friday, and you deserve an extra helping of links.
"Coach feels awful about that penalty," said sophomore center John Moffitt, whose holding penalty wiped out a critical 21-yard run by John Clay in the closing minutes. "But the way he approached it, he took ownership of it.

"I think a lot of guys had respect for that. I had respect for that. That's not an easy thing to do, to stand up in front of the team. That's all you can do. No one is perfect. My case is an example."
"If nothing else, there are lessons to be extracted from this mess:

No. 1: Maybe going 9-3 and regularly participating in a Jan. 1 bowl under that conservative ol' Lloyd Carr wasn't such a bad thing, hmm?

No. 2: Even though it has a wonderfully monotonous fight song, a frothing fan base and a frightening lack of humility, U-M isn't immune to the struggles every major program faces.

No. 3: If (Rich) Rodriguez wants people to show more patience and less frustration, he needs to show less frustration with people's frustration. Hey, this is all new to everyone!"
August, 21, 2008
8/21/08
10:00
AM ET
Posted by ESPN.com's Adam Rittenberg
| | |
| --- | --- |
| | |
| | Stephen Dunn/Getty Images |
| | Arrelious Benn is 100 percent for the first time in his college career. |
RANTOUL, Ill. -- A smile splashed over Ron Zook's face earlier this month when the Illinois coach saw his star wide receiver getting roughed up in practice.
Zook wasn't the only one enjoying the moment.
"It felt good to get hit in practice, just to get hit, period," Illini sophomore Arrelious "Rejus" Benn said. "It feels great to come out 100 percent."
Benn is 100 percent for the first time in his college career, and that's bad news for the rest of the Big Ten. Consider what he did last season with a right shoulder that dislodged like a sliding door.
He first dislocated the shoulder in Illinois' first preseason scrimmage and saw it pop out of the socket several more times during the season. But Benn still led the team in both receptions [54] and receiving yards [676]. He also had 32 rushes and averaged 28 yards on kickoff returns, winning Big Ten Freshman of the Year honors.
Benn did it all while operating like a pitcher coming off the DL. Instead of a pitch count, he had a touch count, as Illinois' coaches mulled how many hits his shoulder could absorb.
There are no such worries this fall.
Offensive coordinator Mike Locksley wants to enhance the passing game, and Benn will be the featured receiver. The run remains Illinois' trademark, and Benn will see more carries out of the backfield.
"It fits perfectly," Benn said. "That's why I came to Illinois, to be The Guy."
Benn underwent surgery on his shoulder after the season and was limited for most of the spring, but he feels 100 percent now.
"I forgot I had surgery," he said.
When Benn studied Locksley's offense as a prep superstar growing up in Washington, D.C., he saw a system that didn't pigeonhole its skill players. The best guys would get the ball a lot, and Benn had little doubt where he would fit in.
At a recent practice, the 6-foot-2, 214-pound Benn frequently lined up in the backfield, taking option pitches from quarterback Juice Williams before rotating back to slot receiver.
"Last year, we kind of spoon-fed him and lined him up and limited a package for him so we could allow him to get on the field early without doing too much thinking," Locksley said. "As he moves up the food chain in terms of our touch chart, obviously we'll do things to find ways to get him to the ball.
"I'd say he'll be one of our top two guys on offense that need to have the ball in his hands."
The departure of star running back Rashard Mendenhall will free up more carries for Benn. And Illinois appears to be much deeper at receiver this season, allowing Locksley to do more with the versatile sophomore.
Locksley likens Benn's athleticism and physical maturity to that of Vernon Davis and Shawne Merriman, two players Locksley recruited to Maryland. He's not the only one marveling at the sophomore.
"I saw it in high school, the things he did. I was amazed," Williams said. "He's a rare talent, so it's always good to have a guy like that on your team."
And not good to be going against him.
August, 13, 2008
8/13/08
7:28
PM ET
Posted by ESPN.com's Adam Rittenberg
| | |
| --- | --- |
| | |
| | Jerry Lai/US PRESSWIRE |
| | Illinois cornerback Vontae Davis is a potential top 5 NFL draft choice. |
RANTOUL, Ill. -- Illinois cornerback Vontae Davis remembers the times his big brother Vernon would come home from brutal practices at the University of Maryland, beaten down by drills and a particular coach.
"His coach would always push him," Vontae Davis said. "He would tell me so many stories. He'd be like, 'Imagine you were so tired, and you had to do the same play over and over again. You're exhausted.' It was his tight ends coach. He had a long, funny name."
Ray Rychleski was the man riding Vernon Davis at every turn. His approach worked, as Davis earned first-team All-America honors and went No. 6 overall in the 2006 NFL draft.
Vontae has no trouble remembering the name of the coach taking on a similar role with him at Illinois. It's only four letters and impossible to mispronounce.
And if things go according to plan, Davis will be thanking the man come draft day.
"It's my head coach," Vontae Davis said. "You have to impress your head coach if your head coach is on you that hard."
Ron Zook has made Vontae Davis his personal project. Zook, who coached defensive backs for much of his career, always keeps Davis in his sight during practice. No mistakes go unnoticed.
Davis has even been demoted to the second-team defense at times, spending much of spring practice with the backups.
"He's got eyes in the back of his head," Davis said. "He can almost feel when I'm not going how I should go. He knows me better than I know myself.
"I didn't know he was going to have that much input. I thought he's the head coach, he's going to watch over the team, but he's got his eyes on the defensive backs a lot."
Looking at Davis' credentials, it's easy to think Zook is wasting his time.
Davis earned first-team All-Big Ten honors last season after ranking sixth in the league in both interceptions (4) and pass breakups (8). The 6-foot, 204-pound junior enters the fall as a Playboy All-America selection, a leading candidate for the Thorpe Award and a potential top 5 NFL draft choice if he chooses to leave school a year early.
He has excellent speed, tackles well in the open field and measures in at three percent body fat. Not much to harp on, right?
"Coach Zook has always taken the best players and been most demanding on them," co-defensive coordinator Dan Disch said. "He wants them to be perfect. Our best players have got to be our best examples, and coach demands that of Vontae. He's always going to be held to the fire."
Davis has the tendency to reply on his natural gifts rather than preparation. That's where Zook comes in.
"He can't relax back there," Zook said. "He doesn't realize sometimes how good he can be. But he'll be OK. I love the kid. I love him like a son. But he also knows I'll put him over there beside me."
Zook told Davis to expect this type of treatment from the start, but as Davis improved and took on a greater role, the critiques have become harsher.
Having the head coach's constant attention does have its benefits, though. When Zook tells Davis before a play to jam a wide receiver at the line, the cornerback obliges.
And when Davis takes the field this fall, he'll have some added motivation to perform.
"I'm hard on myself," Davis said. "When I'm not playing the way I'm capable of, I feel like I let him down."
August, 12, 2008
8/12/08
10:31
AM ET
Posted by ESPN.com's Adam Rittenberg
| | |
| --- | --- |
| | |
| | Matthew Emmons/US Presswire |
| | Malcolm Jenkins had four interceptions last season. |
The rankings return with the cornerbacks, followed by the safeties later. Malcolm Jenkins and Vontae Davis top the list, but things get a little bit cloudy after those two. Just a reminder that the rundown is only cornerbacks, so if you're looking for names like Anderson Russell, Anthony Scirrotto and Austin Thomas, check back in a bit.
1. Malcolm Jenkins, Sr., Ohio State -- It's a tight race with Davis for the top spot, but Jenkins gets the nod. He enters the fall as the Thorpe Award frontrunner after passing up NFL millions. The back-to-back first-team All-Big Ten selection had four interceptions last season and can shut down one side of the field.
2. Vontae Davis, Jr., Illinois -- His pro stock is skyrocketing and Davis soon will join his big brother Vernon in the NFL. Last season the Thorpe Award semifinalist had four interceptions, eight pass breakups, nine tackles for loss and two blocked punts, one of which he returned for a touchdown.
3. Lydell Sargeant, Sr., Penn State -- With Justin King gone, Sargeant moves into a featured cover role and has the tools to step up. In his first season as a starter he led Penn State defensive backs and ranked third on the team with 70 tackles. And Sargeant isn't afraid of big stages -- in March he was one of the introductory speakers at an on-campus rally of 22,000 people that featured presidential candidate Barack Obama.
4. Donald Washington, Jr., Ohio State -- His two-game suspension at the start of the season could hurt, but Washington has plenty of experience to readjust. Often overshadowed by Jenkins, Washington has big-play potential, as he showed by returning his lone interception last fall 70 yards for a touchdown.
5. Donovan Warren, So., Michigan -- One of the top young defensive backs in the league, Warren earned several freshman All-America distinctions last fall. He recorded 52 tackles and forced and recovered a fumble against Notre Dame. Like most Wolverines players, Warren improved his conditioning level this summer and should turn in a strong sophomore season.

6. Morgan Trent, Sr., Michigan -- The team's most experienced player has made 29 career starts in the secondary, collecting 108 tackles [92 solo] and 19 pass breakups. He earned honorable mention All-Big Ten honors last season. Trent has been burned at times by elite receivers, but he brings leadership to the secondary and complements Warren.
7. A.J. Wallace, Jr., Penn State -- Wallace turned heads as a freshman, playing on both sides of the ball and dazzling on kickoff returns and reverses. Hopes remain high for his progress at cornerback, as he moves into the spot vacated by King. After a superb Alamo Bowl performance [five tackles, interception, fumble recovery], Wallace should do big things this fall.
8. Bradley Fletcher, Sr., Iowa -- Charles Godfrey and Adam Shada had Iowa's starting cornerback spots on lockdown, but Fletcher still contributed with 53 tackles and two interceptions last fall. With those two gone, Fletcher steps into a featured role this fall. He has played a lot the last two seasons and should step up as a senior.
9. Allen Langford, Sr., Wisconsin --
How Langford responds following ACL surgery is critical, but he brings plenty of experience to a suspect Badgers secondary. He has six career interceptions and 19 pass breakups, including seven in 10 games last fall before the injury. If healthy, the fifth-year senior provides a big boost in the back half.
10. Kendell Davis-Clark, Sr., Michigan State -- Davis-Clark ranked second on the team in tackles [73] in his first season as a starter and should continue to progress this fall. He had eight pass breakups and was effective on blitzes with four sacks in 2007. Davis-Clark's next step is making more plays for a takeaway-starved Spartans defense.