Big Ten:

Vladimir Emilien
November, 3, 2010
11/03/10
1:40
PM ET
Big Ten teams have faced some major personnel challenges this season.
No team in America has been hit harder at key spots than Purdue, while other Big Ten squads like Wisconsin and Penn State also have lost key players.
But I can't remember a single position being ravaged more by both injuries and player departures than Michigan's cornerback spot.
The latest bit of bad news arrived Wednesday, as Wolverines coach Rich Rodriguez confirmed that
cornerback J.T. Floyd will miss the rest of the season
after suffering a "freak" ankle injury in practice Tuesday. Floyd's ankle isn't broken, but he suffered ligament damage and needs surgery that will keep him sidelined for a while.
The redshirt sophomore has started all eight games for Michigan and ranks third on the team in tackles with 66. Floyd also has an interception, a forced fumble and four pass breakups.
Michigan's struggles in the secondary are no secret, and this certainly doesn't make things easier.
Rodriguez said true freshman Courtney Avery will start Saturday against Illinois opposite senior James Rogers, the Wolverines' only non-freshman cornerback still available.
"We're pretty young in the secondary," Rodriguez told reporters on a conference call. "We're getting younger."
Yikes.
Remember these names?
Troy Woolfolk: Multiyear starter in the secondary suffered season-ending ankle/foot injury in camp.
Justin Turner: Decorated recruit was granted his release from the team in August.
Vlad Emilien: Young defensive back left the team in September.
Demar Dorsey: The Big Ten's top-rated recruit signed with Michigan in February but was denied admission in June.
Boubacar Cissoko: Blue chip recruit started the first four games in 2009, missed two games because of a suspension, returned for a game and then was dismissed for violating team rules. Cissoko is now in jail serving time for his role in multiple robberies.
Donovan Warren: First-team All-Big Ten selection in 2009 declared for the NFL as a junior but wasn't drafted in April.
Adrian Witty: Signed with Michigan in 2009 but never made it to Ann Arbor because of academic issues.
Michigan's defense has more issues than just one position, but the Wolverines certainly would be better with some of these guys on the field right now.
Rodriguez also said Wednesday that receiver
Martavious Odoms
(foot) and safety Mike Williams (concussions) likely won't return this season. Running back
Fitzgerald Toussaint
(shoulder) will miss Saturday's game.
Not good for a team that desperately needs a win.
September, 10, 2010
9/10/10
12:00
PM ET
Any dinner recommendations for Columbus tonight?
September, 8, 2010
9/08/10
1:28
PM ET
Can
Kelvin Grady
play defensive back for Michigan? How about
Je'Ron Stokes
or
Jerald Robinson
?
Anyone? Bueller?
Michigan's exodus from the secondary continues as
sophomore safety Vladimir Emilien is transferring
. Coach Rich Rodriguez confirmed the departure Wednesday, as Emilien becomes the second Wolverines defensive back in a month to transfer (Justin Turner).
Emilien had been a bit disappointing so far at Michigan, given his recruiting hype. He appeared in five games last season, mostly on special teams, and played in the opener against Connecticut. He was listed as a backup free safety on
this week's depth chart
(page 17). But he was a body, and Michigan seems to be running out of them in the secondary.
Michigan really can't afford too many more departures at safety or cornerback. You can bet Notre Dame will be aggressive in attacking the young group Saturday in South Bend.
At least
walk-on tryouts take place Friday
at Schembechler Hall. If you think you can cover a Big Ten wide receiver, I'd suggest showing up.
August, 20, 2010
8/20/10
5:00
PM ET
My apologies for posting this late, but I finally got a chance to review the
Big Ten Network's football preview tour
stop at Michigan. The crew of Dave Revsine, Gerry DiNardo and Howard Griffith attended a Wolverines practice last week.
Here are some nuggets and observations:
We get to see Tate Forcier's wing-less helmet very early in the show, although we know now that he has regained his wings. Forcier seemed to be No. 3 in the quarterback rotation during drills, behind both Denard Robinson and Devin Gardner. "Denard and Devin got most of the reps today," DiNardo said. But head coach Rich Rodriguez maintains the race is open. Forcier, to his credit, made some crisp throws in the practice.
The BTN crew picked Robinson to be the starter when the season opens Sept. 4. Although he misfired on a few outside throws in individual drills, he looked more comfortable overall as a passer.
Gardner's size and mobility make him a pretty exciting young prospect. He likely won't be the starter for the opener, but you figure he'll be in the mix at some stage. "He has the most ability of the three quarterbacks," DiNardo said.
We learned quite a bit during the M drill, where a running back dashes through a line of four blockers and four defenders. Michael Cox had several nice runs, following a block from tight end Brandon Moore on one play. Kelvin Grady followed a block by Erik Gunderson and shot through the line, while burly back Stephen Hopkins broke through tackles with a powerful run on one play. Defensive standouts in the drill included end Jibreel Black, safety Brandin Hawthorne and tackle Will Campbell, who made a very nice tackle on Hopkins. There also were some good team efforts, including blocks from Michael Schofield and Quinton Washington, and a team tackle by Richard Ash and Jonas Mouton.
The secondary remains a concern, but a few players stood out in individual drills. Safety Vlad Emilien had a huge hit against Fitzgerald Toussaint, and safety Josh Furman forced a fumble by freshman receiver Ricardo Miller in a 1-on-1 matchup.
There's no reason defensive tackle Mike Martin shouldn't have an excellent year for Michigan. He's got excellent strength and good size at 6-2, 299. "There's very little he doesn't do well," DiNardo said. Campbell also looked good in this practice, both physically and with his play. DiNardo thinks Campbell will be most effective when lined up directly over the center. "He's really picked up his game," Griffith said. Griffith also likes the freshman Black.
It was really fun to watch Martin and center David Molk go at it in a 1-on-1 drill. A ton of strength in that matchup, which it appeared Molk won. Offensive tackle Perry Dorrestein and defensive tackle Renaldo Sagesse also had a good battle. It was a pretty good day overall for the offensive line. DiNardo particularly likes tackle Patrick Omameh.
We didn't see a ton from the linebackers, although the first group in one drill was Craig Roh, Mouton and, yes, Mark Moundros, the team's starting fullback, at middle linebacker. It'll be interesting to see how much Moundros pushes Obi Ezeh and others for playing time.
Cox looked the best among the running backs, although several of them have impressive speed, including Toussaint. Hopkins certainly stands out from the group because of his size (6-foot, 227 pounds).
The BTN crew really likes Michigan's wide receivers, especially Roy Roundtree. They also noted the play of freshman Jeremy Jackson, one of the team's bigger receivers at 6-foot-3. "They've got the right number at wide receiver," DiNardo said. "You can't say that about every position in the program."
In interviews, Martin talked about the defense being closer this year, and Rodriguez expressed concern about the kicking game.
April, 8, 2010
4/08/10
5:00
PM ET
ANN ARBOR, Mich. -- A public-service announcement to Big Ten fans: the area code around here hasn't changed to 335.
Those three numbers have dominated the discussion about Michigan ever since the Wolverines began using the alignment more during spring practice. In recent weeks just about everyone has weighed in on the 3-3-5: who will go where, who fits the scheme and whether it will help the Wolverines' defense rebound from two subpar seasons.
[+] Enlarge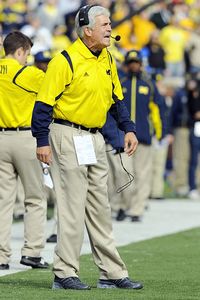 Eric Bronson/Icon SMIMichigan defensive coordinator Greg Robinson says it's not the scheme, but fundamentals that will determine the success of the Wolverines this fall.
Defensive coordinator Greg Robinson has some advice about the 3-3-5: don't get too bogged down with it.
"It's not about the schematics," Robinson told me Thursday. "It's about fundamentals. The fundamentals have got to improve. To the average fan, they want to know the schematics because that's Madden football. But wait a minute. Anybody can say they play two-deep coverage or anybody can say they're running the zone dog. But the fundamental techniques and all those things -- how you tackle, how you defeat a blocker -- that's what it's about."
The truth is Michigan will run the 3-3-5 at times in the 2010 season. The Wolverines will also use four-man fronts and bring extra linebackers to the line of scrimmage. Hybrid players like Craig Roh will play integral roles this fall, just like they did last year.
An alignment won't fix Michigan's defense unless the players can execute a lot better.
"It's work," Robinson said. "There's work ahead of us. The best thing is if we can get these young people to understand that. Can we get there? Yeah, if we work really hard at it, we will get there. But don't think that it's just like a magic wand.
"It's hard work to get good."
A few quick takeaways from Robinson:
The competition at middle linebacker is really heating up between Obi Ezeh and Kenny Demens, who has come on strong this spring. "This is a dogfight," Robinson said. "And I like it. It's amazing when you have competition, how much the improvement comes."

Like everyone else, Robinson praised the play of safety Cameron Gordon (more on Gordon next week) and also singled out safeties Thomas Gordon and Teric Jones for their play this spring. He also likes the improvement cornerback J.T. Floyd has made from last fall. Robinson expected Vladimir Emilien to return to practice Thursday after suffering a knee injury early in spring ball.

The defensive line has been dealing with injuries this spring, and Robinson said defensive tackle Renaldo Sagesse is the latest player to get banged up a bit. "We're hoping we can get him back [before the end of the spring]," Robinson said. "Because if we can really count on him as a guy that's in the constant flow, that's good."

Robinson started talking about William Campbell, pointing out that the sophomore defensive tackle needed to keep growing and developing. Then he caught himself. "He doesn't have to keep growing," Robinson said. "He's got to keep developing." Campbell checks in at 6-5 and 324 pounds this spring. "That's a never-ending battle," Robinson said of Campbell's weight and conditioning, "and he's realizing that. He's maturing. God, he was a 12th grader here last year at this time. God forbid what I was like back then."
March, 22, 2010
3/22/10
9:00
AM ET
The spring superlatives series, which examines the strongest and weakest positions for each Big Ten team, marches on with Michigan.
Arguably no team in the Big Ten needs a strong spring more than the Wolverines, who must answer questions on defense after dropping their final seven Big Ten games last fall. It doesn't help that Michigan loses its top two defenders: Big Ten co-MVP Brandon Graham at defensive end and All-Big Ten selection Donovan Warren at cornerback. The Wolverines lose a few contributors on offense but still should be dangerous on that side this fall.

Strongest position: Offensive line
Key returnees: G Stephen Schilling, C David Molk, T Perry Dorrestein, T Mark Huyge, G Patrick Omaneh, G John Ferrara
Key losses: LT Mark Ortmann, G/C David Moosman
The skinny: The Wolverines look solid at all of the offensive skill positions, but head coach Rich Rodriguez is a bit concerned about his outside receivers, and Michigan loses its top two running backs (Brandon Minor and Carlos Brown) from 2009. The offensive line, meanwhile, returns three starters as well as promising redshirt freshmen (Taylor Lewan, Quinton Washington, Michael Schofield). Molk could contend for All-Big Ten honors if he stays healthy, and Michigan should have much more depth this season. Rodriguez is pleased with the physical gains the linemen made during the offseason, and it should translate well to the field this fall.
Weakest position: Secondary
Key returnees: CB/S Troy Woolfolk (46 tackles, 1 pass breakup); S Jordan Kovacs (75 tackles, 4.5 tackles for loss, 2 forced fumbles, 1 INT); S Mike Williams (56 tackles, 1 tackle for loss, 1 pass breakup)
Key losses: Warren (66 tackles, 4 INTs, 7 pass breakups)
The skinny: Michigan loses more at other positions, and the kicking game is a major concern, but the combination of Warren's departure and so many major breakdowns puts the secondary in the spotlight going forward. Woolfolk looks like a good option at one cornerback spot, but the other will be up for grabs, as J.T. Turner, J.T. Floyd and heralded recruit Demar Dorsey all will compete. The competition at the safety spots should be intriguing, as Kovacs, a walk-on, tries to hold off Vladimir Elimien and others. Michigan has enough bodies in the secondary, but the coaches need to identify a combination that works.
August, 31, 2009
8/31/09
2:44
PM ET

Posted by ESPN.com's Adam Rittenberg
Believe it or not, there was a bit of actual football news today at Michigan. Head coach Rich Rodriguez released his
depth chart
(page 14) for Saturday's season opener against Western Michigan, and as expected, three quarterbacks were listed as possible starters. For what it's worth, freshman
Tate Forcier
comes first, and then junior
Nick Sheridan
and freshman
Denard Robinson
.
"I anticipate playing all three of them," Rodriguez said Monday.
Other notable items on the Wolverines' two-deep:
True freshman Vincent Smith is listed as a co-backup at running back with Carlos Brown, behind starter Brandon Minor. Sophomore Michael Shaw, who logged a lot of playing time last year, is the fourth-stringer.
Sophomore wide receiver Kelvin Grady, a former Michigan basketball player, is listed as a backup behind Martavious Odoms in the slot. Junior Hemingway and Greg Mathews are the other projected starters at receiver.
Brandon Herron is listed as the starter at "quick" end (linebacker-defensive end hybrid), with true freshman Craig Roh as his backup.
True freshman William Campbell is listed as the third string nose tackle behind Mike Martin and Renaldo Sagesse. I thought he'd be higher.
Youth will be served in the secondary this fall. Though the starting four consists of junior Donovan Warren and sophomore Boubacar Cissoko at cornerback and junior Troy Woolfolk and sophomore Mike Williams at safety, several freshmen are in position to play, including corners J.T. Turner, J.T. Floyd and Teric Jones, and safety Vladimir Emilien.
Rodriguez said senior Jason Olesnavage is the frontrunner at kicker, though Olesnavage is listed as a co-starter with both Brendan Gibbons and Bryan Wright.
August, 10, 2009
8/10/09
9:45
AM ET
Posted by ESPN.com's Adam Rittenberg
The final seven Big Ten teams open preseason camp, including defending co-champs Penn State and Ohio State.
Here are three questions for the remaining seven squads during the next four weeks. If you missed Part I, check it out.
MICHIGAN
Camp opens: Monday
1. Will true freshman Tate Forcier create some early separation in the quarterback competition?
Forcier enters camp as the frontrunner after a solid spring, and he could further cement himself as the Wolverines' top quarterback in the coming weeks. He'll face some real competition now as junior Nick Sheridan returns from a broken leg and athletic freshman Denard Robinson joins the mix.
2. Who will step up alongside Brandon Graham on the defensive line?
Michigan brings back a potential All-American in Graham, who has 18.5 sacks the past two seasons. He'll need help up front, though, and the Wolverines need strong camps from Mike Martin, Ryan Van Bergen and William Campbell.
3. How many true freshmen see the field this fall?
The Wolverines will be much more experienced at several positions, but head coach Rich Rodriguez brought in a strong recruiting class, and several freshmen should contribute immediately. Along with Forcier, Robinson and Campbell, running back Vincent Smith impressed this spring and hopes are high for safety Vladimir Emilien. Defensive end Craig Roh also could be one to watch.
MICHIGAN STATE
Camp opens: Monday
1. Will we see any separation at quarterback before Sept. 5?
Head coach Mark Dantonio isn't planning on it and fully intends to play both Kirk Cousins and Keith Nichol during non-league play. The two signal-callers paced one another throughout spring ball, but there's a chance one man might be ready to take the job.
2. Can true freshmen Edwin Baker and Larry Caper emerge as the top running backs?
None of Michigan State's older players really took charge in the spring, though Caulton Ray's emergence is intriguing. Many expect Michigan State's heralded recruits to emerge as potential starters by the end of training camp.
3. How will the secondary look by the end of camp?
Dantonio has a very good problem in the secondary -- loads of experience. Eight returning players have starting experience, and that doesn't include safety Trenton Robinson, the story of the spring on defense. The competition in the back four should be fun to watch.
August, 3, 2009
8/03/09
3:45
PM ET
Posted by ESPN.com's Adam Rittenberg
After a long weekend off, it's time to dive back into the Big Ten position rankings. The secondary units are up next.
The top two look absolutely stacked, and the top four or five all will be solid. Quarterback play should be much better in the Big Ten this fall, and the secondaries will need to elevate their play.
1. Iowa -- Three starters return from a unit that helped Iowa lead the Big Ten in takeaways (32) and allow the fewest passing touchdowns (9) in 2008. Junior Amari Spievey is the league's best cover corner, and he'll be joined by safety Tyler Sash, who shared the league lead in interceptions with teammate Pat Angerer last fall. Bradley Fletcher will be missed and depth is a mini concern, but the back four will anchor Iowa's D.
2. Northwestern -- The Wildcats boast the Big Ten's deepest secondary and possibly the league's best. I covered a string of woeful Northwestern secondaries earlier this decade, and it's a major testament to assistants Mike Hankwitz and Jerry Brown that the unit has come this far. All four starters return, led by safety Brad Phillips and corner Sherrick McManis. Northwestern can go at least nine deep and boasts capable reserves like Brian Peters.
3. Ohio State -- It's a bit of a mixed bag for the Buckeyes, who return the Big Ten's top safety tandem but look thin at cornerback. Safeties Kurt Coleman and Anderson Russell both will contend for All-Big Ten honors after solid junior seasons. Ohio State loses Thorpe Award winner Malcolm Jenkins and hopes Chimdi Chekwa can fill the void. Several young players will get a chance to shine this fall, including Travis Howard and Ohrian Johnson.
4. Michigan State -- All-Big Ten safety Otis Wiley departs, but there's a lot to like about the Spartans secondary. Perhaps only Northwestern boasts more depth than Michigan State, which can go at least eight deep in the secondary. Corners Chris L. Rucker and Ross Weaver should have big seasons, and safety Trenton Robinson was the story of the spring and will earn major playing time.
5. Purdue -- Pop quiz: Which team led the Big Ten in pass defense last fall? It might surprise some to know Purdue topped the chart (183.2 ypg). A poor run defense contributed to the numbers, but the Boilers still look very strong in the back four entering 2009. Safety Torri Williams received a sixth year of eligibility during the offseason, and he'll join returning starters David Pender, Brandon King and Dwight Mclean.
6. Minnesota -- Minnesota led the Big Ten in takeaways for much of last season, and the secondary was the biggest reason why. Playmaking cornerback Traye Simmons leads a unit that returns three starters and could be deeper than it was in 2008. Senior corner Marcus Sherels and junior safety Kyle Theret have loads of experience, and Simmons is thrilled about the arrival of Wisconsin transfer Kim Royston at safety.
7. Wisconsin -- Easily the toughest unit to rank. The Badgers have the playmakers to be a top 4 secondary this fall. Cornerback Niles Brinkley recorded four interceptions last season, backup safety Shane Carter had a league-leading seven picks in 2007 and safety Jay Valai might be the Big Ten's hardest hitter. But consistency and depth are major concerns for Wisconsin. A lot depends on how cornerback Aaron Henry returns from knee problems.
8. Michigan -- Junior cornerback Donovan Warren could have a huge year or a really quiet one. See, Warren is easily the team's most experienced defensive back, and for that reason, opponents might try to avoid him and attack the Wolverines' unproven players. Michigan boasts a lot of young talent in the secondary -- corner Boubacar Cissoko, safety Troy Woolfolk, safety Vladimir Emilien -- and those players need to grow up fast.
9. Penn State -- This is easily the weakest unit on a team with Big Ten title aspirations. Penn State loses all four starters from a secondary that got exposed late in a loss to Iowa and early in a Rose Bowl beating against USC. The Lions need cornerback A.J. Wallace to straighten out his academic situation before Sept. 5. Safety Drew Astorino is ready to lead, but Penn State must identify capable pieces around him.
10. Illinois -- As expected, Vontae Davis bolted to the NFL a year early, leaving Illinois without a lock-down cornerback. The safeties also struggled at times last year, which creates plenty of questions heading into the fall. Illinois would certainly benefit from having a healthy Donsay Hardeman at safety, while cornerback Tavon Wilson showed some promising signs during spring ball.
11. Indiana -- It wouldn't surprise me one bit if Indiana finished much higher in my end-of-year rankings, but there are too many uncertainties entering camp. How will safeties Austin Thomas and Nick Polk respond from serious knee injuries? Has Ray Fisher successfully transitioned from wide receiver to cornerback? Will Florida transfer Jerimy Finch finally emerge as an impact player? The answers could determine whether Indiana survives on defense this fall.