December, 30, 2013
12/30/13
2:00
PM ET
It's been nine long years, but Warren Holloway still can't go a week without hearing about
"The Catch."
The former Iowa wideout became a household name in the Hawkeye State after a single play in the 2005 Capital One Bowl, when he caught a last-second Hail Mary touchdown from Drew Tate to stun LSU 30-25. Ever since then, that moment's never really left him.
Sometimes, the co-workers inside his Chicago office will tease him in front of clients or customers: "You see this guy on YouTube? He's all over the place." Sometimes, his family or friends will bring up the play, maybe the most unlikely game-winning play in Hawkeyes history.
[+] Enlarge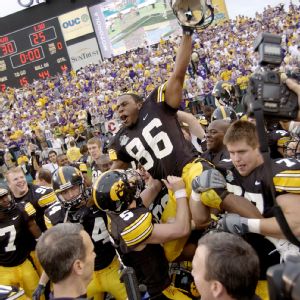 Matt Stroshane/Getty ImagesWarren Holloway is still getting praise from his game-winning catch against LSU as time expired in the 2005 Capital One Bowl.
But without fail, Holloway said, it'll get brought up at least once every week. And with LSU set to take on Iowa in the Outback Bowl on Jan. 1 -- the first time the teams have met since Holloway's catch -- he's had to deal with a bit more talk than usual about "The Catch."
"Honestly, it still plays a pretty good role in my life," Holloway said. "Anyone who knows me, if they know me long enough, they tend to come across that information. It's one of those cool little facts. They're like, 'You never told me.' It's kind of cool to have that in your backpocket -- and it's absolutely a blessing."
Holloway was an unlikely hero in that last meeting between LSU and Iowa. He entered that game, his final game, with no touchdown catches and just 256 career receiving yards. But, as his friends and co-workers found out, no one played a bigger role in that bowl victory.
The 31-year-old can still recall that play with great clarity, as if it happened yesterday. He answers most questions with a sentence or two but, when asked about that play, he dives into a 5-minute soliloquy that's so detailed you can still hear the chills in his voice.
Most Iowa fans probably remember it just as well. The Hawkeyes took over at their own 30, trailing 25-24, with less than a minute left in the game. Tate and Co. were just trying to get into field goal range but, after back-to-back completions, time started to slip away. With the time about to expire -- unbeknownst to Tate -- he decided to fire the ball downfield on one more play from the Iowa 44 -- a play that'd be forever etched in Hawkeyes history.
The prayer of a pass veered to the sideline, as Holloway initially thought the intended receiver was Ed Hinkel. But, luckily for Tate, Holloway figured he might as well try to catch up to the pass that drifted over his head. As Hinkel got in the way of one defensive back the ball slid into Holloway's hands, and he sprinted 15 more yards into the end zone to complete the 56-yard TD play.
"That was the fastest 15 yards in my life," Holloway said. "I feel like I only took three steps."
That touchdown, one which is sure to replayed over and over in the days leading up the Outback Bowl, felt like a movie to Holloway. Time literally slowed down on Holloway's route, he said, until time seemed to speed up faster once the ball was in his hands -- as if it needed to catch up to itself.
Once he crossed the end zone, he didn't even know time had expired. He still remembers standing there for a moment, not fully realizing the enormity of what he had done. His helmet began to vibrate -- the result of a dazed-but-screaming crowd -- and the earth literally began to shake beneath his cleats, "like a stampede." Every one of his teammates had left the sideline, sprinting straight toward him, and he still remembers what felt like an earthquake before they reached him.
He remembers some of his teammates -- he won't say whom -- openly weeping. One of his sobbing teammates just turned to him and said, "I love you, man." It was Holloway's first -- and only -- career touchdown catch.
"As far as being overcome with emotion, I don't know what else'd come close," he said, pausing. "Maybe having a kid."
Holloway will likely be reliving that moment quite a few times in the coming days. He hopes to be on the sideline when the Hawkeyes take on LSU at 1 p.m. Wednesday in Tampa, Fla. And, even if he might have to endure some more ribbing from his co-workers, he's looking forward to this LSU-Iowa matchup -- and reminiscing about the last one.
"It's something I'll always remember and appreciate," he said.
December, 10, 2013
12/10/13
10:00
AM ET
These programs gave us one of the most memorable finishes in bowl history nine years ago, and now they return to sunny Florida on New Year's Day for the Outback Bowl. Let's take a closer look at the matchup between No. 16 LSU (9-3) and Iowa (8-4) when they meet at 1 p.m. at Tampa's Raymond James Stadium.


Who's under center?:
This was something of a question for both teams before their coaches cleared it up in the last few days. Iowa coach Kirk Ferentz said
Jake Rudock
should be "absolutely fine" to play against LSU after leaving the regular-season finale against Nebraska with a right knee injury. Meanwhile, LSU's Les Miles said freshman
Anthony Jennings
will take over for the injured
Zach Mettenberger
as the Tigers' starter. Mettenberger suffered a season-ending knee injury in the finale against Arkansas, but Jennings came on to complete the Tigers' comeback, hitting
Travin Dural
with the game-winning, 49-yard touchdown pass with 1:15 to play.
When last we met:
Iowa fans will never forget how the 2005 Capital One Bowl ended, when Drew Tate hit little-used receiver Warren Holloway with a 56-yard touchdown pass to beat LSU as time expired. That 30-25 loss marked an ugly end to Nick Saban's LSU tenure, as he left to coach the Miami Dolphins immediately afterward. Within hours of the game's end, Miles was named as Saban's successor.
What's at stake:
Not much, really. Fresh off an awful 4-8 record in 2012, Iowa started the season with a loss to Northern Illinois. But it's certainly possible that Ferentz's Hawkeyes can finish the season as a ranked team if they beat LSU. Meanwhile, the Tigers have already bid farewell to Mettenberger and could be featuring some of their top draft-eligible skill players for the final time as well. A win in the bowl would give LSU its fourth straight season with at least 10 wins, a school record.
Hit the ground running:
It would not be a surprise to see this become a run-heavy game. Without Mettenberger -- who was one of the nation's most effective passers -- LSU offensive coordinator Cam Cameron might opt to lean heavily on
Jeremy Hill
(1,185 rushing yards, 14 TDs) and
Terrence Magee
(614-8) against the Hawkeyes. The problem there is that Iowa's defense is no pushover. The Hawkeyes rank seventh nationally in total defense (303.2 ypg) and are 17th against the run (120.8 ypg). On the other hand, all Iowa wants to do is run. The bruising
Mark Weisman
(937-7) and slippery duo of
Damon Bullock
(467-1) and
Jordan Canzeri
(451-2) take most of the carries for Iowa, which ranks 41st nationally in rushing (188.6 ypg).
Back to the Outback:
This will be LSU's second visit to the Outback (formerly Hall of Fame) Bowl, having last played in Tampa at the end of the 1988 season when it lost 23-10 to Syracuse. Iowa has played an SEC club in this bowl three times in the previous 11 seasons, beating Florida 37-17 in 2003, losing 31-24 to the Gators in 2005 and blasting South Carolina 31-10 in 2008.
Best wins:
It didn't seem like much at the time, but LSU was the only team to beat No. 2 Auburn, jumping out to a 21-0 lead and winning 35-21 on Sept. 21. LSU also posted a memorable 34-10 victory over
Johnny Manziel
and Texas A&M near the end of the season. Iowa closed with a three-game winning streak to secure its first winning record (5-3) in league play since 2009. That run included a 24-21 win over Michigan and a decisive 38-17 victory at Nebraska to conclude the season.
Worst losses:
Iowa's four losses are all respectable, particularly since three of the teams that beat the Hawkeyes -- Northern Illinois, Ohio State and Michigan State -- finished with 12-1 records, and the other was to 9-3 Wisconsin. LSU's worst loss was certainly its 27-24 defeat against Ole Miss, although the 38-17 loss at Alabama also felt like a low point.
[+] Enlarge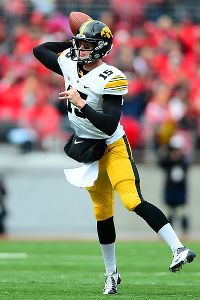 Andrew Weber/USA TODAY SportsWith LSU's Zach Mettenberger out with a knee injury, Iowa has the edge at QB with Jake Rudock.
Offensive stars:
He doesn't generate as many headlines as Rudock or the running backs, but All-Big Ten left tackle
Brandon Scherff
certainly ranks among Iowa's most valuable players. Scherff announced on Monday that he will return for his senior season. Receivers
Odell Beckham
Jr. (57 catches, 1,117 yards, 8 TDs) and
Jarvis Landry
(75-1,172, 10 TDs) will both go down as two of the most dangerous wideouts in LSU history.
Defensive stars:
All-Big Ten linebackers
Anthony Hitchens
(102 tackles, 13 tackles for a loss) and
James Morris
(98 tackles, 14.5 TFLs) are the headliners for Iowa's stingy defense along with defensive back
B.J. Lowery
(55 tackles, three interceptions, 16 pass breakups). Linebacker
Lamin Barrow
leads LSU's defense with 86 tackles, while defensive linemen
Anthony Johnson
(32 tackles, 7 TFLs) and
Ego Ferguson
(58 tackles, 3.5 TFLs) lead the defensive front and safety
Craig Loston
(51 tackles, two interceptions) and cornerback
Jalen Mills
(61 tackles, three sacks, three interceptions) anchor the back end of the defense.
X-factor:
Even if both teams run and run some more, quarterback play could be the determining factor. Jennings will surely need to get the ball to Beckham, Landry and company -- and do so without many costly turnovers -- to force the Hawkeyes to respect the pass. And Rudock will have to prove he can get the job done against a strong opponent. In Iowa's eight wins, he hit 64 percent of his passes for 11 touchdowns and six interceptions. But in the Hawkeyes' four losses -- against the only four ranked teams on their schedule -- he completed 55 percent of his passes for seven touchdowns and six picks.
June, 28, 2012
6/28/12
3:20
PM ET
Earlier today Brian Bennett listed
the Big Ten's best and worst moments of the BCS era
. Despite just one national title, the Big Ten has been a familiar part of BCS bowls, appearing in more games (24) than any other league.
The best moment from a league standpoint seems fairly obvious: Ohio State's national title in 2002. But Michigan fans likely won't agree with this. Neither will other fan bases.
That's why
I want to hear from you
.
Send me your picks for the Big Ten's best and worst moments from the BCS era. If you want to make it all about your team, by all means. I expect Iowa to fans mention Drew Tate-to-Warren Holloway or the magical 2002 and 2009 seasons. I expect Wisconsin fans to talk about Ron Dayne and the 1999 and 2000 Rose Bowls, or maybe last year's Big Ten championship game victory. I expect Michigan fans to mention the Wolverines' exciting bowl wins in Orlando in 2000 and 2008.
These are supposed to be biased, which shouldn't be a problem for any of you.
I'll post the best (and worst) submissions Friday or Monday.
August, 3, 2011
8/03/11
2:36
PM ET
The latest installment of
Yards to Glory
is up, as we look at college football's most memorable touchdowns scored between the 60-yard line and 41-yard line.
Three items with Big Ten connections made the rundown, including one play I remember well -- and Iowa fans will never forget -- from the 2005 Capital One Bowl.
56. Fantastic Finish

Iowa beats LSU in bowl game's final play
Jan. 1, 2005: Known by Iowa fans simply as "The Catch," Drew Tate and Warren Holloway produced one of the most exciting finishes in bowl history. Iowa had squandered a 24-12 fourth-quarter lead and trailed LSU 25-24 with 46 seconds left in the 2005 Capital One Bowl. A penalty pushed back Iowa to its own 44-yard line, and no timeout was called as the clock ticked. Needing a miracle, Tate launched the ball to Holloway, who slipped into the end zone for a 56-yard touchdown as time expired.
-- Adam Rittenberg
44. Red Baron

Red Grange runs all over unbeaten Michigan
Oct. 18, 1924: Michigan visited Illinois riding a 20-game unbeaten streak, and athletic director Fielding Yost had confidence his team could handle Illini star Harold "Red" Grange. Yost was wrong. Grange entered college football lore that day, scoring four touchdowns in the first 12 minutes. He capped the scintillating stretch with a 44-yard scoring run. After a rest, Grange returned to record his fifth touchdown and threw for a sixth as Illinois thumped Michigan 39-14. Grange compiled 402 yards in the win.
-- Adam Rittenberg
42. Leonard Part II

Leonard Conley runs Miami past Nebraska in Orange Bowl
Jan. 2, 1989: Miami's diminutive Leonard Conley stood tall in the Orange Bowl against Nebraska, scoring both of the Hurricanes' touchdowns in a 23-3 win. The second score stood out, as he caught a Steve Walsh pass in the flat, juked Nebraska's Lorenzo Hicks and scooted down the sideline for a 42-yard touchdown. Miami receiver Dale Dawkins spurred Conley with a crushing downfield block. The catch marked Conley's longest in college as Miami handed Nebraska its first loss of the season.
-- Adam Rittenberg
Watching video from the 2005 Capital One Bowl, I forgot how desperate things had gotten for Iowa before the Tate pass to Holloway. Coach Kirk Ferentz would have taken heat for clock management -- much like he did after last year's loss to Wisconsin -- had things worked out differently. But that's the thing about these plays -- they make everything else irrelevant.