Big Ten:

Washington Huskies
July, 12, 2013
7/12/13
9:00
AM ET
Your B1G and Pac-12 bloggers have been grinding away on their respective leagues' nonconference primer series. Here's
the Big Ten series
, and here's
the Pac-12 series
. Part of the fun is learning about other teams in other conferences and what they bring to the table. The Pac-12 and Big Ten face each other five times during the regular season. The Pac-12 got the better of the matchups last year. Will this year be different? Brian Bennett and Kevin Gemmell decided to talk it over.
Brian Bennett
: The first thing I look at for Big Ten-Pac-12 matchups in any given season is where the games are staged. Big Ten teams don't seem to think the West Coast is the Best Coast; they are just 5-20 in true road games against the Pac-12 since 2000, and that includes an 0-3 mark on the road versus the Pac-12 last year. (The league also has just one win in its past 10 Rose Bowls, but not all of those games came against the Pac-12.)
[+] Enlarge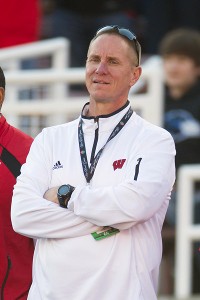 AP Photo/David StlukaNew coach Gary Andersen and the Badgers will have their hands full at ASU this season.
So it's not good news for the league that I cover that three of these five matchups are located far left of the Midwest. If there's any reason for optimism, it's that the Big Ten teams should be substantial favorites in two of the road games -- Northwestern at Cal in the opener and Ohio State against those same Bears in Week 3. Cal is intriguing because of new coach Sonny Dykes, but Northwestern and Ohio State are both legitimate Top 20 teams with conference-title aspirations; if they can shake off the jet lag and contain the Bears' passing attack, they should take care of business.
The two most interesting games -- and what look like virtual toss-ups -- are Wisconsin at Arizona State, and UCLA at Nebraska. The Badgers have a lot of returning talent, but a new head coach and different schemes on both sides of the ball. It's also going to be a clash of styles, with the Badgers' power running game going up against Arizona State's spread offense. Will Gary Andersen's team have its new systems figured out by then, and is Wisconsin's defense -- particularly its inexperienced secondary -- fast enough to handle the Sun Devils?
UCLA-Nebraska is probably not getting enough attention as a must-watch game this year. Last year's shootout in Pasadena, Calif., featured nonstop pingpong action, and both teams figure to have topflight offenses again. The Cornhuskers have a perilously young defense, but Bo Pelini's teams usually defend much better at home than on the road. Quarterback
Taylor Martinez
-- who grew up a Bruins fan but was recruited by them as a defensive back -- will be highly motivated to beat UCLA his senior year. This is Nebraska's only major test in the first seven games, and it's one I think the Huskers have to find a way to win.
Finally, there's Washington at Illinois. The Illini get the benefit of home turf, sort of, as the game will be played at Soldier Field in Chicago. We'll see if Tim Beckman's crew will inspire enough fans to show up by Week 3. While Washington has been mediocre for what seems like forever, I can't confidently pick Illinois to beat any half-decent power conference opponent at this point.
In the end, I say the Big Ten manages a winning record this time around against the Pac-12, taking the two games in Berkeley, Calif., and the one in Lincoln, Neb. A 3-2 mark sounds about right, though if Wisconsin can pull off the win in the desert, that could be a good sign for both the Badgers and the league as a whole.
Kevin Gemmell
: I'm going 3-2 also, but in favor of the Pac-12. After all, if we were in total agreement, it would make for a pretty boring Take 2. So I'll play the contrarian when it comes to UCLA-Nebraska.
[+] Enlarge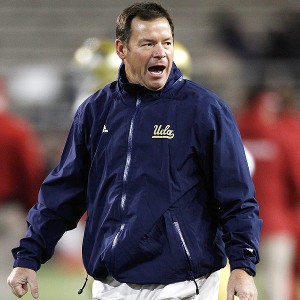 William Mancebo/Getty ImagesCoach Jim Mora and UCLA allowed just six points in the second half of last year's win against Nebraska.
We agree on the Cal games versus Northwestern and Ohio State -- though I think Cal is going to give both of those teams a better run than they are banking on. I like what Andy Buh is doing with a defense that could be sneaky good. And the Bears have
some explosive depth at wide receiver.
But ultimately it's a rookie quarterback -- whomever Dykes chooses among
Zach Kline
,
Jared Goff
and
Austin Hinder
-- and a team that will still have some growing pains as new systems are installed on both sides of the ball. Like you with Illinois, I'm not ready to give the Bears the green light yet. However, last year's game in Columbus, a 35-28 win for Ohio State, should serve as a reminder not to take Cal lightly. No doubt, the Buckeyes will remember
Brendan Bigelow
and his four carries, 160 yards and two touchdowns.
Both halves of the Pac-12 blog have been saying we believe Washington is going to get over that seven-win hump this year after three straight seasons of mediocrity. The Huskies have a lot of pieces in place with a returning quarterback, a 1,400-yard rusher, good receivers, a good line and the top tight end in the country. Their defense made huge strides last season in the first year under Justin Wilcox, and we're expecting another leap forward in 2013. What scares me is Washington's inconsistent play on the road the past few seasons. During the Huskies' trio of 7-6 seasons, they are 14-5 in Seattle (last year they played at CenturyLink Field) and 6-11 on the road. The past two years they are 11-2 at home and 3-8 on the road (0-2 in their bowl games at neutral sites). If the Huskies want to have a breakout year, they are going to have to win away from home. Steve Sarkisian actually talked about this
in a Q&A we did back in April
. But they certainly have the talent to win this game.
The ASU-Wisconsin game is really a critical one for the Sun Devils. It kicks off a four-game stretch (with no bye weeks) that also includes Stanford, USC and Notre Dame. ASU is another team looking for some national credibility, and this is its first opportunity to get some. You're right to talk about the ASU offense, but that defense -- which ranked first nationally in tackles for a loss and second in sacks last season -- is going to be crazy good with
Will Sutton
and
Carl Bradford
leading the attack. I'm banking on a good game, but ultimately one ASU wins at home.
That brings us to UCLA-Nebraska, a game I'm also surprised more people aren't geeked up about outside of the respective fan bases. This should be a fantastic showcase for both leagues.
Brett Hundley
impressed in his freshman campaign, and I think this game is going to be a spotlight for two of the country's most athletic quarterbacks. I was in Pasadena for the game last season, and what actually stood out to me was UCLA's defense -- particularly in the second half. The Bruins allowed only six points, and kept Martinez to 11 yards rushing and the Huskers to 106 total yards in the final 30 minutes. They should be improved in Year 2 under Jim Mora and Lou Spanos. If the Bruins pull this one off, it's going to be because of what they can do defensively.
April, 12, 2013
4/12/13
4:30
PM ET
Wishing you a great weekend. We'll recap all the spring games on Monday, so be sure to check in early and often.
To the emails ...
Michael from South Sioux City, Neb., writes:
If
Taylor Martinez
puts up HUGE passing numbers, say 65% pass completion, 3,000+ yards passing and lowers his INT's, what would his heisman chances be? And will he ever be given a shot to play QB in the NFL?
Adam Rittenberg:
Michael, Martinez certainly could be on the Heisman radar if he improves upon his already strong 2012 numbers and, as you mention, cuts down on his turnovers (not just interceptions but fumbles, too). He has national name recognition, which is critically important for the Heisman, and leads an offense that could be one of the nation's best. Martinez will have to separate himself as the Big Ten's best quarterback -- Ohio State's
Braxton Miller
obviously is in the mix, too -- and perform big in Nebraska's biggest games, which come mostly in November. I think Martinez has an NFL future, but I'd be very surprised if it's at quarterback. Although his mechanics are a lot better than they were two years ago, they're nowhere near as polished as they need to be for a league that wants quarterbacks with no glitches in their throwing motion.
---
Ryan from Surprise, Ariz., writes:
With the expanding conference there is a need for more conference games. I've read the B1G is considering going to 9 or even 10 conference games with the goal that each team will play all of the other teams at least twice every 6 years or something like that. I'm wondering if they are considering rotating between 9 conference games two out of every 4 years and 10 conference games the other two out of every 4 years as an option at all. That way, with the 14 teams next year, each team would be able to play all of the other teams at least twice every 4 years. If the conference ever expands to 16 then it would require 10 conference games every year to maintain the same rotation. Thoughts?
Adam Rittenberg:
Ryan, you present an interesting schedule model, but I haven't heard anything about the Big Ten rotating between a 9- and 10-game conference schedules in the future. From talking with multiple athletic directors and other league sources, the 9-game league schedule is all but finalized and will begin in the 2016 season (8-game schedule will remain in 2014 and 2015). Although there's some support for a 10-game league slate, it's just too ambitious at the moment, especially with the unknowns about the college football playoff. If and when the Big Ten expands to 16, the 10-game league schedule once again will get serious consideration.
---
Anthony from Iowa City, Iowa, writes:
So with the draft coming up in 2 weeks, normally I'm looking forward to seeing which Hawkeyes are going to the next level. However looking over this group of guys on the block, I don't see a single one hitting an NFL practice field. question 1: your take on when and where they might go and question 2: when was the last time Iowa didn't send a single player to the NFL
Adam Rittenberg:
Anthony, while Iowa doesn't have its typical stable of NFL prospects this year, I think you're being a little pessimistic. Cornerback
Micah Hyde
and quarterback
James Vandenberg
were the only Hawkeyes players at the NFL combine, and while neither is a high-level prospect, I expect both to find their way into camps this summer. Hyde could be a late-round selection in the draft. Although Vandenberg had a lousy senior season, it had a lot to do with the system change. Could wideout
Keenan Davis
make a team? He'd have to really impress folks in individual workouts, but NFL scouts love Iowa players. The Hawkeyes have had at least five players selected in each of the past three drafts (2010, 2011, 2012). The last NFL draft not to include an Iowa player?
1977
. Could we see that streak end this year? It's possible, but I think Hyde's name will be called.
December, 31, 2012
12/31/12
1:30
PM ET
Ohio State posted one of the great "What might have been?" seasons in the history of college football this year.
Just imagine what might have happened had the unbeaten Buckeyes, say, anticipated oncoming NCAA sanctions and self-imposed a bowl ban last year, so they would have finished 6-6 instead of 6-7, thereby matching the most losses in school history.
[+] Enlarge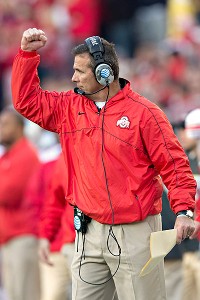 AP Photo/Cal Sport MediaUrban Meyer remembers clearly and fondly a win at Northwestern while at Bowling Green
That might have completely transformed the 2012-13 postseason. It certainly would have made for a much better Rose Bowl, however things played out.
Consider:
It's possible 12-0 Ohio State would be playing Notre Dame for the national title, instead of once-beaten Alabama. That would have ended the SEC's national title streak at six.

If the Buckeyes were headed to South Florida, the Rose Bowl would have had first pick among the remaining BCS bowl eligible teams. That probably would have given us a scintillating Florida-Stanford, SEC-Pac-12 matchup -- No. 3 vs. No. 6 -- instead of the Cardinal vs. five-loss, unranked Wisconsin.

Or, if the BCS standings still had Alabama ahead of Ohio State, which would have been highly controversial, Ohio State-Stanford would have been a classic Big Ten-Pac-12 matchup between elite, highly rated teams.
Of course, this speculation includes the assumption that the NCAA would have been satisfied with the Buckeyes just sitting out the 2011 postseason. It rarely pays to assume what the NCAA will do. Based on wanting to make an example out of Ohio State for a scandal that included extra benefits violations involving memorabilia, tattoos and cash, as well as a cover-up by former coach Jim Tressel, the NCAA quite possibly still could have banned the Buckeyes from the 2012 postseason.
But you never know.
That is the excruciating discussion Ohio State fans have had among themselves all season as the wins piled up in coach Urban Meyer's first campaign. Many have dumped the blame on athletic director Gene Smith, who was admittedly -- and curiously -- surprised when the NCAA opted to ban the Buckeyes from the 2012 postseason.
It's apparently a sore subject around Columbus. Ohio State declined an interview request for this story, with spokesman Jerry Emig saying "A would of, should of, could of, wouldn't read well."
It probably would have read better than the Badgers' record, which features more losses than five other Big Ten teams.
Of course, the Rose Bowl and its participants are trying to grin through the curious circumstances that created a less-than-thrilling matchup. As could be expected, Stanford folks are going out of their way to not slight Wisconsin. The Cardinal, said coach David Shaw, won't take the Badgers lightly.
"We're not built like that," he said. "Our guys aren't built like that. We talk a lot about respecting the game. The game deserves our respect. Our opponent deserves our respect. We can't change how we play based on who we play. How we play never changes. We're going to play fast, we're going to play physical, we're going to play our style of football, and we don't take our foot off the gas pedal. Never, ever anyway. We're going to respect these guys. These guys have earned our respect. Watch the film, look at the scoreboard, and watch the film, and these guys will get your respect."
There is good news here, for Ohio State, for the Rose Bowl and for the Pac-12.
While the Big Ten has been on an extended swoon in terms of national perception, and one of its top teams, Penn State, has been wiped off the map by NCAA sanctions, Ohio State is clearly rising under Meyer. The Buckeyes will be national title contenders next fall. Or, failing that, they could become a worthy Rose Bowl foe.
As college football moves forward in 2014 with a four-team playoff, the Pac-12 needs the Big Ten to produce elite teams -- and vice versa -- or the continuing and evolving Rose Bowl partnership will suffer.
This "What Might Have Been Season" for Ohio State, which has broadly affected teams coast-to-coast, is almost certainly an anomaly.
That might not salve the immediate pain for the Buckeyes, or help make this year's Rose Bowl any better, but a hopeful glance toward the horizon is all we have for you.
January, 5, 2012
1/05/12
4:01
PM ET
Has something seemed odd to you about the BCS bowls this year? Does it seem like ... oh wait, West Virginia just scored again.
Does it seem like ... wait, there goes
De'Anthony Thomas
. Don't think he'll get caught from behind.
Does it seem like ... wait, would somebody please tackle
Justin Blackmon
?
Does it seem like there have been a lot of points this bowl season?
It's not just you. There have been a lot of points. More points than ever before. And by huge quantities.
So far, BCS bowl teams have averaged a total of 77 points in the Rose, Fiesta, Orange and Sugar bowls. That, folks, is nearly 26 points more than last year (51.6). And it's nearly 11 points better than the previous high of 66.3 from 2001-02.
Perhaps pairing two SEC teams in the title game has created a black hole sucking all defensive stinginess into the LSU-Alabama rematch, which you might recall went 9-6 with no touchdowns in their first meeting. West Virginia scored 10 touchdowns -- 10! -- against Clemson. Alabama gave up 12 TDs all season.
Speaking of Clemson: ACC. Well, well, well.
After the Tigers ingloriously fell 70-33 to the Mountaineers, we got our second story from the BCS bowl season: The ACC's insistence on throwing up on itself in BCS bowl games.
The conference that was once expected to challenge the SEC is now 2-13 in BCS bowl games. That's hard to do. You'd think in 15 BCS bowls the conference could get lucky at least five or six times. But no, it insists on making ACC blogger Heather Dinich, a genuinely nice person, into some sort of Grim Reaper
every bowl season
.
Heck, the Big East has won seven BCS bowls -- second fewest among AQ conferences -- but it's 7-7.
Of course, this all ties together, and we're here to bring out a bow, but first a warning: If you don't want to read about how good the SEC is for the 56,314th time this year, then stop reading. I'd recommend an episode of "South Park" or perhaps a John le Carré thriller as an alternative for passing the time.
We can all agree the SEC plays great defense right? Alabama and LSU will play for the title Monday with the nation's top-two defenses. Do you think perhaps that it's not a coincidence that the conference that is 16-7 in BCS bowl games plays great defense?
The only other AQ conference with a winning record in BCS bowl games is the Pac-12, which is 11-7. The Pac-12 isn't known for defense, either, but USC was when it won the conference's last national title in 2004.
The only team to win a BCS national title without an elite defense was Auburn in 2010, but the Tigers' defense seemed to find itself late in the season. Since 1999, eight national champions had a top-10 defense. Other than Auburn, the lowest-rated defense to win a BCS national title was Ohio State in 2002. It ranked 23rd in the nation in total defense.
Three of the four BCS bowl games have been thrillers. Two went to overtime. We've seen big plays all over the field in the passing game and running game. Yet, if things go according to script in the title game, we'll see none of that. We might not see more than a couple of plays that go for more than 20 yards. We might not see any.
Some might call that boring. It might seem that both offenses are so paranoid of making a mistake that they are stuck in mud, both in game plan and execution.
But, snoozefest or not, when the clock strikes zero a team from the SEC will hoist the crystal football for a sixth consecutive time.
That might say something about playing better defense.
December, 26, 2011
12/26/11
9:00
AM ET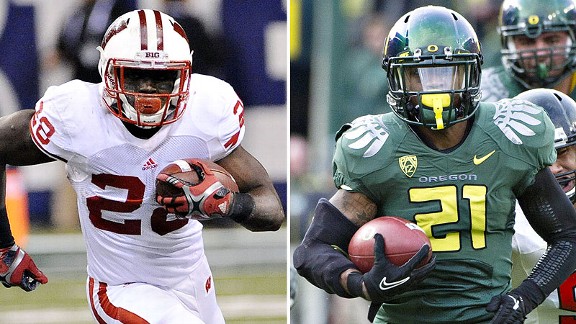 US Presswire
Montee Ball and LaMichael James will highlight a showdown of high-powered offenses.
After a year's hiatus, the Rose Bowl is back to its traditional self: A Pac-12-Big Ten matchup.
And it looks like a good matchup of good teams with contrasting styles.
Sounds like a good time for a blog debate!
Ted Miller
: Well, Brian, we're back to a traditional Pac-12-Big Ten Granddaddy and it looks like a good one: Midwest power versus West Coast flash. I'm a little surprised that Oregon is favored against
Montee Ball
,
Russell Wilson
and that mammoth group of biscuit and gravy eaters you call an offensive line. Give me an idea of what the Ducks are up against with the Badgers' offense. Is it all power football, or is it more sophisticated than that?
Brian Bennett
: You'd better believe the Badgers have the baddest bunch of big uglies in college football, with an offensive line that outweighs many NFL units. Add in a couple of good tight ends, a senior fullback and Wisconsin's dedication to the ground game and you can see why the program has been one of the best running teams in the country for several years now. But it's not just all brute. The thing that makes these linemen stand out is that they are nimble and can really move, and I think many defenses are shocked by that combination of strength and athleticism early in games. Wilson has also given this team an entirely new dimension with his ability to make plays on the move and his outstanding accuracy. Opponents have no choice but to respect the run when playing Wisconsin, and that makes this offense the most dangerous play-action team in America. You'll see receivers getting huge cushions in the passing game, and Ball can break tackles even when the box is loaded.
That's why the Badgers average 44.6 points per game, just a tick below Oregon's 46.2 average. My question for you is, can the Ducks' defense handle this kind of offensive power, especially in a 3-4 scheme?
[+] Enlarge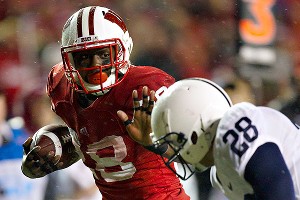 Jeff Hanisch/US PresswireMontee Ball's 1,759 yards and 32 rushing touchdowns on the season have helped the Badgers score an average of 44.6 points per game.
Ted Miller
: Oooooo. I'm telling Chip Kelly that you said the Ducks run a 3-4! He hates that. No idea why. Coordinator Nick Aliotti will tell you that the Ducks throw a lot of stunts and looks -- 3-4, 4-3, 2-5, etc -- and crazy stuff at you. They are fast, underrated and bigger than many think. Their top four defensive tackles, who are in a regular rotation, weigh 321, 300, 283 and 286 pounds.
Oregon has faced big, powerful teams before. Stanford and USC the past two years, in conference, and Auburn and LSU out of conference. Forgotten in the talk about how Auburn and LSU slowed down the Ducks' offense is how the Ducks' defense slowed down both sets of Tigers. Oregon outgained LSU 372-273 but was done in by four horrible turnovers. The Ducks held Auburn and Cam Newton to 22 points, its second-lowest total of the season.
Sure, Oregon's defense ranks 59th in the nation in total yards while Wisconsin ranks eighth. But they yield similar numbers on yards per play: Oregon 4.93, Wisconsin 4.85. And the Ducks are slightly better on third down. Oregon's defense's biggest problem is its offense, which scores a lot of points despite ranking LAST in the nation in time of possession. The Badgers' defense, with an offense that ranks 22nd in time of possession, only faced 786 plays this year. Oregon faced 1,005. That skews numbers.
Wait. Did I get all stats-y there? Sorry. My answer to the size question is what Oregon will say leading up to the Rose Bowl. It's nothing new for them. They play their game, run their stunts, use their speed and see what happens. Stanford, which has two first-round NFL draft choices on its O-line, would be the most natural comparison with the Badgers. And for two years in a row, no team has played good enough defense to beat the Cardinal and
Andrew Luck
other than Oregon.
While Badgers fans expect Whisky to run over the Ducks with size -- Big Ten thinking! -- Ducks fans believe they can exploit the Badgers' defense with speed and misdirection -- Pac-12 thinking! What about some Brian Bennett thinking: Do the Badgers have the speed on defense to keep up with the Ducks? Is Bret Bielema going to use past blueprints to thwart Kelly?
September, 17, 2011
9/17/11
5:59
PM ET
LINCOLN, Neb. -- Nebraska has gained command in the third quarter over Washington, and the Huskies have given them a big assist in the kicking game.
A Washington punt interference penalty at the end of the first half helped set up a go-ahead field goal. The Huskies committed the same mistake early in the second half, and the refs tacked on an extra five yards to the original 15 when Washington coaches ran on the field to protest the call. Nebraska capitalized with is best sustained drive of the day, using
Rex Burkhead
and the running game.
But that wasn't the worst of it for Washington. After Nebraska's scores, both Huskies kickoff return men bobbled the ball, and the Cornhuskers pounced on it inside their own 1. That led to an easy touchdown, and now
Nebraska leads 34-17
. Let's see if the Huskers' D can now pin its ears back and get some serious pressure on quarterback
Keith Price
with a comfortable lead.
Washington can only kick itself for potentially booting away what had been a close game.
September, 12, 2011
9/12/11
1:30
PM ET
Nebraska's defense could use a boost from a star player after a lackluster Week 3 showing against Fresno State.

Whether cornerback Alfonzo Dennard can provide one remains to be seen.
Huskers coach Bo Pelini isn't sure whether Dennard will make his season debut Saturday against Washington. Dennard has been sidelined since the middle of training camp with a pulled leg muscle.
Pelini on Monday said Dennard remains ahead of schedule in his recovery but that the injury requires 6-8 weeks of rehab and he's probably in week 5 of that process.
"He's as good a corner as there is in the country, so obviously that's going to affect you some," Pelini said. "You've got to deal with that at different times in different spots. Other guys have got to step up."
While Dennard adds a shut-down corner to Nebraska's secondary, he also
brings tremendous value as a run defender
, as the Omaha World-Herald's Sam McKewon writes.
Fresno State racked up 190 rush yards and 444 total yards in a 42-39 loss.
From McKewon's story:
Last year, Husker safeties rolled down into run support with ferocity. Eric Hagg, Dennard and Prince Amukamara allowed them to. The gulf between those three and Ciante Evans, Andrew Green and [Justin] Blatchford alters how NU's defense must play. Washington, Wisconsin and even Ohio State will see how Fresno emptied the box and then attacked it with power.
Pelini described the play of the Dennard-less cornerback corps as "average."
"When we play technique, we're pretty good," he said. "When we get away from our technique, we're not very good."
Pelini added of the entire unit: "I don't think we handled anything well defensively. We didn't play well."
I wouldn't want to be around Pelini or his brother Carl this week. Expect a crisper performance from the Blackshirts against a Washington team that looks mediocre on offense.
But the Huskers could use Dennard on the field as soon as possible.
February, 3, 2010
2/03/10
10:21
AM ET
The Big Ten is off to a rough start on national signing day.

When it comes to the top uncommitted prospects, the Big Ten is still waiting for a key fax to come through. I'm not saying there aren't some excellent players and classes inked throughout the league, but it'd be nice to see someone win a key recruiting battle.

Safety Sean Parker is the latest player to go elsewhere, as he chose Washington ahead of both Michigan and USC in an announcement on ESPNU. Michigan clearly could have used Parker for its struggling secondary, which loses top corner Donovan Warren to the NFL draft. If there's one position where the Wolverines need immediate contributors, it's defensive back.

Michigan entered the day with a decent shot at Parker, but he'll be heading to play for Steve Sarkisian in Seattle.
October, 6, 2009
10/06/09
6:57
PM ET

Posted by ESPN.com's Adam Rittenberg
Wisconsin's cupcake-heavy scheduling philosophy hasn't gone over well with its fans, but the school's latest move should ease some of the criticism.
Wisconsin on Tuesday announced a home-and-home series with Washington in 2017 and 2018. The Badgers will host Washington on Sept. 2, 2017, before visiting Seattle on Sept. 1, 2018. The teams have had four previous matchups, including the 1960 Rose Bowl, but haven't met since 1992.
"I think this is a great opportunity to play against a quality opponent in two terrific settings," Wisconsin head coach Bret Bielema said in a statement. "Obviously our fans at Camp Randall will enjoy seeing a Pac-10 team come to Madison. I know a lot of our fans also like to travel to our road games and Seattle is a great city and Husky Stadium is a wonderful venue for college football."
The Washington series is Wisconsin's latest addition to a nonconference slate that packs a bit more punch in the coming years. Wisconsin takes on Arizona State (2010 in Madison and 2013 in Tempe), Oregon State (2011 in Madison and 2012 in Corvallis), Washington State (2014 in Pullman and 2015 in Madison) and Virginia Tech (2016 in Blacksburg and 2017 in Madison).
June, 11, 2009
6/11/09
10:02
AM ET
Posted by ESPN.com's Adam Rittenberg
What if Penn State resumed its rivalry with Pitt? What if the Iowa-Missouri series finally happened? Why can't Wisconsin man up and play a solid BCS team every year? How about a Big Ten-ACC Challenge in football?
We've all pondered these scheduling questions and many others in recent years. When it comes to college football scheduling, you can dare to dream a bit. Although you'll rarely be satisfied in this climate of home games or bust, it's fun to play around with the possibilities.
Here are some nonconference matchups I'd like to see for each Big Ten team.
ILLINOIS-NOTRE DAME
There's no love lost between these two coaching staffs, especially as Illinois has become more competitive as a national recruiter (i.e. Arrelious Benn). This game won't happen any time soon, but it would be extremely entertaining to watch Ron Zook and Charlie Weis stand on opposite sidelines. Both schools constantly compete for recruits, especially in the Chicago area, so why not meet on the field?
INDIANA-KENTUCKY
The teams used to play almost every year, and it would be nice to see the series resume. Indiana and Kentucky have a great rivalry in basketball, and both football programs face similar uphill climbs in major conferences. The proximity between the two schools would make it extremely easy for fans to travel to the games.
IOWA-MISSOURI
Many Iowa fans wish this series had happened already -- Missouri backed out of an agreement several years back -- and it makes a lot of sense for the two teams to meet. You already know my view on Missouri joining the Big Ten, and a natural rivalry with Iowa plays a major role. Both schools recruit in the same area, and both programs have elevated their profiles in recent years.
MICHIGAN-UCLA
Two of college football's greatest settings would make this series a must-see. Michigan always fills up the Big House for games, and Wolverines fans would be guaranteed a trip to the Rose Bowl every other year even if their team doesn't reach the big game on Jan. 1. The two teams have met nine times in the regular season, most recently in 2000, and it would be great to see them celebrate the Pac-10-Big Ten rivalry.
MICHIGAN STATE-NORTH CAROLINA
The Big Ten should be more aggressive in scheduling the ACC for football, and this series would be a good start. Both programs are on the rise under third-year coaches (Mark Dantonio and Butch Davis), and both have been recruiting better in recent years. Let's just hope for better games than the two basketball matchups this past season.
MINNESOTA-WASHINGTON
Minnesota has taken a more aggressive approach to nonconference scheduling, and a series against Washington would fall in line with the new philosophy. Both schools are located in major cities on the northern edge of their respective conferences. Both are trying to revive tradition with energetic coaches (Tim Brewster and Steve Sarkisian). And selfishly, I wouldn't mind making the trip to Minneapolis or Seattle each year.
NORTHWESTERN-VANDERBILT
This isn't really a fantasy matchup because these teams will begin a four-game series in 2010. It's long overdue. Both Northwestern and Vanderbilt face a similar challenge as private institutions with limited football success trying to compete with storied programs in major conferences. Both schools are among the nation's academic elite. There are way too many similarities for the teams not to play.
OHIO STATE-FLORIDA/LSU/ALABAMA/GEORGIA
Though I like colleague Heather Dinich's suggestion for an Ohio State-Miami matchup, Buckeyes fans want the SEC, and they want it bad. No league has damaged Ohio State's national reputation more than the SEC, and the hatred between Buckeye Nation and SEC fans runs deep. Florida makes the most sense for Ohio State, but any of the SEC title contenders would suffice.
PENN STATE-PITT
This is a no-brainer. Fans on both sides desperately want to see the rivalry resume, and it's a shame there are no immediate plans for a series. The game means a lot to folks in the state of Pennsylvania, and the teams' frequent recruiting battles would only add fuel to the series. Although Pitt doesn't have the wow factor it had several decades ago, the game would generate a ton of local interest.
PURDUE-MIAMI
Something tells me Robert Marve wouldn't mind another crack at Randy Shannon and the Canes in 2010. And Marve isn't the only connection between the schools. New Purdue head coach Danny Hope is a Miami native who signed 14 players from Florida in his first recruiting class.
WISCONSIN-NEBRASKA
Wisconsin's hesitancy to schedule big-name teams has irritated its fan base, but athletic director Barry Alvarez can win some support by scheduling his alma mater. Imagine the sea of red from both fan bases when these teams meet at Camp Randall Stadium or Memorial Stadium, two of the nation's most hostile venues. It would be great to see Nebraska play a Big Ten team every year, and Wisconsin certainly needs a marquee opponent.
September, 4, 2008
9/04/08
11:30
AM ET
Posted by ESPN.com's Adam Rittenberg
I wanted to see the good in the Big Ten's nonconference schedule.
There was the annual Illinois-Missouri opener, which has gone from irrelevant to must-see faster than a Jeremy Maclin touchdown return. Michigan State started off on the road against a Pac-10 foe (Cal), and Oregon State makes the reverse trip Saturday when it visits Penn State. Week 3 brings a bunch of appetizing matchups sure to make people forget about games like Iowa-Florida International and Indiana-Murray State.
But the longer I looked at the Big Ten scheduling landscape, I came to the same conclusion many others reached before the season. It stinks. Take this coming Saturday. Penn State and Northwestern are the only teams facing BCS foes, and Northwestern barely qualifies with Duke (though the Blue Devils beat the Wildcats last season).
From my mailbox, I can see many of you are also thinking about the scheduling issue. Non-Big Ten fans are united in their criticism for the league's soft scheduling. Big Ten fans are somewhat torn, a bit like me.
I understand the reasons why teams from the Big Ten and many other BCS schools schedule the way they do. Home games keep athletic budgets afloat. The Big Ten has three mega stadiums -- Michigan, Penn State and Ohio State -- and several other sizable venues that can rack up revenue. Even though the price of guarantee games is rising, teams would rather go that route than consent to the increasingly dreaded home-and-home series with a more competitive team. Penn State doesn't have to return its game against Oregon State, but that's a rarity between two BCS teams.
As e-mailer Chris from Philadelphia writes:
I am a Penn State alum and it does not matter if Coastal Carolina or Miami are in Beaver Stadium, they will still get at least 105,000 fans packing the place regardless. With the huge cash cow a big time football program has become that feeds the smaller programs of a university, ADs need to schedule a minimum of 7 home games to hit their budget goals. ... All of my friends from Penn State wish we institute regular games every year with West Virginia, Pitt and ND but that will never happen because it will cut into the amount of home games per year Penn State needs. People get too caught up on the wins when the bottom line is really the dollars.
I get it, but it'd be nice if Big Ten teams stepped up a bit for the sake of better competition. I would like to see each Big Ten school schedule two of the four nonleague games against BCS teams (Notre Dame included, of course). Only five of the 11 Big Ten teams did so this season, and neither Indiana nor Minnesota face a single BCS foe outside the league. I'm a huge non-BCS fan and enjoy seeing Big Ten teams face strong squads like Utah (Michigan), Fresno State (Wisconsin) and Central Michigan (Purdue, Indiana), but beef it up a little more.
When I asked league commissioner Jim Delany about scheduling in late July, he identified four programs -- Minnesota, Northwestern, Indiana and Purdue -- that don't have lengthy postseason histories and benefit greatly from any bowl appearance, regardless of status. After covering Northwestern for several years, I understand what it means for that program and its fan base to get to bowl games. Northwestern fans are much more inclined to attend a bowl game than nonleague home games, which draw poorly. Finding any way possible to the postseason becomes paramount, even if it's four wins against weak teams and a sub-.500 record in Big Ten play (hello, Minnesota). But coaches always talk about striving to be great, to be champions. They never say, "Let's just get to seven wins, men. The Motor City Bowl beckons!" Shouldn't the schedule reflect a better message?
I'm not suggesting Big Ten teams should follow Washington, which continues its get-our-coach-fired tour Saturday against BYU. That's just stupid. And as much flak as the Big Ten takes, other leagues are just as bad (Pac-10 excluded). This week's Big 12 slate features one matchup with a BCS foe (Oklahoma-Cincinnati). Same goes for the Big East.
If the Big Ten just gave a little, it could go a long way.
Will things change next season? Here are the nonleague games we know about for 2009 (as you'll see, some schedules are incomplete).
ILLINOIS
vs. Missouri (at St. Louis)
Illinois State
IOWA
Northern Iowa
at Iowa State
Arizona
Arkansas State
INDIANA
at Akron
South Florida
MICHIGAN
Notre Dame
MICHIGAN STATE
at Notre Dame
vs. Western Michigan (at Detroit)
MINNESOTA
Air Force
California
South Dakota State
NORTHWESTERN
Miami (Ohio)
Towson
at Syracuse
Eastern Michigan
OHIO STATE
Navy
USC
vs. Toledo (at Cleveland)
New Mexico State
PENN STATE
Syracuse
Temple
Eastern Illinois
PURDUE
Toledo
at Oregon
Northern Illinois
Notre Dame
WISCONSIN
Central Florida
Fresno State
at Northern Illinois
at Hawaii
September, 2, 2008
9/02/08
5:02
PM ET
Posted by ESPN.com's Adam Rittenberg
College football coaches always say the biggest improvement comes between Week 1 and Week 2, and I hope they're right. The volume of e-mails this week weren't bad at all, but you guys could pick it up a bit for Friday and next week. I'm not looking for why-do-you-hate-my-team stuff, but any questions regarding personnel, coaches, games, my picks, etc., shoot this way.
And be sure to put your hometown. Though I love including notes from Parts Unknown -- home of the Ultimate Warrior and other wrestling greats -- it's nice to know where you're from.
Let's begin:
Zach from Sumpter, S.C., writes: Adam, I've been watching your posts and also watching for Purdue headlines about the Jaycen Taylor injury and any possibility of a medical redshirt this year, and I have not been able to find a thing. Would a medical redshirt be an option or even a possibility for Taylor? By the way, keep up the great blogging and Big Ten/Purdue coverage (any coverage of my Alma Mater is non-existent down here in SEC country).
Adam Rittenberg writes: Zach, I'm sorry you missed it, but there was some blog coverage on the Taylor injury. Here's a post about the impact of the injury on starter Kory Sheets. Taylor will apply for a medical hardship waiver and should have no trouble receiving one. Purdue coach Joe Tiller already has said Taylor will be back for 2009. Although the Boilermakers would love to have had Sheets and Taylor splitting carries this fall, the injury gives each running back the chance to own the spotlight a bit. It's certainly a big loss for Purdue this season, but if Sheets can hang onto the ball, he gives Purdue an explosive threat in the backfield.
---
Kenny from State College, Pa., writes: Adam, I thought it was funny that PSU scored twice as many points as you predicted them to score on saturday. PSU's defense looked pretty sloppy against Coastal. Do you think it was just because they didn't want to show all there stuff, or do they have some serious problems on Defense?
Adam Rittenberg writes: I definitely underestimated the Nittany Lions' offense, especially against such a weak opponent. When it comes to number of big-play threats, Penn State might have the most in the Big Ten. I'm sure Coastal Carolina had something to do with the defensive performance, but Penn State only allowed 52 rushing yards in the game. The linebackers are a bit of a concern, but the secondary and particularly the line look very solid. They'll get a good test Saturday from Lyle Moevao and Oregon State.