Big Ten:

Washington State Cougars
December, 31, 2012
12/31/12
1:30
PM ET
Ohio State posted one of the great "What might have been?" seasons in the history of college football this year.
Just imagine what might have happened had the unbeaten Buckeyes, say, anticipated oncoming NCAA sanctions and self-imposed a bowl ban last year, so they would have finished 6-6 instead of 6-7, thereby matching the most losses in school history.
[+] Enlarge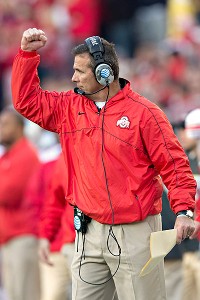 AP Photo/Cal Sport MediaUrban Meyer remembers clearly and fondly a win at Northwestern while at Bowling Green
That might have completely transformed the 2012-13 postseason. It certainly would have made for a much better Rose Bowl, however things played out.
Consider:
It's possible 12-0 Ohio State would be playing Notre Dame for the national title, instead of once-beaten Alabama. That would have ended the SEC's national title streak at six.

If the Buckeyes were headed to South Florida, the Rose Bowl would have had first pick among the remaining BCS bowl eligible teams. That probably would have given us a scintillating Florida-Stanford, SEC-Pac-12 matchup -- No. 3 vs. No. 6 -- instead of the Cardinal vs. five-loss, unranked Wisconsin.

Or, if the BCS standings still had Alabama ahead of Ohio State, which would have been highly controversial, Ohio State-Stanford would have been a classic Big Ten-Pac-12 matchup between elite, highly rated teams.
Of course, this speculation includes the assumption that the NCAA would have been satisfied with the Buckeyes just sitting out the 2011 postseason. It rarely pays to assume what the NCAA will do. Based on wanting to make an example out of Ohio State for a scandal that included extra benefits violations involving memorabilia, tattoos and cash, as well as a cover-up by former coach Jim Tressel, the NCAA quite possibly still could have banned the Buckeyes from the 2012 postseason.
But you never know.
That is the excruciating discussion Ohio State fans have had among themselves all season as the wins piled up in coach Urban Meyer's first campaign. Many have dumped the blame on athletic director Gene Smith, who was admittedly -- and curiously -- surprised when the NCAA opted to ban the Buckeyes from the 2012 postseason.
It's apparently a sore subject around Columbus. Ohio State declined an interview request for this story, with spokesman Jerry Emig saying "A would of, should of, could of, wouldn't read well."
It probably would have read better than the Badgers' record, which features more losses than five other Big Ten teams.
Of course, the Rose Bowl and its participants are trying to grin through the curious circumstances that created a less-than-thrilling matchup. As could be expected, Stanford folks are going out of their way to not slight Wisconsin. The Cardinal, said coach David Shaw, won't take the Badgers lightly.
"We're not built like that," he said. "Our guys aren't built like that. We talk a lot about respecting the game. The game deserves our respect. Our opponent deserves our respect. We can't change how we play based on who we play. How we play never changes. We're going to play fast, we're going to play physical, we're going to play our style of football, and we don't take our foot off the gas pedal. Never, ever anyway. We're going to respect these guys. These guys have earned our respect. Watch the film, look at the scoreboard, and watch the film, and these guys will get your respect."
There is good news here, for Ohio State, for the Rose Bowl and for the Pac-12.
While the Big Ten has been on an extended swoon in terms of national perception, and one of its top teams, Penn State, has been wiped off the map by NCAA sanctions, Ohio State is clearly rising under Meyer. The Buckeyes will be national title contenders next fall. Or, failing that, they could become a worthy Rose Bowl foe.
As college football moves forward in 2014 with a four-team playoff, the Pac-12 needs the Big Ten to produce elite teams -- and vice versa -- or the continuing and evolving Rose Bowl partnership will suffer.
This "What Might Have Been Season" for Ohio State, which has broadly affected teams coast-to-coast, is almost certainly an anomaly.
That might not salve the immediate pain for the Buckeyes, or help make this year's Rose Bowl any better, but a hopeful glance toward the horizon is all we have for you.
January, 5, 2012
1/05/12
4:01
PM ET
Has something seemed odd to you about the BCS bowls this year? Does it seem like ... oh wait, West Virginia just scored again.
Does it seem like ... wait, there goes
De'Anthony Thomas
. Don't think he'll get caught from behind.
Does it seem like ... wait, would somebody please tackle
Justin Blackmon
?
Does it seem like there have been a lot of points this bowl season?
It's not just you. There have been a lot of points. More points than ever before. And by huge quantities.
So far, BCS bowl teams have averaged a total of 77 points in the Rose, Fiesta, Orange and Sugar bowls. That, folks, is nearly 26 points more than last year (51.6). And it's nearly 11 points better than the previous high of 66.3 from 2001-02.
Perhaps pairing two SEC teams in the title game has created a black hole sucking all defensive stinginess into the LSU-Alabama rematch, which you might recall went 9-6 with no touchdowns in their first meeting. West Virginia scored 10 touchdowns -- 10! -- against Clemson. Alabama gave up 12 TDs all season.
Speaking of Clemson: ACC. Well, well, well.
After the Tigers ingloriously fell 70-33 to the Mountaineers, we got our second story from the BCS bowl season: The ACC's insistence on throwing up on itself in BCS bowl games.
The conference that was once expected to challenge the SEC is now 2-13 in BCS bowl games. That's hard to do. You'd think in 15 BCS bowls the conference could get lucky at least five or six times. But no, it insists on making ACC blogger Heather Dinich, a genuinely nice person, into some sort of Grim Reaper
every bowl season
.
Heck, the Big East has won seven BCS bowls -- second fewest among AQ conferences -- but it's 7-7.
Of course, this all ties together, and we're here to bring out a bow, but first a warning: If you don't want to read about how good the SEC is for the 56,314th time this year, then stop reading. I'd recommend an episode of "South Park" or perhaps a John le Carré thriller as an alternative for passing the time.
We can all agree the SEC plays great defense right? Alabama and LSU will play for the title Monday with the nation's top-two defenses. Do you think perhaps that it's not a coincidence that the conference that is 16-7 in BCS bowl games plays great defense?
The only other AQ conference with a winning record in BCS bowl games is the Pac-12, which is 11-7. The Pac-12 isn't known for defense, either, but USC was when it won the conference's last national title in 2004.
The only team to win a BCS national title without an elite defense was Auburn in 2010, but the Tigers' defense seemed to find itself late in the season. Since 1999, eight national champions had a top-10 defense. Other than Auburn, the lowest-rated defense to win a BCS national title was Ohio State in 2002. It ranked 23rd in the nation in total defense.
Three of the four BCS bowl games have been thrillers. Two went to overtime. We've seen big plays all over the field in the passing game and running game. Yet, if things go according to script in the title game, we'll see none of that. We might not see more than a couple of plays that go for more than 20 yards. We might not see any.
Some might call that boring. It might seem that both offenses are so paranoid of making a mistake that they are stuck in mud, both in game plan and execution.
But, snoozefest or not, when the clock strikes zero a team from the SEC will hoist the crystal football for a sixth consecutive time.
That might say something about playing better defense.
December, 26, 2011
12/26/11
9:00
AM ET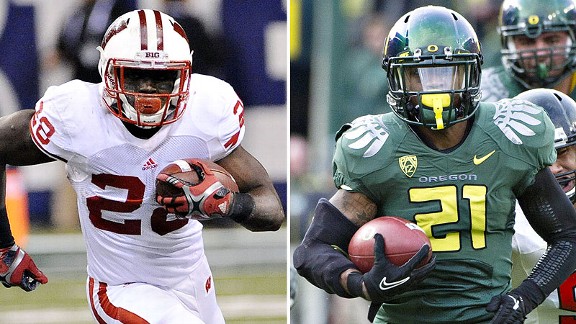 US Presswire
Montee Ball and LaMichael James will highlight a showdown of high-powered offenses.
After a year's hiatus, the Rose Bowl is back to its traditional self: A Pac-12-Big Ten matchup.
And it looks like a good matchup of good teams with contrasting styles.
Sounds like a good time for a blog debate!
Ted Miller
: Well, Brian, we're back to a traditional Pac-12-Big Ten Granddaddy and it looks like a good one: Midwest power versus West Coast flash. I'm a little surprised that Oregon is favored against
Montee Ball
,
Russell Wilson
and that mammoth group of biscuit and gravy eaters you call an offensive line. Give me an idea of what the Ducks are up against with the Badgers' offense. Is it all power football, or is it more sophisticated than that?
Brian Bennett
: You'd better believe the Badgers have the baddest bunch of big uglies in college football, with an offensive line that outweighs many NFL units. Add in a couple of good tight ends, a senior fullback and Wisconsin's dedication to the ground game and you can see why the program has been one of the best running teams in the country for several years now. But it's not just all brute. The thing that makes these linemen stand out is that they are nimble and can really move, and I think many defenses are shocked by that combination of strength and athleticism early in games. Wilson has also given this team an entirely new dimension with his ability to make plays on the move and his outstanding accuracy. Opponents have no choice but to respect the run when playing Wisconsin, and that makes this offense the most dangerous play-action team in America. You'll see receivers getting huge cushions in the passing game, and Ball can break tackles even when the box is loaded.
That's why the Badgers average 44.6 points per game, just a tick below Oregon's 46.2 average. My question for you is, can the Ducks' defense handle this kind of offensive power, especially in a 3-4 scheme?
[+] Enlarge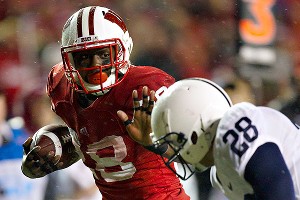 Jeff Hanisch/US PresswireMontee Ball's 1,759 yards and 32 rushing touchdowns on the season have helped the Badgers score an average of 44.6 points per game.
Ted Miller
: Oooooo. I'm telling Chip Kelly that you said the Ducks run a 3-4! He hates that. No idea why. Coordinator Nick Aliotti will tell you that the Ducks throw a lot of stunts and looks -- 3-4, 4-3, 2-5, etc -- and crazy stuff at you. They are fast, underrated and bigger than many think. Their top four defensive tackles, who are in a regular rotation, weigh 321, 300, 283 and 286 pounds.
Oregon has faced big, powerful teams before. Stanford and USC the past two years, in conference, and Auburn and LSU out of conference. Forgotten in the talk about how Auburn and LSU slowed down the Ducks' offense is how the Ducks' defense slowed down both sets of Tigers. Oregon outgained LSU 372-273 but was done in by four horrible turnovers. The Ducks held Auburn and Cam Newton to 22 points, its second-lowest total of the season.
Sure, Oregon's defense ranks 59th in the nation in total yards while Wisconsin ranks eighth. But they yield similar numbers on yards per play: Oregon 4.93, Wisconsin 4.85. And the Ducks are slightly better on third down. Oregon's defense's biggest problem is its offense, which scores a lot of points despite ranking LAST in the nation in time of possession. The Badgers' defense, with an offense that ranks 22nd in time of possession, only faced 786 plays this year. Oregon faced 1,005. That skews numbers.
Wait. Did I get all stats-y there? Sorry. My answer to the size question is what Oregon will say leading up to the Rose Bowl. It's nothing new for them. They play their game, run their stunts, use their speed and see what happens. Stanford, which has two first-round NFL draft choices on its O-line, would be the most natural comparison with the Badgers. And for two years in a row, no team has played good enough defense to beat the Cardinal and
Andrew Luck
other than Oregon.
While Badgers fans expect Whisky to run over the Ducks with size -- Big Ten thinking! -- Ducks fans believe they can exploit the Badgers' defense with speed and misdirection -- Pac-12 thinking! What about some Brian Bennett thinking: Do the Badgers have the speed on defense to keep up with the Ducks? Is Bret Bielema going to use past blueprints to thwart Kelly?
September, 19, 2008
9/19/08
2:43
PM ET
Posted by ESPN.com's Adam Rittenberg
Happy Friday to all. Let's see what's on your mind.
Adam from Phoenix writes: The 2008 Buckeyes look similar to the 2005 Buckeyes. 1.Tressel does not know who to play at quarterback: 2005 - Zwick/Smith & 2008 ? Boeckman/Pryor. 2.The ?pocket? quarterback lost in 2005 (Zwick) and is currently losing in 2008 (Boeckman). 3.A top-tier program won a game against the Buckeyes while Tressel was deciding who to play at quarterback (2005: TX & 2008: USC). 4.The team played much better after Tressel decided to play only one quarterback in 2005 and appears to play much better with Pryor under center in 2008. My picks for the Big Ten: 1. WI 2. PA St 3. OH St
Adam Rittenberg: That's an interesting comparison. I'm sure at this stage, Ohio State would be happy if the mobile quarterback or the pocket quarterback led the team to a BCS bowl win, as Troy Smith did against Notre Dame in 2005. It will be interesting to see how much longer Tressel goes with rotating quarterbacks. My sense is if Terrelle Pryor continues to make progress without making big mistakes, he'll get the keys to the car the rest of the season. Don't count this team out in the Big Ten race by any means, but they have a tough road with trips to Wisconsin, Michigan State and Illinois.
---
Brenton from Cedar Rapids, Iowa, writes: Adam, if Iowa lays it on Pittsburgh, a top 25 team at beginning of the season, will that be enough to make them a legitimate Big 10 conteder?
Adam Rittenberg: I'm still kicking myself for putting Pitt in my preseason Top 25. Someone must have spiked all of our drinks. But this would be a very solid road win for Iowa, which really hasn't been tested much on either side of the ball this season. The Hawkeyes can solidify their quarterback position with a strong road performance, and an already confident defense will gain another boost by containing LeSean McCoy. I wouldn't put Iowa in the Big Ten title mix just yet. If the Hawks beat Michigan State on the road and Wisconsin at home Oct. 18, then we'll talk.
---
Ron from Jacksonville, Fla., writes: Hey grew up with Kellen Lewis down here in the Jacksonville area and just wondering why he doesnt get some of the national pub that some other B10 Qb's get?( ala painter, Juice, Boeckman) He's put up better numbers then Juice and Boeckman. Put up simliar numbers to Painter's, and beat him head to head last season.
Adam Rittenberg: Ron, the easy answer is that he plays for Indiana, which has only become relevant again in recent years. For what it's worth, I ranked Lewis as the league's top quarterback entering the season and think highly of his speed and playmaking ability. Curtis Painter will set a ton of records before he's finished and plays for a team known for passing and big offensive numbers, so he'll probably get more pub than Lewis. But if Indiana starts strong -- a good possibility with the schedule -- and Lewis continues to put up big numbers, people will start to take notice. The Antwaan Randle El comparisons are certainly legitimate.
---
Ray from Chicago writes: The Wildcats appear to have trouble scoring touchdowns in the redzone, particularly last week against the Salukis. Northwestern is not a deep-pass team, so one would think that play calling inside the red zone would not be different that their regular game plan. Is Fitz calling the right plays or are the players failing to execute?
Adam Rittenberg: Ray, this has been a problem with Northwestern's spread offense for a number of years. They move the ball great between the 20's but struggle to punch it in the end zone. It's a big-yards, little-points offense. The red-zone issues cost the Wildcats last year against Duke when they couldn't convert four chances inside the 10-yard line. You're right about the short-pass-oriented attack, and it really should work better in the red zone. Wideout Ross Lane has emerged as a big target for C.J. Bacher down there, but the biggest problem historically has been the inability to run the ball in short-yardage situations. Northwestern is a terrible I-formation team and though Tyrell Sutton has good running strength, defenses consistently stop him with the offense lines up in the I. They might want to use backup running back Omar Conteh more in those situations, and the quarterback draw can also help.
---
Brett from Minneapolis writes: Adam, As a loyal Gopher fan, I am a little upset we're getting picked on for poor scheduling. The cupcake schedule can be attributed to Glen Mason (who will be an analyst for the Gopher-Buckeye game on Big Ten Network). Brewster is doing a better job of scheduling. This is from Gophersports.com: 2009: Air Force, Cal (Note: We had Syracuse on the schedule for the first game, but it has now been changed to TBA). 2010: Washington State, UNLV (soft, but the Badgers have also played them in the past. Also pulled an upset over Arizona State) 2011: WA State 2012: Colorado 2014 & 2015: Oregon State There are rumors flying around that Brewster is trying to schedule Texas in 2016. The Gophers have had problems scheduling quality basketball opponents as well and are trying to schedule schools to play the Gophers in both sports.
Adam Rittenberg: Agree on all points. The weak scheduling under Mason for all those years still fuels the criticism. Those nonconference slates rarely prepared the Gophers for Big Ten play, and, as a result, they would finish with a watered-down 7-5 or 6-6 record and go to a minor bowl game. Brewster came in with lofty expectations, and part of that comes with beefing up the schedule. Teams like Cal, Washington State, Colorado and Air Force aren't super powers, but they'll test Minnesota much more than Smorgasbord State or whoever they used to play.
---
Gary from the ATL (that's Atlanta for the un-hip) writes: Regarding your column on Joe Pa's decision on Evans and Koroma, what is your opinion of an appropriate punishment? Notwithstanding the negative spotlight on PSU, i.e., OTL story, I believe the three game suspension (Oregon State, Cuse and Temple) is more than adequate considering the charge. In fact, you wouldn't see anywhere near a 3 game suspension for similar charges at OSU, UF, Wiscy (DUI on a mo-ped), OU, UT, and other big programs. Just curious of your opinion. Keep up the great blog.
Adam Rittenberg: Thanks, Gary. The hard thing is that the punishments vary so much by school, as you point out. Some see misdemeanor marijuana possession as a slap-on-the-wrist transgression, especially for first-time offenders. Other schools take it a bit more seriously. What can't be ignored here is the timing -- the Tuesday night/Wednesday morning of game week after a year in which the team had a ton of off-field problems. How dumb can you be? The team's punishment could depend on what the university decides to do, but I'd say extending the suspensions another game or two sounds fair.
---
Paul from Bloomington, Ind., writes: Adam, thanks for offering your predictions for the Big Ten week 4. Also, thanks for offering a way for us to bombard you with criticism :) . From me, it's only on one game, though. No way in the world is Ball State beating Indiana Saturday. Didn't last year, didn't the year before, and it's not happening this year. You say Ball State will be pumped up. Good. So will IU. They're the real team on the rise. Indiana, at home, will have too much of an advantage. BSU has been the trendy pick recently. But, it stops now.
Adam Rittenberg: Congrats to Paul for writing the nicest critical e-mail I've received this season. This is a tough game to call, and I'll be happy to eat crow on Saturday night if the Hoo
siers hold serve at home. The early season schedule really concerns me, starting with two cupcakes before a bye week. Indiana hasn't faced any adversity on either side of the ball. Expect that to change on Saturday, even if Ball State doesn't win the game. I really like what the Hoosiers have going on the defensive side. They're more than just Greg Middleton up front, and Matt Mayberry has gotten rave reviews at linebacker. But the secondary concerns me against Nate Davis, a legit pro prospect. I think this could be a case where light scheduling comes back to haunt Indiana.

September, 8, 2008
9/08/08
9:30
AM ET
Posted by ESPN.com's Adam Rittenberg
Every Big Ten team won in Week 2, but some made it look easier than others. Ohio State retains the top spot, but the Buckeyes certainly appeared beatable against Ohio. Penn State and Minnesota posted big wins, and Wisconsin turned a poor start into a blowout. It's tough to get a great read on Iowa and Indiana because of weak competition, but both teams look solid on offense.
There's no dramatic moves in the rundown -- those should come next week -- and the bottom of the league has plenty of parity right now.
1. Ohio State -- The Buckeyes wasted an opportunity against Ohio and visit top-ranked USC with several questions, none bigger than the health of running back Chris "Beanie" Wells. Their defensive stars stepped up with several takeaways on Saturday -- a big plus -- but the unit struggled on third down.
2. Wisconsin -- If the Badgers want to keep this spot, they better avoid a slow start on the road against Fresno State. The offense showed its explosiveness by scoring 51 unanswered points against Marshall, but health and red-zone execution remain concerns.
3. Penn State -- You don't want to face the Nittany Lions offense right now. Stocked with playmakers, Penn State ran all over Oregon State and showed tremendous focus despite the suspensions of three players last week. The Lions should be 6-0 when they head to Madison, Wis., on Oct. 11.
4. Illinois -- Juice Williams continues to put up monster numbers, setting a career best with 174 rushing yards and two touchdowns against Eastern Illinois. There were still some signs of bad Juice (2 INTs, fumble) and Illinois' run defense remains spotty, but the Illini hold their spot.
5. Michigan State -- The Spartans took care of business against poor competition, and Javon Ringer no longer has to share touchdown opportunities with another back. Plus, Michigan State's 7-point loss to Cal looks better after the Golden Bears stomped Washington State.
6. Iowa -- The Hawkeyes might have found a starting quarterback in Ricky Stanzi, and Shonn Greene has energized what looked like a shaky run game. Plus, the defense has allowed three points in its first two games.
7. Michigan -- Rich Rodriguez picked up his first win as Wolverines coach, but not without some tense moments. Led by a strong front four, the defense will keep Michigan in games this fall, but the quarterback play has to improve soon.
8. Indiana -- Quarterback Kellen Lewis continues to look good and finally got some help from his running backs against Murray State. The defense has been solid against terrible competition. They'll face a much tougher test from Nate Davis and Ball State in two weeks.
9. Northwestern -- The Wildcats drop two spots after they should have dropped a game to Duke on Saturday night. Their quest for a perfect nonconference record remains intact, but quarterback C.J. Bacher and a senior-laden offense need to get on track in a hurry.
10. Purdue -- It's hard to fault the Boilers for a 32-point win, but Northern Colorado rivals Coastal Carolina for the weakest Big Ten opponent this season. Things get much tougher for Purdue this week against Oregon, but Joe Tiller's squad has a chance to make a big move up the list.
11. Minnesota -- I'm tempted to bump up the Gophers after an impressive road win against Bowling Green, but none of their Big Ten brethren stumbled this week. Quarterback Adam Weber is on track for a huge season, though the defense still needs to prove itself in league play.
August, 14, 2008
8/14/08
1:19
PM ET
Posted by ESPN.com's Adam Rittenberg
WEST LAFAYETTE, Ind. -- Joe Tiller enters his final season at Purdue much like he did his first, with an under-the-radar team that could surprise people this fall. "The more things change, the more they stay the same," he said.
After having some fun during team pictures on the Ross-Ade Stadium field -- on the final do-what-you-want shot, Tiller turned his cap to the side, C.C. Sabathia style, and flexed for the camera -- the Boilermakers coach met with the media.
Here are some of the items he touched on:
Tiller announced that defensive end Nickcaro Golding, safety Josh McKinley and defensive tackle Preston Numa will be suspended for the season opener against Northern Colorado for "conduct detrimental to the team." Senior safety Torri Williams, a candidate to start, has been fully reinstated. Williams was suspended this spring after an arrest for shoplifting.

McKinley started one game last fall but looks to be in a reserve role this year. Both Golding and Numa redshirted last year.
Linebacker depth is Purdue's biggest concern in training camp. Fifth-year senior Anthony Heygood and promising junior Jason Werner look good at the two outside spots, and Tiller is hopeful Kevin Green can step up in the middle. But after those three, the cupboard is pretty bare.

Purdue conducts its first full-pads practice later today, and the coaches will closely examine who else they have at linebacker, and who could move over to the position.
"It's a daily discussion," Tiller said. "Today's an important day for us. We've been out there dancing our underwear for a couple day and playing pass-and-tap with shells on. Now we're going to start playing football, so we'll see if somebody will demonstrate an ability to help us. Until that happens, we're reluctant to move anyone."
Green recorded only seven tackles in eight games last fall, and Tiller wants to see more from the man at the core of the Boilermakers defense.
"He could really help us," Tiller said. "Kevin's the type of guy that's had his moments but from a consistency point of view hasn't been there yet."
Purdue made several moves with its starting offensive linemen, who are all healthy after a painful spring. The Boilers swapped tackles Sean Sester and Zach Jones, moved Jared Zwilling to guard and established Cory Benton as the No. 1 center. Sester, one of the team's top pro prospects, moves to right tackle after protecting Curtis Painter's blind side a year ago. Tiller said he didn't know what to expect from Jones a year ago and wanted a more experienced player at left tackle.

But after evaluating Jones in his first season as a starter, Tiller made the switch.
"Jones is the more athletic guy than Sester and really is better suited to play the left side than Sean is," Tiller said of the former walk-on. "And Sean is better suited to play the right side. We think we have them at their natural positions now."
Tiller likened Zwilling to Jones, saying guard is an easier position to transition into than center. Benton played mainly at guard but is expected to perform well at center.

"He smells it," Tiller said of Benton. "He knows he's got a chance to be the lead tank and be the starter at center all year."
Tiller provided a little background on Purdue's big home showdown with Oregon on Sept. 13. Six or seven years ago, Tiller started discussing the game with then-Oregon athletic director Bill Moos, who Tiller had coached at Washington State in the early 1970s.
Moos brought up the idea of playing Purdue, but Tiller didn't have much interest.
"Finally Bill said, 'Well, let's schedule a game that's so far out there that both of us will be retired, so it really won't matter,'" Tiller recalled. "And of course, Bill's retired and I'm not, so that worked for one guy and not the other."
The "real reason" Tiller agreed was that Oregon had dropped September road games against Big Ten teams, falling to Michigan State in 1999 and to Wisconsin in 2000.
"I thought, 'You know, here's a West Coast team that has to travel a long way and probably doesn't play well on the road early, so let's sign 'em up,'" Tiller said. "That was a long time ago and obviously isn't true about them any longer."