August, 30, 2013
8/30/13
4:00
PM ET
My mailbag will come to you just once a week from here on out, right around this time on Fridays. Don't forget to follow us
on Twitter
.
Have a great first football weekend! To the inbox ...
---
Craig from Braintree, Mass., writes:
Hi Adam. Just reviewed
your chat
today. In general, agree with your comments on Minnesota except the lack of depth. Yes they have areas of lack of depth -- LB, CB, WR -- but elsewhere they are deeper than last year. That depth, plus Nelson's additional experience, plus their bowl experience, is why I like the team better. I also think Kill's health is better and that can't hurt.
Adam Rittenberg:
Some good points here, Craig. I think we saw in
Thursday's opener against UNLV
how Nelson's experience last year paid off. He looked very comfortable moving around in the pocket, and his athleticism on designed runs also gives Minnesota a good weapon in the ground game. I'm still a little concerned at whether Minnesota's skill players will make an impact against good Big Ten opponents. The Gophers line struggled to dominate UNLV for much of the game and didn't show the physical play we saw in the bowl game against Texas Tech.
You're right that I overlooked some of the depth in the secondary despite losing corners Michael Carter and Troy Stoudermire. The Gophers have some playmakers back there. The good news is Minnesota won its opener easily and still has a lot of room for improvement. And we're all pleased that Coach Kill seems to have his health more under control.
---
John from Au Gress, Mich., writes:
As far as Defensive POY is concerned, it was interesting to see what a rival network found when it polled BIG players and coaches.
Max Bullough
was the runaway choice. Two things work against Max for this award (1) few journalists take enough time to recognize the value of a defensive quarterback like Bullough and (2) with all the "3 and outs" the MSU defense will force, he won't have enough tackles to get his due. Total tackles is an overhyped stat too. My first thought is the overall defense must stink if you get that many opportunities. Borland will probably lead the BIG with around 150 tackles and he would probably like to stay around 100. He seems like a great team guy, and would rather have the defense get off the field.
Adam Rittenberg:
John, some good points here, and I couldn't agree more about tackles being an overrated statistic, especially when it comes to linebackers. I would hope the award isn't given based on total tackles, as some standout defenders will be on the field a lot less than others. For me, it's between Borland and Bullough for this award. Both are the nerve centers of their respective defenses. If the Spartan Dawgs once again finish in the top five nationally, I'd have no issue with Bullough getting the hardware. Ultimately, Borland makes more impact plays than Bullough -- or any Big Ten defender, for that matter. Borland is just a freak in that way. Does it mean he's more valuable to his defense than Bullough? It's up for debate. Both are exceptional players, and
as I recently wrote
, both have a ton of respect around the Big Ten.
---
Curtis from San Angelo, Texas, writes:
You wrote, "Bad calls shouldn't be hidden from fans in the stadium when those at home see them replayed over and over." No, they probably shouldn't. On the other hand, replays of bad calls shouldn't be used like gasoline being poured on a fire, either. Not everyone enjoys going to a sporting event and hearing "fans" yell obscenities (sometimes en masse) at the officials for missing a call. As long as humans are involved, calls will be missed. Hopefully this won't backfire and lead to egging on rude behavior.
Adam Rittenberg:
Curtis, I think there's a compromise here, although the replays will be at the discretion of each Big Ten school. I agree that a controversial call shouldn't be replayed 20 times in super slo-mo in the stadium, but fans who pay good money to watch those games have the right to see what everyone else does at home. Big Ten officiating chief Bill Carollo wants his crews to be held accountable. He puts a lot of pressure on them to get it right. Sure, some fans will act like idiots, but the yelling at the officials is going to be there with or without the replays. It's important to enhance the game-day experience at a time when attendance is dropping a bit and the modern-fay fan wants more out of his/her Saturday afternoon.
---
Lone Wolf McCaw from Siberia, USSR:
I don't get it Adam, I don't. I see there are a lot of coaches that won't name who their starters are. Why? I get there are players and positions where you just don't know who is better, or want to see how they perform in a real game. But you can't tell me that, that is the case with all the teams that won't give out a depth chart. Are the coaches writers for a mystery TV show or something, and want to keep us guessing til the end? How does not revealing who your starters are benefit the team in any way, shape or form? I will hang up now and listen to your answer.
Adam Rittenberg:
Lone Wolf, as a media member in the business of information, you're preaching to the choir, brother. Some coaches think concealing their starting quarterback provides an advantage because opponents have to prepare for more than one player. I'm not sure I buy that. Teams have so much time to prepare for the opener that they almost overprepare. I think the secrecy has more to do with taking pressure off of the starter, and even the player or players who lose the competition. When you have a true freshman starter, as Penn State likely will with
Christian Hackenberg
, you can delay the heavy scrutiny until after he plays his first game. But I'm not a fan of keeping this under wraps.
---
Steve from Washington, D.C., writes:
Count me among the many Northwestern fans who are incredibly psyched for this season. I'm stoked to see the speed and talent that we have lined up on the defensive side of the ball. What keeps me up at night, though, is that we play in a conference known for power football, big linemen pushing up the middle with a big RB running behind them. Do you think NU will struggle to stop an up-the-gut power run game? Which matchups should I be particularly worried about in this regard?
Adam Rittenberg:
Steve, I think this is a fair concern, although Northwestern's run defense improved significantly in 2012, going from 84th in 2011 to 21st last year (127.6 ypg). The big issue is the loss of defensive tackle Brian Arnfelt, hardly a household name around the Big Ten but a huge part of Northwestern's success against the run. The Wildcats lack depth at defensive tackle and need
Sean McEvilly
to stay healthy and others (
Will Hampton
,
C.J. Robbins
) to step up. Standout safety
Ibraheim Campbell
also plays a huge role in stopping the run. Campbell might be Northwestern's most valuable player, especially against teams like Wisconsin that run the power.
---
Adam from DC writes:
Ohio State lost seven starters from last year's squad, including all four defensive linemen and two of their three linebackers. OSU also won some close games last year and didn't exactly lead the conference in defense.You picked the OSU Defense for your fantasy team. Why so much faith in the 2013 OSU defense?
Adam Rittenberg:
Adam, it has more to do with how fantasy points are awarded for defense, at least in the
ESPN College Football Challenge
, which Brian and I use. Ohio State's defense actually recorded the most fantasy points (149) in the Big Ten last year, while Michigan State's defense, undoubtedly the best in the league, finished sixth in fantasy points (105). Defenses are
awarded points
for team wins, of which Ohio State will have plenty, and can pile up points for scoring touchdowns and forcing turnovers. Ohio State might not be the most stifling Big Ten defense, but I expect the Buckeyes to make a bunch of plays, even with all of their youth. The Buckeyes feature several big-play defenders like linebacker
Ryan Shazier
and cornerback
Bradley Roby
.
---
Jeff from San Diego writes:
I had a slew of Hawkeye questions for you, but really you can answer them all by responding to this one question; will Kirk Ferentz still be Iowa's coach in three years?
Adam Rittenberg:
In three years? Hmm, that's a very tough one. I'm inclined to say yes, but I'm not confident in my answer. That would put Ferentz in his 17th season at Iowa. Obviously, he has a
hefty contract that goes for much longer
, and maybe he'd like to keep coaching the Hawkeyes for another eight years. Still, it's a long time, and if the momentum doesn't turn soon, Iowa will face a tough decision with its highly paid coach. I don't think Ferentz is in danger this season, but he has to show some positive signs soon. The move to the West division and the soft schedules the next few years should help him.
---
Ben from Ann Arbor, Mich., writes:
Adam, where would you have put
Jake Ryan
in your preseason rankings had he been healthy? I'm thinking between Roby and Dennard, but I'd appreciate your unbiased opinion.
Joe from Columbus, Ohio, writes:
Really? No
Carlos Hyde
in the top 25? Does his three-game suspension (no charges by the way) really merit that much of a drop? Where would he have ranked had he not been suspended? I figured he would have be top 10/ top 15 for sure.
Adam Rittenberg:
Ben, I think we would have had Ryan around No. 11 or No. 12, behind both Roby and Dennard, who have a little more potential to be nationally elite than Ryan does. I'm a big fan of Ryan's playmaking ability, though, and can't wait to see him back on the field for the Maize and Blue. Joe, we were in a bit of a bind with Hyde because when we kicked off the rundown, his status for the season was very much in doubt and there had been some chatter that he wouldn't play this fall. We had to make
our full list
on the assumption that he wouldn't play. If the Hyde situation hadn't happened, you'd probably see him right around the No. 15 spot.
August, 13, 2013
8/13/13
10:30
AM ET
Northwestern finally
shredded the monkey
Jan. 1 and won its first bowl game since the 1949 Rose, recording its 10th win in the process. Pat Fitzgerald's crew returns the core pieces from that team, but faces a tougher schedule featuring the likes of Ohio State and Wisconsin.
Can Northwestern take the next logical step and reach the Big Ten title game, or will it backslide in 2013?
NORTHWESTERN WILDCATS
[+] Enlarge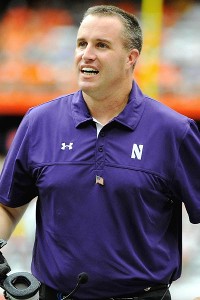 Rich Barnes/US PresswireNorthwestern coach Pat Fitzgerald has a lot of returning talent, but faces a difficult 2013 schedule.
Coach:
Pat Fitzgerald (50-39, seven seasons at Northwestern and overall)
2012 record:
10-3 (5-3 Big Ten)
Key losses:
G Brian Mulroe, OT Pat Ward, DT Brian Arnfelt, LB David Nwabuisi, DE Quentin Williams
Key returnees:
RB
Venric Mark
, QB
Kain Colter
, C
Brandon Vitabile
, TE
Dan Vitale
, DE
Tyler Scott
, S
Ibraheim Campbell
, CB
Nick VanHoose
, LB
Chi Chi Ariguzo
, K
Jeff Budzien
Newcomer to watch:
Redshirt freshman cornerback
Dwight White
had an excellent spring as he makes a push to start opposite Nick VanHoose. White, a 5-foot-10, 178-pound speedster, has good ball skills and brings a playmaking threat to a secondary that, while improved, needs more difference-makers. White will push
Daniel Jones
and others for playing time this fall.
Biggest games in 2013:
The Wildcats face plenty in Big Ten play, starting with the league opener Oct. 5 against Ohio State. If Northwestern and Ohio State both come in undefeated -- a good possibility -- it'll be Northwestern's biggest home game in Fitzgerald's tenure. Another big game follows Oct. 12 at Wisconsin, and Northwestern opens November with three Legends division tests, as it visits Nebraska (Nov. 2) and hosts Michigan (Nov. 16) and Michigan State (Nov. 23).
Biggest question mark heading into 2013:
Northwestern must shore up its line play on both sides of the ball after losing valuable veterans to graduation. Three starting spots must be filled on the offensive line, including right tackle, as
Jack Konopka
is expected to slide over to the left side. Several likely starters missed spring ball after offseason surgeries, which gave players like
Shane Mertz
and
Ian Park
added reps.
Northwestern also must find a space-eater or two on defense after losing Brian Arnfelt. The team has better depth at defensive end than tackle, where it needs more from veterans
Will Hampton
and
Sean McEvilly
.
Outlook:
The arrow is definitely pointing up in Evanston after Northwestern recorded just the second 10-win season in team history and could have easily won more games. Many of the building blocks remain, including the dynamic backfield of Mark and Colter, who executed the zone-read game to perfection last fall. Northwestern has upgraded its recruiting efforts, especially on defense, and should boast more speed, athleticism and depth than it did in 2012.
So why is there a hesitation to buy into the Wildcats, who most are picking to finish third or fourth in the Legends division?
There's the Northwestern factor, as some still can't separate the program's current state from its pathetic past in the 1970s and 1980s. A more valid reason for concern is the schedule, as both Ohio State and Wisconsin return, and Northwestern skips the Indiana schools. There won't be many easy games during Big Ten play, and getting back to 10 wins will pose a significant challenge.
Northwestern once again will employ a quarterback rotation of Colter and
Trevor Siemian
, a big-armed junior who can spark the passing game. The receivers had a somewhat underwhelming season, but could be a bigger threat this season as almost everyone returns. Tight end Dan Vitale blossomed down the stretch in 2012 and will attack the deep middle along with wideout
Christian Jones
.
The defense generated 29 takeaways in 2012 and hopes to continue its playmaking ways with more explosive athletes at all three levels. Campbell is one of the Big Ten's best defensive backs, and VanHoose made a huge difference when healthy. Northwestern needs linebacker Chi Chi Ariguzo to continue smothering the football, and for speedy down linemen like
Dean Lowry
to complement Tyler Scott on the pass rush.
Special teams was a huge factor for Northwestern's success in 2012, and must continue its upward trajectory. The Wildcats also hope to stay healthy
after losing only five starts to injury
-- the fewest in the Big Ten -- last season.
"To have the number of young men we have coming back in '13 from a starting standpoint," Fitzgerald said, "gives us great confidence we'll hopefully be able to take the next step."
On paper, this is a better Northwestern team than the 2012 version, but the tougher schedule will make it difficult to match or exceed last season's win total.
February, 25, 2013
2/25/13
1:15
PM ET
Northwestern will be without at least three projected starters when it opens spring football in the Big Ten with the first of 15 practice sessions Wednesday in Evanston.

The Wildcats announced Monday that three projected starters will miss the spring session with injuries: cornerback
Nick VanHoose
, middle linebacker
Damien Proby
and offensive tackle
Jack Konopka
. Several other players who filled reserve roles in 2012 but could claim starting jobs in 2013 also are out, including offensive tackle
Paul Jorgensen
, wide receiver
Kyle Prater
, defensive tackle
Will Hampton
, defensive end
Deonte Gibson
and guard
Matt Frazier
.
All 13 players out for the spring are expected back for fall camp and the season. Most are recovering from postseason surgeries.
VanHoose missed three games late last season with a shoulder injury, so his absence for spring isn't a major surprise. Prater also didn't look 100 percent healthy in 2012. Konopka started at right tackle in 2012 and could be moved to the left side to replace the graduating
Patrick Ward
.
Both Proby and Konopoka started all 13 games last season.
Both Jorgensen and Frazier played behind offensive linemen who graduated following the 2012 season, so their absence this spring should ramp up the competition at those positions.
Both Gibson and Hampton, who started three games last season, figure to be in the mix for starting defensive-line positions, although they'll have to make up for lost time this summer.
Northwestern practices nine times before finals and spring break in mid-March. The Wildcats return for four more sessions before wrapping up with their spring game on April 13.
July, 30, 2012
7/30/12
3:04
PM ET
With media days in our rearview mirror, we jump back into our preseason Big Ten position rankings. Last week we unveiled our rankings for
individual defensive linemen
. Now it's time to look at the defensive line units as a whole.
Remember, these rankings are based heavily on last year's performance and who returns to the fold, with potential considered as well. Let's get to the guys up front who make the entire defense go.
[+] Enlarge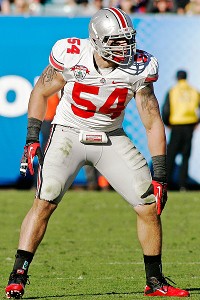 Phil Sears/US PresswireJohn Simon leads one of the Big Ten's best defensive fronts.
1. Ohio State:
The Buckeyes have a chance to field one of the top defensive lines in the country.
John Simon
is a beast, while
Johnathan Hankins
has as much potential to dominate his position as any Big Ten player.
Nathan Williams
could be a big contributor coming back from knee surgery. This group is already really deep, and with standout freshmen like Noah Spence, Adolphus Washington and Se'Von Pittman coming in, it could be scary good.
2. Michigan State:
The Spartans will rival Ohio State for the league's top defensive front. You know all about end
William Gholston
and his unlimited potential.
Marcus Rush
gets overshadowed at the other end spot, but he put up an outstanding freshmen season.
Anthony Rashad White
should be an anchor inside. The big question is who replaces Jerel Worthy, but the team is flush with candidates. This is another very deep defensive line.
3. Purdue:
Don't be surprised by this high ranking.
Kawann Short
might be the top defensive lineman in the league, and is poised for a monster senior season.
Bruce Gaston
gives him a veteran running mate. Defensive end
Ryan Russell
is coming on and might be due for a major breakout this season. This should be the strength of Danny Hope's defense.
4. Penn State:
Devon Still is gone, but the Nittany Lions should continue to be strong up front.
Jordan Hill
looks to follow Still's lead and become a superstar as a senior.
Sean Stanley
is a speedy rusher off the edge, and
Pete Massaro
returns from a knee injury.
DaQuan Jones
and
Deion Barnes
could become bigger contributors.
5. Illinois:
Star power lifts the Illini to this high ranking, as defensive end
Michael Buchanan
and tackle
Akeem Spence
should be among the very best at their positions in the league. It's just a matter of finding out how the others -- like end
Justin Staples
and tackle
Glenn Foster
-- raise their games around them to help make up for the loss of sack master Whitney Mercilus.
6. Nebraska:
Too low for the Huskers? Perhaps. They do bring back several veterans, like Cam Meredith,
Chase Rome
and
Baker Steinkuhler
, while expecting more from
Eric Martin
. Still, this group did not dominate enough for my taste last season, and seems to lack the one true pass-rushing stud. But Nebraska has the potential to have a very stout line.
7. Michigan:
It's probably wrong to doubt a line overseen by Brady Hoke and Greg Mattison. Yet this unit lost three starters from a year ago, including stars Mike Martin and Ryan Van Bergen. A lot depends on how Will Campbell performs as a senior, and whether
Craig Roh
can take his game to the next level. There isn't much experience at all behind the starters.
8. Wisconsin:
Can
David Gilbert
stay healthy and emerge as a fearsome pass-rusher? That's the key to the Badgers' defensive line, without a doubt. Tackles
Beau Allen
and
Ethan Hemer
are rock solid, though the loss of
Jordan Kohout
hurts the depth inside.
Brendan Kelly
should be good against the run. But Wisconsin needs a fast player on the perimeter, and that's where Gilbert comes in.
9. Iowa:
This is a frighteningly young and inexperienced group heading into the season for Iowa, though that doesn't mean it lacks talent.
Steve Bigach
is the closest thing to a seasoned veteran. The Hawkeyes will need a lot of players to raise their performance, including
Dominic Alvis
and
Carl Davis
.
10. Northwestern:
This has been a trouble spot for the Wildcats, and could be again in 2012 with the loss of both starting tackles.
Tyler Scott
and Quetin Williams are back at end, and expectations are high for redshirt freshman
Deonte Gibson
. Can
Will Hampton
and Brian Arnfeldt hold the fort down inside the tackles?
11. Indiana:
Defensive line is one of the few places where the Hoosiers have experienced veterans. Seniors
Adam Replogle
and
Larry Black
lead the way at tackle.
Bobby Richardson
and
Ryan Phillis
showed some things as freshmen pass-rushers last season. Still, this group must play better overall.
12. Minnesota:
The Gophers have had trouble putting consistent pressure on quarterbacks for the past couple of seasons, and now they're replacing both interior linemen. Jerry Kill has talked highly of 6-foot-6, 300-pound junior
Ra'Shede Hageman
's offseason, and
Roland Johnson
comes over from junior college to help out.
D.L. Wilhite
and
Ben Perry
will bring speed, but not much bulk to the defensive end spots.
September, 5, 2011
9/05/11
5:00
PM ET
The blog is lighter than normal during the Labor Day holiday, but Big Ten teams remain hard at work.
Here are a few personnel nuggets revealed today around the league:
NEBRASKA
Nebraska coach Bo Pelini said linebacker Will Compton is day-to-day with a foot injury but has no structural damage. Compton missed the first five games of last season with a foot ailment. Pelini also said star cornerback Alfonzo Dennard (pulled leg muscle) is improving and getting closer to a return. I'd expect to see Dennard on the field Week 3 against Washington, at the latest.
MICHIGAN
Michigan should be close to full strength for its prime time showdown against Notre Dame. Top cornerback Troy Woolfolk, who suffered a left ankle injury on kickoff coverage against Western Michigan, should be ready for the Irish, coach Brady Hoke said. Woolfolk missed all of last season with a dislocated right ankle. Linebacker Cam Gordon (back) also is expected to return. Freshman
Jake Ryan
performed well in Gordon's spot against Western. Left guard Ricky Barnum is back this week from a suspension, but he'll compete with Michael Schofield for the starting job in practice.
WISCONSIN
Wisconsin starting left guard Travis Frederick likely will miss this week's game against Oregon State after suffering a slight MCL sprain in the opener. Sophomore Ryan Groy is listed as the starter in place of Frederick. The Badgers should get receiver
Manasseh Garner
(hernia surgery) back for the Beavers. Backup quarterback
Jon Budmayr
underwent surgery Friday to relieve a nerve problem in his throwing arm. His return is uncertain. "It could be two weeks, it could be two months," coach Bret Bielema said.
NORTHWESTERN
As I tweeted Sunday, quarterback
Kain Colter
is fine after undergoing precautionary X-rays following the win against Boston College. Expect Colter to start again in place of
Dan Persa
this week against Eastern Illinois. The Wildcats will be without starting defensive tackle Jack DiNardo (leg). Sophomore Will Hampton and freshman Chance Carter will compete to fill DiNardo's spot.
INDIANA
Ed Wright-Baker is listed as the No. 1 quarterback for this week's game against Virginia. No surprise there, as Wright-Baker delivered a solid effort in his first career start and wasn't the reason why IU lost to Ball State. Two starters, linebacker Leon Beckum and right tackle Josh Hager, aren't listed on the depth chart following injuries in the opener. Junior Lee Rose is listed as the starting weak-side linebacker, while veteran offensive lineman Justin Pagan shifts from guard to tackle. Receiver
Duwyce Wilson
and tight end
Ted Bolser
both aren't listed on the depth chart again as they deal with injuries.
IOWA
Jason White
will be the No. 2 running back this week after the season-ending injury to freshman
Mika'il McCall
. Sophomore defensive tackle Dominic Alvis has leapfrogged Thomas Nardo into a starting spot, while defensive tackle Carl Davis isn't listed on the depth chart because of an injury.
October, 27, 2010
10/27/10
4:43
PM ET
Pat Fitzgerald got a little defensive Tuesday when asked about his newfound willingness to play true freshmen.
"You're talking to a guy that played as a freshman," the Northwestern coach said. "I'm not anti playing freshmen. I look at it from a perspective of being realistic."
Northwestern never has freshmen enroll early, so Fitzgerald and his assistants spend the first 2-3 weeks of preseason camp evaluating the class and projecting who can help them in the coming season. They also consider how freshmen will adjust to the rigors of college, especially the academic component.
"It's deeper than whether or not he can help us in the kicking game or whether or not we sell kids a bag of goods in recruiting and say you're going to play as a freshman," Fitzgerald said. "It's their future."
Few players have made the cut in Fitzgerald's tenure.
Fitzgerald used five true freshmen in 2006, his first season as Northwestern's head coach, but he did so largely out of necessity after Northwestern lost a sizable senior class. Fitzgerald played only two true freshmen in 2007 and two more in 2008 before using three freshmen last fall.
But through the first seven games of 2010, Northwestern already has used five true freshmen: defensive lineman Will Hampton, running back
Adonis Smith
and receivers
Venric Mark
,
Rashad Lawrence
and
Tony Jones
.
The early returns are promising.
Lawrence has caught seven passes for 138 yards (19.7-yard average)
Jones recorded a 45-yard touchdown catch on his first play in college
Mark has contributed on returns and in the receiving game, and he gained 29 yards on a run last Saturday against Michigan State, the team's longest rush of the season
Smith, who didn't play until Week 5, provided a jolt to a struggling run game with 44 yards against the Spartans
Hampton has helped with the D-line depth and played in five games
There have been a few hiccups -- Mark fumbled against Minnesota, while Jones drew two offside penalties in the game -- but the potential is pretty obvious. Lawrence and Jones have accounted for three of the team's longest five pass plays this season.
"We thought these guys would contribute," Fitzgerald said, "and they're just working hard and getting better and better."
Fitzgerald admits he can be too conservative about freshmen, but he's not going to change how he handles them.
"Sometimes we're wrong," he said. "Sometimes maybe we look back and say, 'Gosh, I wish I would have played him or I wish I would have put them in.' But I'd rather err on the side of being a year late than a day early."
September, 16, 2010
9/16/10
2:30
PM ET
Here's Northwestern's official injury report for Saturday night's road game against Rice.
OUT
S David Arnold, foot
LB Roderick Goodlow, knee (ACL, out for season)
WR Tony Jones, shoulder
OL Evan Luxenburg, knee
DT Niko Mafuli, knee
Outside linebacker Bryce McNaul is off the injury report and listed as a starter on this week's depth chart. Keegan Grant also has recovered from an injury and appears as the backup left guard on the two-deep. Mafuli's injury thins the depth a bit at defensive tackle, as true freshman Will Hampton is now part of the rotation.
September, 9, 2010
9/09/10
7:50
PM ET
Northwestern has issued its official injury report for Saturday's home opener against Illinois State.

OUT
Safety David Arnold, foot
Linebacker Roderick Goodlow, knee (ACL, out for season)
Guard Keegan Grant, illness
Wide receiver Tony Jones, shoulder
Defensive tackle Niko Mafuli, knee
Linebacker Tim Riley, shoulder
DOUBTFUL
Linebacker Bryce McNaul, shoulder
Mafuli, the team's No. 3 defensive tackle, sustained the injury last week at Vanderbilt and will be replaced by Will Hampton. McNaul actually has been upgraded after being listed as out on the Week 1 injury report. He should be back for Big Ten play, if not sooner, although his injury history is a concern. Northwestern also would like to get Arnold back on the field, as the depth situation at safety isn't great.
August, 23, 2010
8/23/10
9:00
AM ET
Scrimmages took center stage around the Big Ten this weekend as teams moved closer to the end of camp and the start of game preparations. I have links and a few thoughts on each scrimmage below, but only on the teams that put out information about what happened or had media in attendance. Those teams are:
Illinois, Indiana, Michigan State, Minnesota, Northwestern, Ohio State
and
Wisconsin
.
I'll do my best with
Michigan
's scrimmage, which oddly was open to fans but not media.

ILLINOIS
The Illini broke camp in Rantoul, Ill., and scrimmaged Saturday at Memorial Stadium. Check out what happened
here
and
here
and
here
and
here
.
Quick hitters
Illinois' coaches can talk all they want about running back by committee, but it's clear that junior Mikel Leshoure is the team's top option. As he did throughout the second half of last season, Leshoure showcased his big-play ability Saturday with a 49-yard touchdown run. Leshoure finished with 102 rush yards and two scores on only 12 carries. Jason Ford also had a nice day Saturday, but Leshoure is the guy to watch out for this fall.
After struggling in the first camp scrimmage, Illinois' first-team defense rebounded nicely Saturday. According to Mark Tupper, the first-team defense allowed only 59 net yards in 41 plays in the scrimmage. Defensive end Michael Buchanan and linebacker Martez Wilson were among the standouts.
Although starting quarterback Nathan Scheelhaase had a shaky day, Illinois might have found another capable wide receiver in Eddie McGee, the team's former backup quarterback. McGee beat cornerback Miami Thomas on a jump ball in the end zone to record a touchdown and finished with three receptions for 56 yards.

INDIANA
The Hoosiers held a 96-play Saturday at Memorial Stadium, and you can read all about it
here
,
here
(subscription required) and
here
.
Quick hitters
Redshirt freshman Dusty Kiel has established himself as the team's backup quarterback in camp. Kiel, who has been competing with Edward Wright-Baker, had an excellent scrimmage, completing 14 of 16 passes for 129 yards and a touchdown.
Indiana used the scrimmage to assess its offensive line depth and limited the participation for sure-fire starters like center Will Matte and right tackle James Brewer. Coach Bill Lynch wanted to get a better read on his backup center and had Jordan Marquette, Chris Ahlfeld and Steve Fiacable take reps in the scrimmage. Ted Bolser stepped up nicely at tight end with five catches for 46 yards and a touchdown.
The Hoosiers' already-shaky secondary suffered a blow as safety Chris Adkins had to be carried off the field because of an ankle injury. The extent of Adkins' injury is unclear at this point.

MICHIGAN
Michigan held a scrimmage Saturday at Michigan Stadium. It was open to some fans but not media, and while I love fan reports, I'm relying mostly on
this video
from the school's official website.
I really like what I've seen from freshman running back Stephen Hopkins, both in Saturday's scrimmage and during the Big Ten Network's tour stop. He gives the Wolverines a different look in the backfield at 6-foot, 227 pounds. Michigan boasts plenty of speed backs, but Hopkins provides the type of downhill, between-the-tackles running you need in the Big Ten.
Quarterback Denard Robinson looked pretty smooth in the scrimmage video, both as a passer and a runner. He hit his receivers in stride and broke off a long touchdown run, juking safety Jared Van Slyke before reaching the end zone. All signs continue to point toward Robinson being named the starter, but we'll see.

MICHIGAN STATE
The Spartans held a 130-play controlled scrimmage Saturday at Spartan Stadium, closed to the media. The defense prevailed 45-32 as the team used a modified scoring system. Recaps can be found
here
and
here
.
Quick hitters
It was a good day for the defense and a great day for the linebackers, who should be Michigan State's strongest unit this fall. Eric Gordon recorded a scrimmage-best nine tackles, while Greg Jones added eight, including two for loss. Jon Misch had 2.5 tackles for loss and a quarterback hurry, and Chris Norman had six tackles and a pass breakup. "The linebackers were very active," coach Mark Dantonio said.
Wide receiver B.J. Cunningham is having a very strong camp, and he continued it Saturday with five receptions for 67 yards, including a 30-yard touchdown from Kirk Cousins. Cousins and Cunningham hooked up for two touchdowns in the team's first fall scrimmage. It's a pretty crowded mix at receiver, but Cunningham has put himself in a great position.

MINNESOTA
Minnesota held an open scrimmage Saturday at TCF Bank Stadium, and you can read all about it
here
,
here
and
here
.
Quick hitters
Minnesota's first-string offensive line stepped up nicely in the scrimmage, keeping quarterback Adam Weber safe and allowing him to complete 7 of 9 passes for 70 yards and two touchdowns. There was, however, a significant drop-off when the second- and third-team offensive linemen entered the scrimmage. "I didn't feel like some of the [second and third team] took advantage of the opportunity to go play today," coach Tim Brewster told the (St. Paul) Pioneer Press.
Freshman running back Donnell Kirkwood has put himself in the mix for carries this fall alongside Duane Bennett and DeLeon Eskridge. Kirkwood had 19 carries in Saturday's scrimmage with a long run of 14 yards. Offensive coordinator Jeff Horton praised Kirkwood when we talked a few weeks ago.
MarQueis Gray is still getting reps as a reserve quarterback, but it's coming clear his primary role this fall will be at wide receiver, as long as Weber stays healthy. Gray seems to be embracing the change, and his big frame could really help the Gophers after the loss of Eric Decker. "I am pretty sure I can find a hole somewhere to catch the ball and get upfield for Weber when he throws it to me," he told the Star Tribune.

NORTHWESTERN
The Wildcats ended their off-campus training in Kenosha, Wis., with an open scrimmage. Head coach Pat Fitzgerald held out a large group of starters on both sides, so second- and third-teamers got most of the work. Recaps can be found
here
and
here
.
Quick hitters
Freshman receiver Venric Mark will make an immediate impact this fall, especially for Northwestern's middling return teams. Mark had an excellent scrimmage, recording a 28-yard touchdown catch and breaking off several big returns. Generously listed at 5-8 and 165 pounds, Mark also threw a block that helped classmate Adonis Smith reach the end zone.
A battle could be brewing at backup quarterback. As starter Dan Persa watched from the sideline, true freshman Trevor Siemian completed 10 of 13 passes for 112 yards with a touchdown and an interception. Siemian could push redshirt freshman Evan Watkins, who completed only four of seven passes.
Freshman defensive end Will Hampton could work his way into the rotation this fall. Hampton recorded a tackle for loss in the scrimmage.

OHIO STATE
Ohio State held its jersey scrimmage Saturday at Ohio Stadium, as the offense prevailed 54-48 after 130-140 plays. The scrimmage was open to the media, and you can find recaps
here
,
here
and
here
.
Quick hitters
Quarterback Terrelle Pryor had a so-so day, although he wore a no-contact jersey and couldn't be the running threat he'll be after Sept. 4. Pryor completed only 10 of 24 pass attempts but did fire a 25-yard touchdown strike to Taurian Washington, considered the front-runner for the No. 3 wide receiver spot. He also found tight end Jake Stoneburner for a 25-yard gain and nearly threw an interception in the end zone.
Andrew Sweat appears to have a slight edge on Etienne Sabino for the third starting linebacker spot. Sabino entered camp as the favorite to start, but Sweat logged more time with the first-team defense Saturday and recovered a Brandon Saine fumble.
Coach Jim Tressel said he hopes to get defensive end Nathan Williams (knee) back by the Sept. 2 opener against Marshall. Meanwhile, several young defensive linemen stood out Saturday. Redshirt freshman Adam Bellamy recorded three sacks and true freshman Johnathan Hankins added one.

WISCONSIN
The Badgers scrimmaged Saturday at Camp Randall Stadium. The session was open to the media, and you can read all about it
here
and
here
.
Wisconsin's offense moved the ball decently but struggled to finish drives, as Antonio Fenelus picked off a Scott Tolzien pass and safety Aaron Henry broke up a pass in the end zone. It was a theme throughout the scrimmage. There's little doubt Wisconsin can control the clock and keep moving the chains with its balanced attack, but it must execute in the red zone.
Freshman running back James White had a good day and could push Zach Brown for the No. 3 spot on the depth chart. White had runs of 29, 26 and 22 yards, the last for a touchdown, in the scrimmage. Starting tailback John Clay, by the way, had 11 carries for 51 yards.
Backup quarterback Jon Budmayr had a tough scrimmage, going 0-for-9 passing on his first three series with two near interceptions. He finished 9-for-27 for 107 yards for a touchdown and an interception. Wisconsin really can't lose Tolzien and would get a big boost if Curt Phillips can return from his knee injury early in the season.
February, 4, 2010
2/04/10
12:00
PM ET
Northwestern Wildcats
The class
Recruits:
17 (all high school seniors, no early enrollees)
Top prospects:
Offensive tackle
Paul Jorgensen
continues an impressive run of O-line recruiting by the Wildcats.
Chance Carter
is a talented edge rusher, while quarterback
Trevor Siemian
fits what Northwestern looks for to lead its spread offense.
Sleepers:
The running back position is anything but solidified, and late signee
Adonis Smith
could compete for carries very early. Athletes
Kain Colter
and
Venric Mark
give Northwestern excellent speed and flexiblity, while
Tony Jones
could end up being a very good addition at wide receiver.
Needs met:
The Wildcats needed defensive line help and got it with Carter and tackles
Will Hampton
and
Sean McEvilly
. Northwestern couldn't have a class without a running back and added Smith, and Pat Fitzgerald's staff also bolstered the offensive skill positions. The return game really needed a boost and Northwestern brought in several players who can contribute there, especially Mark.
Analysis:
A small class allowed Fitzgerald and his assistants to be fairly selective, and they certainly upgraded several positions, namely defensive line and wide receiver. It was important to add both a running back and a quarterback, and the Wildcats actually picked up two signal-callers in Siemian and Colter. Offensive line wasn't a major need after the last few recruiting classes, but Jorgensen is a guy who won't be on the sideline too long.
Scouts Inc. grade:
C
What Pat Fitzgerald said:
"We've got a lot of depth now at running back. We didn't graduate anyone this year, and we might only graduate one next year. So to add Adonis there, it was kind of our target, to add one back. We were in recruiting efforts with a couple other guys, and Adonis was a perfect fit for us. He's a physical kid. He's closing in on 195 pounds, so he's got good size. He's smooth, he catches the ball well."
"We needed to get a couple of quarterbacks. We went into it thinking we might only need one, but then when Joe Mauro had to retire early, we moved forward and ended up signing two. We signed two very athletic and very dynamic quarterbacks. We're excited about those guys."
(on the defensive backs) "They all can really run. All three are really athletic. All three were at some point in their careers kick returners or punt returners. So they bring that element to the football team. I feel really good about the talent we have internally right now in the program."
August, 26, 2009
8/26/09
10:48
PM ET
Posted by ESPN.com's Adam Rittenberg

A few recruiting bits to digest at the end of the day.
Iowa bolstered its rushing attack for the future by landing a commitment from Marcus Coker, a running back from D.C.-area powerhouse DeMatha Catholic. Coker checks in at 6-1 and 225 pounds -- Shonn Greene Jr., anyone? -- and rushed for 19 touchdowns as a junior. There was some buzz back in May that Coker had committed to Minnesota, but he dismissed those rumors. Still, his pledge to archrival Iowa gives Hawkeye fans another reason to gloat.There's a rivalry quietly brewing between Stanford and Northwestern, two academically-oriented schools that chase many of the same recruits. Stanford coach Jim Harbaugh essentially called out Northwestern for its soft scheduling in comments made last month to colleague Bruce Feldman. Don't expect Wildcats head coach Pat Fitzgerald to fire back any time soon, but trust me, there's no love lost between these two staffs. Anyway, Northwestern probably feels a little extra satisfaction about its latest commit, defensive tackle Will Hampton, who decommitted from Stanford last month. Hampton picked Northwestern over Notre Dame and gives the Wildcats another body at defensive tackle.