July, 16, 2013
Jul 16
5:05
PM ET
The SEC media days circus is underway, and one of the best early quotes involved a Big Ten team.

Florida coach Will Muschamp was asked about Ohio State turning in his Gators for two minor recruiting violations. That became news, of course, because Buckeyes coach Urban Meyer used to coach Florida and has said how much he loves the school.
Muschamp told reporters the situation was "really a dead issue with me" but of course he didn't stop there.
"In both situations we were turned in by Ohio," he said. "We didn't do anything wrong. The University of Florida didn't do anything wrong. And so we appreciated our friends from Ohio making sure we're compliant with NCAA rules. They certainly know a little bit about that subject."
How about that? Two playful but pointedly subtle digs in a matter of seconds. Muschamp refers to Ohio State simply as "Ohio," emulating Brady Hoke and Michigan's practice. Then he jabs the Buckeyes for their own recent run-ins with the NCAA, which led to the team being on probation and missing the postseason in 2012. Close your eyes, add in a little drawl and it could have been Steve Spurrier giving the quote.
If you missed the earlier stories, Ohio State reportedly turned in the Gators for a "bump" violation involving Florida assistant Brian White, who used to work for Meyer. And the Buckeyes reportedly did the same last year about a minor violation.
Meyer has publicly denied knowledge of Ohio State's whistle-blowing on Florida. But ESPN.com's Brett McMurphy reported via sources that although Meyer was not initially aware of the situation, he later became "aware of it and endorsed it."
When asked about whether it was strange to be ratted on by a former Florida coach, Muschamp responded: "Big Ten media days are next week. Ask him."
Game on.
September, 20, 2012
9/20/12
1:45
PM ET
Former Nebraska offensive lineman
Tyler Moore has a new home: Florida
.
Derek Tyson of ESPN's GatorNation reports that Moore has told Gators coach Will Muschamp of his intent to transfer to Florida. Moore
left Nebraska in August for personal reasons
, and while coach Bo Pelini didn't close the door on a return, it quickly became unlikely.
Moore's father told Tyson that his son also considered Florida State but settled on Florida, where they were impressed by Muschamp and his staff's energy.
Moore, a native of Clearwater, Fla., started four games at right tackle for Nebraska in 2011, becoming just the first Huskers freshman offensive lineman to start a season opener and just the 10th true freshman offensive lineman in team history to start a game. He appeared in nine games for Nebraska and was pegged as a likely starter at left tackle entering this season.
January, 31, 2012
1/31/12
5:30
PM ET
January is feeling a lot like October in Chicago. Football weather. Love it.
Ben from Greenville, Mich., writes:
I'm just wondering why some people are questioning Urban Meyer's last 3 recruiting classes at Florida and assuming that Ohio State is going to go down hill based on that. According to ESPN.com, Meyer had had top 5 recruiting classes in each of his final 3 seasons (including the #1 class in 2010). Should Ohio State fans be concerned with Florida's 6-6 2011 season as a possible look into our future? Is Florida's poor season based more on the quality of Urban Meyer's recruits or more on Will Muschamp's attempt to run his pro-style offense with Meyer's spread offense personnel (similar to what RichRod tried to do at Michigan with similar results). As a Buckeye fan, I'm not concerned with Coach Meyer's recruiting, but should I be?
Adam Rittenberg:
It seemed like Meyer went for great athletes rather than great football players during his later years at Florida, and the player development aspect certainly seemed to be lacking. Will Muschamp inherited some top-level athletes, but not enough top-level football players who knew how to play the game the right way. Meyer's first class at Ohio State is receiving strong reviews, and for good reason. But the true gauge in my view will be how many linemen see the field early, and how those players progress during their careers. It's clear that the strength of Ohio State's class is in the trenches. Most analysts say Meyer has several linemen (Noah Spence, Adolphus Washington) who can contribute right away. Whether that happens or not will go a long way in determining the quality of the class.
---
Lance from Greensboro, N.C., writes:
I like the orange helmets with the blue (white border) lettering. Illinois is supposed to wear orange helmets. These look classy without breaking tradition. I hate it when I turn on TV and I can't tell who's playing because they're wearing some weird color scheme.
Adam Rittenberg:
Lance, I hear you on the orange helmet thing. Illinois has traditionally donned orange headgear, and I certainly see why fans don't want to change tradition. I just don't like the curved "ILLINI" type. Looks a little too retro, and it's not as sleek as the Block I or even the current underlined "ILLINOIS." I wonder if Illinois would consider an orange helmet with a Block I in blue or white. Then again, there's a reason why I don't design jerseys or helmets.
---
Frank from Minot, N.D., writes:
Adam, I hear a lot of people asking questions about Nebraska backs Abdullah and Green as if they are #2 And #3 behind Burkhead. What about Heard? I thought he looked just as good as Green What's your take?
Adam Rittenberg:
Frank, I think it's going to be a really fun competition during spring practice. Nebraska knows Rex is the No. 1 guy, but the Huskers have several talented young players competing for the backup role and the No. 3 role. We saw more of
Ameer Abdullah
last season, primarily because of his role on kickoff returns. It's tough to evaluate
Aaron Green
and
Braylon Heard
without seeing them more in games -- they had very similar numbers in 2011 -- but they're certainly in the mix for the backup job.
---
Mark from East Lansing, Mich., writes:
Loved the interview with Maxwell. What do you think about his personality? Were you impressed with him? Does he seem like he will be a good leader?
Adam Rittenberg:
Very impressed with
Andrew Maxwell
, Mark. You can easily mistake him for
Kirk Cousins
over the phone. They speak similarly and have the same type of presence, which bodes well for Michigan State. Maxwell of course needs to prove himself in games, but he knows it and he's very excited about the challenge. I think playing behind Cousins for the past three seasons has prepared Maxwell extremely well to take the next step.
---
Jay from Knoxville, Tenn., writes:
Hey Adam -- what are your thoughts on moving the site of the B1G Championship Game from Indianapolis to Chicago? I know Indianapolis is the major hub for amateur sports, but wouldn't Soldier Field make for a more historic, captivating venue? The game would be played outside -- the way B1G football should be played -- in a state that cares more about B1G football. And with Soldier Field's capacity, we wouldn't be worrying about sell-outs (no matter who plays).
Adam Rittenberg:
Jay, I hear you on some of these points, but the Big Ten title game will
remain in Indianapolis through the 2015 game
. Although the attendance in Indy will be a topic to monitor going forward, the inaugural event went off successfully. Indy knows how to put on big events, and while I agree Big Ten football seems to fit better outdoors, Lucas Oil Stadium is a lot easier logistically than Soldier Field. Chicago and Soldier Field need to put together a stronger presentation when the current cycle ends and give the Big Ten confidence the operations would be strong. But I agree that from an interest standpoint, the Big Ten championship would create more buzz in Chicago, which is the center of Big Ten fandom.
---
Rich from Wayne, N.J., writes:
With all the sentiment building back up towards the late Joe Paterno -- how he was terminated without due process -- and now the media and public's realization (rightfully so) of his overall career/body of work, will Delaney and B10 consider putting his name back on the Stagg Championship Trophy within the next year or two? Would like your opinion, your colleague Mr. Bennett's and hopefully Mr. Delaney's as well.... thanks
Adam Rittenberg:
Rich, while many media members had some nice tributes for Paterno last week, I don't think there's been a total "realization" or vindication of what happened in the sex-abuse case. As for the Big Ten, I don't anticipate Paterno's name being put back on the trophy in the immediate future, although things could change over time. Typically decisions like the removal aren't made to be reversed in a short time span, especially as the Big Ten and the NCAA are currently investigating Penn State and whether there was a lack of institutional control.
---
Mark from Hamilton, Ohio, writes:
Adam, do you think Michigan, having Denard back, as well as the maturation of a very young team, will keep my Wolverines in the conversation for another shot at at a conference title, and another B.C.S bid next year ? I realize the schedule is daunting but it seems Hoke has brought the Michigan back to MICHIGAN ! Your thoughts ?
Adam Rittenberg:
Hoke certainly has Michigan headed in the right direction again. The keys to 2012 are replacing several standout defensive linemen (
Mike Martin
,
Ryan Van Bergen
), continuing to build defensively on what we saw in 2011, and getting greater consistency from the quarterback position. Michigan can't expect to win 10 or more games if
Denard Robinson
throws 15 interceptions again. The defense repeatedly bailed out the offense in 2011, but to expect that to continue is unrealistic. So for me, it really is about Denard getting better and more comfortable in the offense, and limiting major mistakes. Michigan should be able to run the ball well with Fitz Toussaint, but it won't be able to survive as many mistakes as it did this season with such a daunting schedule.
---
Steve from Washington D.C. writes:
Adam, Coach Fitz's announcement shortly after the bowls that he is not making any changes to Northwestern's coaching staff has many fans, myself included, feeling confused (the polite version) or pretty ticked off (the accurate version). We all love our coach, but I'm worried that he's either watching a different defense than the rest of us or he just lacks the testicular fortitude to make difficult choices about coaches who aren't performing. Defensive Backs coach Jerry Brown isn't cutting it, and Defensive Coordinator Mick Hankwitz has gotta be on the hotseat after successive years of declining performance by the Northwestern D. What gives?
Adam Rittenberg:
I don't think it's Fitzgerald lacking the guts to make changes. He clearly believes in his staff and in his players -- perhaps to a fault. He seemed to challenge the staff before the bowl game, and he has acknowledged the disappointment of the 2011 season, but he has ultimately decided to go forward. Keep in mind this is a guy who has fired only one coach (former defensive coordinator Greg Colby) in six seasons on the job. Fitz believes in continuity, and he's not alone in this league. But the defensive staff absolutely should be under fire after what has happened the past two seasons. With a few exceptions, defensive back has been a weakness for Northwestern historically, but the poor pass-rushing in recent years is also a concern. The Wildcats have gotten it going on offense at positions like quarterback and wide receiver, but they still don't truly reflect their head coach, a College Football Hall of Fame linebacker.
January, 2, 2012
1/02/12
4:18
PM ET
Urban Meyer's old team beat his new team in the TaxSlayer.com Gator Bowl, as Florida used huge special-teams play, stout defense and just enough offense
to beat Ohio State
. The Gators end Will Muschamp's first season on a good note, while the Buckeyes can't wait to start the Meyer era.


How the game was won:
For the second consecutive year, Florida used superior special teams and opportunistic play to beat a Big Ten opponent in a bowl. Two of the Gators' three touchdowns came in the kicking game, as
Andre Debose
had a 99-yard kickoff return and Graham Stewart scored following
Chris Rainey
's blocked punt. Neither offense was overly impressive, but the Gators limited Ohio State's rushing attack and forced a pair of turnovers, including a
DeVier Posey
fumble in Florida territory. The Gators responded to every Buckeyes surge and nearly kept Ohio State off of the scoreboard in the second half.
Player of the game:
Florida running back Chris Rainey. He has made a habit out of blocking punts and got another one, smothering Ben Buchanan early in the third quarter. The Gators recovered and scored to extend their lead to 21-10. Rainey also had 71 rush yards, 31 receiving yards and 31 return yards in the game.
Stat of the game:
The Gators came in ranked 112th nationally in third-down conversions at only 30.6 percent. But they converted 6 of 13 attempts against the Buckeyes to keep drives alive.
Record-setting:
Ohio State finishes 6-7 to suffer its first seven-loss season since 1897, when it went 1-7-1. The Buckeyes had the longest stretch without a seven-loss season in the FBS by 78 years. The next-longest stretch had been Florida State (1975). Ohio State also has its first four-game losing streak since 1943.
What it means for Florida:
The Gators ended a mediocre year on a positive note and claimed their fourth consecutive postseason victory and second straight against the Big Ten. Quarterback
John Brantley
made some mistakes but still completed 12 of 16 passes for 132 yards. The Gators are strong enough on defense and special teams to make noise in the SEC East next season, but the offense will be the top priority for Muschamp and his staff during the offseason.
What it means for Ohio State:
The Buckeyes struggled in their final bowl appearance until the 2013 season, and some of the problems that surfaced all season showed up in the bowl. A mostly conservative offensive game plan produced only 17 points and 299 yards, although Ohio State held edges on Florida in both yards and first downs (20-14). Buckeyes fans won't be sorry to see offensive coordinator Jim Bollman go. Strong special teams had been a staple of the Jim Tressel era, and Ohio State had been better this year than it was in 2010 -- until the bowl breakdowns. It's all about Meyer now and moving things forward. Meyer inherits a mostly young and talented roster, but he and his staff have a lot to do in the offseason.
December, 23, 2011
12/23/11
6:30
PM ET
Normally we give you one Q&A on Friday, but you're getting a double dose before the holiday weekend. ESPN.com had a chance to visit earlier this afternoon with John Papuchis, who Thursday was promoted to defensive coordinator at Nebraska. Papuchis has served under Bo Pelini as the Huskers' defensive line coach, special teams coordinator and recruiting coordinator. Rick Kaczenski has been hired from Iowa to fill Papuchis' duties with the defensive line, a role Kaczenski also had with the Hawkeyes. Papuchis, 33, takes over the coordinator duties in place of Carl Pelini, who earlier this month accepted the head-coaching position at Florida Atlantic.
Here's the interview with Papuchis.
What was your reaction when you found out about the promotion?
John Papuchis:
I was excited. I also felt like there was a good possibility that it's how it all would play out. It didn't really catch me by surprise, but I was really excited about it.
[+] Enlarge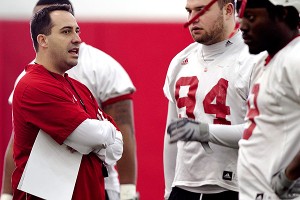 AP Photo/Nati Harnik"I want to bring great energy, a great work ethic to the team every day, consistent focus, whether it's on the practice field or in the meeting room," new Nebraska defensive coordinator John Papuchis said.
Why are you ready for this step in your career?
JP:
One is I've had the opportunity to work for Bo for the last seven years. I have learned a lot from him and understand what he's looking for in his defensive system. And number two, I've been blessed throughout my career to work for some quality, top-notch defensive coaches. I worked for Bill Young at Kansas and Tom Hayes at Kansas. Went from there to LSU, where I worked for Nick Saban and Will Muschamp and Kirby Smart and obviously then Bo. Having those people as part of my background and learning from them has prepared me for this opportunity.
How much have you taken away from those coaches, and have one or two of those guys shaped your defensive philosophy the most?
JP:
I've tried to learn as much as I can from each guy. It would be reasonable to think that most of that has come from Bo since I've been with him for so long. But I did enjoy the experience of being with coach Muschamp and coach Saban and Kirby at LSU as well. If you take a little bit from everyone you work with, you accumulate knowledge as the years go on.
What are some of the things you want to emphasize as coordinator?
JP:
More than anything, I want to bring great energy, a great work ethic to the team every day, consistent focus, whether it's on the practice field or in the meeting room. Each coach has his own style and philosophy, and mine is we're going to be intense and we're going to come to work every day.
What's it like to work with Bo as an assistant on this side of the ball? He's a defensive guy, and he's been a defensive coordinator.
JP:
He's a hands-on head coach, and he should be. It's something he and I talked a lot about, even when he became the head coach here at Nebraska. He had gotten to the point in his career where he had gained success and had the opportunity to become a head coach because he was such a good defensive coach. And now that he's the head coach, he certainly shouldn't walk away from what his strength is. He's always going to be a guy that's very involved in the defense. He's a tremendous coach.
You mentioned the energy component, and you're a younger guy. How does that help you, as a younger guy, being in a role like this?
JP:
Whether it's been with the defensive line or with the special teams -- both roles that I've had -- I've had a good relationship with the players. They understand that I may bring some high-energy and passion to the table every day, but they enjoy playing for us. They like that energy, and hopefully that translates now with the entire defense.
You're familiar with the other assistants, but you're also bringing in a new guy, Rick Kaczenski, from Iowa. How involved were you in that process, and how much have you talked to him about where he fits in and his philosophies?
JP:
His name had come up several times in the process, and I was all for it. He's a guy I know coach Pelini really liked a lot. Having the opportunity to sit down and meet with him, his energy and his passion about the game is pretty contagious. He's very knowledgeable. It's very obvious standing there and listening to him talk that he knows the game and he gets it and he loves it. He's going to be a real welcome addition to the staff.
You've been very involved in the recruiting efforts there. How does that part change with your new role?
JP:
In terms of the recruiting coordinator role, my gut is that it will change. That hasn't been done at this point, but I would think that's probably going to go to someone else on the staff. But in terms of what my role will be in recruiting, I'm actually looking forward to getting an opportunity to really take ownership and leadership of the defensive recruiting as a whole. Each guy's going to have their own recruits, but it's important when the coordinator's involved in the recruiting aspects of all the defensive players, so I look forward to that.
What direction do you want to go in for recruiting defense? How does going through a season in the Big Ten change your outlook, if at all?
JP:
Probably the one thing that, as much as anything, came out of the year was that as part of being in the Big 12, we didn't recruit as many linebackers as you would being in the Big Ten, because all the offenses we played were spread offenses. We focused a little more on recruiting defensive backs. One of the things we have to do is make sure in this class and in the couple classes going forward is that we replenish our linebacker depth chart so we have the ability to go two- or three-deep when we play the two-back teams in the Big Ten.
What's your role going to be in the Capital One Bowl?
JP:
The roles are adjusting and we're feeling it out a little bit as we go, but I do anticipate being down on the field, taking the role that Carl has served in the past. Rick will be with us at the bowl site and at the bowl game, and that's going to be a huge advantage because he's going to have an opportunity to get to know our players, and they're going to be able to get to know him. That's great going into the offseason and going into spring ball. Next week is going to be a little bit of a transitional feel, but I think it's all going to be very positive.
May, 27, 2011
5/27/11
1:30
PM ET
It seems like there's a new "old" joke every day about Joe Paterno (or is it an old "old" joke?).
The octogenarian probably doesn't help his image with comments like calling Twitter "tweedle-doo" and "tweedle-dee" two years ago at Big Ten media days.
But Paterno hasn't fallen behind the times. A coach can't do this job for as long as he has without keeping up with the latest trends.
OK, now brace yourselves: JoePa is on Skype.
Rivals.com reports that
Paterno used Skype to contact Penn State recruiting target
Noah Spence earlier this week. Spence, a standout defensive end on the ESPNU 150 Watch List, spoke to Paterno and Nittany Lions defensive line coach Larry Johnson through the Web networking program.
"It was [Paterno] and Coach Johnson in his office, right next to each other," Spence told Rivals.com. "We were in my computer lab -- me, my dad and coach. It was real fun. It was entertaining, I didn't know JoePa was that funny. He's a real cool guy though. He talked about him being around and everything, which was great, that was our main concern with the program. He talked about me playing early and everything like that. It was nice."
Spence and his family also have used Skype to talk with Alabama coach Nick Saban and Florida coach Will Muschamp. But the conversation with Paterno stood out, especially since the Penn State legend said it was his first time using Skype.
Penn State undoubtedly would like Paterno to spend more time actually visiting recruits at their homes. But if he's not making trips, this might be the next best thing.
January, 4, 2009
1/04/09
4:00
PM ET
Posted by ESPN.com's Adam Rittenberg
| | |
| --- | --- |
| | |
| | Andy Lyons/Getty Images |
| | OSU running back Chris 'Beanie' Wells could be playing his final collegiate game at the Tostitos Fiesta Bowl Monday night. |
SCOTTSDALE, Ariz. -- It's been 43 days since Ohio State's last game, but running back Chris "Beanie" Wells hasn't spent all this time preparing one of his patented pre-game pep talks.
"It ends up happening at the moment," Wells said. "I don't pre-write anything. I just say how I'm feeling."
Wells' off-the-cuff style resonates with his teammates, who look forward to hearing from their emotional leader, especially before big games like Monday's showdown against No. 3 Texas in the Tostitos Fiesta Bowl (Fox, 8 p.m. ET).
"Very emotional," guard Steve Rehring said of Wells' speeches.
"He might have been more fired up than anybody in our locker room for the [USC] game," fullback Brandon Smith said, "and he didn't even dress."
Wells will be in uniform Monday night as he tries to help No. 10 Ohio State knock off Texas. Much of the focus this week has been on Ohio State's 28 seniors, but Wells also could be playing his final collegiate game before entering the NFL draft, where he's expected to be one of the first two running backs selected.
The setting and the situation will only add fuel for a player who thrives on big games and big moments. Add in the fact that Wells is as healthy as he's been since sustaining a foot/toe injury in the season opener, and Ohio State could have a better chance that many think.
"He is a difference maker," Ohio State senior tight end Rory Nicol said. "He does something to the morale of the team. It's like [cornerback] Malcolm [Jenkins] always says, a little spark kindles a great fire.
"Often times, he's that spark."
November, 20, 2008
11/20/08
3:13
PM ET
Posted by ESPN.com's Adam Rittenberg
Minnesota coach Tim Brewster spent 13 years working under Mack Brown and considers the Texas coach his mentor in the profession. Brewster also seemed like a potential candidate to succeed Brown at Texas down the line.
That's obviously not going to happen after Texas named defensive coordinator Will Muschamp as its coach-in-waiting. Brewter and Brown actually discussed the decision with Muschamp in recent days.
From Kent Youngblood's blog in the Star Tribune.
"We discussed it, talked about it," Brewster said. "There have been four defensive coordinators in four years there. At some point you need some continuity. This was a great, smart way for Mack to get some continuity on his staff. Plus, Muschamp is a great coach."
In other Gophers' news, wide receiver Eric Decker practiced at full strength this week, while safety Kyle Theret and linebacker Lee Campbell both were limited in workouts. Minnesota wraps up the regular season Saturday against Iowa.
November, 19, 2008
11/19/08
10:34
AM ET
Posted by ESPN.com's Adam Rittenberg
Coaching changes are cropping up around the country, but the Big Ten figures to be a nonfactor in what we around here like to call the silly season.
No Big Ten coach is in imminent danger of being fired. There's definitely some heat on Indiana's Bill Lynch, but with a lame-duck athletic director (Rick Greenspan), new AD Fred Glass not taking over until Jan. 2 (after hiring season) and beaucoup bucks owed to two basketball coaches (Kelvin Sampson and Tom Crean), a change isn't likely. Obviously, Purdue will have a change with Danny Hope taking over for Joe Tiller, but we've known that for months.
The big news in the Big Ten likely will involve contracts for existing coaches, some of whom have been mentioned as candidates for vacancies in other conferences. Here are some of the men who figure to get rewarded after strong seasons.
Michigan State's Mark Dantonio
Dantonio has been mentioned as a fringe candidate at places like Tennessee, but there's no panic in East Lansing that he'll jump ship like Nick Saban or George Perles did. Still, the school would be crazy not to sweeten Dantonio's deal. And athletic director Mark Hollis seems like a smart guy.
Expect a raise and a contract extension for Dantonio, whose salary ($1.1 million) ranks near the bottom of the league. This guy has Michigan State bound for its first New Year's Day bowl since 2000. The program's once-troubled culture has changed, and in-state recruiting is booming.