April, 2, 2010
4/02/10
9:00
AM ET
Ohio State opened spring drills Thursday, and for the Buckeyes' defense, it's business as usual. Though the defense loses six starters, it remains one of the nation's elite units, thanks in large part to coordinator Jim Heacock. Ohio State has ranked among the nation's top-15 defenses in each of Heacock's five seasons as coordinator. The defense has recorded three top-5 finishes during the span, including a fifth-place finish in 2009. Standout defensive lineman Cameron Heyward and linebackers Ross Homan and Brian Rolle lead the 2010 version.
Heacock took some time this week to discuss the outlook for Ohio State's defense entering the spring.
Defensively, you really ended 2009 on a high note, and the 'no names' motto really seemed to work well. Is that still the motto for this unit, even though you have guys like Cam and Ross and Brian, who are more well known?
Jim Heacock:
I don't necessarily know for sure. Each defense takes on a little bit of an identity. Last year, those terms really fit our defense. There just wasn't anybody that had the big name. We had lost [James] Laurinaitis and [Malcolm] Jenkins and those guys, so it just seemed like [the motto] came together. This year, I assume that we'll have a different identity. We'll have some guys who have played a little bit more and probably have more guys on the field who played last year. So I'm not sure there will be much carryover on that.
I know building depth is always a goal in spring. Are there areas where you will spend more of your time during these practices?
JH:
The depth on the defensive line is going to be a little bit of a factor. We've got some guys that have played quite a bit, but depth-wise, we lost some seniors. That area is a place where we've got to find some guys to step up and fill in the gaps. Losing two safeties [Kurt Coleman and Anderson Russell] obviously opens up some holes there. Those two areas are going to be critical. Coming out of spring, you always hope you can identify your top-22 players that you feel like you can go to battle with next year.
Players like [John] Simon up front, are those the kind of guys who you'll be looking to for that next step?
JH:
Simon is a guy who proved his worth last year, and played a lot of reps for us, got a lot of downs, made some big plays, made some good strides, had a good bowl game. So he's a guy we're counting on to go in there and play in the fall. Nate Williams is another guy who's been getting a lot of reps. He's backed up Thaddeus Gibson for two years now. He didn't start, but he's gotten an awful lot of reps and made a lot of plays for us, so he's a guy who's got to step up as a starter-type guy. And then we've got a couple guys, Dexter Larimore and Cameron Heyward, that have been around for a while. They've got to be the leaders of the group. And then some young guys have got to come on: Solomon Thomas and Garrett Goebel and Keith Wells. It'll be a fun year for the front, just to get a lot of competition going and see who can step up.
With Cameron, you know what he can do. He talked to me about wanting to be dominant every game. What things does he need to do to get to that point?
JH:
You take a guy like Cameron, and you know he can play football, and you know he's got heart, he's tough and he's got all those intangibles you don't need to worry about. He can really improve on technique. He can take his game to another level, just with a lot of technique work, a lot of individual work, a lot of pass-rush techniques, a lot of run-defense techniques, just zeroing in on the little things. Any type of improvement in those little areas is going to help him become a little bit more dominant of a player, the player he wants to be.
How good can he be?
JH:
He can be an outstanding player.We've had different types of players, Will Smith, who was a great player, and some guys that could come off the edge that were great players. Cameron is a very physical player. His strength comes from dominating the man across from him and playing a physical brand of football and getting a push on the pocket. From that standpoint, he's pretty good.
In Part II: the competition at safety, expectations for leadership on defense
February, 8, 2010
2/08/10
11:15
AM ET
About a month after Iowa cemented a strong Big Ten bowl performance at Miami's Sun Life Stadium, the Big Ten once again stood out on the same field in a huge game.
[+] Enlarge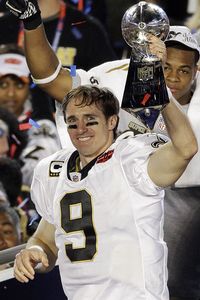 AP Photo/Charlie RiedelFormer Purdue signal-caller Drew Brees took home Super Bowl XLIV MVP honors.
Former Big Ten players had major roles for the
New Orleans Saints
in a
31-17 win
against Indianapolis on Sunday in Super Bowl XLIV.
Saints quarterback
Drew Brees
took home MVP honors after completing 32 of 39 passes for 288 yards with two touchdowns and no interceptions. Brees, a standout at Purdue, became the fourth former Big Ten player in the last nine seasons to earn Super Bowl MVP honors, joining former Michigan quarterback
Tom Brady
(2002, 2004) and former Ohio State wide receiver
Santonio Holmes
(2009).
Brees was brilliant Sunday, but the game's biggest play came from former Indiana cornerback
Tracy Porter
, who intercepted a
Peyton Manning
pass and raced 74 yards to the end zone with 3:12 left. Porter finished the game with four tackles.
Former Illinois running back
Pierre Thomas
recorded six receptions for 55 yards, including a 16-yard touchdown that gave the Saints their first lead early in the third quarter. Thomas also had 30 rush yards on nine carries.
Former Iowa tight end
Dallas Clark
recorded a game-high 86 receiving yards on seven receptions for the Colts.
And who can forget former Wisconsin linebacker Jonathan Casillas, who recovered the onside kick for New Orleans at the start of the second half.
Other Big Ten notables:
In case you missed it, here's the
full list
of former Big Ten players and coaches who participated in the game.
February, 2, 2010
2/02/10
10:30
AM ET
It's Super Bowl week, and here in Chicago, we're celebrating the
hiring of Mike Martz
as Bears offensive coordinator after a month-long search. Hope
Jay Cutler
has a life insurance policy.
OK, moving on to less depressing topics, like the Big Ten and Super Bowl XLIV.
Once again, the Big Ten has plenty of connections to the game, including 20 former players on the two teams, more than any other conference.
All 11 member schools will be represented by a player and/or coach participating in the game. Michigan has the highest number of former players (four), followed by Ohio State (three) and then six teams -- Illinois, Indiana, Iowa, Northwestern, Purdue and Wisconsin -- each with two former players. Penn State and Minnesota will have former coaches on the sideline Sunday.
Both head coaches have Big Ten roots, as the Colts' Jim Caldwell played at Iowa and served as an assistant at Iowa, Northwestern and Penn State. The Saints' Sean Payton had a one-year stint as an Illinois assistant in 1996.
Here's the full lineup of Big Ten links to Super Bowl XLIV, courtesy of the league office:
INDIANAPOLIS COLTS
Players
Kelvin Hayden
, DB, Illinois
Dallas Clark
, TE, Iowa
Bob Sanders
*, DB, Iowa
Mike Hart
, RB, Michigan
Marlin Jackson
*, DB, Michigan
Ervin Baldwin
, DE, Michigan State
John Gill
, DL, Northwestern
Anthony Gonzalez
*, WR, Ohio State
Curtis Painter
, QB, Purdue
Jim Sorgi
*, QB, Wisconsin
Coaches
Jim Caldwell, Head Coach (Played at Iowa from 1973-76; Assistant at Iowa in 1977, Northwestern in 1981 and Penn State from 1986-92)
Larry Coyer, Defensive Coordinator (Assistant at Iowa from 1974-77 and Ohio State from 1991-92)
Gene Huey, Running Backs (Assistant at Ohio State from 1988-91)
Tom Moore, Offensive Coordinator (Played at Iowa from 1957-60; Assistant at Iowa from 1961-62 and Minnesota from 1972-73 and 1975-76)
Ray Rychleski, Special Teams (Assistant at Penn State in 1991)
Bill Teerlinck, Defensive Assistant (Assistant at Indiana from 2003-04)
John Teerlinck, Defensive Line (Assistant at Illinois from 1980-82)
NEW ORLEANS SAINTS
Players
Pierre Thomas
, RB, Illinois
Tracy Porter
, CB, Indiana
Courtney Roby
, WR, Indiana
Adrian Arrington
, WR, Michigan
Jonathan Goodwin
, C, Michigan
Zach Strief
, OT, Northwestern
Malcolm Jenkins
, CB, Ohio State
Will Smith
, DE, Ohio State
Drew Brees
, QB, Purdue
Jonathan Casillas
, LB, Wisconsin
Coaches
Sean Payton, Head Coach (Assistant at Illinois in 1996)
Greg McMahon, Special Teams (Assistant at Minnesota from 1983-84 and Illinois from 1992-2004)
Bret Ingalls, Running Backs (Assistant at Northwestern from 2006-08)
Aaron Kromer, Offensive Line/Running Game (Assistant at Northwestern from 1999-2000)
Mike Mallory, Assistant Special Teams (Played at Michigan from 1982-85; Assistant at Indiana from 1986-87 and Illinois from 2001-05)
Terry Malone, Tight Ends (Assistant at Michigan from 1997-2005)
*-Injured reserve