March, 11, 2014
Mar 11
1:15
PM ET
Remember
rhabdo
? About three years ago, 13 Iowa football players had to be hospitalized with a serious muscle disorder called rhabdomyolysis, a stress-induced syndrome they contracted after a grueling series of winter workouts.

It became a
major story
at the time, sparking a
university investigation
that
concluded a squat-lifting workout caused the condition
but that Iowa's strength and conditioning staff didn't intend to punish players with the regimen, which had been conducted before without medical problems. The school found no wrongdoing among trainers, coaches or players and recommended that the football strength and conditioning staff abandon the workout, which it has.
Although the incident created some bad publicity for coach Kirk Ferentz and the football program, it largely faded away, as things tend to do at Iowa. Ferentz retained longtime head strength and conditioning coach Chris Doyle, even giving Doyle
an assistant of the year award
less than three months after the outbreak.
Well, Iowa and rhabdo are in the news again as former player
William Lowe is suing the school
for mistreatment during and after the workout and continued physical and mental suffering stemming from his bout with rhabdo.
From the Associated Press:
Lowe alleges in his lawsuit that he and others reported "substantial leg pain and stiffness as well as abnormally dark urine" after that workout and fatigue that was atypical. Despite such reports, Lowe says he and the others were required to participate in a mandatory intensive workout the next day focusing on their upper-body muscles.

After taking the weekend off, players had another mandatory workout Jan. 24. Within hours, Lowe and others started showing up at the hospital and were diagnosed with rhabdomyolysis.

Lowe says he was released from the hospital Feb. 2, but he still suffered from weight loss, pain in his lower back and legs, headaches and high blood pressure over the next several months. The 24-year-old says he suffered mental and physical pain and anguish that has required ongoing expenses for medical care, therapy, drugs and other treatment.

"The injuries and damages sustained by Plaintiff William Lowe ... arose from the same general types of danger that Defendant should have avoided through safe and proper athletic training and supervision," Lowe's lawsuit reads.
Lowe, a cornerback, asked for and received his release
from the program in April 2011, citing lingering effects from rhabdo. Lowe told ESPN's Joe Schad that he had lost 20 pounds and was still experiencing headaches.
"Some said this wasn't a big deal," Lowe told Schad. "But this was a big deal to me."
Back then, it seemed like lawsuits were likely because so many players were involved, and finally one has been filed.
Iowa is not commenting on the lawsuit.
August, 18, 2010
8/18/10
9:00
AM ET
The position rankings march on as I take a look at the top five secondary units in the Big Ten this fall.
1. Iowa:
Playmaker extraordinaire Tyler Sash leads a group that boasts good experience but must fill a major void following the departure of All-Big Ten cornerback Amari Spievey. Sash has recorded 11 interceptions in his first two seasons and already holds the team record with 350 interception return yards. His heroics overshadow the very solid play of fellow safety Brett Greenwood, who has started for two and a half seasons and owns seven interceptions and 18 pass breakups in his career. Shaun Prater is a returning starter at corner, and Iowa also has Jordan Bernstine, Micah Hyde, William Lowe and others.
[+] Enlarge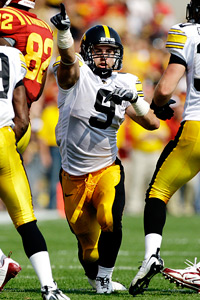 AP Photo/Charlie NeibergallIowa's Tyler Sash will be one of the leaders of the Big Ten's No. 1 secondary.
2. Penn State:
The Lions are always solid in the front seven, but the secondary might lead the unit in 2010. Starting safeties Drew Astorino and Nick Sukay both return, and cornerback D'Anton Lynn takes on an enhanced leadership role after recording five pass breakups last fall. Penn State also has high hopes for cornerback Stephon Morris, who recorded 30 tackles and an interception as a freshman in 2009. Converted receiver
Chaz Powell
should add depth at the corner spot. Opponents completed just 54.1 percent of their passes against Penn State last fall.
3. Ohio State:
There are some question marks here after the departures of All-Big Ten standout Kurt Coleman and veteran safety Anderson Russell, but Ohio State almost always finds a way to survive in the back four. The return of Tyler Moeller definitely helps, and safety Jermale Hines could have a big year after recording two interceptions in 2009. Is Chimdi Chekwa ready to be a shut-down corner in the Big Ten? We'll find out. Also keep an eye on athletic corner Devon Torrence and safety Orhian Johnson.
4. Wisconsin:
This isn't a shut-down secondary -- evidence: 55th in pass defense in 2009 (217.5 ypg) -- but there are playmakers and hard-hitters, specifically veteran safety Jay Valai, among the group. There's good depth at cornerback with returning starter Devin Smith, Niles Brinkley, Antonio Fenelus and Marcus Cromartie, who has
stood out in camp so far
. Chris Maragos is a significant loss at safety, and it remains to be seen whether Aaron Henry can regain his pre-injury form as he moves from cornerback to safety.
5. Minnesota:
I'm taking a little leap of faith here again, but if safeties Kim Royston and Kyle Theret are on the field together, good things will happen. The two combined for 159 tackles, four interceptions and 14 pass breakups in 2009, and finished with an outstanding performance in the Insight Bowl. I also like talented young cornerback Michael Carter, while Ryan Collado brings experience to the other corner spot. Minnesota expects juco transfer Christyn Lewis and redshirt freshman Kenny Watkins to add depth at safety.
Up next:
Offensive line
More rankings ...
March, 24, 2010
3/24/10
5:32
PM ET
Iowa opened spring practice today, and head coach Kirk Ferentz met with reporters to preview the next few weeks.
A few takeaways from Ferentz's news conference and
Iowa's spring two-deep
:
Health update: safeties Tyler Sash and Brett Greenwood will miss spring ball following shoulder surgeries; running back Adam Robinson also will sit out following shoulder surgery; linemen Steve Bigach (knee) and Kyle Haganman (shoulder) also are out following surgeries. Running back Jewel Hampton (knee) has been cleared to practice this spring and will be involved in some contact drills (won't be tackled). Wide receiver Paul Chaney Jr. (knee) will be very limited in spring ball but should be back to full strength by June. Defensive end Dominic Alvis (groin) will be very limited. Nolan MacMillan could be in the mix at offensive line, but he's still working back from sports hernia surgery.
Not surprisingly, Ferentz fielded several questions about the offensive line, which loses four players who started part or all of last season. Iowa's spring depth chart shows the starting offense line as Riley Reiff at left tackle, Julian Vandervelde at left guard, Josh Koeppel or James Ferentz at center, Adam Gettis at right guard and Markus Zusevics at right tackle. But don't read into that too much, as Ferentz likened filling out the first string, after Reiff and Vandervelde, to throwing darts or flipping coins. "We probably have eight or nine guys competing for the top spots," Ferentz said. "We have a lot of guys on pretty equal footing as far as the competition goes."
As expected, Shaun Prater is listed as the starter at right cornerback, while Micah Hyde appears as the starter at left corner ahead of both William Lowe and Jordan Bernstine, who comes back from an ankle injury that sidelined him all of last season. Amari Spievey was a huge loss, and it will be interesting to see who steps in for him.
Ferentz gave a very Ferentz-like answer when asked about the expectations Iowa will face heading into 2010. "We have some very good players back and that will drive expectations," he said. "Preseason polls are a lot like recruiting rankings. They are all speculative. Recruiting rankings are based on what guys did in high school, which is the only way you can rank them. I think preseason rankings are based on your experience level, your success level and then maybe the name of your school, too. So those three things factor in. ... Outside of maybe the name-brand schools, the preseason polls are usually not real accurate."
Ferentz called the competition at kicker wide open between Daniel Murray and Trent Mossbrucker. "We can do better at that position," he said.
Ferentz praised the development of linebackers Jeff Tarpinian, Troy Johnson and Tyler Nielsen, who will compete for the two vacant starting spots alongside Jeremiha Hunter. "Quite frankly I'm almost more worried about a year from now at our linebacker spot," he said. "Sounds kind of funny, our two pretty good seniors graduating, but we are top heavy age-wise."
Ferentz is optimistic about the competition at running backs and would like to have three healthy options on game days this fall.
The coach also gave an update on his NCAA tournament bracket, which, like many of ours, is busted. One of his daughters, meanwhile, picked Northern Iowa's upset of Kansas. "She knows nothing about basketball," Ferentz said. "Her other picks were -- she was leading after the first two days. I guess she's still leading. She's beating the president, right now, on her brackets. Whatever. Mine are awful."
August, 13, 2009
8/13/09
10:52
PM ET
Posted by ESPN.com's Adam Rittenberg
Sorry for the lull in posting -- a lot of Big Ten news to chase today -- but I wanted to update you on Iowa cornerback Jordan Bernstine, who has officially been ruled out for the season after sustaining an ankle injury in Wednesday's practice.
Hawkeyes head coach Kirk Ferentz confirmed Thursday that Bernstine will be sidelined for the year. Bernstine is expected to undergo surgery on the ankle.
"We all feel badly for Jordan -- he has worked very hard and was doing well," Ferentz said in a statement. "That said, I am confident he will bounce back from this very disappointing injury."
This is a tough break for Bernstine, who was projected to start at cornerback opposite Amari Spievey. Bernstine appeared in 12 games last fall and was coming on strong in practice.
Sophomore William Lowe likely slides into the top spot. Shaun Prater could end up being the starter but will be suspended for Iowa's first two games following a drunken driving arrest in February.
August, 13, 2009
8/13/09
9:01
AM ET
Posted by ESPN.com's Adam Rittenberg
Iowa junior cornerback Jordan Bernstine broke his ankle in practice Wednesday and will need surgery, according to a report in the Des Moines Register.
Bernstine's high school coach, Tom Mihalovich, who spoke to Bernstine's mother, told the newspaper that Bernstine sustained the injury during drills.
"He was one of the gunners going down in coverage," Mihalovich said of what he learned from Bernstine's mother. "I guess he was shuffling and rolled it over, snapped it pretty good."
Bernstine entered preseason camp as a starter after earning the top job in the spring. He appeared in 12 games as a reserve last fall and recorded 12 tackles and an interception.
The apparent loss of Bernstine thins Iowa's depth at cornerback, at least early in the season. Shaun Prater will be suspended for the Hawkeyes' first two games following a drunken driving arrest in February. Sophomore William Lowe and redshirt freshman Greg Castillo are the next men in at corner opposite standout Amari Spievey.
I'll try to confirm Bernstine's injury with Iowa this morning, so check back for updates.