Big Ten:

Wolverines-Buckeyes-112710
November, 24, 2012
11/24/12
7:00
PM ET
COLUMBUS, Ohio -- Ohio State won't have a chance to play for a national title and won't get to prove itself a 13th time this season because of NCAA sanctions.
But in a way, the Buckeyes earned something just as lasting as any crystal football. By finishing off a 12-0 campaign with Saturday's
26-21
win over archrival Michigan, they will remain perfect in memory and ideal in their fans' imagination.
If -- as several Ohio State players like
Carlos Hyde
and
Ryan Shazier
did Saturday afternoon -- this team wants to say it deserves the No. 1 ranking in The Associated Press poll, how can you convincingly tell the players they're wrong? A Notre Dame loss would leave the Buckeyes as the only undefeated team in the country, and we'll never know for sure how they would stack up against the other national powers.
"You can say what you want, but we're 12-0," senior linebacker
Etienne Sabino
said. "People can talk what they want and say a bunch of what-ifs now, but I know we took care of what we had to do. At the beginning of the year we set out to win every single game, and that's what we did. It wasn't pretty, but it happened."
Ohio State fans sure didn't seem to care much about bowl bans. They poured onto the field in droves when the win was secured and stayed there long after the game had ended, taking photos and singing with the school band.
In between the first and second quarter, former coach Jim Tressel was honored along with other members of the 2002 national championship team. Those former players picked Tressel up and carried him off the field on their shoulders as the crowd roared. Of course, Tressel's deception of his bosses and the NCAA directly led to the sanctions that will keep this year's team home. But the irony of choosing the day when the current team would finish 12-0 to honor Tressel appeared lost on a forgiving fan base.
Time may heal all wounds, but going undefeated helps wipe out even the memory of those pains. Instead, fans can now remember this team as one of six unbeaten squads in school history, yet the first since 1944 to do so without going to a bowl.
"It kind of stinks," said tight end/receiver
Jake Stoneburner
. "We wish we were playing in a bowl game. But, shoot, I'll take 12-0 any day of the week."
A postseason game would bring the potential of a loss that could tarnish this team's legacy. Instead, it will be revered for turning last year's 6-7 disaster into the best possible building block for the future under first-year coach Urban Meyer.
Meyer said he would make sure the 2012 team would get some sort of permanent recognition around the team's facilities. He joked about erecting 19 bronze statues for each of this year's seniors.
[+] Enlarge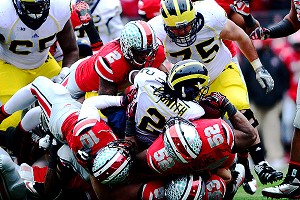 Andrew Weber/US PresswireWith his defense much improved, Ohio State coach Urban Meyer said he feels his team can now compete with the nation's elite.
As for whether this team deserves a No. 1 ranking, Meyer was too media savvy to take that bait. But unlike earlier in the year, he was happy to heap plenty of praise on the Buckeyes.
"I'd say at this point in time, Ohio State could go play with anybody in America," he said.
Meyer wouldn't have put his own team in such company back in mid-October. But the improvement of his defense from a poor-tackling, easily exploitable bunch to a true strength has changed his perception.
In fact, Saturday's game was a perfect encapsulation of the Buckeyes' season. In the first half, they needed some great work by quarterback
Braxton Miller
to keep them in the game as Michigan rolled up 21 points and several explosive plays, like a 75-yard touchdown pass to
Roy Roundtree
and
Denard Robinson
's 67-yard touchdown sprint.
But just like in the season as a whole, the defense took over in the second half. Keying on Robinson as a runner and aided by some bizarre Michigan play calling, the Silver Bullets (yes, they've earned back that nickname) didn't let the Wolverines cross midfield after halftime. They allowed only 60 total yards and no points in the second half and forced three turnovers. Robinson and
Devin Gardner
were hemmed in as Michigan ran only 21 offensive plays in the second half.
"We just had to limit the big plays," linebacker Shazier said. "We were missing way too many tackles at the beginning of the game. We settled down on that and settled down on the big plays in the second half."
This wouldn't have been the 2012 Buckeyes without some adversity and drama. The defense played without star defensive end
John Simon
, who experienced swelling in his knee after last week's Wisconsin game. And even with the second-half defensive domination, Ohio State kept frittering away excellent scoring chances and settled for just two field goals to keep Michigan in the thick of it.
In the end, that's the signature of these Buckeyes. They never made things easy, but they never lost.
"We have so much confidence because we've been in so many close games like this," Sabino said. "We know how to come out with the win."
Now all they can do is watch football until the spring. Several players said they planned to watch next week's Big Ten championship game between Wisconsin and Nebraska, two teams they beat earlier this season.
They will do so believing someone else will get a trophy they earned.
"I feel like we're the true Big Ten champions," Shazier said. "We won every game and did exactly what we're supposed to do and finished out strong. We showed it today."
The Buckeyes can do nothing more to prove themselves. But no one can ever definitively tell them they weren't the best team in the country, either. They'd love a shot at the national title. They'll settle for perfection.
November, 27, 2010
11/27/10
6:00
PM ET
COLUMBUS, Ohio -- Justin Boren is a 6-foot-3, 320-pound monster known as one of the Big Ten's best and nastiest offensive lineman.
But back in 2008, at that moment, Boren was absolutely terrified.
He had made the seemingly unthinkable transition from Michigan to archrival Ohio State, and he had no idea how he'd be received.
[+] Enlarge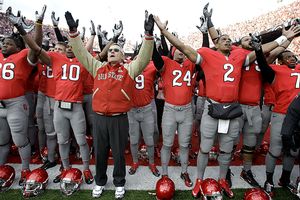 AP Photo/Amy SancettaCoach Jim Tressel and the Buckeyes have outscored Michigan 79-14 in the past two games at Ohio Stadium.
"I was so scared when I walked in for the first time," Boren recalled Saturday. "I had played 'em five months ago and I was coming in here like the new kid. I was more scared than when I went up to Michigan as a freshman. But they [welcomed] me with open arms. They've been awesome."
Boren didn't begin his career as part of one of the most successful classes in Ohio State history. But he's finishing it that way, and he couldn't be happier.
"I didn't want to look back and have any regrets," Boren said. "I didn't want to second-guess myself. And I can honestly say I've never done that. ... It's the greatest choice ever made."
It's hard to argue after Boren and his fellow seniors led Ohio State to its seventh consecutive win against Michigan, a
37-7 triumph
that was essentially over by halftime. Ohio State claimed a share of the Big Ten title for a record-tying sixth consecutive season.
The Buckeyes' seniors improved to 43-8 in their careers. A bowl victory next month will tie them with their predecessors in 2009 for the most wins in team history. But perhaps most important, the class made it through without ever losing to Michigan.
"Five Big Ten rings and five pairs of gold pants," coach Jim Tressel said, referring to the large group of fifth-year seniors in the class. "That's a big deal."
Ohio State's seniors have contributed to The Game losing some serious luster in recent years. The Buckeyes have won each of the past four meetings by double digits, including the past two at Ohio Stadium by a combined score of 79-14.
Imagine what it would be like to be on the other side.
"I really can't," senior wideout
Dane Sanzenbacher
said. "It's got to be tough, but we work all year for this game, and we want to come out and execute. We can't really worry about what it would be like on the other end because we don't ever want to be on the other end."
Neither does Michigan, but the Wolverines had to endure another beating at the hands of their archrivals.
The buzz before and after the game centered on Wolverines coach Rich Rodriguez, who continued to struggle against top-tier Big Ten opponents. Rodriguez fell to 0-6 against Michigan's two conference rivals -- Ohio State and Michigan State.
[+] Enlarge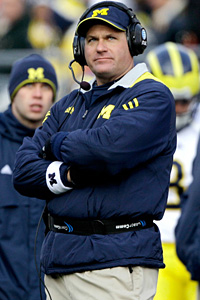 AP Photo/Amy SancettaRich Rodriguez is 0-6 as Michigan's coach against rivals Ohio State and Michigan State.
"I'm ticked," Rodriguez said. "Do you want me to go jump out there with all the Buckeye fans and sing 'Kumbaya?' I wish we'd played better. Our guys, they played hard, and that's to be expected, but I wish we'd executed better and as coaches, we've got to try and put them in positions so they can make some plays.
"I'm going to be mad for a while, and then we'll move on to the next one."
The next one likely will take place Dec. 28 at the Insight Bowl in Arizona. But will Rodriguez still be around to coach the Wolverines?
Speculation has mounted in recent days about Rodriguez's job security. Athletic director Dave Brandon on Saturday reiterated his stance that he'll evaluate the program at the end of the season.
"I'm going to work tomorrow as always," Rodriguez said. "I worry about my future every day. Before I took the job, after I took the job.
"But nothing's going to change how we work."
While Michigan stews in the midst of its slide, Ohio State's seniors emphasized the importance of keeping their streaks alive. They stepped in after an Oct. 16 loss to Wisconsin, which linebacker Brian Rolle said "bonded the team together even more."
Ohio State hasn't lost since, and several seniors finished the regular season playing their best football.
Rolle and fellow linebacker Ross Homan combined for 16 tackles, two tackles for loss and a forced fumble Saturday. Senior safety Jermale Hines broke up three passes. Sanzenbacher, without question the Big Ten's top receiver this season, caught three passes for 71 yards and a touchdown.
The result: Ohio State's seniors maintained the status quo.
"I think people will look back and say we were a tight-knit group, a class with class and character," Rolle said. "When we come back for a reunion, I want guys to say, 'Man, those guys were great.' "
So what's left for Ohio State's seniors?
The Buckeyes continue to fight the negative perception stemming from their back-to-back blowout losses in the BCS title game. They should get a chance in January for a second consecutive BCS bowl victory, quite possibly against an SEC team (LSU or Arkansas) in SEC territory (New Orleans in the Sugar Bowl).
Not a bad way to go out.
"Getting a win this year in whatever game we go to would be great," Rolle said. "It'll show that this senior class, guys fought hard to bring tradition back to Ohio State."
November, 27, 2010
11/27/10
3:18
PM ET
COLUMBUS, Ohio -- The 107th edition of The Game is complete, and just like the previous six, Ohio State left the field as a winner.


The Buckeyes stifled Michigan in the second and third quarters and received big plays from
Terrelle Pryor
and the seniors on both sides of the ball. Ohio State cruised to a
37-7
win and captured its record-tying sixth consecutive Big Ten championship.
Michigan's drought against its rival continues, as the Wolverines made far too many mistakes in all three phases to make this one competitive. Two years after losing 42-7 here, Michigan hasn't made much noticeable improvement against elite competition. We'll see what this means for embattled Wolverines coach Rich Rodriguez.
Much more from The Shoe, so keep it right here.
November, 27, 2010
11/27/10
2:46
PM ET
COLUMBUS, Ohio -- Ohio State led Michigan 24-7 at halftime, but it couldn't feel that good about itself.
The Buckeyes finished the half with just 9 rushing yards on six carries. Starting running back
Dan Herron
had just 1 yard on three carries.
It has been a very different story in the third quarter, as Herron has recorded two big runs to help Ohio State
extend its lead to 37-7
. Herron followed up a 31-yard touchdown pass with an 89-yard scamper that would have been a 98-yard touchdown if not for a bogus holding call on receiver
Dane Sanzenbacher
.
Herron's 89-yard run tied a team record for longest run from scrimmage set by Gene Fekete in 1942 against Pitt. It figures since Ohio State is honoring its 1942 national championship team today with its jerseys.
Herron now has 145 rush yards on 15 carries.
November, 27, 2010
11/27/10
2:15
PM ET
COLUMBUS, Ohio -- Michigan's defense hasn't been that bad today.
No, you don't need to get your eyes checked. I just typed that.
The Wolverines' defense hasn't been great, but turnovers and special teams mistakes are the primary reasons why Michigan finds itself in a
31-7
hole early in the third quarter. After Michigan had two first-half fumbles in Ohio State territory, backup quarterback
Tate Forcier
threw an interception on the first play from scrimmage in the third quarter.
Forcier replaced starter
Denard Robinson
, who is sidelined with dislocated fingers, according to coach Rich Rodriguez. Robinson is now back in the game.
Nothing is going right for Michigan, and Ohio State finally got its run game going as
Dan Herron
raced 31 yards to the end zone.
The rout is on. Is time running out on Rodriguez?
November, 27, 2010
11/27/10
1:16
PM ET
COLUMBUS, Ohio -- Michigan got the answer it needed from
Denard Robinson
.
Unfortunately for the Wolverines, the kicking game continues to doom them.
Ohio State answered Michigan's touchdown with one of its own, as
Jordan Hall
raced 85 yards to the end zone following a short kickoff. Both Buckeyes' touchdowns can be connected to Michigan's special teams woes, as Ohio State only needed to drive 35 yards following a shanked punt by Michigan's Seth Broekhuizen, filling in for suspended starter Will Hagerup.
As bad as Michigan's defense has been this year, the special teams are even worse. And even less excusable.
Ohio State leads
17-7
midway through the second quarter.
November, 27, 2010
11/27/10
1:01
PM ET
COLUMBUS, Ohio --
Terrelle Pryor
can be a maddening player to watch.
Pryor can also be one of the most exciting players in college football to watch.
He can be both in a matter of moments.
We've seen both the good and the bad of Pryor in today's game, and he just showcased some magic as Ohio State extended its lead to
10-0
. On third-and-6, Pryor looked headed for a sack as he backpedaled out of field-goal range, but he evaded the rush, waited until the last possible moment and then gunned the ball to
Taurian Washington
for a first down.
Just a brilliant all-around play by Pryor. He made another great throw two plays later to top target
Dane Sanzenbacher
in the end zone.
Although Pryor has had some ugly looking throws today, he offsets it with magical plays.
Michigan is in real trouble now. The Wolverines could use a boost from their own magic man,
Denard Robinson
.
November, 27, 2010
11/27/10
12:52
PM ET
COLUMBUS, Ohio -- Michigan has to be kicking itself right now. Actually, the Wolverines can't kick, so that would be hard to do.
But the Wolverines mounted two long drives while holding Ohio State without a first down, and yet the Maize and Blue had nothing to show for themselves. At one point, Michigan was outgaining Ohio State 133-13.
The good news is that Michigan's defense has limited damage so far.
Turnovers have been a theme for Michigan throughout Big Ten play, and
Denard Robinson
committed a costly one in the red zone. The Wolverines needed to start fast in this game, and they're still making too many mistakes on offense.
Ohio State finally mounted a drive and converted the Robinson fumble into a field goal, but the Buckeyes' offense looks out of sorts. Then again, Ohio State has been a second-half team all year.
Buckeyes lead 3-0 early in the second quarter.
November, 27, 2010
11/27/10
12:29
PM ET
COLUMBUS, Ohio -- More than a few Michigan fans had to be holding their breath when Rich Rodriguez decided to defer after winning the pregame coin toss.

The Wolverines were going to put their defense on the field first, against the Big Ten's No. 2 scoring offense?

The plan has worked so far, as Michigan has held Ohio State without a first down on the first two series. Michigan already is tackling much better than it did a week ago against Wisconsin, and the Wolverines have a forced fumble and recorded two tackles for loss.

Ohio State is going conservative early in this one, not stretching the field.
November, 27, 2010
11/27/10
11:29
AM ET
COLUMBUS, Ohio -- Both teams are on the field going through warm-ups about 35 minutes before kickoff.
A couple of notes:
Michigan punter Will Hagerup didn't make the trip after violating team rules. Kicker Seth Broekhuizen will handle the punting duties today. Or maybe Tate Forcier will give it a shot. Yikes.
Wolverines receiver Junior Hemingway, listed as questionable for the game with a head injury, didn't go through warm-ups.
Not a huge fan of Ohio State's throwback jerseys. I'm trying to find a good comparison and opened this up to my Twitter followers. Best suggestions: San Diego State, Rutgers, Indiana, New Mexico. Can't see Alabama, guys, but maybe you can.
November, 27, 2010
11/27/10
11:00
AM ET
COLUMBUS, Ohio -- Greetings from the 107th edition of The Game.
Ohio State's recent dominance has removed a bit of the luster from this series, but it's still the greatest rivalry in college sports. Despite a bone-chilling wind outside The Shoe, tailgaters are everywhere, and I saw no acts of violence against the Michigan faithful on the way to the press box.


The Buckeyes aim for their seventh consecutive victory against Michigan, which would mark the longest win streak in the series since Michigan captured nine straight between 1901-1909. Ohio State already has become the first team in Big Ten history to win 10 or more games in six consecutive seasons, and today the Buckeyes can tie a record with their sixth consecutive Big Ten championship. They still likely will need Wisconsin to lose to Northwestern to secure a berth in the Rose Bowl.
Michigan is going bowling for the first time in three seasons, but will it be enough to save coach Rich Rodriguez's job? There was a lot of buzz after last week's loss to Wisconsin that Rodriguez could be fired if Michigan falls to Ohio State, especially if the loss comes in embarrassing fashion. Although Michigan has improved its win total each season under Rodriguez and the offense has clearly made strides this season, has the overall program truly made progress? When it comes to beating the Big Ten's best, the answer is no.
From ESPN Stats & Info:
[+] Enlarge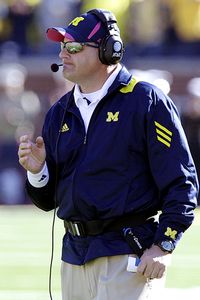 AP Photo/Carlos OsorioMichigan is 0-11 against Big Ten opponents that finished with a winning conference record under Rich Rodriguez.
Under Rodriguez, Michigan is 0-11 against Big Ten opponents that finished with a winning conference record (including Michigan State and Iowa this season). In fact, Michigan's six conference wins under Rodriguez have come against teams that are a combined 13-33 in Big Ten play.
The Detroit News' Lynn Henning examines the progress problem and writes that in order to protect the Michigan brand,
athletic director Dave Brandon can make a change
. If you believe Brandon's Twitter page, a change isn't imminent. The AD tweeted Wednesday: "Heard about a 'rumor' re: some 'big announcement' on Monday regarding M-Football. Add it to the rumor rubbish pile! Happy Thanksgiving!"
My take: it's all about timing, and if Michigan can land the red-hot Jim Harbaugh now, it might be worth a coaching change. Michigan shouldn't dump Rodriguez to do a national search. I still think Rodriguez can turn this thing around after overhauling his defensive staff. But if Brandon deems a change is necessary to protect the Michigan brand, he had better be sure he can bring Harbaugh to Ann Arbor.
Needless to say, there's a lot on the line for both teams today.
That's it for now, but don't go anywhere. I'll have plenty more from The Game, and I'll be keeping my eye on the rest of the league as well.