April, 30, 2012
4/30/12
2:00
PM ET
Several Big Ten players who didn't hear their names called in New York during the weekend still received some good news about their football futures. As soon as the NFL draft concluded, the undrafted free agent scramble began.
Here's an initial list of Big Ten UFA signings. Every Big Ten squad except Indiana had a player signed through free agency. We'll be sure to post more as they become official.
ILLINOIS
IOWA
MICHIGAN
Brandon Herron, LB, Tampa Bay Buccaneers
MICHIGAN STATE
MINNESOTA
NEBRASKA
NORTHWESTERN
OHIO STATE
PENN STATE
Quinn Barham, OL, Detroit Lions
Derek Moye, WR, Miami Dolphins
D'Anton Lynn, CB, New York Jets
Andrew Szczerba, TE, Dallas Cowboys
Eric Latimore, DE, Minnesota Vikings
PURDUE
WISCONSIN
Several players seem to be in good situations, whether it's playing for their hometown team (Kinnie, Netter) or near a family member (Lynn, whose dad, Anthony, coaches running backs for the Jets). It's still shocking to see Brewster on this list rather than the draft one. I'm also surprised Moye, Wiggs, Linthicum and Dimke didn't get drafted.
Other Big Ten players have tryouts with NFL squads, such as Northwestern quarterback
Dan Persa
(Tampa Bay), Minnesota wide receiver Da'Jon McKnight (Minnesota Vikings), Indiana offensive lineman Chris McDonald (Miami, Green Bay) and Minnesota safety Kim Royston (Minnesota Vikings).
December, 31, 2011
12/31/11
9:30
AM ET
Jermarcus "Yoshi" Hardrick hears it every time he returns home to his native Mississippi.

"I get a lot of crap about why didn't I pick the SEC," the Nebraska senior offensive tackle told ESPN.com.
Hardrick did pick the SEC, at least for a little while. He verbally committed to LSU after his freshman year at Fort Scott Community College in Kansas. He also had scholarship offers from Arkansas and Ole Miss, among others.
But Hardrick wanted to continue his career with Fort Scott teammate Lavonte David. When LSU didn't offer David, Hardrick looked elsewhere and both men ended up with Nebraska.
Hardrick is happy with his choice, but he's not spared from the chiding when he returns to the South.
"They say I'd be undefeated with LSU," he said. "[They say] there's no way we can play with those fast boys and things like that."
Hardrick and his Huskers teammates get a chance to measure up with the SEC on Monday when they face South Carolina in the Capital One Bowl. Nebraska has 12 players hailing from current SEC states as well as a host of other from Texas, which will become SEC territory next year.
Although Hardrick, like many Big Ten players, has grown annoyed with the speed argument, he provides an honest assessment of South Carolina's defensive line, which is highlighted by ends Melvin Ingram and Jadeveon Clowney.
"Fast, fast, fast," Hardrick said.
Nebraska's ability to contain Ingram, Clowney and the Gamecocks defenders will go a long way toward determining Monday's winner. Hardrick, one of the elder statesmen on a mostly young Huskers offensive line, said the unit takes pride in being physical, particularly on first and second down.
A win Monday would mark Nebraska's third consecutive 10-win season, a milestone the program hasn't achieved since 1999-2001.
But for Hardrick, it's personal.
"It's a big chance for me to show why I picked here," he said.
And if Nebraska wins?
"I'll probably crack a couple SEC jokes about them being all physical and fast and things like that," he said. "I'll be like, 'Well, we're not the SEC, but we're Nebraska.'"
December, 29, 2011
12/29/11
3:00
PM ET
The 2011 season has been all about getting up to speed for Nebraska's offense.
In film sessions. In practices. In games.
The Huskers had to absorb a new system under coordinator Tim Beck, and do so with one of the Big Ten's youngest units. Nebraska had 11 players on the offensive two-deep make their collegiate debuts this season. While Huskers players studied their own scheme, Beck and the offensive staff had to guesstimate how 11 new opponents would defend Nebraska.
[+] Enlarge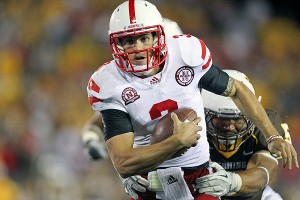 Zuma Press/Icon SMIQB Taylor Martinez and the Huskers plan to keep the game's tempo at a fast pace against South Carolina.
"The hard part was us as coaches trying to figure out what the hell teams were trying to do to us," Beck recently told ESPN.com. "We never knew."
Given the obstacles, Nebraska's offenses fared pretty well overall.
The Huskers finished 13th nationally in rushing and fourth in the Big Ten in both scoring and total yards. They tied for 10th nationally in red-zone efficiency and performed decently on third down.
"We're getting there," Beck said. "The games we lost, we turned the ball over. The thing that really impressed me about our players was their ability to adapt during the course of the game. When we saw things or felt like this could be good or this blocking scheme might be better, they were able to adapt to it pretty well.
"Didn't freak out, didn't panic."
And as has been the case for months, Nebraska's learning curve on offense must be accelerated for its upcoming Capital One Bowl matchup.
The Huskers take on a South Carolina team ranked No. 4 nationally in total defense. The Gamecocks have held seven of their past nine opponents to 16 points or fewer.
"They're really good," Beck said. "They're fast. You can see through the course of the year how they've grown, how they understand their system better."
The same can be said for Nebraska.
Although the Huskers put up some big numbers in September (171 points), the unit had a rough night in the Big Ten opener against Wisconsin and a few other hiccups along the way. The offensive line constantly shuffled personnel and the team's youth at receiver showed up at times, but certain players made strides as the season progressed, including I-back
Rex Burkhead
, receiver
Kenny Bell
and, most important, quarterback
Taylor Martinez
.
The sophomore threw three interceptions in the Wisconsin loss and came under fire from fans before rebounding the next week against Ohio State. Martinez enters the bowl having attempted 116 consecutive passes without an interception. He has only one pick in his last 26 quarters (152 attempts).
"Where things started to get better actually was after Wisconsin," Beck said. "Most teams that get better or people that improve in any aspect of life, you've got to know what it is to hit bottom. That was an eye-opening experience for him. That was something that woke him up."
Martinez followed the Wisconsin loss with a strong five-game stretch, completing 64.2 percent of his passes for 865 yards and six touchdowns. He continued to attack defenses with his feet in a system that seemed to accentuate his strengths.
"We knew we had the offense when Taylor got us out of a lot of bad looks and gave us a chance to win on every play," left tackle Yoshi Hardrick said. "We've got a physical offense, we run the option and Taylor's the man with the ball. We run a lot of play-action pass off the line. It fits him well."
Martinez was at his best and Nebraska's offense was at its best when operating at an extremely fast tempo. Once the Huskers picked up a first down or two, they zoomed downfield to the end zone.
Against Ohio State, the Huskers had only seven first downs in the opening half and trailed 20-6. They moved the chains 18 times in the second half and rallied to win 34-27.
"We want to play in that high tempo as much as we can," Beck said. "Our players seem to play well that way, our quarterback in particular."
It's a focal point for the Huskers against South Carolina, which ranks second nationally in pass defense and has shut down better aerial attacks than Nebraska's. Hardrick acknowledges it'll be the line's fault if Nebraska finds itself in third-and-long against the Gamecocks.
South Carolina is led by defensive ends Melvin Ingram and Jadeveon Clowney, who have combined for 14.5 sacks and 23.5 tackles for loss.
Hardick breaks down both stars.
Ingram:
"He's different from a Big Ten D-end because in the SEC, it's more of a finesse rush. In the Big Ten, it's more of a power rush. He's very active with his feet and hands, and he likes to get tackles in space. I just like how he plays hard. You've got to respect a man who plays like that."
Clowney:
"Clowney's their best pass rusher. On third down, that's easy to see. Clowney's the more natural pass rusher. He doesn't look like a true freshman at all."
Beck is very excited about the long-term outlook for Nebraska's offense, especially with nine starters returning in 2012. But the short term provides an excellent growth opportunity against South Carolina.
"You always want to play your best," Beck said. "If you can do that against a great opponent like South Carolina, it will carry on into next season."
December, 20, 2011
12/20/11
2:00
PM ET
Rob from Morristown, N.J., writes:
Adam, two questions for you. The first I am sure you get every year, but can you give us your explanation as well as the explanation from the league (Delaney) as to why it is beneficial for the B1G to have 4 marquee teams playing at the same time on Jan. 2. Apart from tradition (this year these games are not even on New Year's Day), it doesn't make sense to me from an exposure standpoint to have all teams playing at the same time, and certainly not from the perspective of a fan of the B1G who wants to see all the teams WIN! I don't beleive ANY other conference has two teams or more playing at the same time. What ARE the benefits of this? Second question, why aren't Penn State's Assistant Coaches like LJ, Sr and Vanderlinden being considered for other open head coaching vacancies? These have been the top defensive coaches in the B1G, if not the nation over the past few years, are schools scared away from them due to the scandal?
Adam Rittenberg:
Good questions, Rob. You're not the only Big Ten fan miffed by the league's Jan 1/2-heavy lineup. The league views it as a chance to "own the day," to have its product splashed on multiple TV networks during a day where college football has thrived historically. The counter-argument is that New Year's Day no longer is what it used to be, and that spreading out the Big Ten games over several days would create more overall exposure rather than flooding everything on one day. As to your second question, I think the Penn State scandal has hurt all of the current coaches as far as other jobs. I'd include Tom Bradley in that mix. It's too bad because those guys are all excellent coaches.
---
A.J. from Madison, Wis., writes:
I was wondering if you could seed each division with how you think they'll rank next year. I think it's going to be a photo finish between Ohio State-Wisconsin and Michigan-Michigan State, but I'd love to hear your thoughts.
Adam Rittenberg:
A.J., I completely agree the Leaders division will come down to Ohio State and Wisconsin. I'd give Ohio State the edge because the Buckeyes lose fewer key pieces than the Badgers, although Wisconsin has it going right now. I'd add Nebraska and Iowa to the Legends division race, which should once again be more competitive. Nebraska will host Michigan, Wisconsin and Penn State, so if the Huskers hold serve at home, they'll be in good shape.
---
Ashley from Lincoln, Neb., writes:
Adam, I'm a little confused as to why people keep saying that Nebraska will have so much trouble with South Carolina's defensive line. I have seen no evidence that this is an elite group. Yes, the defense is 4th in total yards allowed. But if you pin it down to stats that better represent the d-line it suddenly doesn't look so good. SC is 45th in rush defense, 42nd in tfls, 43rd in sacks and 83rd in red zone defense. And all of this against very few rush-based offenses. In fact, in their only games against top 40 rushing offenses, Navy and Auburn, SC gave up 274 and 246 yards on the ground, respectively. So why exactly should Nebraska be so afraid of this defense?
Adam Rittenberg:
Ashley, you bring up a good point about South Carolina's rush defense, which isn't all that great. If Nebraska can move the ball on the ground, get into its tempo on offense and stay out of obvious passing situations, it should be in good shape against the Gamecocks. The concern is that Nebraska's offensive line remains pretty inexperienced, and South Carolina defensive ends Melvin Ingram and Jadeveon Clowney are two of the better defensive linemen the Huskers will face all season. Huskers offensive lineman Yoshi Hardrick told me he's really impressed with Ingram's and Clowney's speed. It would be a bigger concern if Nebraska were a pass-first offense. If the Huskers stay out of third-and-long, they should be fine.
---
John from Kalamazoo, Mich., writes:
Call me a little bit biased, but i don't completely understand all of Michigan state fans rights to complain about how the season ended for them and the wolverines. Sure, state won the head to head matchup in a very well played game by both teams. However, it seems everyone is overlooking how much it sucks for wolverine fans that a team that lost by double digits to teams they beat, got to play in the in the inaugural BTC. I cannot be the only person to see things this way.
Adam Rittenberg:
Brian recently brought up this question, asking users
which team's situation is better
. The vote was fairly close, as 52 percent of responders (more than 11,500 votes cast) preferred Michigan's situation to Michigan State's. Fans do care about bowl order and going to a BCS game vs. the Outback Bowl does make a difference. Then again, Michigan State was a play away from its first Rose Bowl appearance in 24 years. The Spartans had earned that right, and they now have a division championship that follows a co-Big Ten championship. It certainly means something, even if Michigan gets more love during the bowl season.
---
Steiny from Iowa writes:
Adam, how is it that Iowa is in a lose lose situation. Everyone is saying that if Iowa wins its bowl game, Oklahoma just wasnt motivated to be there, and if they they lost well it was goin to happen anyways. Doesnt anyone want to give Iowa credit for anything if they win, and u honestly think bob stoops is goin to lay down for Iowa?
Adam Rittenberg:
Steiny, I see what you're saying, and many would spin it that way if Iowa upsets Oklahoma. But it still would go down as a win in the record book, Iowa's fourth consecutive bowl victory. It would give the Hawkeyes their fourth consecutive season of eight or more victories and possibly serve as a springboard for the team heading into the 2012 campaign. But we've seen many examples of teams that don't look like they want to be in certain bowl games. It's fair to ask whether Oklahoma will be fired up because of where the Sooners began the season. But Stoops' teams rarely let up. OU should be ready.
---
Ryan from Geneva, Ohio, writes:
Have you heard anything about whether Urban Meyer is keeping DC Jim Heacock on his staff for next year? Heacock and I share an alma mater, DIII Muskingum University, and I was curious where my fellow Fighting Muskie might end up.
Adam Rittenberg:
Ryan, it doesn't look like it, although things could change if Luke Fickell gets a head-coaching job elsewhere. Fickell is planning to stay on in a coordinator capacity and make Ohio State's defensive play calls. North Carolina interim coach Everett Withers is also a likely addition, so a co-coordinator situation with Fickell and Withers could be how it pans out. Heacock is a terrific coach and should find a spot somewhere as a coordinator.
---
Shawn from Lansing, Mich., writes:
Thank you for your articles on Arther Ray. We met him a couple of years ago when our son was also battling cancer. Our son passed away two years ago, Arthur was and has been still an inspiration for our family. Recently I was in intensive care and he tried to come by and visit but I was not feeling very well at the time. Arthur and the entire MSU family have been a blessing to us.
Adam Rittenberg:
Shawn, thanks for your note. Arthur is one of the finest people I've covered in college football. It's great to see his story turning out so well. Good things happen to good people, and Arthur deserves everything he's getting right now.
November, 30, 2011
11/30/11
12:00
PM ET
So the past couple of days have been good to people in Columbus, huh?