April, 9, 2012
4/09/12
12:00
PM ET
The work is 10 dollars. The lie is extra.
July, 18, 2011
7/18/11
3:00
PM ET
As promised, the Big Ten workout warrior series is back. Piggybacking off of colleague Bruce Feldman's
annual "Freaks" list
, Bennett and I will profile four Big Ten players who go above and beyond in the weight room.
We solicited nominations from every Big Ten school, and while a portion chose to abstain this year -- there are quite a few new strength coaches in the league -- we received some good options. Let's get things started with the lone Big Ten player to make Feldman's 2011 "Freaks" list ...
[+] Enlarge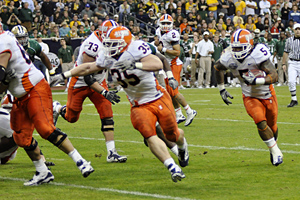 Courtesy of University of Illinois Sports InformationJay Prosch (35) has gained 10 pounds but reduced his body fat from 11 percent to nine percent.
Loud music helps and so do the encouraging voices of teammates, but
Jay Prosch
rarely needs extra motivation in the weight room.
From the moment he started getting serious about lifting, Prosch has felt right at home in the iron jungle.
"I pump myself up," the Illinois sophomore fullback said. "Weightlifting always excites me, when I know I'm about to do something I've never done."
Prosch had the feeling this past winter in the Illinois weight room after defensive lineman Akeem Spence set the team power clean record at 372 pounds.
While Prosch excelled at various lifts in high school, he never did the power clean until his arrival at Champaign. No matter. He reached 352 pounds "really easily" and then matched Spence's mark of 372. As Prosch prepared to attempt the record lift, Steve Sigler, an assistant strength and conditioning coach, asked him for a musical selection.
"They put on some Linkin Park, I got really excited and everybody kind of huddled around me," Prosch recalled. "And I got it."
Prosch reached 382 pounds, setting off a raucous celebration in the room.
"Everybody was jumping around," he said. "Everybody was really excited, coaches were really happy."
Spence, meanwhile, wasn't pleased about seeing his record fall so fast.
"I think he's coming for me this year," Prosch said.
Prosch welcomes the challenge. He always has thrived on competition in the weight room.
He first started lifting as an eighth grader at UMS-Wright Prep in Mobile, Ala. He quickly identified an older football player who was a bit stronger, and set a goal of surpassing him. Prosch became serious about lifting in ninth grade and had "made a reputation" around the school by his junior year.
By the time he graduated, he held school records for bench-press (440 pounds), hang-clean (385) and incline press (335). His squat total of 595 pounds, meanwhile, came up 10 pounds shy of the top mark.
"It was really disappointing," Prosch said. "I was pretty upset about it."
Prosch is setting his sights on Illinois' lifting records.
Illinois measures max totals different than Prosch's high school, but his bench press has improved 60 pounds from last year. He also improved his squat total by 45 pounds, his hang clean total by 49 pounds and his power clean total by 30 pounds. Prosch is most proud of his gains with the hang clean and power clean.
"In the past, we have had two football players hang clean 396," Illinois head football strength coach Lou Hernandez said. "Jay absolutely killed 401 this winter as well. He constantly excites the room with his work."
Prosch's weight-room success is translating to the field. After playing guard and linebacker in high school, the lightly recruited Prosch emerged as a fullback for Illinois.
He played in every game as a true freshman and started six contests. He served as Mikel Leshoure's lead blocker and helped Illinois lead the Big Ten and rank 11th nationally in rushing offense (246.1 ypg).
"At my position, explosion's very important, being able to come off the line and get almost to my top speed when I hit the linebacker," Prosch said. "That's why power clean and hang clean are such important lifts for me."
Prosch had no rushing attempts and only one reception last year, but he could get more touches this season after being more involved as a ball carrier in spring practice.
The 6-foot Prosch has increased his weight from 245 to 255 at Illinois but reduced his body fat from 11 percent to nine percent, a number that should continue to drop during the season.
As preseason camp approaches next month, Prosch is a fixture in the weight room along with his workout partners
Jason Ford
and
Zach Becker
.
"Many times we find ourselves trying to slow him down," Hernandez said. "He is constantly trying to get better."
Prosch is so enamored with weight training that he wants to follow Hernandez's path after his playing days.
"I want to be a strength coach," he said. "That's really where I like to be."
August, 25, 2010
8/25/10
6:00
PM ET
Bear with me here, as I promise I'll have posts on every Big Ten practice before the season. Up next are the
Illinois Fighting Illini
, who recently hosted the
Big Ten Network preseason tour
for two practices. I've reviewed the show, and here are some notes and observations.
The Big Ten Network crew of Dave Revsine, Gerry DiNardo and Howard Griffith all agreed that the new coaches, particularly coordinators Paul Petrino and Vic Koenning, have helped change the attitude at Illinois after two subpar seasons. "This team is working harder than I've seen it work," said DiNardo, who also noted that the team isn't as talented as in years past. Petrino was mic'd up for one segment of the show, and his high-energy style came through. Illinois head coach Ron Zook also pointed out a difference among players. "The players are kind of taking over," Zook said. "Not that we didn't have leadership before, but these guys, particularly the upper-class guys, have kind of taken over."
Redshirt freshman quarterback Nathan Scheelhaase looked very good in drills, and those of who who haven't seen before likely came away impressed with his performance during the BTN interview. Although known for his running ability, Scheelhaase fired a bullet to Jarred Fayson in team drills. True freshman quarterback Chandler Whitmer also had a nice throw to Fred Sykes. "They're two-deep there," DiNardo said of the quarterback spot.
Scheelhaase talked about how he has been able to gain respect on the team despite his age. "I'm around a bunch of great guys, guys who are willing to give me the respect," he said.
Martez Wilson always has had an All-American's body, but he seemed to be backing it up with his play in practice as well. Wilson filled his gaps nicely during a 7-on-7 drill, and he made a really nice stop against Jason Ford during the team portion.
DiNardo and Griffith both talked about how Illinois likely will use a lot of stunts and twists on defense to compensate for its lack of size up front. We saw this a bit from Glenn Foster, a 260-pound defensive tackle. Defensive lineman Corey Liuget looks leaner than he did a year ago, and DiNardo "liked the way he moved around." There also was a pretty good battle between Clay Nurse and weak-side offensive tackle Jeff Allen during a drill.
The wide receivers looked very good in drills, although the defensive backs seemed to struggle with the exception of physical corner Terry Hawthorne, who Griffith called "a special player." Fayson, Sykes and Chris James all had very good practices. The BTN crew also liked what they saw from Eddie McGee, who we saw working at both receiver and cornerback. If Fayson can stay healthy, he'll form a nice 1-2 receiver combination with A.J. Jenkins.
Running back Mikel Leshoure looked strong and a bit leaner than last year. Remember this is a guy listed at 240 pounds as a freshman who now checks in at 224. DiNardo said Leshoure has separated himself from the other backs, and Zook basically admitted it, too. "Right now, Mikel probably is the starter," Zook said. "I like his work ethic. He's so much different." Ford also looked good during the practice, cutting back nicely on one play.
The offense seemed to have the edge in this practice, although Zook noted that Petrino's scheme throws a lot at an opposing defense. The BTN analysts think the new system will not only help Illinois' offensive players but provide the defense with looks other than the spread in practice. Petrino will use plenty of tight ends and fullbacks this year.
Petrino also explained the strong-side/weak-side philosophy, which puts the offense's strongest players against the defense's weak spots.
Freshman tight end Evan Wilson is an impressive-looking player, and DiNardo tabbed Wilson as his top newcomer. Petrino also said, "We've got a true freshman at tight end that's going to be a really good player." With Zach Becker (foot) out for a while, Wilson should see increased time. Griffith identified wideout Darius Millines as his top newcomer. McGee and rush end Michael Buchanan were the picks for under-the-radar players.
August, 25, 2010
8/25/10
12:00
PM ET
I hope you love me as much as Mike Martz loves Jay Cutler. Yeesh.
April, 12, 2010
4/12/10
1:39
PM ET
Saturday was scrimmage day around the Big Ten, as teams from State College to Minneapolis engaged in several forms of game-like simulations. Though no Big Ten team has officially held a spring game -- five are on tap Saturday -- these scrimmages are often just as important, if not more so.
Nine of the 11 Big Ten teams provided media access and/or statistics from Saturday's scrimmages. Michigan's official Web site has some
video and tidbits
from Saturday's 115-play closed scrimmage, and Mgoblog has a
few reports
as well. Iowa's official site also has some
video and interviews from Saturday's scrimmage
.
Here are some tidbits from the other nine scrimmages, from reports around the league:
ILLINOIS
Illinois let its quarterbacks get hit Saturday, but the offense delivered most of the damage.
Nathan Scheelhaase
continued to make a strong case for the starting job with a 40-yard run, a 30-yard touchdown pass to
Zach Becker
and a 22-yard pass to
A.J. Jenkins
.
Jacob Charest
also remains very much alive in the QB race and connected on several long passes, including a 50-yarder to Jenkins. The running game also looked good as Mikel Leshoure had a 65-yard run. Cornerback Tavon Wilson provided a defensive highlight by picking off a Scheelhaase pass. It's encouraging to see this type of progress from Illinois' offense, which lost several key pieces from 2009 and returns virtually no experience at quarterback.
INDIANA
Defense is the primary focus for IU this spring, and the unit stepped up in Saturday's scrimmage, holding the offense to only one touchdown. Defensive tackle Adam Replogle recorded two sacks and three tackles for loss, and linebacker Jeff Thomas, a junior college transfer, forced a fumble. Safety Kyle Dietrick recorded the lone interception of the scrimmage. The Hoosiers continue to see good things from freshman running back Antonio Banks, who had 42 rushing yards and a touchdown Saturday. The backup quarterback competition continued as
Dusty Kiel
recorded a touchdown pass and a 35-yard completion, while
Edward Wright-Baker
completed 8 of 10 pass attempts. Nick Zachery, who moved from safety to wide receiver just last week, had four catches for 46 yards.
MICHIGAN STATE
The Spartans' defense rallied to win the jersey scrimmage as a secondary that struggled mightily last fall saw two players, Marcus Hyde and Mitchell White, return interceptions for touchdowns. Hyde picked off starter
Kirk Cousins
, while White intercepted an
Andrew Maxwell
pass and raced 40 yards for a touchdown. Cornerback Chris L. Rucker also had a big day with an interception, a pass breakup and a tackle for loss. Michigan State's defense got a big lift from end Denzel Drone, who stuffed
Edwin Baker
on fourth-and-1 from the 1-yard line to seal the win. Cousins completed 19 of 30 passes for 188 yards with two touchdowns, including a 30-yarder to
Keith Nichol
, and two interceptions. Maxwell, who played some with the first-team offense, threw for 199 yards with a touchdown and an interception. Wide receivers
Keshawn Martin
(12 catches, 109 yards),
Bennie Fowler
(nine catches, 84 yards, 48-yard rush) and Nichol (four catches, 70 yards) stood out.
August, 11, 2009
8/11/09
7:50
PM ET
Posted by ESPN.com's Adam Rittenberg
RANTOUL, Ill. -- We saw a little bit of everything during Illinois' practice Tuesday afternoon.
There was sunshine, and there was rain with drops the size of quarters (not joking). There was an appearance by Chicago Bears general manager Jerry Angelo. And I saw Juice Williams' little daughter, LaChez, steering a golf cart with the help of her mother. Very cute and slightly scary.
Oh, yeah, and there were a ton of long passes thrown.
Before I head back to Chicago, a few observations from Illinois' practice: