November, 4, 2014
11/04/14
1:30
PM ET
Rivalry is not quite the right word for what the Ohio State-Michigan State game has become in recent years.
"We have one rival here," Buckeyes coach Urban Meyer said Monday. "So to say this is a rivalry game, that would diminish the rivalry that's been here for 100 years."
Both teams have one true rival, and it's the same one, in fact: Michigan. One need only to witness the emotion that the Spartans and Buckeyes exude whenever they face the Maize and Blue to know that's true.
[+] Enlarge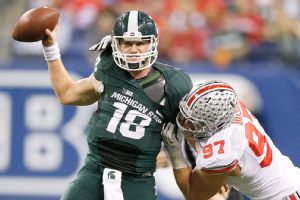 Gregory Shamus/Getty ImagesThe Spartans and Buckeyes renew their riv -- er -- rugged respect for each other on Saturday night in East Lansing.
Meyer, who has subtly avoided saying the words "Michigan State" of late, used two other "R" words to describe this series: respect and rugged. Those work for us.
Michigan might stir the passion for both programs, but in the past five years, they have measured their championship bona fides against one another. Ohio State and Michigan State split a conference title (along with Wisconsin) in 2010. Regular-season games in 2011 and 2012 provided a cornerstone victory for each side. They squared off in a Big Ten championship game last year that carried enormous stakes. And of course, they'll meet Saturday night in East Lansing in the undisputed Big Ten Game of the Year.
Rivalry or not, this has developed into the marquee game in the conference. Here's how we got here:
Three minus one: 2010
Michigan State, Ohio State and Wisconsin all finished with one loss in 2010, resulting in a three-way tie for the Big Ten title. The Spartans and Buckeyes did not play that year, though Michigan State beat Wisconsin and Ohio State did not. The Badgers went to the Rose Bowl based on the BCS standings, while the Buckeyes were chosen for the Sugar Bowl. The Spartans got left out of the BCS, fueling feelings of disrespect (which they often use to their advantage).
Watershed and "Waterboy:" Oct. 1, 2011
Ohio State might have been hampered by youth and NCAA problems, but Michigan State's 10-7 win at the Horseshoe was still momentous. It was former Buckeyes assistant Mark Dantonio's first victory over Ohio State and the Spartans' first win in Columbus since 1998. A ferocious defensive attack very nearly led to a shutout, and linebacker Denicos Allen's leaping sack of Joe Bauserman --
evoking memories of the Adam Sandler movie "Waterboy
" -- became a part of program lore.
Michigan State gets many of its players from Ohio -- nine starters on this year's team are from the Buckeye State -- and those players often were overlooked by Ohio State in high school.
"Whenever this game comes up in the week, I'm extremely excited," said Spartans senior defensive end
Marcus Rush
, who's from Cincinnati. "And I think with all the other guys on the team from Ohio, it's something special for them as well."
The Toast (and a conspiracy theory):
Sept. 29, 2012
The Buckeyes were unbeaten but largely unproven when they went to East Lansing for their Big Ten debut under Meyer, who had questions about the commitment of his team. In a conference room at the hotel four hours before kickoff, Meyer delivered a speech capped by a toast with "championship water," a rallying point that inspired Ohio State to a 17-16 win and established a new tradition still being used. "From there on out," then-senior Zach Boren said, "it was more fun -- guys dancing, being loose. I think it gave us our swag."
The win wasn't without controversy, either, as Michigan State defensive coordinator Pat Narduzzi accused Ohio State of doctoring the game tape that teams are required to send to their opponents.
Breakthrough vs. Heartbreak: Dec. 7, 2013
A spot in the national title game awaited Ohio State if the Buckeyes could get their 25th straight win under Meyer. But Michigan State foiled that plan with a 34-24 victory, clinching the Spartans' first Rose Bowl bid since 1988. Dantonio called it a "lifetime moment" for all those in green.
It felt much differently to the Buckeyes, whose heartache was symbolized by Meyer somberly eating cold pizza on a golf cart outside his locker room. "It's going to haunt all of us, I imagine, for a little while," he said.
Recruiting rumbles: Feb. 5, 2014
The two schools went down to the wire in a recruiting tangle for defensive end
Malik McDowell
, a prospect rated No. 60 in the nation. The saga would last for nearly two months before McDowell's mother, who seemed to prefer Ohio State, relented and allowed him to join the Spartans. Meanwhile, facing the possibility of McDowell slipping away, the Buckeyes flipped
Darius Slade
from Michigan State to fill out the class -- and perhaps strike back in the budding feud. "That's one of the teams we're nose to nose with right now in recruiting," Meyer said then. "That's a real battle."
The battle between Michigan State and Ohio State now overshadows everything else in the Big Ten. Both teams may have another top rival, but they have no bigger game on the schedule.