Big Ten:

Zach Davis-Walker
August, 18, 2010
8/18/10
6:05
PM ET
I won't be making it out to many preseason practices this year. Fortunately, the Big Ten Network is giving all of us a peek at every Big Ten squad during its
Football Preview Tour
. My pal Dave Revsine and analysts Gerry DiNardo and Howard Griffith are more than halfway through the tour, but the first two episodes aired earlier this week: Indiana and Ohio State.
I'll be watching all 11 preview shows and posting my thoughts right here.
Up first, Indiana and Ohio State.
INDIANA
The Hoosiers practiced in shoulder pads and shorts, and head coach Bill Lynch is intentionally reducing the amount of hitting in this preseason (to keep his team fresher for the season), so the workout wasn't as revealing as most of the others should be.
Wide receiver Damarlo Belcher is a huge target and made several routine catches in space. Indiana also seemed to be swinging the ball a lot to the running backs, including Trea Burgess and Zach Davis-Walker. "Against the nonconference opponents, they can win those games with this pass game," DiNardo said. Starting quarterback Ben Chappell was a bit shaky on some throws, but I'm not worried about him.
The running backs didn't seem to have much room on the inside throughout the practice. A few backs did a nice job of bouncing to the outside. Freshman Matt Perez had a very nice run in team drills.
Defensive tackle Tony Carter did a nice job of crowding the middle on one play, and linebacker Tyler Replogle had a nice hit against Darius Willis.
I liked what I saw from Indiana's three junior college transfers on defense: linebacker Jeff Thomas and cornerbacks Andre Kates and Lenyatta Kiles. Kates has extremely fast feet, and Thomas brings good size to the table.
Despite the losses of left tackle Rodger Saffold and veteran guard Pete Saxon, Griffith said Indiana's offensive line looked the best it has in years.
Quarterback Edward Wright-Baker reportedly has fallen behind Dusty Kiel on the depth chart, but he looked good passing the ball in this practice.
OHIO STATE
DiNardo brought up a good point about the need for Ohio State to have a dominant running back again, and how it will keep defenses guessing against quarterback Terrelle Pryor.
Pryor definitely seemed different to me, both in his interview with the BTN crew and in the practice. He showed patience and footwork under pressure and fired a good pass to Dane Sanzenbacher in team drills. I also liked the way he yanked defensive lineman Garrett Goebel off the pile to help running back Dan Herron get out. Pryor seemed to be running hard during conditioning and talked about his new attitude toward meetings as he hopes to increase his leadership.
Pryor had one big mistake, though, as safety Jermale Hines stepped in front of a pass to Jake Stoneburner and made the interception. Just a perfect read by Hines.
Cameron Heyward just looks bigger than everyone else on the field (probably because he is). I particularly enjoyed watching Heyward go against All-Big Ten guard Justin Boren. Two All-America candidates right there. Everyone keeps calling Heyward a defensive end, but I saw him lining up inside several times during the practice. I'll keep going with the very vague "defensive lineman."
The running backs and linebackers went against each other during a goal-line drill, and both sides had their moments. Herron absolutely trucked Dan Bain on one play, living up to his "Boom" nickname. Jaamal Berry scooted by his man, while Scott McVey made a nice stop against Carlos Hyde, who boasts good size and had mixed results in the drill.
Running back Jordan Hall had some nice moments, including a burst up the middle in team drills.
Some of the reserve wide receivers stood out. Sophomore James Jackson made a nice catch along the sideline, and senior Grant Schwartz showed the ability to create vertical separation.
Defensive end Nathan Williams, currently sidelined with a knee injury, was in a stand-up position on one play, while the other three first-team linemen -- Heyward, John Simon and Dexter Larimore -- were down in a stance. You figure Ohio State will use Williams like it did Thaddeus Gibson in 2009.
Berry had a good blitz pickup on one play, nearly leading to a big completion from Joe Bauserman to Taurian Washington.
Linebackers Andrew Sweat and Dorian Bell showed good hitting and tackling skills.
Up next:
Penn State
March, 17, 2010
3/17/10
2:30
PM ET
Here's the second half of my interview with Indiana head coach Bill Lynch, who opens spring practice Tuesday.
For Part I, click
here
.
It sounds like you have high expectations for Mitchell Evans. He's been moved around to a lot of places, but transitioning back to safety, how do you feel about him there?
Bill Lynch:
He's just a good football player, and he can play a lot of places. But we have a need there, and he's certainly a guy who will have an opportunity to play every snap. Where on offense, we've got some depth at wideout and we aren't in three and four wideouts all the time. He had a limited number of snaps as the Wildcat guy, so this will get him an opportunity to be on the field all the time, and that will help our football team.
[+] Enlarge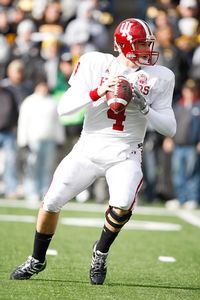 Scott Boehm/Getty ImagesBen Chappell enters spring practice as the Hoosiers' leader on offense.
Are there other guys you're moving over to defense that might be able to play?
BL:
Matt Ernest. Matt is an interesting guy. Matt played some wideout for us last year, and we had pretty good wide receivers with some depth. And he played special teams. But we're going to move him over and have him compete at cornerback. We think he's got a lot of skills, he played [cornerback] in high school. But he's playing baseball now. He had been a good high school baseball player but didn't play his first two years here, and he walked on and now he's pitching for them and pitching pretty well. He'll be a little limited as far as what he does in the spring, but he'll be going through drills so we'll have a chance to look at him over at corner.
So will he keep playing baseball while spring ball goes on?
BL:
Yeah, we won't get him beat up, because he's becoming pretty important for the baseball team, so we don't want to take that opportunity away from him. It's very similar to Andrew Means a few years ago.
And then on offense, do you look to build off of some of the good performances last year?
BL:
I think so. I like what we're doing scheme-wise offensively, and now it's just getting better at it. We've got to replace Rodger Saffold at left tackle, and we've got two juniors who have played and have been in the program a long time in Andrew McDonald and Josh Hager. Those are the first two guys who will get a crack at it, and I know they're anxious to go. And then it'd be nice to get a good spring out of [running back]
Darius Willis
. He seems to be healthy. He was banged-up a lot last spring, and then he was in and out last fall. He had a little shoulder surgery right after the season, and I know that helped. He seems to be ready to go now. And then we've got a freshman that we redshirted [in 2009],
Nick Turner
, who I'm anxious to watch compete at tailback this spring as well.
Will anyone be out or limited this spring?
BL:
Evans isn't going to practice a whole lot, even though he's going to play safety. He had some surgery after the season. And Justin Pagan, one of our offensive linemen, had some surgery, so he's not going to do too much. Zach Davis-Walker, a backup tailback, is going to be pretty limited.
Terrance Turner
's not going to practice at all. He's going to have a little surgery. All should be in good shape and ready to go in August.
For Ben [Chappell], having a full offseason as the starter, is he clearly the leader on the offense now?
BL:
I think so. He's a great leader, and he played very well in the fall. He's got a whole year of experience as the starter. Now we've got a couple of young guys who are going to compete for the second spot, and you're able to give them some shots [with the first-team offense] in the spring, but certainly going into it, they've got to beat Ben out.
November, 6, 2009
11/06/09
10:13
AM ET
Posted by ESPN.com's Adam Rittenberg
Indiana has issued its official injury report for Saturday's home game against No. 21 Wisconsin (Big Ten Network, noon ET).
OUT
DE Darius Johnson, shoulder
CB Chris Adkins, elbow
DT Jarrod Smith, back
CB Ray Fisher, knee
S Jarrell Drane, thigh
OL Cody Faulkner, shoulder
DE Terrance Thomas, shoulder
QUESTIONABLE
S Jerimy Finch, hamstring
PROBABLE
RB Zach Davis-Walker, foot
S Nick Polk, ankle
RB Darius Willis, ankle
DE Fred Jones, foot
Fisher is a big loss for Indiana. He's the team's top cover corner and a very dangerous kick return man, leading the Big Ten and ranking fourth nationally in return average (37.4 yards per return). Wide receiver
Tandon Doss
and running back
Demetrius McCray
will handle return duties Saturday. The Hoosiers are thin at cornerback with Adkins out and Donnell Jones also battling an elbow injury. Adrian Burks will get the start in Fisher's spot, with Richard Council serving as his backup. The news is more promising on both Polk and Willis, two starters whom the Hoosiers will need to upset the Badgers. Polk sat out last week's game against Iowa and Indiana endured several critical breakdowns in the secondary down the stretch.
October, 30, 2009
10/30/09
2:41
PM ET
Posted by ESPN.com's Adam Rittenberg
Indiana has issued its official injury report for Saturday's game at No. 4 Iowa (ESPN, noon ET).
OUT
DE Darius Johnson, shoulder
RB Zach Davis-Walker, foot
CB Chris Adkins, elbow
DT Jarrod Smith, back
DOUBTFUL
S Jerimy Finch, hamstring
S Jarrell Drane, thigh
QUESTIONABLE
PROBABLE
LB Will Patterson, hand
CB Donnell Jones, elbow
A few more names on the report this week, but both Patterson and Jones have been upgraded, which bodes well for Indiana against the Hawkeyes. Safety depth could be a concern if both Finch and Drane sit, so Indiana needs Austin Thomas and Nick Polk to stay healthy on Saturday. Jones is expected to start the game despite dealing with a dislocated elbow. Patterson sat out last week but ranks fifth on the team in tackles (40).
October, 23, 2009
10/23/09
10:18
AM ET
Posted by ESPN.com's Adam Rittenberg
Indiana has issued its official injury report for Saturday's game at Northwestern (Big Ten Network, noon ET).
OUT
DE Darius Johnson, shoulder
DE Fred Jones, foot
LB Will Patterson, hand
CB Donnell Jones, elbow
CB Chris Adkins, elbow
DT Jarrod Smith, back
RB Zach Davis-Walker, foot
QUESTIONABLE
PROBABLE
Much like Northwestern, Indiana is having injuries pile up on the defensive side. Patterson is a big loss at linebacker, as he ranks third on the team in tackles (40). Indiana's depth at cornerback also will be tested with both Jones and Adkins missing the game. Fifth-year senior Justin Carrington will get the start for Patterson at weakside linebacker. Saxon's availability will be important, as he missed last week's game after hurting the ankle Oct. 10 at Virginia. Senior Mike Reiter would start his second straight game at right guard if Saxon can't go. Willis, who has been upgraded from questionable last week, would be a big boost for the Hoosiers' run game.
October, 16, 2009
10/16/09
11:07
AM ET

Posted by ESPN.com's Adam Rittenberg
Indiana has issued its official injury report for Saturday's game against Illinois (Big Ten Network, 7 p.m. ET).
OUT
DE Darius Johnson, shoulder
DE Fred Jones, foot
LB Leon Beckum, ankle
DT Jarrod Smith, back
CB Chris Adkins, elbow
RB Zach Davis-Walker, foot
QUESTIONABLE
The defense is a bit more banged up than last week, as both Adkins and Smith will miss the Illinois game. Adkins has appeared in all six games and recorded 14 tackles and an interception. His absence thins the Hoosiers' depth at cornerback. Willis missed last week's game and has dealt with ankle injuries since the preseason. It will also be interesting to see how the defense responds after several key contributors had the flu last week. Saxon, the team's starting right guard, didn't practice Monday. Junior Cody Faulkner would step in for Saxon at right guard. Willis is listed as the starter on this week's depth chart and would be replaced by Demetrius McCray and Trea Burgess.
September, 25, 2009
9/25/09
3:42
PM ET

Posted by ESPN.com's Adam Rittenberg
Indiana has released its injury report for Saturday's road game against No. 23 Michigan (ESPN2, noon ET).
OUT
Defensive end Fred Jones, foot
Defensive end Darius Johnson, shoulder
Defensive end Kyle Kozak, shoulder
Offensive lineman Alex Perry, knee
QUESTIONABLE
Linebacker Chad Sherer, hamstring
PROBABLE
Running back Zach Davis-Walker, shoulder
Offensive lineman Cody Faulkner, shoulder
Offensive lineman Justin Pagan, ankle
Cornerback Donnell Jones, hamstring
Offensive lineman James Brewer, ankle
The Hoosiers are definitely getting healthier as Big Ten play begins. It would be good to see Pagan off the injury report entirely, but both he and Jones should be fine for Saturday. The big loss here is Johnson, who provides depth at defensive end behind standouts Jammie Kirlew and Greg Middleton. Johnson has eight tackles, a sack and a pass breakup in Indiana's first three games.
March, 3, 2009
3/03/09
9:55
AM ET
Posted by ESPN.com's Adam Rittenberg
Indiana won't spend spring practice going through the motions, not with what's at stake this fall for head coach Bill Lynch and a program entering a pivotal season. Despite a momentum-killing 3-9 campaign last fall, Lynch is still in Bloomington and so are all of his assistants. But there will be plenty of changes when the Hoosiers open spring drills March 24.
| | |
| --- | --- |
| | |
| | Sandra Dukes/Icon SMI |
| | Indiana coach Bill Lynch is looking forward to a lot of change this spring. |
Seven players have switched positions, all from offense to defense. Former All-Big Ten quarterback
Kellen Lewis
will audition at several spots this spring, and last year's leading receiver,
Ray Fisher
, returns to his roots as a cornerback. Injuries are still a problem, as they were last year, and several defensive starters -- linebacker Will Patterson, tackle Deonte Mack, safeties Austin Thomas and Nick Polk -- will sit out spring drills.
But Lynch vows that the Hoosiers will be better in 2009. For his sake, they better be.
I caught up with Lynch on Monday to discuss his outlook for spring ball.
What's the mood around there heading into spring ball after a season where things didn't go as planned?
Bill Lynch: We've had a great offseason. When you come off a season where you don't meet the expectations and don't go to a bowl game -- and you miss out on all those extra practice opportunities -- the offseason becomes so critical. I really like the leadership of our senior class. That's really what drives an offseason program, the leadership that you get from within. I just sense an attitude around here of guys that have worked very hard and they're anxious to get out there.
The message all along is we need to get better. We all do things in the offseason where maybe you switch positions and add some wrinkles to your offensive and defensive schemes, maybe change up a little bit how you practice. All those things are great to experiment with in the spring.
Do you sense any dramatic changes? I know you didn't make any staff changes. Will it look very different for the fans when they see you in the summer?
BL: We're going to be a lot better football team. That's the No. 1 thing. We moved some guys around on our staff. We didn't make any changes because we've got a really good staff. Philosophically, I wanted to have two defensive line coaches. We're a four-down-linemen scheme and we function with four coaches on defense, so we moved George Ricumstrict, who was our linebackers coach, to defensive end coach to work with [co-defensive coordinator/defensive tackles coach] Brian George. Mike Yeager, who had the safeties and is moving to linebackers, played linebacker in this defense and has coached in it in the past. Joe Palcic will take over the secondary by himself. So we made some adjustments there.
And then on offense, same thing. Kyle Conner will continue with the tight ends but also be an assistant offensive line coach. So he'll spend most of his time with the offensive line, particularly when we get into passing drills. We did a little restructuring there that I think will make us better.
You mentioned the line play on both sides. Was that a priority for you coming out of last season?
BL: It's a philosophical thing. That's where you win. You win up front. I had kept the structure of the staff the same as [former head coach] Terry Hoeppner had it -- one D-line coach, one O-line coach. I wanted to have two guys up front on both sides. We've got the guys on the staff. It's not a case of, 'Oh, boy, we've got to do this if we're going to win.' It's just a philosophical thing, particularly on defense if you're going to play with four down linemen.
Have you done this before at Ball State and other stops?
BL: Yes. Through my different places, I've done different things. Based on the staff you have and the team you have, you always tweak things. But I feel that's going to give us the best chance to win.
August, 1, 2008
8/01/08
10:20
AM ET
Posted by ESPN.com's Adam Rittenberg
Here's the second half of my interview with Indiana offensive coordinator Matt Canada.
Would you like to see Kellen (Lewis) or whoever is the quarterback running less and getting hit less this season?
Matt Canada: Every game's different. Kellen does so many things with his feet when he is in the game. We don't want to limit him that way. We'd like to have more production from our running backs. There's no question about that. Some of that comes back to me calling the plays and calling their number more. All those things come into play. We feel like we'll be better up front. Our offensive line is maturing. When you run this offense, if a team wants to stack the box and stop the run and force you to throw, they can do that. If they want to play coverage and force you to run, they can do that. Our job is to put our kids in position to make plays. We're looking to run the ball as well as we can with all of our guys.
Marcus [Thigpen], just from talking to him at [Big Ten] media days, said, "I'm the running back. I want to have the most carries and be the most involved." Do you have confidence in giving him more carries?
MC: Well, Marcus has done a lot for us. He certainly came on strong at the end of the year there, did a great job in the Purdue game. But Marcus ran track in the spring, wasn't with us a whole lot. He was out there a couple days. But I know he's lifting and is excited, wants to play. We've got a bunch of them. Demetrius McCray's coming back, Bryan Payton's coming back, Zach [Davis-Walker], Trea Burgess. So there's a bunch of guys that are going to, again, compete for that job. In the past, we've had a few backs play, so it's not like you had one guy with a whole bunch of carries. So the stat of Kellen having the most carries is a little bit misleading if you added up the carries of all the backs. But we do want to run the ball better.
Marcus said he played at just 182 [pounds] last year. Was gaining weight a big key for him?
MC: We want him to be as durable as he can and we want him to do those things to be able to carry the ball as many times in a game if he wants to be the primary back. But they all want to be that. As you get bigger and stronger and more mature and older, the weight starts to come on. Marcus has worked hard his entire career here, but I think it just finally clicked in. He started gaining some good weight.
I covered you briefly when you were [offensive coordinator] at Northern [Illinois] with a traditional offense and big-time backs like Michael Turner. This is quite a different offense from the one you ran back there.
MC: Hopefully, that's a good thing. It's something I've always believed and all coaches believe that you coach to your players, you coach to the strengths of where you are. Certainly at Northern, as we got it to the end there when I was finishing up, we were very good up front and we'd gone through the tough times and had a big offensive line and a great back. So we ran the ball very effectively and played with two tight ends, did some of those things. And then now, we're in a little bit different situation. We've got a bunch of great wideouts here, an athletic quarterback. There's some things that are very similar about the offenses, for sure. Obviously, coach Hep (Terry Hoeppner) had run it at Miami (Ohio). The offense there, they were spread, but they certainly ran two-tight end plays like we ran at Northern. We were more known as a running team, but we were in three and four wideouts 40 percent of the time as well. So some of it's perception, but we're certainly a long way away from where we were at Northern.
You mentioned the respect that Ben [Chappell] earned in the spring. For Kellen, is there any respect he needs to get back in camp after being away from the team, or will he be able to do that pretty easily?
MC: I think he'll be able to do it, but I'm sure it's something that has to happen. That's something that goes on in the locker room that we're not privy to as coaches. No one's going to question Kellen's talent. They know what he can do on film. But to be a good football team, to win the games you want to win in the clutch, your quarterback's gotta be a guy that everybody can look to and have faith in and believe he's going to lead them to where they need to go. So those are things we talk about, those are important issues and I'm sure those things will happen as we get going in camp.