April, 3, 2014
Apr 3
10:00
AM ET
COLUMBUS, Ohio -- Think back to the most memorable catches over the last couple seasons at
Ohio State
.
Was it a clutch touchdown grab that tipped the scales in a close game down the stretch?
Devin Smith
probably caught it.
[+] Enlarge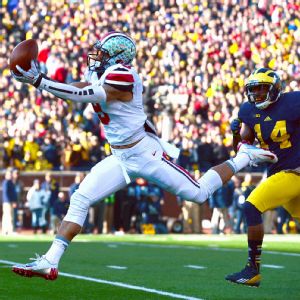 Andrew Weber/USA TODAY SportsDevin Smith's consistency needs to match his big-play ability.
How about a bomb, something that covered at least 40 yards and provided an instant jolt of offense? Odds are Smith was the guy streaking down the field and celebrating in the end zone.
Maybe it was a jaw-dropping, head-turning display of aerial athleticism, probably resulting in points for the Buckeyes? No doubt, Smith is again popping into mind.
Perhaps no player short of
Braxton Miller
has done more than Smith to stock the highlight reel for the Buckeyes since the spread offense arrived and the passing game started its rapid evolution out of the Stone Age. And even if he never has another chance to reach up to snag another one-handed reception against tight coverage, Smith has already supplied enough memories to fill several hype videos or decorate the walls of the practice facility with photos of his scoring exploits.
But for all those unforgettable moments, there have also been a few games where it's hard to even remember Smith was on the field at all. And rather than duplicate all the dizzying highs heading into his senior season, the emphasis now is instead on eliminating the lows.
"I look back at some of the plays I've made, I have made some plays that people will remember forever," Smith said. "But inside me, I still feel like there's more that I need to give."
The Buckeyes are more than willing to take whatever else Smith has to offer, particularly with leading receiver
Philly Brown
no longer in the picture and coach Urban Meyer still stressing the importance of balancing his high-powered rushing attack with more contributions from the passing game.
Smith is the logical choice to lead that effort on the heels of a 44-catch, 660-yard, eight-touchdown season in 2013, another campaign that featured go-ahead scores, game-changing strikes from long distance and impressive catches while simultaneously fighting off gravity and cornerbacks. But what the Buckeyes need now is the kind of consistency and reliability Brown provided by making multiple receptions in every outing but two, something Smith struggled to offer late in the season a year ago while catching just 6 balls in the final five games.
"Obviously with some game plans, there are times when it's going away from me, putting the ball in Philly's hands or keeping it with Braxton and Carlos [Hyde], things like that," Smith said. "But I think one thing that kind of hurt me a little bit was towards the end I was banged up a little bit and not making as many plays in practice, and that held me back from getting plays in a game.
"I'm just making sure I take care of my body every single day and make plays that I can, act like practice is a game. If I do that here and perfect that, I think it will carry over to the season."
Part of that process during the spring involves challenging Smith as if he were in the middle of the season, putting him in different scenarios designed to take him out of his comfort zone and forcing him to overcome a few hurdles.
Notably, the Buckeyes have moved him all over the formation as part of the ongoing development of his game, having him spend one full day away from his starting "X" position while working at "Z," then lining him up at other times in the slot to continue keeping him on his toes and finding a way to tap into his potential more regularly.
"The biggest thing we've had to do is present adversity to him, moving positions and moving him around, creating those hard situations because he's great when things are great," receivers coach Zach Smith said. "When things are hard, that's when he needs to shine. He's been inconsistent in that.
"But so far, so good."
That, of course, is as true for Smith's career as a whole as it is his development this spring. But he isn't done with either quite yet.
March, 28, 2014
Mar 28
12:00
PM ET
Hope your bracket is faring better than mine ...
November, 6, 2013
11/06/13
3:30
PM ET
COLUMBUS, Ohio -- The holiday shopping seemingly starts earlier every year.
[+] Enlarge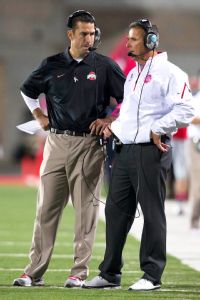 Greg Bartram/USA TODAY SportsWith Ohio State's success, Urban Meyer may have to part with some of his top assistants, including Luke Fickell.
Perhaps the most popular store for athletic directors who are looking to put a new football coach under the tree isn't even officially open for business. However, there's already one who is reportedly banging on the door trying to capitalize on a head start.
The two-year commitments Urban Meyer asked of his first coaching staff at Ohio State will soon be filled. The assistants have all added 21 wins without a loss to their most current résumés. The No. 4 Buckeyes are on pace for another division title, in line for a spot in the Big Ten title game and still jockeying for a bid to compete for the crystal football.
So, as the South Florida Sun Sentinel reported on Tuesday that Florida Atlantic is targeting defensive coordinator Luke Fickell, it's a safe bet that some of the hottest coaching toys on the market are at Ohio State. And after keeping them all to himself after last season's undefeated campaign, the signs are already there that Meyer will need to restock his shelves this offseason.
"We had four guys that had some people trying to discuss head-coaching opportunities for them," Meyer said in the spring. "And I hope that happens for some of them, but I'm kind of glad it doesn't happen after just one year.
"I always ask for just a two-year commitment. I think that's fair."
Across the board, Meyer's first staff has provided just about everything he could have hoped for when he took over the program, including sticking around and turning down a few offers a year ago.
As the team appears to be getting stronger every week, the benefits for the Buckeyes are obvious. OSU is thriving on the continuity and familiarity that comes with the opportunity to spend more than one season with a position coach, coordinator or simply a playbook. They've proven more than capable of making successful in-game adjustments -- whether it was altering the approach defensively against Iowa after seeing a new formation or tweaking an offensive game plan to feature the brutal running style of Carlos Hyde more as the passing attack struggled at Northwestern -- there are trademarks of a group of coaches and players all on the same page.
Returning for another season with the Buckeyes wasn't solely a perk for the program, of course. For all the attention Ohio State got in 2012 while going unbeaten, it didn't win a national title and couldn't even play for the conference crown. Adding those to a list of accomplishments can certainly help a potential candidate stand out when business really picks up for athletic directors in the coming months.
And the Buckeyes will have no shortage of options depending on what a potential suitor is looking for, from innovative offensive minds to a pair of defensive guys with previous experience as interim coaches.
Tom Herman's work with quarterback Braxton Miller and Ohio State's eye-popping offensive numbers will surely make him one of the top targets among coordinators. Ed Warinner's results with the offensive line while serving as the co-offensive coordinator and his background in multiple styles of attacks could be appealing as well.
Fickell has interviewed for at least one major program in the past, and Ohio State's surging defense may well get him cracks at jobs bigger than the one Florida Atlantic might offer. Everett Withers has long been respected around the country for his ball-hawking defenses, and the Buckeyes have only helped him add to that reputation.
The rest of the assistants have enhanced their profiles as well, with Mike Vrabel's young defensive line zipping through the learning curve and Zach Smith's receivers operating at a much higher level this fall, just to name two.
It may turn out that keeping most of his assistants around becomes an even bigger priority for Meyer if the inquiries start flooding in for his coordinators. But, for now, two-year engagement isn't over, and there's still plenty of work to be done.
But if the Buckeyes end up doing what they planned on by the end of the season, Meyer will surely have no problem passing on a glowing recommendation.
"The one negative thing about success and hiring good coaches is that they're hot items," Meyer said after last season. "If I had five guys that people never call me and want to hire them, that means I've probably got bad coaches."
With the shopping season apparently underway and the Buckeyes still rolling, Meyer had better make sure his phone is fully charged.
September, 25, 2013
9/25/13
9:00
AM ET
COLUMBUS, Ohio -- All of the elements were in place once again, and a familiar scene was playing out along the right sideline.
The route didn't seem to call for anything all that extraordinary for
Devin Smith
, who just needed to streak up the sideline, burn a defensive back with his elite speed and then take advantage of all the green grass that was likely to be in front of him on the way to yet another score.
[+] Enlarge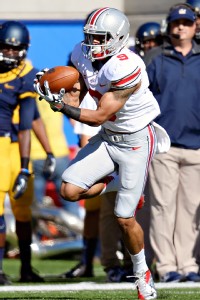 Thearon W. Henderson/Getty ImagesDevin Smith made Ohio State history with his 90-yard score against Cal.
Just like usual, the play designed behind him was perfect; his quickness was too much for the California secondary. All that was left for the Ohio State receiver to focus on was the simple stuff.
"I just make sure I catch it," Smith said. "Catch it and then run as fast as I can."
Few players are ever able to run him down, and Cal had no chance two weeks ago as he turned on the afterburners on a 90-yard play that stands as the longest in school history. And with that recent example now added to an expanding résumé, it's starting to seem like the further the Buckeyes are from the end zone, the more likely Smith is to find it.
If former Ohio State legend Cris Carter was known for only catching touchdowns, Smith is fast becoming the target who only produces long ones.
"I mean, 41 yards a touchdown catch is kind of astounding," wide receivers coach Zach Smith said. "But it doesn't really surprise me -- he's a very talented vertical threat."
Smith is proving that with regularity now, but he only showed glimpses of it early in his career with the program. In fact, the junior is coming up on an anniversary of sorts with Wisconsin coming to Ohio Stadium for a Top 25 showdown on Saturday night. It was two years ago in the meeting of the budding rivals that Smith turned in the first of what has become his trademark receptions.
Sneaking behind the secondary with the game on the line,
Braxton Miller
rolled to his right, found Smith uncovered deep down the field and hooked up with him for a 40-yard game-winning touchdown. Then a true freshman, Smith only had three scores to his credit at that point, and they had gone for a combined total of 63 yards. Since then, Smith has seven more touchdowns that have covered at least 40 yards, and he's collectively posted an average score that has gone 41.5 yards on his 14 career trips to the end zone -- a number that only slightly dipped thanks to a measly 5-yard snag last week in a blowout of Florida A&M.
"In the course of the season so far, they've hit me on some shorter routes, some intermediate routes and things like that," Smith said. "And this past Saturday, having a one-on-one matchup and going up and getting the ball, I think that really showed I could be a good asset to this offense in the red zone.
"I wasn't really aware of [the touchdown average], but that's a pretty good statistic to know. A lot of it has to do just with speed, but I think the most important component for me is just running good routes, and I'll do whatever it takes to help this team win."
The Buckeyes have done that every time he's caught a touchdown pass in his career, obviously including that notable bomb against the Badgers.
But even his relatively short score last week on an athletic reception in the left corner of the end zone offered more evidence of how difficult it's becoming to defend Smith, since he didn't have a bunch of space behind a cornerback to threaten to pull away from him with pure speed. With clearly improved reliability with his hands, crisper route-running skills and freakish leaping ability, Smith put the rest of the complete package on display with a grab that showcased some smaller ball to go with all his home runs.
"I think he's become effective in pretty much in any part of the field," Zach Smith said. "But a guy like that with the vertical threat, where corners really have to honor him vertically, they see that on film. So once he has that threat, there is that fear of getting beat deep and everything else opens up.
"He can run, he has straight-line [speed], and the steps he's made have been more at becoming a receiver as opposed to just a deep-threat guy. So he's improved, but he's been a dynamic vertical threat since I got here."
If the second-year assistant still needs confirmation of that, the Badgers can surely offer it as one of Smith's first victims deep down the field. Now that he's showing signs of working in tighter spaces as well, there might not be anywhere on the field that's safe.
February, 23, 2012
2/23/12
12:00
PM ET
She's like a dream, wrapped in a wish, poured into jeggings.
January, 30, 2012
1/30/12
2:30
PM ET
The Big Ten had three head-coaching changes in recent weeks, and new leading men have stepped in at Ohio State, Illinois and Penn State. We will be sharing our thoughts on the three new coaching staffs as they become complete. We already looked at
Illinois' new staff
, and Ohio State is next up on the rundown.
Here's the new Ohio State staff:
Urban Meyer -- head coach
Everett Withers -- assistant head coach/co-defensive coordinator/safeties
Luke Fickell -- defensive coordinator/linebackers
Tom Herman -- offensive coordinator/quarterbacks
Ed Warinner -- co-offensive coordinator/offensive line
Stan Drayton -- running backs
Tim Hinton -- tight ends
Zach Smith -- wide receivers
Mike Vrabel -- defensive line
Bill Sheridan -- defensive backs

So
Today's Take Two topic is:
How did Meyer fare in putting together his staff at Ohio State?
Take 1: Adam Rittenberg
Meyer set the bar high at his introductory news conference in November, saying he planned to "try to assemble the best coaching staff in college football." While I expected a little more star power in Meyer's hires, I like the cross-section of coaches joining Meyer in Columbus. He ended up retaining three assistants -- Fickell, Vrabel and Drayton -- and would have kept a fourth had Taver Johnson not left for a co-defensive coordinator spot at Arkansas. That number surprises me a bit, although keeping Fickell is huge, particularly from a recruiting standpoint. Withers is a veteran defensive coach who can take over the coordinator duties if and when Fickell leaves for a head-coaching position. Warinner seems like an excellent addition, and Meyer is close with Hinton, who also comes over from Notre Dame. The most intriguing hire by far is Herman, considered a rising star in the profession. Will he and Meyer revitalize the Ohio State offense? The unit certainly needs a shake-up, and it'll be interesting to see how Herman fares in a big-time, high-pressure job. This isn't Iowa State. The other big hire not on this list is strength and conditioning coach Mickey Marotti, who Meyer brought from Florida. Overall, this might not be a star-studded staff, but it's a very solid one.
Take 2: Brian Bennett
Several members of Meyer's staff at Florida went on to become head coaches. His first Ohio State staff included two guys who have already been head coaches, if only for one season each, in Fickell and Withers. They bring some real star power to the defensive side, and the only concern there is how two men who called all the shots themselves last year will react to working as co-coordinators. They'll have to check their egos at the door, but I think their respect for Meyer will allow them to do that. Vrabel moving to defensive line is interesting, and he'll have a wealth of talent to work with in returning guys like John Simon and Jonathan Hankins and the blue-chip recruits that are coming in, led by Noah Spence. Sheridan also brings a wealth of experience, including time as an NFL defensive coordinator. I agree with Adam that Herman is the wild card of the bunch. Meyer identified an up-and-comer rather than shooting for an established name, and Herman will be working with a higher caliber of athlete while also trying to blend his philosophy with the offensive-minded head coach. Best staff in America? Probably not, though that's a highly subjective description anyway. The important thing is that Meyer found a solid blend of veterans and young guns, program insiders and those with outside perspectives. This staff should help the Buckeyes emerge as a national powerhouse again in the very near future.
December, 22, 2011
12/22/11
11:45
AM ET
Another day, another addition to Urban Meyer's Ohio State staff.
The Buckeyes announced that Zach Smith will serve as receivers coach in Year One under Meyer. It's a reunion of the two, as Smith spent five years as a graduate assistant and quality control coach for Meyer at Florida, from 2005-09. Smith then went on to Marshall in 2010 and worked as receivers and special teams coach this season at Temple under former Meyer assistant Steve Addazio.

"Zach Smith has already coached with me for five seasons, and so I know what a quality coach he is," Meyer said. "He knows my system inside and out and he teaches the system the way I want it to be taught. He has coached and taught some great players already, like Percy Harvin, Aaron Hernandez and Louis Murphy."
And it's a homecoming for Smith, who was born and raised in Columbus. How's this for a connection to the program: he is the grandson of former Ohio State coach Earle Bruce.
"It is really, really a dream come true," Smith said. "I grew up watching Ohio State, my grandfather coached here and I always dreamt of doing it, too.
"Plus I have an opportunity to work with Coach Meyer again. I was able to spend five years on his staff at Florida, and now working with him again is another dream come true for me. It's like two dreams coming true. I'm really excited, and it is wonderful to be back home."
Smith's grandmother, Jean Bruce, died last Friday, the day before Temple won the New Mexico Bowl. Her funeral was Wednesday.
"My coming home has added another element to everything that has gone on this week," Smith said. "My grandma would be very proud of me. I feel honored to come back and work at this university where both she and my grandfather's hearts have always been and I grew up loving."
Smith is the seventh assistant Meyer has officially hired since being named head coach late last month.