December, 22, 2014
12/22/14
11:00
AM ET
LINCOLN, Neb. -- There are two distinctly different ways to look at the mindset of Nebraska's players as they get ready for the National University Holiday Bowl on Saturday against USC.
[+] Enlarge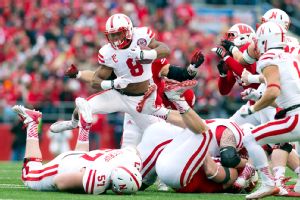 Jeff Hanisch/USA TODAY SportsAmeer Abdullah and the Huskers look to end their season with a win over USC.
The Huskers, who leave Tuesday for San Diego, have endured a tumultuous month -- from the firing of coach Bo Pelini on Nov. 30, two days after their overtime win at Iowa, to the deconstruction of his old staff as new coach Mike Riley hired his own assistants.
There was also the public reveal last week, presumably initiated by someone among them, of a
volatile audiotape
from Pelini's final meeting with the players Dec. 2.
How, after all of that, can the Huskers be ready to play a football game? It's a question for which they offer few answers. The past is behind them, quarterback
Tommy Armstrong Jr.
said.
"I'm focused on our staff," he said. "These players and getting ready for USC."
From the alternate perspective, the events of the past three weeks might have galvanized the Huskers.
As Armstrong suggests, they are driven to play well for interim coach Barney Cotton and the other eight assistant coaches, seven of whom likely will not remain at Nebraska after this week.
Riley plans to keep only secondary coach Charlton Warren.
Essentially, this is the last chance for the Huskers to work with the coaches who recruited them. It's a motivating factor.
So is the desire to show well in front of Riley. The former Oregon State coach has watched from afar as Nebraska practiced this month and figures to use the Holiday Bowl as another chance to start evaluating his 2015 roster.
Mainly, though, they want to end this season well for one another.
"The things we've faced over the month, we've put them behind us," safety
Nate Gerry
said. "We've kind of realized Saturday is the last time we've got together, and we're just going to use our energy to go out there and play well for each other -- not really worry about anything.
"Play for the guys who brought you to Nebraska. That's what I'm going to do. I'm going to give it all I've got, like I know they're going to do for me."
If you get past the forest of subplots, an interesting matchup awaits.
Nebraska, 9-3 and winless in four games against the Trojans (most recently a 49-31 home loss in 2007) has a chance to finish with its best record since 2003 -- the season after which coach Frank Solich and his first-year defensive coordinator, Pelini, were fired.
Parts of this game, to be telecast at 8 p.m. ET on ESPN, look especially appetizing.
The Huskers the lead the nation in opponent completion rate at 47.5 percent; USC is No. 1 in completion percentage at 70.1. Nebraska ranks 10th in yards per opponent pass play and ninth in third-down conversion rate allowed; the Trojans rank 18th and fourth in the respective offensive categories.
It's safe to say, though, Nebraska has not faced a foe such as USC. Michigan State, the most productive passing offense among the Huskers' 12 opponents, ranks 38th nationally.
"It will be interesting to see what happens," defensive end
Greg McMullen
told reporters last week. "That could probably benefit us by them throwing a whole lot."
McMullen said he thinks the Nebraska defensive line can pressure USC quarterback
Cody Kessler
.
Likely, it depends somewhat on the effectiveness of fellow end
Randy Gregory
. The junior, an elite NFL prospect, missed the season finale. He battled injuries most of the season and returned to practice Friday in Lincoln.
Nebraska also faces injuries on the offensive line. At center,
Mark Pelini
and top backup
Ryne Reeves
are out, as is
Zach Sterup
at right tackle.
"We've got to make sure we win our one-on-ones," Armstrong said. "They play a lot of man -- make you beat them on the outside. And they've got a great, physical defensive line."
No matter the individual battles, for Nebraska, the Holiday Bowl will boil down to a question: Can the Huskers find the right mindset?
"It's not about how I want to end," said senior I-back
Ameer Abdullah
, allowed extra time to heal from a knee injury that slowed him in November. "It's about how we should end things."
October, 21, 2014
10/21/14
12:00
PM ET
LINCOLN, Neb. --
Givens Price
was 16 years old when he showed up to play football at Nebraska in 2011.
So you'd expect that he might need more time than most to find his way. Seven games into his fourth season, things may have just clicked for the offensive tackle.
And it looks like he's intent to lead a group of teammates on this ascension.
Price, the Cornhuskers' backup right tackle, reserve guard
Chongo Kondolo
and No. 2 center
Ryne Reeves
stepped to the forefront on Saturday, as Nebraska overcame a halftime deficit to win 38-17 at Northwestern.
The emergence of Price, Kondolo and Reeves came after a bye week that followed a 27-22 loss to Michigan State in which none of the backup linemen played a snap. The starters struggled as Nebraska rushed 37 times for 47 yards, a low in coach Bo Pelini's seven seasons at the school.
The backup linemen made their move in practice. And Price led the way.
"Everybody noticed," left tackle
Alex Lewis
said. "He was very energetic, emotional at practice. I think it also helped guys like Chongo to see that it doesn't always have to be the starters who step up and have that energy."
Saturday started like Nebraska's first six games -- with Lewis and
Jake Cotton
on the left side of the line,
Mark Pelini
at center, guard Mike Moundy and
Zach Sterup
on the right side.
The reserves got their feet wet in the first half, as planned. The Huskers trailed 17-14, rushing for just 79 yards in the first 30 minutes.
On the second possession of the third quarter, Moudy moved to the left side. Reeves entered. Kondolo and Price took the right side.
The next three drives produced 185 yards and three touchdowns.
Nebraska rushed for 155 yards in the second half and cruised to the easiest victory against Northwestern in four meetings since joining the Big Ten.
"It was really just everybody doing their jobs," Price said, "listening to the coach and playing as hard as you can, as fast as you can, finishing blocks."
Each of the three backups brings a compelling backstory.
Price, who turned 20 this month as a fourth-year junior, played little until this season. He said he understood the reasoning of offensive line coach John Garrison to go without subs against Michigan State.
"I wasn't consistent in my game preparation," Price said.
Price told himself and his fellow reserves that "we need to play like we're playing a game."
During the bye week, they did it, he said.
"The fact that it was acknowledged put more emphasis on it to do the little things right," Reeves said. "There was a sense of urgency."
Reeves, also a fourth-year junior, came to Nebraska as a heralded recruit from Crete, Nebraska. He was expected to contribute early but battled injuries, including a fractured ankle in the spring before his sophomore season, and has shifted between guard and center.
Last spring, Reeves was taken from the practice facility by ambulance after suffering a neck injury. He returned in April but missed more time with an ankle sprain.
Kondolo counted offers from Florida State and Tennessee out of high school in Carrollton, Texas. He failed to reach academic standards and landed at junior college in California before redshirting last season.
They're an odd mix, but the trio works well together. Rarely does one enter the game without the other two.
"It's nice throwing the second team in there and to still go down and score touchdowns on the first-team defense," Lewis said. "It's going to help us down the road. We're such a close-knit group that you could see how it works. We're all on the same page."
This week as Nebraska hosts Rutgers, the backups are sure to play big roles again -- that is, if Price, Kondolo and Reeves remain on the second unit.
"I don't know if we created a spark," Reeves said. "We went out there, ran some good plays and moved the football."
The Huskers will take that every week.
April, 23, 2014
4/23/14
12:00
PM ET
I want to share something with you: The three little sentences that will get you through life. Number 1: "Cover for me." Number 2: "Oh, good idea, Boss!" Number 3: "It was like that when I got here."
April, 11, 2014
4/11/14
12:00
PM ET
Have a great weekend, everybody, and enjoy all the spring games. Looks like some nice weather out there.
March, 18, 2014
3/18/14
11:00
AM ET
LINCOLN, Neb. -- For the first 2½ years of his career at Nebraska,
Givens Price
heard voices.
Voices at practice. Voices in the meeting room. Voices when he entered the playing rotation at guard in the second half of last season as injuries nearly decimated the offensive line.
Five senior offensive linemen in 2013 -- gone from Nebraska after starting a combined 127 games in their careers -- spoke to Price even when he stood alone on the sideline.
"We are the voices now," Price said on Monday.
[+] Enlarge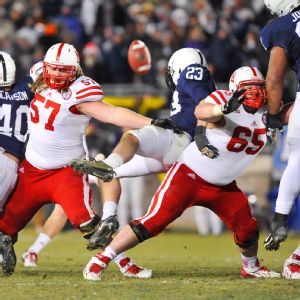 Randy Litzinger/Icon SMIZach Sterup (57) and Ryne Reeves (65) are among those competing for spots on the Huskers O-line.
The Huskers are rebuilding the line this spring. Through six practices, improvement is steady, according to the linemen and the quarterback they protect, sophomore
Tommy Armstrong Jr.
"They're going to get better," Armstrong said. "We're expecting that. At the same time, you've got to understand that sometimes mistakes are going to happen. They're all out there to win a spot. They're all out there to improve and push each other. They come out there and they're ready to work."
Despite the departures, Nebraska returns experience, primarily in left guard
Jake Cotton
, a senior who started 11 games last season. Others show notable promise, and the line, as a group, appears just as physically impressive as the 2013 cast.
Perhaps more impressive, in fact.
"We've got to get the mental side down," Cotton said, "if we want the size to matter."
Six practices into this spring, Cotton at left guard and junior
Zach Sterup
at right tackle appear most entrenched. Price has taken the majority of snaps at right guard, though senior
Mike Moudy
, out with a shoulder injury this spring, figures to compete for the job in August.
At center, senior
Mark Pelini
and junior
Ryne Reeves
are splitting time. And at left tackle, Colorado transfer Alex Lewis, a junior who has emerged as a top spring storyline, and redshirt freshman
David Knevel
, continue to compete.
"I think our whole room is full of competitors," Cotton said "Some of the guys have come so far in [two weeks]. I wouldn't have guessed it would go this fast."
Many of the new candidates to start received an unexpected jump start last season.
With seniors
Spencer Long
,
Jeremiah Sirles
,
Brent Qvale
,
Andrew Rodriguez
and
Cole Pensick
set to anchor the line, all appeared settled.
But after Long, an offensive captain and All-Big Ten pick in 2012, went down with a knee injury in early October, the injuries mounted. Moudy started three games in place of Long at right guard before the shoulder injury hit.
Cotton missed two games with a knee injury. Sirles and Pensick also missed practice time, forcing position shifts among the experienced linemen and youngsters like Reeves, Sterup, Pelini and Price into action.
Production suffered. Nebraska averaged 42.4 points and 291.6 rushing yards in the five games before Long's injury; after, it was 25.4 and 168.2.
Still, Armstrong credits the veteran linemen, especially Cotton, with easing the quarterback's transition into the lineup.
"They all sat me down and said, 'Hey, this is your time,'" Armstrong said. "'We saw how you practiced. Just go out there and have fun. We're going to have your back 100 percent of the way.' Jake Cotton said, 'You're the guy we want right now, and you're the guy we need.'
"He told me we were going to win games, and that's what we did."
Armstrong finished 7-1 as a starter last season, including a win over Georgia in the Gator Bowl.
Now it's his turn to help nurture the young linemen.
The play of Lewis at left tackle grabbed Armstrong's attention this spring. At 6-foot-6 and 290 pounds, Lewis, who started 12 games at Colorado in 2012, has meshed well with Cotton to help protect the QB's blind side.
Lewis and Cotton, to put in nicely, make their presence known on the practice field.
"That's double trouble right there," Armstrong said. "They work hard. They're outgoing. They're rowdy. They just keep going."
Cotton said the group is quickly developing a chemistry.
"You go the extra step to make sure guys are on the same page," he said. "It's a lot of fun. There's just something about having open spots, with nothing guaranteed, that's fun, because the competition is heated. Guys are gunning for spots."
It will, no doubt, intensify in August as Moudy returns. Also set to join the mix are
Nick Gates
,
D.J. Foster
and
Tanner Farmer
, the most heralded group of linemen signees in coach Bo Pelini's seven years at Nebraska. Another rookie,
Mick Stoltenberg
, could fit on the offensive or defensive line.
Regardless of the personnel, they'll work without the guidance of veterans like Long and Sirles.
"Nothing stops," Price said. "We've got to pick up from where they left off. The dream they had is still the dream we have -- that's to make it to the Big Ten championship and win the Big Ten championship. It starts in spring football."
February, 28, 2014
2/28/14
2:30
PM ET
We're taking snapshots of each position group with each Big Ten team entering the spring. Up next: the big uglies.

Illinois:
This is another group that appears to be in significantly better shape now than at the start of coach Tim Beckman's tenure. The Illini lose only one full-time starter in tackle
Corey Lewis
, as four other linemen who started at least eight games in 2013 return. Senior tandem
Michael Heitz
and
Simon Cvijanovic
are two of the Big Ten's most experienced linemen, and guards
Ted Karras
also has logged plenty of starts. Right tackle appears to be the only vacancy entering the spring, as
Austin Schmidt
and others will compete.

Indiana:
The Hoosiers have somewhat quietly put together one of the Big Ten's best offensive lines, and the same should hold true in 2014. Everybody is back, and because of injuries before and during the 2013 season, Indiana boasts a large group with significant starting experience.
Jason Spriggs
should contend for first-team All-Big Ten honors as he enters his third season at left tackle. Senior
Collin Rahrig
solidifies the middle, and Indiana regains the services of guard
Dan Feeney
, who was sidelined all of 2013 by a foot injury.

Iowa:
The return of left tackle
Brandon Scherff
anchors an Iowa line that could be a team strength this fall. Scherff will enter the fall as a leading candidate for Big Ten offensive lineman of the year. Iowa must replace two starters in right tackle
Brett Van Sloten
and left guard
Conor Boffeli
.
Andrew Donnal
could be the answer in Van Sloten's spot despite playing guard in 2013, while several players will compete at guard, including
Tommy Gaul
and
Eric Simmons
. Junior
Austin Blythe
returns at center.

Maryland:
Line play will go a long way toward determining how Maryland fares in the Big Ten, and the Terrapins will
make the transition with an experienced group
. Four starters are back, led by center
Sal Conaboy
, who has started games in each of his first three seasons. Tackles
Ryan Doyle
and
Michael Dunn
bring versatility to the group, and Maryland should have plenty of options once heralded recruit
Damian Prince
and junior-college transfer
Larry Mazyck
arrive this summer. Prince is the top Big Ten offensive line recruit in the 2014 class, according to ESPN RecruitingNation. New line coach Greg Studwara brings a lot of experience to the group.

Michigan:
The Wolverines' line is under the microscope this spring after a disappointing 2013 season. Michigan loses both starting tackles, including
Taylor Lewan
, the Big Ten's offensive lineman of the year and a projected first-round draft choice. The interior line was in flux for much of 2013, and Michigan needs development from a large group of rising sophomores and juniors, including
Kyle Kalis
,
Kyle Bosch
,
Jack Miller
,
Graham Glasgow
, and
Patrick Kugler
. Both starting tackle spots are open, although
Ben Braden
seems likely to slide in on the left side.
Erik Magnuson
is out for spring practice following shoulder surgery, freeing up opportunities for redshirt freshman
David Dawson
and others.

Michigan State:
The line took a significant step forward in 2013 but loses three starters, including left guard
Blake Treadwell
, a co-captain. Michigan State used an eight-man rotation in 2013 and will look for development from top reserves such as
Travis Jackson
(
Yes! Yes!
) and
Connor Kruse
.
Kodi Kieler
backed up Treadwell last season and could contend for a starting job as well. Coach Mark Dantonio said this week that converted defensive linemen
James Bodanis
,
Devyn Salmon
and
Noah Jones
will get a chance to prove themselves this spring. It's important for MSU to show it can reload up front, and the large rotation used in 2013 should help.

Minnesota:
For the first time since the Glen Mason era, Minnesota truly established the line of scrimmage and showcased the power run game in 2013. The Gophers return starters at four positions and regain
Jon Christenson
, the team's top center before suffering a season-ending leg injury in November. Right tackle
Josh Campion
and left guard
Zac Epping
are mainstays in the starting lineup, and players such as
Tommy Olson
and
Ben Lauer
gained some valuable experience last fall. There should be good leadership with Epping, Olson,
Marek Lenkiewicz
and
Caleb Bak
.

Nebraska:
Graduation hit the line hard as five seniors depart, including 2012 All-American
Spencer Long
at guard and
Jeremiah Sirles
at tackle. Nebraska will lean on guard
Jake Cotton
, its only returning starter, and experienced players such as
Mark Pelini
, who steps into the center spot. Senior
Mike Moudy
is the top candidate at the other guard spot, but there should be plenty of competition at the tackle spots, where
Zach Sterup
,
Matt Finnin
and others are in the mix. Definitely a group to watch this spring.

Northwestern:
Offensive line struggles undoubtedly contributed to Northwestern's disappointing 2013 season. All five starters are back along with several key reserves, and coach Pat Fitzgerald already has seen a dramatic difference in the position competitions this spring as opposed to last, when many linemen were sidelined following surgeries. Center
Brandon Vitabile
is the only returning starter who shouldn't have to worry about his job.
Paul Jorgensen
and
Eric Olson
opened the spring as the top tackles, and
Jack Konopka
, who has started at both tackle spots, will have to regain his position.

Ohio State:
Like Nebraska, Ohio State enters the spring with a lot to replace up front as four starters depart from the Big Ten's best line.
Taylor Decker
is the only holdover and will move from right tackle to left tackle. Fifth-year senior
Darryl Baldwin
could step in at the other tackle spot, while
Pat Elflein
, who filled in for the suspended
Marcus Hall
late last season, is a good bet to start at guard.
Jacoby Boren
and
Billy Price
will compete at center and
Joel Hale
, a defensive lineman, will work at guard this spring. Ohio State has recruited well up front, and it will be interesting to see how young players such as
Evan Lisle
and
Kyle Dodson
develop.

Penn State:
New coach James Franklin admits he's concerned about the depth up front despite the return of veterans
Miles Dieffenbach
and
Donovan Smith
on the left side. Guard
Angelo Mangiro
is the other lineman who logged significant experience in 2013, and guard/center
Wendy Laurent
and guard
Anthony Alosi
played a bit. But filling out the second string could be a challenge for Penn State, which could start a redshirt freshman (
Andrew Nelson
) at right tackle. The Lions have to develop some depth on the edges behind Nelson and Smith.

Purdue:
The Boilers reset up front after a miserable season in which they finished 122nd out of 123 FBS teams in rushing offense (67.1 ypg). Three starters return on the interior, led by junior center
Robert Kugler
, and there's some continuity at guard with
Jordan Roos
and
Justin King
, both of whom started as redshirt freshmen. It's a different story on the edges as Purdue loses both starting tackles. Thursday's addition of junior-college tackle
David Hedelin
could be big, if Hedelin avoids a potential NCAA suspension for playing for a club team.
Cameron Cermin
and
J.J. Prince
also are among those in the mix at tackle.

Rutgers:
Continuity should be a strength for Rutgers, which returns its entire starting line from 2013. But production has to be better after the Scarlet Knights finished 100th nationally in rushing and tied for 102nd in sacks allowed. Guard
Kaleb Johnson
considered entering the NFL draft but instead will return for his fourth season as a starter. Rutgers also brings back
Betim Bujari
, who can play either center or guard, as well as
Keith Lumpkin
, the likely starter at left tackle. It will be interesting to see if new line coach Mitch Browning stirs up the competition this spring, as younger players
Dorian Miller
and
J.J. Denman
could get a longer look.

Wisconsin:
There are a lot of familiar names up front for the Badgers, who lose only one starter in guard
Ryan Groy
. The tackle spots look very solid with
Tyler Marz
(left) and
Rob Havenstein
(right), and
Kyle Costigan
started the final 11 games at right guard. There should be some competition at center, as both
Dan Voltz
and
Dallas Lewallen
have battled injuries. Coach Gary Andersen mentioned on national signing day that early enrollee
Michael Deiter
will enter the mix immediately at center. Another early enrollee, decorated recruit
Jaden Gault
, should be part of the rotation at tackle. If certain young players develop quickly this spring, Wisconsin should have no depth issues when the season rolls around.
February, 26, 2014
2/26/14
9:00
AM ET
Let's look at what to expect this spring in the Big Ten's wild, wild West:

ILLINOIS
Spring start:
March 5
Spring game:
April 12
What to watch:
Toughening up on 'D': The Fighting Illini had one of the nation's worst defenses, especially against the run. Tim Beckman brought back defensive coordinator Tim Banks and hopes an extra year of maturity can help strengthen the front seven. Juco import Joe Fotu could win a starting job this spring, and Jihad Ward should help when he arrives in the summer.
'Haase cleaning: Nathan Scheelhaase wrapped up his career by leading the Big Ten in passing yards last season. Oklahoma State transfer Wes Lunt likely takes over the reins, but backups Reilly O'Toole and Aaron Bailey plan on fighting for the job, as well. Bill Cubit's offense should equal big numbers for whoever wins out.
Target practice: Whoever wins the quarterback job needs someone to catch the ball, and Illinois' top two receivers from '13 -- Steve Hull and Miles Osei -- both are gone. Junior college arrival Geronimo Allison will be counted on for some immediate help.

IOWA
Spring start:
March 27 or 28
Spring game:
April 26
What to watch:
A new big three: The Hawkeyes begin the process of trying to replace their three standout senior linebackers from last season: James Morris, Anthony Hitchens and Christian Kirksey. They were the heart of the defense in 2013, and now guys such as Quinton Alston, Reggie Spearman and Travis Perry need to make major leaps forward in the spring.
Develop more playmakers: Iowa was able to win the games it should have won last year, but struggled against those with strong defenses because of its lack of explosiveness. Sophomore Tevaun Smith and junior Damond Powell showed flashes of their potential late in the year at wideout. They need to continue to develop to give quarterback Jake Rudock and the offense ways to stretch the field.
Solidify the right tackle spot: The offensive line should once again be the team's strength, but the departure of veteran right tackle Brett Van Sloten means someone has to take on that role. Whether that's senior Andrew Donnal or redshirt freshman Ryan Ward could be determined this spring.

MINNESOTA
Spring start:
March 4
Spring game:
April 12
What to watch:
Mitch's pitches: Philip Nelson's transfer means redshirt sophomore Mitch Leidner enters spring practice as the No. 1 quarterback. He's a load to bring down when he runs, but Leidner needs to improve his passing accuracy after completing 55 percent of his passes in the regular season and only half of his 22 attempts in the Texas Bowl game loss to Syracuse. Added experience should help. If not, he's got some talented youngsters such as Chris Streveler and Dimonic Roden-McKinzy aiming to dethrone him.
Mitch's catchers: Of course, part of the problem behind the Gophers' Big Ten-worst passing offense was a lack of threats at receiver. Drew Wolitarsky and Donovahn Jones showed promise as true freshmen and should only improve with an offseason of work. It's critical that they do, or else Minnesota might have to count on three receiver signees early.
Replacing Ra'Shede: The Gophers only lost four senior starters, but defensive tackle Ra'Shede Hageman might be the most difficult to replace. The first-team All-Big Ten selection created havoc inside defensively, and there aren't many athletes like him floating around. Scott Ekpe could take many of Hageman's reps, but the defensive line overall will have to pick up the slack.

NEBRASKA
Spring start:
March 8
Spring game:
April 12
What to watch:
Tommy's turn: Sophomore Tommy Armstrong Jr. entered the offseason as the clear No. 1 quarterback for the first time after taking over for the injured Taylor Martinez (and splitting some snaps with Ron Kellogg III) last season. Armstrong showed maturity beyond his years in 2013 but needs to continue developing as a passer and deepen his understanding of the offense. Redshirt freshman Johnny Stanton could push him in the spring.
Get the OL up to speed: Nebraska loses a lot of experience on the offensive line, including both starting tackles (Jeremiah Sirles and Brent Qvale), plus interior mainstays Spencer Long, Andrew Rodriguez and Cole Pensick. The Huskers do return seniors Mark Pelini, Jake Cotton and Mike Moudy, junior Zach Sterup, plus three freshmen and a junior-college transfer who redshirted last year. A strong group of incoming freshmen may also contribute. Big Red usually figures it out on the O-line, but there will be a lot of players in new roles this season.
Reload in the secondary: The Blackshirts have plenty of experience in the front seven, but the defensive backfield has a new coach (Charlton Warren) and will be without top playmakers Stanley Jean-Baptiste and Ciante Evans. The safety spot next to Corey Cooper was a problem area last season, and the Huskers are hoping Charles Jackson takes a major step forward. Warren has talent to work with but must find the right combination.

NORTHWESTERN
Spring start:
Feb. 26
Spring game:
April 12
What to watch:
Trevor's time?: Trevor Siemian split reps with Kain Colter at quarterback the past two seasons, serving as sort of the designated passer. Siemian threw for 414 yards in the season finale against Illinois and has a clear path toward starting with Colter gone. That could mean more of a pass-first offense than Northwestern ran with Colter. Redshirt freshman and heralded recruit Matt Alviti also looms as an option.
Manning the middle: Northwestern brings back a solid corps on defense but lost middle linebacker Damien Proby, who led the team in tackles the past two seasons. Pat Fitzgerald has some options, including making backups Drew Smith or Jaylen Prater a starter or moving Collin Ellis inside. He can experiment and find the best match this spring.
Patch it together: The Wildcats' health woes from 2013 aren't over, as 11 players will be held out of practice for medical reasons, including star running back/returner Venric Mark. Add in that the school doesn't have early enrollees, and the team will be trying to practice severely undermanned this spring. The biggest key is to get through spring without any more major problems and to get the injured guys healthy for the fall.

PURDUE
Spring start:
March 6
Spring game:
April 12
What to watch:
Moving forward: Purdue players wore T-shirts emblazoned with the word "Forward" during winter workouts, and no wonder. They don't want to look backward to last year's abysmal 1-11 season. It's time to turn the page and get some positive momentum going in Year 2 under Darrell Hazell. Luckily, optimism abounds in spring.
Trench focus: The Boilermakers simply couldn't cut it on the lines in Big Ten play, and Hazell went about trying to sign bigger offensive linemen this offseason for his physical style of play. Both starting tackles and three starting defensive linemen all graduated, and no one should feel safe about his job after last season's performance. Kentucky transfer Langston Newton (defense) and early enrollee Kirk Barron (offense) could push for playing time on the lines.
Find an identity: What was Purdue good at last season? Not much, as the team ranked near the bottom of the country in just about every major statistical category. The Boilers found some good things late in the passing game with freshmen Danny Etling and DeAngelo Yancey, but Hazell must do a better job instilling the toughness he wants and locating playmakers.

WISCONSIN
Spring start:
March 7
Spring game:
April 12
What to watch:
Catching on: The biggest concern heading into the spring is at receiver after the team's only dependable wideout the past two seasons, Jared Abbrederis, graduated. Tight end Jacob Pedersen, who was second on the team in receiving yards last season, is also gone. The Badgers have struggled to develop new weapons in the passing game but now have no choice. Gary Andersen signed five receivers in the 2014 class but none enrolled early, so guys such as Kenzel Doe and Robert Wheelwright need to take charge this spring.
Stave-ing off the competition?: Joel Stave started all 13 games at quarterback last year, while no one else on the roster has any real experience under center. Yet the redshirt junior should face some competition this spring after the Badgers' passing game struggled down the stretch. Andersen likes more mobile quarterbacks and has three guys in Bart Houston, Tanner McEvoy and freshman early enrollee D.J. Gillins, who can offer that skill. Stave must hold them off to keep his job.
New leaders on defense: Wisconsin lost a large group of seniors, including nine major contributors on the defensive side. That includes inside linebacker and team leader Chris Borland, plus defensive linemen Beau Allen and Ethan Hemer, outside linebacker Brendan Kelly and safety Dezmen Southward. That's a whole lot of leadership and production to replace, and the process begins in earnest this spring.
November, 11, 2013
11/11/13
11:00
AM ET
Brady Hoke might turn out to be a legendary coach who has a long and storied career at Michigan.
But Hoke will be bucking some trends in order to get that done. In his third year in Ann Arbor, Hoke's Wolverines have taken a major step backward. After Saturday's 17-13 home loss to Nebraska, they're 6-3 with some challenging games ahead, and they're probably lucky not to have one or two more losses already.
Most of the truly great college football coaches in recent times have had their programs up and running by the third year. Alabama's Nick Saban and LSU's Les Miles won BCS titles in their third years at their current schools. Pete Carroll won an AP national title in his third season at USC.
[+] Enlarge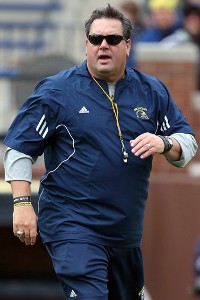 Leon Halip/Getty ImagesBrady Hoke's third season hasn't gone as anyone associated with the Michigan program hoped.
Brian Kelly led Notre Dame to a 12-0 regular season and BCS title game appearance in Year 3. Ohio State's Urban Meyer won a national title his second year at Florida, while Bob Stoops did the same in his second year at Oklahoma. Jim Tressel led Ohio State to a national title his second year and then went 11-2 with a Fiesta Bowl win in Year 3.
The same is true for some legends. Joe Paterno guided Penn State to an undefeated record in his third season as head coach. Bear Bryant went 8-1-2 at Alabama in Year 3. And it's the case for revered Michigan Men. Bo Schembechler was 11-1 and had an undefeated Big Ten record in his third year at the helm of the Wolverines, while the third season for Lloyd Carr resulted in the undefeated 12-0 campaign of 1997.
Hoke did have to revamp the program and rebuild for a new system after Rich Rodriguez left, but several of the coaches mentioned in the preceding paragraphs also had to make major transitions. And any argument preaching patience for Hoke loses some steam when you look at Minnesota, where Jerry Kill and his staff have an 8-2 record in Year 3.
There is hope, but Hoke would have to find precedent in two places he'd probably rather not look. Woody Hayes was just 6-3 in his third year at Ohio State before going undefeated and winning the Rose Bowl the following year. Michigan State took a step back in Mark Dantonio's third year with a disappointing 6-7 mark; the Spartans would win 11 games and a share of the Big Ten title the next season.
So maybe Hoke, who is just 6-5 in his last 11 games, will get things rolling after this difficult third season. But history shows that most truly great coaches have done so by this point.
Take that and rewind it back:
Team of the week:
Nebraska. Say what you want about Michigan's troubles, the Huskers still went into the Big House and snapped the Wolverines' 19-game home winning streak. And the Big Red offense is being held together by spit and string, at times. All-America guard
Spencer Long
is out for the season and senior quarterback
Taylor Martinez
is unavailable. Starting guard
Jake Cotton
is also out, and on Saturday, starting tackle
Jeremiah Sirles
went down with a knee injury. The Huskers turned to little-used
Zach Sterup
to replace Sirles. Take away a pick-six and a Hail Mary against Northwestern, and the Nebraska offense has scored just 30 points total in its last two games. With two victories.
Worst hangover:
The nightmare continues for Michigan. If the Wolverines don't win at Northwestern this week -- and the Wildcats are coming off a bye -- then a 6-6 finish with a five-game losing streak becomes a real possibility.
Best play:
For the second straight week, a late Nebraska play involving
Ameer Abdullah
takes this honor. This time, it was quarterback
Tommy Armstrong's pitch to Abdullah
on third-and-goal from the 5 for the winning touchdown.
Armstrong was ready to run on the option play until Michigan defensive end
Frank Clark
committed to him, and just before he got flattened, Armstrong had the presence of mind to flip the ball forward to Abdullah. The running back did the rest by diving into the end zone, helped by a nice block on the perimeter from receiver
Alonzo Moore
. It was one of the stranger-looking option plays and went down in the box score as a pass, but it couldn't have been any prettier for Nebraska fans.
Big Men on Campus (offense):
Wisconsin's
James White
ran for 147 yards and two touchdowns on 23 carries against BYU, and he added a receiving touchdown. Indiana receiver
Cody Latimer
had a career day versus Illinois, catching 11 passes for 189 yards and three touchdowns.
Big Man on Campus (defense):
Nebraska defensive end
Randy Gregory
recorded three sacks and a quarterback hurry as part of a dominating effort by the Blackshirts (and yes, they've earned that nickname again).
Big Man on Campus (special teams):
Minnesota punter
Peter Mortell
helped the Gophers hang on in the second half of a 24-10 win. He had punts downed at the Penn State 1, 2 and 12 while averaging 46 yards on four attempts.
[+] Enlarge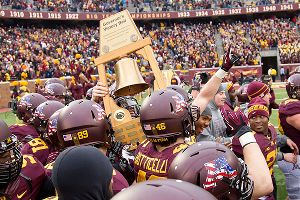 Brad Rempel/USA TODAY SportsMinnesota ran its record to 8-2 with a trophy win over Penn State on Saturday.
Break-dancing:
Forgive Minnesota for being a little new to the whole winning trophies thing. The Gophers captured the Governor's Victory Bell by beating Penn State for the first time since 2004, and in their postgame sideline celebration, they actually broke part of the trophy. "I think we were more worried about keeping [the trophy] together, so we could celebrate with it first," tight end
Maxx Williams
told the Minneapolis Star-Tribune. It's not like there is a lot of great history with that trophy, which has been around since only 1993.
The best part of the Gophers' victory celebration was clearly Jerry Kill's locker room dance. Watch it
here
.
Back to a bowl:
Iowa can officially chalk up last year's 4-8 season as an aberration. The Hawkeyes pounded Purdue 38-14 on the road to earn their sixth win and ensure they will be back in a bowl game this season.
"Obviously, it's not our endgame, but that's one nice byproduct of winning," coach Kirk Ferentz said. "It's something we don't take for granted. All you have to do is look back to last year. So it's great to get that accomplished."
With an off week to get ready for the final two games, Iowa should give Michigan and Nebraska all they can handle.
The Indiana effect:
We are thinking of adding a separate helmet sticker post each week just for games involving Indiana. The Hoosiers put up big numbers and allow opponents to do the same in their weekly shootouts. Against Illinois, IU got huge games from Latimer and running back
Tevin Coleman
(215 yards on 15 carries, two touchdowns). Illini receiver
Steve Hull
caught nine passes for 224 yards and two scores.
Nathan Scheelhaase
threw for 450 yards in a losing effort. The two teams combined for 1,262 total yards, which sounds like a lot until you remember that Indiana and Michigan went for 1,323 last month.
The winning team has scored at least 41 points in every one of the Hoosiers' nine games, and an average of 80.5 points has been scored in each of those contests. Don't expect that to change, as Wisconsin and Ohio State are next up on the schedule.
Fun with numbers (via ESPN Stats & Information):
In the past two weeks, Michigan lost a combined 49.2 expected points on rushing plays. Expected points added is a metric that measures the contributions of each unit to its team's net scoring margin. Therefore, Michigan lost almost 50 net points as a results of its rushes and sacks. An average EPA is 0, so if Michigan had had an average rush offense, and all else remained equal, the Wolverines would have been about even with Michigan State and would have beaten Nebraska by about 22 points.

Against Nebraska, Michigan gained zero or negative yards on 21 of its 36 rushes (58.3 percent). It was the Wolverines' second-most rushes and second-highest percentage of rushes that gained zero or negative yards in a game in the past 10 seasons.

Overall, Michigan added minus-26.3 expected points towards its net scoring margin on rushes (including sacks). That is the lowest rushing EPA for a team in an FBS game this season.

Coleman and his Indiana backfield mate Stephen Houston make an efficient pair. Houston is averaging 7.34 yards per rush, while Coleman is at 7.31. That ranks 10th and 11th, respectively, in the FBS among qualified rushers. They have combined for nearly 1,500 rushing yards despite averaging a little more than 22 rushes per game.

There are 123 FBS teams. Here are some of Purdue's national rankings: Points per game (120), rushing (122), passing yards per attempt (121), yards per play (121), points allowed (109), rushing yards allowed (111), third-down defense (122).

Minnesota is 8-2 and is passing the ball just 31.3 percent of the time. But that can definitely be a winning formula. Ranking right ahead of the Gophers is Stanford (35.5 percent of total plays are passes), while just below them is Auburn (30.8 percent).