November, 8, 2013
11/08/13
10:00
AM ET
The league has three teams taking a breather on Saturday before resuming their regular-season closing stretch run. But there is still plenty of action around the conference, and these facts and figures will help set the scene for a critical weekend for a few Big Ten squads.
Indiana might not play a lot of defense, but it definitely balances that out with an offense that is playing at the highest level in school history. The Hoosiers have scored at least 28 points in nine consecutive games dating back to last season, the longest stretch ever for the program. Much of that success under coach Kevin Wilson has come to the upgrades he's made in the passing game, which has thrown for 300 yards in a game six times already this season.
Badly in need of a win to keep its hopes in the division alive, the venue would seem to indicate Michigan has a great chance of getting one this weekend. The Wolverines own the longest active home winning streak among BCS conference teams, rattling off 19 consecutive victories in the Big House. They've still got a long way to go to match the school record of 50, set way back from 1901 to '07, but simply getting to 20 against Nebraska would surely be good enough in the meantime.
The Huskers may have needed what amounted to a miracle win last week against Northwestern, but with or without a Hail Mary, they've shown remarkable resiliency when trailing in games over the past two seasons. The latest come-from-behind victory marked the fifth time in the past two seasons Nebraska has rallied from a double-digit deficit to win.
After climbing up another rung on the all-time total offense list at Illinois last week, there's only one guy Nathan Scheelhaase needs to catch as his prolific career winds down. Heading into the final four weeks of the regular season, the senior quarterback needs to average 357 yards per game to track down Juice Williams and his school-record 10,594 yards. Scheelhaase jumped ahead of Kurt Kittner last week with a total that was just one yard short of the average he needs to post for the rest of the season.
Iowa's formula for success is about as straightforward as it could be this season: Win the turnover battle, win the game. The Hawkeyes are unbeaten in five outings when they have more takeaways than giveaways, and they haven't won a game when the margin is reversed. Coincidentally, Iowa has forced exactly one more turnover than it has given away -- and is one game over .500 for the season as well.
As if the Purdue offense hasn't struggled enough, it has to overcome some bad historical mojo this weekend as well. The Boilermakers have been shut out in both of their past two outings, and in program history, they've put up a goose egg four times when playing on Nov. 9. Iowa is looking to add to that misery for a team that has only scored one touchdown since September.
Prefer rushing attacks to the pass-happy offenses spreading around the nation? Wisconsin and BYU will be must-see television then. The only two teams in the country with a pair of rushers averaging more than 100 yards per game face off at Camp Randall Stadium in a game that will thrill any fan of ground-based football. Wisconsin's Melvin Gordon (134.3 yards per game) and James White (100.5) will take turns with BYU's Taysom Hill (105.1) and Jamaal Williams (104.7) in a matchup that might hardly need any passing attempts to entertain.
There may be many more to come, but Christian Hackenberg is already etching his name in the record books at Penn State in his first season of leading the offense. The quarterback has thrown for at least 200 yards six times in 2013, the most of any freshman in program history. Hackenberg knocked the 2001 season by Zack Mills out of top spot by tossing for 240 yards in the win over Illinois last week, and he's got four more chances to extend that mark.
Playing at home hasn't been much of an advantage for Minnesota since it opened TCF Bank Stadium, but the venue is starting to become more friendly lately. The Gophers are a modest 11-8 in front of their fans since Jerry Kill took over the program, but one more win would get the team back to a .500 all-time record in the five-year-old facility. Minnesota is currently 16-17, but a victory over Penn State would even up its home mark for the first time since Sept. 2010.
August, 30, 2013
8/30/13
9:00
AM ET
Who'll start Saturday --
Christian Hackenberg
or
Tyler Ferguson
?
Whatever the answer is, the quarterback will face the same challenge on Saturday by making his first career start. We can't peer into the future to see what the end result will be. (Hey, as Bill O'Brien likes to say, we're no genies.)
But we can look back to see how the last five Penn State quarterbacks fared in their first career starts. Here they are:
Matt McGloin, redshirt sophomore
vs. Michigan on Oct. 30, 2010
Outcome:
PSU 41-31
Stats:
17-of-28 for 250 yards, one touchdown, no interceptions
Synopsis:
After Rob Bolden suffered a head injury against Minnesota the week before, McGloin became the next man up. He was the first former walk-on to ever start under Joe Paterno.
After holding on to a 14-10 lead late in the second quarter, McGloin led PSU on two touchdown drives to give the Lions a 28-10 advantage by halftime. Said Paterno after the game: "That's about as well as we can play."
[+] Enlarge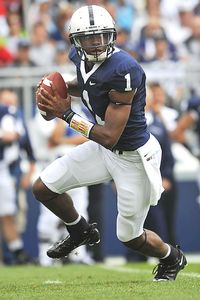 Randy Litzinger/Icon SMIRob Bolden made history in 2010 as the first true freshman quarterback to start an opener for Penn State under coach Joe Paterno.
Rob Bolden, true freshman
vs. Youngstown State on Sept. 4, 2010
Outcome:
PSU 44-14
Stats:
20-of-29 for 239 yards, two touchdowns, one interception
Synopsis:
He was the first true freshman in a century to start an opener for Penn State, and he fared relatively well against lesser competition.
PSU started off slow and led just 16-7 at halftime, but Bolden was able to get some breathing room when Chaz Powell returned the second-half kickoff 100 yards for a touchdown. Bolden didn't get much help from the running game -- Evan Royster had 40 yards on 11 carries -- but PSU dominated after the touchdown return.
Daryll Clark, redshirt junior
vs. Coastal Carolina on Aug. 30, 2008
Outcome:
PSU 66-10
Stats:
11-of-14 for 146 yards, one touchdown, no interceptions
Synopsis:
Penn State performed as expected against an FCS cupcake and didn't even really need to pass. PSU rushed for 334 yards and led 38-0 by halftime.
Pat Devlin and Paul Cianciolo played later in the game because, well, there was really no reason for Clark to risk injury. Clark said this afterward: "When you first start, you want everything to go right. I don't think I got touched today."
Anthony Morelli, junior
vs. Akron on Sept. 2, 2006
Outcome:
PSU 34-16
Stats:
16-of-32 for 206 yards, three touchdowns, no interceptions
Synopsis:
Morelli started off hot and drove the Lions to a score on their first drive, on a 42-yard touchdown pass to Deon Butler. He was 7-of-10 passing for 110 yards and two scores on just his first three drives -- and he was the first PSU quarterback since joining the Big Ten to throw three TDs in his first career start.
Said Akron coach J.D. Brookhart: "That kid can throw from one half to the other, 20 yards deep. You won't see a better arm this year."
Michael Robinson, redshirt sophomore
vs. Wisconsin on Oct. 4, 2003
Outcome:
Wisconsin 30-23
Stats:
22-of-43 for 379 yards, two touchdowns, no interceptions; nine carries for 19 yards
Synopsis:
Robinson stepped up when Zack Mills went down the week before with a sprained left knee, and he performed admirably. Although PSU didn't win, Robinson guided PSU on touchdown drives of 74, 80 and 70 yards. And, at the time, only one other PSU quarterback (Mills) had thrown for more yards in a game.
Robinson said this to the Philadelphia Inquirer: "Before the game, I kind of thought they would blitz me a little more, because that's what you usually do to a guy making his first start. You kind of want to get in his head a little bit. They played back and basically told me, 'Look, if you're going to beat us, you're going to have to throw the ball.' And I think we did a pretty good job."
November, 6, 2010
11/06/10
9:18
PM ET
STATE COLLEGE, Pa. -- The significance of the moment was embraced and understood by everyone at Beaver Stadium, both young and old.
Moments after Penn State beat Northwestern
35-21
to give coach Joe Paterno his 400th career win, Nittany Lions running back
Stephfon Green
darted through the crowd, holding a sign that read: "400 The Paterno Way."
[+] Enlarge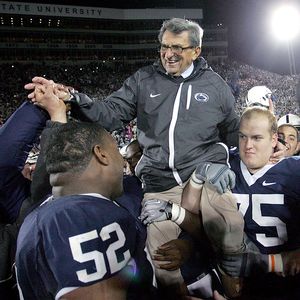 Charles LeClaire/US PressiwreJoe Paterno is the only FBS coach with 400 wins.
"Who wants to hold my helmet?" Green asked frantically. "So I can run around and act the fool."
The delirium extended to Green's fellow students, who chanted "We love Joe" and "Joe Pa" in the final moments of the Lions' historic come-from-behind win.
A different sort of joy enveloped Jay Paterno, the Penn State quarterbacks coach and Joe's second-oldest son, when asked to reflect on what his dad had accomplished.
"I told my mom last week after we beat Michigan, 'Is everyone coming in next week?'" Jay said. "She goes, 'No, why?' I said, 'Well, mom, I hate to tell you, but this is kind of a big deal.' Four hundred wins really hasn't been done at this level. It's only been done by two other guys."
Jay Paterno began to choke up.
"I'm a student of the game," he continued."I love the history."
The man who has been such a big part of that history also was moved by the moment. As the final seconds ticked off the clock, Penn State players hoisted Joe Paterno on their shoulders and carried him to midfield.
Normally a no-no with Joe, Paterno didn't mind the escort. In fact, he enjoyed it. A little.
"They had me up there before I knew it," he said. "I was hoping they wouldn't. I'd be dishonest if I told you that it wasn't a moving night for me. It was. The crowd, the university making a presentation to me ... all of that was nice. The carrying me off the field, we've all got a ham in us.
"It felt pretty good."
Fittingly, Paterno's 400th win had several historical connections.
Penn State recorded its largest home comeback in Paterno's 45 seasons (it tied for the largest under Paterno home or away after a comeback from 21 points down against Illinois in 1994). The previous record at home was a rally from 18 points down against Ohio State in 2001. That win marked Paterno's 324th and moved him past Paul "Bear" Bryant for the top spot in all-time coaching victories at the FBS/Division I-A level.
Just like that day, when Zack Mills led a second-half rally, Penn State turned to a reserve quarterback for heroics. Sophomore
Matt McGloin
relieved
Rob Bolden
and led five consecutive touchdown drives, completing 18 of 29 passes for 225 yards and four touchdown tosses.
"We were down 21-0 and all I could think of was the Ohio State game," Jay Paterno said.
JayPa reminded the players of a different rally Saturday morning, a fourth-quarter comeback against Northwestern in 2005 that required a fourth-and-15 conversion. Penn State went on to win the Big Ten and the Orange Bowl.
Jay Paterno text-messaged Michael Robinson, Penn State's quarterback that day in Evanston, and wrote: "Without fourth-and-15, there may not have been a 400."
[+] Enlarge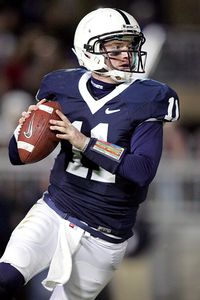 Charles LeClaire/US PresswireMatt McGloin led five scoring drives in Penn State's comeback win against Northwestern.
McGloin was too young to remember the 2001 Ohio State game or the parallels there, but he didn't have to. Saturday's comeback belonged to this team.
It was their moment in history.
"To see them come back the way they came back," Joe Paterno said, "it sounds corny, but that really was probably more important to me than whether it was 350 wins or whether it was 400 wins. Some of these kids now know what it takes to get it done."
Northwestern dominated the first 29 minutes, playing flawlessly in all three phases and getting gutsy play from quarterback
Dan Persa
(201 pass yards, touchdown; 109 rush yards, 2 touchdowns). The Wildcats went up 21-0 with just 56 seconds left in the first half, and a holding penalty on the ensuing kickoff backed up Penn State to its own 9-yard line.
McGloin's initial mind-set:
sit on it, cut your losses and don't make this any worse.
Then
Evan Royster
had a nice run on first down. Four plays later, Penn State reached Northwestern territory on Green's 21-yard run.
McGloin's revised mind-set:
get close enough for a field goal
.
Then he connected on back-to-back 20-yard passes, setting up first-and-goal at the 7. Two plays later, McGloin found a leaping
Brett Brackett
in the back of the end zone for a touchdown with three ticks left, completing a nine-play, 91-yard drive in 47 seconds.
McGloin's re-revised mindset:
we can win this thing
.
His confidence grew even more when Penn State marched 84 yards in 14 plays to begin the second half.
"The fans were into it, the sideline was into it, I was feeling great, everyone was feeling great," he said. "We acted as if we were winning at that point."
Penn State racked up 358 yards on its five touchdown drives. McGloin was on point, the offensive line held its blocks and running backs Royster (134 rush yards) and
Silas Redd
(131 rush yards) wore down the Wildcats.
"Everybody felt once we got the momentum, it wasn't going to go away," Royster said on the field after the game. "And that was the case."
The defense did its part, holding Northwestern to one first down and 32 yards in the third quarter.
"We just knew," defensive tackle Ollie Ogbu said. "You kind of feel that mojo coming."
It came in a hurry as Penn State scored 35 points in 18:25.
Paterno's party continued after the game, as Penn State held an on-field ceremony that included a video tribute and a crystal football given to the coach to commemorate No. 400.
"People ask me why I've stayed here so long," Paterno told the crowd of 104,147, none of whom went home. "Look around!"
Then, in typical Paterno fashion, he looked ahead.
"Let's go beat Ohio State."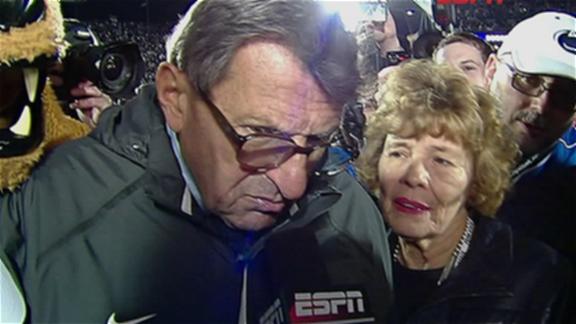 August, 13, 2010
8/13/10
12:00
PM ET
It's Friday the 13th. Scared?
September, 21, 2009
9/21/09
10:00
AM ET

Posted by ESPN.com's Adam Rittenberg
Looks like I swung and missed with
my choices
. I definitely should have had Chris Borland for special teams, but I can make a strong case for the rest of my decisions.
Here are the official picks.
CO-OFFENSE
Michigan RB Carlos Brown
-- Brown averaged 14.4 yards per carry against Eastern Michigan, racking up a career-high 187 rushing yards on only 13 carries while scoring a pair of touchdowns. The senior running back scored from 9 yards out near the end of the first quarter before exploding on a 90-yard touchdown sprint in the second quarter. His 90-yard score is the third-longest run in school history. Michigan posted 380 rushing yards in the game, the school's best single-game performance since the 2003 campaign.
Northwestern QB Mike Kafka --
Kafka opened the game by connecting on a school-record 16 straight pass attempts and set a single-game record by completing 83.3 percent of his passes while accounting for five touchdowns to keep Northwestern close in a high-scoring shootout at Syracuse. The senior quarterback completed 35 of 42 passes for a career-best 390 yards with three touchdown passes. He also added a touchdown run and reception, becoming the first Big Ten player with at least one passing, rushing and receiving score in the same game since Penn State's Zack Mills accomplished the feat against Akron in 2004. Kafka's completion percentage broke the previous school record of 80.6 percent set by Brett Basanez against Illinois in 2005.
DEFENSE
Penn State LB Sean Lee --
After missing last season with an injury, Lee recorded double-digits in tackles for the second time in three games this year with 12 defensive stops to help Penn State hold Temple to only a pair of field goals. The senior linebacker added 2.5 tackles for loss in the contest, including a 3-yard sack, while hitting double-figures in tackles for the 14th time in his career. The Nittany Lions held the visitors to only 46 rushing yards in the game as PSU has held three consecutive foes to seven points or less for the first time since 1996.
CO-SPECIAL TEAMS
Iowa P Ryan Donahue --
Donahue averaged 51 yards on five punts against Arizona, including placing two boots inside the 20-yard line with a long of 62 yards. The junior punter totaled 255 punting yards in the game and four of his five kicks were of 50 yards or longer, including punts of 50, 51, 58 and 62 yards. The visiting Wildcats were held to only one punt return for 4 yards in the game.
Wisconsin LB Chris Borland --
Borland made his presence felt on special teams against Wofford, blocking a punt and forcing a fumble on another punt while adding four tackles on defense. The freshman linebacker registered his first career forced fumble in the first quarter, stripping the ball from the returner deep in Badgers territory to set up a field goal. In the second quarter, he broke through to block a punt which was recovered in the end zone for a touchdown and a 17-0 lead.