October, 20, 2014
Oct 20
8:00
AM ET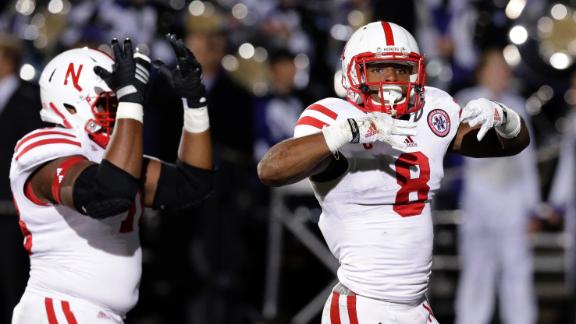 Good morning. A few thoughts before we get to the links:
1. Quarterback
J.T. Barrett
is receiving loads of attention as Ohio State continues its incredible offensive surge. And rightly so, because Barrett's numbers (20 total touchdowns, five interceptions, 65.2 percent completion rate) are astounding. He has the highest ESPN QBR score in the country since Sept. 6, the date of the Buckeyes' loss to Virginia Tech.
But let's not forget the improvement of Ohio State's offensive line. The young group with four new starters looked like a liability in the first couple of games. Since then, it has become a source of strength. The Buckeyes allowed no sacks on Saturday against Rutgers, whose defense came into the game leading the Big Ten in that category. The Scarlet Knights only had two tackles for loss and just one quarterback hurry. Ed Warriner's group showed similar dominance against Maryland, whose defensive front caused Iowa's offensive line all kinds of problems on Saturday.
Urban Meyer had his players
give the assistant coaches a standing ovation
after the Rutgers win. It's hard to tell
just how good the Buckeyes are
right now, Bob Hunter writes. But they look pretty darn good.
2. As great as
Ameer Abdullah
is, I thought Nebraska needed one more weapon to take its offense to a truly elite level. The Huskers might have found that extra option on Saturday at Northwestern.
De'Mornay Pierson-El
, who to this point had done most of his damage on punt returns, had three catches and even threw a touchdown pass to
Tommy Armstrong Jr.
, evoking memories of
a famous trick play from Nebraska's past
. The speedy true freshman gives Armstrong another target along with
Kenny Bell
and
Jordan Westerkamp
. The Huskers were dominant offensively in the second half against a pretty good Northwestern defense, and Pierson-El was a big reason why.
"De'Mornay and Ameer and Kenny, when does it end?" offensive coordinator Tim Beck told the Omaha World-Herald. "You want those guys on the field, because now you've got to guard them all."
3. Indiana just can't seem to sustain any kind of positive momentum. The Hoosiers were a trendy pick to make a bowl this season, especially after
winning at Missouri
on Sept. 20.
But since then, Kevin Wilson's team has gone just 1-3 (with the lone win over North Texas). And as IU showed in Saturday's 56-17 loss to Michigan State, it's highly doubtful that there is another win left on the schedule.
True freshman quarterback
Zander Diamont
clearly
isn't ready
, as his 5-for-15, 11-yard performance vs. the Spartans confirmed. He should be redshirting, but season-ending injuries to
Nate Sudfeld
and
Chris Covington
thrust him into action. Even with
Tevin Coleman
having a season for the ages, the Hoosiers don't have much of a chance without a passing attack and with a defense that can't win Big Ten games on its own. There's much to like about the young talent Wilson has brought to Bloomington, but Indiana continues to be stuck in program quicksand. The last five games will test the resolve of Wilson and his players.
West Division
East Division
And finally
...
Ohio State's band put on another amazing halftime show.
Rock out to it
. The Pinball Wizard part is my favorite.
October, 17, 2014
Oct 17
10:00
AM ET
Let the second half of the season begin.
The Big Ten's West Division is still as muddled as ever, Rutgers is searching for more respect, and several teams still aren't secure at quarterback. This week's games could help make the overall conference picture a bit clearer, but plenty of time – and storylines – remain. Here's a look at Saturday's games and what to expect (all times Eastern):
Noon
Iowa (5-1) at Maryland (4-2), ESPN2:
The Terrapins have had a week to rest, and they'll need it against a tough Hawkeyes team. Iowa scored an uncharacteristic 45 points last week, and Maryland's defense is giving up more yards – but fewer points – than the Hawkeyes' last opponent, Indiana. This is an interesting matchup for a lot of reasons. Not only is Iowa trying to remain atop the West, but we could possibly see four quarterbacks. Kirk Ferentz still wants to play both
Jake Rudock
and
C.J. Beathard
, while Randy Edsall won't hesitate to pull
C.J. Brown
for
Caleb Rowe
if Brown struggles the way he did against Ohio State.
Purdue (3-4) at Minnesota (5-1), BTN:
The Boilermakers shocked the Big Ten last week by hanging 31 points on Michigan State -- and that wasn't lost on Minnesota coach Jerry Kill, who praised Purdue's offensive line. With
Austin Appleby
now playing well at quarterback, this isn't the "gimme" game it appeared to be a few weeks ago. Regardless, Purdue's run defense is still lacking, and that's not good news against Minnesota.
David Cobb
is rushing for more than 136 yards per game, and he's one of the more underrated players in the Big Ten. He isn't just the spark in this offense, he's the engine – and he'll again be key to the Gophers' success. If Minnesota keeps winning, voters in both polls won't be able to ignore this team for much longer.
3:30 p.m.
[+] Enlarge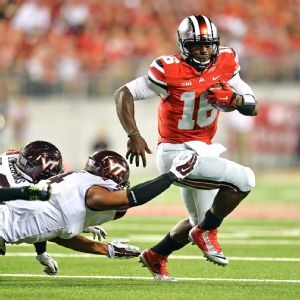 Jamie Sabau/Getty ImagesJ.T. Barrett's rapid improvement has the Buckeyes as a big favorite at home against Big Ten newcomer Rutgers.
No. 8 Michigan State (5-1) at Indiana (3-3), ESPN:
This matchup is happening at the worst time for the Hoosiers. Not only is starting quarterback
Nate Sudfeld
out for the season, but backup
Chris Covington
will reportedly not play Saturday, either. That leaves true freshman
Zander Diamont
, who weighs 160-some pounds, according to Indiana coach Kevin Wilson. Indiana boasts the nation's leading rusher in
Tevin Coleman
, but it's no secret Michigan State will stack the box and dare the Hoosiers to pass. And even if Indiana succeeds in scoring, it still might not be enough to keep up with a balanced Spartans offense. It could be a long day for Indiana.
Rutgers (5-1) at No. 13 Ohio State (4-1), ABC/ESPN2:
Rutgers is the surprise team in the Big Ten right now, but there would be no bigger surprise than if it were able to knock off the Buckeyes at the Horseshoe. Quarterback
J.T. Barrett
is rolling, running back
Ezekiel Elliott
is solid and the Scarlet Knights' defense will be tested, B1G time. Ohio State holds the advantage in scoring defense, total defense, pass defense, scoring offense, passing offense and rushing offense. Rutgers has embraced its underdog role so far this season, and it's a big underdog in this one.
7 p.m.
No. 19 Nebraska (5-1) at Northwestern (3-3), BTN:
The Wildcats have faced three one-dimensional offenses in a row, but that ends with the Cornhuskers. Not only does Nebraska have one of the nation's best running backs in
Ameer Abdullah
, but quarterback
Tommy Armstrong
is also fourth in the Big Ten in both passing yards per game and pass efficiency. This is the highest-rated offense (No. 10 in total offense) that the Wildcats have faced all season. Nebraska's defense isn't too bad, either, and
Trevor Siemian
will have to be on top of his game for Northwestern to stand a chance.
Required reading
October, 17, 2014
Oct 17
8:00
AM ET
I went to college with Brook Berringer. I did not know him well.
Berringer was 17 months older than me. The few times I interviewed him for the school newspaper, I thought he seemed much older than that, probably because he somehow stayed above the fray -- especially late in his career as a quarterback that happened to coincide with the most controversial and successful period in Nebraska football history.
Because of my own youth and lack of awareness, I failed at the time to recognize the impact of Berringer on people in Nebraska.
I saw him as just another guy with a good story. That is, until April 20, 1996, two days after Berringer died when the small plane he piloted crashed in a field north of Lincoln.
At Nebraska's spring game, instead of celebrating consecutive national championships or another batch of Cornhuskers drafted into the NFL -- Berringer likely would have been among them -- the school and state mourned its fallen hero by playing a video tribute on the big screens.
Sports are often emotional. But not like that. That was not about sports. The stadium went completely silent. It remains the only time I've shed tears while sitting in a press box. I was far from alone.
The Big Ten Network documentary, "Unbeaten," a 54-minute production on the life and death of Berringer, set to premier after the Nebraska-Northwestern game on Saturday, will similarly stir emotions for those who remember Berringer, and it will educate a generation of fans too young to have watched him play.
This fall marks the 20-year anniversary of his greatest football achievement, leading Nebraska to eight wins in place of injured star Tommie Frazier.
The documentary, directed by Matthew Engel and Kevin Shaw with Bill Friedman, BTN coordinating producer for original programming, hits all the right notes on Berringer.
It features no narration, only sound from a diverse lineup of former Berringer teammates and testimony from others, including Nebraska assistant Ron Brown, who recruited Berringer to Lincoln, and
Kyle Orton
, who has worn No. 18 since high school as a tribute to the QB.
An archived Berringer interview away from the field is particularly haunting. Forgotten audio from Keith Jackson lends important historical perspective.
"We wanted Brook to have a voice," Engel said.
For Nebraska fans, the first half of the film largely serves as review of the 1994 and '95 seasons, with impressive insight into the complicated dynamic of the Frazier-Berringer relationship. The final 25 minutes includes powerful reporting on the plane crash and its aftermath, poignant footage and a final sequence certain to move viewers like that April Saturday 18 years ago in Lincoln.
"He's a guy who represents all that's good about a college football player," Friedman said. "He was a symbol of how Nebraskans want their football to be portrayed."
Berringer's impact is lasting, memorialized with a statue of the quarterback in uniform with his coach, Tom Osborne, that stands outside the entrance Nebraska's athletic offices on the north side of Memorial Stadium.
Shaw said he visited Lincoln prior to documenting Berringer and saw the statue without knowing its significance. In learning about Berringer and remembering the statue, Shaw said, it was a "wow moment."
"It was like, that's
that
guy," he said.
With "Unbeaten," BTN succeeded in creating a film that will touch Nebraskans and teach others across the Big Ten about a quarterback who's worth remembering for another 20 years and beyond.
Let's go around the league:
East Division
West Division
October, 16, 2014
Oct 16
8:00
AM ET
How is it possible that half of the season is already gone? Why does it seem like time is dragging until Saturday every week? Life and football are truly mysteries.
1. Quarterback quandary:
Narrowing the field seemed like it could be a blessing in the summer, with Indiana coach Kevin Wilson quick to point out the benefits of no longer needing to juggle practice reps as much now that
Nate Sudfeld
was the last man standing in what was once a three-man battle. But there was an obvious downside that didn't receive nearly as much attention in July as perhaps it should have, and now that an injury has struck their starter, it's clear how much the transfers of
Tre Roberson
and
Cameron Coffman
hurt the Hoosiers. Roberson, experienced and proven in the Big Ten, is off putting up
big numbers
at Illinois State. Coffman is waiting for his chance to play for Wyoming while he sits out the season. And back at Indiana, the Hoosiers are scrambling to find somebody to
put behind center
this week with Michigan State's vaunted defense coming to town. The chance to focus on one guy and potentially unleash more of Sudfeld's ability was a nice silver lining, but it was apparently just a distraction from a huge storm cloud that was poised to wipe out Indiana's season.
2. Something special:
There's any easy way to get Urban Meyer to gush about his team these days. All it takes is one mention of his kickoff coverage unit, and the Ohio State coach turns downright giddy by his standards. The Buckeyes have reason to be pleased with what they're getting on special teams lately, and they lead the Big Ten in net yardage on kickoffs thanks to a combination of well-positioned kicks, an aggressive scheme and a roster loaded up with speedy players willing to fly down the field and hit somebody. Meyer has always had a fondness for special teams, and he's fostered a competition for "starting positions" on the units that makes even first-teamers on offense and defense proud to contribute on punts and kickoffs. It may not draw much attention, but the Buckeyes are racking up some hidden yardage and subtly altering the field-position battle each week thanks in large part to Meyer's cover guys.
3. Best Bye:
No program seems too thrilled with the double-bye schedule in place this season, but there appear to be obvious benefits for all four teams sitting out with an off date Saturday. Penn State's offensive line remains in disarray, and while it can't suddenly turn its inexperienced blockers into veterans, some extra reps and game-planning won't hurt heading into the stretch run that starts against Ohio State's tenacious defensive line next week. Wisconsin and Illinois both could use some time to work out kinks in the passing attack, with the former toying with a two-quarterback rotation and the latter trying to find the best option with
Wes Lunt
on the sideline. And after finally getting back in the win column, Brady Hoke might be able to take a deep breath at Michigan and enjoy at least a few moments of peace after a victory over the weekend. Out of all those options, maybe the Wolverines needed a bye the most -- unless the
regents
decide to stir the pot up again.
East Division
West Division
October, 14, 2014
Oct 14
9:00
AM ET
Indiana coach Kevin Wilson glanced down at his notes and circled back to Iowa for more than two-and-a-half minutes Monday afternoon until he finally addressed the news that everyone awaited.
Quarterback
Nate Sudfeld
was
out for the season
.
"I'll give you 20 seconds to tweet," Wilson said, glancing up at reporters. "OK, it's out."
Sudfeld will need surgery. Wilson said he's out for season. #iufb

— David Woods (@DavidWoods007) October 13, 2014
The news greatly alters Indiana's plan for success. Before, the Hoosiers could keep teams off-balance with a mixture of timely passes and rushes from one of the nation's best running backs in
Tevin Coleman
. If everything went according to plan, Indiana would win in a shootout once its defense made a few key stops.
Now? Sudfeld's injury creates a ripple effect on this team's identity. Defensive coordinator Brian Knorr said his unit will focus on creating more turnovers, and an even greater emphasis will be placed on a rushing offense that already ranks No. 6 nationally.
[+] Enlarge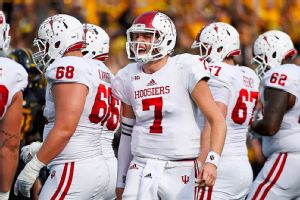 Jasen Vinlove/USA TODAY SportsLosing quarterback Nate Sudfeld for the season has Indiana back at square one on offense.
The situation at Indiana is so dire that Wilson even had to entertain questions on whether the offense's identity would change schematically, whether it would resort more toward an option attack.
"We're not going to sit here and just run every play," Wilson said. "Maybe the quarterback runs a little bit more but, you know, we'll play to our strengths. ... The quarterback now is a little bit more of a runner than a thrower, but we'll keep throwing. We're not going to throw five passes."
This isn't the era of
Tre Roberson
and Sudfeld; there is no solid Plan B. Freshman athlete
Chris Covington
will line up under center, and he began the preseason at linebacker. His first career start couldn't come at a worse time, either: Michigan State looms on the schedule Saturday afternoon.
Offensive coordinator Kevin Johns kept a steady tone and tried to sound optimistic Monday, but there was just no hiding just how much Sudfeld's injury negatively impacts this team's plans going forward.
"It's really going to be a lot of fun because now I get to coach and teach kids just the basic fundamentals of the game," Johns said. "Not that it wasn't fun to coach Nate Sudfeld, but Nate was on a different level. Now it's like you get to go back to Square One, which for us as coaches is exciting."
That phrase was actually spoken in a sincere tone, although it would've made just as much sense if Johns sarcastically talked about how much he looked forward to starting from scratch. Because that's basically what Indiana is forced to do now.
Covington isn't ready. He finished 3-of-12 for 31 yards and two interceptions in Sudfeld's absence against Iowa. But there's really no one else. Freshman
Zander Diamont
weighs 160-some pounds, according to Wilson, and
Nate Boudreau
is a walk-on redshirt sophomore.
It's Covington or bust. The Spartans boast the nation's No. 5 run defense and will dare the Hoosiers to pass. And that challenge wasn't lost on Wilson, who's well-aware of the series history in the battle for the Old Brass Spittoon.
"Our last win is, what, 2006?" he asked. "So they have a nice long run. Didn't play them every year but since '93, I think [Indiana is] 2-14 in that series. They have controlled it, and they have this Spittoon and we need to go get that thing.
"And if we don't play hard and play well, they will keep it."
August, 20, 2014
Aug 20
8:00
AM ET
Tis the season to name starting quarterbacks, not to lose them.
News of
Braxton Miller
's season-ending injury at Ohio State is dominating the headlines. But the Buckeyes won't be the last Big Ten team this year to go in search of an alternate plan at QB. Last year, 10 of the current 14 teams in the league used at least two starters at the position.
Here's a ranking of Big Ten teams most equipped to handle an injury to their top quarterback:
Around the league ...
East Division
West Division
And finally . . .
June, 11, 2014
Jun 11
5:30
PM ET
Indiana performed
an unusual balancing act
with its quarterback position for more than a year, refusing to identify a clear-cut starter while having
Nate Sudfeld
and
Tre Roberson
juggle time.
It worked to a large degree last season, as the Hoosiers led the Big Ten in passing yards per game behind eight starts from Sudfeld and four from Roberson. And once again this offseason, the two battled and finished neck-and-neck after spring ball.
[+] Enlarge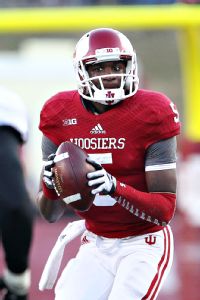 Pat Lovell/USA TODAY SportsTre Roberson was expected to compete for the starting QB job at Indiana. Instead, he decided to transfer.
So it's not particularly surprising that one of the quarterbacks would get tired of the time-share agreement, given how quickly players at that position transfer these days at the first sign of trouble. But the timing of
Wednesday afternoon's announcement
that Roberson is leaving Indiana was stunning nonetheless.
No official reason was given for Roberson's transfer. With summer workouts under way, we don't know yet if Wilson let Roberson know that he planned to go with Sudfeld as his starter or if Roberson had other reasons to leave. But we definitely expected Roberson and Sudfeld to compete again in fall camp before any move like this would occur.
Wilson told me this spring that he and his coaching staff had to make sure to continue managing the situation properly. He said sometimes it was tougher for Roberson to outshine Sudfeld in practice because much of Roberson's game was based on his escapability and athleticism, two traits that often don't show up when the defense is not allowed to hit the quarterback. Roberson was also an important early recruit for Wilson as a star prep player from Indianapolis.
For his part, Roberson had said all the right things about the quarterback competition.
"We've figured it out," he told ESPN.com in April. "We're trying to separate, but it's hard to separate when the other one is really good. But we can coexist and we'll keep on working together."
Roberson looked like the future leader for the Hoosiers when he started five games as a true freshman in 2011. But he broke his leg in the second game of the 2012 season, forcing him to miss the rest of the year. Roberson started the opener last season against Indiana State, but Sudfeld took the vast majority of the snaps for the first several games. Roberson then had some big games later on, throwing for 288 yards and three scores against Michigan and compiling 427 total yards (273 passing, 154 rushing) and six touchdowns in the season finale against rival Purdue.
Expect Roberson to be a hot commodity on college football's version of the waiver wire, because he is a very good quarterback with mobility and two years of eligibility left. A lot of teams could definitely use that. (Too bad transferring within the conference is so difficult; Roberson could be an answer under center for teams like Wisconsin and Rutgers).
For Indiana, this is now unquestionably Sudfeld's team. That could be a good thing, as neither he nor the rest of the team will have to deal with quarterback uncertainty any more. The Hoosiers believe he is a legitimate future NFL passer; he's got a strong arm and threw for 2,523 yards and 21 touchdowns last season despite the time share.
But Indiana's depth at the position takes a major hit. The only other scholarship quarterback is true freshman and early enrollee
Zander Diamont
. He was a well-regarded recruit from Los Angeles, and Wilson has a knack for developing passers. But Diamont is rail thin and could use another year in the weight room.
Sudfeld, who also split time with the since-transferred Cam Coffman in 2012, has a great opportunity ahead of him. For the first time in a while, the Hoosiers quarterback situation has clarity, even if the way it happened was stunning.