January, 23, 2014
Jan 23
1:00
PM ET
When
Ameer Abdullah
weighed whether to enter the NFL draft or return to Nebraska for his senior season, he didn't do much external research on comparable players.
[+] Enlarge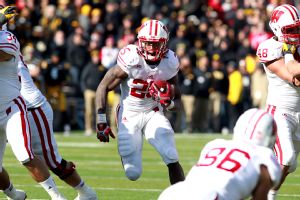 Reese Strickland/USA TODAY SportsLike his friend Ameer Abdullah, Wisconsin's Melvin Gordon wants to leave his mark on the Badgers.
He looked at his own family and how all eight of his older siblings had earned their college degrees (in some cases, advanced degrees, too). He considered the free education he could complete at Nebraska. He took the realistic and refreshing position that at some point, his body wouldn't allow him to play football, and he needed to fall back on his education.
The other top FBS running backs declaring for the draft early didn't enter Abdullah's mind. There was only one outside resource Abdullah consulted, a friend who played the same position with similar success at another Big Ten school, and who had faced the same decision. Wisconsin running back
Melvin Gordon
already had announced he would return as a fourth-year junior. As Abdullah neared his decision earlier this month, he reached out often to Gordon.
"That's one person I talk to all the time about things like this," Abdullah told ESPN.com. "Melvin, he's one of my best friends. He's a good guy, and he was in a similar situation as me. He's also coming back, and I'm glad he is.
"We get to play them next year, and it's going to be a great matchup."
Abdullah and Gordon, who first met a high school all-star game in South Carolina in 2010 and have been good friends ever since, both are returning to the Big Ten for the 2014 season. A record-setting 98 underclassmen entered the 2014 NFL draft, 25 more than last year, the previous record. The list includes 20 running backs. Although a portion of the early entries either received bad advice or made bad decisions and won't be drafted, running back has long been regarded as the position to make a jump as soon as possible because of the physical toll it takes to play the position and its typically shorter career span.
There's little doubt both Gordon and Abdullah could have turned pro. Gordon led the nation in rushing for a stretch in September and finished with 1,609 rushing yards and 12 touchdowns despite sharing carries with
James White
. Abdullah led the Big Ten and ranked ninth nationally in rushing yards with 1,690, which included 11 100-yard rushing performances in 13 games.
So why did the two say no to the draft?
"It just shows how much we care about our teams and how much we want to be the guy," Gordon said. "Ameer was the guy, but like I said before, it's about leaving a legacy. I'm sure that's what he wants to do as well. He wants to be considered one of the top backs, along with me, before he leaves, and that's a big thing, leaving something behind."
Gordon sought input from the NFL draft advisory board before announcing his decision to return, and he encouraged Abdullah to do the same. Although Abdullah didn't directly tell Gordon he planned to return before making a formal announcement, Gordon always had the sense Abdullah would be back at Nebraska.
"He's ambitious, just like I am," Abdullah said. "I feel like I have a lot more left in my ceiling that I have to reach. Melvin is the same way. He wants to come back and improve on his game, just like I do."
Pass blocking is undoubtedly the priority for Gordon during the offseason. It was a struggle for him at times last season, and even though he felt he improved, Wisconsin's coaches went with the more reliable White on passing downs.
"If you want to be an all-purpose back, you've got to get adjusted from the start," he said. "It didn't happen that quickly with me and that's why James was there. That's what I have to work on, just getting more comfortable in pass protection."
Gordon also hopes to bulk up a bit to 215 pounds after playing last season at around 205 (he's currently plateauing at 208-209). He wants to be Wisconsin's primary ball-carrier but expects to be pushed by
Corey Clement
, who had 547 rushing yards and seven touchdowns on just 67 carries as a freshman last fall -- similar numbers to Gordon's freshman campaign (62 rushes, 621 yards).
Abdullah logged 281 carries in 2013 and will again be in a featured role as a senior. Although many already consider Abdullah a team leader, he wants to enhance his vocal presence to "set the standards" for younger Huskers players.
Despite 549 career carries at Nebraska, the 5-9, 190-pound Abdullah isn't concerned about the injury risk of another year in college or the chatter from agents and others that running backs often slide in the draft if they return to school.
"It's all about your running style, really," he said. "A lot of guys run a certain way where they're vulnerable to getting hit directly. Other guys maneuver themselves so they won't take direct shots. You look at a guy like
Barry Sanders
. He was great at that. He never took that direct shot.
"I've always tried to change my ways or look at different technique schemes to prolong my career."
His Nebraska career will culminate with another run at an elusive league title. To do so, Abdullah and his teammates likely will have to get past Gordon and the Badgers on Nov. 15 in Madison, Wis.
Nebraska's last appearance at Camp Randall Stadium, its first league game in the Big Ten, did not go well.
"That's definitely one I circled," Gordon said. "I'm excited for it. I do compete with Ameer a lot. After every game, I'm checking to see what he got. I'm pretty sure he's doing the same thing. He definitely pushes me, and I'll push him to be great as well."
The Big Ten's top two runners are back for 2014, setting up an exciting race for the rushing title.
"The work starts now," Abdullah said, "so he better be working."
June, 12, 2012
6/12/12
5:00
PM ET
What'cha want?
Jim from Birmingham, Ala., writes:
If (1) Alabama destroys Michigan in their game in Dallas; (2) Alabama loses to LSU, as it did last year; (3) LSU wins the SEC Western Division and Conference; (4) Alabama finishes the season with only one loss (to LSU), but finishes 4th in the polls; and (5) Michigan loses to another B1G team, but wins the B1G Conference and finishes 5th place in the polls; should Michigan, by virtue of its "conference championship," be selected over Alabama for a four team playoff BCS spot? If your answer is "yes," please explain your logic. My solution is simple for determining a playoff system. Settle it on the field by having each conference and the independents select a team, and then having the selected teams compete in a playoff. The winner would get to determine whether to (a) select the top four teams, (b) restrict the playoffs to conference champs or (3) a combination system similar to the one suggested by J. Delany. What do you think about settling it on the field and why?
Adam Rittenberg:
My answer is no, but I'd be highly surprised if a two-loss Michigan team that got "destroyed" in the opener would finish fifth in the final rankings, whatever they may be. Again, you avoid a lot of this by having a selection committee with certain guidelines, as the Big Ten has proposed. Even if Michigan somehow finished No. 5 and Alabama finished No. 4, the committee could look at the two teams and determine Alabama is more worthy of a spot in the playoff because of its dominant head-to-head victory. I don't think the committee needs strict requirements on selecting conference champions over non-champions, but it can enter the room valuing league titles won on the field and making the right decisions, like Oregon over Stanford last year.
I don't really understand your solution. Are you talking about a 16-team playoff that would eventually become a four-team playoff? That's not happening, my friend. These leagues can reach an amicable solution, in my view. And it should be built around having a selection committee that values the qualities that are absent or obscured in the BCS rankings formula (schedule strength, margin of victory, etc.).
---
Drew from Milwaukee writes:
I just read your boy
Ted Miller's playoff article
over on the Pac 12 blog - really good stuff. He brought up some good points about the need for standardization across conferences in scheduling and championship formats. Given how unlikely any of that is to ever happen, I think it reveals a fatal flaw of this whole move towards crowning a national champion that began in 1997 - college football is not a national sport. This next statement won't win me many friends, but in a system with 120 teams governed by dozens of regional fiefdoms, devising a system to declare one team ruler of them all is a fool's errand. The further we go down this rabbit hole the less I care about a bogus system for choosing a #1 and the more I care about Big Ten titles and Rose Bowl victories. Am I missing something here or should I just accept my fate and bust out the tin foil hat?
Adam Rittenberg:
Ted brought up some great points, and you hit on a key one: the fact that leagues have different models toward scheduling and championships. The Pac-12 has the roughest road with nine league games plus a league championship game. The Big 12 also has nine league games but no championship game. The Big Ten was going to nine league games but opted to remain at eight after the Pac-12 partnership. So you're right. Different leagues function in different ways. As Ted touched on as well as
Blair Kerkhoff in this excellent story
, the next step could be standardizing the regular season. But that creates some potential obstacles for certain leagues.
Also, more than half the FBS teams are essentially eliminated from national championship contention before they play a game each fall. Given all these issues, there's no perfect solution to determine a national champion. So should we still have one? It's fair to wonder whether college football was better off before the BCS. That said, there's a strong demand among most college football fans for a national champion. We tend to want definitive results in our sports, and while college football struggles to produce this because of what we're discussing, the desire remains strong. Also, the Rose Bowl championship isn't what it used to be for a lot of Big Ten fans, especially those who have grown up with the sport in the BCS era. We've seen atypical Rose Bowl matchups and the Big Ten's best teams not heading to Pasadena each year.
Bottom line: I think we're too far down this road to turn back. I like the playoff, but I also respect what you're saying.
---
Eric from Denver writes:
Hey Adam, would you rather face Iowa at the beginning of the season - when their offense is still a work in progress - or at the end of the season - when you've had the benefit of seeing some videotape on Greg Davis' new scheme?
Adam Rittenberg:
I'd rather face Iowa at the beginning of the season, Eric. While senior quarterback
James Vandenberg
seems to be picking up the scheme well and clicking with Davis, Iowa has significant question marks at both wide receiver and running back. There will be some mistakes early on, and it likely will take a few games for Iowa to identify its playmakers both in the pass game and the run game. Iowa's track record shows that despite its misfortune at running back, it will find a capable ball-carrier or two. I think the Hawkeyes will have a better rush game in Week 8 than Week 2. I also think Vandenberg will have more reliable targets in Week 8 than Week 2, whether it's
Keenan Davis
,
C.J. Fiedorowicz
or someone else. While it's always helpful for opposing coaches to watch tape from the current season, it's not as if Davis is a rookie coordinator with a unique scheme. Opposing coaches will have a fairly good idea of what to expect from him in September.
---
Max from Omaha writes:
Quick question: with all the talk about the greatest individual seasons ever, and the list of 2,000 yard rushing seasons getting posted, why doesn't Mike Rozier get more attention for his 1983 campaign? 7.81 yards per carry is still an NCAA record (and is absolutely ridiculous), and is 2 ypc more than Marcus Allen's mark of 5.81 in 1981, which was just named the 2nd greatest individual season effort of all time. Is the fact that he had talent around him hurting the legacy of the season? I believe Marcus had 3 future NFL lineman paving the way for him in '81. Mike also had 7 more TD's (with 29). I'm obviously biased as a Husker fan, but with his YPC avg, I think you could pretty easily argue that he had the second or third greatest rushing season in college football history...Let me know!Thanks!
Adam Rittenberg:
Good question, Max, and to help with the answer, I consulted my esteemed colleague Ivan Maisel, who has covered college football a lot longer than yours truly. Ivan included Rozier's 1983 season at No. 10 on his list of best seasons from the past 50 years. He didn't rank Rozier higher because Nebraska had so many weapons on offense that year, and Rozier's individual greatness was a bit overshadowed because the unit performed so well. Nebraska had a standout quarterback in Turner Gill and a star pass-catcher in Irving Fryar. Mark Schellen and Jeff Smith were nice complementary weapons. It certainly doesn't take away from the ridiculous numbers Rozier put up, but most of the players who made the final list were one-man shows in that particular season. While USC had some great linemen in 1981, it
lacked standout offensive weapons aside from Allen
. Aside from Barry Sanders in 1988, there's not a whole lot separating the truly elite seasons by running backs in the past 50 years. Rozier's 1983 campaign and Allen's 1981 season are both right up there.
---
Aris from Seattle writes:
In your opinion, Adam, will anything come in terms of NCAA sanctions against Penn State for the Jerry Sandusky situation, since it went all the way up to the president and AD? Is there any way PSU avoids sanctions, due to what seems to be a cover-up?
Adam Rittenberg:
It's definitely possible, Aris, especially as we learn more about what Graham Spanier, Gary Schultz and others might have known about the allegations against Jerry Sandusky. While this situation is new territory for the NCAA and the Big Ten, which has launched its own investigation, a major cover-up by prominent university officials could merit severe penalties. I see this as an all-or-nothing situation for the NCAA. Either it hits Penn State with the most serious charge of lack of institutional control, or it doesn't impose any penalties. There's no gray area. And if some of the recent reports are true, it wouldn't be a stretch for the NCAA to conclude that the institution lost control.
---
Max from Grosse Point Farms, Mich., writes:
Good synopsis on the Big Tens position as it relates to the selection process for a football playoff. A selection committee seems like a "no brainer." You mention the Oregon/Stanford BCS situation. How about the MSU/UM debacle from last year? MSU handily beats UM during the season, but is them penalized for a close loss in the championship game. Do you think a selection committee would have done the same based upon both teams bodies of work for the entire season?
Adam Rittenberg:
Max, I think a committee would have picked Michigan State over Michigan for a four-team playoff if both teams had been in contention with just one loss apiece. But this would have required a "good loss" by Michigan State, like maybe a 3-point loss to Wisconsin. The fact is neither Michigan nor Michigan State would have been in contention for a four-team playoff last year. Both teams lost to average teams: Notre Dame (Michigan State) and Iowa (Michigan). If a committee is selecting teams for all the big bowls and not just the four-team playoff, it likely would pick MSU ahead of Michigan. But if that decision is made by the bowl committees, they can pick whatever team they want as long as it's eligible.
---
Jason from Kansas City, Mo., writes:
Adam,In response to your response of my e-mail. Let's make a deal. I'll stop speaking for the entire Nebraska fan base as long as you do the same. Sound good?
Adam Rittenberg:
Deal.
December, 3, 2011
12/03/11
9:05
PM ET
INDIANAPOLIS -- So much for the Big Ten championship game being a defense-driven contest.
Both offenses are moving the football very well so far tonight at Lucas Oil Stadium. A Michigan State turnover has allowed Wisconsin to take a 21-7 lead against the Spartans.
Some notes from the first quarter:
Much like in East Lansing on Oct. 22, Wisconsin opened the game with an impressive touchdown drive. The Badgers marched 71 yards in nine plays behind Montee Ball's running, play-action passes and excellent blocking from the offensive line. They went 80 yards in 11 plays in the previous contest against Michigan State.
Ball is making a major statement so far tonight that he deserves serious consideration for the Heisman Trophy and other national awards. The Badgers junior already has 105 rush yards and two touchdowns -- moving him three shy of Barry Sanders' NCAA single-season record of 39 -- on 13 carries. Michigan State entered the game ranked 11th nationally in rush defense, allowing only 102.5 yards per game. It's about time Ball started to get noticed outside the Big Ten footprint.
Wisconsin offensive coordinator Paul Chryst is showing off his creativity so far. In addition to the steady diet of well-designed runs, Wisconsin set up its second touchdown on a halfback pass from Ball to quarterback Russell Wilson, who caught the ball in stride for a 32-yard gain. The Badgers have had Michigan State's defense off balance from the start.
You have to like the way Michigan State came out to establish the run first. The Spartans ran five times on a six-play, 59-yard scoring drive and once again were effective running from the shotgun formation, which they featured often down the stretch. The power-speed combination of Le'Veon Bell and Edwin Baker seems to be clicking.
Spartans quarterback Kirk Cousins also looks sharp so far, completing his first three pass attempts.
November, 29, 2011
11/29/11
2:29
PM ET
The Big Ten announced its 2011 all-conference teams and most individual awards Monday night, but four more awards will be revealed Wednesday afternoon. Before the winners are revealed, we're putting in our endorsements for offensive player of the year, defensive player of the year, coach of the year and freshman of the year. We'll agree on some and differ on others.
Let's get started.
Adam Rittenberg endorses Wisconsin RB Montee Ball for offensive player of the year

There are only two realistic candidates for this award and they share a backfield in Madison. As I wrote after Wisconsin's win Saturday against Penn State, Ball and quarterback
Russell Wilson
are having the
best combined season by a running back and a quarterback in Big Ten history
. It's really not close. While Wilson might be my pick for the Chicago Tribune's Silver Football Award (Big Ten MVP) for the new elements he has brought to the offense, Ball has been nothing short of exemplary since the middle of last season. As some guy
pointed out earlier today
, Ball has more impressive numbers than Alabama's
Trent Richardson
, the likely Heisman Trophy winner. Ball's 34 touchdowns rank second in FBS history behind Barry Sanders, and his streak of 12 games with multiple touchdowns surpassed Sanders' NCAA mark of 11. The only reasons Ball doesn't get more national recognition are because he plays for Wisconsin, which everyone assumes should always run the ball like this, and because he shares the spotlight with Wilson. Ball is no ordinary Wisconsin running back and he's having no ordinary season. He might not strike a pose in New York next month, but he deserves an invite and deserves this honor.
Brian Bennett also endorses Ball
I'd be perfectly content with a co-player of the year situation featuring Wilson and Ball. But if forced to choose one, I'm also going with "MoneyBall." Wilson has been terrific, but I think the Badgers' junior running back has been a bit more valuable in Big Ten play. Ball has scored 24 of his 34 touchdowns in league play and has averaged 157.8 rushing yards per game against conference opponents. That includes four touchdowns each against Nebraska and Penn State. If he can keep up his conference pace this week in Indianapolis and in the bowl game, he'll finish with 40 touchdowns, an almost inconceivable number. Yes, Ball benefits from his great offensive line and Wilson's effectiveness, but Wilson similarly is aided by all the attention defenses are forced to pay to the powerful Wisconsin running game. Ball's scoring record will likely stand for a long time, and he deserves to be rewarded with player of the year honors because of it.
November, 26, 2011
11/26/11
9:45
PM ET
MADISON, Wis. -- The game ended one debate and added intrigue to another.
Wisconsin's
45-7
dissection of Penn State left no doubt as to which is the best team in the Leaders division. After falling behind early, the Badgers outclassed the Nittany Lions, as they're prone to do in a building where they've now won 16 consecutive games. They earned the right to face Michigan State next week in the inaugural Big Ten championship game.
But the decisive victory only brought more uncertainty to a question Badgers players and coaches love to get asked even though few have an answer.
Who is the Big Ten's Offensive Player of the Year: quarterback
Russell Wilson
or running back
Montee Ball
?
[+] Enlarge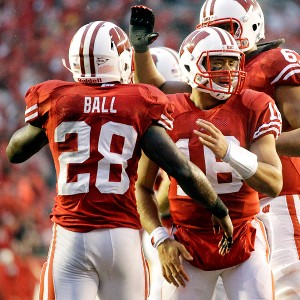 AP Photo/Morry GashWill Russell Wilson and Montee Ball end up sharing the Big Ten's top offensive player of the year honors?
"I'd split it," Wisconsin coach Bret Bielema said. "I don't know if there's ever been co-offensive MVPs off the same team. I don't know if that's ever been done, but I don't know how you can give it to one without the other."
It has happened once: Big Ten coaches voted Iowa quarterback Matt Rodgers and running back Nick Bell as co-Offensive Players of the Year in 1990. Will it happen again next week?
Wisconsin wouldn't be where it is without the contributions of Wilson and Ball, who are putting together the best combined quarterback-running back performance in a season in Big Ten history (more on that later). The senior quarterback and junior running back both sparkled again Saturday, having a hand in all six Wisconsin touchdowns against the nation's No. 8 defense. Wilson finished the game 19-of-29 passing for 186 yards and two touchdowns, while Ball recorded 156 yards and a touchdown on 25 carries.
It's rare when one NCAA record is set in a game, much less two. How about two records by two players in the same half? Wilson and Ball delivered Saturday.
Ball's second rushing score late in the second quarter gave him 12 consecutive games with multiple touchdowns, breaking Barry Sanders' NCAA record of 11 straight games. Wilson's 21-yard touchdown strike to
Jared Abbrederis
in the first quarter gave him 36 consecutive games with at least one touchdown pass, tying the NCAA record held by former Texas Tech star Graham Harrell.
Wilson's team single-season touchdown passes record stands at 28. Ball, meanwhile, has his sights set on a loftier mark, one thought to be unreachable. His four touchdowns Saturday give him 34 for the season, the second-most in NCAA history behind only Sanders' 39 scores in 1988.
"It's extremely rare," Wilson said of his and Ball's performances this season. "It's a once-in-a-lifetime type thing. You don't see it very often, but I think with Montee's ability to do a lot of different things, and then with my ability to throw the ball extremely well and to improvise when I have to, it's pretty dangerous."
You think?
Big Ten awards voting wraps up Sunday, and all-conference teams will be announced Monday night. The league's Offensive and Defensive Player of the Year awards are announced Wednesday afternoon, so the debate about Wilson vs. Ball will continue until then.
Don't expect much help from the Badgers.
"I'm very happy I don't have to make that decision," offensive lineman Travis Fredrick said.
"I couldn't say," added fellow offensive lineman Ryan Groy. "I'd be split between both of them."
Ball appeared to provide a definitive answer the first time I asked him.
"I'd pick myself," he said. "Of course, I'd pick myself."
But when asked during a
video interview
, Ball flip-flopped, saying he'd vote for "the pretty boy, Russell. Because what he brought to this team was a lot." When called out, Ball tried to backtrack, the first time all afternoon he had to.
Wilson was a bit more decisive.
"I'd definitely vote for Montee," he said.
While the debate carries on about which individual performance is superior, the combined effort from Ball and Wilson is more notable.
There's never been anything quite like it in Big Ten history. Wilson's passer rating of 192.9 this season keeps him on pace to break Colt Brennan's single-season NCAA record of 186. He should have no trouble breaking the Big Ten season record of 175.3 set by Michigan's Bob Chappuis in 1947.
Ball already has shattered the Big Ten season touchdowns mark of 26 and should finish among the league's top 10 in single-season rushing (he currently has 1,622).
While the Big Ten has witnessed better individual rushing and passing performances, the combined effort from Ball and Wilson stands alone in league annals. It's the best since Penn State's Kerry Collins and Ki-Jana Carter 1994: Collins passed for 2,679 yards and had a quarterback rating of 172.8, which ranks second in Big Ten history; Carter rushed for 1,539 yards and 23 touchdowns.
Former Wisconsin coach and current athletic director Barry Alvarez brought up Iowa's Chuck Long and Ronnie Harmon in 1985. They had impressive numbers -- Long racked up 3,297 pass yards, 27 touchdowns and a rating of 153.1; Harmon had 1,166 rush yards and nine touchdowns -- but not as impressive as the Wilson-Ball tandem.
"They're both really special," Alvarez told ESPN.com. "You only have one ball, so it's hard to have two guys with numbers like that."
It wasn't hard for Ball and Wilson to mesh. They play different positions and have different responsibilities, but they're driven in the same way.
"It goes back to how hard I worked in the offseason and how hard he worked when he got here," Ball said.
When Wilson arrived July 1, he told Ball he would compete to become one of the best quarterbacks in the country.
"He gravitated to that," Wilson said. "Every day in practice, we work together and communicate extremely well. Our desire to be great and to never be afraid to excel is something we definitely have in common."
For those arguing that Wisconsin and its stars feast on inferior competition, consider this: Ball racked up 495 rush yards and seven touchdowns and added two receiving scores against three top-10 defenses (Michigan State, Penn State and Illinois). While Wilson wasn't at his best in the Michigan State game, he still rallied his team brilliantly in the fourth quarter and stepped up against an excellent Penn State defense on Saturday, completing 15 of 21 passes for 149 yards in the first half.
"Two of the most complete players at their respective positions that I've ever seen play the game," Bielema said.
Wilson and Ball could share Big Ten Offensive Player of the Year. One or both could earn an invitation to New York for the Heisman Trophy presentation.
But the two are more focused on sharing a podium in two other places -- Indianapolis and Pasadena.
November, 23, 2011
11/23/11
10:15
AM ET
Coming at you a little early during this holiday week, here are 10 items to track in the Big Ten this weekend.
[+] Enlarge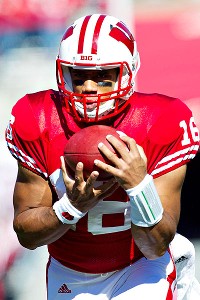 Jeff Hanisch/US PresswireRussell Wilson and the No. 16 Badgers face No. 19 Penn State on Saturday at 3:30 p.m. ET.
1. Leaders of the pack:
Before getting to the main course next week in Indianapolis, we're treated to a delicious championship appetizer Saturday afternoon in Madison. The Leaders Division title and a trip to Naptown are on the line as No. 19 Penn State visits No. 15 Wisconsin. The winner improves to 10-2 and moves one step closer to Pasadena. Wisconsin has been unshakable on its home field the past two and a half seasons, and the Badgers are averaging 52.3 points at Camp Randall Stadium this year. Penn State is 4-0 on the road this season and has allowed more than 14 points away from State College just once.
2. Michigan's mission:
Michigan has exceeded outside expectations in its first season under coach Brady Hoke. But it won't matter much unless the Wolverines get over the hump against their archrival Ohio State -- or "Ohio," as Hoke and his players now call the Buckeyes. After dropping seven consecutive games in the series, Michigan has a golden opportunity to beat Ohio State. In fact, if the favored Wolverines can't beat Ohio State this year, when the 6-5 Buckeyes are sputtering, will they ever? It'll be interesting to see how a Michigan senior class that has been through a lot performs in its final home game. By the way, a Wolverines win puts the team in a great spot for a BCS at-large berth.
3.The Bucket Bowl:
After a mistake-filled loss to Iowa, Purdue has backed itself into a corner for postseason play. The Boilers must beat rival Indiana on Saturday in the Bucket game to reach six wins and become bowl-eligible. A loss would ensure Purdue stays home for the holidays for the fourth consecutive season -- a troubling stretch for a program that reached bowls in 10 of Joe Tiller's first 11 seasons as coach. Another bowl-less winter and a second consecutive loss to IU, especially a 1-10 Hoosiers team, would turn up the heat on Purdue's third-year coach Danny Hope.
4. Different incentives for Wildcats, Spartans:
Northwestern likely has locked up a bowl spot, but Pat Fitzgerald and his players are taking nothing for granted entering their final regular-season game. A victory gives Northwestern seven wins, a five-game win streak and most likely a decent bowl destination in the Big Ten's lineup. The Wildcats should have no problem gearing up for Senior Day. Michigan State, meanwhile, already has clinched the Legends Division and will head to Indianapolis next week. Spartans coach
Mark Dantonio plans to keep the pedal down
and play his starters, but it will be interesting how his players respond in a game they really don't need to win. With one exception, Michigan State has brought the right emotion to every game this season.
5. Zook's last stand:
Illinois hasn't won a game since Oct. 8, and the clock is ticking for embattled seventh-year coach Ron Zook. The Illini have dropped five straight games heading into their regular-season finale at Minnesota. Some believe that, win or lose, Illinois will dump Zook -- but the Illini will be playing for their coach as they head to Minneapolis. A win moves Illinois to 7-5 and ensures the Illini of a second consecutive bowl appearance for the first time since 1991-92. It also could make the decision on Zook a bit more difficult for first-year athletic director Mike Thomas. Minnesota is the worst team Illinois has faced since its last Big Ten win against Indiana.
6. Devon Still vs. Wisconsin's offensive line:
Penn State's defense must play its best game of the season to slow down Wisconsin at Camp Randall, and for the Lions, it all begins with Devon Still. The senior DT is a finalist for both the Bednarik Award and the Outland Trophy, and he's the frontrunner for Big Ten Defensive Player of the Year. Still dealt with the flu last week and his play suffered at Ohio State, but he's healthy now and faces a Wisconsin offensive line playing without star center Peter Konz
.
The Badgers struggled to rush the ball between the tackles for chunks of the Illinois game before
Montee Ball
broke through. It will be interesting to see how Travis Fredrick or Ryan Groy handles Still and an improved Penn State front four.
7. A rivalry reborn:
Nebraska and Iowa last played in 2000, but all the ingredients are in place for a terrific new Big Ten rivalry. The teams kick off rivalry weekend in the Big Ten on Black Friday, as the Hawkeyes visit Lincoln for the inaugural Heroes Game. While the game has no bearing on the Legends Division title race, both teams are fighting for bragging rights and a better bowl destination. It's a big game for Iowa CB Shaun Prater, an Omaha native, while the game's top individual matchup features Iowa WR
Marvin McNutt
going up against Nebraska CB Alfonzo Dennard. McNutt needs 12 receptions to become Iowa's all-time leader.
8. Swan song for Ohio State's seniors, possibly coaches:
Ohio State's senior class has a complicated legacy, but one thing that can't be disputed is their ability to dominate Michigan. The Buckeyes have thumped Michigan by a combined score of 100-24 in the past three years. Although this has been no ordinary year for Ohio State, which sits at 6-5, the seniors still can produce the standard result against Michigan and salvage a bit of their final season. Maintaining The Streak in The Game also resonates for the coaches, whose futures at Ohio State are very much in doubt as the Urban Meyer talk heats up. Head coach Luke Fickell can earn a lot of points with Buckeye Nation by beating a favored Michigan squad in Ann Arbor.
9. WildLion and MoneyBall:
Penn State added an effective new wrinkle to its offense for the Ohio State game, as the coaches emphasized the Wildcat, or WildLion formation, with former high school quarterbacks
Curtis Drake
and
Bill Belton
calling signals. It will be interesting to see how much Penn State uses the WildLion against the high-powered Badgers, or whether a suddenly intrepid coaching staff has a few more tricks up its sleeve. Wisconsin will have no such mystery in how it attacks Penn State. The Badgers will rely on Montee "MoneyBall" Ball, arguably the nation's most productive running back in the past year and a half. Ball has scored 30 touchdowns this season -- at least two in every game -- and needs nine more to tie Barry Sanders' record.
10. Looking for positives:
Minnesota and Indiana are the only Big Ten teams guaranteed to end their seasons Saturday afternoon. There haven't been many positives for either squad, but the Gophers and Hoosiers can end on a good note, spoil some bowl plans for others and enter a critical offseason on a good note. First-year Minnesota coach Jerry Kill has seen "a different group of kids" since halftime of the Nebraska game on Oct. 22. "We're taking baby steps," he said. Beating Illinois for the second straight year would represent another step. Indiana, meanwhile, can ensure Purdue doesn't go to a bowl with a win Saturday; it would be Indiana's first victory this season against an FBS opponent. "With the way our season has went," Hoosiers first-year coach Kevin Wilson said, "we're using this week to try and find some positive motivation for our seniors to try and end it on a high note."
October, 20, 2008
10/20/08
3:13
PM ET
Posted by ESPN.com's Adam Rittenberg
I've received a bunch of e-mails about this, so I wanted to address an error in several recent posts regarding Shonn Greene.
The Iowa running back is not the first player in FBS/Division I history to open a season with eight consecutive 100-yard rushing games. Archie Griffin, Barry Sanders and others accomplished the same thing. Greene is the only player to do so this season.
The item was included among Iowa's postgame notes following the Wisconsin game. I apologize for not verifying the statistic before including it in several posts.
July, 22, 2008
7/22/08
1:21
PM ET
Posted by ESPN.com's Adam Rittenberg
The e-mails are flowing in, and it's obvious that Big Ten fans are geared up for the 2008 season.
Let's see what's on your mind:
Shadd, from Toledo, Ohio, writes: Adam, Do you see Ohio State using Terrelle Pryor in a "read option" type of offense when he comes into the game, or do you see the OSU coaches having him execute the same dropback style gameplan that Boeckman plays? Seems like Jim Bollman can be thick headed sometimes when it comes to play packages with different personnel.
Adam Rittenberg: Pryor's skills definitely translate for a read option system, much like the one Illinois uses at times with Juice Williams. It's the reason Michigan wanted Pryor so badly for its new offense. Though he will be used in those situations, I think Ohio State also will have Pryor operate in a more traditional system as he progresses. The first two games, Youngstown State and Ohio, provide excellent opportunities for Pryor to get playing time and run the team's standard offense. If he shows he can pass effectively against college defenses, the Buckeyes should gradually increase his workload. His transition as a runner and a playmaker will be easier than as a drop-back passer, but he's got to learn sometime.
---
Andrew from Pittsburgh writes: First off, the 2005 field goal kicking meltdown occurred at MSU, not at Michigan. I was at that game, and at the Ohio State game a week later, and I can personally say that the OSU match-up was infinitely more heartbreaking. However, those two losses pale in comparison to the agony of Notre Dame, 2006. I vaguely remember the feeling of happiness while building a lead, but otherwise the entire evening is nothing but a cold, dark, and lonely sinkhole of a memory that haunts me to this day.
Adam Rittenberg: Thanks to Andrew and several other e-mailers for pointing out that the 2005 Michigan-Michigan State game did take place in East Lansing, not Ann Arbor. Like Minnesota, Michigan State has had too many traumatic losses in recent years. I covered the Notre Dame game in 2006, and it was a total collapse for the Spartans. The game began under clear skies, but the rain came at halftime and gradually increased. Michigan State led 37-21 with 10 minutes to play, but then went ultra-conservative on offense down the stretch as Notre Dame rallied. Drew Stanton didn't throw a pass in the fourth quarter until three minutes remained, and ND cornerback Terrail Lambert intercepted it and scored the game-winning touchdown. The loss spelled the end for coach John L. Smith and sparked one of the greatest radio rants I've ever heard.
---
David from Champaign, Ill., writes: Do you believe the matchup this year between Illinois-Indiana at 8pm in Champaign will be one of the more exciting games in the Big ten this year? Everyone around here is really looking forward to it! Also, what are your thoughts on Greg Middleton and rising star LB Matt Mayberry? How can we slow down the two quick defenders this year?
Adam Rittenberg: David, as an Illinois fan, you might want to be a little more concerned about Missouri, Wisconsin, Penn State and Ohio State than the Hoosiers, but that game will definitely be worth watching. I've gotten several e-mails about Mayberry, a junior middle linebacker who made 42 tackles as a reserve last season. It seems like hopes are very high for him to solidify Indiana's defensive midsection. Middleton is a beast, but Xavier Fulton can hold his own at left tackle. Should be a great matchup. I'm also interested to see two of the league's most versatile quarterbacks, Juice Williams and Kellen Lewis.
---
Stan in Grand Haven, Mich., writes: OK, I'm a UM fan so I hope you won't write this off before reading it. WR/TE rankings: did you forget about Carson Butler? Injury and his attitude lessened his p.t. a bit last year, but the dude is one of the best in the conference at his position. Also, why factor in the QB when ranking the unit? That makes no sense--it's like discounting a RB because his line isn't that good. Think Barry Sanders. Finally, all you have to ask yourself when ranking units is which one you'd trade for the other. I guarantee if you were Michigan's coach and you traded your receiving unit for that at Northwestern, you'd be fired instantaneously. 'Nuff said.
Adam Rittenberg: Stan, I'll never write you off, but I've got a hard time bumping up the Wolverines because of Carson Butler. He had a nice grab in the Capital One Bowl, but 39 catches in two years? Even with the off-field stuff and the injury, I need to see more from him. These preseason rankings are largely based on what these players have showed in the past, and besides Greg Mathews and Butler, Michigan hasn't shown much. It doesn't mean with additions like Darryl Stonum, Michigan won't have one of the league's top receiving corps in November. But judging the Wolverines against experienced groups, including Northwestern's, it's hard to put them higher right now. Rich Rodriguez shouldn't want to trade any of his players, but I'm sure he'd love more experience at that position.
---
Brian from New York, N.Y., writes:I'd like to comment on Penn State's returning DL if I may as I truly believe this could prove to be the best Penn State Defensive Line any of us have ever seen. Of course, every CFB fan knows who Maurice Evans is due to the terrific job he did in earning All-Conference honors last year as a true sophomore. But are outsiders aware of the fact PSU actually returns 52 starts from last year across the line? This represents every player from a unit that finished 2nd in the nation in sacks (46) and 7th in rush D, so we're talking about much more than just Mo Evans here. Opposite Evans at DE is Josh Gaines who started all 13 games and racked up 5 sacks while splitting time with situational pass rusher redshirt freshman Aaron Maybin who had 4 1/2 sacks of his own. And the depth inside - fuggadaboutit! Larry Johnson basically has five proven starter quality DTs in his arsenal including: Jared Odrick, Ollie Ogbu, Abe Koroma, BIG Phil Taylor and Chris Baker. The thing to remember with this group is four of the five were merely 2nd year players last fall meaning, redshirt freshmen or true sophomores. Have I mentioned freshmen Devon Still and Chimaeze Okoli yet? Let's just say the word this spring is both freshmen are "impressive". Anyways, just want to mention PSU's returning DL before you and others "lock" Wisconsin or somebody else into the #2 conference finish spot behind OSU in the Big Ten this preseason because last year's youngsters in the Blue and White are certain to be even better in '08.
Adam Rittenberg: Brian, that's a quality breakdown of Penn State's defensive line. The Nittany Lions have the league's best defensive front in my view, just ahead of both Ohio State and Illinois. There's experience and talent throughout the line, and the front four will help Penn State survive the loss of linebacker Sean Lee. I ranked Wisconsin at No. 2, but the Badgers are by no means a lock, particularly with all the injuries they had in spring ball. Penn State could jump into that spot, but a reliable quarterback must be identified in preseason camp.
---
Steve from Anchorage, Alaska, writes: I think Steve Breaston should have been a special teams addition to the All-Lloyd list in the Free Press. When he was healthy, Breaston was a threat every time he touched the ball. That sick return against Illinois where he watched it bounce toward the sideline, grabbed it just before going out, then made 10 guys miss back and froth acros
s the field before scoring stands out.
Adam Rittenberg: Steve, glad to hear Big Ten football is alive and well in Alaska. Breaston would have been a solid addition to the All-Lloyd team. He was the league's most feared return man for several seasons. After seeing your note, I checked out Breaston's highlights on YouTube this afternoon. The Illinois return is third on the rundown. What a play. By the way, any highlight clip with Kool Moe Dee rapping in the background will find its way to this blog.