September, 18, 2013
9/18/13
1:00
PM ET
EVANSTON, Ill. -- Northwestern coach Pat Fitzgerald knows football fans in Chicago spend their Sundays watching a defense fixated on takeaways. As a Chicago Bears fan, he's one of those people.
[+] Enlarge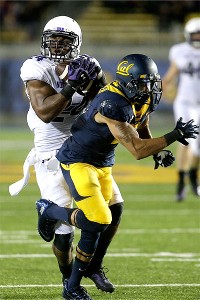 AP Photo/Ben MargotIbraheim Campbell is leading Northwestern's charge for more turnovers having picked off passes in five straight games.
Fitzgerald hopes the same folks see the same thing on Saturdays as they tune in for Wildcats' games. So far this season, "Chicago's Big Ten team" has embraced the takeaway trend trademarked by Chicago's NFL team.
After topping the Big Ten takeaways chart last season with 29, Northwestern is tied with Michigan State for the league lead with eight through the first three games (tied for sixth nationally). All eight Wildcats takeaways have been interceptions, which leads the FBS, and
they've converted them into 45 points
.
Northwestern has 17 interceptions in its last six games, stretching back to last season, and junior safety Ibrahaim Campbell has picked off passes in each of the past five contests, a new team record. Linebacker
Collin Ellis
recorded two interceptions Aug. 31 in the season opener at, returning both for touchdowns and
claiming national defensive player of the week honors
.
"I don't know, maybe it's just a Chicago thing," Fitzgerald said following Tuesday's practice. "We're definitely inspired by [the Bears'] defense and really, we've pulled a lot of their plays off and given them as examples to the players."
The Bears led the NFL with 44 takeaways last season and were among the league leaders for much of former coach Lovie Smith's tenure. Even though Smith is gone, the Bears already have six takeaways in their first two games, tied for the second-most in the NFL.
Football coaches are known to go far and wide to find effective teaching tools for their players. Northwestern's staff simply looked "down the road," defensive coordinator Mike Hankwitz said, at what the Bears have been doing for years.
Last season, Northwestern defensive backs coach Jerry Brown had players watch video of Bears cornerback Charles "Peanut" Tillman forcing fumbles with his "Peanut punch" move. Tillman led the NFL with 10 forced fumbles last season and boasts 39 for his career.
"We took some highlights off TV and showed how they're always punching at the ball," Hankwitz said. "And we did cause some fumbles. [Former safety Jared Carpenter] caused one, punching the ball out. Ibraheim caused two, punching the ball.
"Now that they see that it works, we're starting to build a little more of a takeaway culture."
Northwestern had at least one forced fumble in nine games last season, jarring the ball loose three times in wins against Vanderbilt and Minnesota. Campbell and three defensive linemen --
Tyler Scott
,
Quentin Williams
and Brian Arnfelt -- all recorded multiple forced fumbles.
Hankwitz also started to mix coverages more as the season went along. The different looks, combined with increased pressure from the line, led to a surge of interceptions, including four in the Gator Bowl victory over Mississippi State.
"Like anything in life, you achieve what you emphasize," Fitzgerald said. "I don't want these high school coaches to think we're doing some magical turnover circuit or rubbing on the ball with some magic stick and all of a sudden it comes to us. It's just emphasizing it and making our guys aware up front to the quick game of, 'If you're not necessarily going to get home, get your hands up,' being aware of route progressions and where a quarterback may go."
Hankwitz credits Northwestern's linemen for getting their arms in passing lanes, noting that three interceptions this season stemmed from deflections, including both of Ellis' pick-sixes against Cal. Scott and fellow linemen
Dean Lowry
and
Chance Carter
already have combined for eight pass deflections.
The 5-foot-11, 205-pound Campbell has been the face of the team's takeaway surge. Although Hankwitz has coordinated defenses since 1982, he can't remember another one of his players recording interceptions in five straight games.
Campbell attributes the streak to simply maximizing his playmaking opportunities.
"With the time I've been playing, the game has slowed down tremendously," said the junior, in his third year as a starter. "I know what to look for more, and it's paid off a lot."
[+] Enlarge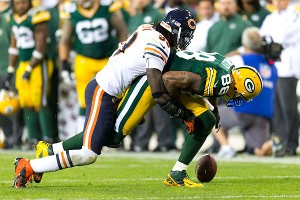 Jeff Hanisch/USA TODAY SportsThe "Peanut Punch," a favorite weapon of the Bears' Charles Tillman has caught on at Northwestern.
Northwestern has become a more opportunistic defense in recent games, but it remains vulnerable in certain areas, surrendering 442.3 yards per game, including 319.3 pass yards, second most in the Big Ten. Hankwitz notes that most of the yards stem from a few big plays. Several have come against redshirt freshman cornerback
Dwight White
, who stepped in for injured starter
Daniel Jones
against Cal and quickly became a target for opposing quarterbacks.
There's no doubt that takeaways can cover up yards allowed -- turnover margin is the game's most important metric -- but Campbell wants to tighten things up before Big Ten play begins Oct. 5 against Ohio State.
"If we have explosion plays going against us, a takeaway isn't going to make that go away," he said. "Those are still things we need to fix, but it obviously helps because you can't have an explosion play if you don't have the ball."
Fitzgerald's goal is to have a defense built on "the complete and total commitment to taking the ball away." The Wildcats aren't there yet. Although takeaways for points seemed to rescue Northwestern at Cal, Fitzgerald was disappointed that the Wildcats couldn't corral three Cal fumbles. Western Michigan coughed up the ball last Saturday at Ryan Field, but Northwestern couldn't recover it.
Wildcats players will continue to think turnover, just like the Bears do.
"They're great tacklers and everything like that, but they're excellent at taking the ball away," Campbell said. "That's something we're trying to create here.
"We're right down the street from Chicago, so it would be a great thing to establish in the city."
January, 1, 2013
1/01/13
11:00
AM ET
Happy New Year! Let's get to those final pre-bowl questions.

Zach from Pittsburgh writes: Adam, got coaching carousel question, a.k.a by the time you get to this, it may be irrelevant, but here it goes. Every ESPN analyst is using the fact that Bill O'Brien was told by PSU officials that the Sandusky Scandal would not incur and NCAA punishment as a reason for leaving Penn State for the NFL next year. If this is the case, then why did O'Brien sign a contract extension keeping him in Happy Valley until 2020 after the sanctions came out in July?

Adam Rittenberg: Because he wanted as much job security as possible after the sanctions came down. O'Brien knew Penn State could be in for a long rebuilding phase because of the length and severity of the sanctions. As a first-year coach, he wanted to ensure he would have enough time to ride out the sanctions and eventually get the program on solid footing. O'Brien used the sanctions for leverage, which is smart in that situation. He didn't know he'd have so much success and be on the NFL coaching radar right now. As a coach, you have to think about the job you're in and how much time you have to get things right.

Chris from Chicago writes: I have a question on coaching stability. At Northwestern (where Jerry Brown has kept his job despite some fans incredulity over the years), the stability in the coaching staff is probably a good thing each year for recruiting, system, etc....but does it hurt come bowl time? I mean, Mississippi State has Tim Brewster (who knows Northwestern from his time at Minnesota) and a former NU grad assistant on staff....while Northwestern's guys have all been at NU for a long time. Is there some minimal amount of staff turnover that might be a GOOD thing?

Adam Rittenberg: Good question, Chris. Typically, coaching staffs that have greater continuity are better off than ones that don't. And given how much movement there is in the business, coaches are going to know one another well in almost every game, if they've worked together in the past. Brewster's knowledge of Northwestern could help a little, although his Minnesota teams never beat the Wildcats. It's up to Northwestern's staff to ensure calls have changed enough so they don't tip their hand in the game. But in general, I've seen staffs that lack continuity have way more problems than ones that don't. Coaches should be held accountable every year, and changes must be made when needed. But as a rule, continuity is good.

P.K.G. from Kuwait City, Kuwait, writes: Hey Adam, Love the blog! Had a question regarding expansion for ya. Two teams left to go. Why isn't anyone talking about T-A&M...... I know, I know, they are in the SEC. But just hear me out here: they are part of the AAU, bring a huge market in texas, have other amazing teams other than just football and good in academics as well (from the 'south' as well). Now, once the TV deals for the B1G are negotiated, which I'm guessing is going to be huge, cant Delany at least try/consider them for entry into the league? I know no one would want to leave the SEC because they get paid a lot too, but joining the B1G after the negotiations could spell HUGE amounts of money per school. Also, they will have a relatively easier path to the NC Game as opposed to in the SEC. So, all this along with the academic prestige that tags along with our conference, why shouldn't we consider T-A?

Adam Rittenberg: P.K.G., you kind of answer your own question here. Texas A&M wouldn't want to leave the SEC because the money there is pretty darn good, too. Other than maybe Missouri, which you could argue fits in with the Big Ten better than the SEC, I really couldn't see any SEC teams leaving a good situation there, even if it's for another good situation in the Big Ten. It's why the realistic expansion targets to me are all outside the two big-money leagues (SEC and Big Ten). You have to look at the ACC because of the financial differentials (current and future) with the Big Ten/SEC. We'll see if the Big 12 survives, and things certainly look better there under Bob Bowlsby's leadership. But there's the potential to have the Big Ten and SEC at one level money-wise and everyone else earning a lot less.

Hines from Fairfax, Va., writes: Hi Adam, don't care for your blog in the least but I want your opinion on something. Bill O'Brien is getting alot of credit for PSU's success this year, rightfully so given the obvious adversity he had to deal with in addition to being solely a football coach. My question deals with the attention he is getting from the NFL now. Sure, he guided PSU to an 8-4 record and made the offense go, but let's face it, the cupboard was far from bare. I would have to say that those of us who follow PSU closely are not majorly suprised about where we finished the season in the big10 ranks, given the remaining talent. Is this attention warranted at this point based only on his coaching skills, because I am pretty sure NFL owners don't give a huge crap about his PR abilities as much as wins and losses. I personally think in two more years we will have a much better gauge as to what kind of 'football coach' we have. Thanks.

Adam Rittenberg: Thanks for the love, Hines. Happy New Year, bud. I agree with you about Penn State's cupboard being far from bare this season. O'Brien inherited an excellent senior class that included several future NFL defenders and an offensive line anchor in center Matt Stankiewitch. But O'Brien deserves all the credit he gets for transforming Matt McGloin into one of the Big Ten's best quarterbacks and modernizing a Penn State offense that had grown extremely stale under the previous staff. I honestly didn't know how Penn State was going to score points this year after Silas Redd and Justin Brown both transferred in the summer. O'Brien took that offense to another level. But he still has been a head coach for only a year. The problem is it might be tough to gauge him next season as the sanctions really start to impact Penn State's roster. The guy can coach -- we saw that this year. But I agree that a few more years would let us know more about O'Brien's potential both at Penn State and in the NFL.

Gabriel from Virginia Beach, Va., writes: Will the Wolverines have a Lloyd Carr-esque offensive style next year so that Gardner and Shane Morris can operate in the way that Chad Henne did?

Adam Rittenberg: Gabriel, Michigan's 2013 offense under Al Borges will look a lot more like the ones the Wolverines ran during Carr's tenure. Borges had to adjust his system because of Denard Robinson's skill set and background in the spread, but he's undoubtedly a pro-style guy who wants to run a pure pro-style system as soon as possible. Gardner should allow Borges to do that, and if Gardner performs well enough, Michigan won't have to use Morris as a true freshman.

Beth from Lino Lakes, Minn., writes: Hi Adam!Happy bowl week!As I listen to my Gophers destroy the Boston College hockey team this evening, a thought occurs to me. Do you think there's any chance the B1G might try to add Boston College? They don't add much for football (but neither does Rutgers or Maryland). What they so add is a new TV market, good academics, and great hockey. The B1G launches their hockey conference next season...could this be a fit for our inevitable 15th/16th school?

Adam Rittenberg: Happy bowl week, Beth! The Big Ten can't make hockey a top priority in expansion, even with the new hockey league coming soon. Is Boston College as a whole a good addition? Meh. My concern is that college sports really don't matter in the Boston market, even less so than they do in New York/New Jersey or Washington D.C. I remember covering Boston College's undefeated basketball team against Notre Dame during the 2004-05 season, and then Eagles coach Al Skinner talking about how the team was basically an afterthought in the market. The other question is demographics. Is the population growing in Boston like it is in the southeast? No. Is Boston as strong of a recruiting area as potential ACC markets like Atlanta and Raleigh/Durham? No. So while it would be great to have Boston College hockey in the Big Ten, I'm lukewarm on the addition as a whole.
December, 8, 2012
12/08/12
4:35
PM ET
It's a very sad day for the Illinois program as two former players now competing for the
Dallas Cowboys
were
involved in a deadly one-car accident
early Saturday in Irving, Texas.
Former Illini player Jerry Brown was killed in the crash, and former Illini defensive lineman
Josh Brent
, who drove the car, has been charged with intoxication manslaughter. They played together at Illinois.
From ESPNDallas.com:
Irving police spokesman John Argumaniz said the accident happened about 2:20 a.m. Saturday in the Dallas suburb. Brent was speeding when the vehicle hit a curb and flipped at least once, Argumaniz said.

Argumaniz says the 25-year-old Brown was found unresponsive at the scene and pronounced dead at a hospital. Brent, a three-year veteran, was booked in the Irving, Texas city jail at 4:14 a.m. Saturday morning.
Brown had been promoted from the Cowboys practice squad to the active roster on Oct. 10, while Brent had been starting for the Cowboys at defensive tackle.
Brent
served jail time in 2009
after a drunken driving arrest. He had a suspended license at the time and failed to appear in court, eventually reaching a plea agreement that required two years probation and 60 days in jail. Brent entered the NFL supplemental draft in 2010 rather than play his senior season for the Illini.
Illinois coach Tim Beckman
tweeted Saturday afternoon
: "Sad news for the Illini #Family today. Jerry Brown, former Illini and current NFL player has passed away. Keep him in your prayers." Former
Illini wide receiver
Arrelious Benn
and others expressed their condolences on Twitter.
January, 31, 2012
1/31/12
5:30
PM ET
January is feeling a lot like October in Chicago. Football weather. Love it.
Ben from Greenville, Mich., writes:
I'm just wondering why some people are questioning Urban Meyer's last 3 recruiting classes at Florida and assuming that Ohio State is going to go down hill based on that. According to ESPN.com, Meyer had had top 5 recruiting classes in each of his final 3 seasons (including the #1 class in 2010). Should Ohio State fans be concerned with Florida's 6-6 2011 season as a possible look into our future? Is Florida's poor season based more on the quality of Urban Meyer's recruits or more on Will Muschamp's attempt to run his pro-style offense with Meyer's spread offense personnel (similar to what RichRod tried to do at Michigan with similar results). As a Buckeye fan, I'm not concerned with Coach Meyer's recruiting, but should I be?
Adam Rittenberg:
It seemed like Meyer went for great athletes rather than great football players during his later years at Florida, and the player development aspect certainly seemed to be lacking. Will Muschamp inherited some top-level athletes, but not enough top-level football players who knew how to play the game the right way. Meyer's first class at Ohio State is receiving strong reviews, and for good reason. But the true gauge in my view will be how many linemen see the field early, and how those players progress during their careers. It's clear that the strength of Ohio State's class is in the trenches. Most analysts say Meyer has several linemen (Noah Spence, Adolphus Washington) who can contribute right away. Whether that happens or not will go a long way in determining the quality of the class.
---
Lance from Greensboro, N.C., writes:
I like the orange helmets with the blue (white border) lettering. Illinois is supposed to wear orange helmets. These look classy without breaking tradition. I hate it when I turn on TV and I can't tell who's playing because they're wearing some weird color scheme.
Adam Rittenberg:
Lance, I hear you on the orange helmet thing. Illinois has traditionally donned orange headgear, and I certainly see why fans don't want to change tradition. I just don't like the curved "ILLINI" type. Looks a little too retro, and it's not as sleek as the Block I or even the current underlined "ILLINOIS." I wonder if Illinois would consider an orange helmet with a Block I in blue or white. Then again, there's a reason why I don't design jerseys or helmets.
---
Frank from Minot, N.D., writes:
Adam, I hear a lot of people asking questions about Nebraska backs Abdullah and Green as if they are #2 And #3 behind Burkhead. What about Heard? I thought he looked just as good as Green What's your take?
Adam Rittenberg:
Frank, I think it's going to be a really fun competition during spring practice. Nebraska knows Rex is the No. 1 guy, but the Huskers have several talented young players competing for the backup role and the No. 3 role. We saw more of
Ameer Abdullah
last season, primarily because of his role on kickoff returns. It's tough to evaluate
Aaron Green
and
Braylon Heard
without seeing them more in games -- they had very similar numbers in 2011 -- but they're certainly in the mix for the backup job.
---
Mark from East Lansing, Mich., writes:
Loved the interview with Maxwell. What do you think about his personality? Were you impressed with him? Does he seem like he will be a good leader?
Adam Rittenberg:
Very impressed with
Andrew Maxwell
, Mark. You can easily mistake him for
Kirk Cousins
over the phone. They speak similarly and have the same type of presence, which bodes well for Michigan State. Maxwell of course needs to prove himself in games, but he knows it and he's very excited about the challenge. I think playing behind Cousins for the past three seasons has prepared Maxwell extremely well to take the next step.
---
Jay from Knoxville, Tenn., writes:
Hey Adam -- what are your thoughts on moving the site of the B1G Championship Game from Indianapolis to Chicago? I know Indianapolis is the major hub for amateur sports, but wouldn't Soldier Field make for a more historic, captivating venue? The game would be played outside -- the way B1G football should be played -- in a state that cares more about B1G football. And with Soldier Field's capacity, we wouldn't be worrying about sell-outs (no matter who plays).
Adam Rittenberg:
Jay, I hear you on some of these points, but the Big Ten title game will
remain in Indianapolis through the 2015 game
. Although the attendance in Indy will be a topic to monitor going forward, the inaugural event went off successfully. Indy knows how to put on big events, and while I agree Big Ten football seems to fit better outdoors, Lucas Oil Stadium is a lot easier logistically than Soldier Field. Chicago and Soldier Field need to put together a stronger presentation when the current cycle ends and give the Big Ten confidence the operations would be strong. But I agree that from an interest standpoint, the Big Ten championship would create more buzz in Chicago, which is the center of Big Ten fandom.
---
Rich from Wayne, N.J., writes:
With all the sentiment building back up towards the late Joe Paterno -- how he was terminated without due process -- and now the media and public's realization (rightfully so) of his overall career/body of work, will Delaney and B10 consider putting his name back on the Stagg Championship Trophy within the next year or two? Would like your opinion, your colleague Mr. Bennett's and hopefully Mr. Delaney's as well.... thanks
Adam Rittenberg:
Rich, while many media members had some nice tributes for Paterno last week, I don't think there's been a total "realization" or vindication of what happened in the sex-abuse case. As for the Big Ten, I don't anticipate Paterno's name being put back on the trophy in the immediate future, although things could change over time. Typically decisions like the removal aren't made to be reversed in a short time span, especially as the Big Ten and the NCAA are currently investigating Penn State and whether there was a lack of institutional control.
---
Mark from Hamilton, Ohio, writes:
Adam, do you think Michigan, having Denard back, as well as the maturation of a very young team, will keep my Wolverines in the conversation for another shot at at a conference title, and another B.C.S bid next year ? I realize the schedule is daunting but it seems Hoke has brought the Michigan back to MICHIGAN ! Your thoughts ?
Adam Rittenberg:
Hoke certainly has Michigan headed in the right direction again. The keys to 2012 are replacing several standout defensive linemen (
Mike Martin
,
Ryan Van Bergen
), continuing to build defensively on what we saw in 2011, and getting greater consistency from the quarterback position. Michigan can't expect to win 10 or more games if
Denard Robinson
throws 15 interceptions again. The defense repeatedly bailed out the offense in 2011, but to expect that to continue is unrealistic. So for me, it really is about Denard getting better and more comfortable in the offense, and limiting major mistakes. Michigan should be able to run the ball well with Fitz Toussaint, but it won't be able to survive as many mistakes as it did this season with such a daunting schedule.
---
Steve from Washington D.C. writes:
Adam, Coach Fitz's announcement shortly after the bowls that he is not making any changes to Northwestern's coaching staff has many fans, myself included, feeling confused (the polite version) or pretty ticked off (the accurate version). We all love our coach, but I'm worried that he's either watching a different defense than the rest of us or he just lacks the testicular fortitude to make difficult choices about coaches who aren't performing. Defensive Backs coach Jerry Brown isn't cutting it, and Defensive Coordinator Mick Hankwitz has gotta be on the hotseat after successive years of declining performance by the Northwestern D. What gives?
Adam Rittenberg:
I don't think it's Fitzgerald lacking the guts to make changes. He clearly believes in his staff and in his players -- perhaps to a fault. He seemed to challenge the staff before the bowl game, and he has acknowledged the disappointment of the 2011 season, but he has ultimately decided to go forward. Keep in mind this is a guy who has fired only one coach (former defensive coordinator Greg Colby) in six seasons on the job. Fitz believes in continuity, and he's not alone in this league. But the defensive staff absolutely should be under fire after what has happened the past two seasons. With a few exceptions, defensive back has been a weakness for Northwestern historically, but the poor pass-rushing in recent years is also a concern. The Wildcats have gotten it going on offense at positions like quarterback and wide receiver, but they still don't truly reflect their head coach, a College Football Hall of Fame linebacker.
May, 6, 2010
5/06/10
9:00
AM ET
For years, Northwestern linebacker Quentin Davie felt like a contestant on a
popular British game show
that briefly gained popularity in the United States.
You know, the show with the smarmy host.
"Since my freshman year, it's always been, we were the weakest group," Davie said. "And on paper, we were the weakest group. All around, nobody really recognized us or gave us credit."
That will change in 2010.
Northwestern's linebackers are unquestionably the strength of a defense that has stabilized during the past two seasons under coordinator Mike Hankwitz. The Wildcats finished fifth in the Big Ten in total defense in both 2008 and 2009, which doesn't sound great but marks a significant improvement from the struggles under previous coordinators Greg Colby and Jerry Brown.
This year's unit must replace three multiyear starters in the secondary, including All-Big Ten selections Sherrick McManis and Brendan Smith. Also gone is defensive end Corey Wootton, a fourth-round pick in last month's NFL draft.
The linebackers, meanwhile, return just about everyone. Davie is back after a quietly productive junior season in which he recorded 11.5 tackles for loss, 5.5 sacks, four forced fumbles, six quarterback hurries, an interception and four passes defended. He's joined by middle linebacker Nate Williams, who trailed on Davie in tackles last year with 86 tackles to go along with two interceptions, a forced fumble, seven tackles for loss and six passes defended.
"We're the guys that everybody looks up to now," Davie said. "We have two of the most productive players in the linebacker room, so that's a good thing, and that's just natural leadership. The linebackers are supposed to lead the defense, and we do."
Ben Johnson and David Arnold split the starts at the third linebacker spot in 2009, but Northwestern's depth at the position allowed the coaches to move Arnold to safety, a much bigger concern. Johnson, meanwhile, is being pushed by Bryce McNaul for the top job.
Reserves Roderick Goodlow, David Nwabuisi, Damien Proby and Tim Riley also provide insurance.
"It's as deep as we've had in a number of years," head coach Pat Fitzgerald said. "We were fortunate to redshirt Proby and Riley, and we played Roderick [as a true freshman]. That's a really talented young group, and you couple that with Williams and Ben Johnson and Q. Davie and Bryce McNaul, those guys have played a lot of football.
"It's time for them to take the next step."
Early in his head-coaching career, Fitzgerald talked openly about Northwestern going toward a 3-4 alignment. That plan has been scrapped despite the depth at linebacker, as the Wildcats will remain in a 4-3 set.
Davie, the team's top NFL prospect for 2011, missed part of spring practice with a foot injury but returned for the spring game and looked sharp. After going through a significant physical transformation before the 2009 season, Davie spent the winter and spring working on his speed and explosiveness, focusing mainly on his legs.
The senior hopes to be the strongest link for arguably the Wildcats' strongest group in 2010.
"It feels good to be fast and big at the same time," said Davie, who checks in at 6-foot-4 and 230 pounds. "I always want to be the best, and being the best means hopefully playing in the NFL. I'm focusing right now on college, to be the best here, where I'm at, and that will take me where I need to go."
August, 6, 2009
8/06/09
8:00
AM ET
Posted by ESPN.com's Adam Rittenberg
You know it's OK to get excited about college football when a Big Ten team reports for training camp, and Illinois did just that Wednesday night.
The Illini will conduct their first preseason practice today at 3 p.m. inside Memorial Stadium.
All players expected to report showed up, including defensive tackle Josh Brent, who appears on track for a return after serving jail time earlier this summer for DUI. As expected, defensive end Jerry Brown, who sparkled in the spring game, is not with the team because of academic issues.
I spoke briefly with Illini starting left tackle Jeff Allen, who had a productive summer that included some yoga classes with teammates. More on that later.
August, 3, 2009
8/03/09
3:45
PM ET
Posted by ESPN.com's Adam Rittenberg
After a long weekend off, it's time to dive back into the Big Ten position rankings. The secondary units are up next.
The top two look absolutely stacked, and the top four or five all will be solid. Quarterback play should be much better in the Big Ten this fall, and the secondaries will need to elevate their play.
1. Iowa -- Three starters return from a unit that helped Iowa lead the Big Ten in takeaways (32) and allow the fewest passing touchdowns (9) in 2008. Junior Amari Spievey is the league's best cover corner, and he'll be joined by safety Tyler Sash, who shared the league lead in interceptions with teammate Pat Angerer last fall. Bradley Fletcher will be missed and depth is a mini concern, but the back four will anchor Iowa's D.
2. Northwestern -- The Wildcats boast the Big Ten's deepest secondary and possibly the league's best. I covered a string of woeful Northwestern secondaries earlier this decade, and it's a major testament to assistants Mike Hankwitz and Jerry Brown that the unit has come this far. All four starters return, led by safety Brad Phillips and corner Sherrick McManis. Northwestern can go at least nine deep and boasts capable reserves like Brian Peters.
3. Ohio State -- It's a bit of a mixed bag for the Buckeyes, who return the Big Ten's top safety tandem but look thin at cornerback. Safeties Kurt Coleman and Anderson Russell both will contend for All-Big Ten honors after solid junior seasons. Ohio State loses Thorpe Award winner Malcolm Jenkins and hopes Chimdi Chekwa can fill the void. Several young players will get a chance to shine this fall, including Travis Howard and Ohrian Johnson.
4. Michigan State -- All-Big Ten safety Otis Wiley departs, but there's a lot to like about the Spartans secondary. Perhaps only Northwestern boasts more depth than Michigan State, which can go at least eight deep in the secondary. Corners Chris L. Rucker and Ross Weaver should have big seasons, and safety Trenton Robinson was the story of the spring and will earn major playing time.
5. Purdue -- Pop quiz: Which team led the Big Ten in pass defense last fall? It might surprise some to know Purdue topped the chart (183.2 ypg). A poor run defense contributed to the numbers, but the Boilers still look very strong in the back four entering 2009. Safety Torri Williams received a sixth year of eligibility during the offseason, and he'll join returning starters David Pender, Brandon King and Dwight Mclean.
6. Minnesota -- Minnesota led the Big Ten in takeaways for much of last season, and the secondary was the biggest reason why. Playmaking cornerback Traye Simmons leads a unit that returns three starters and could be deeper than it was in 2008. Senior corner Marcus Sherels and junior safety Kyle Theret have loads of experience, and Simmons is thrilled about the arrival of Wisconsin transfer Kim Royston at safety.
7. Wisconsin -- Easily the toughest unit to rank. The Badgers have the playmakers to be a top 4 secondary this fall. Cornerback Niles Brinkley recorded four interceptions last season, backup safety Shane Carter had a league-leading seven picks in 2007 and safety Jay Valai might be the Big Ten's hardest hitter. But consistency and depth are major concerns for Wisconsin. A lot depends on how cornerback Aaron Henry returns from knee problems.
8. Michigan -- Junior cornerback Donovan Warren could have a huge year or a really quiet one. See, Warren is easily the team's most experienced defensive back, and for that reason, opponents might try to avoid him and attack the Wolverines' unproven players. Michigan boasts a lot of young talent in the secondary -- corner Boubacar Cissoko, safety Troy Woolfolk, safety Vladimir Emilien -- and those players need to grow up fast.
9. Penn State -- This is easily the weakest unit on a team with Big Ten title aspirations. Penn State loses all four starters from a secondary that got exposed late in a loss to Iowa and early in a Rose Bowl beating against USC. The Lions need cornerback A.J. Wallace to straighten out his academic situation before Sept. 5. Safety Drew Astorino is ready to lead, but Penn State must identify capable pieces around him.
10. Illinois -- As expected, Vontae Davis bolted to the NFL a year early, leaving Illinois without a lock-down cornerback. The safeties also struggled at times last year, which creates plenty of questions heading into the fall. Illinois would certainly benefit from having a healthy Donsay Hardeman at safety, while cornerback Tavon Wilson showed some promising signs during spring ball.
11. Indiana -- It wouldn't surprise me one bit if Indiana finished much higher in my end-of-year rankings, but there are too many uncertainties entering camp. How will safeties Austin Thomas and Nick Polk respond from serious knee injuries? Has Ray Fisher successfully transitioned from wide receiver to cornerback? Will Florida transfer Jerimy Finch finally emerge as an impact player? The answers could determine whether Indiana survives on defense this fall.
June, 15, 2009
6/15/09
12:15
PM ET
Posted by ESPN.com's Adam Rittenberg
Who says June is a dead zone? A ton of links for you today.
Some interesting comments from Illinois head coach Ron Zook, who blames himself for easing off in preseason practice last year and doesn't expect defensive lineman Jerry Brown to be back, Loren Tate writes in The (Champaign) News-Gazette. Also, safety Donsay Hardeman (neck surgery) has been cleared medically.
"It doesn't look good for Jerry Brown," Zook said. "There's a pretty good chance he won't be here. He is the only one with serious academic problems. As for Josh Brent, I'll comment later. I hope he can come back, but I have to sit down with [athletic director Ron] Guenther when his situation is more clarified."
The percentage payout for the Motor City Bowl drops from 5% of a coach's salary to 2%. The Insight Bowl drops from 5% to 3%. The Champs Bowl drops from 10% to 5%. Here are the bonus percentages for Wisconsin's other bowl possibilities: Capital One and Outback, 10%; Rose, Orange, Sugar or Fiesta Bowl, 15%; national championship game appearance, 25%; national championship, 30%.
May, 7, 2009
5/07/09
2:52
PM ET
Posted by ESPN.com's Adam Rittenberg
Spring practice has wrapped up in the Big Ten, and it's time to look back at some of the superlatives from the last eight weeks.
Best spring game performance -- The quarterbacks made this a tough choice, but I've got to go with Michigan State tandem Kirk Cousins and Keith Nichol. Both players passed for 357 yards and four touchdowns with no interceptions in the Green-White Game. Honorable mentions to go Ohio State quarterback Terrelle Pryor, Illinois defensive end Jerry Brown and Wisconsin quarterback Curt Phillips.
Best performance by a freshman -- Early enrollee Tate Forcier left Michigan fans feeling a bit more comfortable about the quarterback position after the spring game. Forcier tossed four touchdown passes and ran for another to complete an encouraging spring in Ann Arbor. He still has a ways to go, but he impressed the coaches this spring with his playmaking ability and willingness to learn the system. Honorable mentions go to Minnesota quarterback MarQueis Gray and Michigan State safety Trenton Robinson.
Best out-of-the-blue performance -- No one saw Ralph Bolden coming this spring, including Purdue's defenders, evidently. Bolden not only put himself in the mix for the Boilers' starting running back spot, but he might enter the summer as the frontrunner. A virtual unknown before the spring, Bolden rushed for 420 yards and four touchdowns in Purdue's spring scrimmages, including 153 yards and two scores in the Black & Gold Game.
Best position change -- Indiana's Kellen Lewis might have fit here if not for his dismissal days after spring ball ended. The nod goes to another quarterback-turned-receiver, Iowa's Marvin McNutt, who impressed the coaches and shot up the depth chart this spring. McNutt brings excellent size and athleticism to the wide receiver position, and should be one of Ricky Stanzi's top targets this season.
Best spring game atmosphere -- A spring game record crowd of 95,722 filled Ohio Stadium on a sun-splashed Saturday for the spring game. Packing one of the nation's biggest stadiums for a glorified scrimmage definitely adds some atmosphere. Michigan and Penn State also drew impressive crowds for their spring games.
Best story of the spring -- The development of quarterbacks around the league this spring bodes well for the Big Ten come September. Holdovers Daryll Clark and Juice Williams looked polished, while Iowa's Stanzi and Ohio State's Pryor build off strong first seasons as the starters. Teams like Michigan State, Minnesota and Wisconsin can feel better about their depth at quarterback, and Michigan was pleased with Forcier.
Best non-story of the spring -- Greg Paulus' brief flirtation with Michigan generated a ton of buzz, though the possibility of the former Duke point guard joining the Wolverines as a quarterback always seemed remote. The Paulus story has gone away (thankfully), but it kept Michigan in the news and might have helped Paulus generate attention from other schools.
Best quote -- "If we've got a room full of guys that think, 'Well, that's what you do. You come to Ohio State and you're Big Ten champs,' if that's the reality in their mind, then we're going to have a problem," Ohio State head coach Jim Tressel said. "Because it is hard. People that know just how hard it is are gone. Because they're the ones that traversed that mountain.
"It's our job to get guys to understand how difficult it's been. It's not, 'Wish upon a star and I'm entitled to that.' That's the fun of raising kids up, helping them understand that goals are wonderful, but the plan and the action taken toward those goals it what it's all about."
Best quote II: "I don't want to have a quarterback controversy, but I also want to provide equal opportunity for everybody involved," Michigan State head coach Mark Dantonio. "I don't want it to be, 'He played well one time, so he's the guy.' What we're building for is consistency and performance over the long term."
May, 6, 2009
5/06/09
9:50
AM ET
Posted by ESPN.com's Adam Rittenberg
Illinois Fighting Illini
2008 overall record: 5-7

2008 conference record: 3-5


Returning starters

Offense: 8; Defense: 6; Special teams: 2

Top returners
QB Juice Williams, WR Arrelious Benn, TE Michael Hoomanawanui, WR Chris Duvalt, WR Jeff Cumberland, LB Martez Wilson, DT Cory Liuget, K Matt Eller
Key losses
LT Xavier Fulton, C Ryan McDonald, LB Brit Miller, DE Will Davis, DE Derek Walker, CB Vontae Davis, LB Rodney Pittman
2008 statistical leaders (* returners)
Rushing: Juice Williams* (719 yds)
Passing: Juice Williams* (3,173 yds)
Receiving: Arrelious Benn* (1,055 yds)
Tackles: Brit Miller (132)
Sacks: Brit Miller and Derek Walker (6)
Interceptions: Vontae Davis (2)
2009 Schedule
Sept. 5 Missouri (at St. Louis)
Sept. 12 Illinois State
Sept. 19 BYE
Sept. 26 at Ohio State
Oct. 3 Penn State
Oct. 10 Michigan State
Oct. 17 at Indiana
Oct. 24 at Purdue
Oct. 31 Michigan
Nov. 7 at Minnesota
Nov. 14 Northwestern
Nov. 21 BYE
Nov. 27 at Cincinnati
Dec. 5 Fresno State
Spring answers
1. Running men -- Illinois can feel optimistic about its ground game after the development of sophomore running backs Jason Ford and Mikel LeShoure this spring. Both players markedly improved their physical conditioning and combined for 93 rush yards on 17 carries in the spring game. They should take the running load off of Juice Williams this season.
2. Man in the middle -- Martez Wilson moved to middle linebacker and could be on the brink of reaching the lofty expectations set for him when he arrived from Chicago's Simeon High School. Wilson adjusted well to the defense's premier position after an up-and-down sophomore season. He also has fully recovered after being stabbed outside a bar in December.
3. Receiver rotation -- The Illini could have the Big Ten's best receiving corps next fall -- by far. Everyone knows about first-team All-Big Ten performer Arrelious Benn, but Illinois boasts depth with Jeff Cumberland, Chris Duvalt and others. The team also adds a big piece in Florida transfer Jarred Fayson, who was practicing with the first-team offense this spring before sustaining a foot injury.
Fall questions
1. Line limbo -- Illinois loses three starters from the defensive line and needs to identify a capable pass-rusher after losing its top four sacks leaders from 2008. The tackle spot should be solid with Corey Liuget, Josh Brent and Sirod Williams, who returns from a torn ACL, but there is some doubt at defensive end. Jerry Brown dominated in the spring game, but he must clear some academic hurdles before the fall.
2. Run stoppers -- The Illini really struggled against the run last season and lose top tackler Brit Miller, an All-Big Ten linebacker. They need more help from the back seven, particularly Wilson and safety Donsay Hardeman, who sat out spring drills because of a neck injury.
3. Cornerback -- NFL first-round draft pick Vontae Davis leaves a hole at cornerback, and Illinois will be looking for a top cover man in preseason camp. Tavon Wilson could very well step into Davis' spot, and the sophomore had a nice spring. Davis was not only a playmaker against the ball but a capable tackler, finishing second on the team with 78 stops last year.
April, 27, 2009
4/27/09
3:15
PM ET
Posted by ESPN.com's Adam Rittenberg

Fighting Illini head coach Ron Zook divided up his team to create more balanced competition in Saturday's Orange and Blue Game, but the score ended up lopsided as the Blue squad shut out the Orange team 20-0 at Memorial Stadium. With first- and second-teamers playing alongside one another in the game, it was a bit hard to evaluate units, though several individuals stood out.
Senior quarterback Juice Williams directed two scoring drives for the Blue team, completing 13 of 26 passes for 150 yards with a 10-yard scoring strike to Chris Duvalt and an interception that freshman linebacker Evan Frierson tipped to himself. High winds hampered Williams a bit, and Zook said the senior threw "a couple of balls that have been his worst of the spring."
Still, Williams shouldn't be a major concern for Illini fans going forward.
The big questions with Illinois come on defense, and there were several bright spots, including the play of Martez Wilson, who likely will stay at middle linebacker after making the switch from the outside this spring. Wilson recorded 4.5 tackles and broke up a pass for the Blue team. According to The (Champaign) News-Gazette, Wilson has been getting advice from former teammates Brit Miller and J Leman on playing middle linebacker.
Other notable items from the Orange and Blue Game:
No one had a better day on the field than junior defensive end Jerry Brown, who recorded a game-high seven tackles, including six for loss and two sacks. Brown appeared in all 13 games last fall and could assume a greater role after Illinois lost ends Will Davis and Derek Walker. Zook isn't getting too excited about Brown, though, noting that the junior needs to clean up some academic issues for the fall.

Running backs Mikel LeShoure and Jason Ford were undoubtedly the best stories of the spring for Illinois, which can feel much better about its ground attack heading into 2009. Both LeShoure and Ford averaged more than five yards a carry in the spring game, and both Ford and fellow back Daniel Dufrene scored touchdowns.

Don't be surprised if backup quarterback Eddie McGee sees more time at wide receiver this fall. Though Illinois is loaded at receiver, McGee led the Orange team with three receptions for 23 yards in the spring game. He completed 3 of 8 passes for 25 yards and was sacked twice. Redshirt freshman Jacob Charest got more work at quarterback behind Williams.

Illinois and Northwestern announced their new rivalry trophy Saturday. The two teams will compete annually for the Land of Lincoln Trophy, which still must be designed but will coincide with the celebration of Abraham Lincoln's 200th birthday. The trophy replaces the Sweet Sioux Tomahawk, which was retired in November as part of Illinois' effort to remove all Native American imagery from its athletic teams. I personally was hoping for the Graham-Grange Trophy, but it didn't make the cut.
Cornerback Tavon Wilson led the Orange team with four tackles and two pass breakups. Wilson could enter the fall as the team's top cover corner. Defensive end Clay Nurse (hello, nurse) added a sack and two tackles for loss.
March, 11, 2009
3/11/09
1:45
PM ET
Posted by ESPN.com's Adam Rittenberg
Northwestern head coach Pat Fitzgerald often jokes that despite his age (34), his line of work makes him go gray in a hurry.
Fitzgerald won't have to worry about his hair color after Wednesday night.
In an effort to raise money for childhood cancer research, Fitzgerald and at least three of his assistants will have their heads shaved tonight at a barber shop in Evanston. The proceeds from the event go to the St. Baldrick's Foundation, which funds cancer research.
Fitzgerald, defensive backs coach Jerry Brown, linebackers coach Randy Bates and offensive line coach Adam Cushing are among the men losing their locks.
Fitzgerald, Bates and others are participating in honor of former Wildcats fullback Matt Hartl, who teamed with Fitzgerald on the 1995 Rose Bowl team and died of Hodgkin's disease in 1999. They also will honor Ainsley Bates, the daughter of Northwestern assistant athletic director Betsi Burns, who is undergoing treatment for Langerhans cell histiocytosis.
"Our entire coaching staff has a great passion for this organization and its mission," Fitzgerald said. "We hope our small contributions will create more awareness for pediatric cancer and the individuals it has impacted."
After Fitzgerald's recent dental mishap and now this, you have to wonder if his wife will look at him again after tonight. But this is for a great cause, and there should be some good pictures from the event.
October, 2, 2008
10/02/08
6:17
PM ET
Posted by ESPN.com's Adam Rittenberg
The crowd was small, no more than 100 people. It was mostly members of the marching band, but also a few fans who live around Ryan Field.
They showed up to greet the Northwestern football team after it returned from last Saturday's 22-17 road win against Iowa. The Wildcats improved to 5-0 for the first time in 46 years, and the welcoming party reminded head coach Pat Fitzgerald and longtime assistant coach Jerry Brown of a more exciting time in the program's mostly bleak history.
"We got off the bus and Jerry looked at me and he goes, 'Kind of reminds me a little bit of '95,'" Fitzgerald said. "We'd come back from road games and we'd have a lot of fans and our band there."
In 1995, Northwestern was one of the nation's top sports stories, winning the Big Ten championship and going to the Rose Bowl behind Fitzgerald, a star middle linebacker, and running back Darnell Autry. Brown coached the secondary that year.
This year's team has a long way to go to be put in the same category, but for a program where attendance is a major challenge, any excitement is a positve step.
"There's a lot of pride here," Fitzgerald said, "and we've got some positive momentum here, obviously starting the season the way we have."