June, 18, 2012
6/18/12
11:00
AM ET
Our series continues looking at a player or a group of players from each Big Ten team who needs a home run type of summer before preseason camp begins. Who needs to hit it out of the park in preparation for the season?
For previous entries,
click here
.

In the batter's box:
Indiana
Who needs to step it up:
Junior college arrivals on defense
If Indiana's defense takes a step toward respectability in 2011, its junior college arrivals will play significant roles. After finishing between 109 and 118th nationally in four major statistical categories last season -- total defense, scoring defense, rushing defense and pass efficiency defense -- the Hoosiers looked to the juco ranks and signed five players on the defensive side (six overall). IU didn't sign these players to sit on the bench in 2011, and several stood out during spring practice. All five juco players -- linebackers Jacarri Alexander and David Cooper, safeties Tregg Waters and Ryan Thompson, and defensive end Justin Rayside -- should play significant roles on a defense that lacks experience despite starting seven freshmen (four true, three redshirt) in 2011. It's important for the juco players to build on the spring and establish themselves not only as reliable contributors, but as potential leaders for a unit that needs more direction this season. Cooper and Thompson are among those in contention for starting positions coming out of the spring.
March, 7, 2012
3/07/12
10:15
AM ET
Indiana completed its second spring practice on Tuesday, and head coach Kevin Wilson knows his team needs a lot of work. The Hoosiers finished 1-11 and went winless in the Big Ten while playing numerous true freshmen in Wilson's first season. Things can only get better in Year 2, and Wilson recently spoke to ESPN.com about the state of his program and what he hopes to accomplish this offseason:
You played so many freshmen last year, many of whom were not even on campus this time last year. Does that put you ahead a little bit going into spring?

[+] Enlarge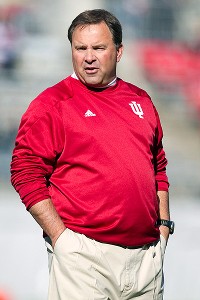 Greg Bartram/US PresswireIndiana coach Kevin Wilson is hoping to improve on last season's 1-11 campaign.
Kevin Wilson:
I wouldn't by any means say ahead because, number one, it's their first spring. So they're still trying to figure out what spring is all about. They're doing those offseason workouts, the morning conditioning programs and running. Some of these guys, you're like, "Hey, you've been playing," so you expect them to do really great. Instead they're doing good or fair or whatever. And you're sitting there looking at the kid, and really, he's been here for like seven months.
So we've got to be smart as coaches to realize we're still extremely young, and we've got to continue bringing them along instead of maybe having greater mental and physical expectations than guys are ready to fill right now.
Is there a different attitude or energy in Year 2 now that everyone knows what to expect from you?

KW:
Yeah. I don't think it was bad the first year. I just think there's a much better understanding from them to me and me to them. An understanding of the typical day, what I expect as a coach, but also the dynamics of what they're going through as students here. The ebb and flow of Monday through Saturday here.
Your team was competitive at Ohio State late in the year and played Purdue tough in the finale. Did that give you any optimism that things were starting to get better?

KW:
Yeah, and that's the disappointing thing. As hard as guys were working, you want to be rewarded with W's, and we were on the wrong side of that stick too much. But if you didn't know anything and just watched us practice down the stretch, you wouldn't have sensed it. There was a much more positive environment and much more potential for better outcomes than we were having. We were a really good practice team, our energy was high and the kids really got in sync with what we were trying to do. The more the young guys played the more comfortable they got.
At the same time, you want to win and we didn't get much of that done at all. It's nice to show that maybe we're not that far away, but ultimately when you're not winning games, you are far away.
Defensively, your numbers were obviously bad. How can that improve this year?

KW:
It's the second year in the system and also now for us the second year in the league and understanding it. Maybe we'll tweak some things in the system scheme wise. Subtle things. I don't see any wholesale changes, but just in the leverages of players, situations, when to attack and when to not, how to help people and how to hide people. In the second year, we need to make as much improvement mentally. Broken plays, busted assignments -- that happened way too much. We can't give up the big plays.
We brought in five junior college guys and this spring we have two safeties, two linebackers and a defensive end here right now. They're all going to be in the two-deep. It's only Day 2 and we're not in pads yet, so there's lot of work to do to determine where they'll fall. But it looks like on defense and special teams we'll need them to come through, and I expect them to.
You have starters back at defensive tackle, but what about the defensive end spot and improving your pass rush this season?

KW:
Ryan Phillis
really played his best from the Ohio State game on. I think he had like nine tackles before that and then 10 at Ohio State, and he played really well against Purdue. Ryan's a guy who showed up the summer of his freshman year and had a broken ankle, and his first workout was when I got here. So he had one spring and then last fall. So he wasn't even a true redshirt freshman. He really came on late, which was good to see.
Bobby Richardson
was a freshman we moved to D-line and he really came on strong. Those two guys will be sophomores now. We got a junior college guy [Justin Rayside] who's got speed off the edge. And I really like the background of coach [Jon] Fabris from Georgia. He'll be a nice addition. We had a very good coach there who we lost [Brett Dierson] but we were lucky to have coach Fabris because he brings a great deal of expertise there as well.
Speaking of coaching changes, you also have a new offensive coordinator in Seth Littrell. In what ways will the offense change with him running the show?

KW:
I think the change will be in some ways how we're practicing the pass game and some subtle ways. Not the plays that are called but how to run some routes, and some quarterback progressions to bring greater continuity and rhythm to the pass game. I think the plays will look very, very similar and the formations and mindset will be very, very similar, but I think the means will be different.
Coach Littrell is a direct descendant of [Mike] Leach. He worked with him for five years and also worked with [Dana] Holgorsen for five years. So I think we'll be a little cleaner and a little bit more into that type of passing game. The plays will look a lot alike, but the execution, the way they're practiced and the developing of the quarterback and wide receiver position, I'm hoping we'll see some significant gains there.
At quarterback, Tre Roberson really emerged for you midway through last season as a true freshman. How do you see his development continuing?

KW:
He's another one of those guys who's been here seven months. Saturday was his first spring practice ever. So there's still a learning curve of getting through it the first time. Coach [Kevin] Johns and coach Littrell will do a nice job of developing him as a passer, and I think he has the skill set to develop into a really solid, strong quarterback. I don't think he's an athlete. I know he can run well, but I think he's a guy who's going to be a complete player and bring some great things to the passing game. And I believe he's going to be a great leader, but he's still young and has a lot of work to do.
How's the state of your receiving corps this spring?

KW:
A little thin.
Duwyce Wilson
is coming off a knee injury. He's healthy but not he's allowed to practice yet, though he's ahead of schedule and looks good. I think we'll see some good things out of
Shane Wynn
and
Kofi Hughes
and even
Ted Bolser
, with the way the passing game will be taught and implemented by Coach Littrell. Ted will be a very nice complement and you'll see him as maybe more of a receiving threat at tight end.
Cody Latimer
and
Jay McCants
were two freshmen who showed some flashes last year, so we've got a bunch of freshman coming back. We've got
Nick Stoner
, who just set a record in the 4X400 and qualified for the NCAA indoor [championships], so he's a fast kid. It's just a young crowd. But as we go through spring and if guys on their own have a great summer ... Tre can do well but he's not going to do well until he and those those receivers play well for one another.
Stephen Houston came on as your leading rusher last year, and now you finally have some depth at running back. Will you look to spread the ball around more there?

KW:
You need to, because they're getting beat up enough there that you can wear a guy out. It's not just games during the season -- you've still got to be a great practice player to play on Saturday, and there's wear and tear from practice. Even when you've got a great back, you need a nice complementary guy. You look at NFL teams, most of them are playing two or three [running backs] and it's the same deal in college.
So now we've got
D'Angelo Roberts
, we've got
Matt Perez
back,
Isaiah Roundtree
is a kid who transferred in and I'm very intrigued by, and then we signed a really good player in Tevin Coleman. Last year, every running back in the spring seemed like they were hurt. This year, it's a little bit better, and we should be in a solid position by fall, we hope.
Finally, you played so many young players and don't have a lot of seniors. How is the leadership on this team?

KW:
Every team has leaders, whether they're good or bad. Every is team being led by players in a locker room, by a core group of guys. We've worked really hard this offseason and did a couple neat little things I'm not going to get too detailed about. We've been able to do some team building. We are trying to develop leaders and put our players in charge and take ownership for our actions on the field, off the field, in season out of season, on campus and in the community.
It's been going really pretty good, but once you get some adversity, that's where the leadership is going to come in. We've had about 6-to-8 really good, behind-the-scenes [leaders]. Even though it's young -- we've only got five seniors -- I think it's significantly better than a year ago. I think it's developing. But I'm really looking forward to seeing when we get a bump in the road, do we have great, positive leadership. I won't know that until we get a couple hiccups and see how we respond.
February, 17, 2012
2/17/12
10:00
AM ET
After taking a look at the Legends Division outlook for spring practice, it's time to turn the focus to the Leaders Division.
Away we go ...

ILLINOIS
Start of spring practice:
March 7
Spring game:
April 14
What to watch:
New faces in new roles: Tim Beckman and his assistants get their first chance to work with the players on the field. Beckman retained only one assistant (defensive line coach Keith Gilmore) from the previous staff, so it'll be important for the players and coaches to get acclimated. It's also a big spring for co-offensive coordinators Billy Gonzales and Chris Beatty, both of whom will be primary playcallers for the first time at this level.
The quarterbacks: Nathan Scheelhaase is a two-year starter, but he'll have to re-establish himself as the team's top option at quarterback. Reilly O'Toole received a decent amount of field time last season, and Illinois should have a competition under center in spring practice. Both men will have to learn a new offense and show good decision-making skills after combining to throw 12 interceptions last fall.
No Merci: All-American defensive end Whitney Mercilus is gone, and Illinois will be looking for his replacement this spring. The defensive line could once again be a strength for the Illini, especially with Gilmore back and an aggressive defensive coordinator in Tim Banks. It'll be interesting to see how the coaches use Michael Buchanan and Justin Staples, who played the "bandit" position in the previous scheme and boast speed but don't have typical defensive end size.

INDIANA
Start of spring practice:
March 3
Spring game:
April 14
What to watch:
Juco fever: Indiana needs a quick fix on defense, and it hopes an influx of junior college players can provide one. Six juco players already are enrolled and will participate in spring practice, including five on the defensive side. It will be interesting to see how players such as defensive back Tregg Waters and linebackers Justin Rayside and Jacarri Alexander perform this spring as they compete to play right away.
New direction on offense: Coach Kevin Wilson wants to be more productive in the passing game, and he hired an offensive coordinator in Seth Littrell who can help in that area. Littrell guided an Arizona offense that last season ranked third nationally in passing (370.8 ypg) and 27th in pass efficiency (145.2). He'll try to help Tre Roberson, who Wilson said he thinks can elevate his game significantly as a passer despite throwing twice as many interceptions (six) as touchdowns (three) as a freshman.
Who has grown up: Indiana played 32 freshmen (16 true, 16 redshirt) in 2011, the most in the FBS. The early experience should pay off for several players, and Indiana needs them to grow up quickly during the spring. Roberson showed a lot of promise at quarterback, and safety Mark Murphy finished second on the team with 76 tackles. Keep an eye on players such as defensive end Bobby Richardson and receiver/returner Shane Wynn.

OHIO STATE
Start of spring practice:
March 28
Spring game:
April 21
What to watch:
Urban renewal: The mood has improved around Ohio State's program from the moment Urban Meyer stepped to the podium Nov. 28. After putting together his staff, signing an elite recruiting class and ticking off some of his Big Ten coaching colleagues, Meyer finally gets a chance to work with the players on the practice field. After a lackluster final season at Florida in 2010, Meyer says he's refreshed and recharged, and it'll be interesting to see how he attacks practices.
The new offense: Ohio State fans can't wait for a new offense after suffering through a 2011 season that featured some extremely questionable play-calling. Meyer's offensive system is well-known throughout college football, but the interesting thing this spring will be how Meyer and offensive coordinator Tom Herman blend their ideas. Herman is a dynamic young coach who impressed a lot of folks at Iowa State. But Ohio State is a different animal, and expectations will be high for quarterback Braxton Miller and the unit.
Fickell back on defense: After spending last season as Ohio State's head coach, Luke Fickell returns to an assistant role on the defensive side. And for the first time, Fickell will be the Buckeyes' primary defensive playcaller. Ohio State's defense took a step back last season and will be looking to regain its traditional form. Fickell will work alongside co-defensive coordinator Everett Withers and look to identify some leaders to complement defensive lineman John Simon.

PENN STATE
Start of spring practice:
March 26
Spring game:
April 21
What to watch:
O'Brien's time: Much will be made of Penn State opening spring ball without Joe Paterno, but the real story is how critical these practices will be for new coach Bill O'Brien and his team. Penn State will be acclimating to new systems on both sides of the ball and a new coaching style from O'Brien and his assistant coaches, all but two of whom are from the outside. The learning curve will be accelerated for all involved, as Penn State needs to get a lot done in 15 workouts.
The quarterbacks: It's good that O'Brien has extensive experience coaching quarterbacks because no position needs a bigger upgrade at Penn State. The Lions struggled mightily under center last season and need a major boost beginning this spring. Can O'Brien get more out of Matthew McGloin and Rob Bolden, both of whom have seen extensive time in the Big Ten? How does Paul Jones factor into the mix? It'll be interesting to see how the signal-callers perform this spring.
Filling gaps on defense: Penn State should have one of the nation's best linebacker groups this season, but the Lions need to fill some holes on the line and in the secondary. Big Ten Defensive Player of the Year Devon Still departs, and Penn State will be leaning on Jordan Hill and others to step up. A bigger concern is the secondary, which loses two multiyear starters at safety (Drew Astorino and Nick Sukay). Penn State also has a new defensive coordinator in Ted Roof, who will be looking for better results than he had at Auburn.

PURDUE
Start of spring practice:
March 7
Spring game:
April 14
What to watch:
Another quarterback competition: Boilers coach Danny Hope loves having options at quarterback, and he'll once again get his wish during spring practice. Caleb TerBush, Robert Marve,Rob Henry and Sean Robinson all boast starting experience and will vie for the No. 1 job when workouts resume. Henry, who sizzled last spring and would have started the season if not for a torn ACL, has been cleared to participate in noncontact drills. Marve received an extra year of eligibility and will be in the mix. TerBush started every game last season.
Tisebar takes over: Purdue has a new defensive coordinator for the third consecutive season, as Tim Tisebar takes over this spring. Tisebar returns to college football after spending the past three seasons with the Canadian Football League's Montreal Alouettes. Hope hired Tisebar to help Purdue improve against the spread offense and the zone-read game. It will be interesting to see what spin Tisebar puts on the defense as the Boilers enter a pivotal season.
Offensive line depth: One of Purdue's strengths last season is a bit light on bodies following several departures. The Boilers need a left tackle to replace Dennis Kelly, and they also must increase depth on the interior line. Purdue already has moved tight end Robert Kugler to center, and Hope said earlier this month that several other tight ends could practice at offensive tackle during the spring.

WISCONSIN
Start of spring practice:
March 17
Spring game:
April 28
What to watch:
A revamped staff: Bret Bielema hired six new assistant coaches during the winter months, including offensive coordinator Matt Canada. The new coaches will have their first opportunity to work with players on the field this spring. It's important for both sides to acclimate, mainly because Wisconsin has had tremendous success the past two seasons and doesn't want the staff shakeup to throw things off course. Quarterback Russell Wilson made a seamless transition to the program last summer. Let's see if the new assistants can do the same in spring ball.
The quarterbacks: Speaking of Wilson, he departs Madison, leaving a major void under center. Jon Budmayr and Curt Phillips are coming off of major injuries, and while they're both making progress it could be tough to get a gauge on them this spring. Canada will spend much of his time working with Joel Stave and Joe Brennan, who need to get comfortable with Canada's adjustments to the offense and start establishing themselves as potential team leaders.
Reloading up front: Wisconsin will have to replace two All-American offensive linemen for the second consecutive year, and the Badgers lose three All-Big Ten selections up front (Peter Konz, Kevin Zeitler and Josh Oglesby). While the Badgers are built to reload, offensive line coach Mike Markuson has a lot of evaluating to do this spring. On the defensive line, Wisconsin loses two starters (Patrick Butrym and Louis Nzegwu) and will be looking for some difference-makers. End David Gilbert returns to the mix after missing most of last season with a broken foot.