November, 28, 2014
Nov 28
10:00
AM ET
Hopefully you've already recovered from a day's worth of turkey and pumpkin pie because the games start in about two hours.
It's the final week of the Big Ten's regular season, and there are still quite a few questions left to be answered: Will
Tevin Coleman
surpass 2,000 yards on the season? Who will face Ohio State in the Big Ten championship? Will Northwestern or Illinois find its way to bowl eligibility?
There are no night games or byes this week. So shake off that tryptophan, make another turkey sandwich – possibly to go with that bowl of turkey soup – and get that remote ready. Here's a glance at what you should look forward to (all times ET):
Noon Friday
Nebraska (8-3, 4-3 Big Ten) at Iowa (7-4, 4-3), ABC:
Ameer Abdullah
admitted he's been frustrated the past two weeks – because of his injury and back-to-back losses – and even said matter-of-factly,
"It sucks. It definitely does suck."
Bo Pelini is on the hot seat again and can't afford a third straight loss; Kirk Ferentz wants to secure another eight-win season and have some kind of trademark Big Ten victory. (Iowa hasn't beaten a Big Ten team with a winning record.) Something has to give.
[+] Enlarge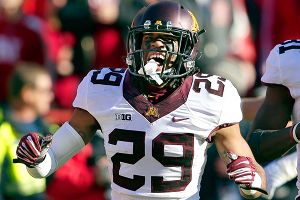 AP Photo/Nati HarnikMinnesota and defensive back Briean Boddy-Calhoun are playing for a Big Ten division title at Wisconsin.
Noon Saturday
Illinois (5-6, 2-5) at Northwestern (5-6, 3-4), ESPNU:
Let the (unlikely) battle for bowl eligibility begin. Northwestern bounced back from a 3-6 record with victories over Notre Dame and Purdue, while Illinois played its best special-teams game of the year last week to beat Penn State. The Wildcats are without senior QB
Trevor Siemian
, who suffered a torn ACL, so their postseason hopes are pinned to backup
Zack Oliver
.
Purdue (3-8, 1-6) at Indiana (3-8, 0-7), BTN:
Don't let the records fool you. Sure, these are two of the worst teams – recordwise – in the Big Ten. But this one might be worth watching for no other reason than
Tevin Coleman
, who could be playing in the final college game of his career. Coleman needs just 94 yards to reach 2,000 on the season and he's also a finalist for the Doak Walker Award. He might be the best running back in the nation not named
Melvin Gordon
.
Michigan (5-6, 3-4) at No. 6 Ohio State (10-1, 7-0), ABC:
The Ga_e will always _ean so_ething special. Especially as long as Ohio State continues with its tradition of
crossing off every "M" on campus
. The Buckeyes are the big favorite, while the Wolverines have been a big disappointment. But nothing would make Wolverines fans happier than knocking Ohio State out of the playoff picture. Of course, Ohio State is also currently scoring an average of 24 points more per game than Michigan -- so that's not going to be easy.
3:30 p.m. Saturday
No. 10 Michigan State (9-2, 6-1) at Penn State (6-5, 2-5), ABC:
The Nittany Lions are hoping to experience some déjà vu this season. Last year, they entered their home finale as 24-point underdogs to Wisconsin and some way, somehow, came out on top in an upset. This season, they're only 13-point underdogs. And while the Penn State defense is historically good this season, the offense is historically bad. Michigan State, on the other hand, is a well-rounded team that's fighting for a trip to one of the New Year's Six bowl games.
No. 18 Minnesota (8-3, 5-2) at No. 14 Wisconsin (9-2, 6-1), BTN:
It all comes down to this in the West. The winner will advance to the Big Ten title game to face Ohio State; the loser will have to lament watching it from the dorms. Gordon needs just 1 yard to break the Big Ten single-season rushing record, and Minnesota's
David Cobb
is "very questionable" for the contest. Jerry Kill is arguably the front-runner for Big Ten Coach of the Year and, if he pulls this out, we can probably take "arguably" away from that sentence. This is a must-watch.
Rutgers (6-5, 2-5) at Maryland (7-4, 4-3), ESPNU:
Both teams have met or exceeded expectations this season, but it's been a difficult second half for Rutgers. After starting 5-1, the Scarlet Knights have won just one of their past five and have looked really overmatched against the B1G's best. Maryland has looked like the better team – and beat both Iowa and Penn State – but Rutgers would like to change the conversation here. A victory for either team would go a long way; Rutgers could grab some second-half respect or Maryland could climb its way to a better bowl.
Required reading
November, 25, 2014
Nov 25
12:30
PM ET
COLUMBUS, Ohio -- A healthy respect already existed after a week of watching film, and if that wasn't enough, even a cursory glance at the statistics would have been enough to convince Ohio State to be wary.
The combination of those two things made it quite clear to the Buckeyes what they were up against last weekend, though, which was exactly why they were feeling so good about the job they had done in the first half against
Tevin Coleman
.
[+] Enlarge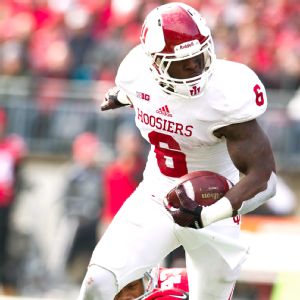 Greg Bartram/USA TODAY SportsSaturday's game against Purdue may be Tevin Coleman's last collegiate game.
But the second a defense starts to get comfortable, the Indiana star will make it pay. And as he exploded down the sideline for one of the longest touchdown rushes in the history of the Horseshoe, the Buckeyes became the latest victim to come to the painful conclusion that everything they had heard about perhaps the nation's most often overlooked player was true.
"I mean, I felt like we were shutting him down pretty good," Ohio State linebacker
Darron Lee
said. "But when he has his opportunity, a chance to make a big play, he takes it. It's a credit to him. He's a really good running back, and I think he's really impressive in that aspect because I felt like we were shutting him down for most of the game.
"Give him two opportunities, and he'll make those plays. I see what all the hype is about, and it's true."
Coleman has steadily converted any doubters into believers during his breakout junior campaign, which has been all the more impressive because the Hoosiers have essentially needed him to fly solo for a short-handed, one-dimensional offense. And even without much support, few defenses have been able to keep Coleman grounded for long, as the Buckeyes learned when he shook off a 15-carry, 50-yard first half with a dazzling 90-yard sprint to the end zone that briefly gave Indiana a lead over the No. 6 team in the country.
Ohio State eventually pulled away and wasn't threatened down the stretch, sending the Hoosiers to an eighth loss this season and once again blocking out some of the spotlight Coleman certainly deserves but doesn't usually get.
His team loses too much, which isn't exactly his fault but occasionally makes it easy to forget what he's doing so far outside of the national conversation. The Big Ten is also historically loaded at running back and Wisconsin's
Melvin Gordon
casts a large shadow, which not even rushing for 1,906 yards and 15 touchdowns can quite allow Coleman to escape.
Those two factors alone have effectively knocked him out of the Heisman Trophy conversation despite his long list of impressive accomplishments this season. The teams that have played against him this year have no trouble recognizing how special Coleman's talent truly is, though, and obviously the Hoosiers know what they have in him and would dearly love him to return for another year with the program. But with eye-popping statistics and draft stock that perhaps can't get too much higher, hanging on to Coleman might prove just as difficult for coach Kevin Wilson. It could also make Saturday's battle for the Old Oaken Bucket against Purdue the last chance to appreciate him before he's gone.
"To me he's going to be one of the all-time great Hoosiers and one of the all-time great kids I've coached just because of the way he does it every day, not just Saturdays," Wilson said. " ... He takes a lot of nickels, and he'll get you some quarters and 50 cents and dollar bills out of it because he can make some guys miss and go the distance.
"His ability for the home run play is legit."
The Buckeyes weren't the first team to find that out and it certainly shouldn't come as a surprise to the Boilermakers, who have fresh evidence to break down with Coleman coming off a performance that ended up at 228 yards with 3 touchdowns after the somewhat sluggish start.
But will Purdue be the last team on the list before he moves on? If so, the rest of the Big Ten almost certainly will be glad to see him go.
"I wish him well in the NFL if that's what his desire is, because he's a really good back," Ohio State coach Urban Meyer said. "He's a top-10 back -- maybe higher than that."
That will ultimately be up to professional scouts and general managers to decide, potentially sooner than later.
But good luck finding anybody who has played against Coleman this season and walked away not believing he's worthy of some hype.
November, 20, 2014
Nov 20
8:00
AM ET
November upside: Competitive games, division races. Downside: Dropping temperatures, snow flurries.
The Big Ten is definitely making the trade worth it.
1. Boiling down the Broyles:
The guys on the field jockeying for individual awards deserve the attention, and their coaches are always quick to deflect any praise back to the players doing the work in pads. But it's time to take a minute and give a little credit to the assistants in headsets, either on the sidelines or in the booth, because the Big Ten might have the deepest pool of candidate for the coveted but often overlooked Broyles Award for the country's top assistant. The list is longer than three names in the league, of course, but Ohio State offensive coordinator Tom Herman, Wisconsin defensive coordinator Dave Aranda and Penn State defensive coordinator Bob Shoop would all be deserving winners for the incredible work they've done this season. The guys on the defensive side of the ball have put together units that both rank in the top three in the nation in total defense, with the Badgers currently No. 1. That gives Aranda a slight edge over Shoop, but it's a tougher call against Herman, who not only has Ohio State leading the Big Ten in scoring again, but as the quarterbacks coach, is also responsible for the rapid rise of redshirt freshman
J.T. Barrett
. If both teams stay on track for a collision in the Big Ten title game, maybe they can settle the matter once and for all in Indianapolis.
2. B1G love:
The first time could have been written off as a fluke, but the College Football Playoff selection committee proved it truly respects the depth at the top of the Big Ten this week with five teams ranked among its Top 25. It would have been easy to write off No. 25 Minnesota following a home loss or to drop Nebraska out entirely after getting crushed by Wisconsin. But just like Michigan State last week, the way the committee has reacted to losses in the conference reflects how highly it thinks of the Big Ten despite those early missteps to start the year. The Huskers and Gophers square off Saturday in what will definitely serve as an elimination game in the West Division and will probably wind up being a loser-leaves-town matchup for the committee, which would drop the Big Ten down to four teams in its poll. But considering how that compares with the ACC or Big 12, the committee still clearly isn't buying the supposed demise of the Big Ten.
3. Under-the-radar matchup:
Michigan has been in the spotlight for all the wrong reasons essentially all season long, and this week has been no exception with the troubling off-the-field issues with defensive lineman
Frank Clark
and his subsequent dismissal. The Wolverines may even be in a hurry to get the year over with and move on. Even with all their problems on the field, they are in position to qualify for the postseason and go out on a high note as Brady Hoke's tenure likely draws to a close. The odds are going to be stacked against them in a major way next week against Ohio State, but the Wolverines have home-field advantage, an underrated defense and potentially no shortage of motivation with Maryland coming to the Big House -- and if the chance to earn a trip to a bowl game doesn't bring out the best in Hoke's club, there's really no reason to even consider it a possibility he could return for another year.
East Division
West Division
November, 19, 2014
Nov 19
2:30
PM ET
You can question whether the Big Ten always competes at the same elite level as some other leagues. You can question, at times, some conference teams' all-out commitment to winning national championships in football.
But you can't question whether Big Ten head coaches are paid like the best of the best, at least at the top of the heap. USA Today has again done yeoman's work in compiling the
salaries and compensation for every FBS head coach
, and several Big Ten bosses remain among the most richly rewarded.
[+] Enlarge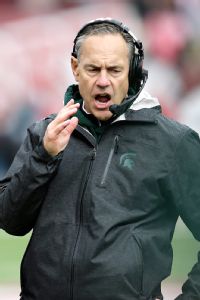 AJ Mast/Icon SportswireMark Dantonio is the Big Ten's highest-paid coach at $5.6 million in total pay.
According to the database, the league has four of the top 10 highest-paid coaches in the FBS, though the names and rankings may surprise you a bit. Michigan State's Mark Dantonio surprisingly, checks in at No. 2 at more than $5.6 million in compensation, behind only his former boss, Alabama's Nick Saban.
It's important to note here that
USA Today's methodology
includes bonuses and other pay besides just salary. Dantonio received a $2 million longevity bonus that is being calculated into this list; his salary, which was bumped up after the Spartans won the Rose Bowl, is $3.64 million.
Ohio State's Urban Meyer checks in at No. 6 at just over $4.5 million, followed by Penn State's James Franklin (No. 8 overall at $4.3 million) and Iowa's Kirk Ferentz (No. 9, $4.075 million). Note that the figure for Franklin is based on a proposed financial term sheet released by the school, which declined to make Franklin's actual contract public.
Surprised not to see Michigan in the Top 10? Brady Hoke checks in at a relatively (key word) modest $2.85 million, good for only No. 30 in the FBS. Hoke ranked in the top 10 last year because of a large retention bonus he received. If the Wolverines make a coaching change and decide to land an established head coach, they could easily pay in the $3 million to $4 million range. Maybe more, if they could reel in a truly big fish like Les Miles or one of the Harbaughs.
The difference between the Big Ten and the SEC in salaries is much like the on-field rankings: depth. Twelve of the 14 SEC coaches are ranked in the Top 30 in salary and all 14 are ranked in the Top 34. Just six of the Big Ten coaches are in the top 30, which is one less than the Big 12 has. The SEC also boasts eight of the top 20 highest-paid coaches in the FBS, while half of the Big Ten's 14 coaches are ranked No. 41 or lower.
Here's how the rest of the Big Ten coaches stack up:
No. 24:
Nebraska's Bo Pelini: $3.08 million
No. 39:
Northwestern's Pat Fitzgerald: $2.48 million
No. 41:
Wisconsin's Gary Andersen: $2.29 million
No. 45:
Minnesota's Jerry Kill: $2.1 million
No. 46:
Purdue's Darrell Hazell: $2.09 million
No. 47:
Maryland's Randy Edsall: $2.03 million
No. 52:
Illinois' Tim Beckman: $1.95 million
No. 66:
Indiana's Kevin Wilson: $1.3 million
No. 73:
Rutgers' Kyle Flood: $987,000
October, 29, 2014
Oct 29
8:00
AM ET
Welcome to a new age of college football. The year is now 1 CFPE. The College Football Playoff Era began last night with the first release of the selection committee's Top 25 rankings.
1. The Big Ten
landed three teams in the initial poll
, which is about as good as the league could have expected. The No. 8 Spartans lead the way. Nebraska coming in at No. 15, one spot ahead of Ohio State, was the biggest surprise for Big Ten teams. As entertaining as it was to see the first rankings unveiled, next week's will be far more interesting. Then we'll find out if the committee will let its previous rankings affect the new version -- one of the biggest faults of the AP and Coaches' polls -- or if it will more liberally move teams up and down based on how they look at the moment. Either way it's safe to assume there will be just as much consternation and complaining about snubs as in the BCFPE.
2. Speaking of snubs, somehow Penn State's
Mike Hull
was somehow left off of the list of 15 semifinalists for this year's Butkus Award for the country's top linebacker. Northwestern coach Pat Fitzgerald, who has a vote for the final winner, said
he will make Hull a write-in candidate
. Fitzgerald said the semifinalist lists, which he was on as a player in the mid-90s, are just a popularity contest.
Hull did get noticed
by the Bednarik Award folks this week. They added him to the watch list for their top defender award.
3. No snubs this week, however, were more headshaking than the ones Michigan athletic director Dave Brandon dished out to Wolverines fans via e-mail during the past year.
A report on mgoblog.com
Tuesday revealed a collection of snarky and condescending e-mails that the beleaguered athletic director has sent to fans. It's baffling that a man described as a master of public relations when he took the job at Michigan in 2010 could be so tone deaf when talking to his customers. Brandon called the blog report "
nonsense
" when asked about it leaving an award ceremony Tuesday night, but the messages can't sit well with the university president currently mulling over Brandon's future at Michigan.
East Division
West Division
October, 20, 2014
Oct 20
8:00
AM ET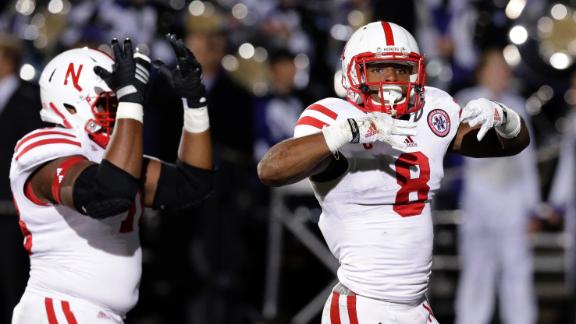 Good morning. A few thoughts before we get to the links:
1. Quarterback
J.T. Barrett
is receiving loads of attention as Ohio State continues its incredible offensive surge. And rightly so, because Barrett's numbers (20 total touchdowns, five interceptions, 65.2 percent completion rate) are astounding. He has the highest ESPN QBR score in the country since Sept. 6, the date of the Buckeyes' loss to Virginia Tech.
But let's not forget the improvement of Ohio State's offensive line. The young group with four new starters looked like a liability in the first couple of games. Since then, it has become a source of strength. The Buckeyes allowed no sacks on Saturday against Rutgers, whose defense came into the game leading the Big Ten in that category. The Scarlet Knights only had two tackles for loss and just one quarterback hurry. Ed Warriner's group showed similar dominance against Maryland, whose defensive front caused Iowa's offensive line all kinds of problems on Saturday.
Urban Meyer had his players
give the assistant coaches a standing ovation
after the Rutgers win. It's hard to tell
just how good the Buckeyes are
right now, Bob Hunter writes. But they look pretty darn good.
2. As great as
Ameer Abdullah
is, I thought Nebraska needed one more weapon to take its offense to a truly elite level. The Huskers might have found that extra option on Saturday at Northwestern.
De'Mornay Pierson-El
, who to this point had done most of his damage on punt returns, had three catches and even threw a touchdown pass to
Tommy Armstrong Jr.
, evoking memories of
a famous trick play from Nebraska's past
. The speedy true freshman gives Armstrong another target along with
Kenny Bell
and
Jordan Westerkamp
. The Huskers were dominant offensively in the second half against a pretty good Northwestern defense, and Pierson-El was a big reason why.
"De'Mornay and Ameer and Kenny, when does it end?" offensive coordinator Tim Beck told the Omaha World-Herald. "You want those guys on the field, because now you've got to guard them all."
3. Indiana just can't seem to sustain any kind of positive momentum. The Hoosiers were a trendy pick to make a bowl this season, especially after
winning at Missouri
on Sept. 20.
But since then, Kevin Wilson's team has gone just 1-3 (with the lone win over North Texas). And as IU showed in Saturday's 56-17 loss to Michigan State, it's highly doubtful that there is another win left on the schedule.
True freshman quarterback
Zander Diamont
clearly
isn't ready
, as his 5-for-15, 11-yard performance vs. the Spartans confirmed. He should be redshirting, but season-ending injuries to
Nate Sudfeld
and
Chris Covington
thrust him into action. Even with
Tevin Coleman
having a season for the ages, the Hoosiers don't have much of a chance without a passing attack and with a defense that can't win Big Ten games on its own. There's much to like about the young talent Wilson has brought to Bloomington, but Indiana continues to be stuck in program quicksand. The last five games will test the resolve of Wilson and his players.
West Division
East Division
And finally
...
Ohio State's band put on another amazing halftime show.
Rock out to it
. The Pinball Wizard part is my favorite.
October, 16, 2014
Oct 16
8:00
AM ET
How is it possible that half of the season is already gone? Why does it seem like time is dragging until Saturday every week? Life and football are truly mysteries.
1. Quarterback quandary:
Narrowing the field seemed like it could be a blessing in the summer, with Indiana coach Kevin Wilson quick to point out the benefits of no longer needing to juggle practice reps as much now that
Nate Sudfeld
was the last man standing in what was once a three-man battle. But there was an obvious downside that didn't receive nearly as much attention in July as perhaps it should have, and now that an injury has struck their starter, it's clear how much the transfers of
Tre Roberson
and
Cameron Coffman
hurt the Hoosiers. Roberson, experienced and proven in the Big Ten, is off putting up
big numbers
at Illinois State. Coffman is waiting for his chance to play for Wyoming while he sits out the season. And back at Indiana, the Hoosiers are scrambling to find somebody to
put behind center
this week with Michigan State's vaunted defense coming to town. The chance to focus on one guy and potentially unleash more of Sudfeld's ability was a nice silver lining, but it was apparently just a distraction from a huge storm cloud that was poised to wipe out Indiana's season.
2. Something special:
There's any easy way to get Urban Meyer to gush about his team these days. All it takes is one mention of his kickoff coverage unit, and the Ohio State coach turns downright giddy by his standards. The Buckeyes have reason to be pleased with what they're getting on special teams lately, and they lead the Big Ten in net yardage on kickoffs thanks to a combination of well-positioned kicks, an aggressive scheme and a roster loaded up with speedy players willing to fly down the field and hit somebody. Meyer has always had a fondness for special teams, and he's fostered a competition for "starting positions" on the units that makes even first-teamers on offense and defense proud to contribute on punts and kickoffs. It may not draw much attention, but the Buckeyes are racking up some hidden yardage and subtly altering the field-position battle each week thanks in large part to Meyer's cover guys.
3. Best Bye:
No program seems too thrilled with the double-bye schedule in place this season, but there appear to be obvious benefits for all four teams sitting out with an off date Saturday. Penn State's offensive line remains in disarray, and while it can't suddenly turn its inexperienced blockers into veterans, some extra reps and game-planning won't hurt heading into the stretch run that starts against Ohio State's tenacious defensive line next week. Wisconsin and Illinois both could use some time to work out kinks in the passing attack, with the former toying with a two-quarterback rotation and the latter trying to find the best option with
Wes Lunt
on the sideline. And after finally getting back in the win column, Brady Hoke might be able to take a deep breath at Michigan and enjoy at least a few moments of peace after a victory over the weekend. Out of all those options, maybe the Wolverines needed a bye the most -- unless the
regents
decide to stir the pot up again.
East Division
West Division
October, 14, 2014
Oct 14
9:00
AM ET
Indiana coach Kevin Wilson glanced down at his notes and circled back to Iowa for more than two-and-a-half minutes Monday afternoon until he finally addressed the news that everyone awaited.
Quarterback
Nate Sudfeld
was
out for the season
.
"I'll give you 20 seconds to tweet," Wilson said, glancing up at reporters. "OK, it's out."
Sudfeld will need surgery. Wilson said he's out for season. #iufb

— David Woods (@DavidWoods007) October 13, 2014
The news greatly alters Indiana's plan for success. Before, the Hoosiers could keep teams off-balance with a mixture of timely passes and rushes from one of the nation's best running backs in
Tevin Coleman
. If everything went according to plan, Indiana would win in a shootout once its defense made a few key stops.
Now? Sudfeld's injury creates a ripple effect on this team's identity. Defensive coordinator Brian Knorr said his unit will focus on creating more turnovers, and an even greater emphasis will be placed on a rushing offense that already ranks No. 6 nationally.
[+] Enlarge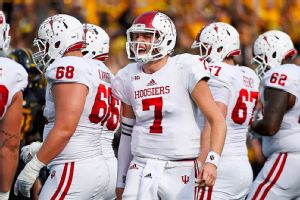 Jasen Vinlove/USA TODAY SportsLosing quarterback Nate Sudfeld for the season has Indiana back at square one on offense.
The situation at Indiana is so dire that Wilson even had to entertain questions on whether the offense's identity would change schematically, whether it would resort more toward an option attack.
"We're not going to sit here and just run every play," Wilson said. "Maybe the quarterback runs a little bit more but, you know, we'll play to our strengths. ... The quarterback now is a little bit more of a runner than a thrower, but we'll keep throwing. We're not going to throw five passes."
This isn't the era of
Tre Roberson
and Sudfeld; there is no solid Plan B. Freshman athlete
Chris Covington
will line up under center, and he began the preseason at linebacker. His first career start couldn't come at a worse time, either: Michigan State looms on the schedule Saturday afternoon.
Offensive coordinator Kevin Johns kept a steady tone and tried to sound optimistic Monday, but there was just no hiding just how much Sudfeld's injury negatively impacts this team's plans going forward.
"It's really going to be a lot of fun because now I get to coach and teach kids just the basic fundamentals of the game," Johns said. "Not that it wasn't fun to coach Nate Sudfeld, but Nate was on a different level. Now it's like you get to go back to Square One, which for us as coaches is exciting."
That phrase was actually spoken in a sincere tone, although it would've made just as much sense if Johns sarcastically talked about how much he looked forward to starting from scratch. Because that's basically what Indiana is forced to do now.
Covington isn't ready. He finished 3-of-12 for 31 yards and two interceptions in Sudfeld's absence against Iowa. But there's really no one else. Freshman
Zander Diamont
weighs 160-some pounds, according to Wilson, and
Nate Boudreau
is a walk-on redshirt sophomore.
It's Covington or bust. The Spartans boast the nation's No. 5 run defense and will dare the Hoosiers to pass. And that challenge wasn't lost on Wilson, who's well-aware of the series history in the battle for the Old Brass Spittoon.
"Our last win is, what, 2006?" he asked. "So they have a nice long run. Didn't play them every year but since '93, I think [Indiana is] 2-14 in that series. They have controlled it, and they have this Spittoon and we need to go get that thing.
"And if we don't play hard and play well, they will keep it."
October, 13, 2014
Oct 13
5:00
PM ET
So, the streak of Monday mailbags from me leading to chaotic Saturdays ended last week at one, but I still think we should give it another test. If nothing else, it's a great way to keep the time moving until football returns in the Big Ten again.
@AWardESPN was it more on Saturday that Iowa's O ate up IU's D or that Indiana lost all hope without Sudfield?

— Michael Toolen III (@emptyqbd) October 13, 2014
Austin Ward:
There's no question that
Nate Sudfeld
's injury was a significant blow to the Hoosiers after they had climbed back into the game last weekend at Iowa, but I don't think it can realistically be pointed to as the reason Kevin Wilson's club dropped another decision in the league. The defense, quite frankly, is still too big of an issue for Indiana to be a consistent winner, and it's pretty likely going to keep it out of a bowl game now that Sudfeld is out for the rest of the year. The passing game already hadn't been quite as effective as in years past for the Hoosiers even with Sudfeld healthy, although
Tevin Coleman
's incredible production has done a pretty good job of offsetting those troubles. But as long as the Hoosiers keep forcing themselves into shootouts, even against offenses that had previously struggled like Iowa had early in the year, they just can't be taken seriously as a threat in the Big Ten. And especially now after going from a surplus of quarterbacks down to essentially none with the experience needed to operate the spread at a high level, the second half could be pretty rough for the program.
---
@AWardESPN As long as Dak Prescott continues on a role, I have no doubt he'll win the Heisman, but do you think Melvin should be invited?

— johnsg20 (@Johnsg22015) October 13, 2014
Austin Ward:
If the matter is solely based on what a player does on the field and not a popularity contest or a tribute to the starting quarterback of the nation's No. 1 team, there's really no case against
Melvin Gordon
being at the Heisman Trophy ceremony. Maybe the Wisconsin star is unlikely to win it because his team has struggled to a couple losses even while he's piled up eye-popping numbers, but if anything, what he's done in rolling up more than 1,000 yards with 13 touchdowns through six games is even more impressive because of the limitations of the offense he's playing in this season. Illinois was loading up the box with seemingly every defender on the roster last weekend because the Badgers posed virtually no threat to pass at all, and Gordon still sliced it up for 175 yards and four scores. The things Gordon is capable of blow the mind, and the Badgers would be a truly frightening team if they were even average at quarterback this season. But perhaps if voters look close enough at that weakness for Wisconsin, Gordon's candidacy could get a boost and ensure that he does win up in New York City at the end of the year.
---
@AWardESPN Could Kurtis Drummond go from All-BT to benched? He gets beat in coverage consistently and whiffs too often in run support.

— Trevor Stratton (@trevorstratton) October 13, 2014
Austin Ward:
The Michigan State safety certainly wasn't at his best on Saturday against Purdue, but he wasn't alone in blowing some assignments in a game that may have prompted some second thoughts about a team that is presumed to be the class of the Big Ten again after winning it all last season. Giving up a bunch of points to Oregon is one thing. Getting burned for 31 points against Purdue is quite another, and the most troubling thing for coach Mark Dantonio should be the plays that were giving the Spartans fits last weekend are the same ones Ohio State will run with much better athletes during the East Division showdown on Nov. 8. As for Drummond, he has let a couple interceptions slip through his hands and he may be pressing to do too much at times, but he has the experience and knowledge of the system to snap out of a recent funk. And after the near meltdown against Nebraska and the breakdowns at Purdue, the sooner the better for the Spartans.
---
@AWardESPN There's some speculation about potential Heisman runs from Abdullah or Coleman. What can JT Barrett do to join the conversation?

— Mark Walker (@MarkovWalker) October 13, 2014
Austin Ward:
On the pace the redshirt freshman is currently on, all Barrett needs right now is to keep doing what he's been doing over the past few weeks. The Buckeyes are gaining confidence every week at the same time Barrett is becoming more comfortable in the offense, and the progress is clear to see as he delivers accurate passes, manages the run game like a veteran and wins over teammates with his leadership in the huddle. The path to the kind of recognition
Braxton Miller
earned over the past two years is a bit more complicated now that Melvin Gordon, Tevin Coleman and
Ameer Abdullah
are posting huge individual numbers. But if the Buckeyes run the table and win the Big Ten with Barrett continuing to account for multiple touchdowns every week, he's going to be tough for people to ignore when the ballots are cast for the league Offensive Player of the Year, even if a national trophy might be out of reach thanks to memories of the Virginia Tech loss.
---
@AWardESPN What's ur vision for B1G teams starting to finally free up money for coaching/asst coach hires? It's obviously limiting league.

— Robbie Hendricks (@roberthendricks) October 13, 2014
Austin Ward:
There could be two interesting test cases for that theory coming up soon at Michigan and Illinois. I agree that schools have to invest in the product if Big Ten teams are going to compete for national championships, and the SEC has proven that paying top dollar for coaches, facilities and anything else remotely tied to football usually leads to results. If Michigan, for example, wants to ensure that it remains on even footing with the game's elite, it shouldn't let anything financially stand in its way when it goes shopping for the next coach to lead the program. And that's not just at the top -- the best coordinators in the country or the top position coaches should all be compensated that way also, or else they'll go work for a program that will pay them accordingly. The Big Ten schools can certainly afford to pony up.
October, 7, 2014
Oct 7
12:00
PM ET
If you spent Sunday looking at your spouse, your kids or your dog with raised eyebrows, you're not alone. Blame college football. After weeks like this past one, everyone is reassessing everything.
That's what happens when five of the top eight teams lose on the same week for the first time in the history of the AP poll.
Rather than bolting to the divorce lawyer, the adoption agency or the pound, realize this is probably just a football issue. In that spirit, let's reassess the Big Ten teams six weeks into the season.

Illinois (3-3):
Unfortunately for embattled coach Tim Beckman, the Illini are what we thought they were. It's bad but somewhat understandable to allow 458 rush yards to Nebraska on the road. It's inexcusable to allow 349 to Purdue at home. The offense is fun, but top quarterback
Wes Lunt
is
out 4-6 weeks with a fractured leg
. Beckman Watch has begun.

Indiana (3-2):
We've seen what Indiana can be (road upset of Missouri) and what Indiana still is (disappointing losses to Bowling Green and Maryland). Kevin Wilson's team is halfway to bowl eligibility but must pull off an upset or two to get there. Running back
Tevin Coleman
(841 rush yards, 8 TDs) might be the nation's best-kept secret. It will remain that way unless Indiana starts winning more.

Iowa (4-1):
The record is nice, but Iowa has played well for about six quarters this season. The defense is fine, but an inconsistent run game remains baflfling. The two-quarterback system will be fascinating theater.
C.J. Beathard
makes Iowa's offense more interesting, but does he make it better? The West Division is wide open, and Iowa has an advantageous home slate (Northwestern, Wisconsin, Nebraska).

Maryland (4-2):
The most recent performance notwithstanding, Maryland's first half exceeded expectations. The Terrapins delivered big plays, which covered up some general sloppiness (12 giveaways, 53.7 penalty yards per game). We are finally seeing what a relatively healthy Maryland team can do. The Terrapins are 3-0 on the road, so if they can take care of business at home, they'll secure a nice bowl trip.

Michigan (2-4):
Most of us, if not all of us, were wrong to varying degrees about this team. Doug Nussmeier hasn't fixed the offense. The defense remains unremarkable. Brady Hoke's days as coach seem numbered. Whether it's the talent evaluation, the talent development or the schematic vision, something went dreadfully wrong. It looks like a lost season.

Michigan State (4-1):
The Spartans remain the class of the Big Ten. If they had held a lead at Oregon, they would be in the thick of the playoff discussion. They still can get to the final four but must run the table in Big Ten play for the second straight year. Quarterback
Connor Cook
is better and so is an offense that leads the Big Ten in scoring (45.6 ppg). The Spartan Dawgs aren't quite as dominant but showed against Nebraska that they can still stifle good offenses.

Minnesota (4-1):
This is a similar, potentially better version of recent Minnesota teams. Tracy Claeys' defense once again looks very solid. The offense is extremely run-heavy (67 percent of yards), although quarterback
Mitch Leidner
provides a small passing threat. Minnesota has a real chance to make some noise in the West Division, although its closing schedule will tell a lot about the state of the program.

Nebraska (5-1):
We knew
Ameer Abdullah
was great. but he's still exceeding expectations. The offense can light up the scoreboard against soft defenses but struggled for most of the Michigan State game. Nebraska has the most overall talent in the West Division, but the road schedule (Northwestern, Wisconsin, Iowa) could prevent a trip to Indy.

Northwestern (3-2):
Woeful the first two weeks, wonderful the past two, these Wildcats are hard to identify. Pat Fitzgerald's tough talk seems to be hitting its mark, and the emergence of young defenders like
Anthony Walker
and
Godwin Igwebuike
is encouraging. The offense still struggles to score. A win Saturday at Minnesota validates Northwestern as a threat in the West.

Ohio State (4-1):
The forecast looks a lot brighter now than after a stunning Week 2 home loss to Virginia Tech.
J.T. Barrett
development at quarterback is the biggest reason for optimism, and Ohio State is generating first downs and points at a dizzying pace. The defense's development remains the big question mark. The Nov. 8 showdown at Michigan State looms.

Penn State (4-1):
The Lions have found ways to win despite obvious flaws exposed in their lone loss. If the offensive line doesn't make strides, it could be a tough second half for James Franklin's team. A solid defense should win PSU some games, and the pass game has potential with young wideouts
Geno Lewis
and
DaeSean Hamilton
. The next two games (Michigan, Ohio State) will be telling.

Purdue (3-3):
Improvement was expected as Purdue couldn't get much worse than last season. The Boilers finally found a spark on offense last week thanks to speed backs
Akeem Hunt
and
Raheem Mostert
and new quarterback
Austin Appleby
. Wins could be scarce the rest of the way, but Purdue is on the uptick.

Rutgers (5-1):
The biggest surprise in the B1G, at least outside the Garden State. Rutgers is a play or two away from being undefeated. Kyle Flood's staff changes have paid off, quarterback
Gary Nova
has made obvious strides, and the defense is holding its own, especially up front. Rutgers is more than holding its own in its new league.

Wisconsin (3-2):
I'm not as surprised as some, as Wisconsin never looked like a top-15 team, not with its problems at quarterback and receiver.
Melvin Gordon
has been as good as advertised, but teams still need some semblance of a passing attack to win consistently, especially away from home. Wisconsin isn't out of the West race but likely can't afford another slip-up.
October, 1, 2014
Oct 1
5:00
PM ET
We haven't corresponded in far too long. Let's catch up, shall we?
@BennettESPN Has the Nebraska-MSU game taken over the preseason consensus pick of Ohio State-MSU as the biggest conference game of the year?

— Adam Wilson (@wilsonadamiam) October 1, 2014
Brian Bennett: I'm going to East Lansing this weekend and simply cannot wait. This game should be terrific, especially since Nebraska has had more offensive success against Michigan State's defense than anyone else in the Big Ten. The Huskers have a real shot on Saturday night, and I'm expecting a thriller.
In some ways, it could be the biggest game of the year in the conference, because the loser is basically out of the running for the College Football Playoff. But I always think division games are bigger. Whichever team loses this weekend could still get to Indianapolis (perhaps to force a rematch). The Ohio State game may still loom larger for Michigan State because of the division stakes, just as Wisconsin (and possibly Iowa and Minnesota) will for Nebraska. But there might not be a better Big Ten matchup all year then the one on deck at Spartan Stadium.
@BennettESPN Didn't expect announcement of 2 QB system from Iowa coaches. Should we be nervous? Can't recall last time 2 QBs worked out.

— DamirSD (@dspot23) October 1, 2014
Brian Bennett: Well, you don't have to look too far back to find successful two-QB systems in the Big Ten. Northwestern pulled it off during a 10-win season in 2012, while Indiana successfully juggled Nate Sudfeld and Tre Roberson last year.
So it can work, though in those examples, the two quarterbacks offered different skill sets. C.J. Beathard and Jake Rudock aren't all that dissimilar, though Beathard seems to throw a better deep ball and Rudock is a better scrambler. This will likely be more of a ride-the-hot-hand situation than a strict platoon. That has higher potential to be divisive, but at this point, neither quarterback has really separated himself with consistent play.
@BennettESPN 1yr ago UofM was said to be 'a year away' from title contention. Were there any overlooked signs of what has actually happened?

— Matt Kirwin (@UofMKirwin12) October 1, 2014
Brian Bennett: I'm not sure who said Michigan was a year away, and in fact, I was always skeptical of the Wolverines this year. Still, it's Brady Hoke's fourth year and his roster should be full of his recruits by now. He can make excuses for being young all he wants, and yes, the offensive line is still fairly inexperienced. But look at Ohio State and how many first-year and second-year players are making key contributions.
The biggest knock on Hoke, in my mind, is the lack of player development in Ann Arbor. (Our Tom VanHaaren did a nice job of detailing that here.) The only two players Hoke has recruited who have made an All-Big Ten team are Blake Countess and Devin Funchess, who were both second-team selections in 2013, and outside of Funchess, none would make an All-Big Ten team if the season ended today. That's way too low of a number for Michigan.
---
Disrespected Husker Fan from Lincoln writes: Can you explain the reasoning for everybody keeping Nebraska so low in the polls despite their undefeated record? McNeese State would beat Kansas by two touchdowns.
Brian Bennett: I'm not sure comparing yourself to Kansas is the best way to earn respect. While it would be foolish to get hung up on meaningless polls, I do think Nebraska is ranked curiously low right now at 5-0. That's because, in my opinion, of two factors: 1. People still remember that close call with McNeese State (a team, by the way, that is ranked No. 5 in the FCS); and 2. Voters still have a healthy distrust for the Cornhuskers because of their stumbles in big games the past few years.
There's no reason to fret about it, however. If Nebraska manages to win this weekend, it will make a huge leap in the polls. More importantly, the committee will have to consider a 6-0 Huskers team very seriously. An unbeaten Big Ten champion would almost certainly get into the playoff.
@BennettESPN what will it take for IU to beat Iowa nxt week? are there 3 games remaining after NT that are winnable to get bowl eligible?

— Iago (@_Blake_Jones) October 1, 2014
Brian Bennett: If Indiana's recent pattern continues, the Hoosiers probably will lose to North Texas and then beat Iowa. The win at Missouri stands as the most inexplicable result in the Big Ten thus far. Obviously, beating the Mean Green this week is crucial for Kevin Wilson's team, which then must find three more victories in Big Ten play. Indiana will be favored to beat Purdue at home in the finale, so there's one. The other three best options appear to be at reeling Michigan on Nov. 1, at home against Penn State (whom the Hoosiers beat last year in Bloomington) on Nov. 8 and at Rutgers on Nov. 15.
But until Wilson's team can find some consistency from week to week on both sides of the ball, I'll believe it when I see it.
September, 28, 2014
Sep 28
8:00
PM ET
How far will Michigan fall?
We'll find out during the next two months, but for now, the Wolverines have fallen out of the bowl projections. Brady Hoke's team sits at 2-3, and the offense has shown no signs of a turnaround. It's hard to envision Michigan winning one Big Ten game right now, much less the four it will need in its final seven to qualify for a bowl berth.
Indiana also falls out of the projections after a 37-15 home loss to Maryland. After seemingly turning a corner the week before at Missouri, the Hoosiers struggled to build on the victory as a normally potent offense did next to nothing against the Terrapins. Kevin Wilson's team has the talent to go bowling but must show it can handle success better going forward.
Penn State tumbles a bit in the projections after being exposed in a 29-6 home loss to Northwestern. We're not quite ready to put Northwestern back in the projections, but another big win would change that.
Nebraska and Maryland are among this week's risers. We still have both Michigan State and Ohio State heading to top bowls. Minnesota is another team to watch as the Gophers try to build on a strong performance at the Big House.
Without further ado ...
Chick-fil-A Peach/Cotton/Fiesta/Orange:
Michigan State
Chick-fil-A Peach/Cotton/Fiesta/Orange:
Ohio State
Capital One:
Nebraska
Outback:
Wisconsin
National University Holiday:
Iowa
TaxSlayer/Franklin American Mortgage Music City:
Maryland
San Francisco:
Penn State
New Era Pinstripe:
Rutgers
Quick Lane:
Minnesota
Heart of Dallas:
Indiana
September, 23, 2014
Sep 23
9:00
AM ET
The words "program changer" were tossed around the Indiana locker room Saturday night. The Hoosers'
31-27 upset
of No. 18 Missouri on the road marks a major milestone for the turnaround head coach Kevin Wilson is leading in Bloomington.
D'Angelo Roberts
' touchdown run with 22 seconds remaining gave Indiana its first win against a ranked opponent in its last 19 tries. It had been a decade since the Hoosiers took down any ranked foe on the road, let alone the reigning SEC East champion.
[+] Enlarge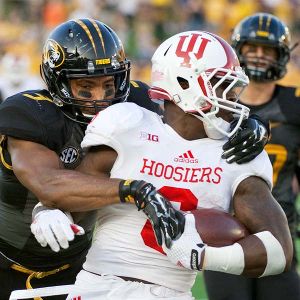 L.G. Patterson/AP PhotoTevin Coleman and Indiana can't rest now, despite beating Missouri, as they face Maryland on Saturday.
Wilson said the win gave his players some reassurance that preparing the right away eventually produces results. Indiana (2-1) is operating with new confidence in its plan for success. Now, the Hoosiers just have to make sure they aren't too busy celebrating to follow the plan again.
"It's easy to drop your guard, drop your hands and not come out ready to play the next game. That's human nature," Wilson said. "Now, you have to repeat the walk and you have to do it over and over. You're the same person. Great players are really just very good all the time."
Maryland (3-1) visits Bloomington for its Big Ten debut this weekend with a chance to zap all of Indiana's positive momentum. The Hoosiers wouldn't be the first team this season to suffer a setback immediately following a monumental victory.
Virginia Tech is 2014's most notable cautionary tale after four weeks of the season. The Hokies jumped into the national polls after beating Big Ten title contender Ohio State in Week 2. They followed that with an upset loss to East Carolina and haven't won since. Georgia also had a little bit of a letdown game -- albeit against stiff competition in South Carolina -- after rolling through Clemson to open the season.
"We need to remember the good things, but we can't worry about Missouri now or remember Missouri because Maryland is probably as talented a group (as) we'll face skill-wise," said Indiana defensive coordinator Brian Knorr.
The Terps average 36.8 points per game and flexed some of that individual talent in a recent win over Syracuse on the road.
C.J. Brown
is in his third season as a starting quarterback and has a full set of big-play threats in the passing game. Wide receivers
Stefon Diggs
,
Marcus Leak
and
Deon Long
are all capable of getting behind a defense on any given play.
Indiana has some game breakers of its own. Junior running back
Tevin Coleman
leads the nation with 189.7 rushing yards per game. He could have another big day against a Maryland defense that is currently last among Big Ten teams, giving up nearly 200 yards per game on the ground.
The Hoosiers are four-point favorites to win, but no one has to remind Wilson that college football fortune is fickle. A week before beating Missouri, his team was on the wrong end of a last-minute upset. Bowling Green scored with nine seconds remaining to beat Indiana 45-42 and punctuate a reputation-shaking day for the conference.
Wilson told his players last week they had to put the Bowling Green game behind them to compete with Missouri. Now, they have to make sure they do the same against Maryland.
"That's our challenge to these guys," Wilson said. "Let's go back to what we do and how we do it. If you like that feeling, remember all the things it took to get there."
September, 22, 2014
Sep 22
5:00
PM ET
Well, it's been a while, folks. Did ya miss me?
Let's get to those Big Ten questions.
@ESPNRittenberg After the Mizzou win, what is IU's ceiling and can we get Tevin Coleman some Heisman/Doak Walker love?

— Jesse Pace (@JGPace) September 22, 2014
Adam Rittenberg:
It's a fascinating question, Jesse, because Indiana hasn't had a win like this in a while. Coach Kevin Wilson has often talked about the challenge of handling success when you achieve it and how that's part of turning a corner as a program. Indiana can compete with just about anyone in the Big Ten, especially if its defense can build off the Missouri game.
This week's home game against Maryland is huge. Maryland has the playmakers to test the Hoosiers' defense, but Indiana comes in with confidence and a good chance to start Big Ten play at 1-0. If so, the Hoosiers have a chance to improve to 4-1 against North Texas. Then bowl eligibility, which has been so elusive for IU, is within sight.
Wilson and his staff have upgraded the talent. It's now about maturity and not getting too carried away with a great win. But I've always felt Indiana could win seven or eight games if things go right.
Coleman finally got overdue national attention after his performance at Missouri. It's hard to get hype in a league featuring two elite running backs (Ameer Abdullah and Melvin Gordon), but people are finally noticing what Coleman can do.
Every UMFan from Streamwood, Illinois, writes: On a scale of 1 to 10, 1 being Lane Kiffin (USC or Tennessee, take your pick) 10 being Nick Saban at Alabama, what's Brady Hoke's job security? Is Michigan still a destination job?
Adam Rittenberg:
It has dropped from about a 7 to begin the season to a 3 or 4 right now. Anyone who objectively watched the end of the Utah game sensed the hopelessness surrounding Hoke's program right now. Hoke needs a strong showing in Big Ten play, at least five wins and possibly more, to keep the hounds at bay. It starts this week against Minnesota, a team Michigan has beaten even when it's really down (see: 2008). If Michigan loses the Jug, the talk about Hoke losing his job will only intensify.
Is Michigan a destination job? There's great tradition. The facilities have recently become top-notch. The resources are there. The right coach can make Michigan great again. But I also think the culture needs to change. I'm tired of hearing about what Michigan was. Stop living in the past. Don't be afraid to bring in an outsider if that person can win. If so, embrace that person. Spend less time on legends jerseys and more time on how to appeal to the best recruits from around the country. It's not a turn-key job, but it remains an appealing one.
@ESPNRittenberg is Penn state a legitimate contender for the East title? Can't the Lions be 6-0 when they matchup with Ohio State?

— LeftyMarlins (@LeftyMarlins) September 22, 2014
Adam Rittenberg:
At some point, Lefty, we're going to look around and realize, "Hey, Penn State can really win this thing." It seems like people are still grasping that Penn State is, indeed, eligible for everything again. I still worry that the Lions are an injury or two away from being in big trouble, but they've remained relatively healthy so far and seem to be getting better each week. A 6-0 start is certainly possible as PSU plays two struggling teams (Northwestern and Michigan) and has two open weeks between now and the Ohio State game. But it will take a win against Ohio State for Penn State to be viewed as a serious contender in the East. From what I've seen, Michigan State is still a cut above everyone else.
Dave from Marietta, Ohio, writes:
Yes, 12-1 was an excellent weekend for the Big Ten (BIG ups to Indiana from an OSU grad; no thanks to you, U-M). But, the hatred for the Big Ten will remain. 1-10 is burned into the memories of the media. For anyone from the Big Ten to get in, there has to be an even weaker sister champion from the other Power 5 conferences, and right now, I don't see one.
Adam Rittenberg:
First impressions tend to stick, Dave, and the Big Ten made a very poor one during the first three weeks. The media doesn't make the selections and the committee has pledged to take into account the whole season, but the Big Ten didn't show much punch in nonleague play. A Clemson win against Florida State would have really helped because the ACC would have a tougher road to the playoff. The Big Ten would really benefit from Oklahoma losing (and Baylor, too) and the Pac-12 beating up on each other.
If Nebraska or Penn State runs the table, it's in. And I still think a Michigan State team that dominates Big Ten play would have a shot. But it will be tough.
September, 21, 2014
Sep 21
12:25
AM ET
Five lessons from the week that was in Big Ten football.
1. The Big Ten can step up in key games:
After two weeks of justified bashing, the Big Ten deserves some credit for bouncing back nicely in the last meaningful Saturday of nonconference play. The league went 3-0 against the ACC and recorded a huge road win against a ranked SEC opponent as Indiana stunned No. 18 Missouri in Columbia. Iowa finally found its swagger -- and, potentially, its new quarterback (
C.J. Beathard
) -- in rallying to beat Pitt. Nebraska didn't lose its composure in a chippy game against Miami and outlasted the Canes behind star back
Ameer Abdullah
. And all three games against MAC teams -- Michigan State-Eastern Michigan, Wisconsin-Bowling Green and Penn State-Massachusetts -- turned into routs by the Big Ten squads. Michigan remains a black eye for the league, but everyone else took a step forward and the Big Ten bolstered its record against Power 5 opponents. It doesn't erase the damage done the previous two weeks, but the Big Ten can feel a little better as league play cranks up next week.
[+] Enlarge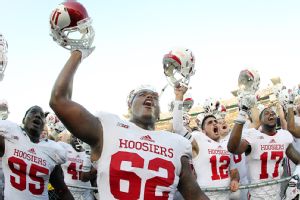 Ed Zurga/Getty ImagesIndiana had plenty of reason to celebrate on Saturday after notching a signature win over No. 18 Missouri.
2. Indiana is back on track:
Same old Hoosiers. That's what everyone said in Week 2 when an Indiana defense that hasn't stopped anyone for two decades let Bowling Green march downfield for the game-winning score. The loss made bowl eligibility seem unlikely and raised questions about the program's direction under fourth-year coach Kevin Wilson. And then Indiana did the most un-Indiana-like thing imaginable: beat Missouri on the road,
31-27
, thanks in large part to its defense. The Hoosiers limited Missouri to one second-half touchdown, and
Tevin Coleman
(132 yards rushing, one touchdown) showed why he's one of the nation's best big-play backs. It added up to the biggest win of the Wilson era and the biggest in recent memory for IU. The coaches and players deserve a ton of credit for rebounding from the Bowling Green setback. IU has teased us before, but a win like this suggests the program is truly turning a corner under Wilson.
3. Michigan's offense is just getting worse:
Brady Hoke hired Doug Nussmeier to fix Michigan's offense and save his job as head coach. But Michigan's offensive woes clearly run deeper than the playcaller, as the unit has amazingly managed to backtrack this year. The Wolverines have yet to reach the red zone in 23 drives against Power 5 opponents (Notre Dame and Utah). The turnover troubles that plagued them in the past have only intensified, as four more giveaways against Utah leave Michigan with 12 on the season and a minus-10 turnover margin. There was a rock-bottom feeling about the
26-10
Utah loss, which ended at a mostly empty, waterlogged Michigan Stadium following a weather delay. Athletic director Dave Brandon repeatedly gave Hoke a vote of confidence before the season, but if the offense doesn't improve in Big Ten play, Hoke could be in serious trouble.
4. B1G's newcomers are better than expected:
The Big Ten might have added Maryland and Rutgers because of their favorable locations, but the league is getting an added bonus so far this season. Both programs could be undefeated and both have won two games away from home in the first three weeks. Maryland responded from a last-second loss to West Virginia and beat Syracuse,
34-20
, behind big plays in all three phases.
Will Likely
continued his excellent season with an 88-yard pick-six, while quarterback
C.J. Brown
and running back
Brandon Ross
connected on a 90-yard score on a screen pass. Rutgers beat an always-tricky Navy team,
31-24
, in Annapolis, Maryland, despite losing star running back
Paul James
in the first half. Quarterback
Gary Nova
responded from his five-interception debacle with a clean performance (12-of-15 passing, no interceptions), and running backs
Justin Goodwin
and
Desmon Peoples
picked up the slack with James sidelined.
5. Melvin Gordon is going to be just fine:
Until Saturday, things had not gone as expected this season for the Wisconsin star. He barely saw the field in the second half of a Week 1 loss to LSU and was held to 38 rush yards on 17 carries against FCS opponent Western Illinois in Week 2. But after an early fumble against Bowling Green, Gordon could not be stopped. He rushed for a career-high 253 yards, the most by an FBS back this season, and tied the team record with five touchdowns in a
68-17
win. And he did it on only 13 carries, recording the best single-game yards-per-carry average (19.5) in team history by a wide margin (14.5 was next best). Gordon even put himself in the company of the great Glenn Davis, as he's tied with the Army star for the NCAA career yards-per-carry record (8.26). Although Gordon will face better defenses this season, he appears to be just fine for Big Ten play. "T
he unselfishness of Melvin Gordon ... has been incredible," Badgers coach Gary Andersen said. "I'm so proud of the way that he's handled it. Today was his day."